Vegan Butternut Squash Soup: This roasted butternut squash soup recipe is simple and naturally gluten-free and vegan with onions, garlic and vegetable broth complimenting the slowly caramelized squash.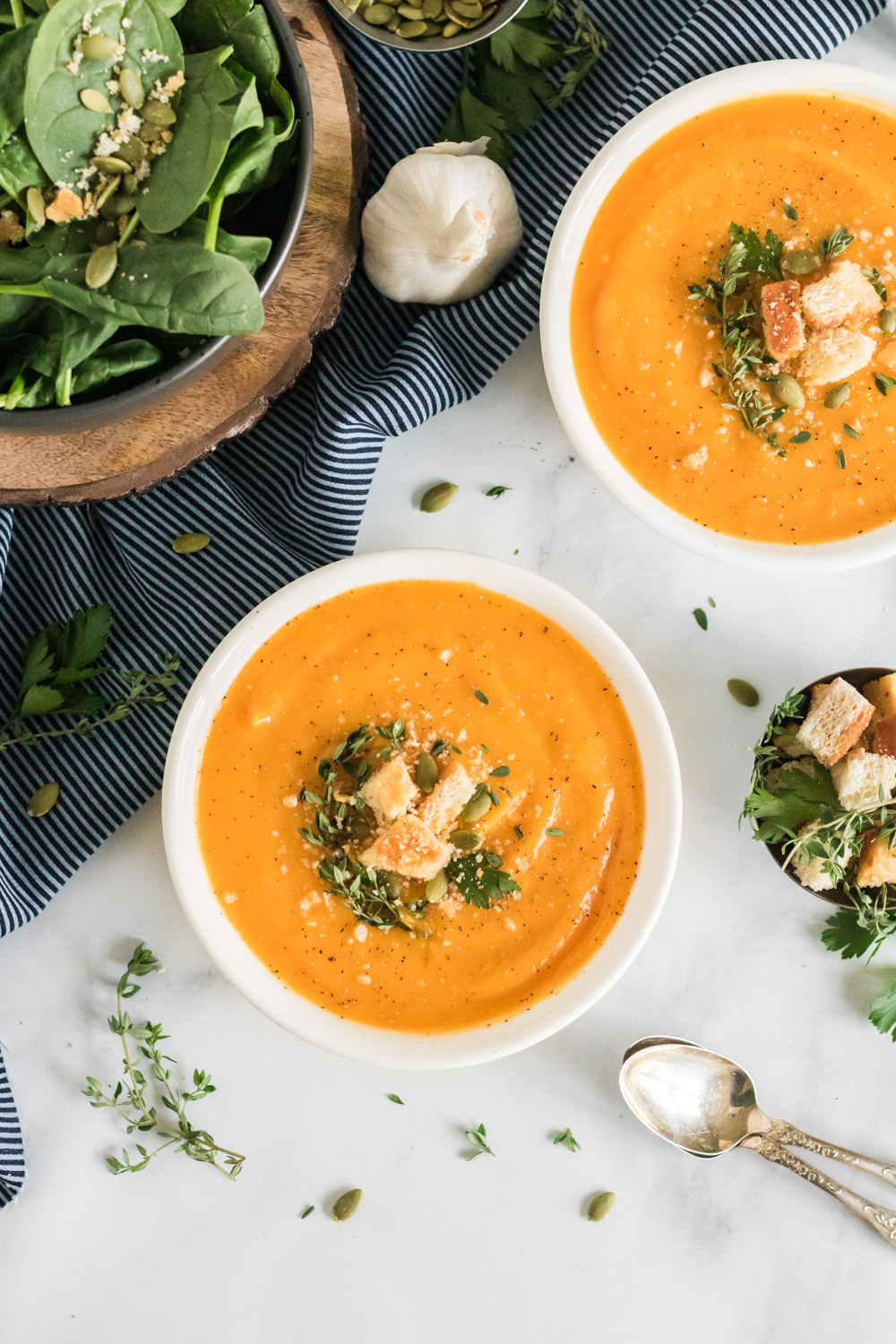 We are a participant in the Amazon Services LLC Associates Program. As an Amazon Associate, I earn from qualifying purchases.
Jump to:
Vegan Butternut Squash Soup
One of my favorite simple roasted veggies is butternut squash. When you roast it slowly, it caramelizes and brings out a sweetness you never expect from a vegetable.
I wanted to create a simple, healthy soup that highlighted the taste of freshly roasted squash. I tried several and found some extra indulgent cream cheese based ones, but I found that the squash itself is so creamy when pureed that there is just no need to add to it!
If you know my cooking style, you know I love to let the produce shine in anything I make and this soup is a perfect example! But lets start by talking about how to pick the perfect squash for your soup.
How To Pick A Butternut Squash
There are a few very simple tips to choosing the perfect butternut squash.
The squash should be an even beige color
The squash should not have any deep cuts or bruising
Choose a squash that is heavy for it's size
Choose a locally grown squash, that is in season if possible
Butternut squash that is grown in your garden, or local may have some blemishes. If the decision comes down to a blemish-free squash from a big chain store, or a squash with a scratch from the little farm stand down the road...I promise you the one with the scratch will be better. Fresh and local is always better!
For this recipe, you are going to need a 3 lb squash. Don't panic if you are not able to weigh it. This recipe is very forgiving. As long as you have a small/medium squash, the only adjustment you may need to make is adding slightly more or less liquid.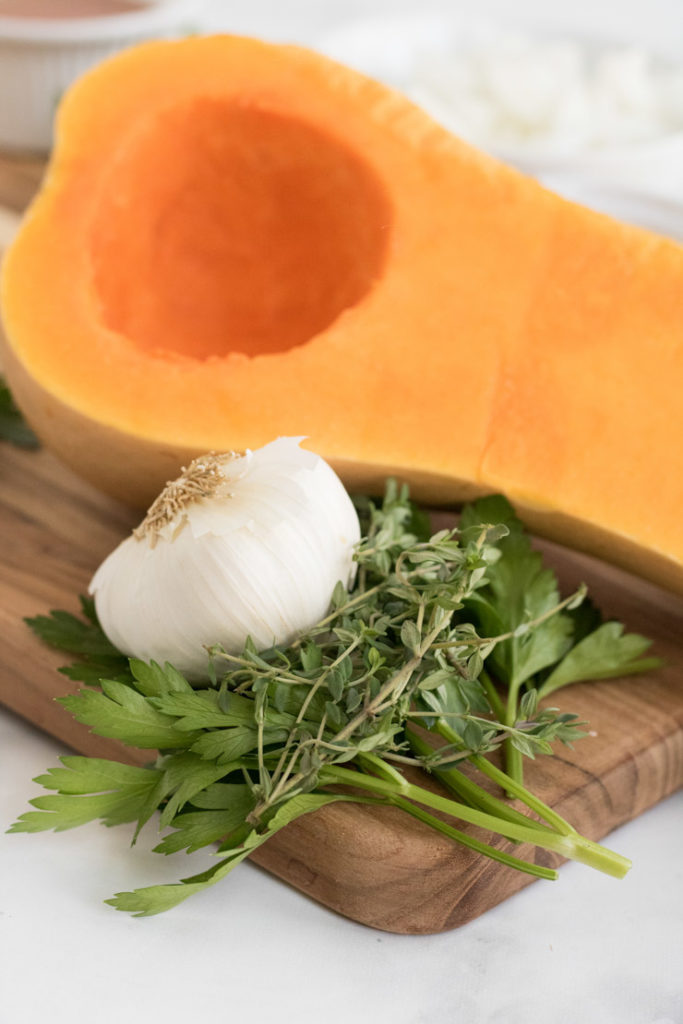 How to roast a butternut squash
The hardest part about this recipe, which isn't hard at all, is learning how to roast a butternut squash. Many people peel and chop their squash when it is raw, but I find slicing it in half and keeping it in the skin really helps deepen the flavor as it almost steams in itself.
To roast a butternut squash, you are going to preheat the oven to 425 degrees. While the oven is preheating, you want to slice the squash in half, lengthwise and remove the seeds.
Don't toss those butternut squash seeds! They make an excellent garnish, snack or topping for salad. For a complete guide on how to roast butternut squash seeds, check out this post.
Use a fork and pierce the skin side of the squash a few times. Then, use a brush or a spoon and drizzle the side without skin with a little bit of olive oil and salt and pepper.
Place the squash face down on a baking sheet lined with parchment paper and bake for about 45 minutes or until cooked through.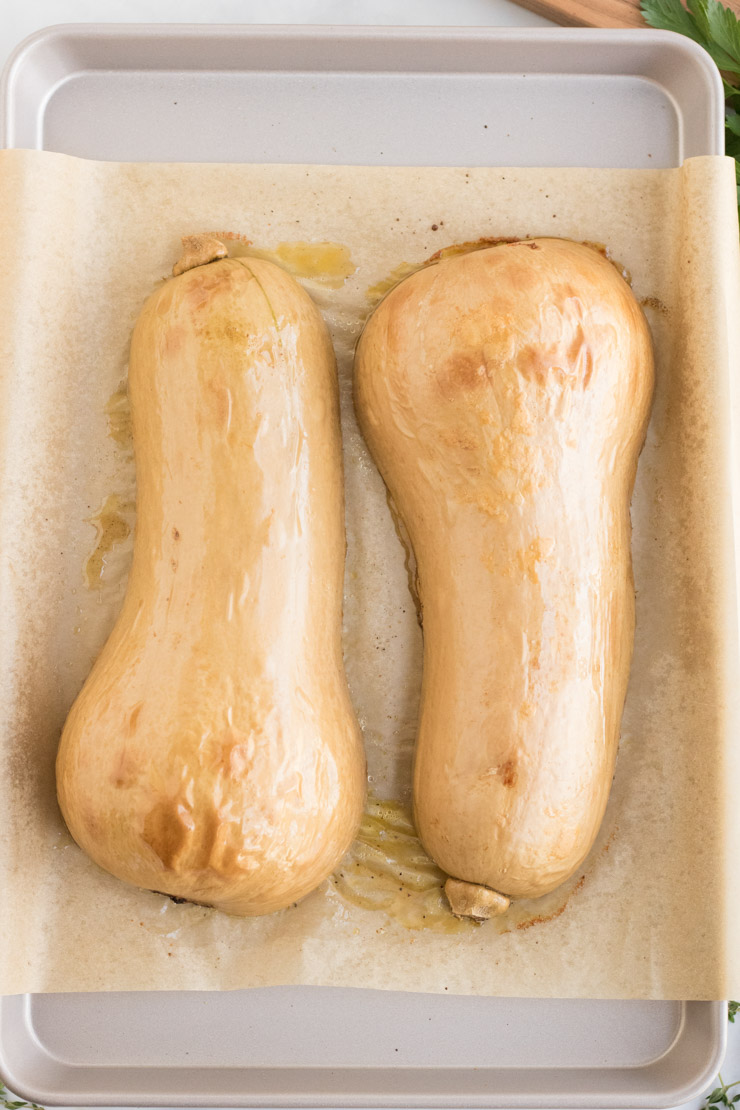 You will know when the squash is done when it starts to look a little bit like this photo, the skin will start to wrinkle and brown. Parts of it will pull away a bit. When the squash is tender when you give it a light press, it is done!
You can also test if it is done by using a fork. The fork should easily pierce the skin.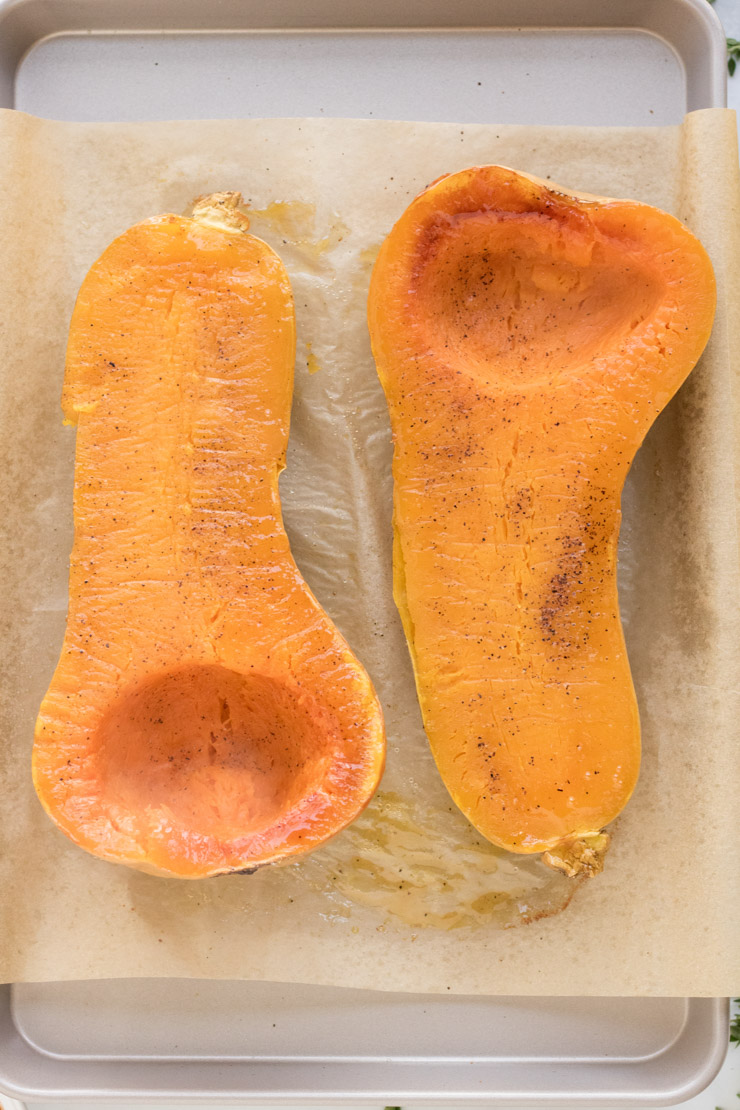 When your squash is cooking, you can gather the rest of the ingredients you need. To make Vegan Squash Soup, you will need:
onion
garlic
vegetable broth or vegetable stock
salt and pepper
cinnamon
thyme
sweetener of choice- sugar, maple syrup, coconut sugar, honey, agave nectar ect.
In a small sauce pan, cook the onions and garlic in a little bit of olive oil until they are tender. If you are using a granulated sweetener option, I would add it now so it melts a bit and forms a syrup.
If you are using a sweetener in liquid form, you can add it in the blender later.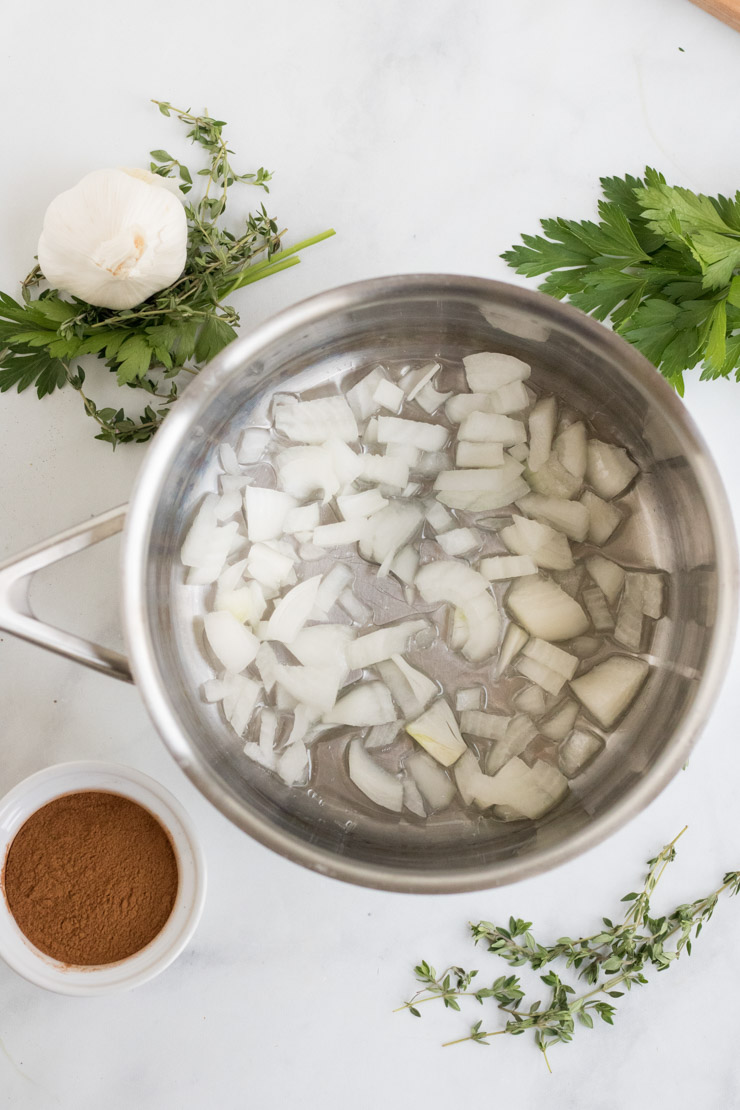 Hopefully while you were cooking the onions, the squash cooled off enough to touch. At this point, you should be easily able to either scoop the meat out with a spoon, or sometimes you can even just gently pull the skin off. When it comes off in a single pull, it is so satisfying!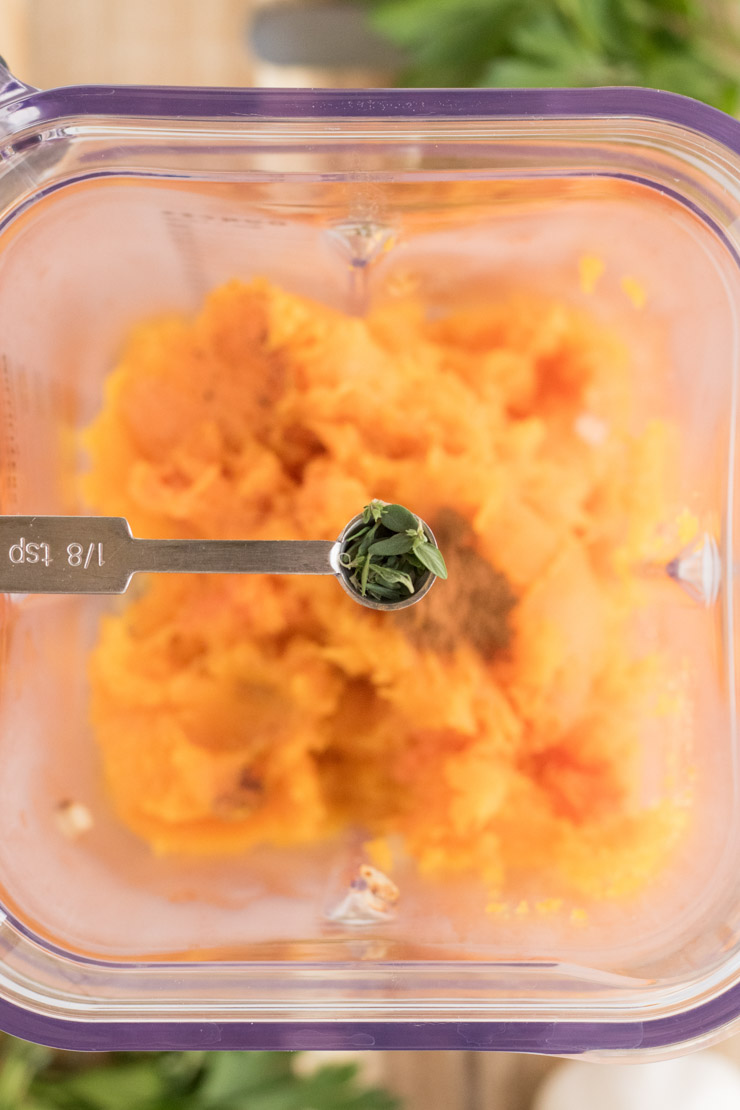 Add the butternut squash, cooked onions and garlic, broth, sweetener and seasonings into a blender and use the pulse setting until everything looks smooth.
I highly recommend adding the broth in little bits at a time, so you can easily control the consistency of your soup. I personally love a thick, creamy texture so may use less than most people like.
Once you have gotten the consistency of your vegan squash soup perfect, then set your blender to "Blend" or the "Soup" setting and let it go for a minute or two to make it extra smooth.
Alternatively, you can use an immersion blender.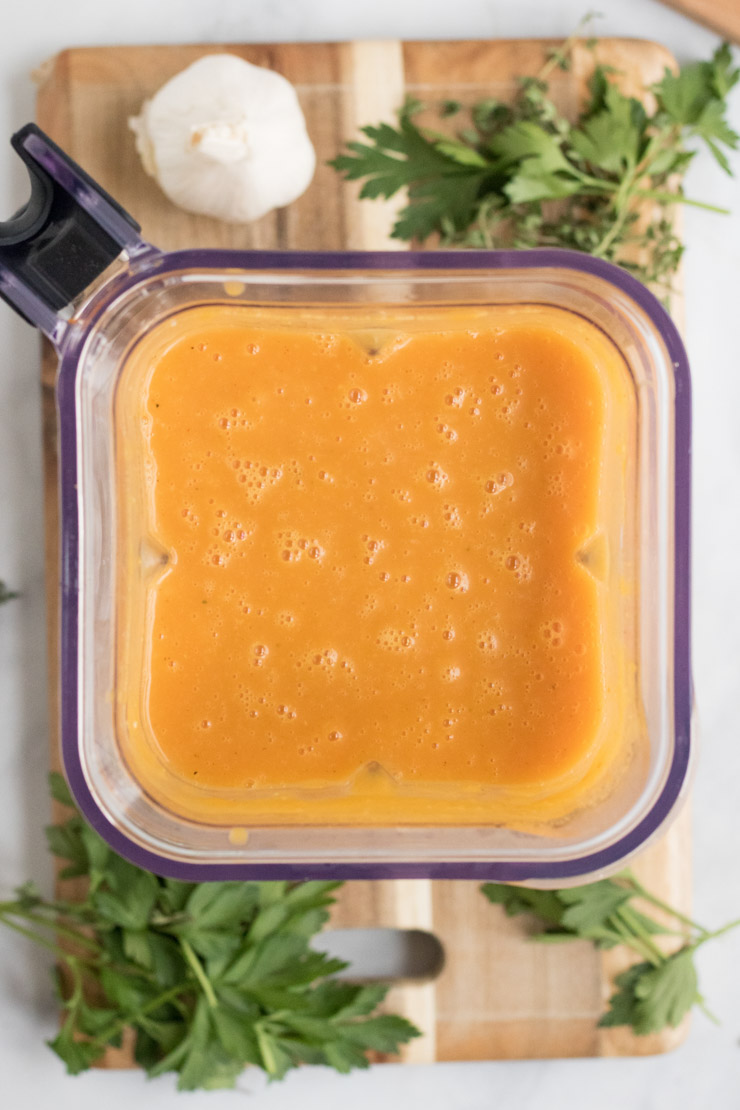 When the soup is blended, you can return the mixture to a sauce pan to warm it up and then serve!
Garnishes
Fresh Thyme
Fresh Parsley
Croutons
Course black pepper
Roasted Butternut Squash Seeds
Pepitas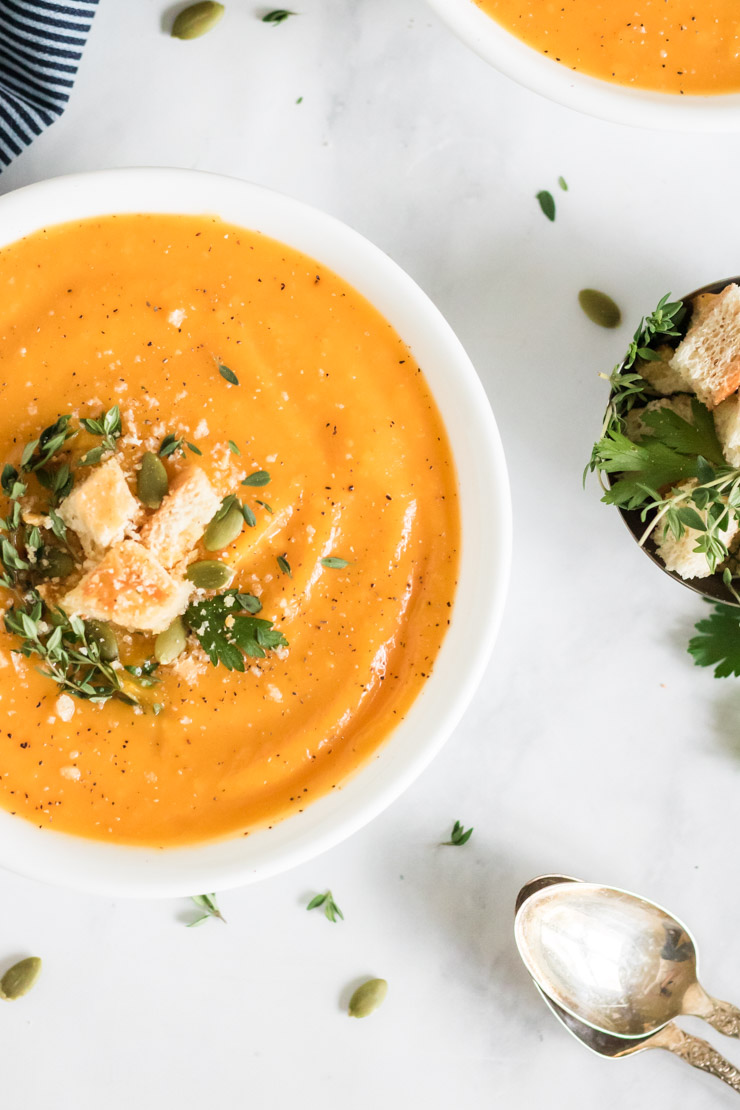 Storage
One of my favorite things about this soup is how nicely it warms up. When properly stored in the refrigerator, you can enjoy this soup for up to five days. It actually tastes better as it sits and the flavors really pop.
Can I freeze butternut squash soup?
Yes! When properly stored in airtight freezer safe containers or freezer bags, this soup can be frozen for up to three months. I love to make a double batch of this soup and freeze a few individual portions for me or my husband.
To thaw for consumption, simply move the bag to the fridge the night before you plan to eat it. Then warm it up in the microwave or on the stop top.
Make it extra creamy
I love this soup as it is written and find that the butternut squash is creamy on it's own. However, if you want to make it extra indulgent you can add canned coconut milk before you blend. You can use full fat coconut milk or light coconut milk and add as much as desired.
Serving suggestions
Because of it's thickness, you can absolutely serve this soup on its own. But I also love it with a simple fall salad. Give our raw Brussels sprout salad a try or try one of these simple fall salads.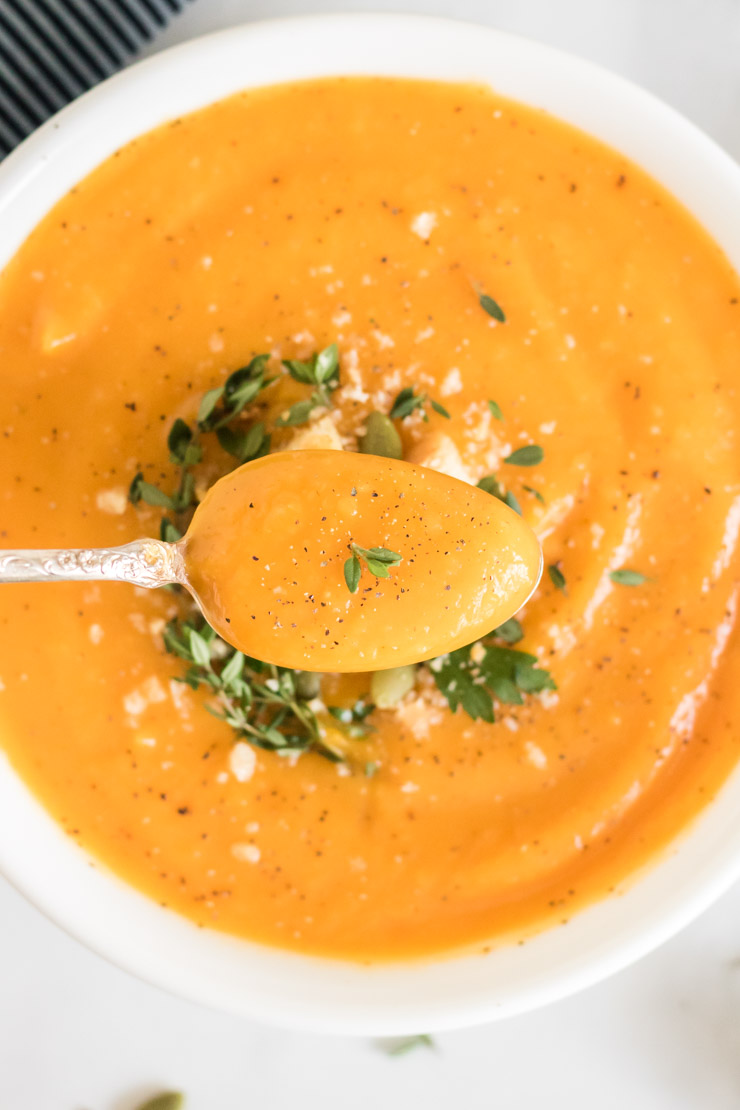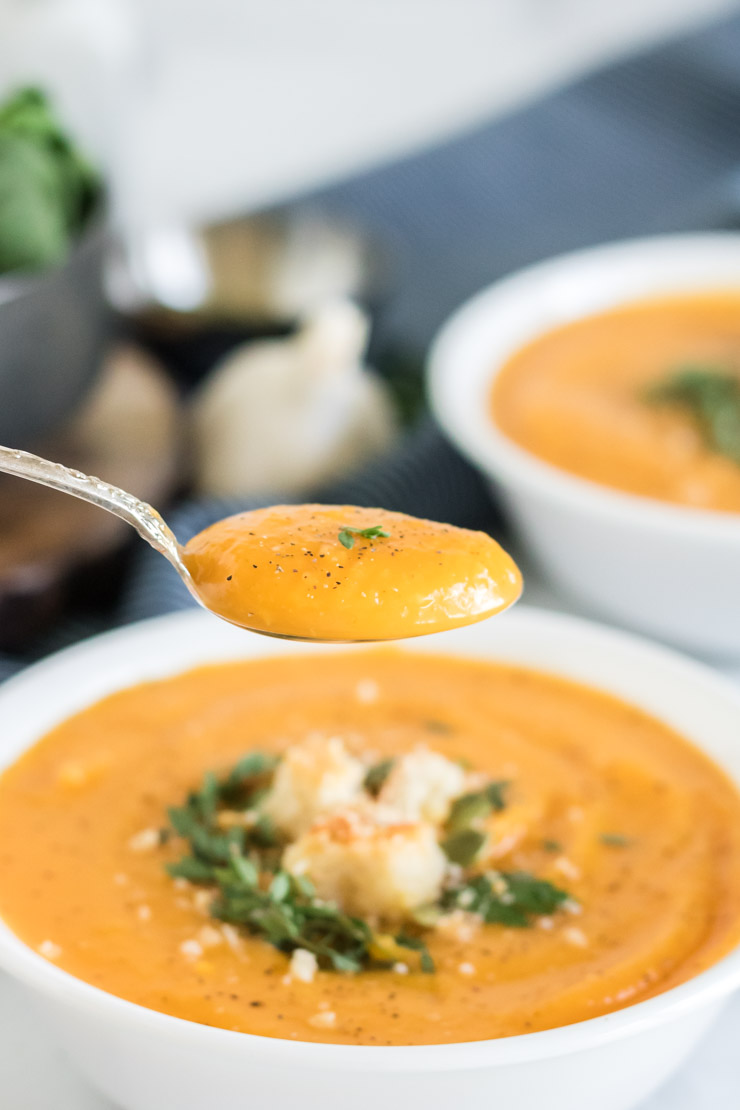 For more soup recipes, check out these popular recipes: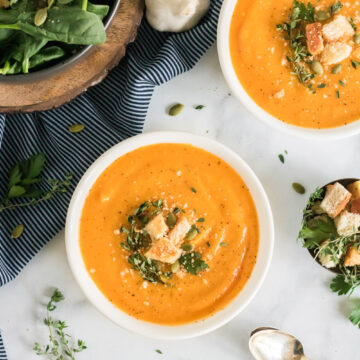 Vegan Butternut Squash Soup
This roasted butternut squash recipe is simple and naturally gluten-free and vegan with onions, garlic and vegetable broth complimenting the slowly caramelized squash.


Print
Pin
Rate
Equipment
Baking sheets, blender, saucepan, frying pan
Ingredients
4

cups

vegetable broth

1

3lb

butternut squash

sliced in half, seeds removed

3

Tablespoons

olive oil

divided

½

cup

onion, chopped

3

garlic cloves, minced

1

teaspoon

salt

¼

teaspoon

pepper

¼

teaspoon

cinnamon

⅛

teaspoon

fresh thyme

2

teaspoons

maple syrup

or other sweetener *see notes*
Instructions
Preheat the oven to 425 degrees and line a baking sheet with parchment paper. Set aside. 

Prepare the squash for baking by brushing the inside with 1 Tablespoon of the olive oil and sprinkling with salt and pepper to taste. Turn the squash face down (skin up) and bake for about 45 minutes or until tender and cooked through. 

Meanwhile, in a large pot heat the remaining 2 Tablespoons of oil and cook the onion over medium heat until transparent and tender. Add garlic and cook 1 additional minute. Set aside. 

When the squash is done, scoop out the inside and discard the skin. Place the squash, cooked onions and garlic, vegetable broth, salt, pepper, cinnamon, thyme and honey in a blender. Blend on medium high speed until pureed and smooth. You may need to work in batches, depending on the size of your blender. 

Return the soup into the large pot and place on medium low until heated through. 
Notes
You can change the thickness of this soup by adding more or less broth. 

I prefer a standard blender for pureed soups as they make the smoothest consistency. 

You can replace the maple syrup with honey, agave, or brown sugar. 

I really love butternut squash soup with a nice simple spinach salad. 

Garnishes-pumpkin seeds, extra thyme or parsley, croutons, extra pepper.
Nutrition
Calories:
103
kcal
|
Carbohydrates:
3
g
|
Protein:
1
g
|
Fat:
11
g
|
Saturated Fat:
1
g
|
Sodium:
582
mg
|
Fiber:
1
g
|
Sugar:
2
g
|
Vitamin A:
27
IU
|
Calcium:
4
mg
|
Iron:
1
mg