Persimmon Butter: This quick, easy and clean Fuyu Persimmon Butter recipe is made with just four ingredients and is ready in 25 minutes!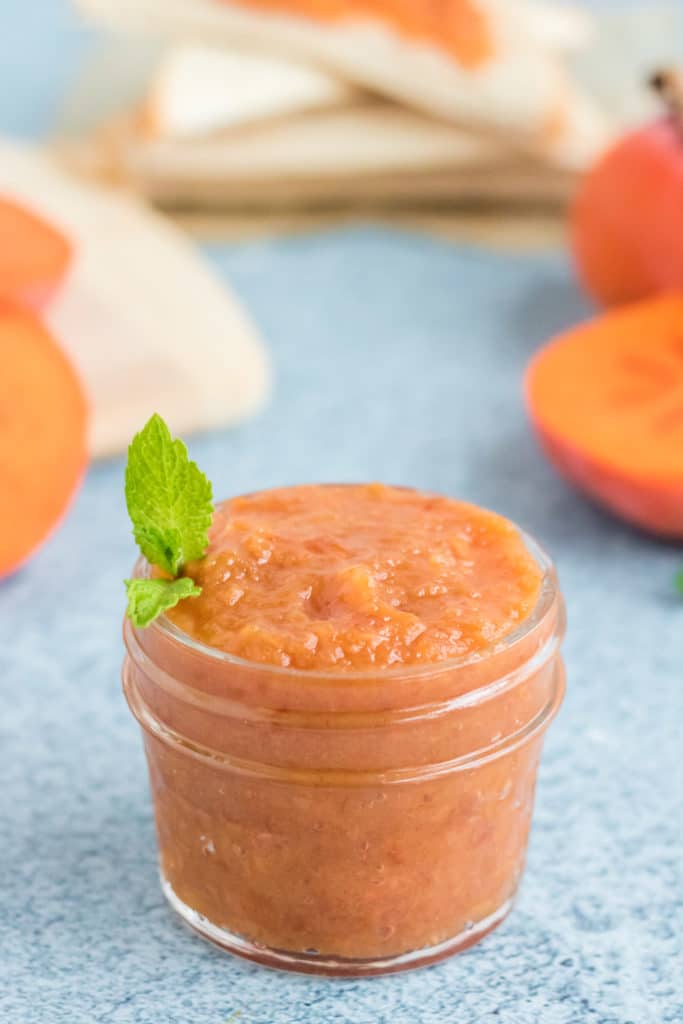 As mentioned in my "What is a Persimmon" post, I am embarrassed to admit I had never even heard of a Persimmon until about five years ago. Now, they are one of my favorite winter fruits I can't get enough! I can hardly wait until they are in season and I can get them at my local grocery store! Persimmon Jam or Persimmon Butter is one of my favorite ways to enjoy this fruit.
For more about persimmons, check out my What Is A Persimmon post and check out my other Persimmon recipes. (Coming soon!)
What does a persimmon taste like?
A persimmon tastes like honey and melon to me. It's very sweet and mild. Has a smooth, silky texture and skin that is slightly tougher than an apple. It's rich honey-like flavor make it perfect for making persimmon jam or persimmon butter.
When are persimmons in season?
Persimmons are in season in October through February. I live in Michigan and usually don't see them on store shelves until late October, but I do live in a small town so that may make a difference! Typically, you will see them late fall- early winter months.
Where to buy persimmons?
If you are lucky enough to live where persimmons grow, buy them locally if possible! Otherwise, they are usually available at most bigger grocery store chains towards the end of the year.
You can also buy them online if needed. On sites like Farmers Market Online or even Amazon. Please take care when deciding what farm you will buy from.
Fuyu vs Hachiya
You can check out my All About Persimmons post for a complete comparison and breakdown between the two main varieties available. But simply put, Fuyu's are are short, and round where Hachiya are more elongated.
I personally prefer Fuyu's because there is a little more flexibility and less risk with when you can eat them. Hachiya's can be extremely bitter if you aren't patient and eat them before they are fully ripe.
For this recipe, we are going to use Fuyu.
How to pick a Fuyu Persimmon
Choose a persimmon that is orange in color and firm to the touch. Pick one that seems heavy for it's size because that means its juicy! Give it a little squeeze, you want one that is firm but gives ever so slightly.
Now that we have talked about where to find fuyu persimmons and how to pick one, let's talk about making the jam!
Persimmon Butter Recipe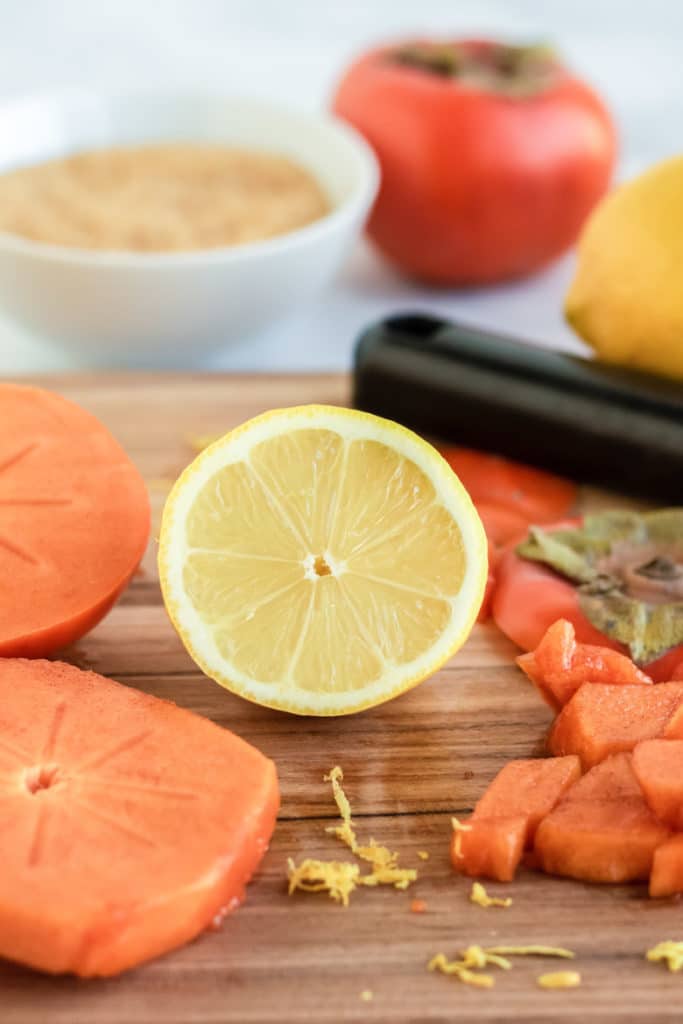 Start by gathering the ingredients. You will need:
6 fully ripe fuyu persimmons
½ cup raw sugar (or other sweetener)
½ cup lemon juice
1 teaspoon lemon zest
As you can see by our ingredients list, the star of this recipe is the Fuyu Persimmon. So make sure you choose fresh, ripe and quality fruit for a successful recipe.
Start by preparing the fuyu persimmons for the jam by peeling the fruit. You can use a vegetable peeler or a knife. Cut the fruit into small chunks, being sure to remove all the skin. Discard the top and the bottom of the fruit.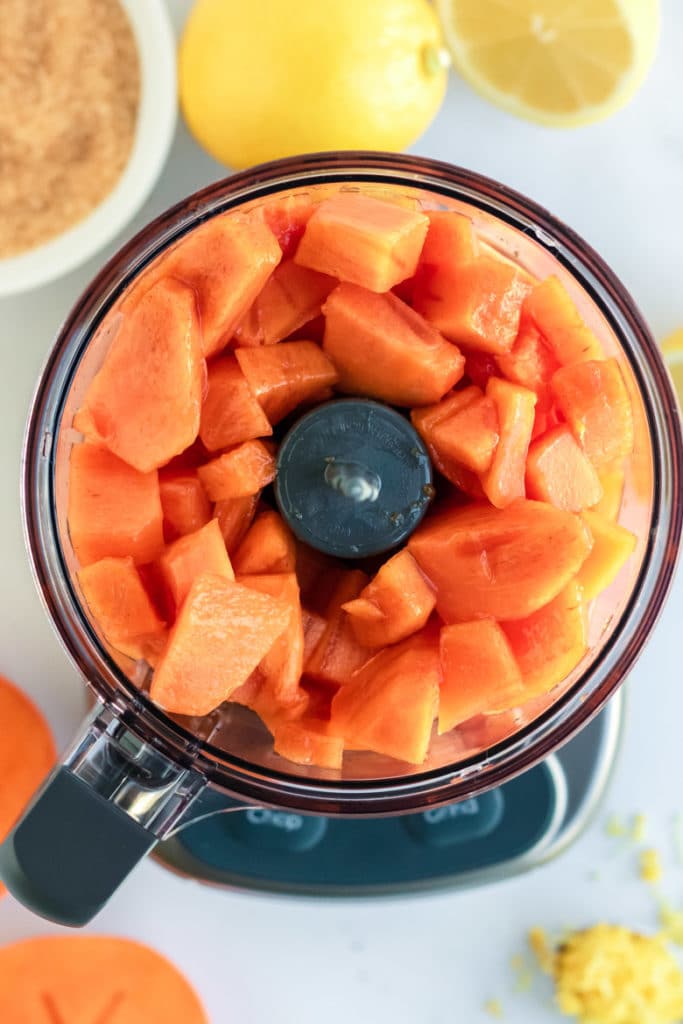 How to make Persimmon Pulp
The easiest way to make persimmon pulp is to simply place the chopped fruit in a food processor and use the pulse setting until the fruit reaches the desired consistency.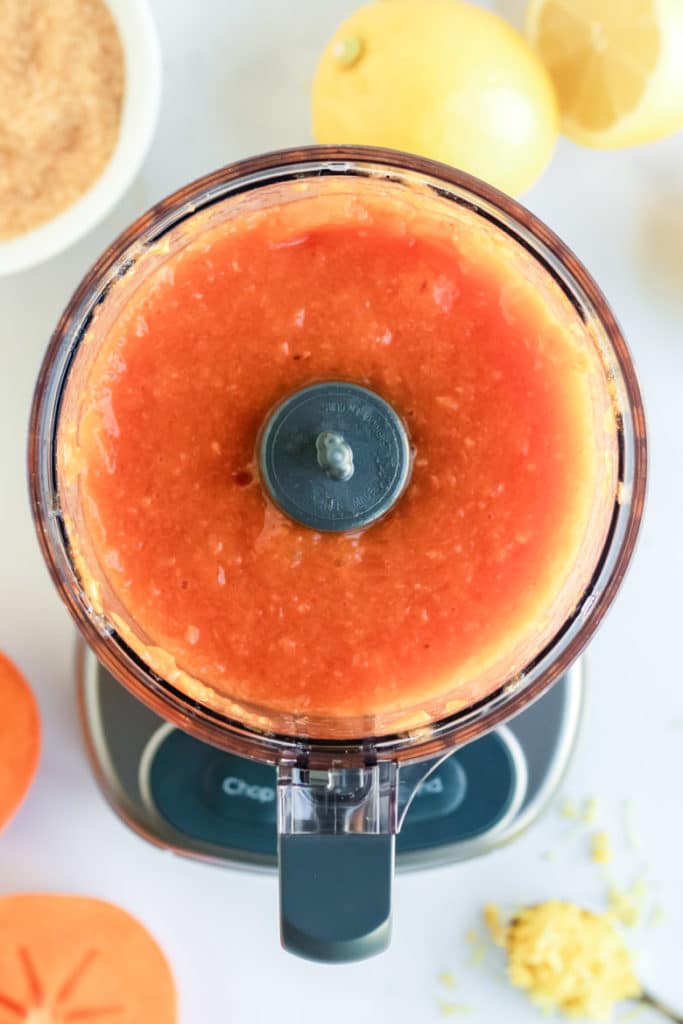 You can also make persimmon pulp using your blender and when the fruit is super ripe, you can even use a masher. The method you use to puree the persimmons doesn't matter as long as you grind the fruit to the consistency you want your final product.
Next, combine the fuyu persimmon pulp, the sugar, lemon juice and lemon zest in a small sauce pan and bring to a simmer. When the mixture reaches a simmer place a cover on the pan, reduce the heat a bit and simmer for about 15 minutes.
Be sure to stir this mixture occasionally, so it doesn't burn on the bottom of the pan.
How To Thicken Fuyu Persimmon Butter
Fuyu Persimmons are extremely high in pectin and have historically been used as a thickening agent in jam recipes. With this said, if you follow this recipe exactly, the jam should be the perfect consistent. This fuyu persimmon butter will thicken significantly as it cools.
If you have unusually juicy fruit or it just seems too thin, you can either let it simmer a little longer or mix one Tablespoon of cornstarch with one Tablespoon of water and add it to the mixture. I highly recommend avoiding adding it if possible, but it does work in the unusual case that the butter may need thickened.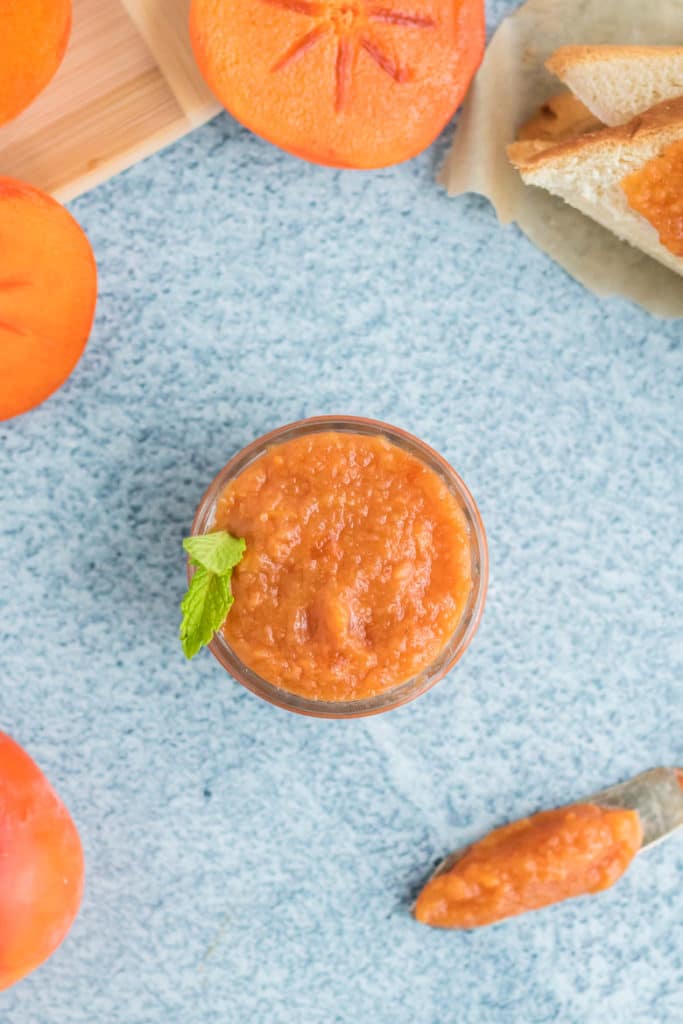 Replacing the Sugar In Fuyu Persimmon Butter
If you are trying to avoid sugar in your diet, you can still make this recipe! Just swap out the ½ cup of sugar for one of these options.
maple syrup
agave nectar
honey
Stevia
Coconut Sugar
Be sure to taste test if you change the type of sweetener. The amount of the replacement should be close in quantity but because the flavor is different, you may want to use a little less.
How to serve Persimmon Butter
One of the things I love most about persimmon butter is that it goes with so many different things! I love it on toast or an English muffin in the morning. You can also put it over oatmeal and add some cinnamon for a super delicious morning treat!
For lunchtime, I love it over yogurt or as a side item with crackers.
For an after dinner treat, it is great on some shortbread cookies.
How to store Persimmon Butter
Persimmon Butter should be stored in the fridge in an airtight container. I love using mason jars to store mine. It will stay good in the refrigerator for up to 10 days when properly stored.
You can also store this jam in the freezer in smaller portions and defrost smaller jars as needed by moving them up to the fridge.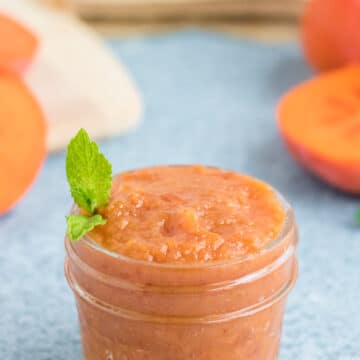 Persimmon Butter
A simple 4 ingredient Fuyu persimmon butter that's ready in 20 minutes.
Print
Pin
Rate
Equipment
Small saucepan, food processor
Ingredients
6

Fuyu Persimmons

½

cup

raw sugar

½

cup

lemon juice

1

teaspoon

lemon zest
Instructions
Peel and dice the Fuyu persimmons.

Place the persimmons in a food processor and grind until smooth.

Place the persimmon puree, sugar, lemon juice and zest in a small saucepan. Bring to a boil, then reduce the heat to low and simmer for about 15-20 minutes, stirring occasionally.
Notes
1)This is good in the fridge for a week. 
2) You can freeze this in freezer bags or jars.
3) If you feel it needs to be thickened you can dissolve 1 Tablespoon of cornstarch into 2 Tablespoons of water, then pour the mixture into the jam. If you feel it needs to be thinned out, you can add more lemon juice or just a bit of water and whisk.
Nutrition
Calories:
54
kcal
|
Carbohydrates:
14
g
|
Protein:
1
g
|
Fat:
1
g
|
Saturated Fat:
1
g
|
Sodium:
1
mg
|
Potassium:
16
mg
|
Fiber:
1
g
|
Sugar:
13
g
|
Vitamin C:
7
mg
|
Calcium:
2
mg
|
Iron:
1
mg
What is your favorite way to enjoy Persimmons? Let me know in the comments!
Pin this recipe on Pinterest!