Apple Crumble Pie: A quick and easy version of classic apple crumble pie. A homemade filling made from fresh apples, brown sugar and cinnamon gets taken to the next level with a buttery crumble topping.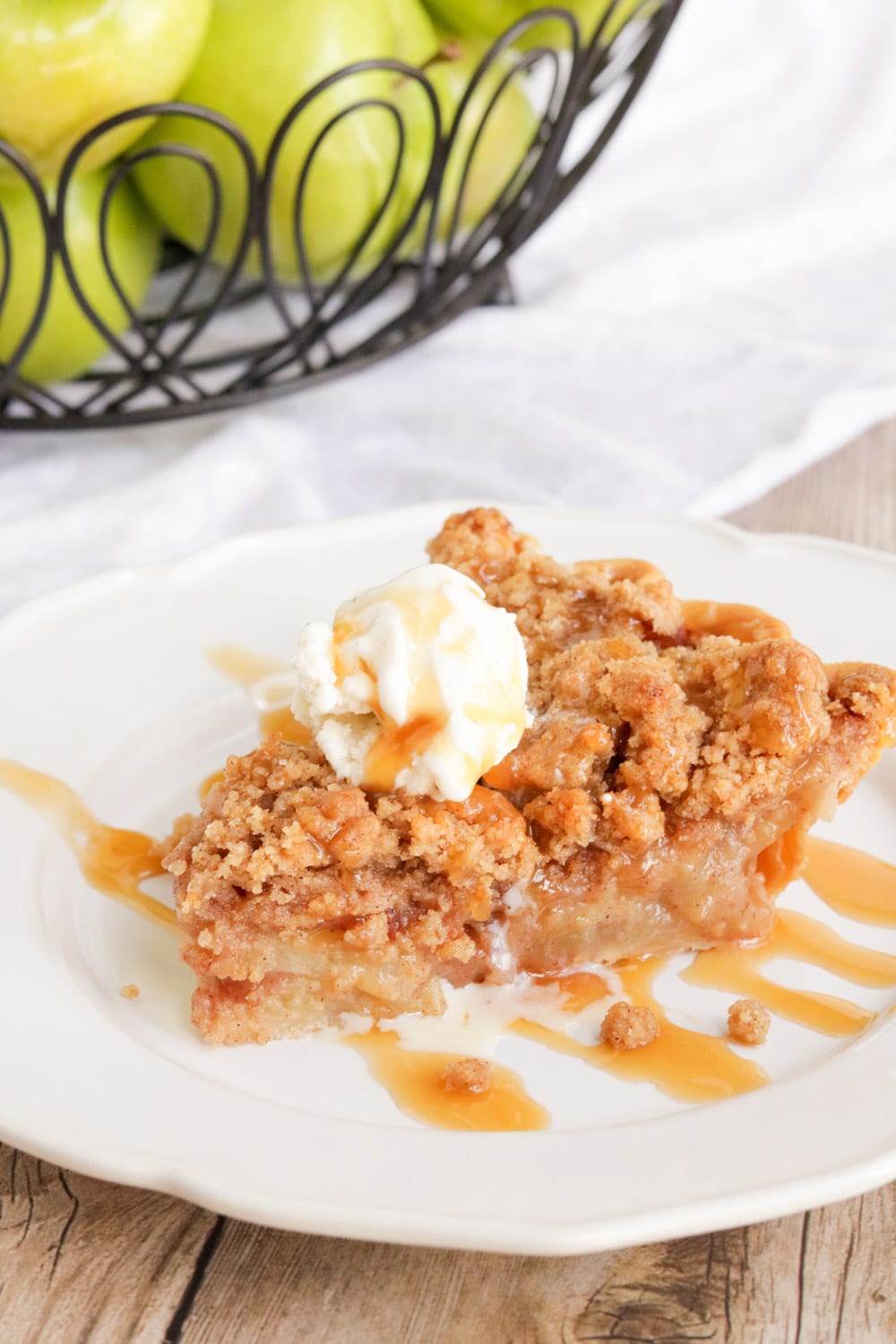 It's no secret, I make alot of pies in my career as a food photographer. But, you guys…this apple crumble pie one IS AMAZING! It's quick, easy and the crumble topping is not only forgiving of varying oven temps but DELICIOUS. It is my new favorite pie for fall and you need to try it! So, get to your local apple orchard or farmers market and get picking because making the perfect Dutch Apple Pie is now easier than ever!
How to Make Apple Crumble Pie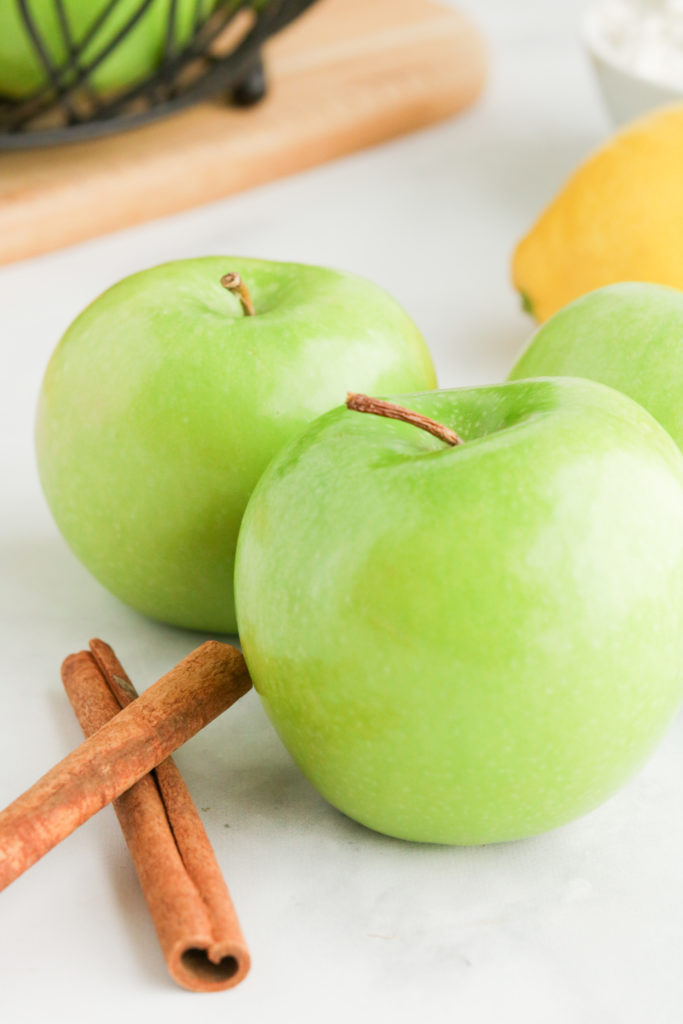 First, gather your ingredients and get your oven preheated to 400 degrees. While the oven is preheating, prepare your pie crust by placing in an UNGREASED pie pan and fluting the edges using your index finger and thumb.
Next, its time to prepare the filling! Peel and slice the apples
Next, you want to peel and slice the apples to about 1/4 thick. Then mix them with the remaining pie ingredients in a large bowl. Give it a nice stir until they are evenly combined, then place them in the prepared pie dish. Next, its time for the best part! The crumble topping! You can use a fork or your hands for this part, its really up to you!
Bake the pie for about 15 minutes at 400 degrees, then lower the temperature to 375 and bake for an additional 35 minutes. To prevent the top of the pie from getting too brown, you may need to cover with aluminum foil for the last several minutes of baking.
Now the hard part … waiting for it to set so you can take a slice and chow down! There you have it, a super easy Apple Crumb Recipe that will taste like it took all day!
What are the best apples for making pie?
With so many apples out there it is hard to know which variety is the best apples for making apple pie! My personal favorite are Granny Smith apples. There are some bakers out there that like to mix two varieties together, but I love to just use Granny Smith to make a Tart and delicious Apple Crumble pie. What is great about Granny Smith is that they are available wherever you shop, where other varieties are only available at Farner's Markets or when they are in season in your area.
Some other favorites for pie making are Golden Delicious, Jazz, Jonagold, and Pink Lady.
How thick should apple slices be for Apple Crumble Pie?
Before you cut the apples be sure you peel them first. Once peeled then you will use a sharp knife to cut the apple into fourths and cut the core out of the middle.
Once it is in quarters and cored then cut slices that are about ¼ inch thick. This will ensure you make the perfect Apple Crumble pie.
When cutting the apples it is especially important that you cut your apples evenly, so none of the apples become mushy or undercooked when its baking.
Can I make Apple Crumble Pie ahead of time?
Lots of people want to prep apple crumble pie ahead of time, especially around the holidays, but it I don't recommend assembling your pie ahead of time.
When you assemble the pie and let it sit, the crust becomes yet and soggy, and won't crisp up during baking.
It is best to make your apple the day before so it has time to completely cool and set. You can place it in the fridge overnight (after it has cooled) and then pull out to eat the next day.
If you do want to make it ahead of time, you can assemble your pie and then freeze it before you bake it. This allows it to keep the same texture and consistency as if you just made it. If you do decide to freeze your apple crumble pie be sure you wrap it in a double layer of foil before putting it in the freezer.
How to store Apple Crumble Pie once it's cooked?
I get a lot of questions on how to store your pie once it is cooked, especially fruit pies. So, here is the answer fruit pies, including apple crumble pies can be stored at room temperature for two days, cut or uncut.
I recommend covering your pie loosely with plastic wrap or foil.
If you are hoping your apple crumble pie lasts longer than two days you can cover it loosely and keep in the fridge for an extra 2-3 days.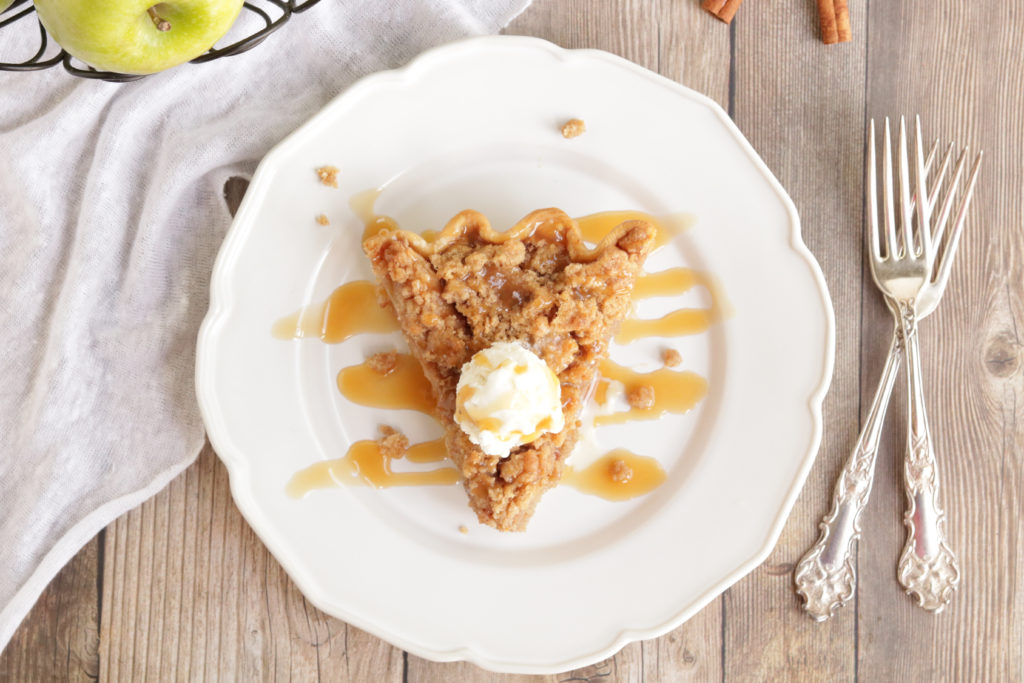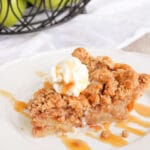 Print Recipe
Apple Crumble Pie
A super easy version of classic crumble pie with fresh apple filling and a rich buttery crumble topping
Ingredients
1

unbaked pie crust (refrigerated, frozen or homemade)

6

granny smith apples- peeled, cored, sliced 1/4 inch thick

2

Tablespoons

lemon juice

1/4

cup

flour

1 1/2

teaspoons

cinnamon

1/2

cup

granulated sugar

1

teaspoon

vanilla extract
Crumble Topping
1/2

cup

brown sugar

1 1/4

teaspoon

cinnamon

1/2

cup

flour

1/2

cup

room temperature butter
Instructions
Preheat the oven to 400 degreesFollow the pie crust instructions for thawing, and place crust over a 9 inch ungreased pie pan. Flute the edges of the pie by pressing your index finger on one hand, in between your index finger and thumb on the other hand. Set aside. In a large bowl, prepare the filling by mixing the apples, lemon juice, flour, cinnamon, sugar and vanilla. Then, pour into prepared pie pan. To make the crumble topping, combine the brown sugar, cinnamon, flour and room temperature butter in a medium bowl. Use a fork and press the butter into the other ingredients, until the mixture is nice and crumbly. Pour the crumble topping on top of the pie. Bake the pie for 15 minutes at 400 degrees, then lower the temperature to 375 and bake for an additional 35 minutes. Allow the pie to cool completely before serving. Top with ice cream and caramel drizzle for the ultimate treat. 


What is your favorite type of apple to use for apple crumble pie? Share in the comments!
Looking for Other Apple Recipe Favorites? Check out these recipes!
Share this Apple Crumble Pie on Pinterest!