Whole Roasted Rainbow Carrots: Your complete guide to choosing perfect carrots and roasting them with olive oil, garlic and herbs.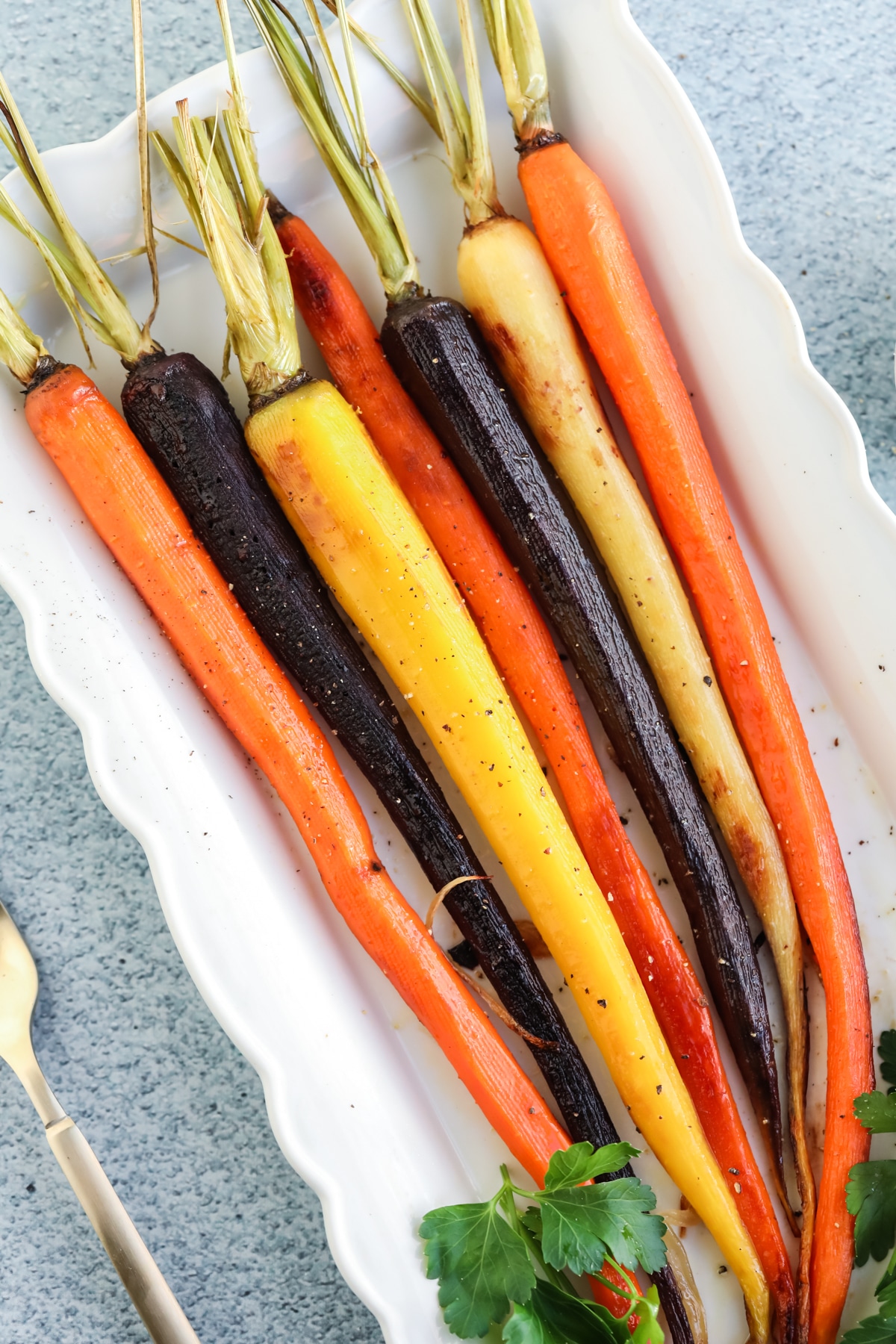 For more simple roasted vegetable side dishes, check out our Roasted Rosemary Potatoes, Instant Pot Asparagus, Green Beans Almondine and Keto Brussel Sprouts.
I am so excited to share one of my favorite side dishes with you today, simple whole roasted rainbow carrots. This beautiful roasted rainbow carrots are one of the easiest elegant side dishes you can make. This delicate marinade really brings out the natural flavor of the carrots, allowing them to compliment and not overpower any meal.
Let's get started.
Ingredients for Whole Roasted Carrots:
1 lb medium sized whole carrots
2 Tablespoons olive oil
2 garlic cloves, minced
Salt and pepper to taste
Optional: Parsley or Chives for garnish
How to Make Whole Roasted Rainbow Carrots
Whole roasted carrots are very simple to make.
First start by preheating your oven to 425 degrees.
You will want to wash your rainbow carrots thoroughly making sure to scrub off all the dirt.
Once washed, cut off the green tops and peel if desired. I usually don't peel mine but do pull off any excessive root fibers that may be hanging off. Add garlic and salt and pepper and stir until thoroughly combined.
Then you will want to place the carrots in a baking dish in a single layer and pour the leftover oil mixture evenly on top of the rainbow carrots.
Bake these whole roasted carrots for 10 minutes then turn over and cook for the remaining 15 minutes until the carrots are tender and start to caramelize.
Once done, garnish with fresh parsley or chives.
Selecting Carrots
When selecting carrots at the store or at the Farmers Markets, you want to look for carrots that are bright in color and have smooth skin. You want them to be firm as well.
You do not want to get carrots that are limp or black near the tops. This is a sign that they are not fresh.
Go for carrots that are medium and taper from top to bottom. Choose some medium-small sized carrots that are similar in size so they will cook evenly.
What Kind of Carrots to Use
You can use orange carrots, heirloom carrots or rainbow carrots. All of these are great options and taste great, just make sure they are similar in size. 
Make Ahead of Time
This is a very simple dish to make, but often prepping earlier in the day is so much easier and can also help intensify the lovely garlic flavor.
You can prep the carrots earlier by washing and drying them and then placing them in the oil mixture to marinade until you are ready to cook them.
Tips for Roasting
425 degrees is the perfect temperature for roasting whole carrots. It allows the outsides to get that toasty, caramelized crust so the sugars in the carrot condense making for an extra sweet but savory side dish solution.
Keep a close eye towards the end of cooking, paying special attention to the thin ends of your carrots.
If the ends are cooking up rather fast, piercing the thicker part of the carrot with a fork will speed up the process.
How do I know when the carrots are done?
Carrots can be enjoyed raw or roasted so its really a matter of preference. I love mine to be tender enough to pierce with a fork, and like the outside with a nice golden crust.
You really can't go wrong- it just depends on what you like!
Storing Carrots
Before Roasting: Trim the greens off of them and put them in a container in the fridge with some water in it. This will help your carrots stay crisp and delicious. 
After Roasting: Store in an airtight container in the fridge and enjoy within four days.
Do You Peel Carrots before Roasting
Choosing to peel the carrots prior to roasting is up to you, just as long as you have washed the carrots thoroughly removing the dirt you will be fine. 
Some find the peel to taste a little bitter, so they choose to remove it. It really is a personal preference to what you like. 
Cooked Carrots Better for You
I know so often we hear raw vegetables are better for you than cooked, but when it comes to carrots, cooked carrots are actually better for you because they release more Vitamin A in the cooking process. It is best to leave the peel on if you are trying to get more nutrients out of the carrots as well. 
When are Carrots In Season?
You can start to see fresh carrots at the Farmers Markets or popping up in your gardens are early as the beginning of May. The carrot season can last all the way to December in some parts of the country. 
So if you love to garden, carrots are a great vegetable to plant several times throughout the year.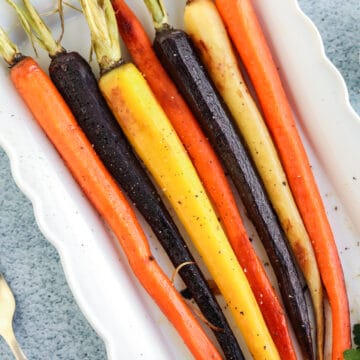 Ingredients
1

lb

medium sized whole carrots

2

Tbsp

olive oil

2

garlic cloves, minced

salt and pepper to taste

parsley or chives for garnish
Instructions
Preheat oven to 425 degrees.Wash carrots thoroughly and cut off the green tops. Peel if desired.Toss the carrots in olive oil. Add the garlic and salt and pepper and stir until thoroughly combined. Place the carrots in a baking dish  in a single layer and pour the leftover oil mixture evenly on top.Bake for 10 minutes, then turn over. Cook for the remaining 15 minutes or until the carrots are tender and they begin to caramelize. Garnish with freshly chopped parsley or chives. 


Tell me how your whole roasted carrots turned out! Share in the comments!
Share these whole roasted carrots on Pinterest!