Perfect Pink Champagne Cupcakes: Light and Fluffy Pink Champagne Cupcakes with a Smooth Champagne Buttercream Frosting and a fizzy pop of pink champagne.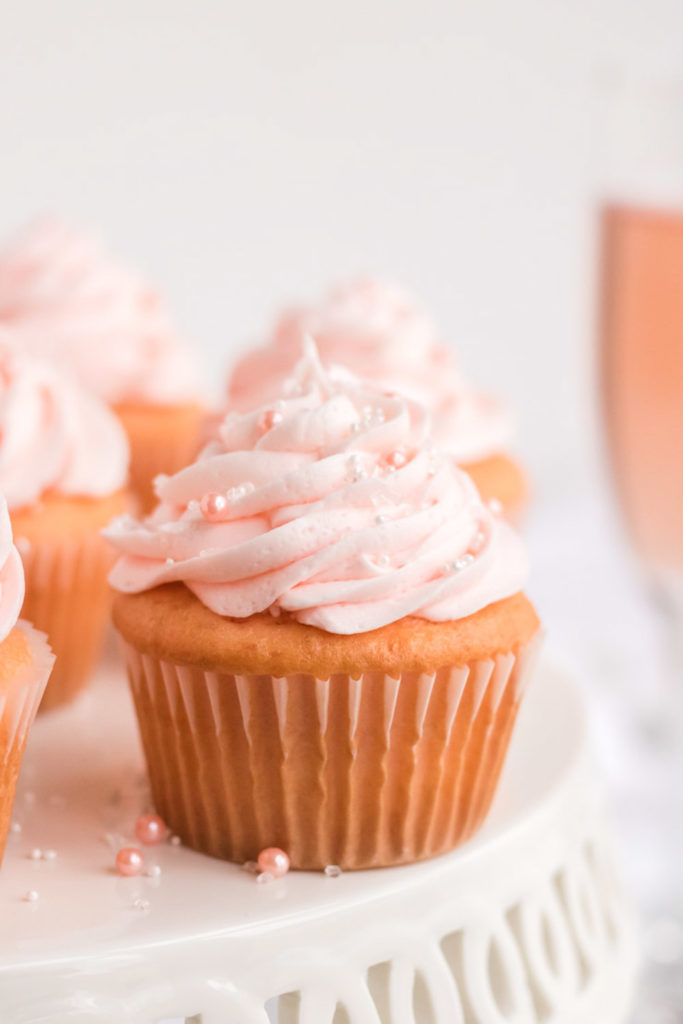 Pink Champagne Cupcakes
As you know, I have an obsession with cupcakes and also love enjoying a glass of pink bubbly...so when I saw a Pink Champagne Cupcake at my favorite cupcake shop, I knew I needed to develop this for you guys!
I tested a few different versions of this recipe for you and found not one, but TWO easy and fool proof ways to make perfect fluffy cupcakes with a perfect balance of vanilla and that spritz of champagne flavor.
In this blog post, I am going to share the best recipe for pink champagne cupcakes from scratch and also share a shortcut of how you can make pink champagne cupcakes from a boxed mix for a super easy version that will have you celebrating in no time!
For more dessert recipes, check out my egg nog cupcakes, apple crumble pie or fresh cranberry bars.
How To Make Pink Champagne Cupcakes From Scratch
As perfectly pretty as these cupcakes are, you will find they are extremely easy to make! Let's start by talking about ingredients, and most importantly the main ingredient. Pink Champagne!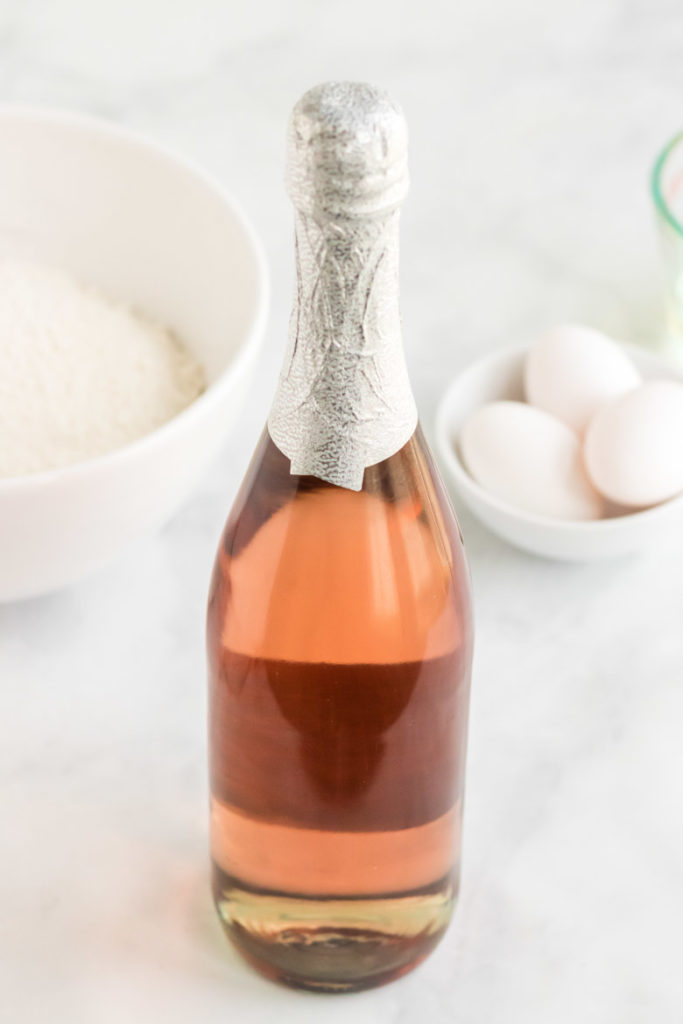 How To Choose Pink Champagne
For this recipe, the quality really doesn't matter. We are actually going to make a simple reduction. Don't worry, its not as fancy as it sounds. It simply means we are going to boil off the alcohol and condense the flavor of the wine so that the flavor comes through a little more boldly.
So for this recipe, choose by price or pretty labels...whatever bottle calls your name. We just want to give the cupcakes that lovely vibrant effervescent interest in the background.
I did a quick test with some of the most popular brands that are easily found at most major grocery stores across the country. Here were my favorites:
After selecting your wine, you are going to want to gather the rest of your ingredients.
Ingredients for Pink Champagne Cupcakes
You will need:
Pink Champagne
Flour
Baking Powder
Salt
Butter
Vanilla
Vegetable Oil
Eggs
Pink Food Coloring
Start by preheating your oven and getting your cupcake tray ready for baking by lining it with paper liners. I love using gorgeous light pink for this recipe, but white or natural work very well too!
Next it's time to make the pink champagne reduction which is as easy as measuring out 1 ½ cups and simmering it for about 6 minutes or until it reduces in half. When the mixture is done reducing, set aside 2 Tablespoons for the icing and measure out about ¾ cup for the cupcake recipe.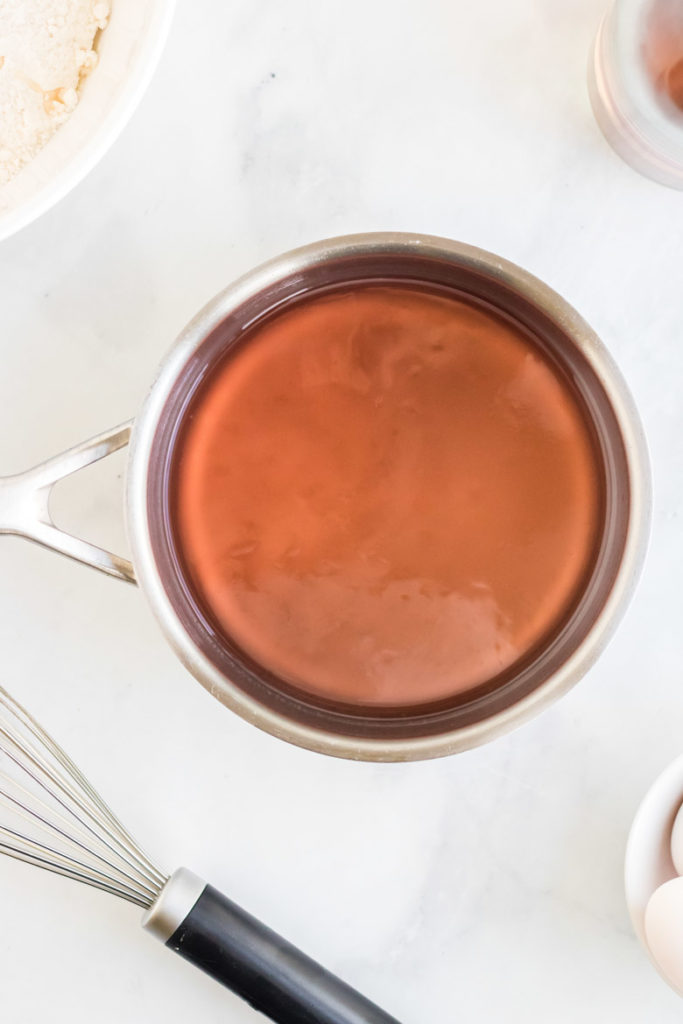 Making a reduction is the best way to concentrate the flavor of the pink champagne so it really shows through in the cupcake and frosting.
While the pink champagne reduction is cooling, you can mix the dry ingredients in a large bowl. You will want to combine the flour, baking powder and salt so they are well incorporated. Then set them aside while we work on the rest!
Next, cream the butter and the vanilla together with an electric mixer on medium low speed. Then, add the sugar, vegetable oil and eggs beating until smooth and creamy.
Set the mixer to medium speed, and alternate adding a little bit of the flour mixture and the reduced champagne. Continue alternating until all the cupcake ingredients are combined, being sure to reserve that 2 Tablespoons of the reduction for the buttercream.
How To Bake Pink Champagne Cupcakes
Now it's time to bake them! Fill your cupcake liners about ¾ full and bake for about 18-20 minutes or until a toothpick inserted in the center comes out clean.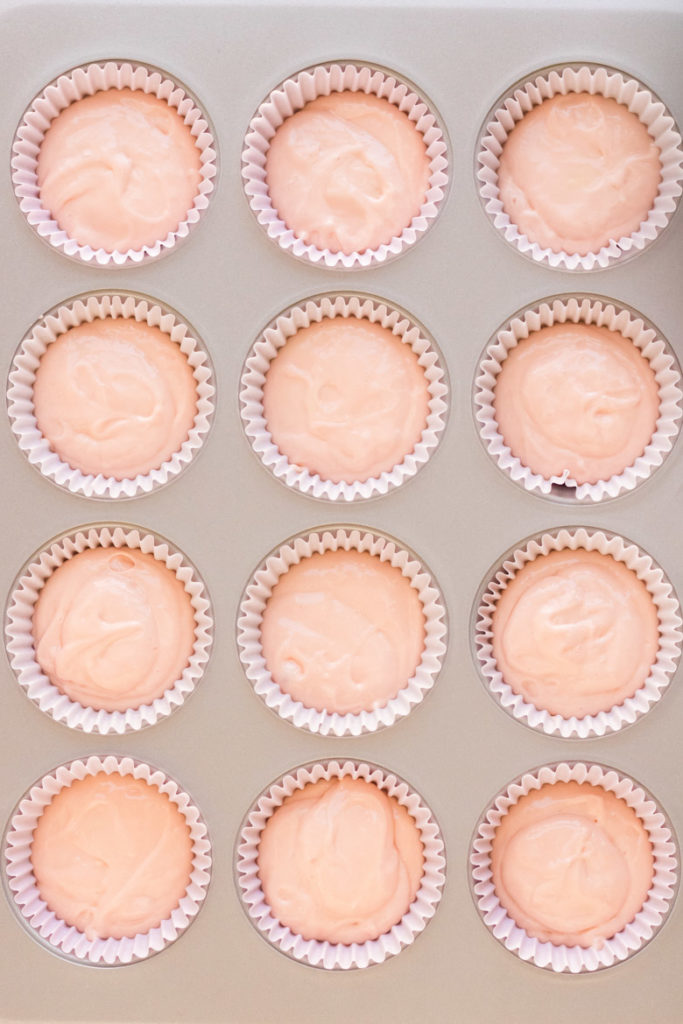 While the cupcakes are cooking, you can get started on a super simple buttercream frosting that is accented with a fizzy pop of pink champagne.
Pink Champagne Buttercream Frosting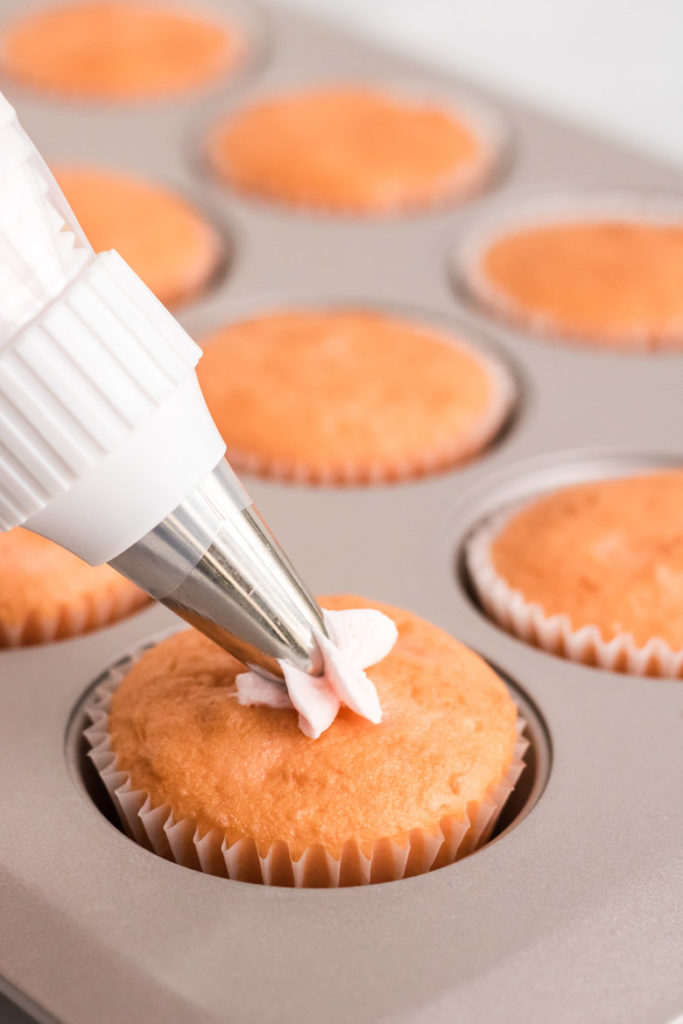 For the icing, you want to mix the remaining 1-2 Tablespoons pink champagne reduction with the room temperature butter, confectioners sugar, vanilla and milk. Beat with an electric mixer on medium low until perfectly smooth.
I personally like a more subtle champagne taste in the frosting and just use 1 Tablespoon, but if you want it to be a little more bold you can use up to 2 Tablespoons.
At this point, you can adjust the consistency of the icing to your liking by adding more or less confectioners sugar and milk. To think out your icing, add a little more liquid. To thicken it up and make it more dense, add more confectioners sugar.
The last step is using your piping bag and icing tips to pipe a perfect swirl of pink champagne buttercream on top. My favorite piping bags are these ones by Wilton, and I absolutely love their cupcake starter pack as well.
How To Get the Perfect Shade of Pink
When it comes to pink cupcakes, getting that perfect champagne color can be a challenge. I struggled to get just the right shade with red, and found the best way to get the PERFECT shade was using this pink color gel. Be sure to add it in very small amounts until you get the hue you want. You can go from subtle champagne from bold bubblegum real quick! So go easy.
Perfect Sprinkles
Are these pink pearl sprinkles perfect for these cupcakes, or what? They are delicate and classy...just like the drink and are the ideal finishing touch to this tasty work of art! I also finished off with a few of these tiny white pearls for a bit of dimension and color interest.
These cupcakes are going to be perfect for you to make anytime you have anything to celebrate! New Years Eve, Valentines Day, Bridal Showers, Baby Showers ...whatever the occasion, this recipe is always a winner!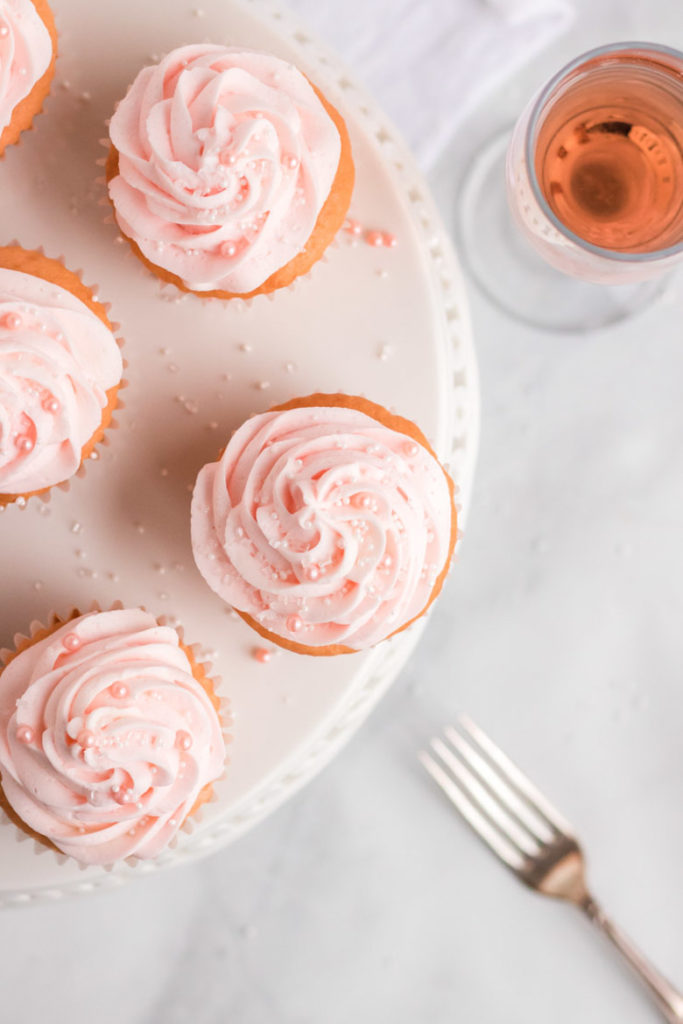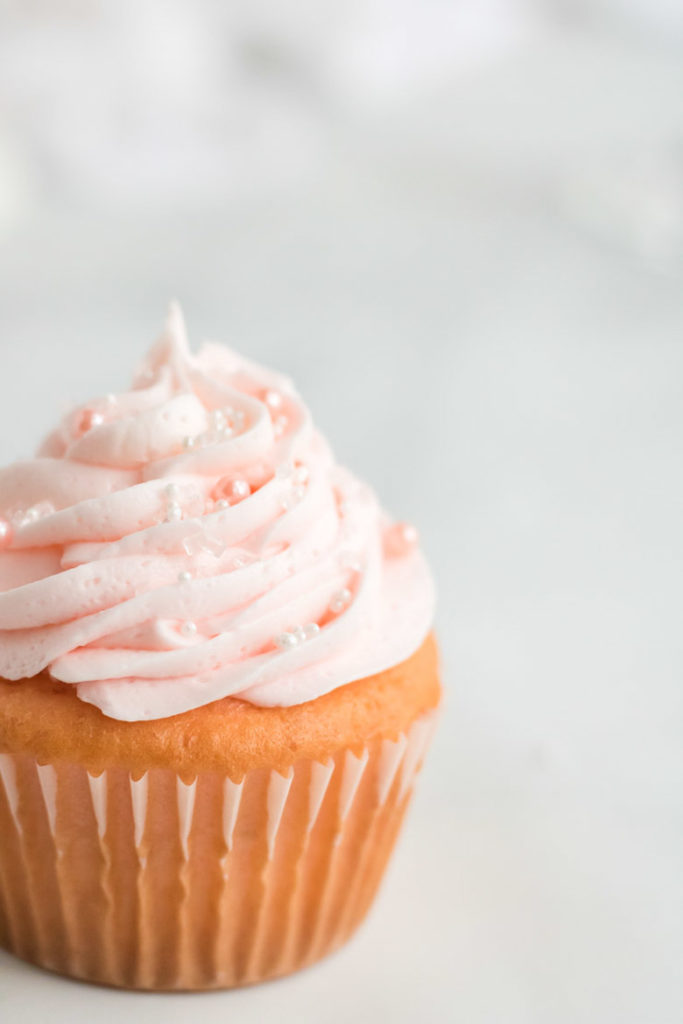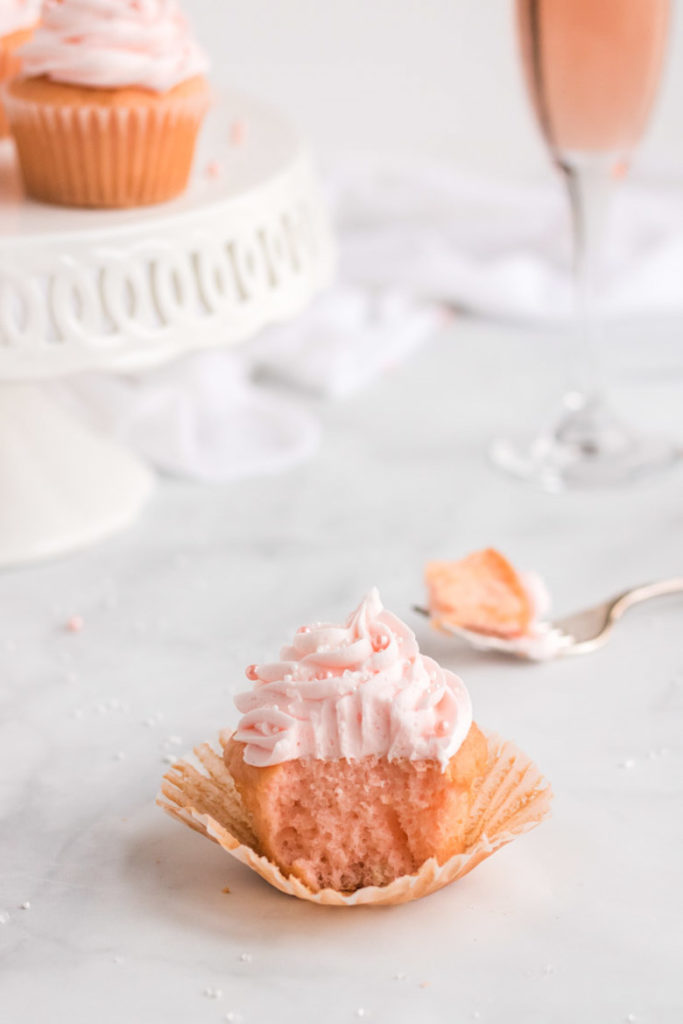 Recipe for Pink Champagne Cupcakes using Cake Mix
Yeild - 24 cupcakes Prep Time- 5 minutes Bake Time- 18 minutes
Ingredients:
1 box white cake mix
1 cup pink champagne reduce
⅓ cup vegetable oil
3 eggs
pink food coloring
Directions:
Preheat the oven to 325 degrees. Line a cupcake baking tray with paper liners and set aside.
In a small saucepan over medium heat, add 2 cups Pink Champagne and simmer until it is reduced to 1 cup liquid, about 6-8 minutes. Set aside until room temperature. Reserve 1-2 Tablespoons to use in buttercream icing.
Combine Cake mix, oil, and eggs together until well blended. Add a drop of pink coloring to the cooled reduced champagne to a light pink and stir well. Add champagne reduction to batter and blend well.
Fill each paper cup ⅔ full and bake at 325 degrees for 18-20 minutes or until toothpick inserted in the center comes out clean.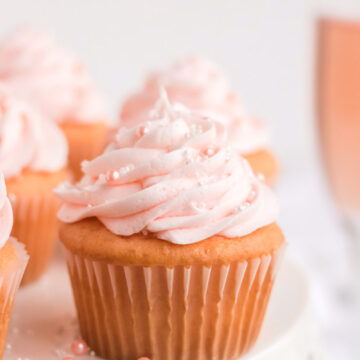 Pink Champagne Cupcakes
Perfect Pink Champagne Cupcakes: Light and Fluffy Pink Champagne Cupcakes with a Smooth Champagne Buttercream Frosting and a fizzy pop of pink champagne.
Print
Pin
Rate
Equipment
Cupcake Pan, Oven, Large Mixing Bowl, Electric Mixer
Ingredients
Pink Champagne Cupcakes
1 ½

cups

pink champagne

2 ⅔

cups

flour

1 ½

teaspoons

baking powder

¼

teaspoon

salt

½

cup

salted butter

1

Tablespoon

vanilla extract

½

cup

vegetable oil

2

cups

sugar

4

eggs
Pink Champagne Buttercream Icing
1-2

Tablespoons

pink champagne reduction

½

cup

unsalted butter

room temperature

2

cups

confectioners sugar

½

teaspoon

vanilla extract

1-2

Tablespoons

milk
Instructions
Cupcakes
1.)  Preheat the oven to 325 degrees. Line a cupcake baking pan with paper liners and set aside. 2.) Open bottle and measure out 1 ½ cups of champagne.  Place in a saucepan and simmer for about 6-8 minutes and let it reduce until there's only ¾ cup of liquid remaining. Let this concentrated liquid cool down to room temperature before adding to your batter. Reserve 1-2 Tablespoons for the buttercream frosting.3.) In a small bowl, measure and whisk together flour, baking powder, salt and set aside.6.)  In a separate bowl, use an electric mixer to beat butter and vanilla together until smooth and creamy.7.)  Add sugar, vegetable oil and eggs. Continue mixing until combined.8.)  Set the mixer to medium speed, gradually alternate between adding flour mixture and concentrated liquid champagne.  Stir until each one is almost completely combined before adding the next. Scrape down sides and bottom of the bowl as you work.9.)  Fill cupcake liners ¾ full and bake for 18-20 minutes.
Pink Champagne Buttercream Frosting
In a large bowl, using an electric mixer, beat butter, powdered sugar, vanilla and 2 tablespoons of the champagne reduction until smooth. Add milk as needed to reach desired consistency.
Nutrition
Calories:
274
kcal
|
Carbohydrates:
38
g
|
Protein:
2
g
|
Fat:
13
g
|
Saturated Fat:
9
g
|
Cholesterol:
48
mg
|
Sodium:
70
mg
|
Potassium:
50
mg
|
Fiber:
1
g
|
Sugar:
27
g
|
Vitamin A:
276
IU
|
Calcium:
20
mg
|
Iron:
1
mg
Have you tried these Pink Champagne Cupcakes yet? Let me know in the comments!
Pin this for future celebrations!