Cranberry Smoothie Bowl - With just 4 basic ingredients , this cranberry smoothie recipe is healthy, beautiful and super simple!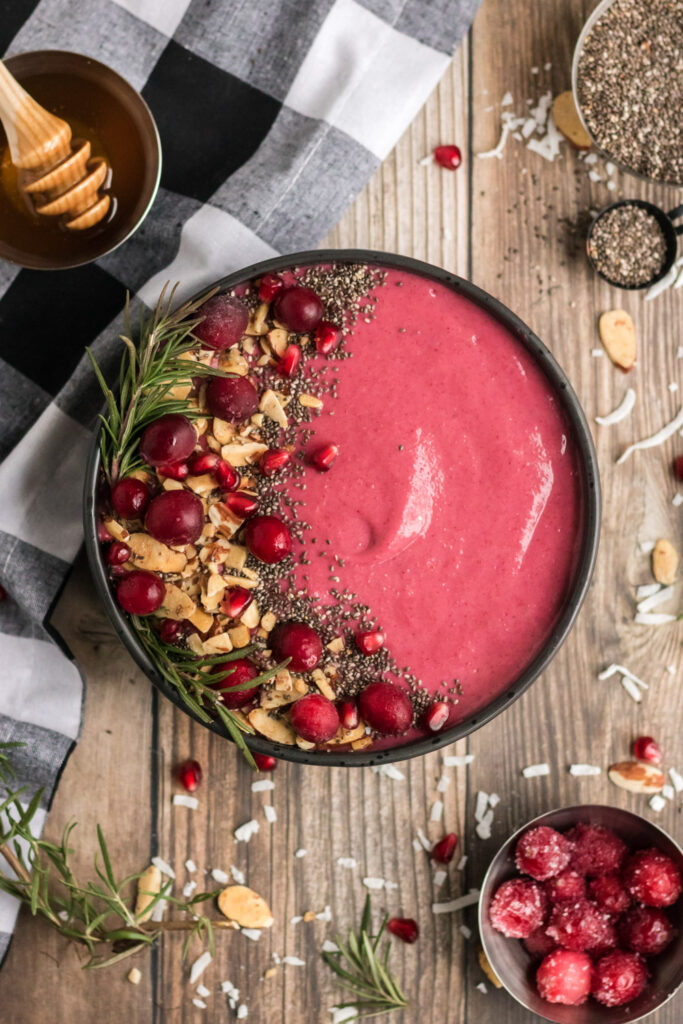 Cranberry Smoothie Bowl
If you are familiar with my blog, you know I have a slight obsession with smoothie bowls. I love that they are healthy, quick and easy. I love their artistic visual appeal. As a food photographer, I eat with my eyes first. As a busy mom, I don't have time for super fussy meals. Smoothie bowls really hit the mark for me!
This cranberry smoothie recipe uses just four ingredients and takes five minutes to make. Just throw the ingredients in the blender, pour it into a bowl and top with your favorite garnishes. It's simple, healthy and GORGEOUS.
For more smoothie bowl recipes, check out my Pumpkin Smoothie Bowl.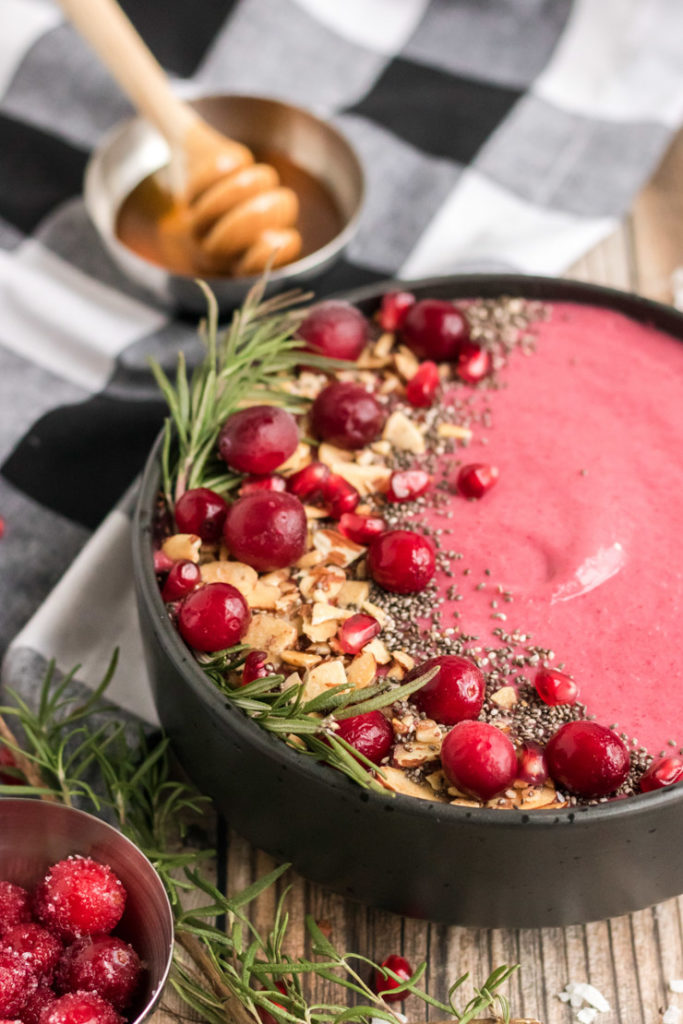 Cranberry Smoothie Bowl Health Benefits
This cranberry smoothie recipe has many nutritent packed ingretients. Lets take a closer look at all the benefits in this gorgeous bowl.
Cranberry
There are many health benefits to cranberry based smoothies! Cranberries are said to boost immunity, lower blood pressure, support urinary health and even fight cancer. For a complete list of health benefits, check out this website.
Banana
Banana not only makes this smoothie super creamy, it adds HUGE nutritional value! Bananas are loaded with fiber, high in potassium, help prevent asthma, cancer, high blood pressure, diabetes, cardiovascular disease, and digestive problems.
Yogurt
Yogurt can be high in protein, calcium, vitamins, and live culture, or probiotics. Probiotics are excellent for gut health and can give your immune system the support it needs all year round.
With all this said, it is important you choose THE RIGHT kind of yogurt to get these benefits. Check out this article for a complete guide to choosing the most beneficial yogrut for your needs.
Honey
This natural sweetener not only nuetralizes the tart bite of the cranberries, but it has many health benefits as well.
Honey is said to help lower Triglycerides, improve Cholesterol and possibly help lower blood pressure.
Cranberry Smoothie Recipe
To make this recipe, start by gathering your ingredients and a great blender.
You will need:
Fresh or Frozen Cranberries
Vanilla Yogurt
Bananas
Honey
Next, just put all the ingredients in your blender. I highly reccomend this Kitchenaid one! It makes my smoothies super smooth and has no issues breaking down those rough cranberry skins.
Start at a low speed and increase, slowly going up to "Blend" or "Puree".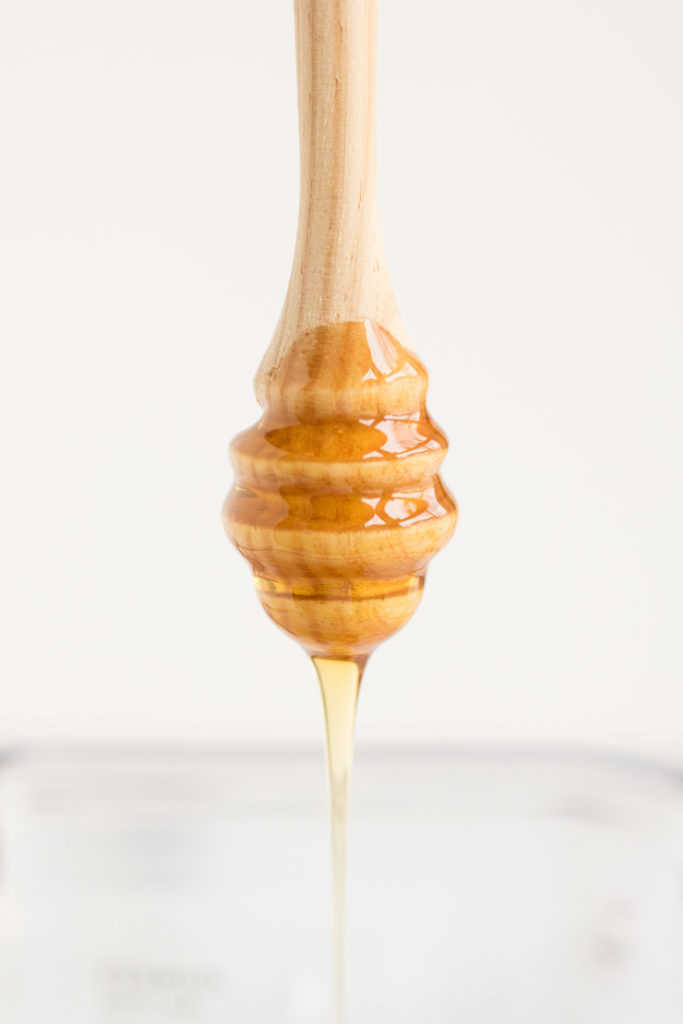 I highly reccomend using frozen bananas and cranberries for this recipe. It keeps the smoothie bowl extra cold and frozen bananas really help make the smoothie extra creamy! The only downside to using frozen fruit is that the smoothie is going to be extra thick.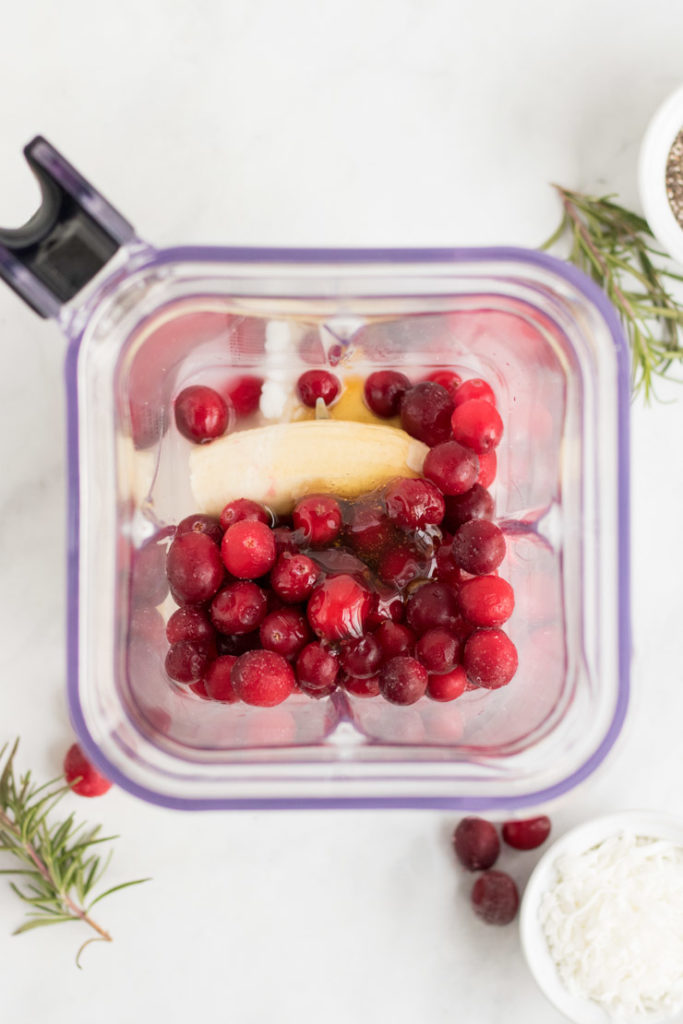 If your smoothie is blending a little thick, go ahead and add up to ¼ cup of water. More or less if needed. This is a very forgiving recipe and you can't really mess up a smoothie! Don't be afraid to experiement until you get the consistancy you need.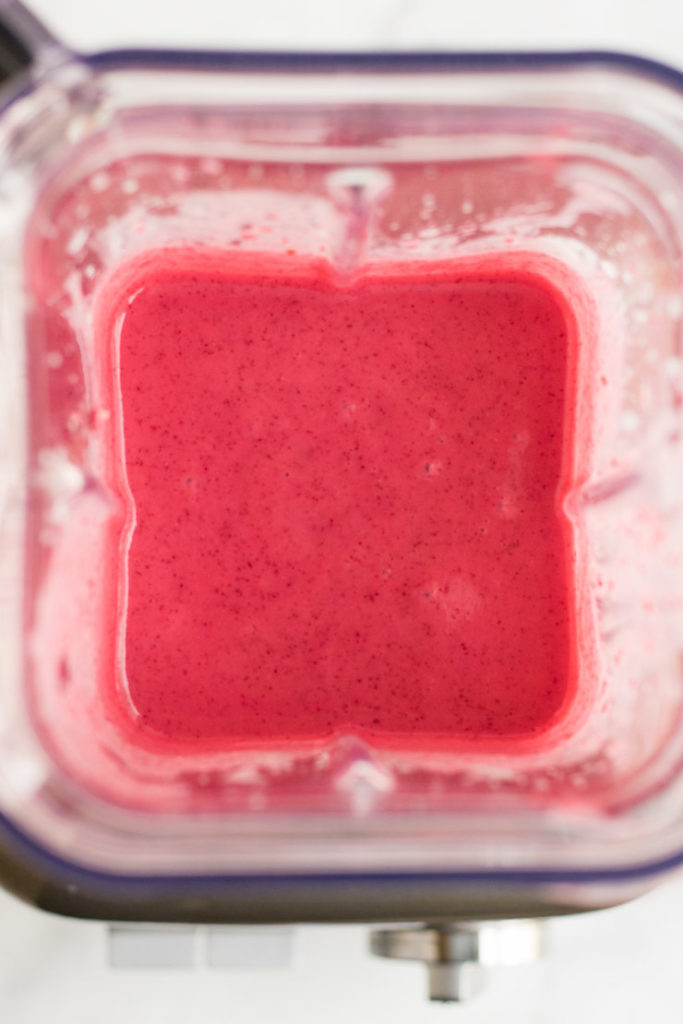 If you only have fresh ingredients, that is completely fine too! I just prefer the frozen ones for the texture.
After your smoothie bowl is blended to your desired consistancy, pour it in a bowl and think about what you want to use as toppings!
Toppings For Cranberry Smoothie Bowl
Chia Seeds: Chia Seeds are an excellent source of omega-3 fatty acids. They are rich in antioxidants, and they provide fiber, iron, and calcium.
Almonds: Almonds reduce hunger, promote weight loss and are also loaded with healthy fats, fiber, protein, magnesium and vitamin E.
Coconut: Coconut is rich in copper and iron, which help form red blood cells. It also assists in the the metabolism of carbohydrates, proteins, and cholesterol
Pomegranate Seeds: Pomegranate seeds are anti-inflammatory, may lower blood pressure and are full of cancer fighting nutrients.
Fresh Rosemary- Smells great, looks pretty and is also anti-inflammatory and great for digestion!
Other topping ideas:
Granola
Pumpkin Seeds
Hemp Seeds
Berries
Bananas
Cranberries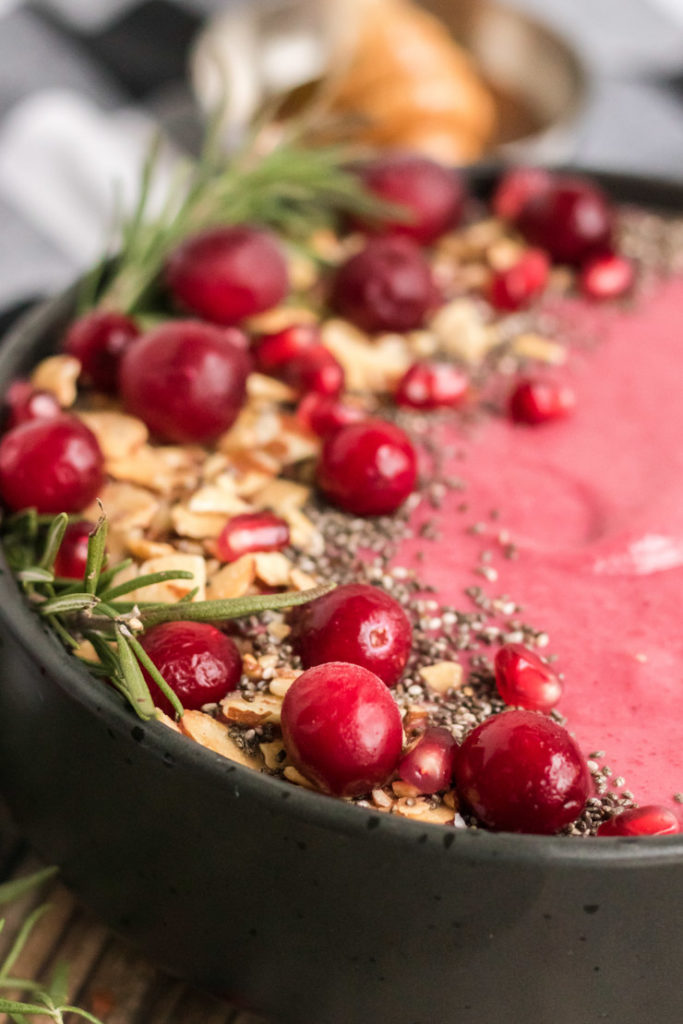 Make it Vegan
If you are vegan, you can still make this cranberry smoothie recipe! Simply swap out the yogurt for your favorite vegan replacement and replace the honey with a different sweetener.
Vegan Yogurt Options
Thankfully, vegan yogurt options are available at almost every major grocery store. So if you life a vegan lifestyle, you can still make this gorgeous cranberry smoothie recipe.
Some options to try are:
Soy Yogurt
Coconut Yogurt
Almond Yogurt
Alternative Sweetner Options
Cranberries NEED something sweet to offset their tart flavor. If you need an alternative to honey you can try this options.
How to keep your smoothie cold
The single most important factor in keeping a smoothie cold is to start with frozen ingredients. For this cranberry smoothie recipe, I reccomend using frozen cranberries and frozen bananas. They act as "ice" but don't get watery as they melt.
Another thing you can do is use a temperature controled cup or bowl for serving. This will help to control the temperature around the bowl so it can keep itself icy cold.
Storing Smoothie Bowls
You can store your smoothie covered in the fridge for about 48 hours. I highly prefer this recipe eaten the same day, but its ALMOST as good the next day. So if you have busy weekday mornings, don't be afraid to make a double batch and save half of this cranberry smoothie recipe for the next day. Give it a quick stir if you are serving it in a bowl, or a little shake if your drinking it in a glass.
Do not put toppings on until you are ready to eat it or they will get soggy!
Freezing Smoothies
Alternatively, you can make a big batch and freeze small indivdual servings of this in airtight freezer bags or containers. Simply bring a single serving into the fridge the night before you plan to have it! It will still be a bit frosty the next day but I kind of like that!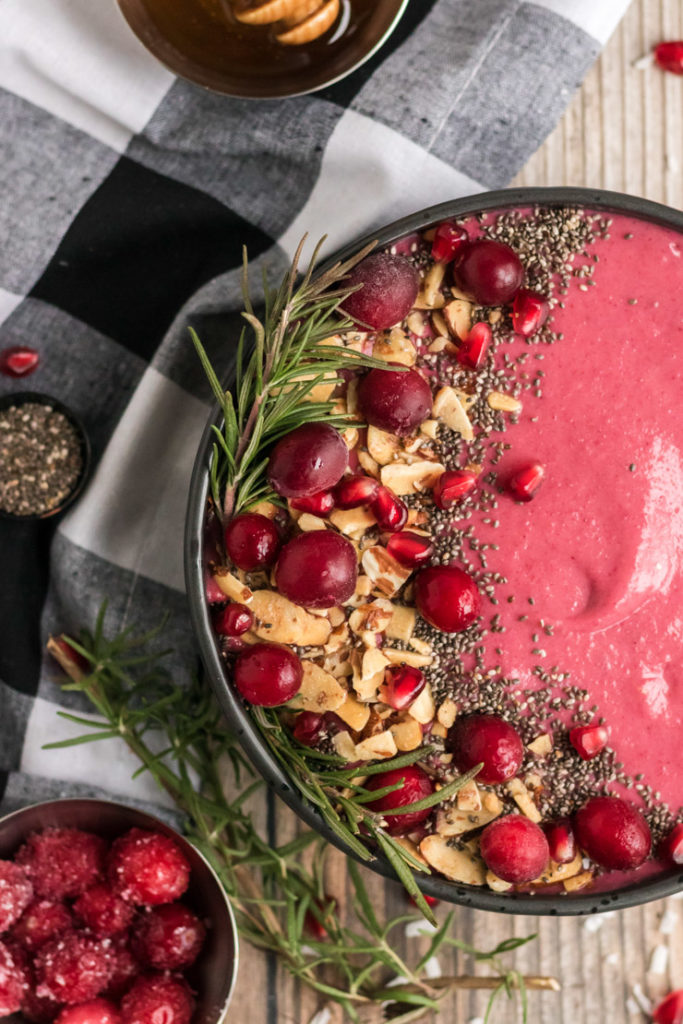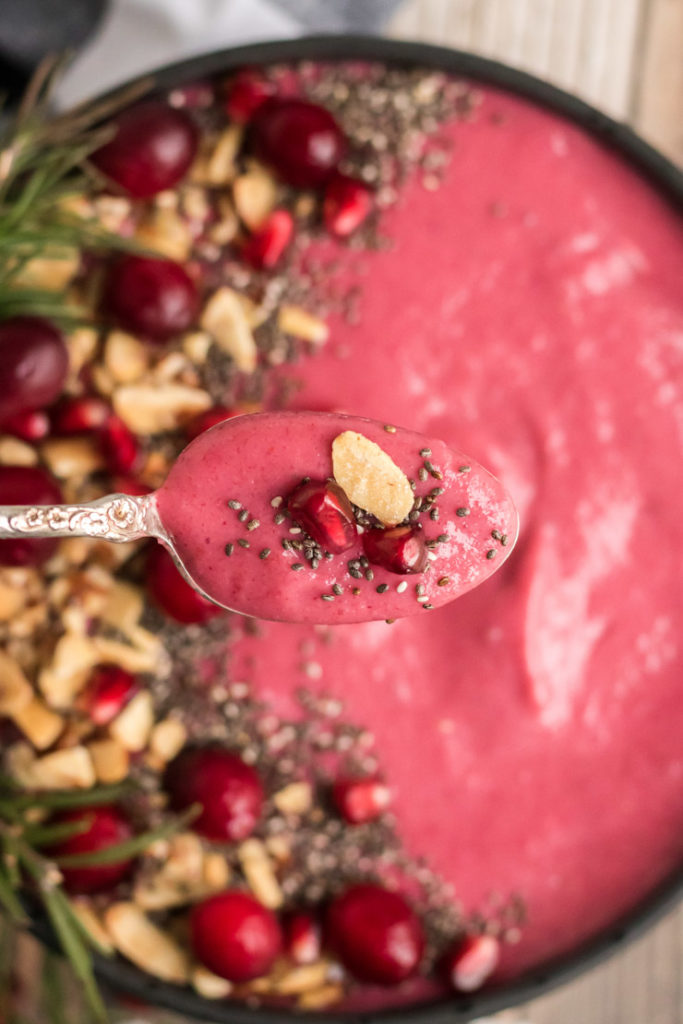 I am so excited for you to try this cranberry smoothie bowl. If you make it, I would love to see a picture! Please share on one of my social media channels and tag me.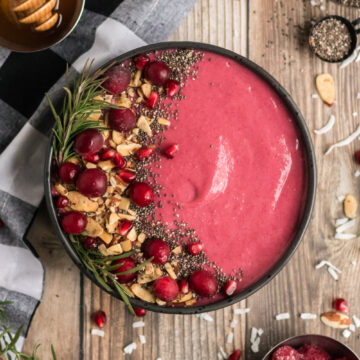 Cranberry Smoothie Bowl
Cranberry Smoothie Bowl - With just 4 basic ingredients , this cranberry smoothie recipe is healthy, beautiful and super simple!
Print
Pin
Rate
Servings:
2
smoothie bowls
Ingredients
1

cup

frozen cranberries

6

oz

vanilla yogurt

2

Tablespoons

honey

1-2

bananas

fresh or frozen
Instructions
Place all ingredients in a blender and blend until smooth, adding water last and as needed. Garnish with desired toppings and serve.

Garnish Suggestions:

Fresh BananaExtra cranberries-plain or rolled in sugarAlmondsCoconutChia Seeds
Notes
I highly prefer frozen bananas with this recipe and personally like to use 2. The frozen bananas keep the bowl colder longer and also seem to hold the toppings up a bit better. 

Add up to ¼ cup water to help the smoothie blend a little easier, if needed. 

Add more or less honey to adjust sweetness.

You can replace the yogurt with a vegan option if desired.
You can also replace the honey with any alternative sweetener, liquid preferred. 
Nutrition
Calories:
426
kcal
|
Carbohydrates:
103
g
|
Protein:
5
g
|
Fat:
1
g
|
Saturated Fat:
1
g
|
Cholesterol:
4
mg
|
Sodium:
62
mg
|
Potassium:
455
mg
|
Fiber:
2
g
|
Sugar:
86
g
|
Vitamin A:
114
IU
|
Vitamin C:
60
mg
|
Calcium:
158
mg
|
Iron:
1
mg
Crazy about Cranberries? Check out our most popular cranberry recipes:
If you have made this recipe, let me know what you think in the comments. Pin this recipe on Pinterest!