Beef Wellington: A tender beef tenderloin filet wrapped in layers of mushrooms and shallots, salty prosciutto and a buttery golden pastry crust.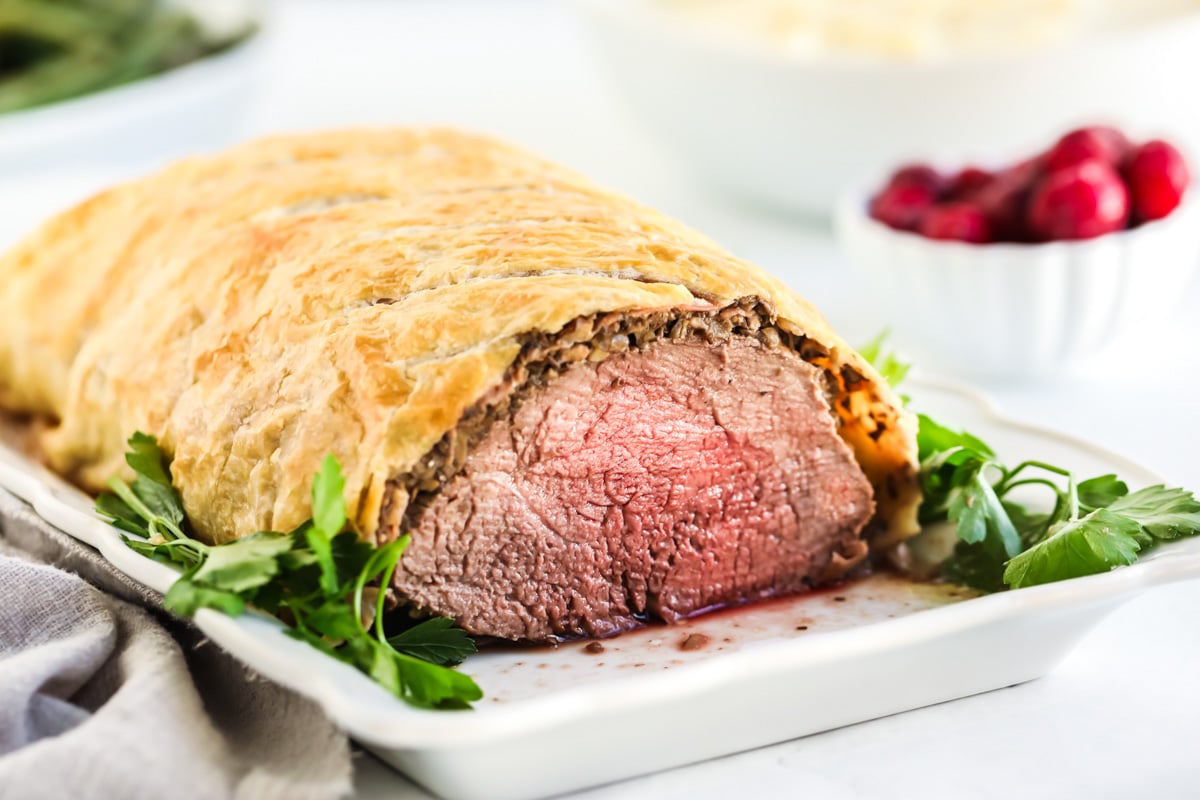 Welcome to Homemade Holiday Inspiration. Each week of November we will be inspiring you with recipes, decorating ideas, crafts, homemade gift ideas and much more! Be sure to check out the recipes at the bottom of this post from some of my talented blogging friends.
If you are looking for an impressive dish to serve for dinner, Beef Wellington is it! This recipe comes from my mother's recipe box. It is a tradition for her to serve it around the holiday's, but why wait all year for something so good!
Don't let its fancy and complex appearance fool you. This dish is pretty easy to make! In this blog post, I am going to show you my fool proof method for perfect Beef Wellington, every time.
What is Beef Wellington?
Beef Wellington, is a tender fillet wrapped in pastry crust. The beef is topped with a mixture of mushrooms, Dijon mustard and shallots and a layer of prosciutto.
It is named after Arthur Wellesley, Duke of Wellington, prime minister of Britain. His role in the creation of the this now famous meal isn't certain, but it sounds just as good as it tastes!
How to Make Beef Wellington
Making this Beef Wellington recipe is really easy if you break it down into 3 steps: Making the duxelles, wrapping the roast and finally baking it. In this blog post, I am going to show you how easy each step is and guide you through exactly how my mom makes it. Don't forget to invite me for dinner!
Ingredients
For the Beef:
2 lb beef tenderloin
Extra Virgin Olive Oil
salt and pepper
8 pieces prosciutto
2 Tablespoons Dijon mustard
Flour, for rolling pastry
1 lb puff pastry, thawed (2 sheets)
eggs
Salt and pepper
For the Duxelles:
1 ½ pounds white button mushrooms, finely minced
2 shallots or ½ cup onions, minced
2 sprigs fresh rosemary
2 Tablespoons unsalted butter
Extra Virgin Olive Oil
Salt and Pepper
How to make Duxelles
What is a Duxelles? A Duxelles is basically a simple mixture of sautéed chopped mushrooms, onions, and shallots. It is used as a filling for a number of different dishes, including pastries and sauces.
To make the duxelles for this recipe, you are going to finely chop the mushrooms, onions and rosemary. You can use a food processor and lightly pulse, or use a kitchen knife. You want the sizing to be in between a chop and a mince.
Next, heat the oil and butter in a large saucepan over medium heat and cook the mushroom mixture along with salt and pepper until tender. Most of the liquid should have evaporated. If there is some left, drain the mixture and use a spoon to press the remaining liquid out.
Preparing the Roast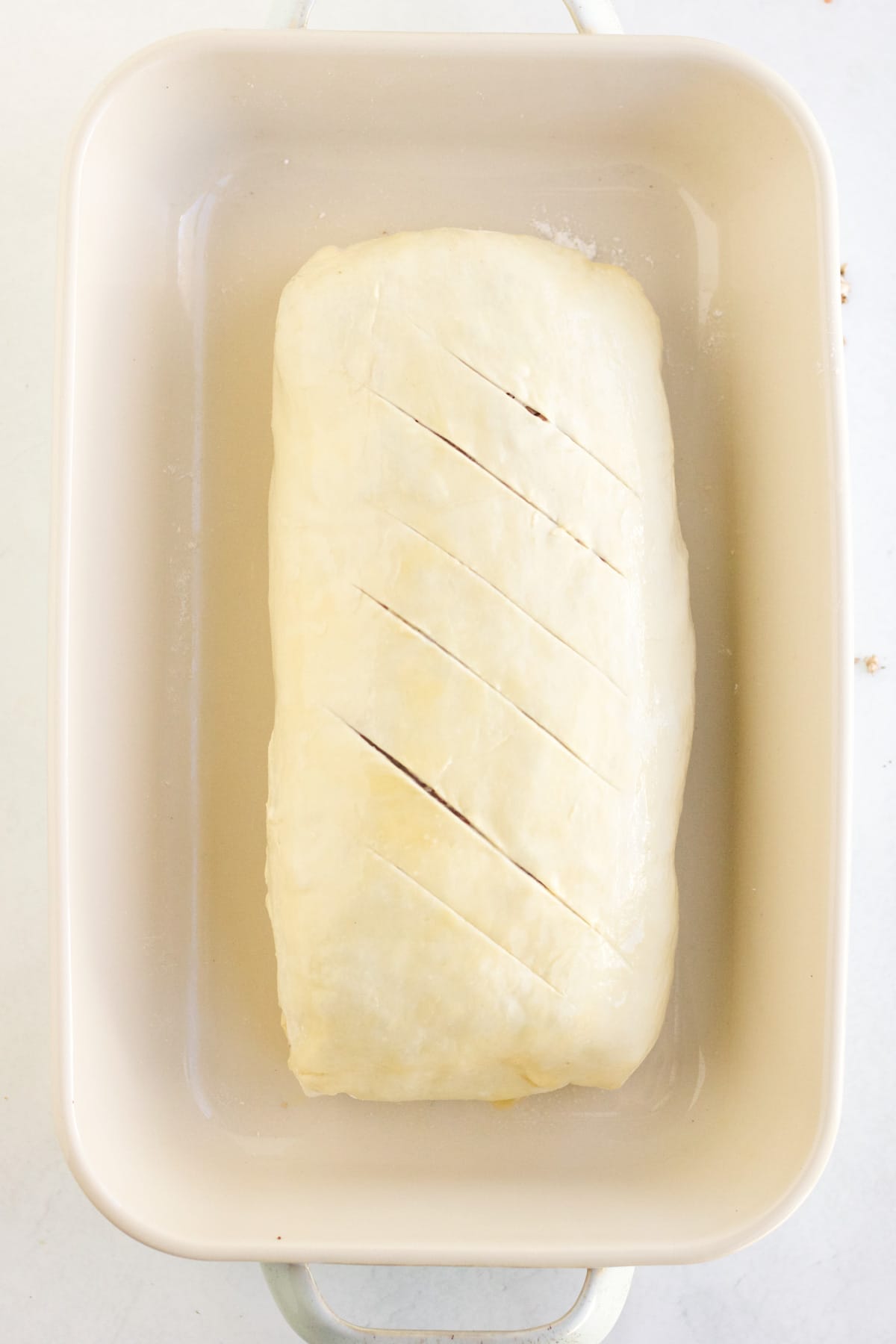 Prepare the roast by drizzling olive oil over the entire thing and rub salt and pepper into the meat. If desired, you can use cooking twine to tie the roast to keep its cylinder shape. Prepare a large, heavy bottomed cooking pan over medium high heat and sear each side of the roast.
While the roast is browning, spread plastic wrap on a flat surface and lay the prosciutto evenly apart allowing it to overlap slightly. Use a spatula to spread the duxelles over the proscuitto in a thin layer.
When the roast is done browning, rub Dijon mustard all over it and place is on the prepared duxelles and prosciutto. Wrap the roast up tightly, turning prosciutto over all ends and place in the refrigerator for at least 30 minutes to hold shape.
Meanwhile, roll the thawed puff pastry on a floured surface and seal them together with the roller, side by side. Spread out to about ¼" thickness, or until the entire puff pastry can wrap around the roast.
Remove the beef from the fridge and set it in the center of the pastry. Fold over the longer sides, brushing with the egg wash to seal. You may need to trim the edges.
Place the roast seam side down in a baking pan and cut small diagonal slits across the top to allow steam to escape.
Roasting Tips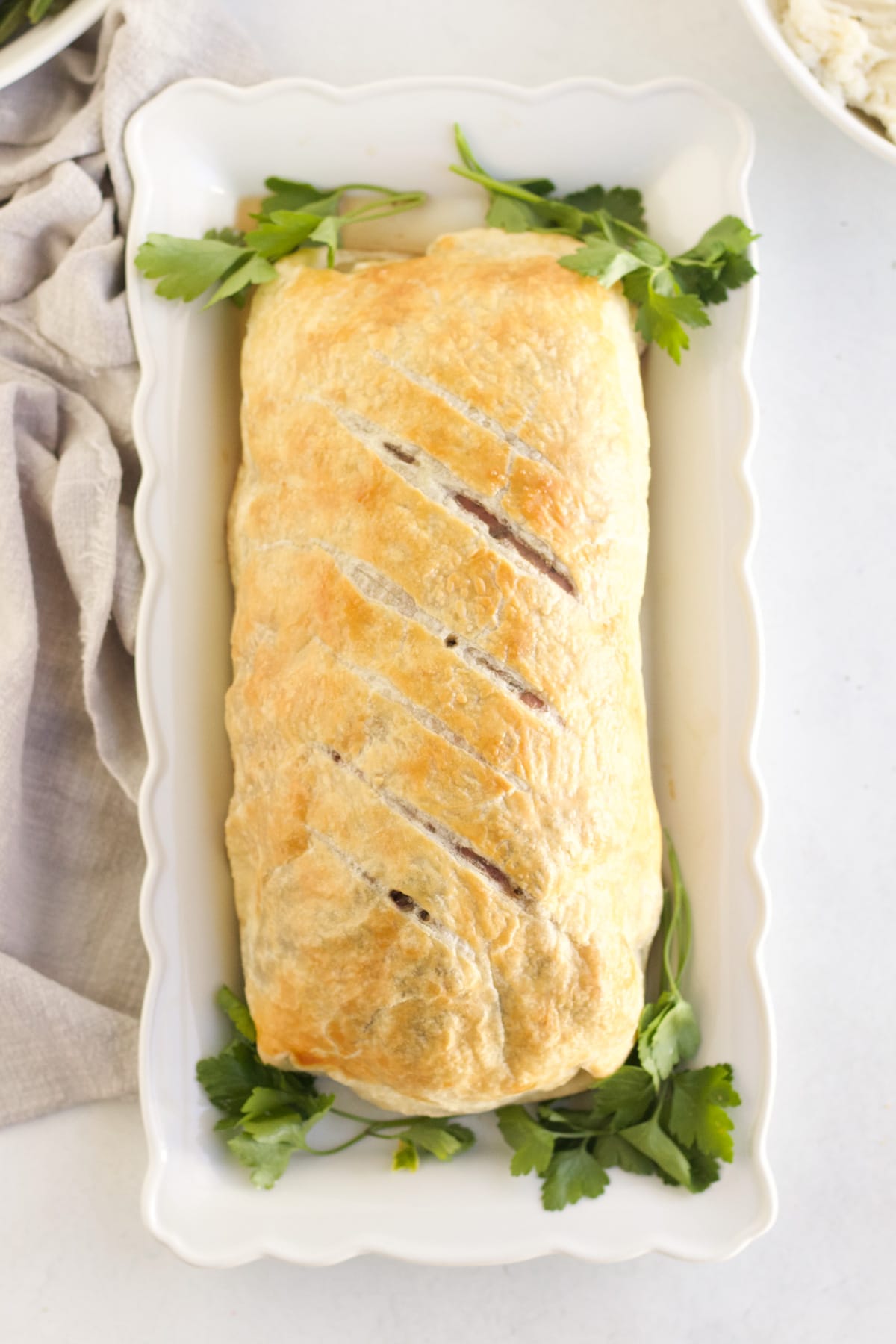 Roast in a 425 degree oven for about 45 to 50 minutes or until an instant read thermometer reaches your desired level of doneness. Follow these guidelines to cook your roast to suit your taste:
Rare: 125-130
Medium Rare: 130-140
Medium: 140-150
Medium Well: 150-160
Well: 160-210
Be sure to test in the center of the roast. Do not cut open to check for doneness, this will release some extremely flavorful juices. Using a reliable instant read thermometer and slicing after the roast cools will give you much better results.
Preventing Overbrowning
If your pastry is getting a little too browned and the beef is not at the temperature you want, you can lightly drape aluminum foil over the roast to prevent it from getting too toasty.
What to serve with Beef Wellington
Beef Wellington pairs best with simple green veggies. Spinach, collard greens, steamed broccoli and roasted brussels sprouts all go really well with the dish.
Substitutions for Prosciutto in Beef Wellington
Traditional Beef Wellington uses prosciutto but if you can't find it or don't care for it you could skip it or use Jamón Serrano, Ham, Culatello, Pancetta, Bacon, Beef Bresaola, or Salami.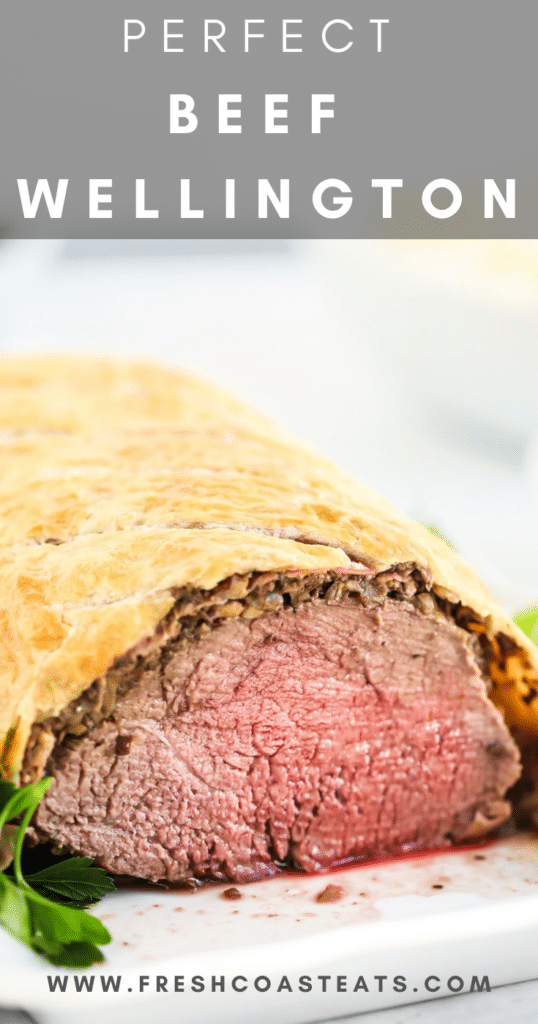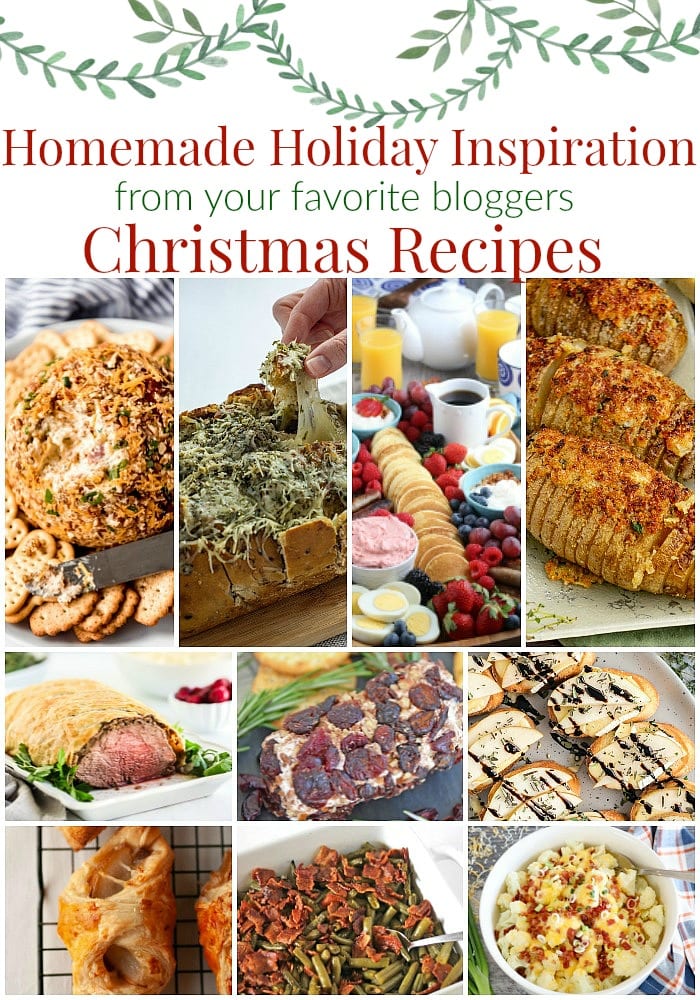 Grab one of these delicious recipes for your holiday celebration! Pull Apart Cheesy Bread from What's Cookin' Chicago Cranberry Goat Cheese Roll from Savory Experiments Loaded Cauliflower from Devour Dinner Caramelized Onion and Pear Bites from Chipa by the Dozen Bacon Ranch Cheese Ball from House of Nash Eats Old Fashioned Green Beans with Bacon and Brown Sugar from Rose Bakes Breakfast Charcuterie Board from Hoosier Homemade Hasselback Potato Gratin from The Flour Handprint Beef Wellington from Fresh Coast Eats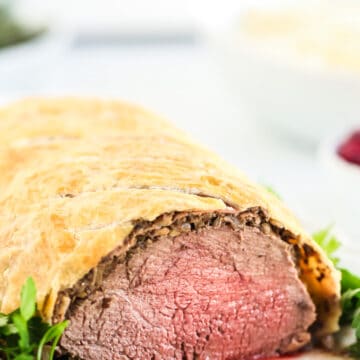 Beef Wellington
A tender beef tenderloin filet wrapped in layers of mushrooms and shallots, salty prosciutto and a buttery golden pastry crust.
Print
Pin
Rate
Ingredients
Duxelles
2

Tablespoons

unsalted butter

2

Tablespoons

olive oil

1 ½

pounds

white button mushrooms

finely chopped

2

shallots

peeled and finely chopped

1

teaspoon

rosemary

fresh, finely chopped

salt and pepper to taste
Beef
2

lb

center cut beef tenderloin

2

Tablespoons

olive oil

½

teaspoon

salt

¼

teaspoon

pepper

12

slices

prosciutto

1

teaspoon

rosemary

fresh, finely chopped

2

Tablespoons

Dijon Mustard

1

Tablespoon

flour

for rolling puff pastry

1

lb

puff pastry

two sheets

2

eggs

beaten
Instructions
Duxelles
1. In a large sauce pan, heat the oil and butter over medium heat.

Add mushrooms, shallots, rosemary and salt and pepper and cook for about 8 minutes or until tender.

If necessary, drain the mixture and press into strainer with a spatula to release all extra liquid.
To prepare the Beef
Tie the tenderloin in for places so it holds its cylindrical shape while cooking.

Drizzle with olive oil and season with salt, pepper and rosemary.

Heat olive oil in a heavy bottom pan over medium high heat and sear all sides of the beef tenderloin.

Remove from skillet and brush dijon mustard over entire tenderloin.

Spread out the prosciutto on plastic wrap, overlapping the edges slightly. It should be spread out enough to wrap your roast in it.

Spread the duxelles over the prosciutto.

Place the tenderloin in the center, wrapping the duxelles and prosciutto tightly around the roast.

Place in the refrigerator for 30 minutes to allow to set.

Meanwhile, on a floured surface place the two puff pastry sheets next to each other and roll out to about ¼". Be sure to roll out the seams to combine the two.

Remove the roast from the plastic wrap and place in the center of the puff pastry. Fold in the short edges and tightly wrap the pastry around the roast.

Place the roast seam side down in a baking sheet.

Bake at 425 degrees for 40-45 minutes or until the pastry is golden brown and beef registers at least 125 degrees. See below for full cooking chart.
Notes
Rare: 125-130
Medium Rare: 130-140
Medium: 140-150
Medium Well: 150-160
Well: 160-210
Nutrition
Calories:
3956
kcal
|
Carbohydrates:
245
g
|
Protein:
81
g
|
Fat:
302
g
|
Saturated Fat:
82
g
|
Cholesterol:
451
mg
|
Sodium:
3438
mg
|
Potassium:
2960
mg
|
Fiber:
16
g
|
Sugar:
21
g
|
Vitamin A:
1175
IU
|
Vitamin C:
18
mg
|
Calcium:
151
mg
|
Iron:
18
mg