Skip the nuts, not the flavor. This nut free pesto sauce is packed with flavor and full of garden fresh goodness. It's perfect on pasta, pizza, poultry and veggies.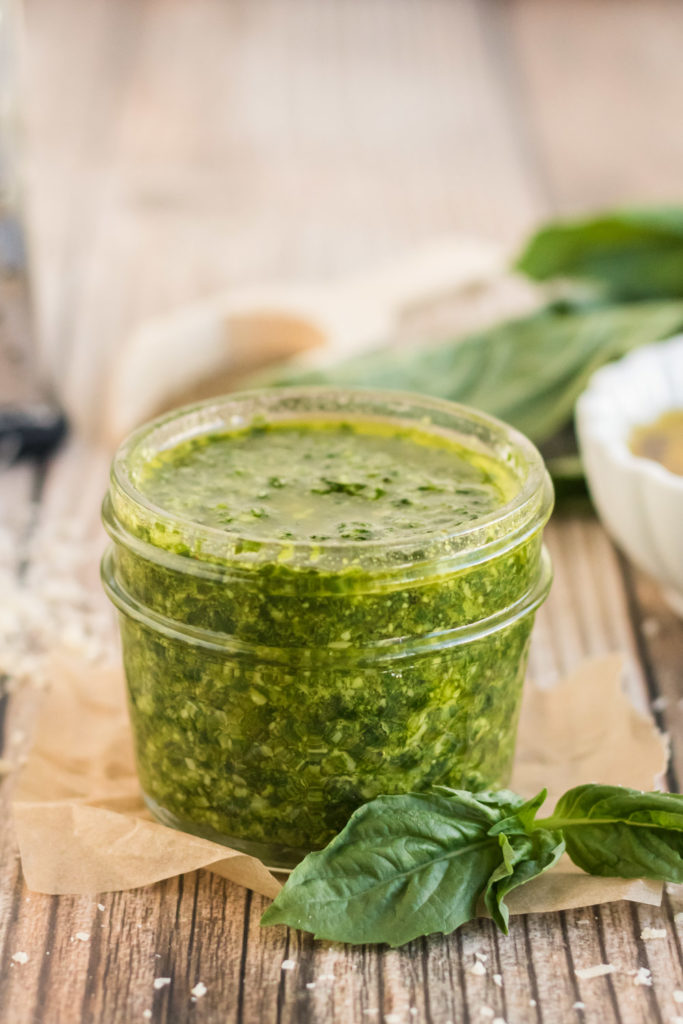 We are a participant in the Amazon Services LLC Associates Program. As an Amazon Associate, I earn from qualifying purchases.
Nut Free Pesto
I finally nailed THE PERFECT PESTO recipe! Over the years, I have tried several different recipe and I am kind of surprised that my favorite recipe happens to be the one that has no nuts!
I always try and make my recipes produce focused, and super simple and this nut free basil pesto is no exception. The reason I love it so much is that with the nuts removed, the flavor of the basil really grabs you and keeps you coming back for more.
Could this be the the perfect pesto? Give it a try and let me know!
What is pesto?
Simply speaking, Pesto is an Italian "paste" made from garlic, basil, pine nuts, olive oil and Parmesan cheese. The word pesto actually means "to pound" because traditionally, it was made with a mortar and pestle. If you have a little extra time on your hands and are interested in making it the traditional way, here is a video showing you how!
But today, I am going to show you a little shortcut on how to make it with your food processor.
Ingredients
To make this quick and easy pesto, you will need:
Basil
Olive Oil
Garlic
Parmesan Cheese
Salt and Pepper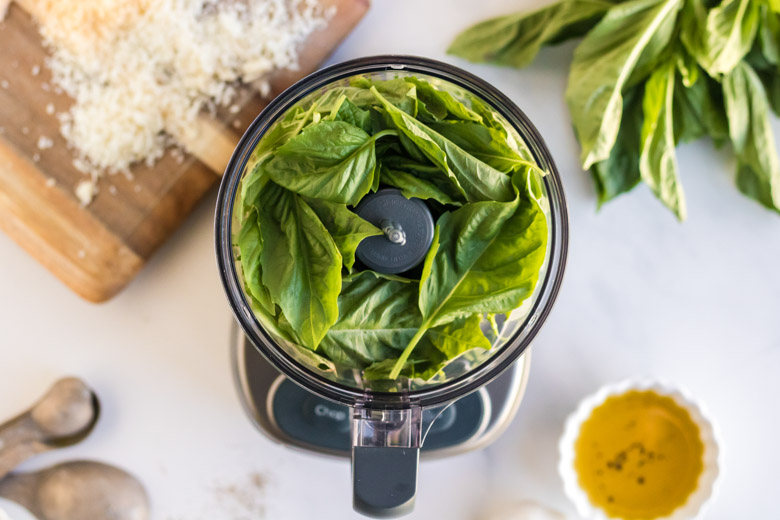 The key to success with this recipe is quality ingredients. You really need to take care to use the best of the best! Make sure your basil is extra fresh, choose lush green leaves without spotting. Make sure they aren't limp. For the olive oil, I LOVE Filippo Berio! When it comes to the Parmesan cheese, choose a block that you can freshly grate right before making this. Do NOT use the powdered kind! (Please!)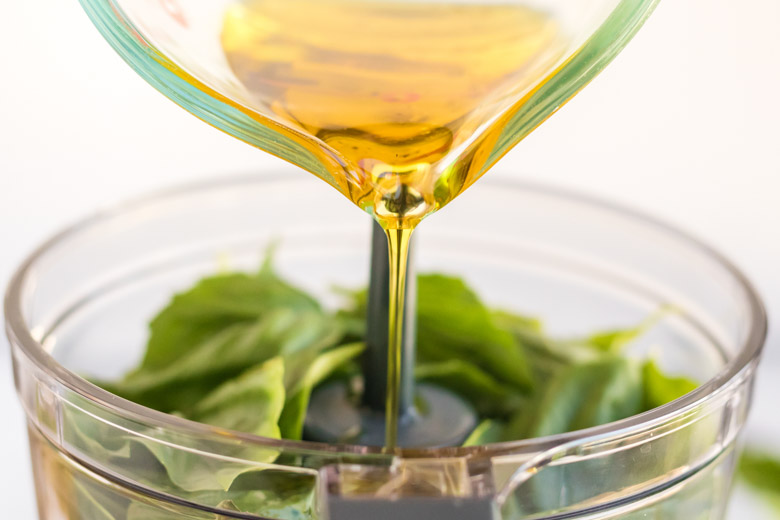 Making this recipe is super simple, just put everything into your food processor and hit the grind button until everything is well incorporated. I just got this little 4 cup food processor from Cuisinart and absolutely love it. When I make this recipe, I pulse the chop button a few times before hitting the grind button.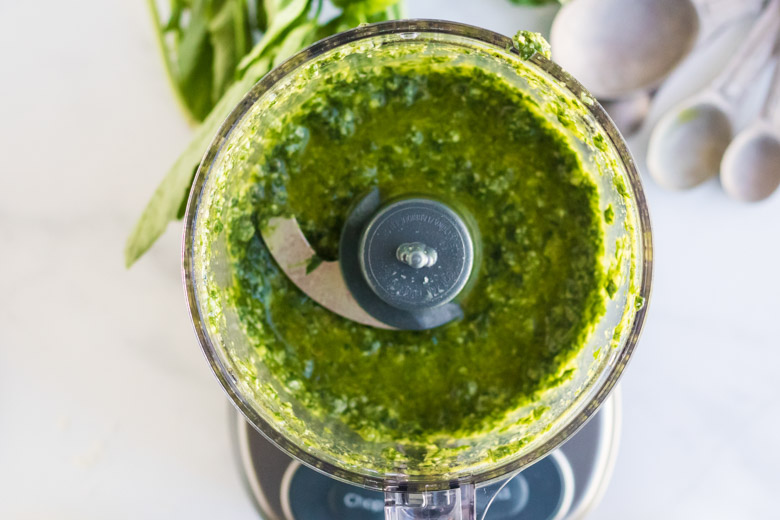 That's it! It really is that easy! Just wait until you try it, once you taste it and see how easy it is to make you will never buy another pre-made jar at the store again!
How To Use Pesto Sauce
One of my favorite things about this nut free pesto sauce is it's versatility. You can double or triple the batch and use it all week in various ways. You can use pesto sauce on:
Pasta
Chicken
Fish
Bread
Veggies
Pizza
Storage
Store this sauce in an airtight container and keep covered for up to a week. Don't be alarmed if your pesto turns a bit brown. That is part of oxidation. It may not be as fresh and vibrant looking as it was when you first made it, but it will still be good to eat and will still taste great! Some people say that blanching the leaves before you start the recipe helps with it turning brown, but I think you can leave that step out as it didn't make much of a difference when I tried it.
How to freeze homemade pesto
Alternatively, you can freeze this sauce in an ice cube tray to thaw individual servings as needed. Simply place the sauce in an ice cube tray until frozen. Once frozen, remove from the tray and transport into a freezer bag. When you are ready to use them, pull out the amount needed and thaw in the fridge the night before you plan to use it. This technique is ideal if you have a home garden and need to use up a surplus of basil.
Pesto without basil
To make pesto without basil, simply swap out the required amount of basil and replace with another leafy green. If you do not care for basil, you can try using Kale or spinach for a slightly different, but equally delicious flavor. You can use Kale or Spinach pesto the same way you would use traditional Basil Pesto.
What can I substitute for parmesan cheese in pesto
I highly prefer Parmesan for this recipe, but if you aren't a fan...don't worry. You can still make this recipe by replacing the Parmesan Cheese for Gruyere, Asiago, Romano, or Cotija. Changing the cheese will have a major impact on the flavor, but as long as you choose something you love then you will be happy with the result.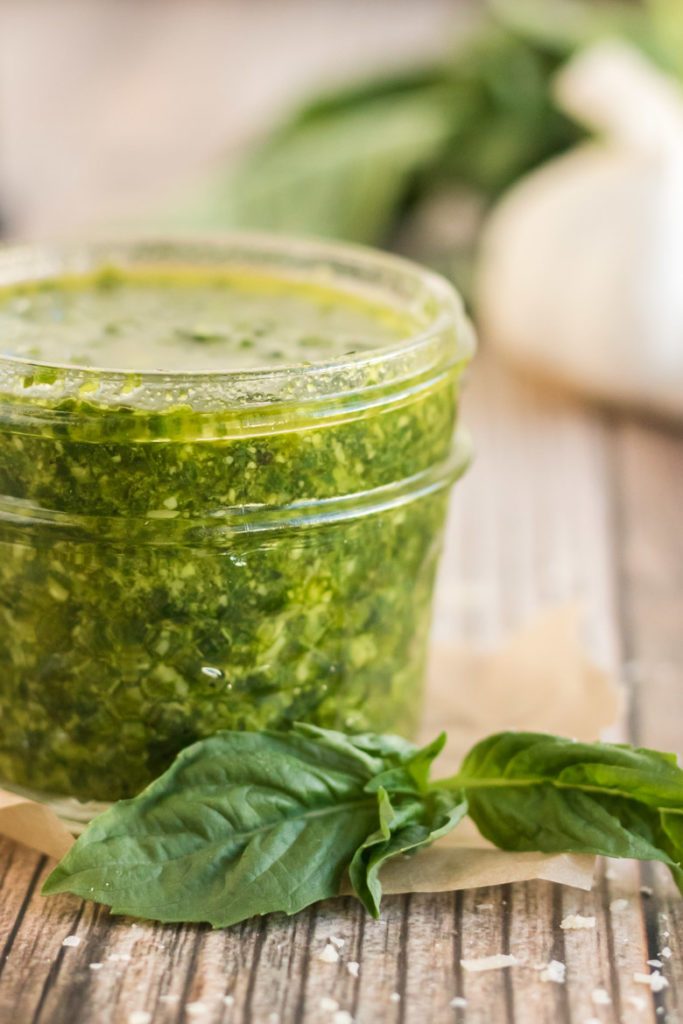 Wine Pairing Suggestions
What wine goes well with pesto sauce? When it comes to pairing wine with pesto sauce, you can't go wrong with a Sauvignon Blanc. That bright zippy finish cuts right through the intense garlic flavor and it's one of those pairings that has you wanting to take a sip after each bite.
So if you are in a hurry, and need to pick something quick...head to the Sauvignon Blanc section of your favorite wine seller and grab a bottle.
Here are some other recommendations: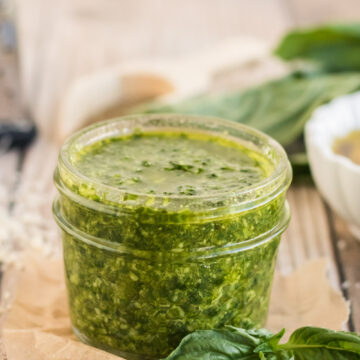 Nut Free Pesto
Skip the nuts, not the flavor. This nut free pesto sauce is packed with flavor and full of garden fresh goodness. It's perfect on pasta, pizza, poultry and veggies.
Print
Pin
Rate
Ingredients
2

cups

fresh basil

2

garlic cloves

½

cup

freshly grated Parmesan cheese

¼

cup

olive oil

¼

teaspoon

salt

⅛

teaspoon

pepper
Instructions
Wash the basil and remove the stems.

Place all the ingredients in a food processor and pulse until you have reached desired consistency.

Serve over pasta, pizza, chicken or veggies. This sauce can also be used as a marinade.
Nutrition
Calories:
124
kcal
|
Carbohydrates:
1
g
|
Protein:
1
g
|
Fat:
14
g
|
Saturated Fat:
2
g
|
Sodium:
146
mg
|
Potassium:
35
mg
|
Fiber:
1
g
|
Sugar:
1
g
|
Vitamin A:
633
IU
|
Vitamin C:
3
mg
|
Calcium:
24
mg
|
Iron:
1
mg
Let me know what you think in the comments? Tell me what your favorite variation of classic pesto is?
Pin this recipe on Pinterest