Cranberry Orange Pork Tenderloin: Slow Cooker Pork Tenderloin with a fresh cranberry and orange sauce accented with balsamic vinegar, maple and rosemary.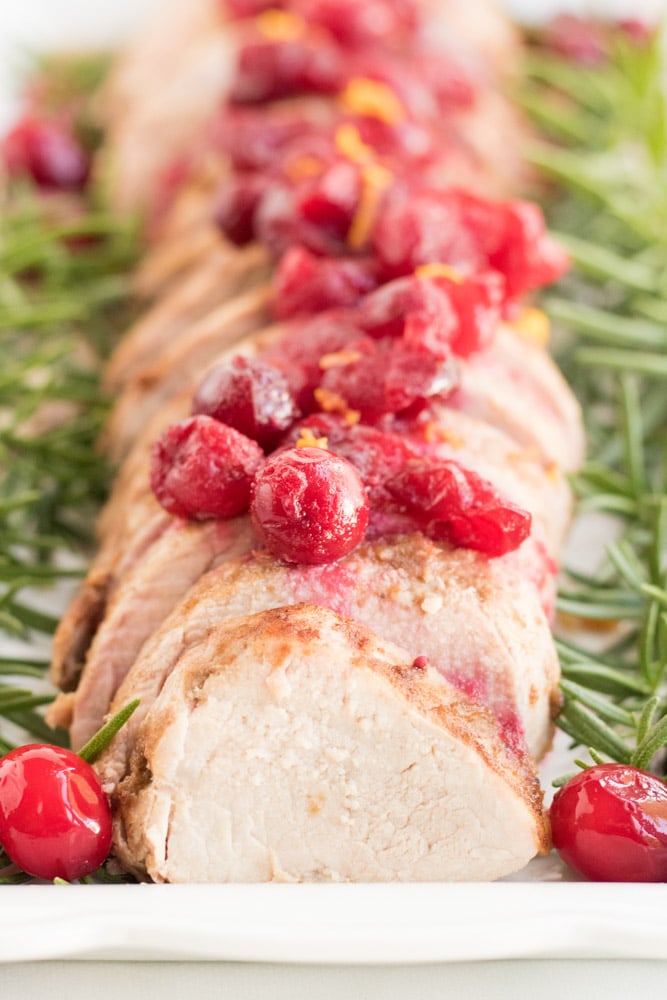 We are a participant in the Amazon Services LLC Associates Program. As an Amazon Associate, I earn from qualifying purchases.
During the holiday's I am always looking for meals that feel special, but are quick and effortless. This cranberry orange pork tenderloin is the definition of easy elegance! It's beautiful slices are the perfect centerpiece to any meal and the incredibly simple cranberry orange sauce really takes it to the next level.
The best part? You basically just put it all in the crock pot, sit back and relax! In this blog post, I am going to walk you through how to pick the perfect pork tenderloin and show you exactly how to make this stunning recipe with hardly any work at all!
For more cranberry recipes, check out our cranberry brie bites, cranberry bars and cranberry orange sauce.
Pork Tenderloin Vs. Pork Loin
What's the difference?
Well, there is a big one. They are completely different cuts of meat from different parts of the animal. From a culinary standpoint, pork tenderloin is leaner and extremely tender. When you buy the meat, it comes in long thin strips. Pork Loin is a little less expensive and comes in a much wider cuts. For a completely break down of the difference, check out this article.
How To Pick Pork Tenderloin
Picking Pork Tenderloin can be done entirely with your eyes! You want to select a tenderloin that has a fresh pink color to it. Tenderloin will have minimal fat but its normal to get a little bit that's usually concentrated to one side. Don't worry about that, you will be trimming it off before cooking it. You want a tiny bit of marbling but again, there won't be much since it is such a lean cut of meat.
You can ask your butcher to select the freshest tenderloin or check the dates if you are at the supermarket. Be sure to stay clear of any meat that is grey or has dark spots on the fat.
Cranberry Orange Pork Tenderloin Recipe
Picking the pork out is the most difficult part of this recipe, the rest is easy!
First, gather the ingredients and get your slow cooker out and ready. To make this cranberry orange pork tenderloin, you will need:
Pork Tenderloin
Fresh or Frozen Cranberries
Maple Syrup
Balsamic Vinegar
1 orange, zested and juiced
Rosemary
Salt, pepper and olive oil
Start the recipe by heating the oil in a large frying pan over medium heat. While the oil is heating up, season the tenderloin with salt and pepper on each side.
Next, you are going to brown all four sides of the tenderloin. The purpose of this step is NOT to cook the tenderloin through, but simply to sear all four sides. This helps keep the tenderloin moist during cooking and helps seal in the juices. This step also helps prevent the meat from shredding, and helps you get that gorgeous sliced presentation.
After all sides are seared, move the meat into the slow cooker while you start to work on the sauce.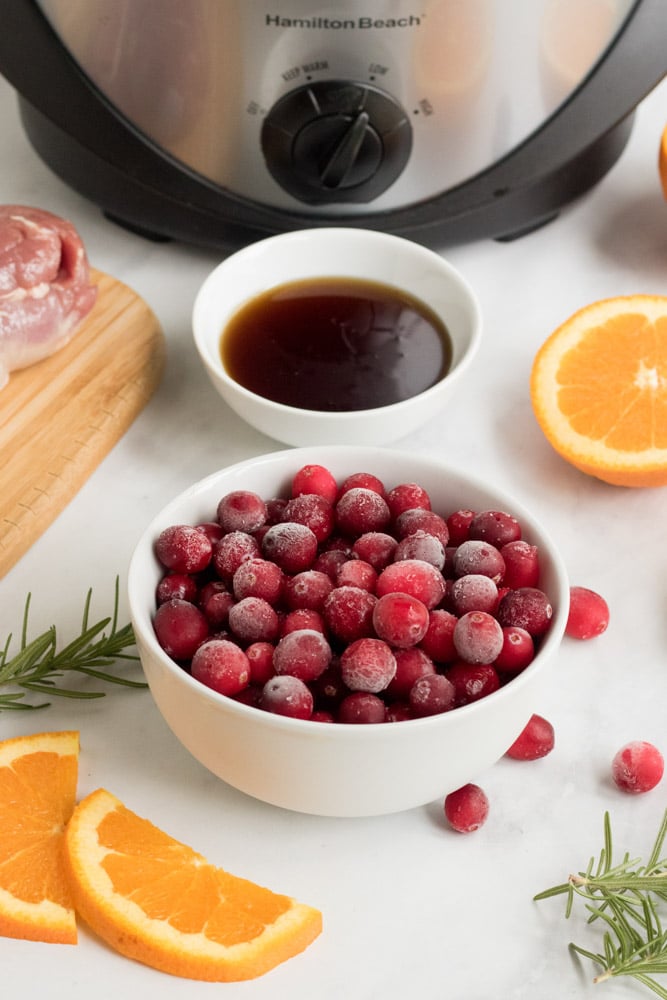 Pork Tenderloin With Cranberry Sauce and Orange Juice
Now it's time to work on the cranberry orange sauce. Start by combining the water, cranberries and maple syrup in a small sauce pan and bring it to a boil.
I am using maple in this recipe because I think it really compliments the other flavors and goes so well with pork. However, if you are not a fan of maple syrup, you can substitute it with:
granulated sugar
brown sugar
agave nectar
honey
stevia
If you are using a replacement, add it in small increments and taste as you are cooking. Once the sauce is boiling, wait for the cranberries to begin to burst. Then remove from the heat. Reserve about ½ cup to use as garnish for serving.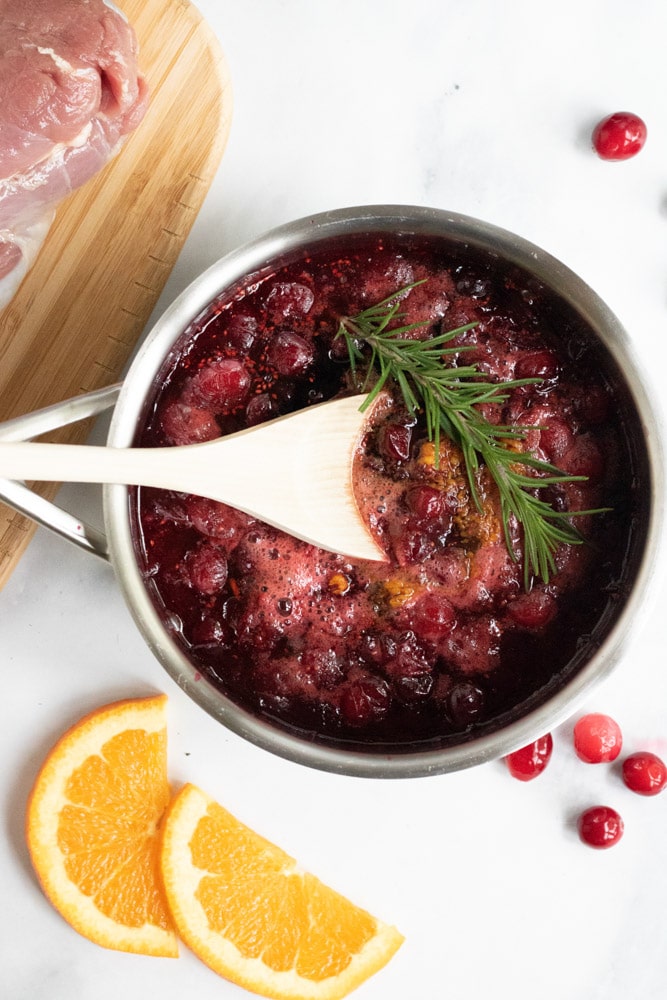 Add the orange zest, juice, balsamic vinegar and a sprig of rosemary to the remaining cranberry sauce. Stir well, then gently pour over the pork tenderloin in the slow cooker.
Cooking Pork Tenderloin In the Crockpot
For this pork tenderloin with cranberry sauce and orange juice recipe, you will cook it on low for about 4-5 hours.
You want to be careful to cook this just until it's done. When cooked in the slow cooker, pork tenderloin will eventually start to shred. Which, is so delicious! But for presentation purposes, we want to be able to slice this.
Pork is done cooking when it reaches 145 degrees. You can check the temperature by using a quick read meat thermometer.
When the pork is done, remove it from the slow cooker and let it rest for about 10 minutes before slicing.
Recommended Garnishes
For beautiful presentation, you can pour the reserved cranberry sauce over the top. The sauce leftover in the crock pot is great drizzled over it too, but the juices from the meat will leave it a little watery. By reserving that ½ cup from the plain cranberry sauce, you will have a nice thick cranberry sauce that will stay in place over a beautiful row of slices.
You can also add some extra fresh whole cranberry's, extra orange zest or orange slices and don't forget to put some beautiful and fragrant rosemary along the side of the roast as well.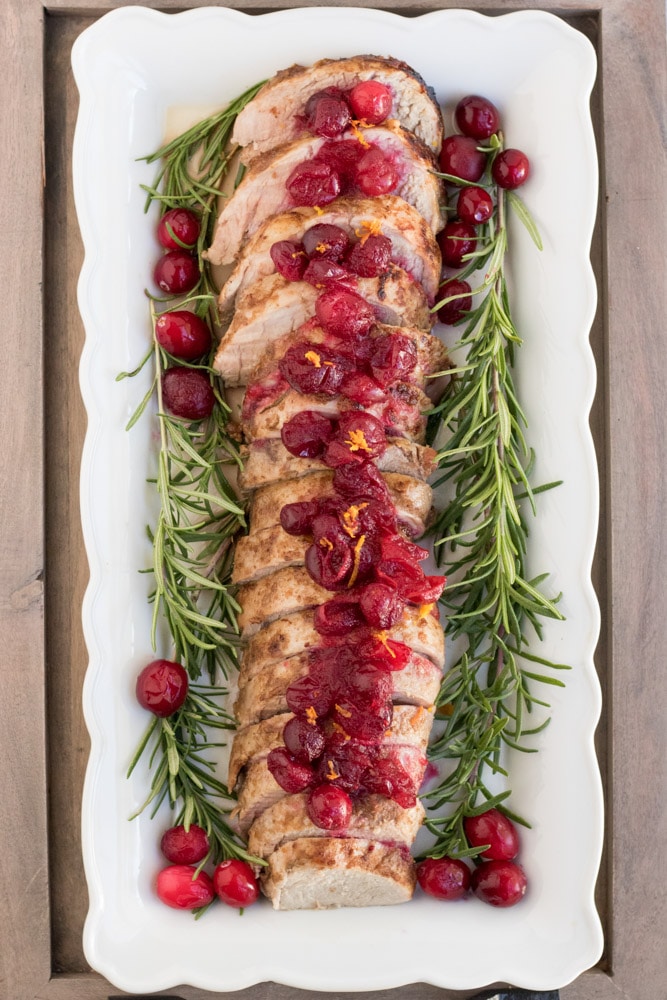 What goes well with pork tenderloin?
Our roasted rosemary potatoes would be perfect with this dish! The rosemary in the potatoes would go great with the rosemary infused cranberry orange sauce. Our whole roasted rainbow carrots would be perfect, too.
Other suggestions include:
You can't go wrong with any simple potato side dishes, or simply steamed or roasted green veggies.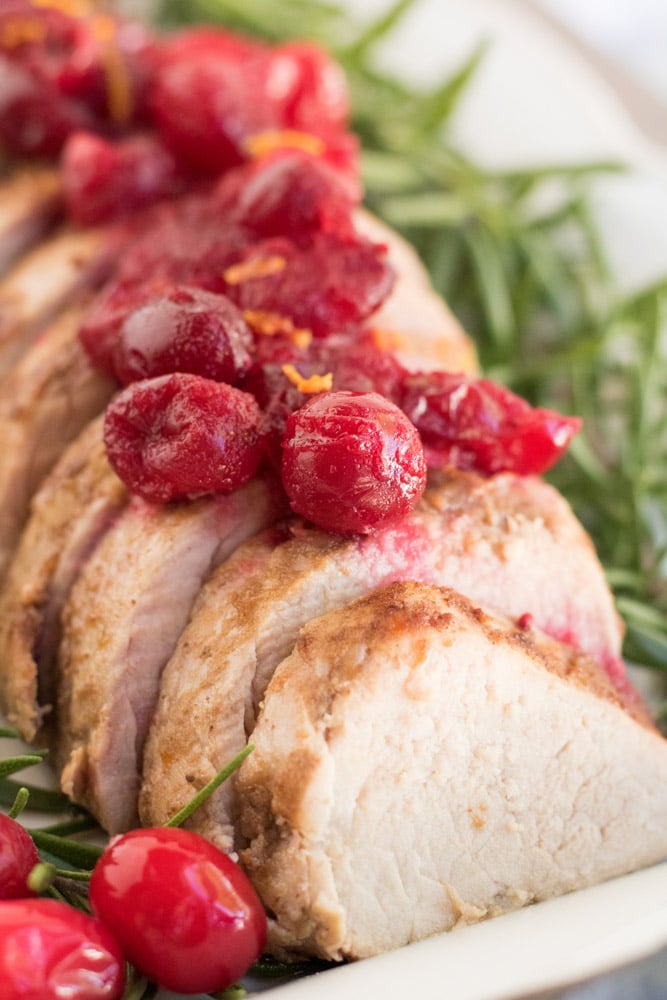 Wine Pairing Suggestions
Generally speaking, for pork tenderloin pairing you want a heavier, smooth white or a light-bodied red. Avoid big, bold heavy reads. No matter what sauce is on the pork, they will overpower the meat. Oddly enough, when it comes to pairing wine with my pork, I like oaked whites or light and fruity reds.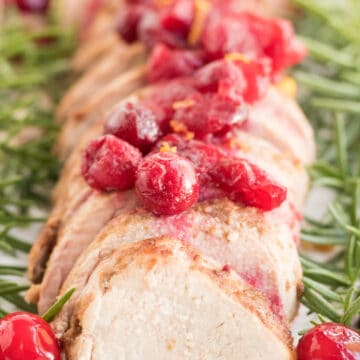 Cranberry Orange Pork Tenderloin
Cranberry Pork Tenderloin makes the perfect holiday main dish that doesn't require tons of work or effort. Full of savory, sweet flavors, slow cooker pork tenderloin with cranberry sauce will be a hit with your guests for the holidays.
Print
Pin
Rate
Ingredients
1

3 lb

pork tenderloin

½

teaspoon

salt

¼

teaspoon

pepper

1

Tablespoon

olive oil

1

16 oz

cranberries

fresh or frozen

½

cup

water

½

cup

maple syrup

1

orange

zested and juiced

⅛

cup

balsamic vinegar

1

2 inch

sprig of rosemary
Instructions
Sprinkle the tenderloin with salt and pepper. Set aside.

Heat olive oil in a large frying pan over medium heat, and brown each side of the tenderloin.Place the tenderloin in the slow cooker, and turn the temperature to low.

In a small saucepan, combine cranberries, water and maple syrup and bring to a boil. Cook for about 5 minutes or until cranberries begin to split. Reserve about ½ cup of cranberry sauce for serving.

Slowly add the orange zest, juice, and balsamic vinegar into the remaining cranberry sauce. Stir until well mixed then pour over the tenderloin in the slow cooker.

Slowly add the orange zest, juice, and balsamic vinegar into the remaining cranberry sauce. Stir until well mixed then pour over the tenderloin in the slow cooker.

Let rest 10 minutes before slicing. Serve with reserved ½ cup cranberry sauce on top and additional orange zest, if desired.
Notes
Make sure to choose the best pork tenderloin at the store. See the tips above!
Reserve some of the cranberry sauce for garnish. You do not need to reserve the cranberry sauce as a topping but it makes a beautiful elegant presentation!
Do not overcook. If cooked too long, the meat will "pull" rather than slice. Which tastes equally as good, but won't look as pretty! 
Let the pork rest. When the pork sits after cooking, it seals in the juices, making it extra tasty! 
Nutrition
Calories:
81
kcal
|
Carbohydrates:
16
g
|
Protein:
1
g
|
Fat:
2
g
|
Saturated Fat:
1
g
|
Cholesterol:
1
mg
|
Sodium:
149
mg
|
Potassium:
79
mg
|
Fiber:
1
g
|
Sugar:
14
g
|
Vitamin A:
37
IU
|
Vitamin C:
9
mg
|
Calcium:
28
mg
|
Iron:
1
mg
Have you tried this recipe yet? Let me know your favorite way to cook pork in the comments.
Pin this recipe on Pinterest!