If Fall could be a food, it would Apple Cider Doughnuts! Cake doughnuts made with apple cider and dusted with cinnamon and sugar go perfectly with your morning coffee on a crisp autumn day. Learn how to make this seasonable Midwest treat!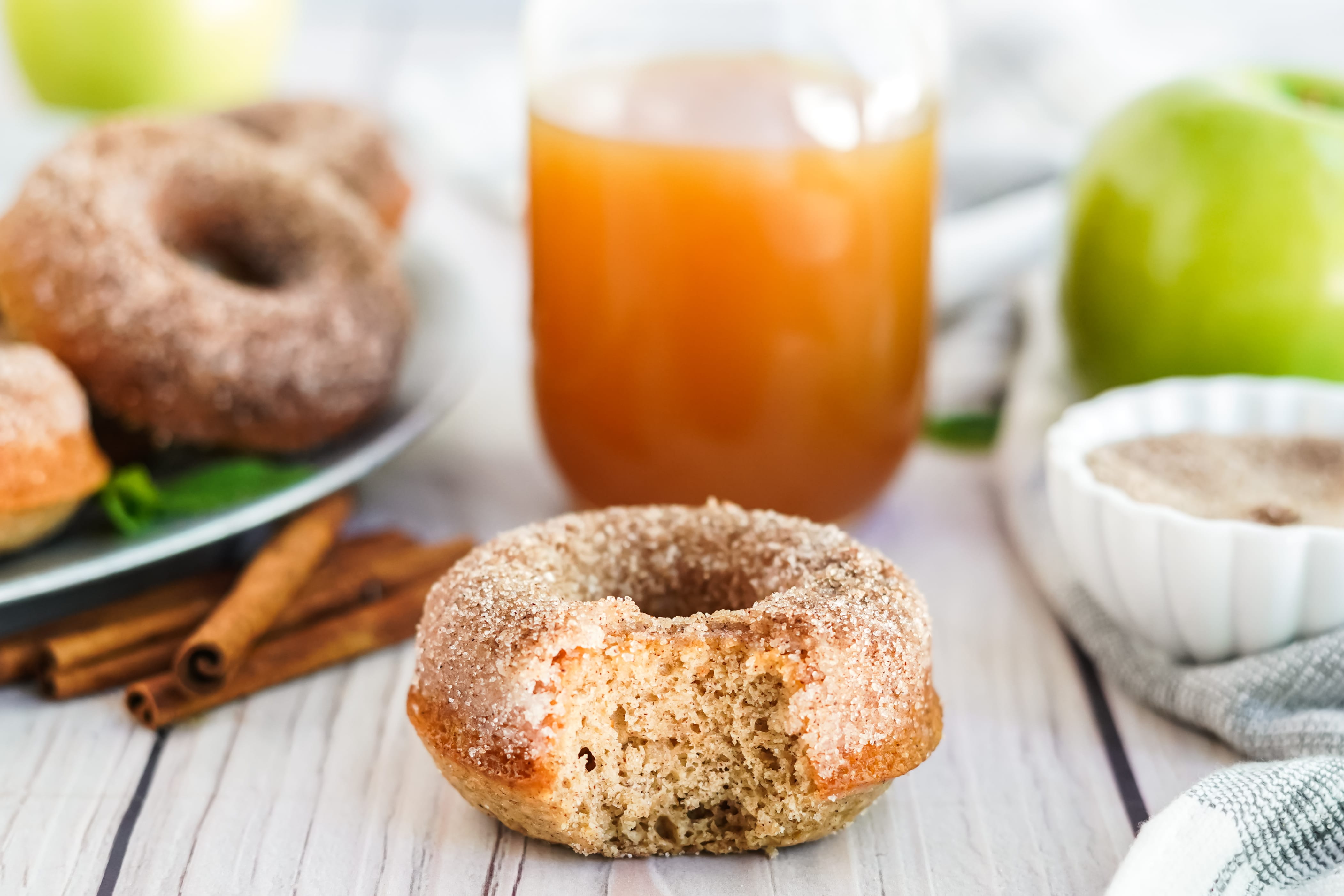 Fall means something different to everyone. Back to school. Colorful leaves. Sweater weather. And in Michigan, when it's apple season, my favorite treat that comes with fall is Apple Cider Doughnuts.
It's common around these parts to go apple picking with your family. Nothing tastes better than an orchard-fresh apple picked straight from the tree. And don't forget the fresh apple cider juice!
I'll never miss an opportunity to buy a dozen (or two or three) of Apple Cider Doughnuts straight from the apple stands. But cake doughnuts are also easy to make at home. So whenever I have a craving, no matter what time of year, I can make a batch just for me!
How to Select Apple Cider
If you're lucky to live in a region with apple orchards, it's easy to find super fresh apple cider starting in August. Support your farmers by purchasing a locally made cider. I promise it is so worth it!
It's important to understand the difference between Apple Cider and Apple Juice. Apple juice has been pasteurized and heavily filtered. It's clear in appearance with a smooth one-noted sweet taste.
Apple cider, on the other hand, is not filtered. It's cloudy in appearance and more complex in flavor. It has a more prominent aroma compared to juice and a little thicker in texture.
For the best results in your doughnut recipe, seek out Apple Cider, which can be found nationwide at most supermarkets in the fall months. If you can't find apple cider, high-quality apple juice will still work!
Apple Cider Doughnuts Ingredients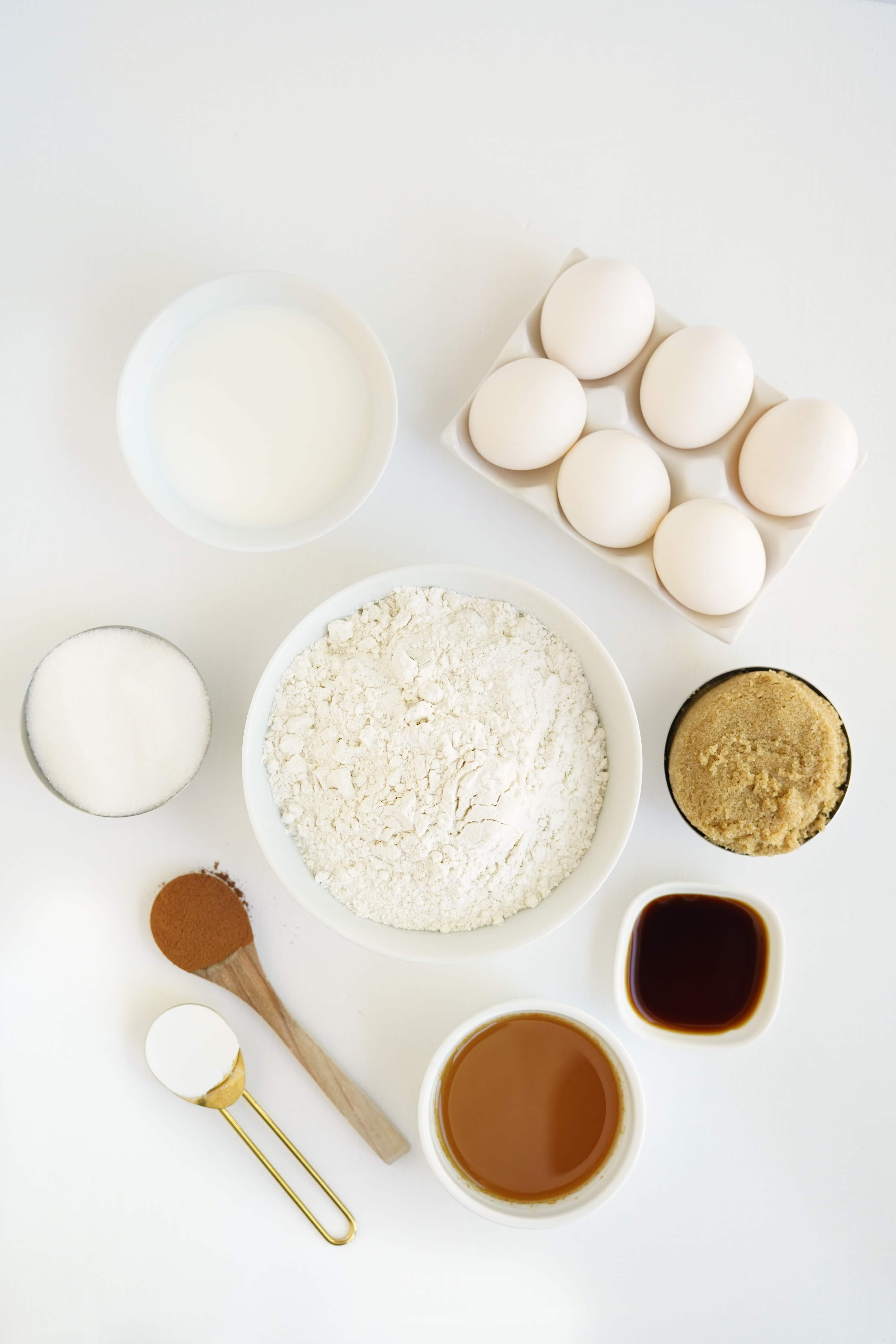 Apple Cider: The star ingredient!
All-Purpose Flour & Baking Powder: Classic cake doughnuts ingredients
Ground Cinnamon & Sugar: Goes inside the batter and used as a generous dusting for the top!
Egg: For extra lift and structure to the cake doughnut
Vanilla Extract: For a touch of flavor
Special Equipment
To make cake doughnuts, you need a special doughnut pan like this one.
Alternatively, you can freeform them on a baking sheet. Or you can use a muffin pan and crumble up a piece of foil or parchment paper into a ball and place in the center. Then pipe the batter around the ball to create a circle.
Using an alternative might not make the prettiest doughnuts, but they will still taste delicious!
How to make Apple Cider Doughnuts
In a pot over the stove, reduce apple cider by half. And allow to cool. Mix together dry ingredients in a large bowl.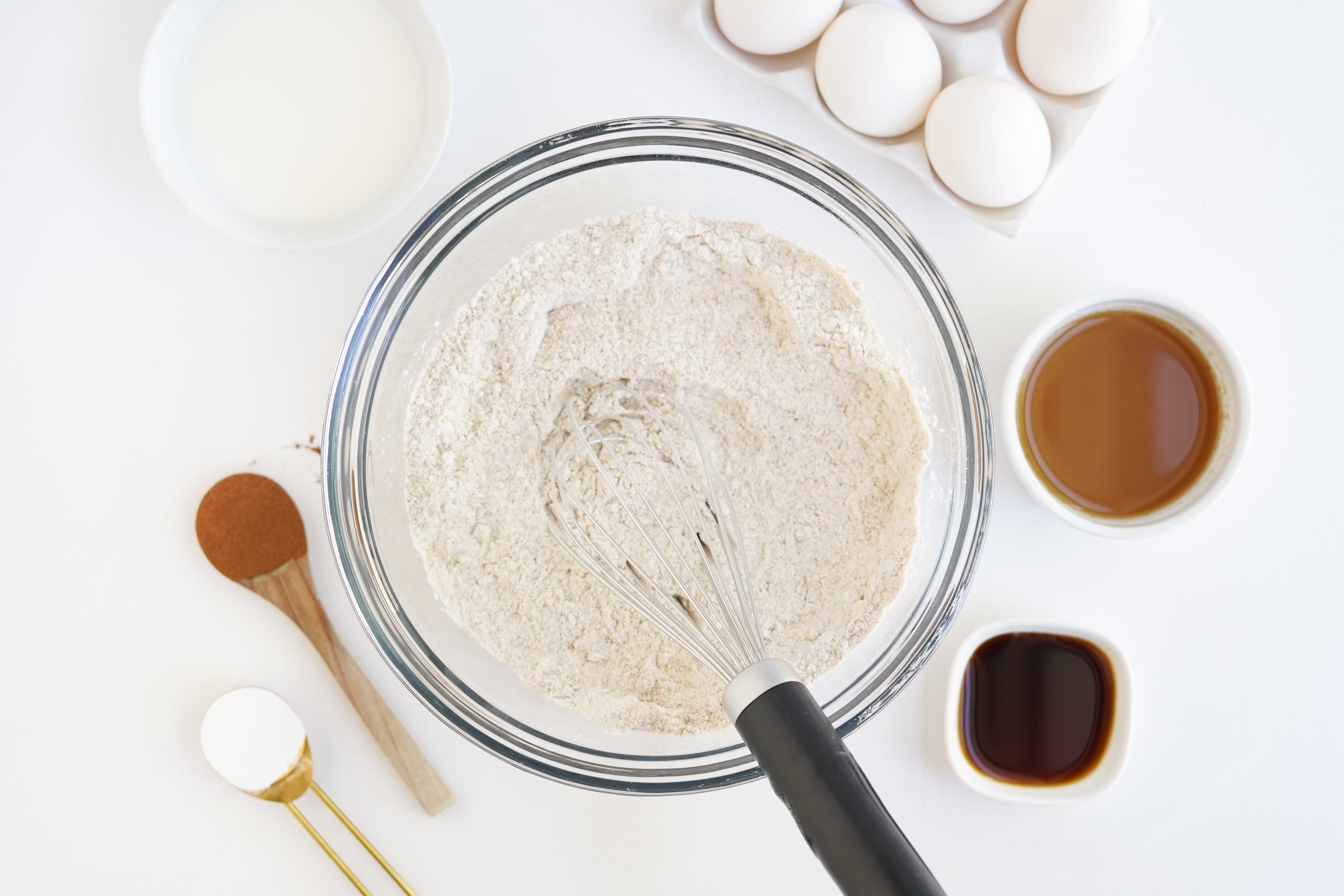 Add wet ingredients, mixing to combine thoroughly.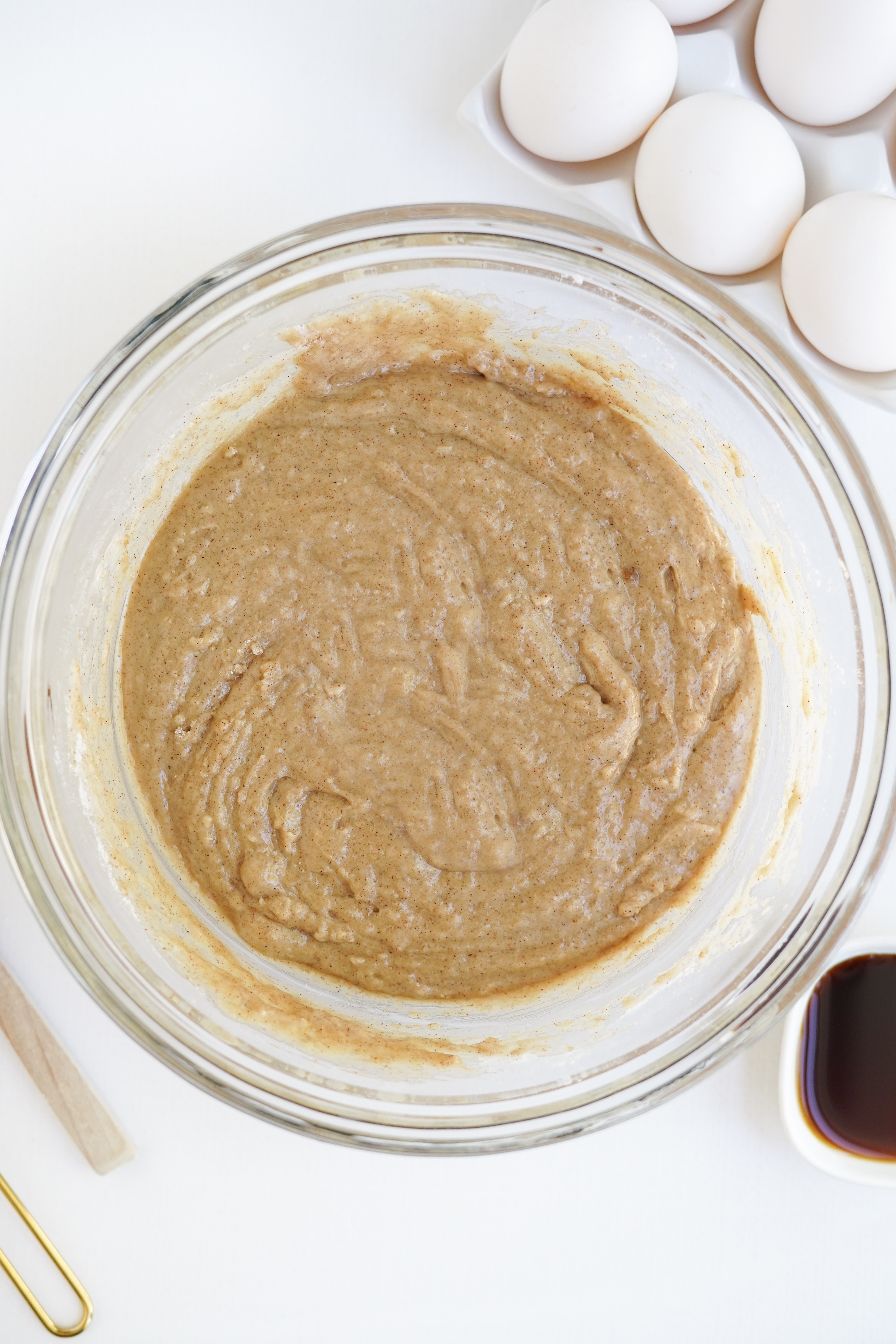 Scoop or pipe the batter into a doughnut pan, filling each mold only halfway. (Need a doughnut pan? I love this one!)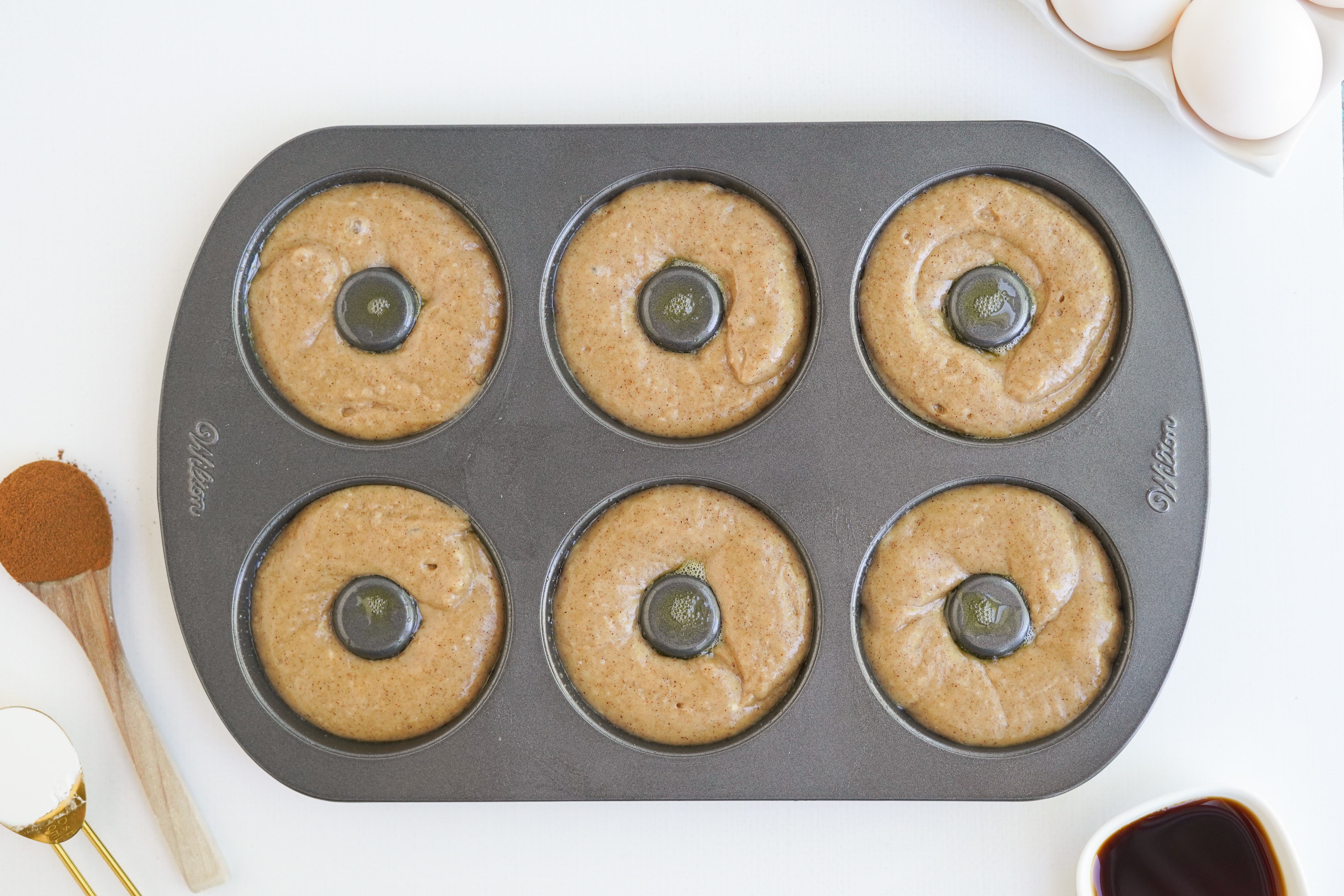 Bake for 10 minutes or until a toothpick comes out clean when inserted in the center.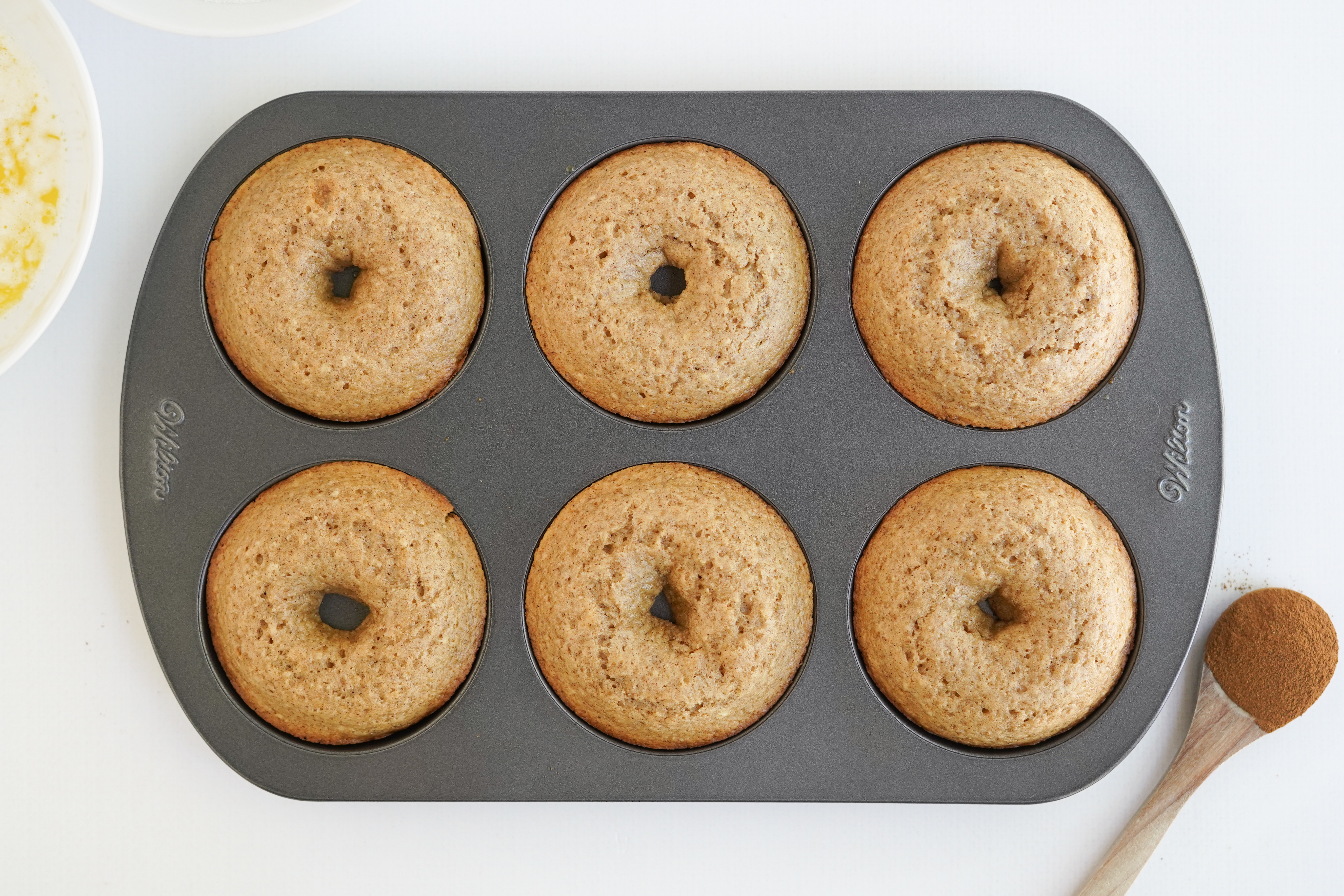 Allow doughnuts to cool on a rack while you mix the cinnamon and sugar topping.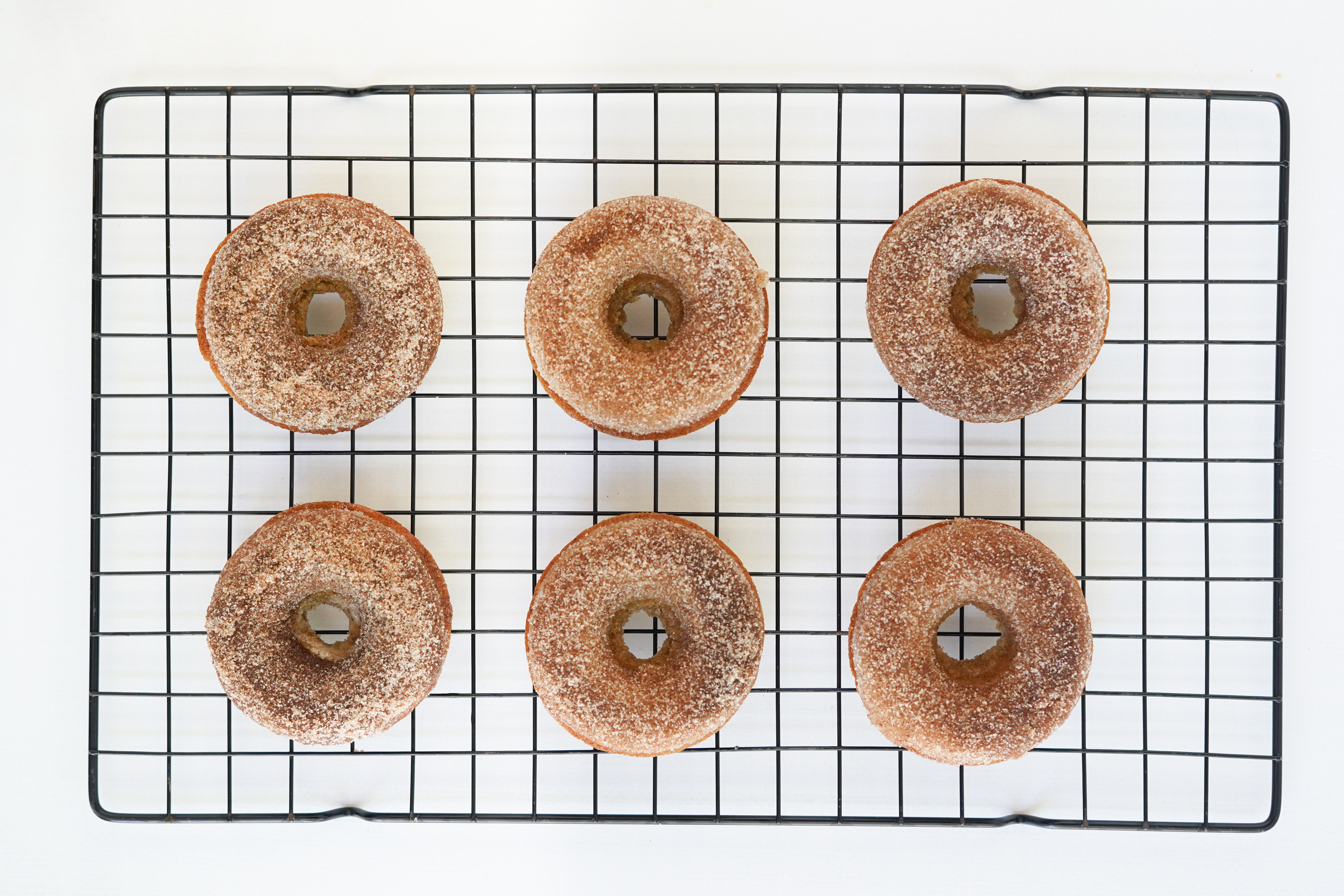 Dip each doughnut into melted butter and then dust generously with cinnamon and sugar mixture.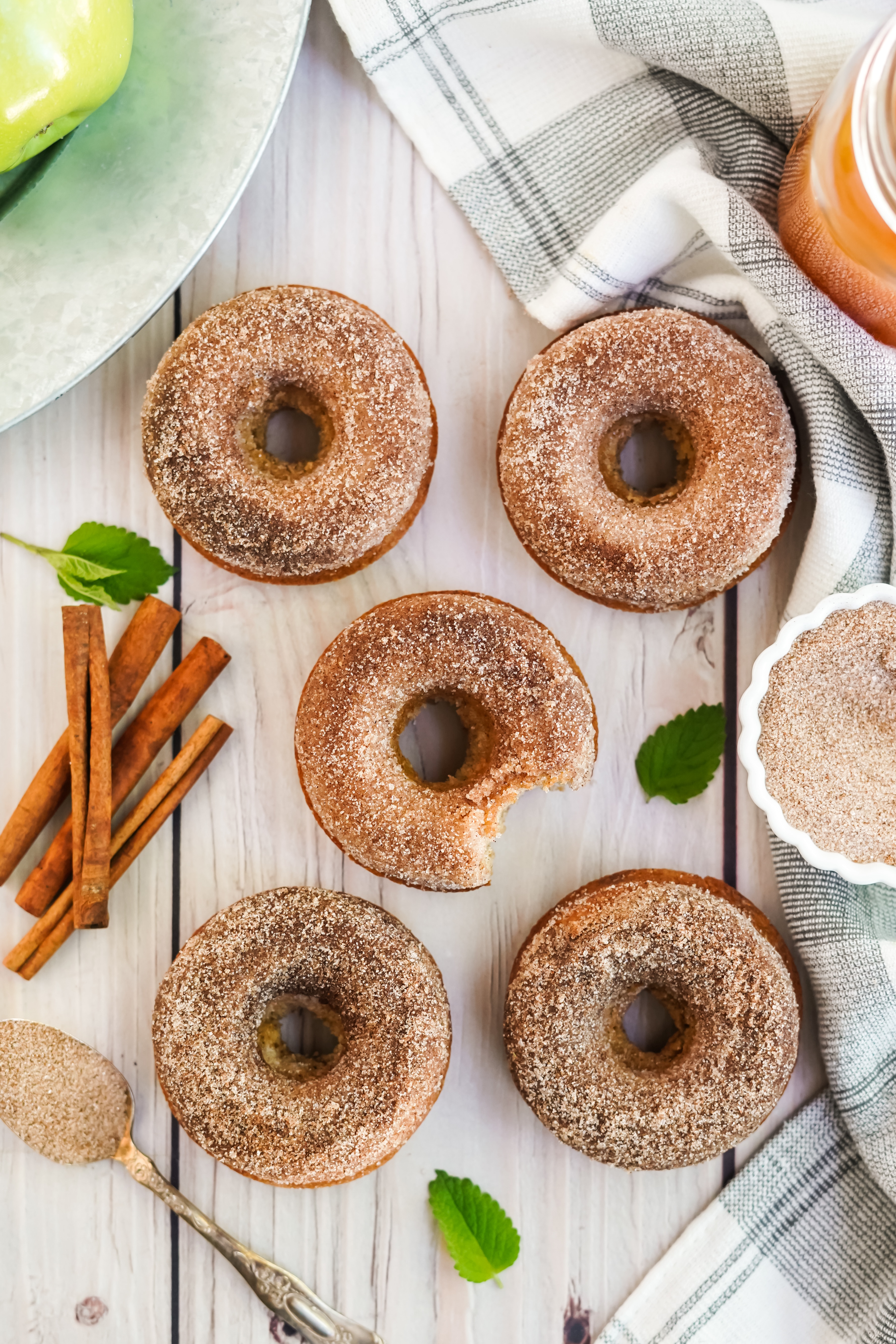 Storing
As with all doughnuts, they are best eaten warm and fresh! If you have leftovers, keep them in an airtight container at room temperature. They will stay fresh for about 3-5 days.
The best way to heat Apple Cider Doughnuts is with a toaster oven! But you can also give them a 5-10 second zap in the microwave. Or simply eat them at room temperature.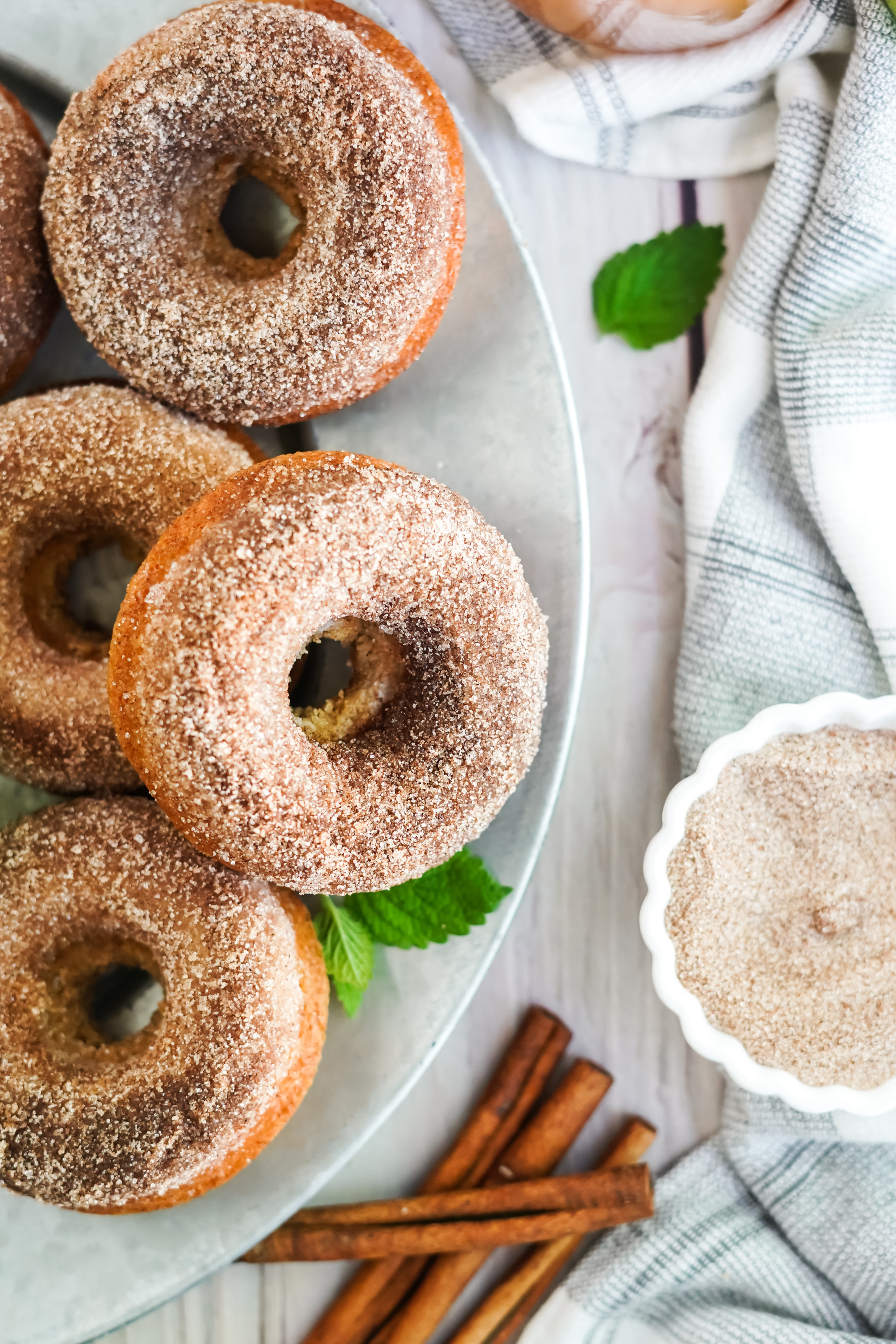 More Fall Treats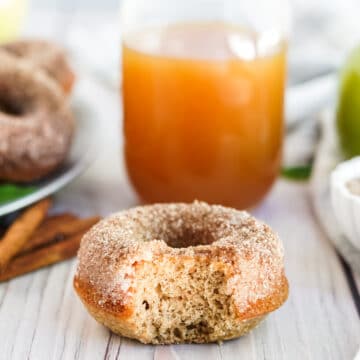 Apple Cider Doughnuts
Nothing says fall like these cinnamon Apple Cider Doughnuts! These cake doughnuts go perfectly with a hot cup of coffee on crisp fall day.
Print
Pin
Rate
Ingredients
Doughnut Batter
1

cup

Apple Cider

2

cups

All-purpose flour

2

teaspoon

baking powder

2

teaspoon

ground cinnamon

½

cup

light brown sugar

packed

½

cup

white sugar

1

egg

beaten

1

teaspoon

vanilla extract

½

cup

whole milk
Doughnut Topping
1

cup

white sugar

2

teaspoon

cinnamon

½

cup

melted butter
Instructions
Preheat the oven to 350 degrees and prepare a doughnut pan by greasing with butter or cooking spray. Set aside.

In a small sauce pot, simmer the apple cider over medium high heat until it is reduced to a ½ cup. This will take about 10 minutes of active simmering. Remove from heat and cool.

 In a large bowl, whisk together the flour, baking powder, ground cinnamon, light brown sugar and white sugar until well incorporated.

Add the egg, vanilla milk and cooled cider. Stir just until combined. Batter will be thick.

Scoop or pipe the batter into the prepared baking pan, filling each mold halfway full.

Bake for 10 minutes or until a toothpick inserted in the center comes out clean. Turn out the doughnuts  onto a cooling rack.

While the doughnuts are cooling, mix the white sugar with cinnamon.

Dip each cooled doughnut in the melted butter and then into the cinnamon sugar.

Serve warm with chilled apple cider.