The Best Gluten-Free Pumpkin Bread: I've tried and finally found the BEST gluten free pumpkin bread. It's dense, moist and bursting with fall spices and a sweet pumpkin finish.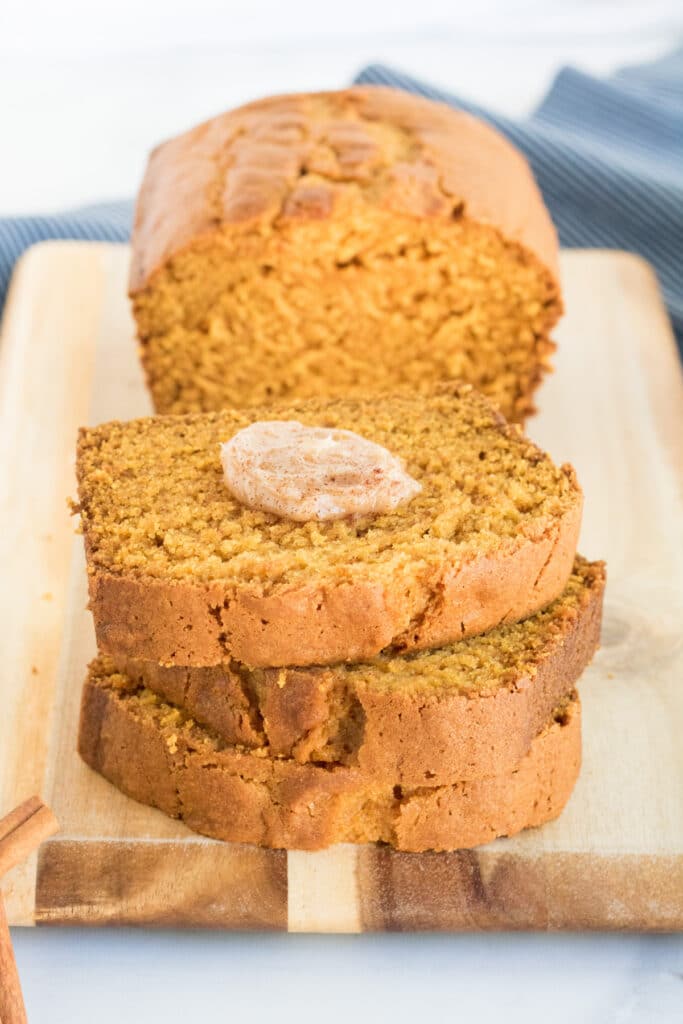 Pumpkin Bread is hard to get right. It's got to be sweet yet spicy, and dense but not too heavy. It's even more difficult to get gluten-free pumpkin bread right. Gluten-free flours can easily make breads dry and crumbly. But I finally came up with the PERFECT recipe that is evenly balanced so you can enjoy a delicious gluten-free treat without sacrificing flavor.
Confession time: this isn't my recipe. A lovely lady from my church gave me a loaf using regular flour and I loved it! I asked for the recipe and decided to adjust things to make it gluten free for a friend who was visiting. It was a hit and I am certain it is going to become your new favorite!
Ingredients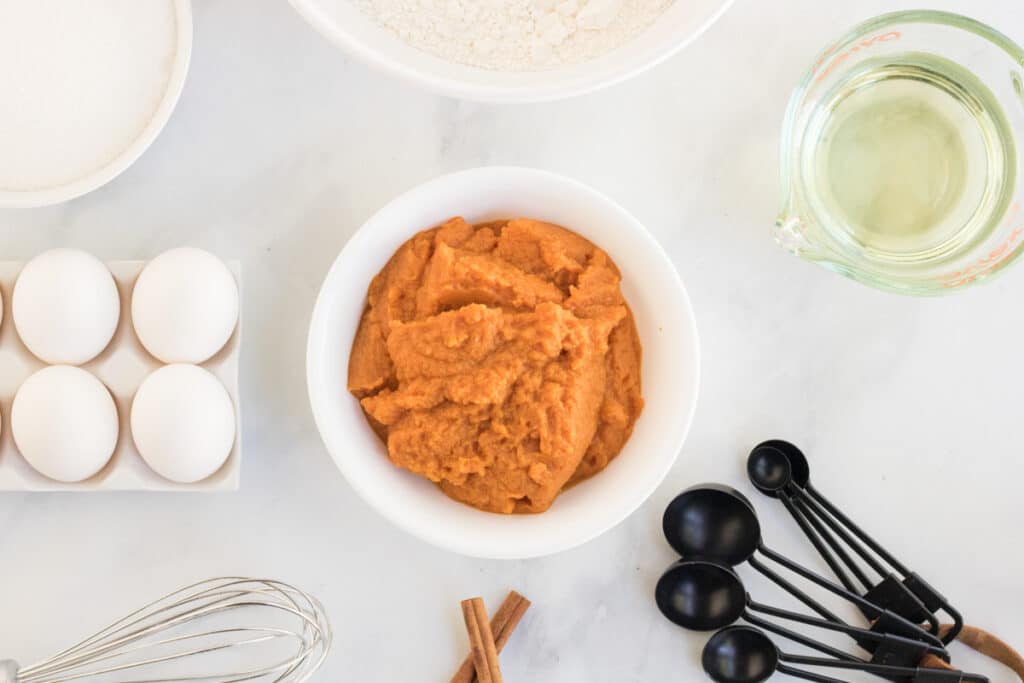 To make this easy pumpkin bread recipe, you are going to need:
2 teaspoons baking soda
3 ¼ cups 1/1 gluten free flour blend
1 teaspoon salt
2 cups pumpkin
3 cups sugar
4 eggs
1 cup cooking oil
2 teaspoons cinnamon
Using Gluten-free flour
For this recipe, I highly recommend you choose a 1/1 gluten free flour blend. Here are some of my favorites:
Preparing the batter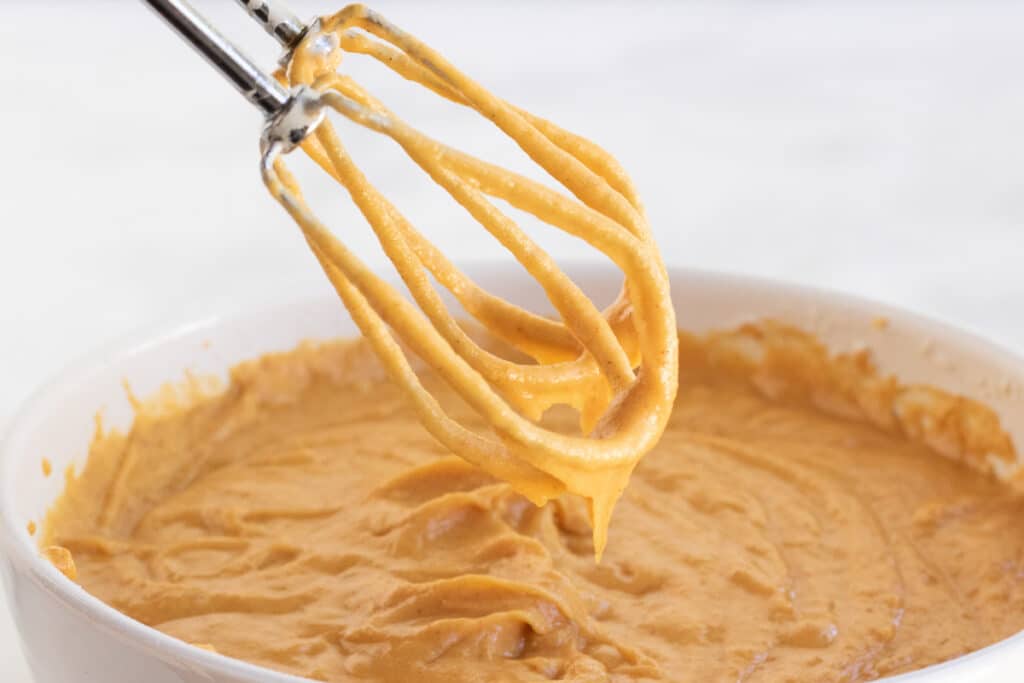 To make this recipe, you are going to start by mixing the dry ingredients together first. I like to use a sifter or a whisk to make sure that everything is super smooth and fully combined.
Next, combine the pumpkin, sugar, eggs, oil and cinnamon with an electric mixer until smooth. Then you are going to add the dry ingredients and gently fold just until they are fully incorporated. Be careful not to over mix.
Divide the batter evenly into two loaf pans. Keep them as even as possible so you can bake them at the same time.
Baking Perfect Pumpkin Bread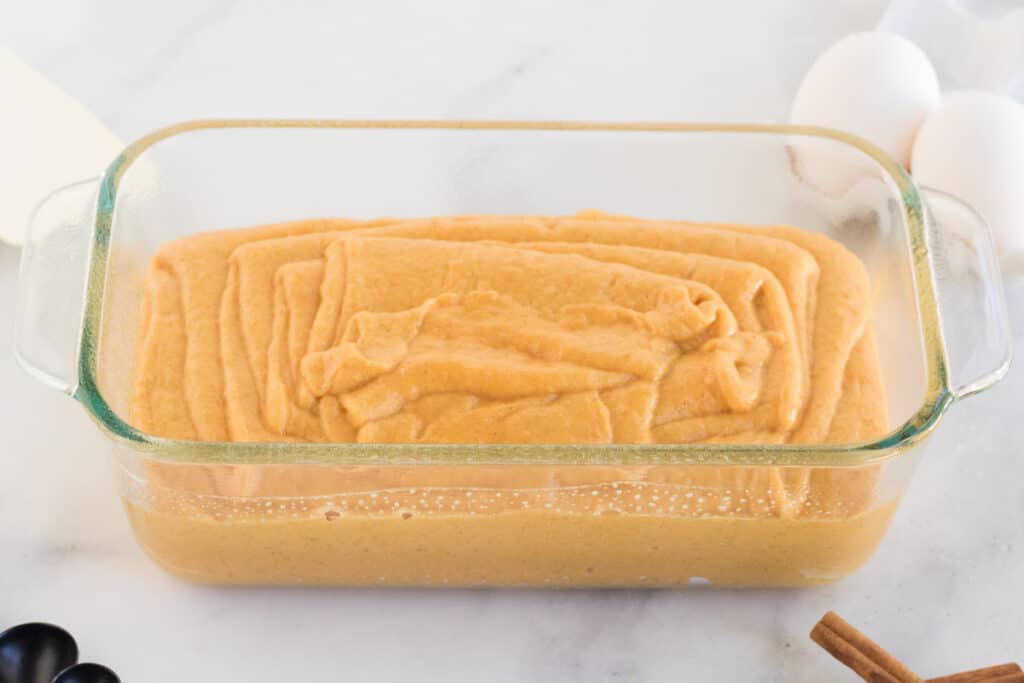 This recipe will bake at 350 degrees for about 45-60 minutes. Start checking it right at the 45 minute mark. When the bread is done, it will be firm and golden brown on top. A knife inserted in the center of the loaf will come out clean. This is one of those recipes that seems to cook differently each time, so just set a timer and check often towards the end of cooking.
Preventing over-browning
Pumpkin bread is dense, and sometimes takes a while to bake through. If you find your bread it turning brown on top but isn't quite done in the center you can place some tin foil over the pan towards the end of baking.
Can I substitute regular flour?
Yes! The original recipe this was inspired by called for regular flour. To use regular flour, simply swap out the gluten free for regular and you won't need to make any other changes.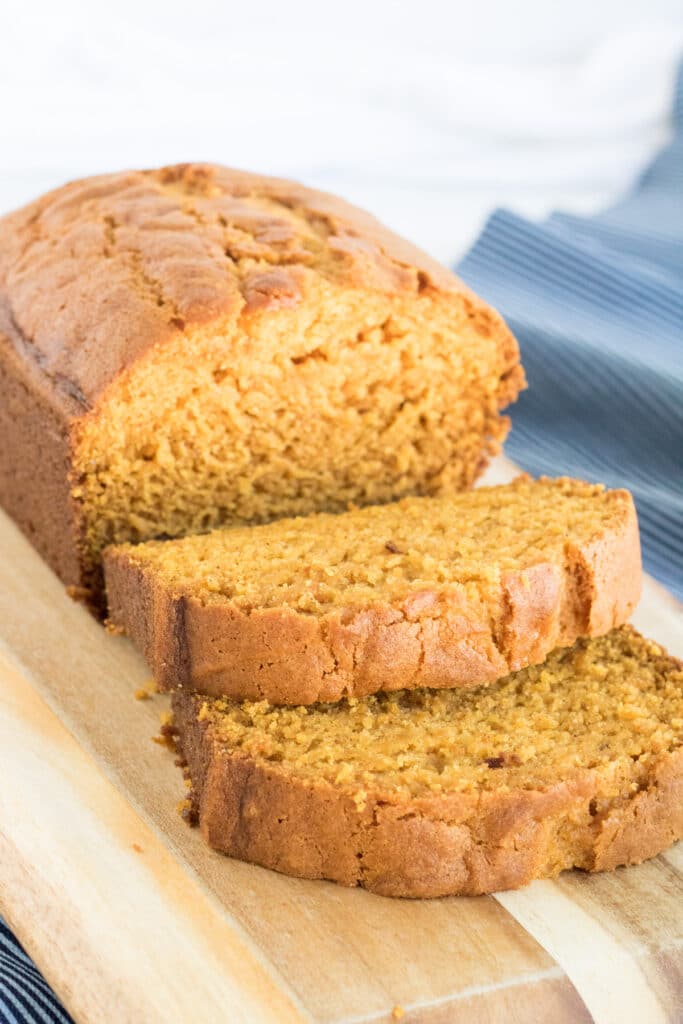 Variations
This recipe is so perfect on it's own, but if you are looking to change it up try adding these:
chocolate chips - they can go in the batter or on top
raisins
dried cranberries
nuts
If you do decide to add anything to the batter, you will want to gently fold them in right before pouring the batter into the load pans.
Storing Pumpkin Bread
Your pumpkin bread will keep well on the counter, covered, for up to three days. If you want it to stay fresh even longer, consider storing it in the refrigerator. I love storing mine in the fridge and warming it up in the microwave. It tastes like it was fresh from the oven!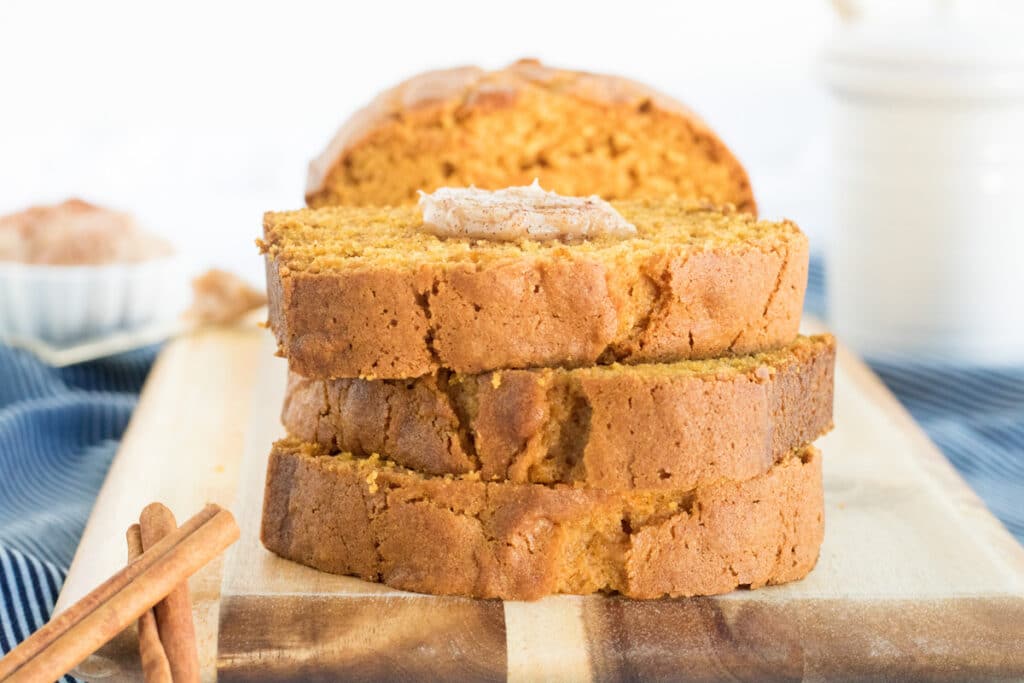 Freezing Gluten-Free Pumpkin Bread
This recipe freezes really well! To freeze, wrap tightly in freezer bag making sure all of the air is out of the bag. I like to double wrap it to keep it extra protected.
To thaw, move to the refrigerator for 24 hours prior to serving. If you are serving the entire loaf, you can place it in the microwave and serve it warm.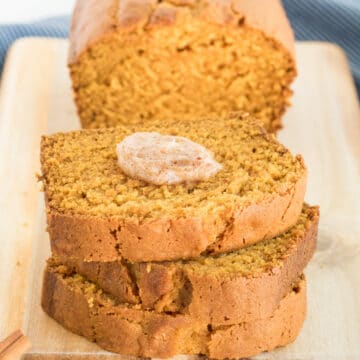 Gluten Free Pumpkin Bread
The BEST gluten free pumpkin bread recipe with a perfect balance of sweet pumpkin and fall spices.
Print
Pin
Ingredients
2

teaspoon

baking soda

3 ¼

gluten free flour

1

teaspoon

salt

2

cups

pumpkin

3

cups

sugar

4

eggs

1

cup

cooking oil

2

teaspoon

cinnamon
Instructions
Preheat the oven to 350 degrees. Prepare two loaf pans with cooking spray or butter and flour. 

In a large bowl, combine the flour, salt, and baking soda together. Set aside.

In a second large bowl, combine the pumpkin, sugar, eggs, oil, and cinnamon with an electric mixer on medium-low speed until smooth.  

Add the dry ingredient mixture little by little until a thick batter has formed. 

Divide the batter equally and pour the two prepared loaf pans.  

Bake 45-60 minutes, until a toothpick inserted in the center comes out clean.
Notes
To prevent your bread from over browning, you can use foil over your loaf pan towards the end of baking. 
Try adding nuts, chocolate chips or dry fruit for a fun variation. 
Nutrition
Calories:
2318
kcal
|
Carbohydrates:
311
g
|
Protein:
12
g
|
Fat:
121
g
|
Saturated Fat:
11
g
|
Cholesterol:
327
mg
|
Sodium:
2551
mg
|
Potassium:
516
mg
|
Fiber:
2
g
|
Sugar:
303
g
|
Vitamin A:
10350
IU
|
Vitamin C:
10
mg
|
Calcium:
100
mg
|
Iron:
3
mg