Simple Grilled Salmon: Your complete guide to preparing quick and easy salmon on the grill with lemon, garlic and herbs.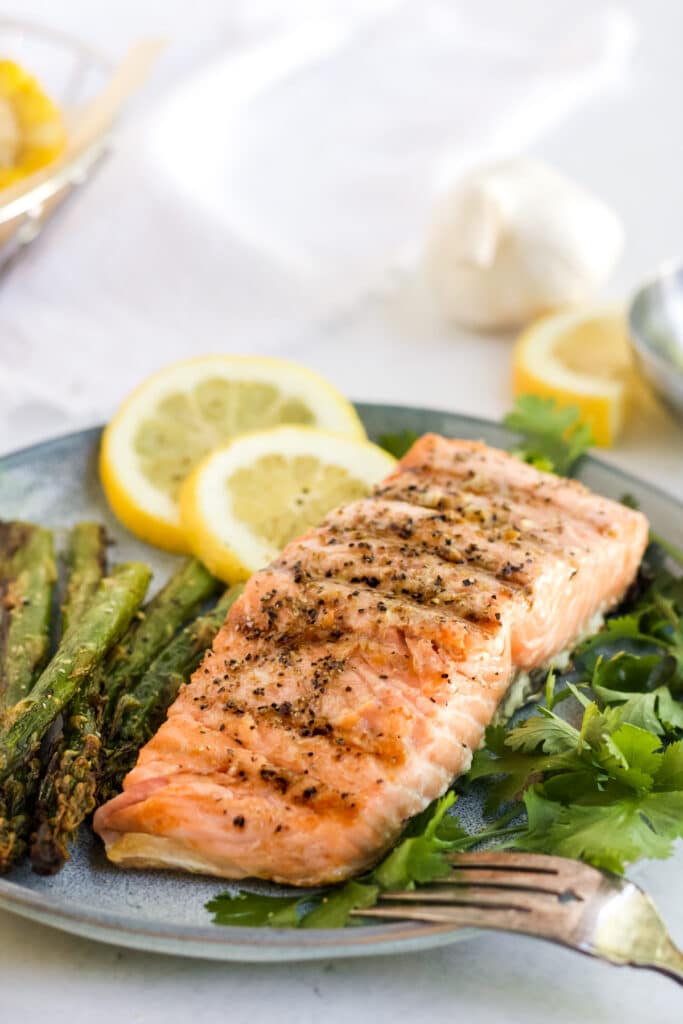 How to cook salmon on the grill
Cooking salmon on the grill is fast, easy and a great way to add rich, smoky flavor to the fish. The key to keeping the fish nice and most, with a nice charred top is searing the fish over direct high heat first, then finishing the fish over indirect heat until it is heated through.
When I am preparing salmon for the grill, i love to use a very simple marinade that lets the flavors of the buttery fish and the smoky charred grill lines shine. Serve with a simple side dish like air fryer pineapple, asparagus or a side of quinoa and you have yourself a perfect summer meal.
For more quick and easy weeknight dinner idea's check out my instant pot gnocchi soup, easy pretzel dogs and grilled chicken pesto pasta.
Ingredients for simple grilled salmon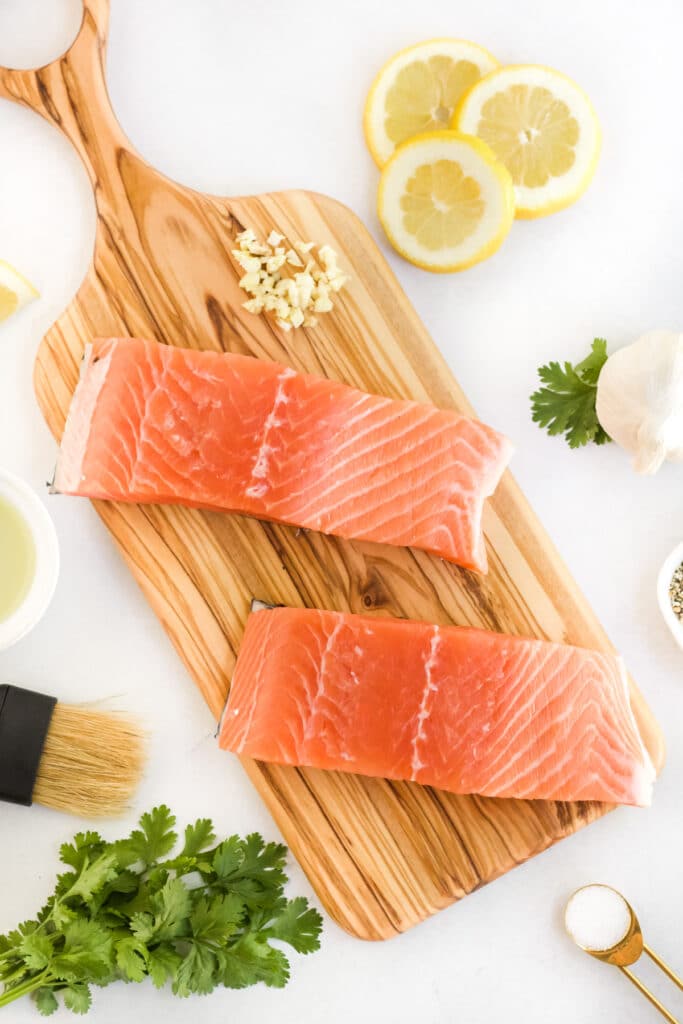 2 4 oz salmon filets
1 Tablespoon Olive Oil 1⁄2 teaspoon salt
1⁄4 teaspoon pepper
1 Clove Garlic, minced 1⁄2 lemon
Preparing the salmon for the grill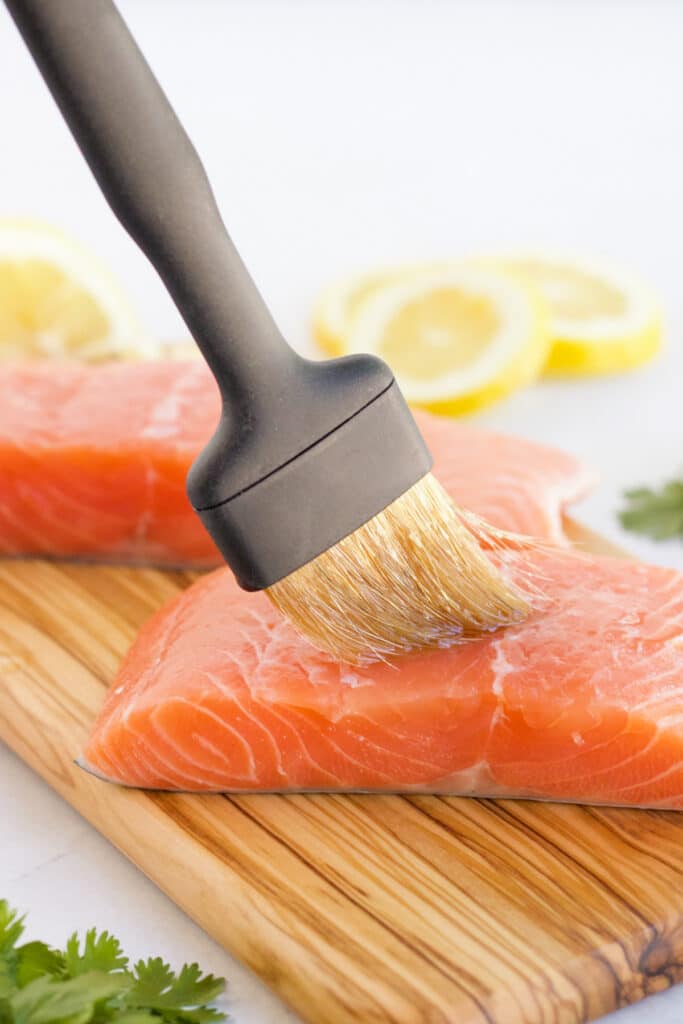 Using a gas grill
If you are using a gas grill it is very easy to control the temperature. Every gas grill is different, so you may want to check your manual. But for most gas grills, you simply turn the outside two burners to the "medium" or "medium-low" position, and turn the inside burner (or burners, if there are more than one) off.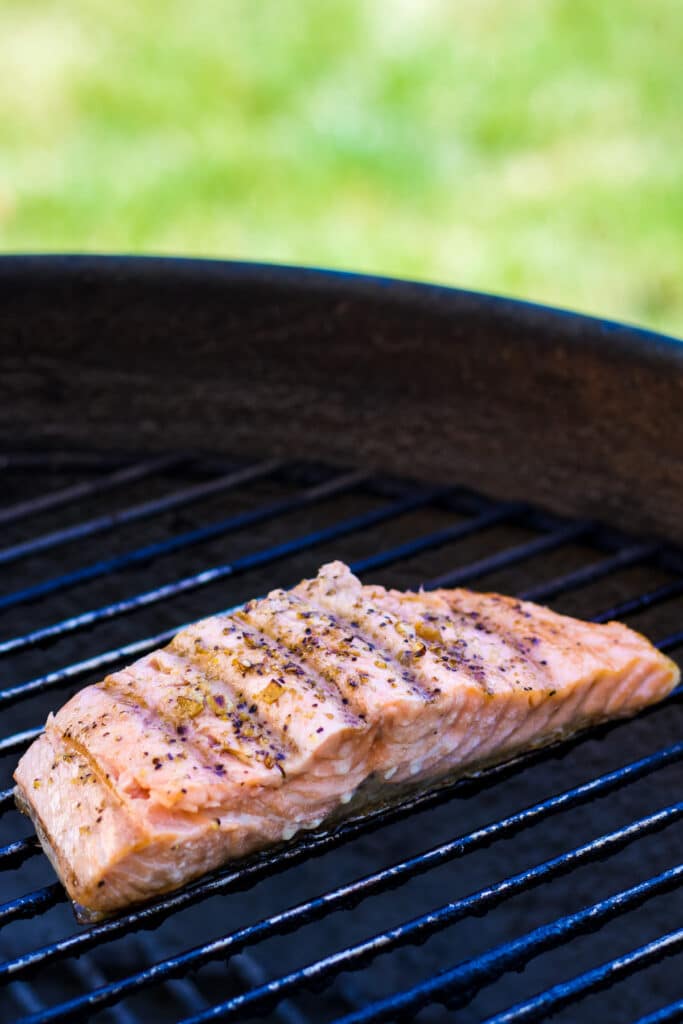 Using a charcoal grill
If you are using a charcoal grill, push the charcoals to one side of the grill. The side on top of the charcoals will be used for direct heat for searing. The side without the charcoals will be used to slowly finish the fish once you flip it.
For more information on grilling salmon, check out Weber which is my go-to grilling guide!
How do i know when the salmon is done cooking?
Salmon is done when the thickest part of the fish reaches 145 degrees. You can check the temperature using a meat thermometer if you want to be sure, but the easiest way to check if fish is done is by using a fork. When salmon is finished, it will become opaque and will flake easily when you place a fork in it. To test for flakiness, start by checking the thin end and finish by checking center.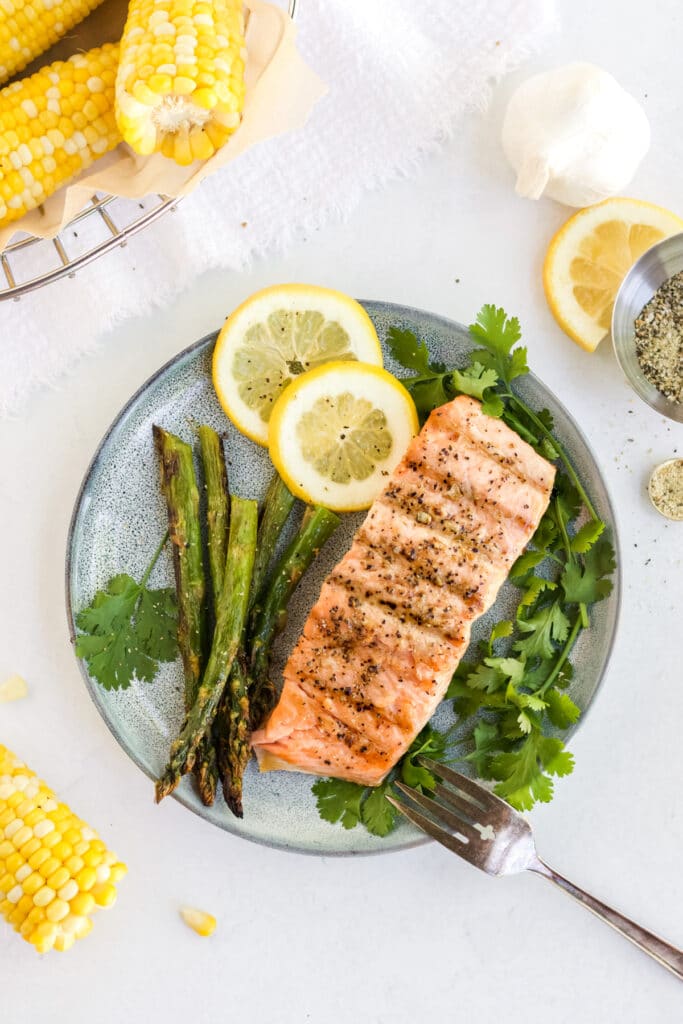 Try these variations
I love simply seasoned salmon on the grill, but if you are looking for a change you can try the following changes.
Lemon Salmon: Use lemon pepper instead of plain pepper and top the fish with lemon slices after searing.
Spicy Salmon: Top your salmon filets with pepper, paprika and cayenne pepper for a spicy and smoky flavor.
Sesame Soy: Brush the salmon with equal parts brown sugar and soy sauce then sprinkle on some sesame seeds right before the fish finishes.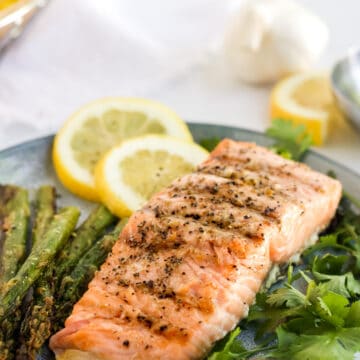 Simple Grilled Salmon
This quick and easy grilled salmon recipe is flavored simply with olive oil, lemon and garlic.
Print
Pin
Rate
Ingredients
2-4

4 oz

salmon filets

½

teaspoon

salt

¼

teaspoon

pepper

1

clove

garlic

minced

½

lemon
Instructions
Prepare the grill. If you have a gas grill, turn it to high heat. If you have a charcoal grill,

set it up for partial direct high heat. When the grill is hot, clean the grates and wipe with

cooking oil to prevent the fish from sticking.

Prepare the salmon by drizzling olive oil on each filet.

Add the salt, pepper and garlic. Squeeze lemon over each filet.

Start with the skin side up (flesh side down) and sear on direct high heat for 1-2 minutes.

Use a spatula to turn the fish and place over indirect medium heat for 5-7 minutes.

Cook until the fish reaches 145 in the thickest part of the filet. The salmon should be

opaque and flake easily with a fork.
Nutrition
Calories:
24
kcal
|
Carbohydrates:
6
g
|
Protein:
1
g
|
Fat:
1
g
|
Saturated Fat:
1
g
|
Cholesterol:
1
mg
|
Sodium:
1165
mg
|
Potassium:
75
mg
|
Fiber:
2
g
|
Sugar:
1
g
|
Vitamin C:
30
mg
|
Calcium:
14
mg
|
Iron:
1
mg