Snuggle up with your Valentine and a cup of our white hot chocolate with a perfect pink hue and creamy topping with crunchy candy hearts.
Before we had kids, I was all about getting all fancy and going out to fight the crowds for a spot at the best restaurant in town on Valentines Day. But now, all I TRULY want is to spend time with my Valentines … all five of them…snuggled up at home.
Don't worry, my husband and I always cook a fancy late night meal for just the two of us after the kids go to bed. But during the day, we try and celebrate the day as a family and this pink hot cocoa is a yummy treat the kids love to help make, and drink!
This drink is not only cute as can be, it's also beyond easy. Just 3 ingredients, pink coloring, whipped topping and sprinkles and you have yourself a prefect kid-friendly Valentines Treat in five minutes flat.
For more Valentines Day goodies, check out our Champagne Chicken for dinner or our Pink Champagne Cupcakes for dessert.
Ingredients for Valentines Hot Chocolate
At first glance, you may think this hot chocolate is going to have a strawberry milk base or a fruity flavor. But, this recipe is actually a rich, smooth white hot chocolate base, and a tiny bit of food coloring gives it that gorgeous light pink hue.
To make this recipe, you will need:
To finish off the recipe, you will need:
How To Make White Hot Chocolate
Start by heating the milk in a small saucepan just until the point where it starts to steam. You want to be careful not to scald the milk, but you also want it hot enough to melt the chocolate.
I recommend using low-medium heat so you really have a good control of the temperature.
When the milk is hot, pour in the chocolate chips and stir constantly until the chips are fully melted and incorporated into the milk. Once you pour the chocolate in, you need to stay at the sauce pan until everything melts, stirring constantly.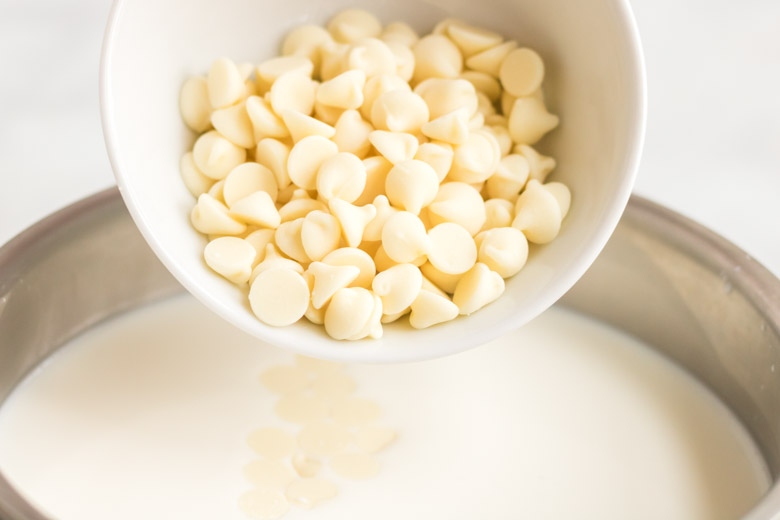 Once everything is well blended, remove the mixture from the heat and stir in the vanilla, and the pink coloring.
I really love this Wilton pink gel coloring. It is a perfect rosy shade of pink.
Serving Valentines Hot Chocolate
To get the biggest pink impact, serve this drink in clear mugs if you have them! I love Libby brand, and here is another style I love as well! You will see me use these a lot in food photography because they have an amazing presentation and really show off what's INSIDE the mug.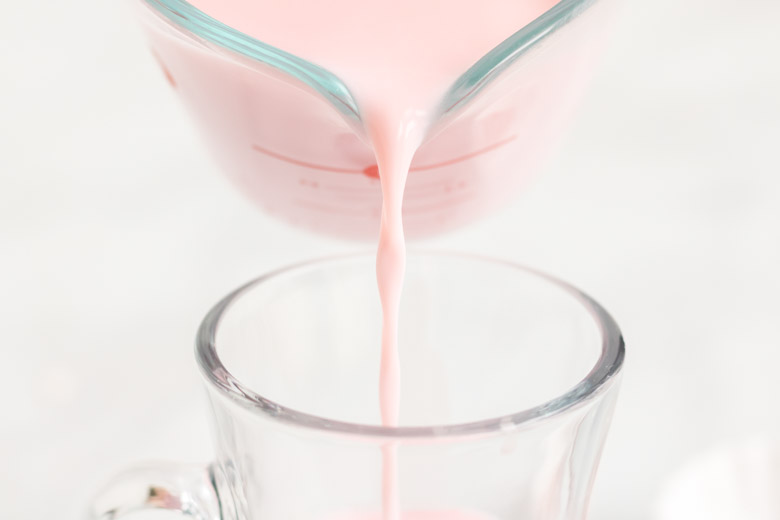 Once you have your pink hot cocoa in the mug, it's time to top it with whipped cream! You can buy some Reddi-whip, like I did for this shoot OR make your own with the kids! Making your own may sound super complicated, but it's very easy and on days where we do have extra time…my kids really love it! Here is a quick video on how to make your own whipped cream at home in must a few minutes!
Toppings for Valentines Hot Chocolate
The sprinkles I used for this hot chocolate were made by Wilton. You can find the beautiful pearly pink balls perils here and the white hearts here.
Whipped Cream
Sprinkles
Marshmallows
Graham Cracker Crumbs
Chocolate Syrup
Marshmallow Syrup
White Hot Chocolate
Because of the simplicity of this recipe, it is imperative you use quality ingredients! The most important ingredient to be picky about is the chocolate. If you use cheap, or value chocolate…you are missing out!
I love Guirardelli chips for easy accessibility across most popular grocery store chains and also quality and price! They also have a white chocolate powder which is amazing too!
How To Make Dairy Free Hot Chocolate
To make this recipe allergy-friendly, you will need to swap out both the milk and the chocolate chips to acceptable brands that fit your needs.
In place of dairy milk, I would use the most dense replacement you can tolerate. Vanilla Pea Milk would probably be a great choice for this recipe because it's very thick and dense but has a subtle flavor. Other alternatives would be:
Soy Milk
Rice Milk
Coconut Milk
Oat Milk
Hemp Milk
Almond Milk
Whichever milk you choose, make sure it has a luscious and thick consistency and that it's mild in flavor.
For the chocolate, my favorite allergy-friendly replacement brand is, hands-down Pascha.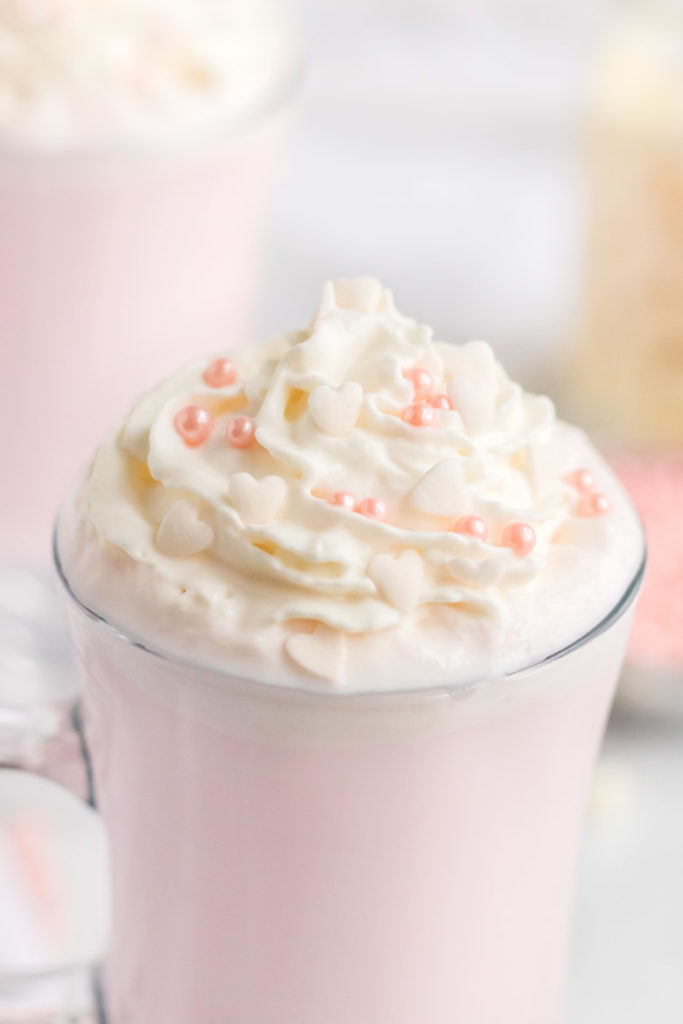 How To Keep Hot Chocolate Warm
If you are making this for a BUNCH of little Valentines at home, you can keep this recipe warm in the crock pot. If you are having a gathering or need to transport a large amount, you may consider getting a large thermos dispenser. It will hide the pretty color, but it is very effective at keeping hot drinks warm and also works as a self-serve station!
Make a Hot Chocolate Bar
Another creative way to serve up this hot chocolate is to make a super cute bar! Simply designate a section of your counter for the "bar" and line up the toppings in cute little dishes so your Valentines can serve up their own special treat just the way they like it!
Here is a really cute video on how to make your own hot chocolate bar.
So this Valentines Day, don't be afraid to STAY IN with your Valentines, because spending time together is always the best way to show someone your love.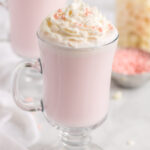 Print Recipe
Valentines Hot Chocolate
Creamy White Hot Chocolate with a perfectly rosy pink hue.
Ingredients
5

cups

Whole Milk

2

cups

high quality white chocolate chips

1

tsp

vanilla

whipped topping

sprinkles

pink food coloring
Instructions
In a small saucepan, over low-medium heat, heat the milk until just before it starts to steam. Stir in the chocolate chips and stir constantly until fully melted.

Remove from heat and add vanilla and pink food coloring.

Pour into mugs and top with whipped cream and sprinkles. Serve immediately.
Notes
Be sure to heat the milk slowly so it doesn't scald. 
Use high quality white chocolate.
Stirring constantly once the chocolate chips are added helps them melt at an even rate.
Nutrition
Calories:
756
kcal
|
Carbohydrates:
59
g
|
Protein:
38
g
|
Fat:
40
g
|
Saturated Fat:
23
g
|
Cholesterol:
122
mg
|
Sodium:
525
mg
|
Potassium:
1610
mg
|
Sugar:
62
g
|
Vitamin A:
1976
IU
|
Calcium:
1379
mg
|
Iron:
1
mg
What do you like to do for Valentines Day? Do you stay in or go out? Have you tried this recipe? Let me know!
Pin this recipe on Pinterest!