Cranberry Brie Bites: An impressive but quick and easy appetizer to carry you through the holiday season. Pre-made phyllo dough shells are filled with buttery melted brie and a quick cranberry sauce.
Cranberry Brie Bites Appetizer
As a food photographer, I tend to eat with my eyes first. But as a mother of four, I am all about EASY. These cranberry brie bites are the best of both worlds! They look super fancy and are stunning laid out in an appetizer spread. But they are surprisingly easy to make! So for your next holiday gathering, sign up to bring an appetizer...because we've got you covered!
Cranberry and Brie
Brie and cranberry...cranberry and brie. The reason this appetizer is always a hit is because of this rock star pairing! Buttery, creamy brie goes so well with tart-sweet cranberries and the light crunchy phyllo shell really round things out adding a fantastic texture to these bite-sized treats.
Cranberry Brie Bites Ingredients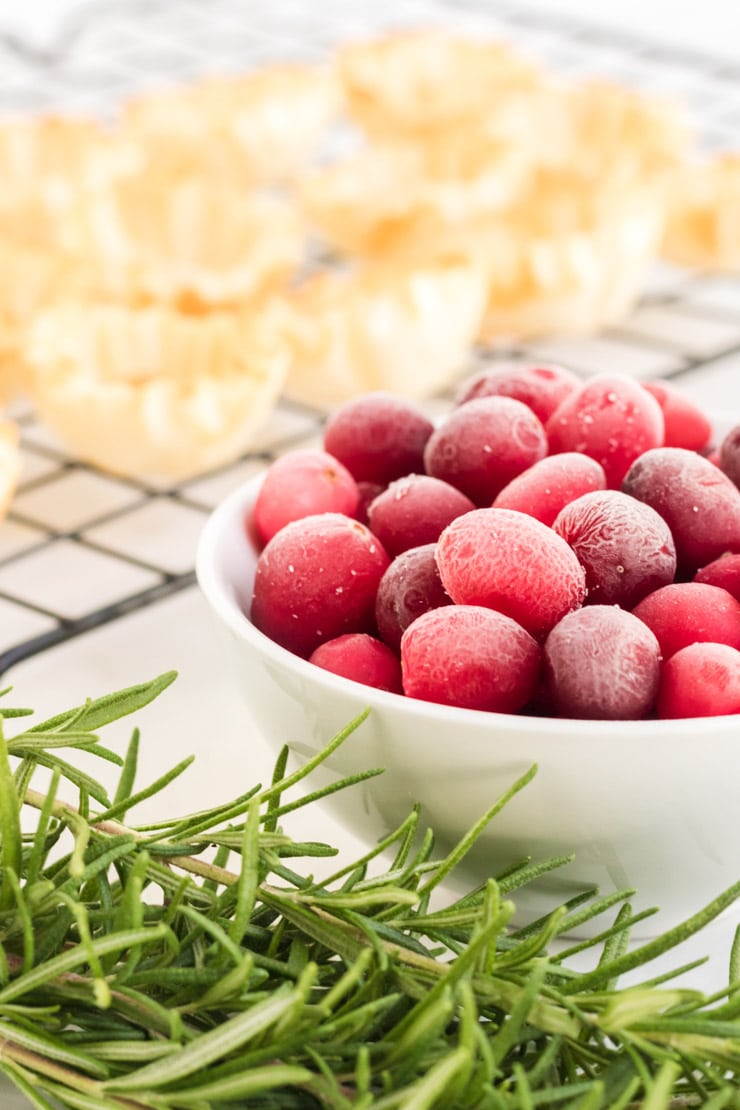 1 15 count package frozen mini phyllo shells
1 3 ounce package of brie cheese
1 cup cranberries (fresh or frozen)
¼ cup water
2 Tablespoons white granulated sugar
A few sprigs of rosemary, optional
If you prefer to use homemade phyllo shells you can check this recipe out.
Cranberry Brie Bites Recipe
The key to this recipe is thoughtful pairing, following natural flavors and combining them in a simple way. Let's get started!
Start by preheading your oven to 400 degrees. Lay out the phyllo shells on an ungreased baking sheet and set aside.
In a small sauce pan, combine the cranberries, sugar and water. Place a sprig of rosemary on top and cook over medium heat until the cranberries begin to pop. If you want to keep the shape of your cranberries like I did for these photos, pull them off the heat as soon as you hear the first several pops. To make more of a jam, continue to cook until the berries can be easily smashed. If you want things SUPER smooth, you could even puree the mixture. Personally, I love the pop of biting into a cranberry so I remove them pretty early. It is completely up to your personal preferance.
Next, you want to slice the brie into 15 even pieces and place them into the shells. Let's talk about the rinds. I LOVE a good cheese rind, especially with brie...but most people prefer this recipe without the rinds. I know, I know...it's the best part. But, look at the bright side. You can snack while your making these. Again, it's up to you and what you think your guests would enjoy. The baking times will be the same no matter what you decide to do.
Keep in mind when filling the shells, that the brie is going to melt down about 50% so fill those shells up with all the goodness!
Bake the shells in the oven about 5 minutes or until the brie is melted. Remove, then top with a spoonful of the sweetened cranberries. I like to place about 3-5 cranberries in each shell. If you opted for the smashed cranberries, a small spoonful will do.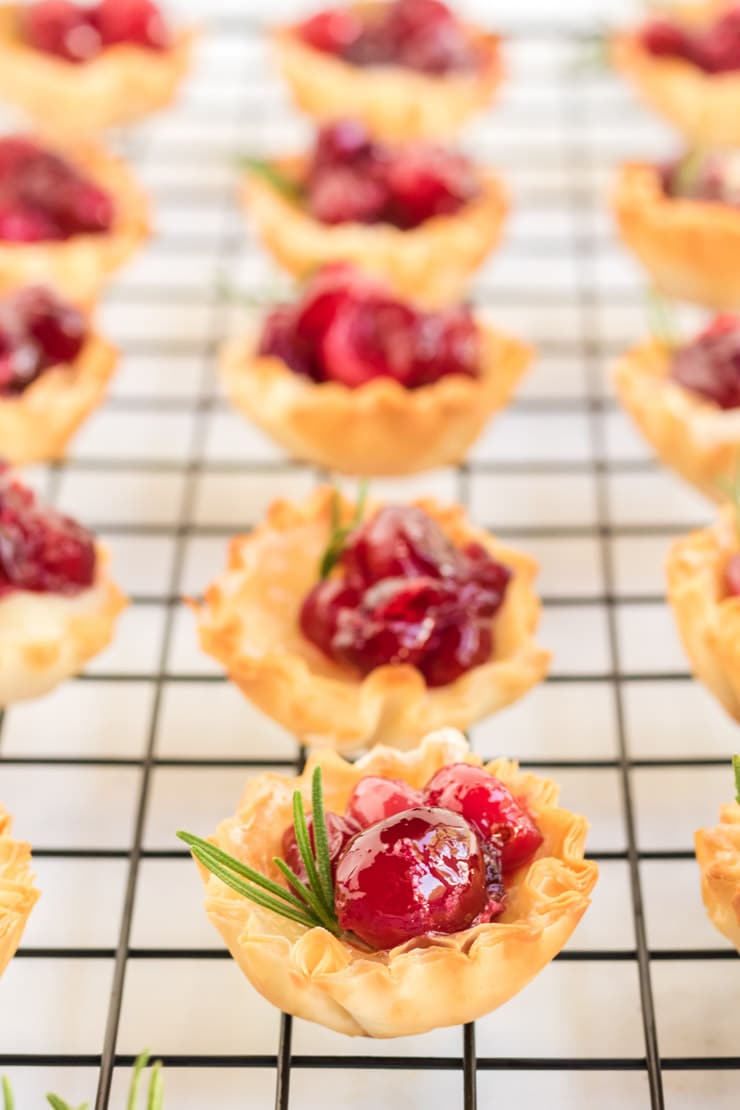 I love garnishing with a sprig of rosemary, but if you want your guests to be able to pop these into their mouths without removing it, you can always garnish the platter with rosemary too and still get that beautiful splash of color.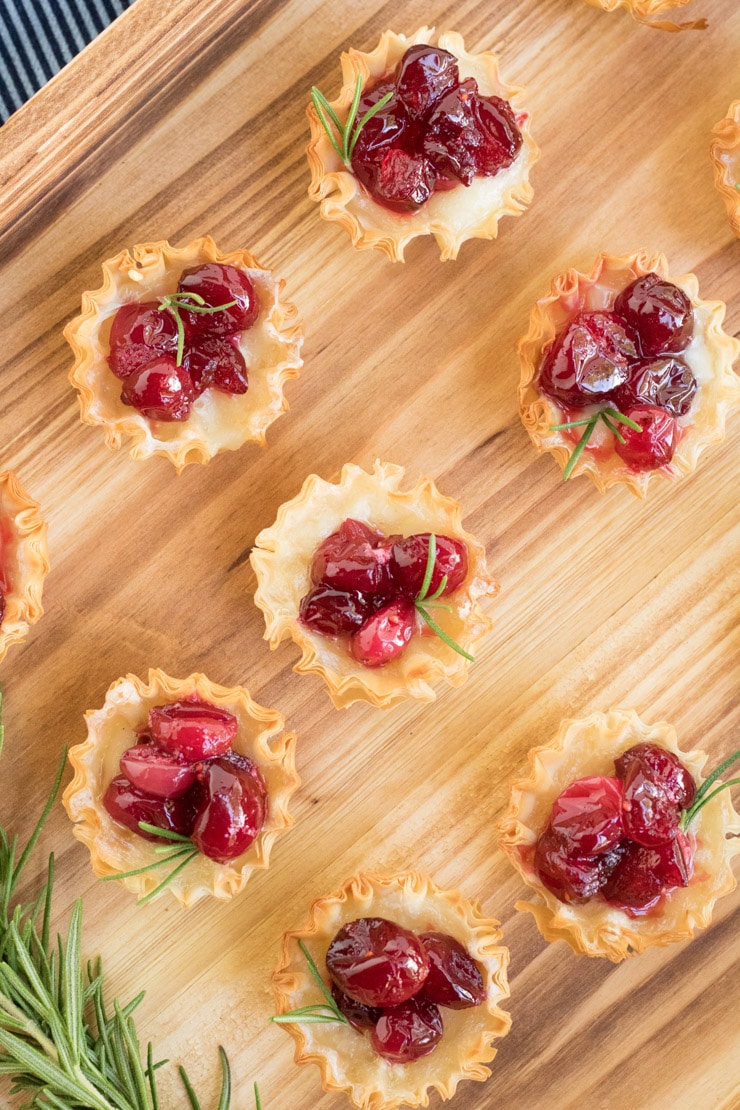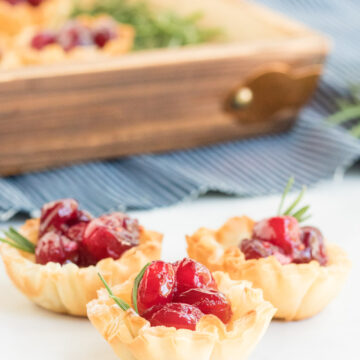 Cranberry Brie Bites
Pre-made phyllo shells filled with creamy, buttery brie and simply sweetened cranberries.
Print
Pin
Rate
Ingredients
1

15 count

package frozen phyllo shells

1

3 oz

3 ounce package of brie cheese

1

cup

fresh or frozen cranberries

¼

cup

water

2

tablespoon

granulated sugar

a few sprigs of rosemary

optional
Instructions
Preheat the oven to 400 degrees.On an ungreased cookie sheet evenly place the fillo shells right side up, about one inch apart. Set aside.In a small saucepan, combine the cranberries and water stir. Top with a  one inch piece of rosemary.Bring the sauce to a boil over medium heat, then reduce to low. Stirring until the cranberries pop, then immediately remove from the heat and discard the rosemary. Set aside. Slice the brie into 15 pieces and distribute into the fillo shells. Bake in preheated oven for about 5 minutes or until the brie is smooth and melted. Remove from oven and place 3-5 cranberries in each fillo shell. Garnish with small sprig of rosemary, if desired and serve immediately.



Did you make these cranberry brie bites yet? Let me know what you think in the comments!
Pin this recipe on pinterest!