Vegan Cabbage Soup Recipe: An easy, healthy and comforting soup made from vegetable broth, cabbage, onions, garlic, carrots, celery and stewed tomatoes.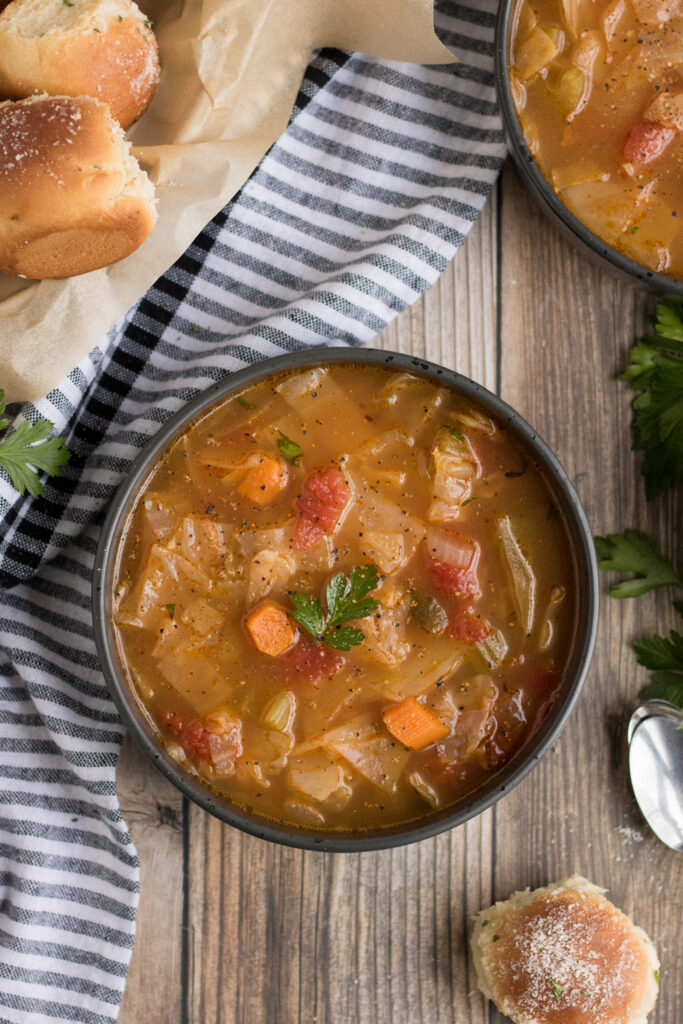 I'm so excited to share my favorite vegan cabbage soup recipe with you! It's so perfect on a cold day with a warm roll and simple side salad. Let's start with the main ingredient- cabbage!
How to pick cabbage
Picking cabbage at the store can be seem overwhelming but there are three main things you want to look for.
Weight - the cabbage should feel heavy for it's size.
Stem- the stem should be firm, not limp
Leaves- the leaves should be tight and compact
For more guidance on how to pick the perfect cabbage you can check out this post.
What is cabbage soup good for?
Vegan Cabbage soup is not only tasty, it has many health benefits.
helps with inflamation
packed with vitamin c
may lower blood pressure
helps improve digestion
loaded with vitamin k
Is cabbage soup healthy?
Yes! There are many more health benefits than listed above. You can read more about the benefits of cabbage here.
Is cabbage soup good for weight loss?
Cabbage soup is widely known for aiding in weight loss. You may have heard of the 7 day cabbage soup diet. This recipe is NOT the same. The recipe on the diet is pretty bland.
Our version is healthy, easy and tasty but meant for an occassional lunch or meal...not a 7 day weight loss adventure.
Now that we know all the benefits of this soup, let's talk about how to make it!
Ingredients for Vegan Cabbage Soup
To make this easy cabbage soup you will need:
Olive Oil
Onion
Garlic
Vegetable Broth
Salt
Pepper
Celery
Carrots
Can of seasoned stewed tomatoes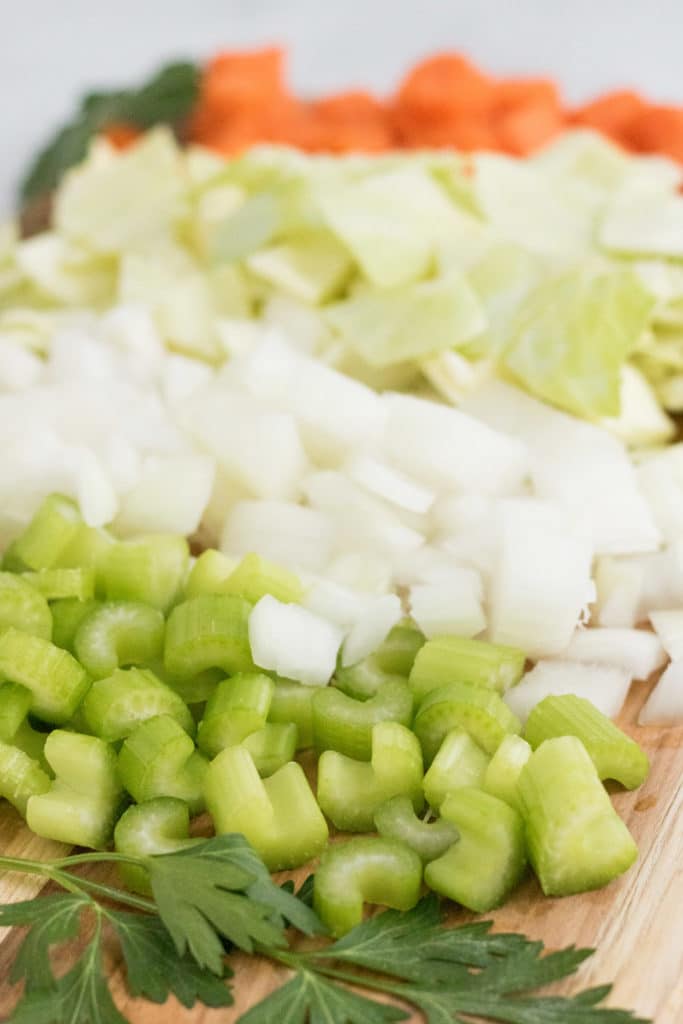 Cabbage Soup Recipe
To make this, you are going to start by cooking the onion and garlic together. When they are tender and transparent, you add the rest of the ingredients and slowly simmer it for 30 minutes. It can't get any easier than that!
In our busy household, I appreciate the fact that this soup is just sautee, dump, simmer and done!
How to cook vegan cabbage soup in the crockpot
To make this recipe in the crockpot, sautee the onion and the garlic on the stovetop then place everything in the crockpot on low for 8 hours or on high for 4-5 hours. Cook just until the vegetables are tender and cooked through.
How to cook vegan cabbage soup in the instant pot
To make this recipe in the instant pot, use the sautee setting to cook the cook the onions, carrots and celery briefly. Then add the remaining ingredients and cook on manual high pressure for 5 minutes, allowing for a natural pressure release.
How long does cabbage soup last in the fridge?
Vegan cabbage soup will last for about 4-5 days in the fridge...if you don't consume it all by then!
Can you freeze cabbage soup?
You can freeze it for about 2-3 months. Make sure you let it cool completely before freezing and always remember to use an airtight freezer bag or container.
What to serve with vegan cabbage soup
I love this soup with homemade rolls and a simple garden salad. It's light enough where I think its nice to have a side item with it, but filling enough to be your dinner!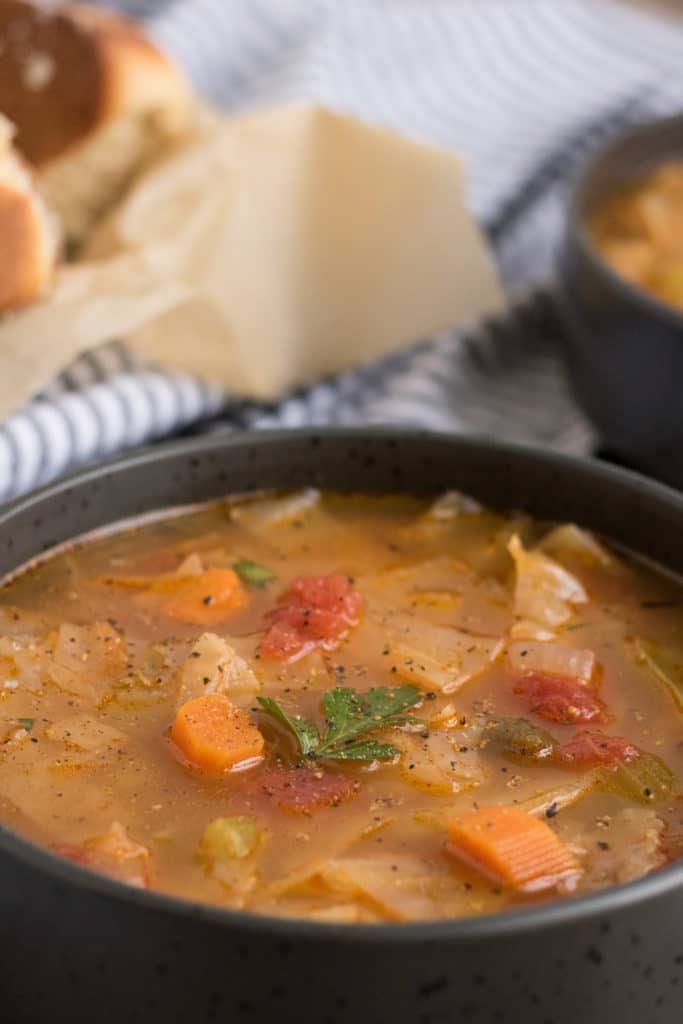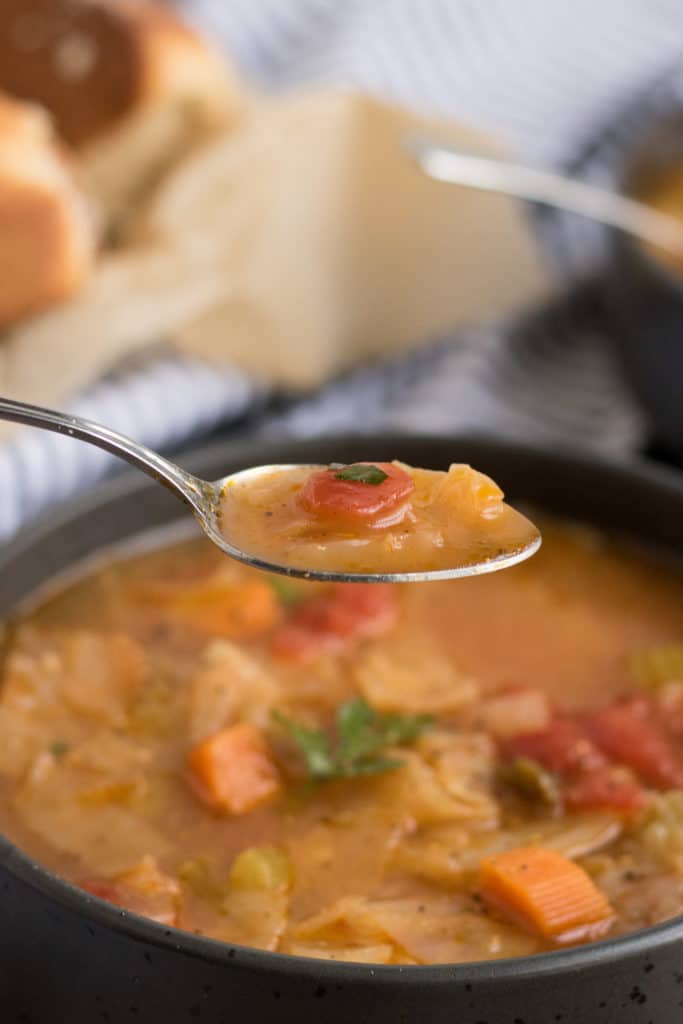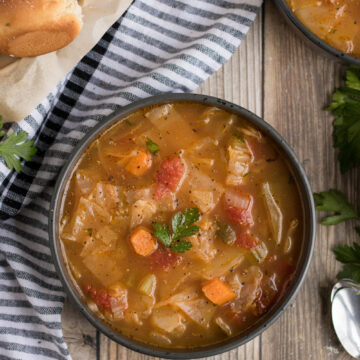 Vegan Cabbage Soup
Vegan Cabbage Soup Recipe: An easy, healthy and comforting soup made from vegetable broth, cabbage, onions, garlic, carrots, celery and stewed tomatoes.


Print
Pin
Rate
Ingredients
2

Tablespoons

olive oil

1

small

sweet onion

3

garlice cloves, minced

8

cups

low sodium vegetable broth

1

teaspoon

salt

½

teaspoon

pepper

½

small head of cabbage, chopped

3

carrots, peeled and chopped

3

celery stalks, chopped

1

14.5 oz

can seasoned stewed tomatoes
Instructions
In a large soup pot, heat the olive over over medium high heat. Cook the onions until they are tender and transparent. Add garlic and cook one additional minute. Add in the broth, salt, pepper, cabbage, carrots, celery and stewed tomatoes and bring to a boil. Lower the heat and simmer for 30 minutes or until all vegetables are tender. 



Have you tried this recipe yet? Tell me what you think in the comments!
Pin this recipe on Pinterest!