Grilled Chicken Pesto Pasta Salad: Grilled Chicken Breasts with fresh basil pesto, cherry tomatoes and freshly grated Parmesan over pasta. It's delicious hot or cold!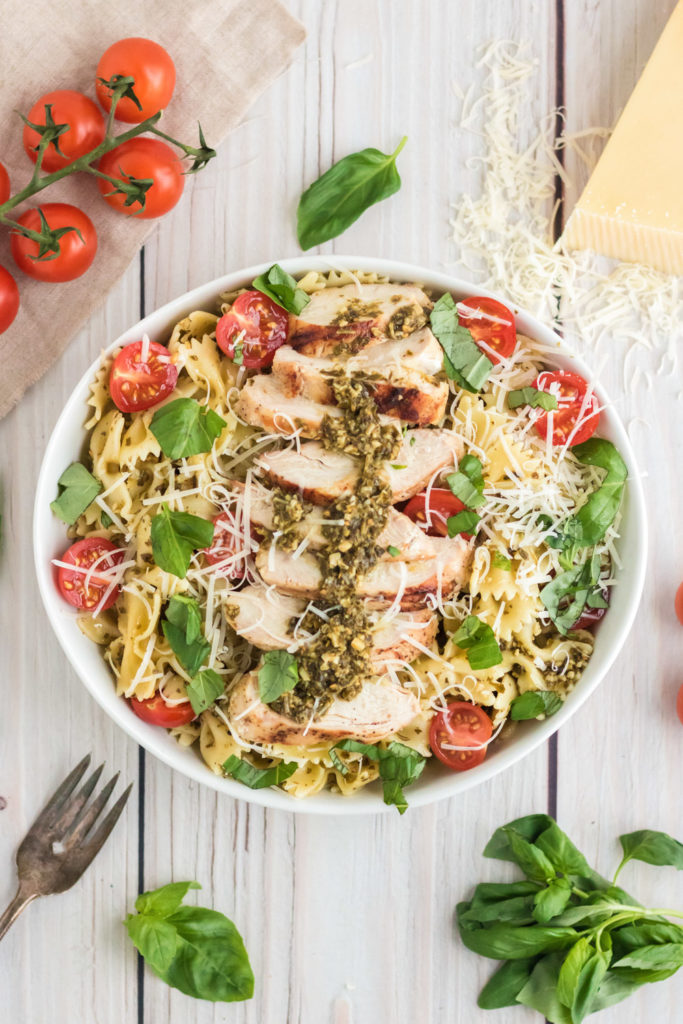 We are a participant in the Amazon Services LLC Associates Program. As an Amazon Associate, I earn from qualifying purchases.
If you are looking for a perfect chicken pesto pasta salad recipe, you've found it! This simple and versatile meal is not only easy, its PERFECT for meal prepping because you can have it warm or cold and it's equally delicious.
It's constantly on our meal plan rotation at our house and I love making a big batch of it to eat throughout the week. I can't wait to show you how to make it so it can become a family favorite at your house, too!
What is pesto?
Pesto is a simple paste or sauce made from crushed basil leaves, garlic, pine nuts, Parmesan cheese and oil. The word pesto actually means to pound or grind. Traditionally, pesto is made with a pestle and mortar. If you have a few extra minutes, nothing compares to the taste of basil being crushed with garlic into oil. YUM! But most days, I'm busy and usually just toss everything into a food processor so I can make it extra quick!
What does pesto taste like?
If you like the looks of this dish but have never had pesto before, then you are about to taste one of your new favorite sauces! Pesto has a pretty bold flavor with a very fresh, herbaceous basil flavor up front and lingering fresh garlic finish.
One of my favorite things about pesto sauce is that is very flavorful, but clean and fresh tasting. It's a very versatile sauce and is great on pasta, chicken, veggies....or in the case of this dish, all of them put together!
How To Make Pesto
Before we get started with the pasta salad recipe, let's start by talking about how easy it is to make fresh pesto! I highly recommend our delicious and super easy 5 minute pesto for this recipe!
For a full tutorial on how to make THE BEST fresh basil pesto sauce in 5 minutes, check out this post!
To make your own basil pesto you will need:
2 cups fresh basil
2 garlic cloves
½ cup freshly grated Parmesan cheese
¼ cup olive oil
¼ teaspoon salt
⅛ teaspoon pepper
Simply combine all the ingredients in a food processor and pulse and grind until smooth.
If you don't want to make your own, that's OK! You can buy any store bought brand. If you don't want to make your own, my favorite nut- free pesto is Classico brand!
Ingredients for Chicken Pesto Pasta Salad
To make this pesto pasta with grilled chicken, you are going to need:
Grilled Chicken Slices
Pasta
Pesto
Parmesan Cheese
Cherry Tomatoes
Fresh Basil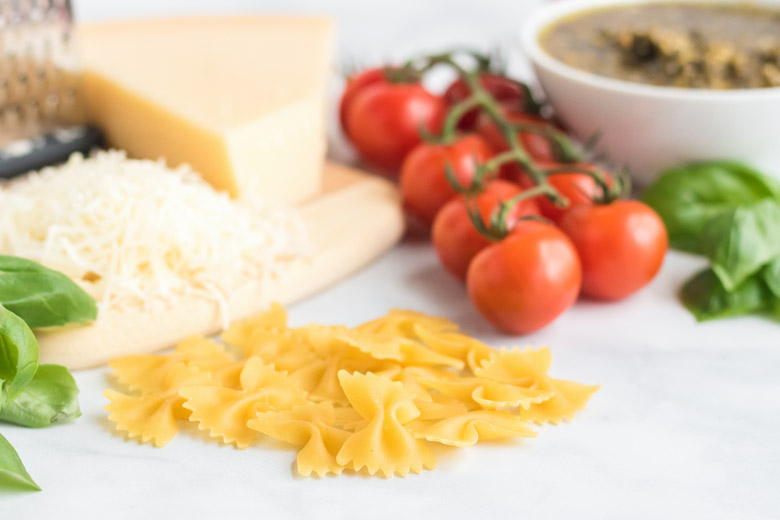 Grilling the Chicken
Let's start with grilling the chicken. I highly prefer a classic charcoal grill to cook my chicken but if you don't have one, you can absolutely use a grill pan.
Prepare the grill for direct medium heat. If you are using a charcoal grill, this means you will want to wait until your coals are all covered in a grey ash and wait about 20-30 minutes for spreading them out for medium heat. You are going to grill the chicken for about 5 minutes per side or until the internal temperature reads 165.
Want to get PERFECT char marks like this picture? Don't lift the meat to peek! To get the perfect char, allow the chicken to sit in the same spot until its time to turn. My husband is actually the grill master of the house - so I can't take credit for these gorgeous lines.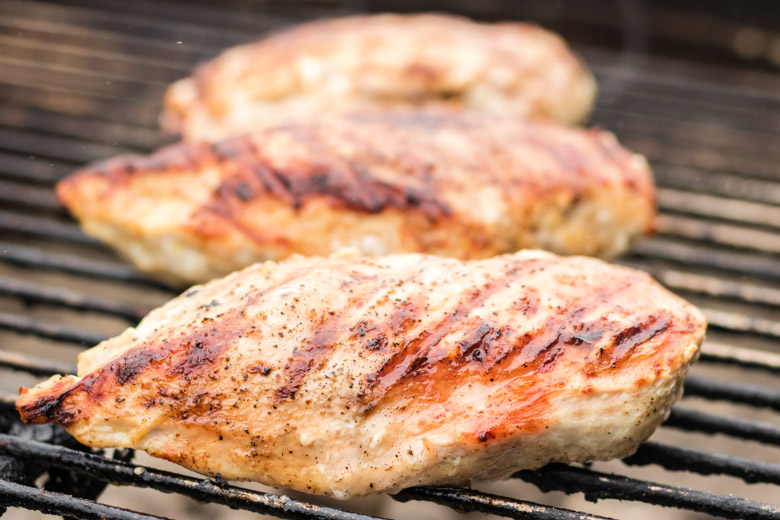 When the chicken is done, be sure to let it rest for several minutes before slicing it. This is an extremely important step. This will make sure the juices stay where they should be and prevents the chicken from drying out. I know it's hard, but let it rest!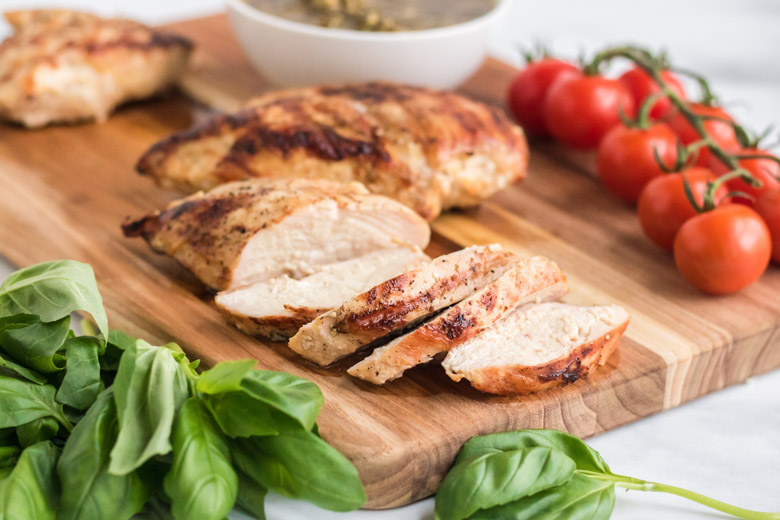 Easy Chicken Pesto Pasta Recipe
You can prepare the rest of the pasta salad while your chicken is grilling.
Start by filling a large pot with boiling, salted water and cook the pasta according to package directions. Salting the water is the first opportunity you have to flavor the dish. Boiling pasta in salted water is a simple step that can make a very big difference.
Be sure to cook the pasta just until al dente. No one likes soggy pasta!
Meanwhile, begin slicing the cherry tomatoes, and prepare the pesto sauce if you are making it fresh.
Let's talk about the Parmesan cheese for a second. If your thinking about reaching for powdered Parmesan that has an infinite shelf life...think again. My philosophy in the kitchen is to use minimal, REAL ingredients and when you cook things this way it is very important to choose quality ingredients. Choosing a block of Parmesan and taking an extra few minutes to grade it will REALLY take this pasta salad to the next level!
Pre-shredded cheese is loaded with fillers and just wont melt and cling to the pasta the way fresh does. So if your willing to spend an extra dollar and extra minute to purchase and shred fresh Parmesan, I promise it will be worth it!
When you have everything together in a large bowl, just toss until everything is evenly incorporated and you are done!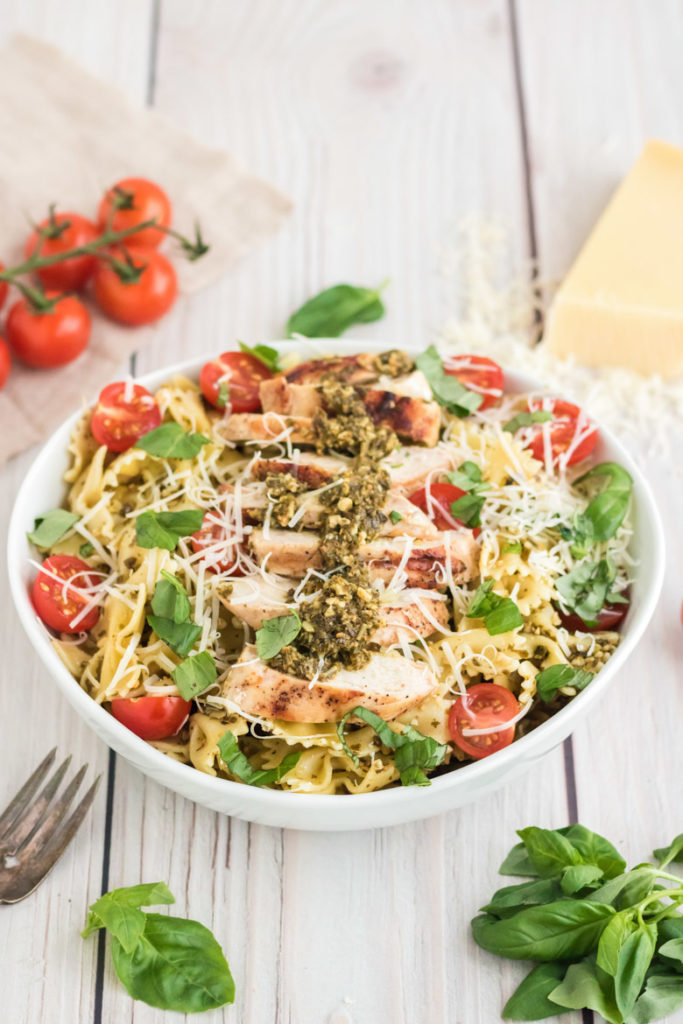 How much Pesto for 1 lb pasta?
It all comes down to personal preference. This recipe calls for ½ cup fresh basil pesto, and most people prefer from ½ cup- 1 cup of sauce for a pound. Pesto has a very intense flavor, so I find that a little goes a long way!
What pasta is best with pesto?
When it comes to pesto, long thin noodles or short compact ones are best. These farfelle noodles are perfect shape to allow the pesto to grab onto the folds. Choose whatever noodle shape you prefer!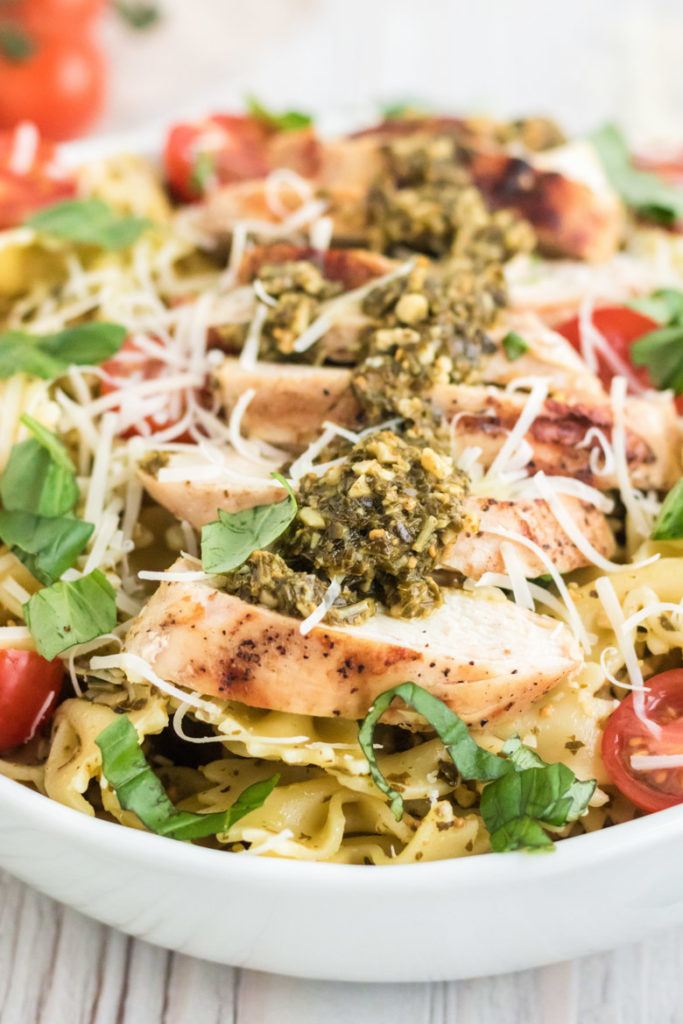 Recommended Wine Pairing
When it comes to perfect pairings with pesto, Sauvignon Blanc is an excellent choice! Sauvignon Blanc has a vibrant acidity that really cuts through pesto's bold garlic finish. If you prefer something lighter, you can't go wrong with a Pinot Grigio or a cooler climate, un-oaked Chardonnay.
Chicken Pesto Pasta Salad
Grilled chicken pesto pasta salad made with plump, juicy grilled chicken breasts with fresh basil pesto, cherry tomatoes, and freshly grated Parmesan over pasta. It's easy recipe and delicious salad hot or cold!
Print
Pin
Rate
Ingredients
2

chicken breasts

1

Tablespoon

Olive Oil

½

teaspoon

salt

¼

teaspoon

pepper

1

lb

farfalle pasta

½

cup

prepared pesto

1

cup

cherry tomatoes, halved

½

cup

fresh sliced basil

½

cup

freshly grated Parmesan cheese
Instructions
Prepare grill or grill pan to cook chicken over direct medium-high heat. 

While the grill is getting set, brush the chicken with olive oil on both sides and season with salt and pepper.

Grill the chicken for about 5 minutes per side, or until juices run clear and the internal temperature is 165 degrees. Remove from grill, and allow to cool.

Meanwhile, boil a large pot of water and prepare pasta according to package directions. Drain well.

Toss the pasta together with pesto, tomatoes, basil and Parmesan cheese.

Slice the chicken into thin strips and place on top of the pasta with additional parmesan cheese and basil, if desired.

This pasta can be served warm or cooled and is delicious either way.
Notes
Use REAL ingredients that are high quality. If you're thinking about reaching for powdered Parmesan that has an infinite shelf life...think again. Choosing a block of Parmesan and taking an extra few minutes to grate it will REALLY take this pasta salad to the next level!
For perfect grill marks on your chicken. Cook it on each side without peaking or moving the chicken around.
Make fresh homemade pesto for the best flavor rather than relying on storebought.
Cook the pasta just until al dente. This leaves the pasta with a little bite so you don't end up with mushy pasta.
Nutrition
Calories:
2323
kcal
|
Carbohydrates:
339
g
|
Protein:
155
g
|
Fat:
33
g
|
Saturated Fat:
6
g
|
Cholesterol:
289
mg
|
Sodium:
1715
mg
|
Potassium:
2684
mg
|
Fiber:
15
g
|
Sugar:
12
g
|
Vitamin A:
136
IU
|
Vitamin C:
5
mg
|
Calcium:
118
mg
|
Iron:
8
mg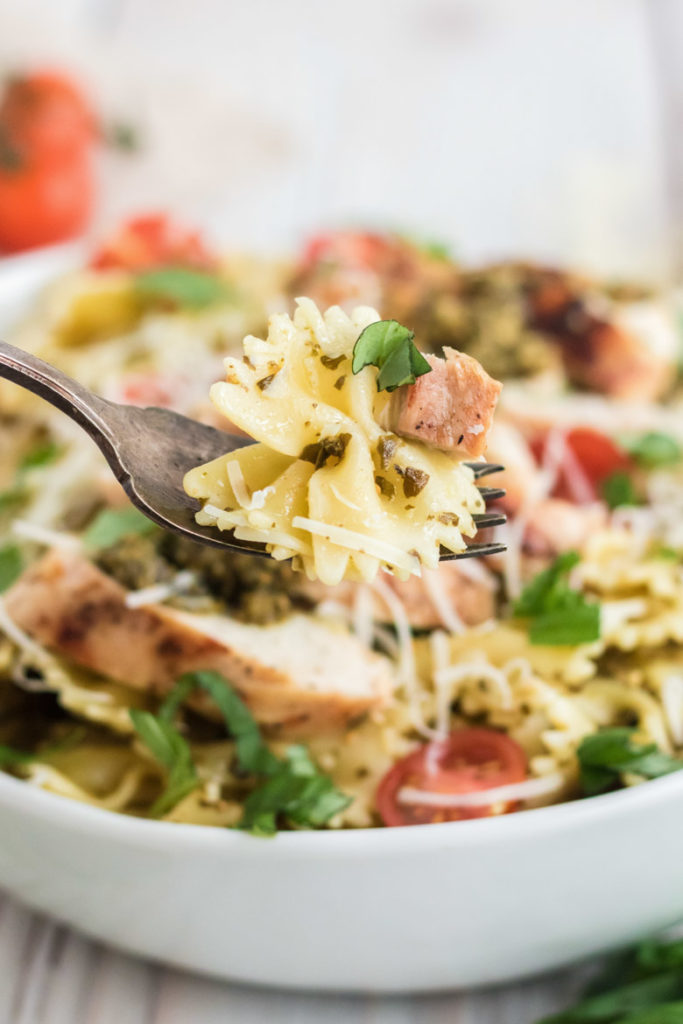 I hope you enjoy this Chicken Pesto Pasta Salad as much as my family does. Please let me know in the comments what you think when you try it!
Pin this recipe on Pinterest!