Pomegranate Mimosa Drink Recipe: Classic Mimosa's get a seasonal makeover. All you need is a lime, sugar, champagne, pomegranate juice, pomegranate seeds and some rosemary to make this festive and elegant drink.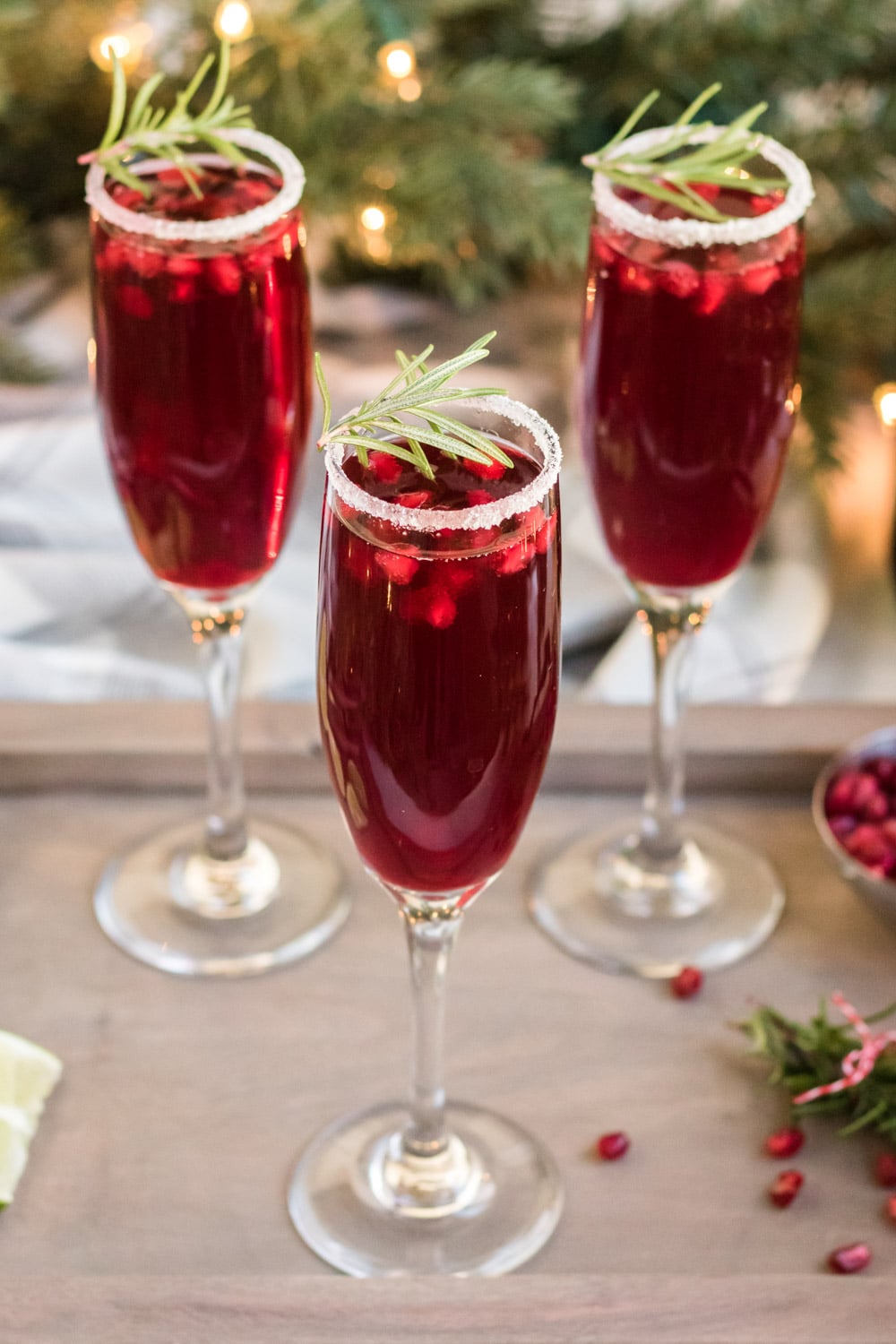 The holiday season is upon us. Which means lots entertaining and gathering with family and friends. What better way to make a simple brunch extra special by serving this super easy bubbly treat! With just a few ingredients, you can take any meal time up a notch with this eye catching spritzy showstopper.
You guys, this drink is SO easy to make! The hardest part is picking out the champagne, and if that makes you nervous… don't worry, I've got you covered. I'm going to walk you through each step so you can walk down the champagne aisle with confidence and whip up this drink like the domestic goddess that you are.
Pomegranate Mimosa Drink Recipe
For this recipe, you will need:
One lime, sliced
Sugar
Champage, Processeco or Cava (I'll go into detail on this in a minute)
Pomegranate Juice
Fresh Pomegranate seeds
Mimosa with Pomegranate Juice
The base of this mimosa is going to be the same, Champagne! But we are going to change things up from there and completely remove the orange juice. I have seen versions online that combine both orange and cranberry, but we are going in for a full seasonal switch up here and are going full-on pomegranate.
How to make a Pomegranate Mimosa
First, you glide the lime around the rim of the champage flute. I chose a lime for this recipe, becuase I thought it went really really with pomegranate. You can absolutely use any citrus fruit you want! Give lemon or orange a try, too! Next, you want to dip the rim of the glass in a shallow bowl of white sugar. If your able to set it aside for a few minutes, that's ideal! It will kind of give it time to stiffen up and settle.
The rest gets even easier, fill the glasses about 3/4 full of champage. (More or less depending on what kind of day you've had and who your company is…HA!) then fill the rest of the glass up with pomegranate juice. For a finishing touch, add a few pomegranate seeds and a sprig of rosemary.
What kind of champagne do you use for mimosas?
When cooking with wine, I truly think quality has a MAJOR impact on flavor, but when it comes to a mimosa….it's OK to make your selection based on the price tag. A classic champange is going to have a bit more minerality in it's flavor, but a fruity prosecco is a wonderful choice as well.
Regardless which bubbly you choose, try and choose something dry since you will get sweetness from the juice. These days, many sparkling wines with have a sweetness meter on the back of their label, which is super helpful when selecting unfamiliar brands. But if you want a safe choice, you can't go wrong with a Brut (or "dry") champagne.
How stunning is this drink? It looks SO elegant and pretty but its so simple!
What is your favorite seasonal version of a classic mimosa? Let me know in the comments!
Share this recipe on Pinterest!