Brussel Sprout Salad: Raw thinly sliced brussel sprouts, pomegranates, dried cranberries, almonds, apple, feta and a sweet honey mustard dressing.
It's not often I get excited about a salad. Especially in the winter. Normally, this time of year the only time I think about salad is when I throw together something simple for a soup I am making. But you guys, this one is AMAZING!
I make it on a weekly basis during the winter and it is one of my absolute favorites because it not only tastes great, but it holds up really nicely in the fridge. As a mother of four, I am always looking for healthy meals I can make ahead of time and eat real quick (usually standing at the counter, HA!) and this is one of them.
With so many flavors, it's hard to get sick of this one! Keep reading and I will give you all the tips you need to make it! But let's start with the pressing question….
Can you eat raw Brussel Sprouts?
YES! And you should! They are a member of the cruciferous vegetable family (like cabbage, broccoli and cauliflower) and are perfectly fine to eat raw.
Are Raw Brussel Sprouts Good For You?
Raw Brussel Sprouts are high in fiber and packed solid with vitamins, minerals and antioxidents. Studies show that they can decrease inflammation and help improve blood sugar control. Remember these health facts when you are digging into your second or third helping.
Brussel Sprout Salad with Pomegranate
One of the ingredients for this salad that really takes it over the top is the addition of pomegranate seeds. The color is so beautiful and the little unexpected pops of tart, but sweet juice keeps you going in for one more bite.
While pomegranates can be pricey and a little hard to find, don't skip it! It really helps round out this winter salad and make it extra special.
Brussel Sprout Salad Recipe
Making this salad is super easy, the hardest part about it is gathering the ingredients. To make this salad you will need:
1 lb bag of raw brussel sprouts, washed and dried
1 large granny smith apple
1/4 cup dried cranberries
1/2 cup pomegranate seeds
1/4 cup sliced almonds
1 1/2 ounces crumbled feta
For the dressing you will need:
1/2 cup olive oil
1 Tablespoon fresh lemon juice
2 Tablespoons apple cider vinegar
2 teaspoons mustard
2 Tablespoons honey
1/2 teaspoon garlic powder
Start the recipe by preparing the brussel sprouts for the salad. You want to cut off the ends and slice them as thinly as possible.
How do you thinly slice Brussel Sprouts?
Use a sharp knife and slice each sprout lengthwise. Some of the slices will shred, which means your doing it right!
For more clarity on this step, check out this video. Please note, I still prefer to slice mine legthwise. Not sure why!
The rest is pretty simple, combine the salad ingredients in a large bowl. You can toss everything together. Or, if you happen to be a food stylist with an uncontrollable urge to style ALL THINGS you can arrage the toppings in seperate piles.
Next, whip up the dressing by combining the dressing ingredients and giving it a quick whisk.
You won't believe how good this dressing is! The best part? You can change it up by using yellow or Dijon mustard. Whichever you prefer.
That's it! I prefer to serve the dressing on the side. As I mentioned before, I love to make a huge batch of this and keep it in the fridge, and keeping the dressing seperate helps it last longer.
Isn't this salad just beautiful!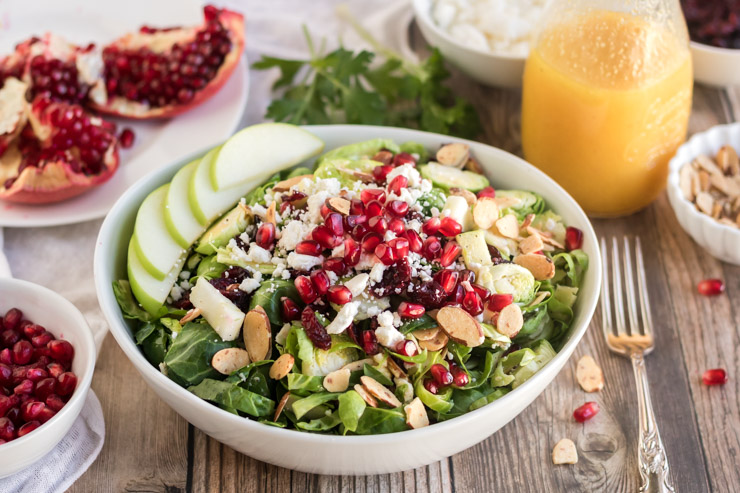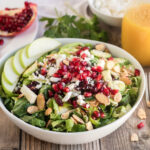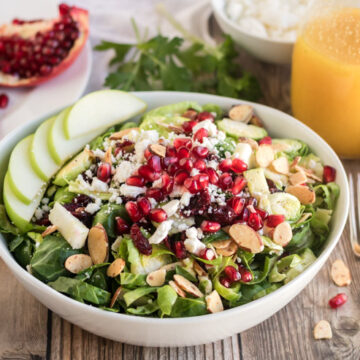 Print Recipe
Brussel Sprout Salad
Thinly sliced brussel sprouts pomegranate, cranberries, apples, almonds and feta.
Ingredients
1lb

brussel sprouts

1

large

granny smith apple

1/4

cup

dried cranberries

1/2

cup

pomegranate seeds

1/4

cup

sliced almonds

1 1/2

oz

crumbled feta
Salad dressing
1/2

cup

olive oil

1

Tablespoon

lemon juice

2

Tablespoons

apple cider vinegar

2

teaspoons

mustard

2

Tablespoons

honey

1/2

teaspoon

garlic powder
Instructions
Directions for salad:To prepare the brussel sprouts, use a sharp knife to cut off the ends and discard. Then slice the sprouts as thinly as possible. Chop or slice the granny smith apple. Combine all salad ingredients in a large bowl and toss to combine. 
Directions for salad dressing:Combine all ingredients in a small bowl and whisk together until well combined.
Have you tried this salad? Let me know in the comments!
Pin this recipe on pinterest!