Pretzel Hot Dogs: Perfect for summer picnics and gatherings, these hot dogs are wrapped in a beer-based pretzel dough then, topped with melted garlic butter and coarse salt.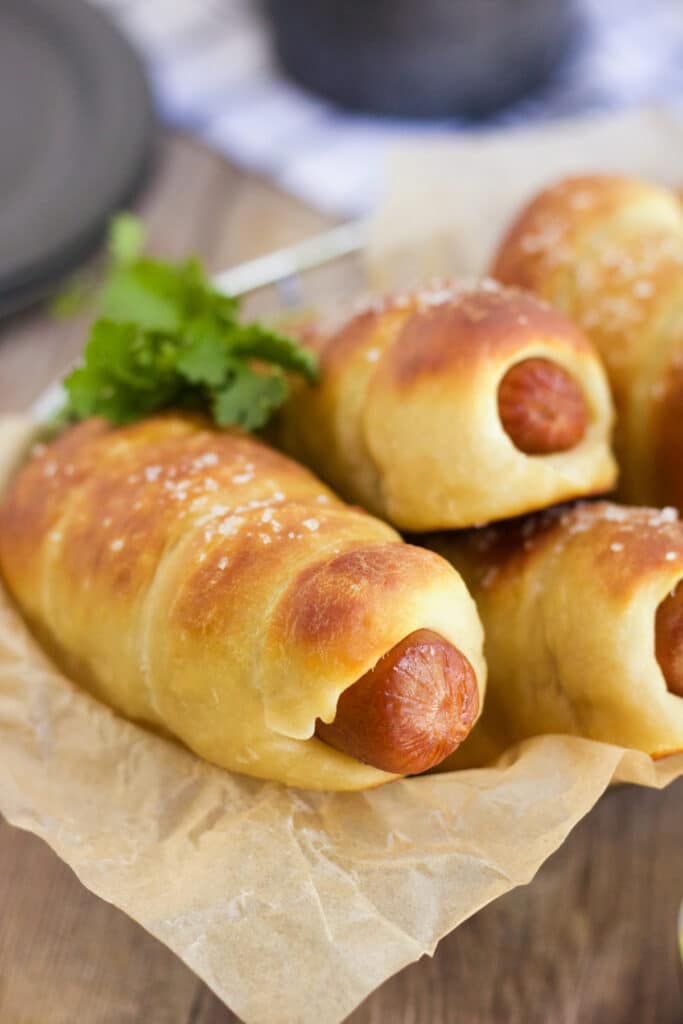 These easy pretzel dogs are just like the ones you get at the fair or food court, but better because they are made at home! You don't have to be intimidated by the pretzel dough, it's actually super simple and I will walk you through everything you need to know.
Ingredients
1 ½ cups warm beer, heated to 110-115 degrees
1 Tablespoon granulated sugar
1 Tablespoon dry active yeast
4 ½ cups bread flour
4 Tablespoons butter, melted
8 hotdogs
5 cups water
¼ cup baking soda
2 Tablespoons butter, melted
Coarse salt
Making the pretzel dough
Start by combining the beer, sugar and yeast in your stand mixer. Leave it for about 5 minutes or so, until it starts to become foamy like this...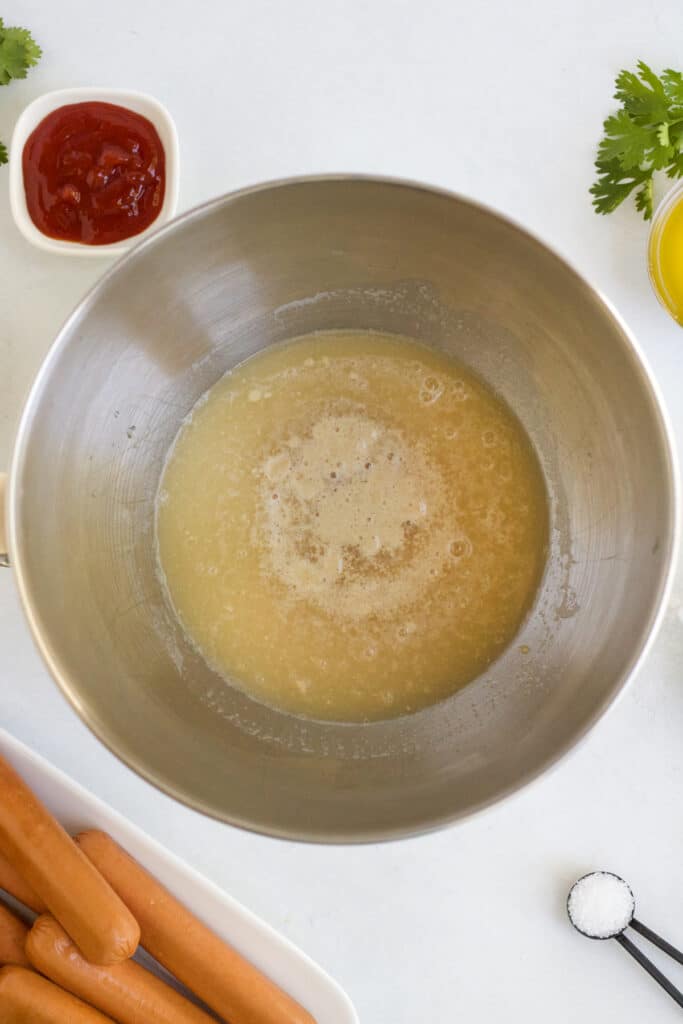 After it's frothy, you can add the flour, melted butter and salt. Use the paddle attachment on the mixture until everything is well combined and then switch to the dough attachment.
Knead the dough at medium low speed for about five minutes. Test the dough by touching it- if it sticks to your hands, add flour 1 Tb at a time until you can touch it without it sticking to your hands. At that point, cover the dough and allow it to rise for an hour or until it doubles in size.
Wrapping the pretzels
Once the dough is done, divide it into 8 equally sized sections and roll into a long rope. Wrap the dough around the pretzels, trimming of the ends if it is too long. After they are wrapped, dip them in the boiling water/baking soda mixture and place them on the baking sheet.
Baking the pretzels
Before you put the pretzels in the oven, brush them with melted butter and sprinkle coarse salt on top. Then, bake at 450 degrees for 12-15 minutes. Placing an extra baking sheet underneath will help prevent the bottoms from getting too brown.
What kind of yeast do i use?
You can use Instant Yeast, Rapid Yeast or other kinds of yeast for this recipe but you will need to follow the package directions for expected rising time. Whatever yeast you decide to use, the dough is done when it has doubled in size. I prefer regular yeast for this recipe. While the dough is rising, I prepare the rest of the meal and get the water boiling for dipping the hot dogs.
Use warm beer
As tempting as it may be, don't skip warming up the beer. It is vital to have the beer at the correct temperature to allow the yeast to do its job. You can warm it in the microwave in 15 second intervals until the desired temperature is reached, or use the stove top. Be careful not to let the beer boil! Alternatively, you can skip the beer completely and just use water. But please make sure to warm the water to the temperature suggested.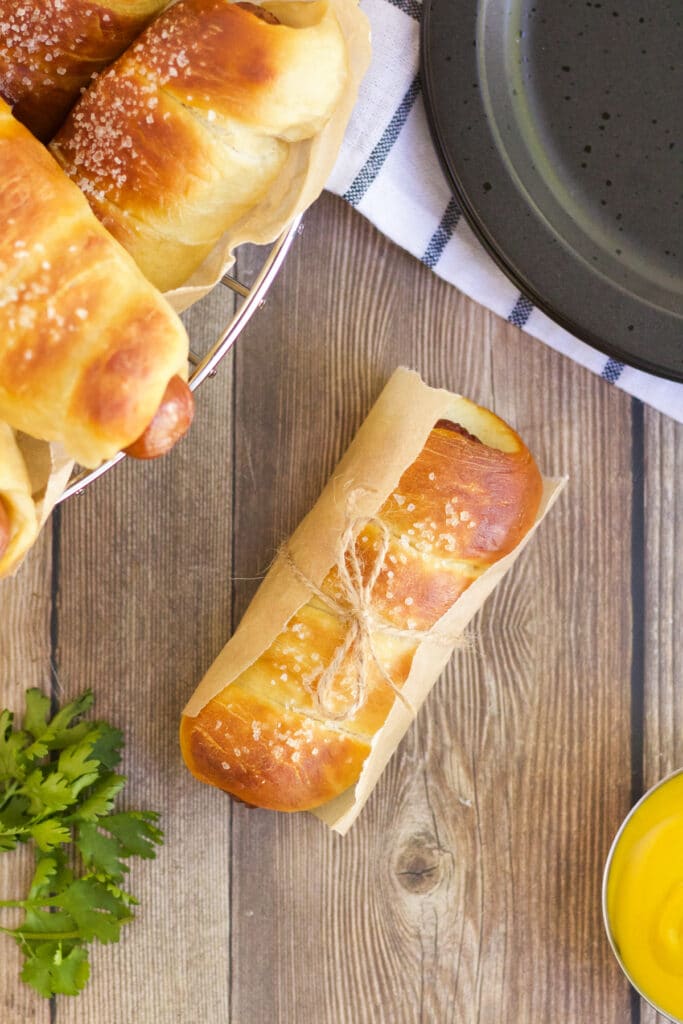 Gluten free pretzel dogs
Make this recipe gluten free by using your favorite 1:1 gluten free flour. I find that an all purpose gluten free mixture works best because they contain a blend of flours.
Vegan
You can make this recipe vegan by swapping out the dairy butter with your favorite vegan butter alternative. It is important to add the vegan butter to both the dough, and brushing on the top. Of course, use a vegan hot dog replacement as well!
Seasoning variations
Skip the salt and try something new, with these fun variations!
Poppy Seeds
Sesame Seeds
Everything Bagel Seasoning
Dried onion flakes
Dried Herbs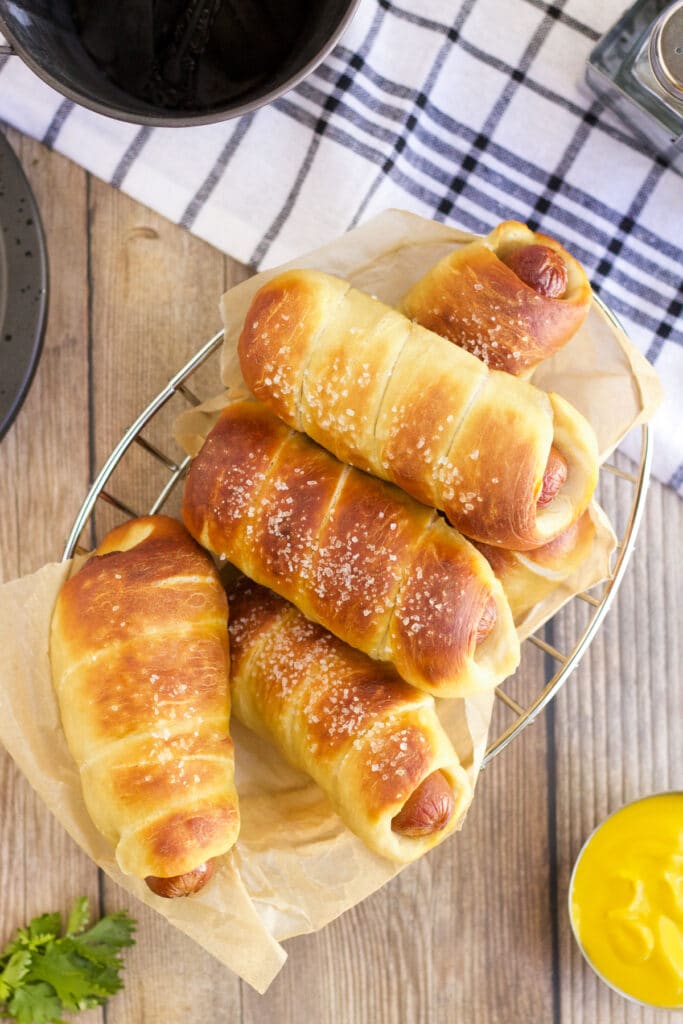 Serving suggestions
Serve with traditional condiments like mustard, ketchup, relish and pickles. These pretzel dogs go great with classic picnic sides like coleslaw, baked beans or potato salad.
Storage
There is nothing like a hot pretzel dog straight from the oven, but these pretzel dogs heat up surprisingly well. Be sure to store leftovers in the fridge in an airtight container. Use the microwave to warm them.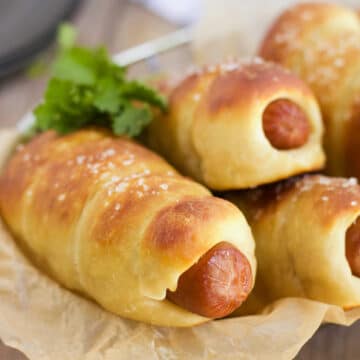 Pretzel Dogs
Perfect for summer picnics and gatherings, these hot dogs are wrapped in a beer-based pretzel dough then, topped with melted garlic butter and coarse salt.
Print
Pin
Rate
Ingredients
1 ½

cups

warm beer

heated to 110 115 degrees

1

tablespoon

granulated sugar

1

tablespoon

dry active yeast

instant or rapid rise

4

cups

bread flour

4

tablespoon

butter

melted

8

hotdogs

5

cups

water

¼

cup

baking soda

2

tablespoon

butter

melted

coarse salt
Instructions
In the bowl of a stand mixer, combine the warm beer, sugar and yeast. Let the mixture sit for a few minutes or until it appears frothy and foamy.

Using the paddle attachment, add the flour, salt and 4 Tablespoons melted butter. Use medium speed to mix until well incorporated.

Switch to the dough attachment and knead on medium speed for about 5 minutes. At this point, the dough should start pulling away from the bowl. The dough should be sticky but not stick to your fingers. If it is too sticky, add one Tablespoon of flour at a time until it can be handled.

Cover the bowl and place in a warm place to rise for one hour. The dough should double in size.

Halfway through rising time, preheat the oven to 450 degrees and prepare a baking sheet with a light coating of cooking spray.

When the dough is ready, section it into 8 equal pieces and roll it into 8 long ropes.

Wrap the dough ropes around the hot dogs, trimming when you get to the end.

Meanwhile, boil the 5 cups of water, add the baking soda and stir. When the water is boiling, drop each hot dog pretzel into the water one at a time and allow it to sit for 30 seconds.

Remove the pretzel dog from the water and place them on the prepared baking sheet, evenly apart and brush the remaining melted butter on top. Sprinkle coarse salt over the butter.

Bake for 12-15 minutes or until they are beautiful golden brown.
Notes
Don't care for beer? Use water instead! Just make sure it is the correct temperature for the yeast to do it's job.
Make this recipe gluten-free by using 1:1 gluten free flour
Make this recipe vegan by using vegan butter alternative
Nutrition
Calories:
448
kcal
|
Carbohydrates:
61
g
|
Protein:
13
g
|
Fat:
16
g
|
Saturated Fat:
8
g
|
Cholesterol:
43
mg
|
Sodium:
1418
mg
|
Potassium:
141
mg
|
Fiber:
2
g
|
Sugar:
2
g
|
Vitamin A:
262
IU
|
Calcium:
27
mg
|
Iron:
2
mg