Air Fryer Pineapple is a spin on Brazilian pineapple where it's more commonly grilled. But you can use an air fryer to get similar results! This 3-ingredient dessert combines caramelized fresh pineapple dusted with cinnamon and brown sugar for the perfect sweet treat.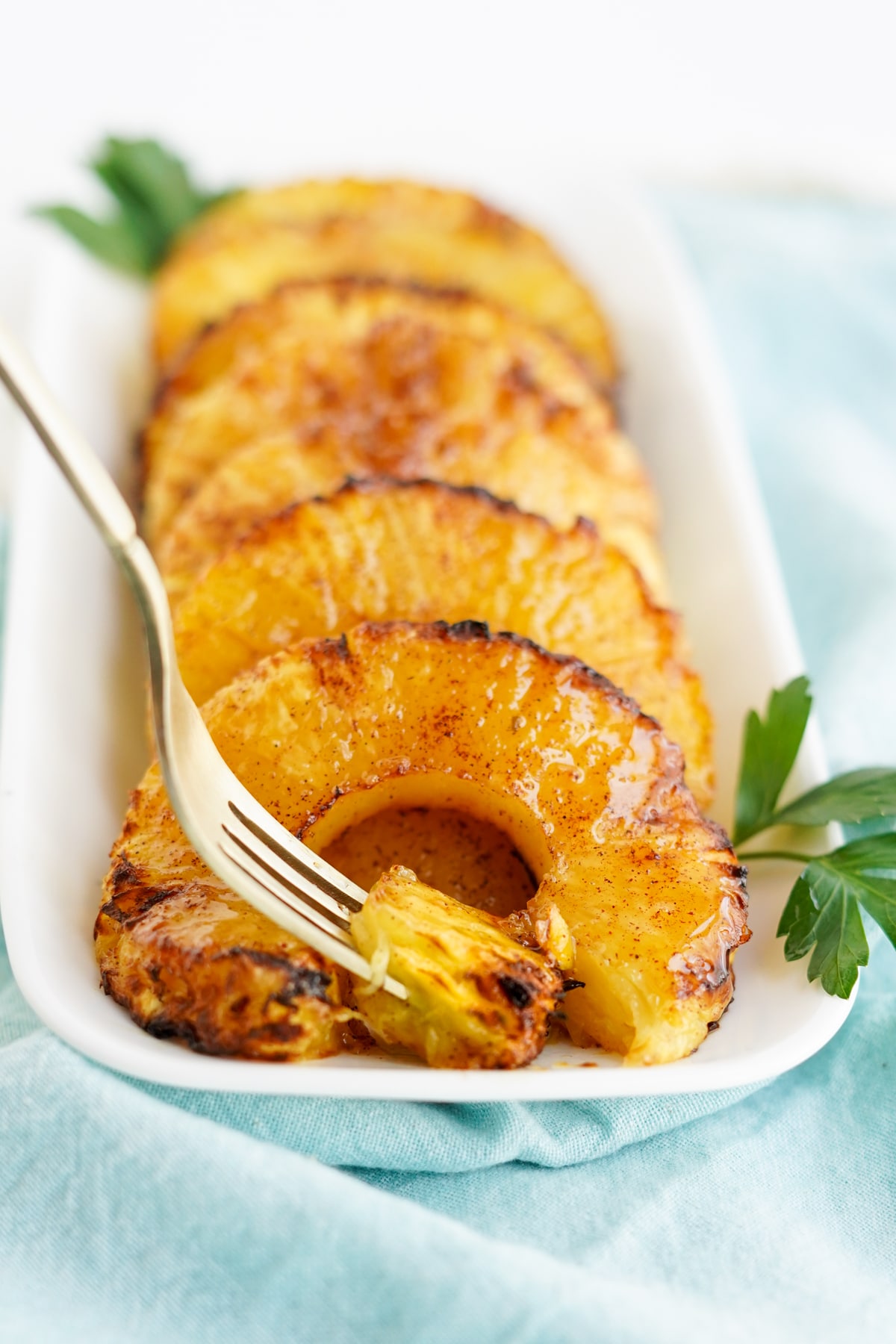 Grilling pineapple on a summer BBQ is one of my favorite treats! Usually, I love cooking it with chicken or pork for a delicious sweet and savory kabob. It wasn't until I ate at a Brazilian steakhouse that I had grilled pineapple for dessert, and now it's one of my favorite summertime treats!
There are surprisingly a lot of air fryer dessert recipes out there. Who knew this tool could make so many things? If you are ready to dabble in air fryer desserts, you have to try this Brazilian Pineapple recipe!
How to Select a Ripe Pineapple
It's important to select the right pineapple at the store because, unlike other fruit, it doesn't ripen as it sits on the counter. Here are a few tips to look for when selecting a ripe pineapple.
Look for an even yellow color all over and bright green leaves. Avoid any pineapple that has too much green, which means it's not ripe. If the color is going more orange, that's a sign that it's too ripe.
The pineapple should have a very slight give when you squeeze it. If it's rock hard, keep looking!
A ripe pineapple should smell fruity from the bottom. But if it's giving any vinegary aromas, it's past its prime.
The old pluck a leaf from the center trick? Doesn't really work! Just follow those three simple rules above next time you pick your perfect pineapple.
Ingredients for Air Fryer Pineapple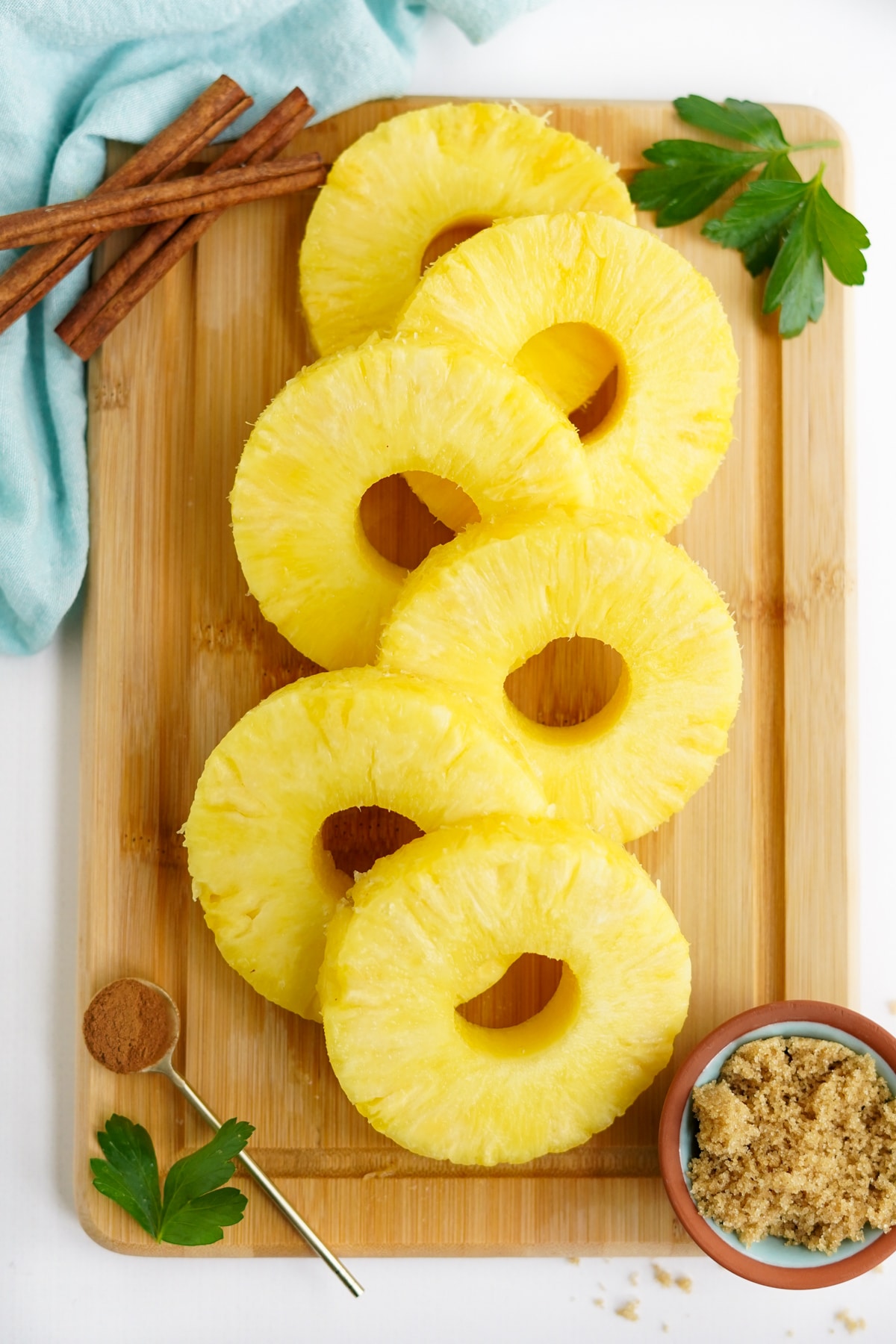 Fresh Pineapple: Cored and sliced into rings.
Brown Sugar: Helps to develop the caramelization of the pineapple when cooking.
Cinnamon: A touch of cinnamon makes this the perfect tropical dessert!
How to Make Air Fryer Pineapple
First, you need to peel, core, and cut your fresh pineapple. You can cut it in various shapes, but I love the presentation of this dessert in rings.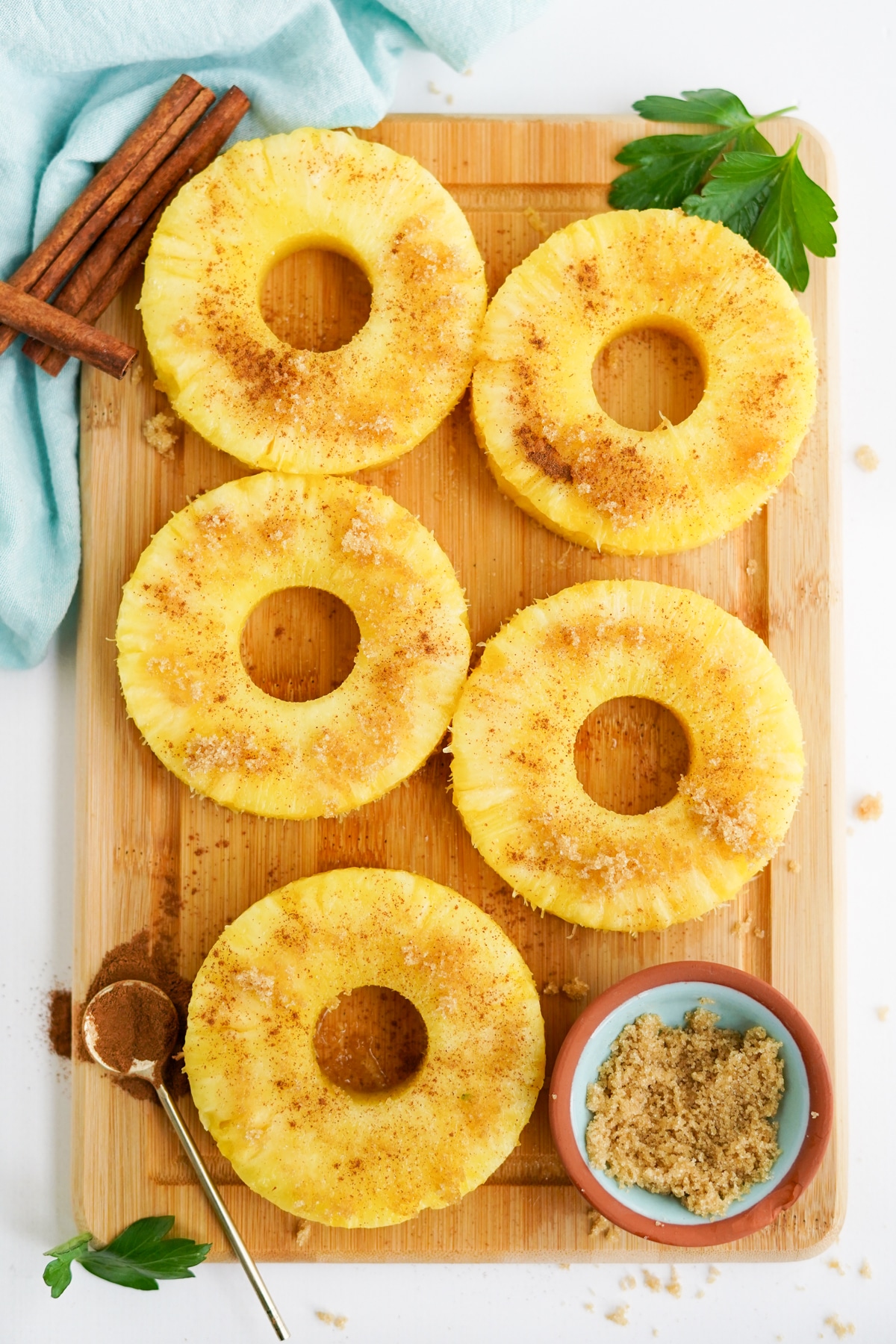 Next, dust pineapple rings all over with cinnamon and brown sugar mixture.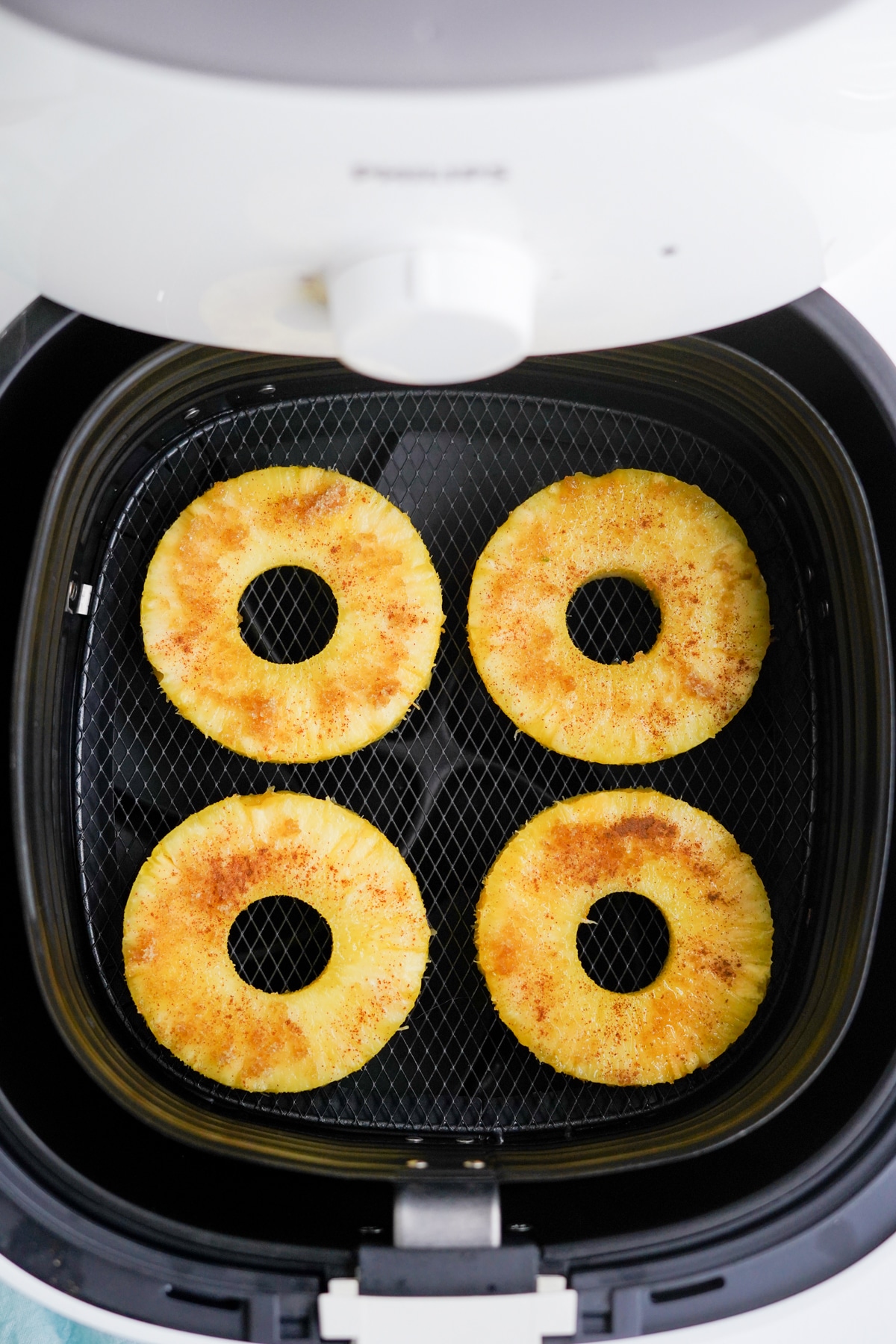 Then, place pineapple into your preheated air fryer (I love this one!) and cook for about 8 minutes on each side until caramelized and slightly softened.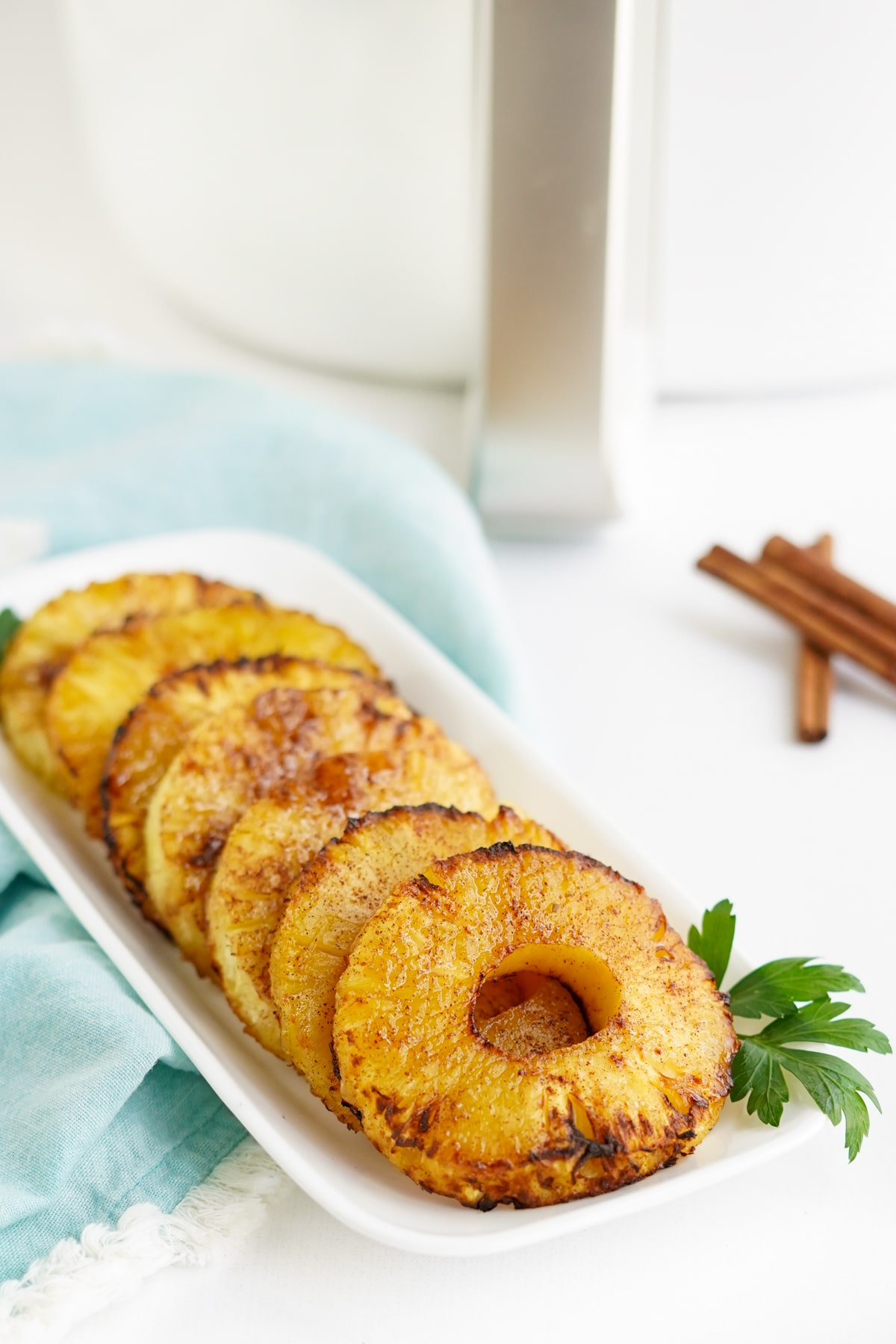 Variations
You can keep leftovers in the fridge covered for up to 5 days. When chilled, it makes a nice addition to your morning yogurt parfait!
Want to take this dessert next level? Add it to an ice cream sundae!
Blend chilled air fryer pineapple in a smoothie with a banana for a fun tropical breakfast.
Upgrade your pina colada recipe with Brazilian pineapple!
More Recipes Like This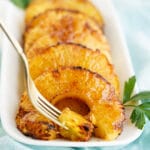 Print Recipe
Air Fryer Pineapple
Air Fryer Pineapple is the perfect summer dessert! This Brazilian style treat is perfectly caramelized and dusted with cinnamon and brown sugar
Ingredients
1

whole

pineapple

peeled and cored

1/4

cup

light brown sugar

1

tsp

cinnamon
Instructions
Preheat air fryer to 375 degrees.

Slice the cored pineapple into 8 slices. Set aside.

In a small bowl, mix together the light brown sugar and cinnamon.

Spinkle mixture over the pineapple rings.

Place pineapple in the air fryer basket and cook for about 8 minutes each side on the air fry setting.