Air Fryer BBQ Chicken Wings: The best chicken wings you've ever had, made right in the air fryer. They only take 20 minutes and are mouth-watering delicious!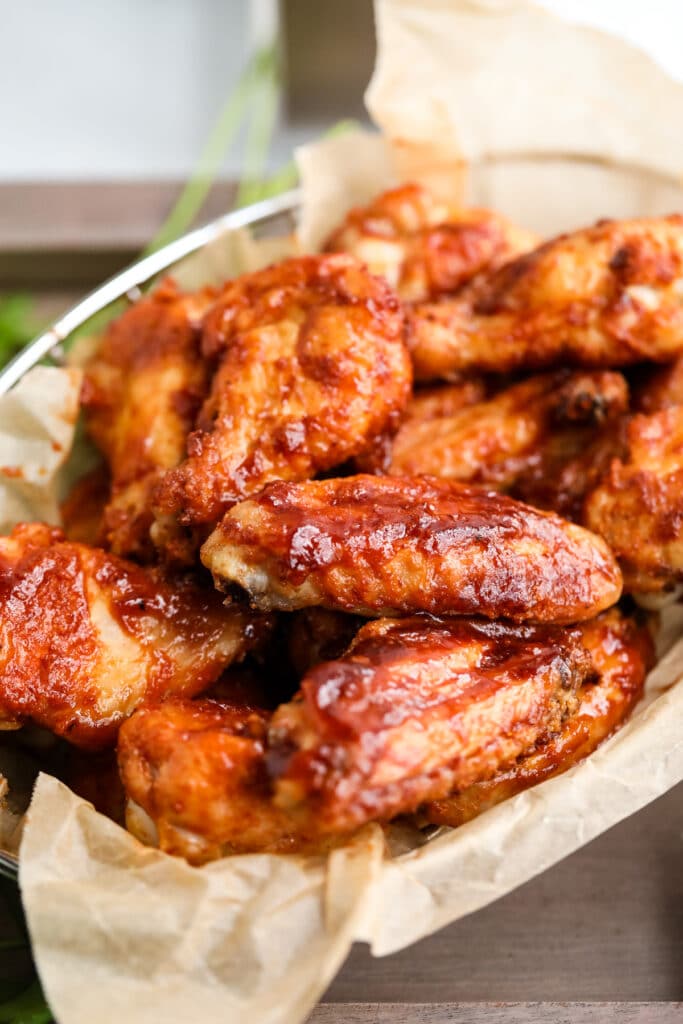 Chicken wings are easily a classic appetizer or snack idea for many. I know for me, they are my go-to on game day and pretty much any other time of year.
They are definitely best when deep fried but I don't love all that oil! I figured it was time to try it out in my air fryer. Not only is it so much healthier, it's a lot easier too.
All I have to do is make a rub, fry them, and coat them in sauce. Win win! And trust me when I say that the flavors are HEAVENLY. I pretty much never want to share these.
I know these will easily turn into your go-to game day BBQ chicken wings!
But before we get to the recipe, let's discuss a few things first….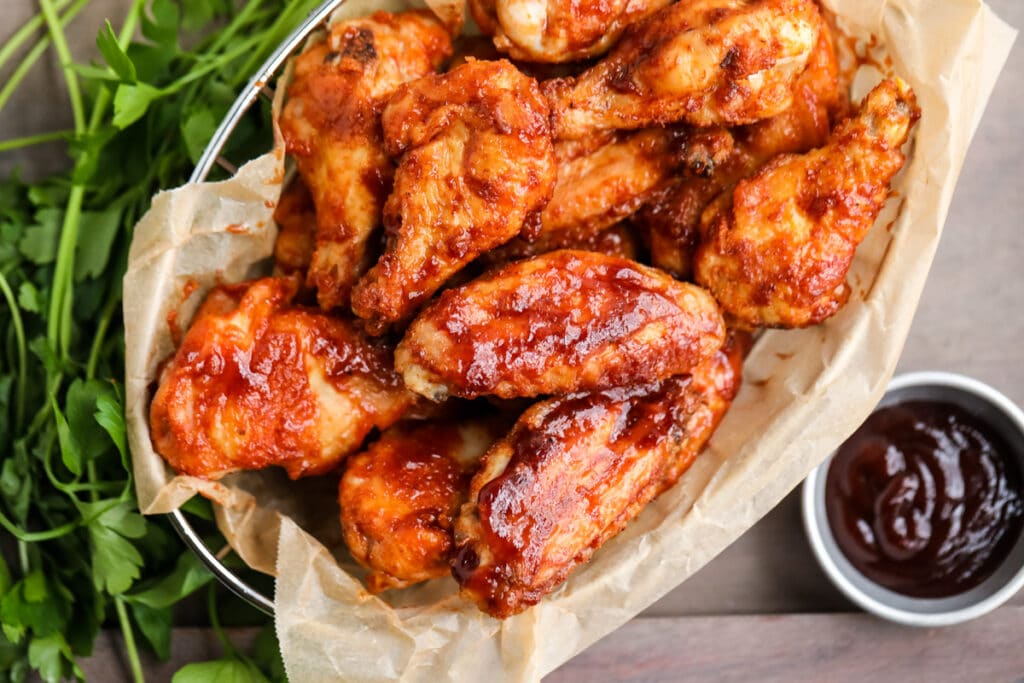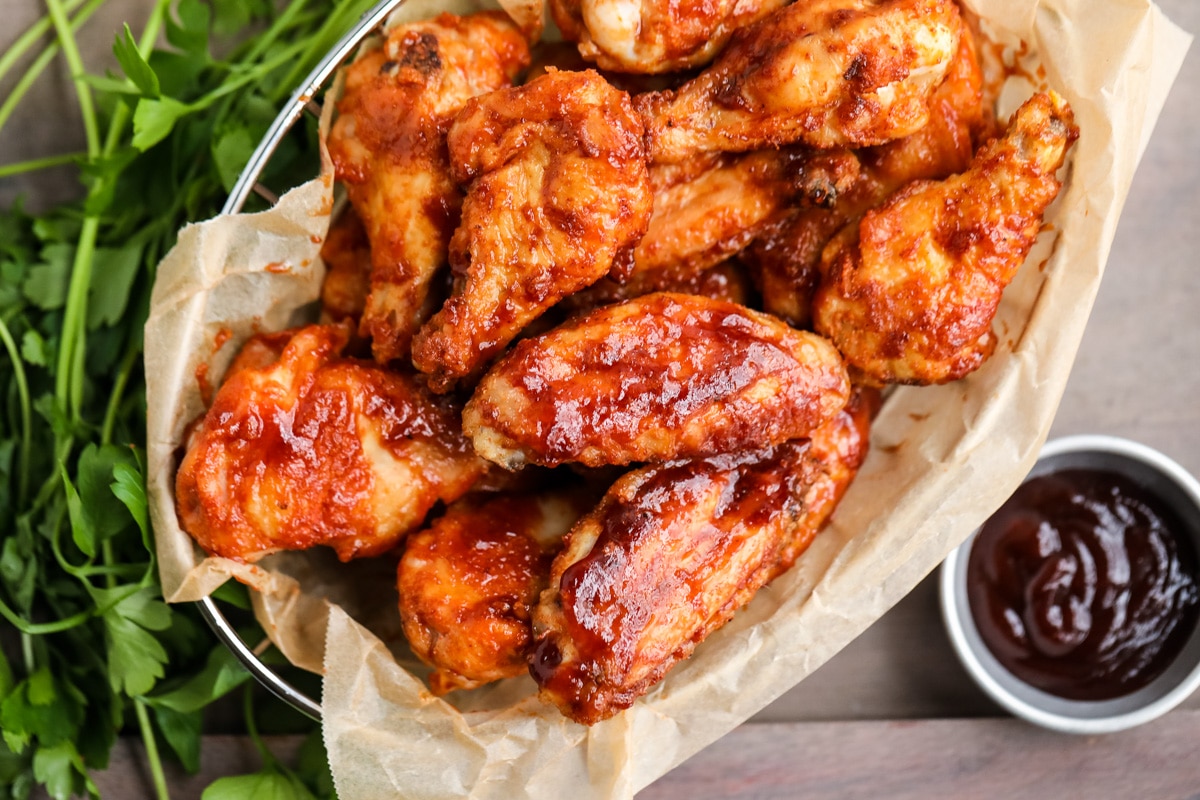 What is an Air Fryer?
If you're unfamiliar with air fryers, I'll give you a basic explanation as to how they work so you can decide if they're for you (scroll down below for a link to my favorite model!).
In short, an air fryer is much like a deep fryer, except that it uses hot air and a little bit of oil to cook your food. It winds up being a much healthier result too!
This is how an air fryer works:
The top of the air fryer holds the heating unit and fan where the hot air rushes down and around the food placed into a food basket.
It constantly circulates at a fast pace, resulting in crispy appetizers, snacks, and other foods.
Each part of the unit that needs cleaning is dishwasher safe so cleaning up is a breeze!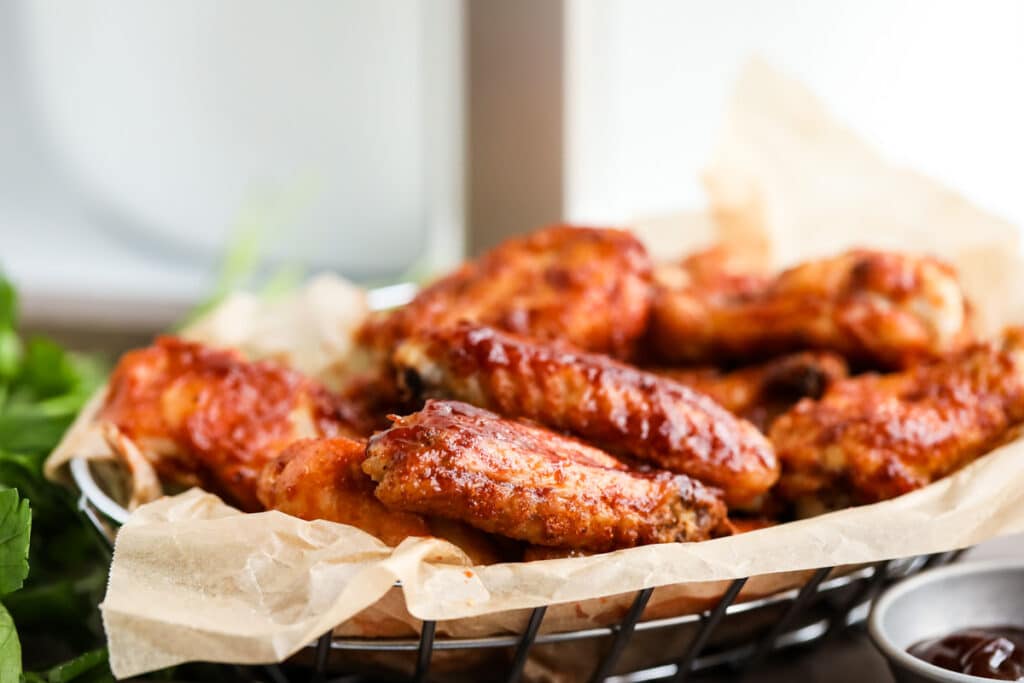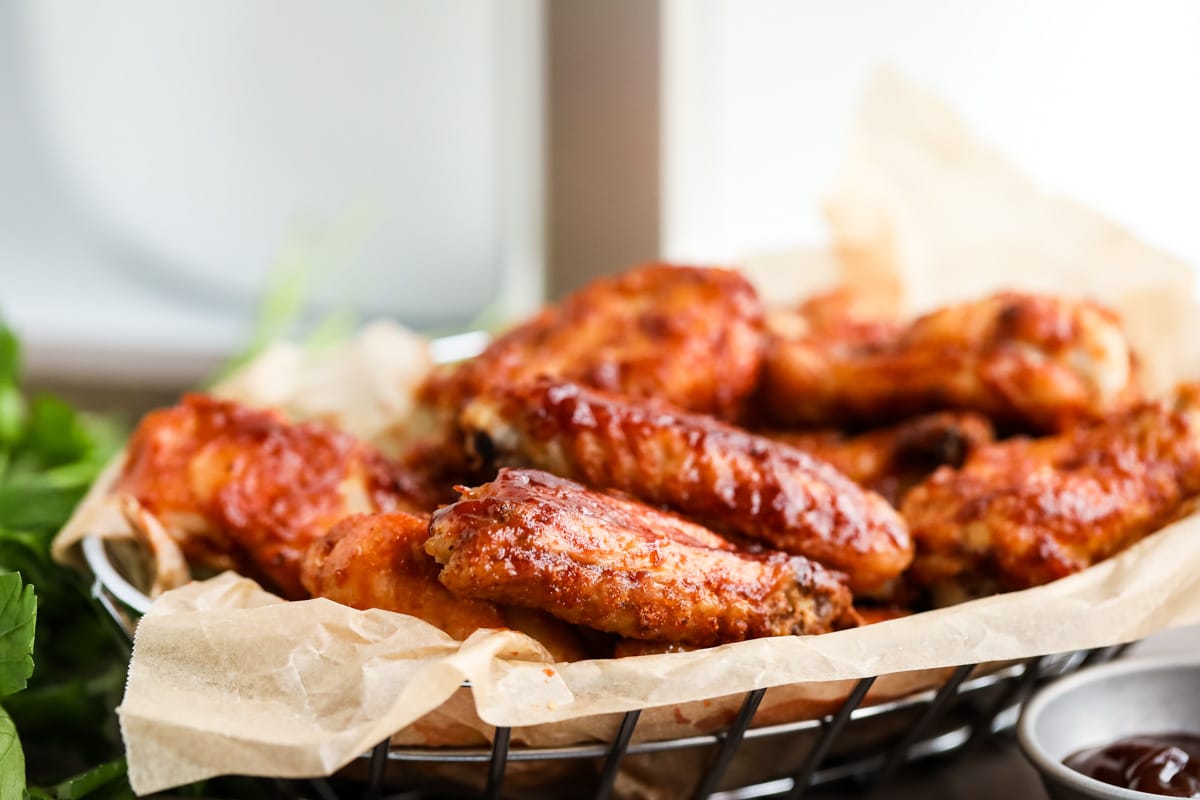 How to Cut Chicken Wings
A whole chicken wing is generally made up of a few parts – the wing tip, wingette, and drumette. The wing tip is nothing but bone and cartilage and the drumette has the most meat on it.
While you can purchase pre-cut wings ready for cooking, I opt to do this myself since it is much cheaper to do so and it's relatively easy.
Follow these simple steps to cut your chicken wings:
Stretch out the wing on your cutting board and flip it over so the inside faces up and you can easily see the joint of the chicken wing.
Cut at the joint between the wing tip and wingette and then set it aside. You can use the tips for a stock if you'd like, otherwise just toss them.
Place your knife on the joint between the drumette and wingette and push your knife all the way through. You may need to wiggle your knife a bit if you feel resistance.
Note: If you washed your chicken prior to cutting it, make sure to pat it dry before preparing to fry for best results.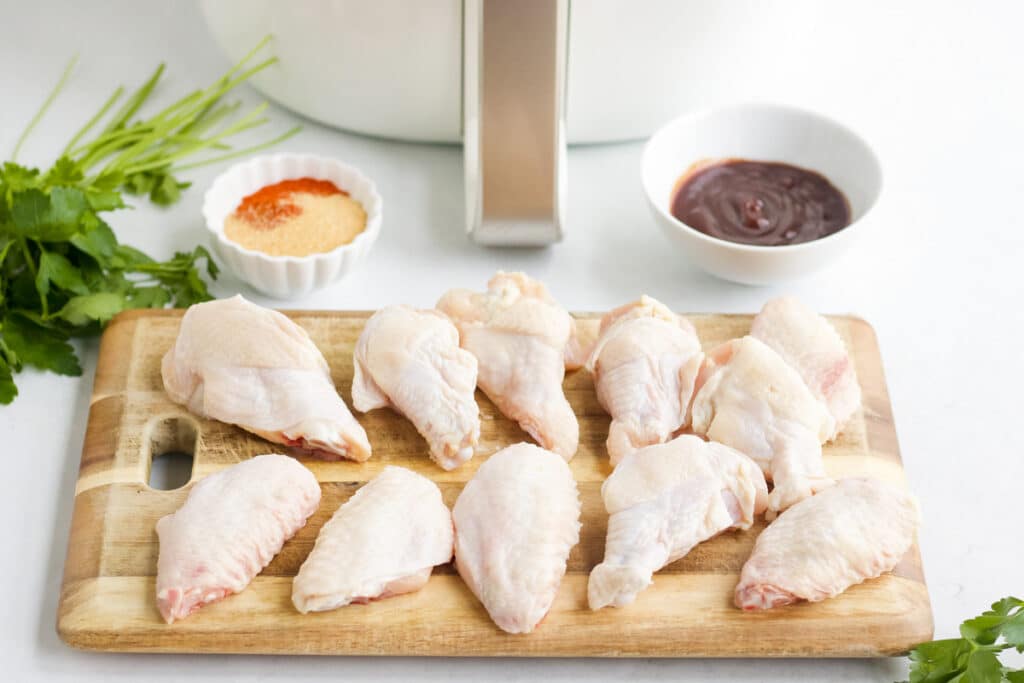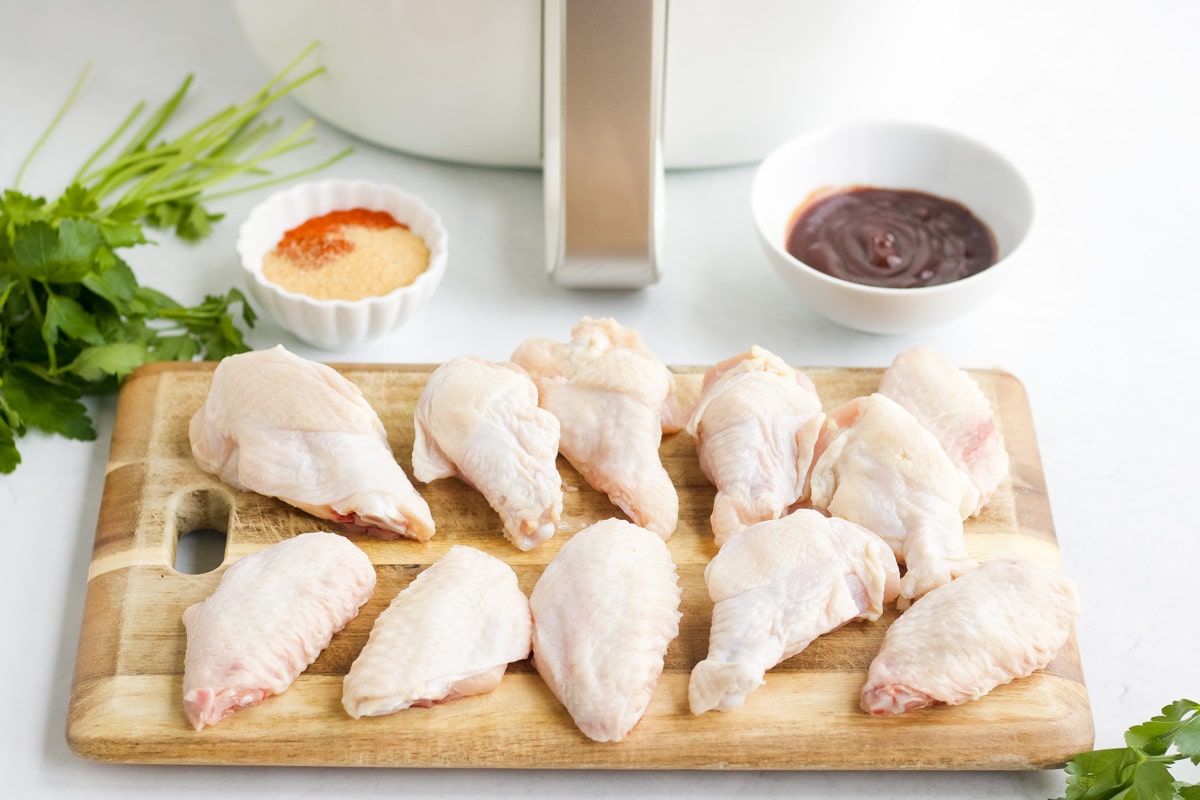 Recommended Cooking Tools
We are a participant in the Amazon Services LLC Associates Program. As an Amazon Associate I earn from qualifying purchases.
Air Fryer: This is the air fryer that I personally use and love. Highly recommend it!
Pastry Brush: You'll want a good brush for this recipe as you brush on the BBQ sauce. I find brushing is much easier in many cases while cooking.
Air Fryer BBQ Chicken Wings Ingredients
Chicken wings: It's the main star of this dish! I opted for bone-in whole chicken wings with the skin on. You can use boneless and skinless wings, if desired.
Paprika: Gives a great spice to the rub mix for your wings!
Garlic powder: Garlic mixed with the paprika is such a delicious flavor.
Salt & pepper: Just a bit for the rub mix you'll be making for the wings.
BBQ sauce: Your favorite BBQ sauce will do, sweet baby ray's does great!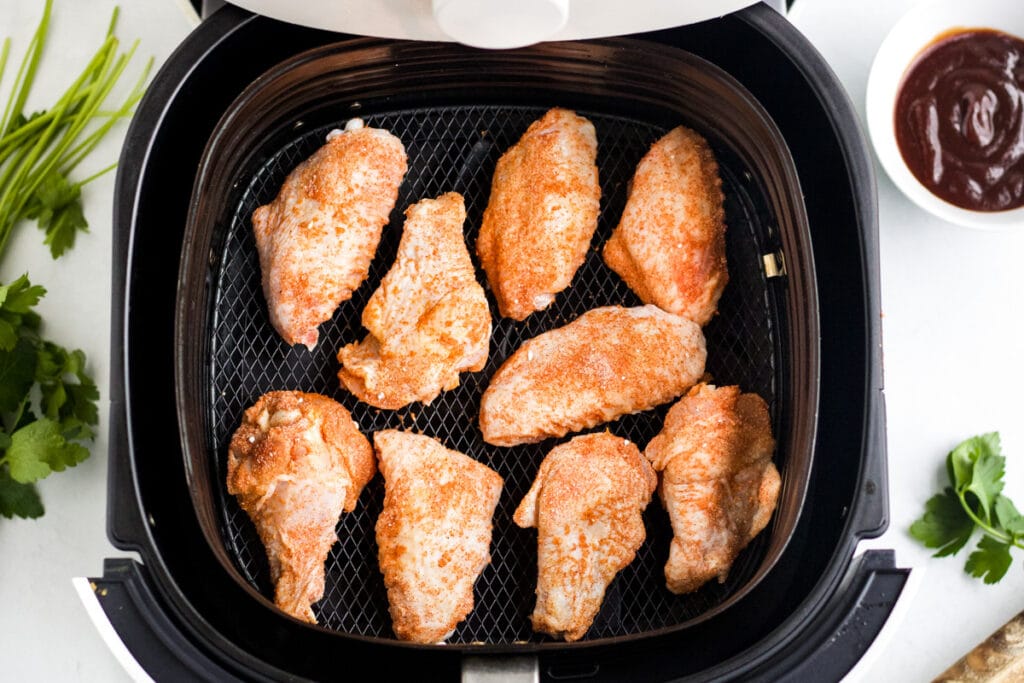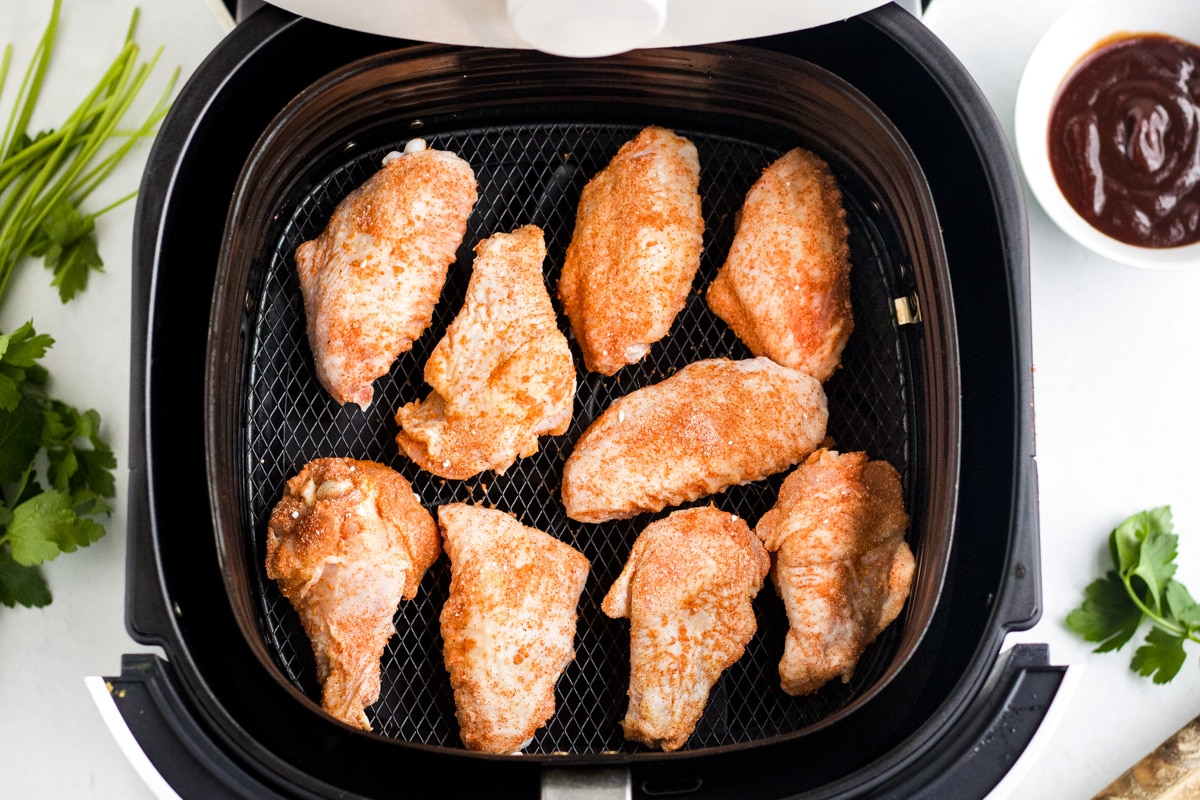 How to Make Air Fryer BBQ Chicken Wings
Start preparing your chicken wings by separating the wing from the drumette; set aside.
In a small bowl, combine the paprika, garlic powder, salt, and pepper. Rub into each wing.
Spray the basket of your air fryer and place the wings into the basket.
Cook at 375F for 12-15 minutes, flipping them over halfway through cooking time.
Remove the wings from the fryer and brush your BBQ sauce on all sides of each wing. Serve immediately upon finishing.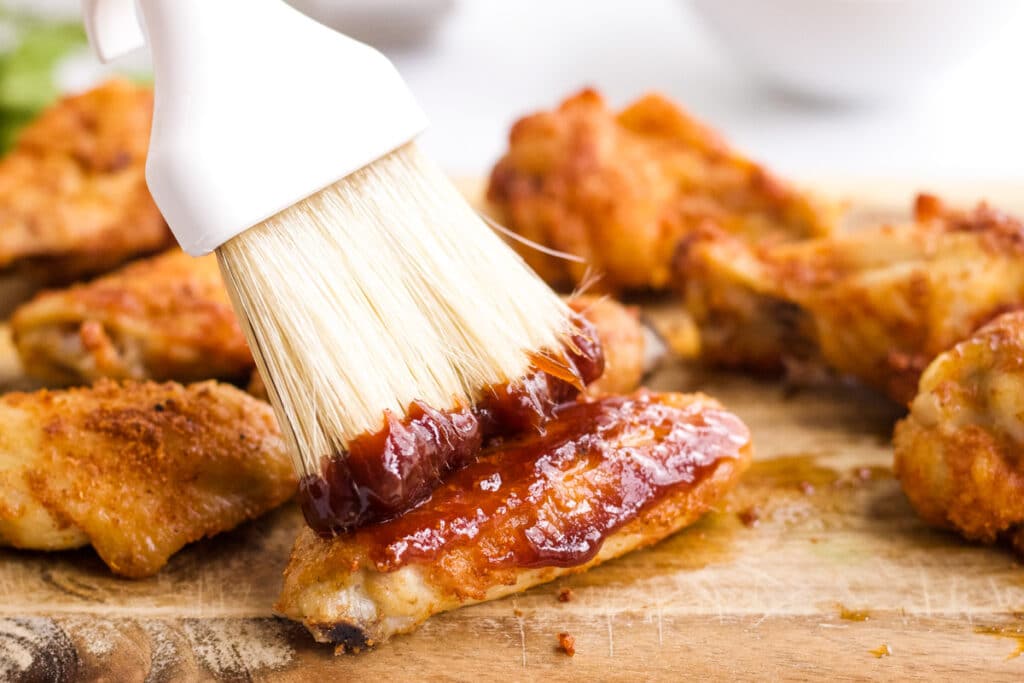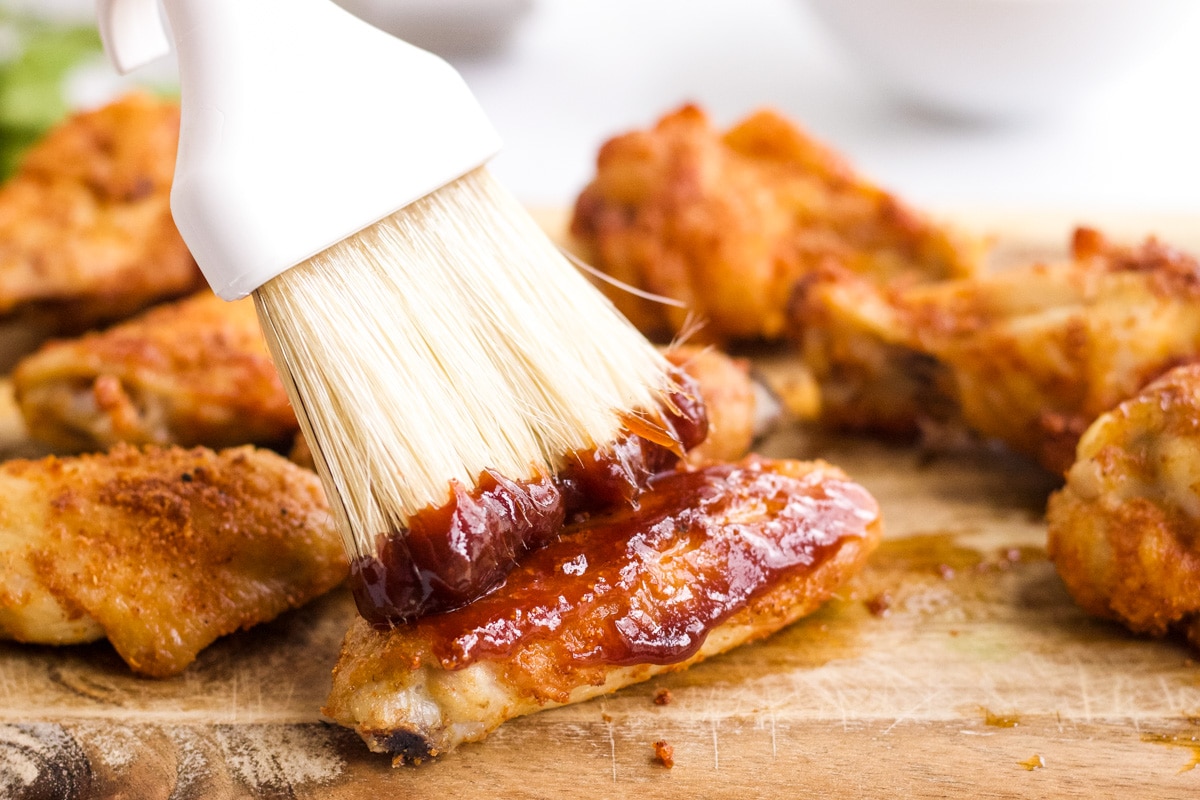 Storing Air Fryer Honey BBQ Chicken Wings
BBQ chicken wings made in the air fryer are best eaten at the time of frying. But if you end up with leftovers, you can store them in an airtight container for 1-2 days.
To reheat, cook at 375F for about 2-3 minutes, just long enough to crisp them back up.
What to Serve with Air Fryer BBQ Chicken Wings
While BBQ chicken wings are incredible as a game day appetizer or snack, you can also make them for a weeknight dinner idea!
Some ideas to serve with your chicken wings might be:
Avocado fries
Garlic breadsticks
Garden salad
Onion rings
Rice or pasta
Now if you're going for an appetizer, you might consider these dipping sauces:
Ranch
More BBQ sauce
Honey mustard
Chili lime sauce
Bleu cheese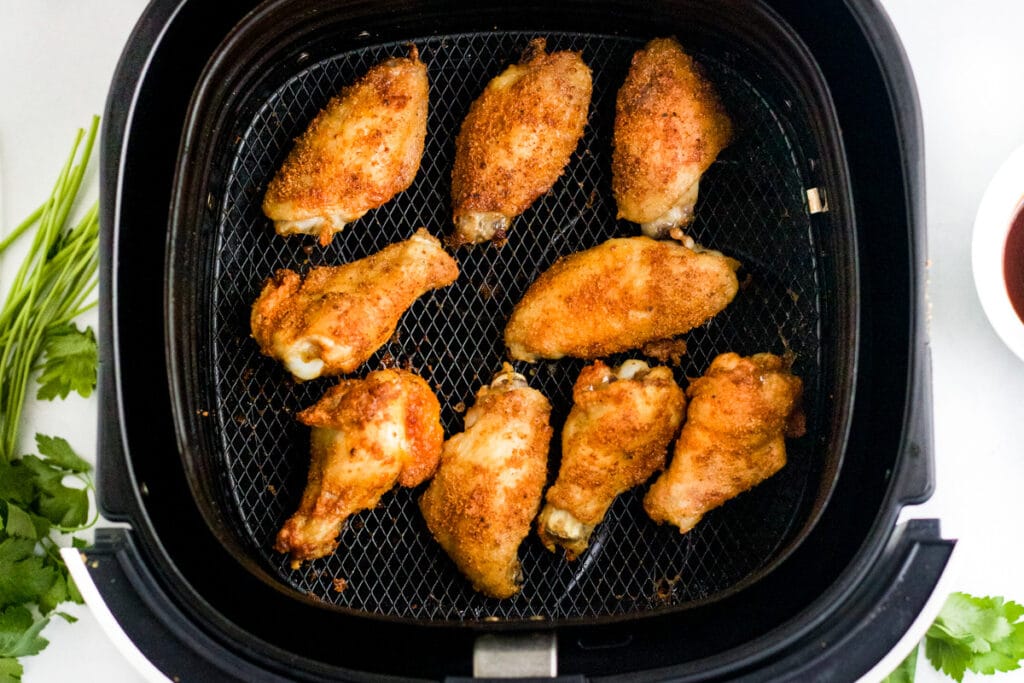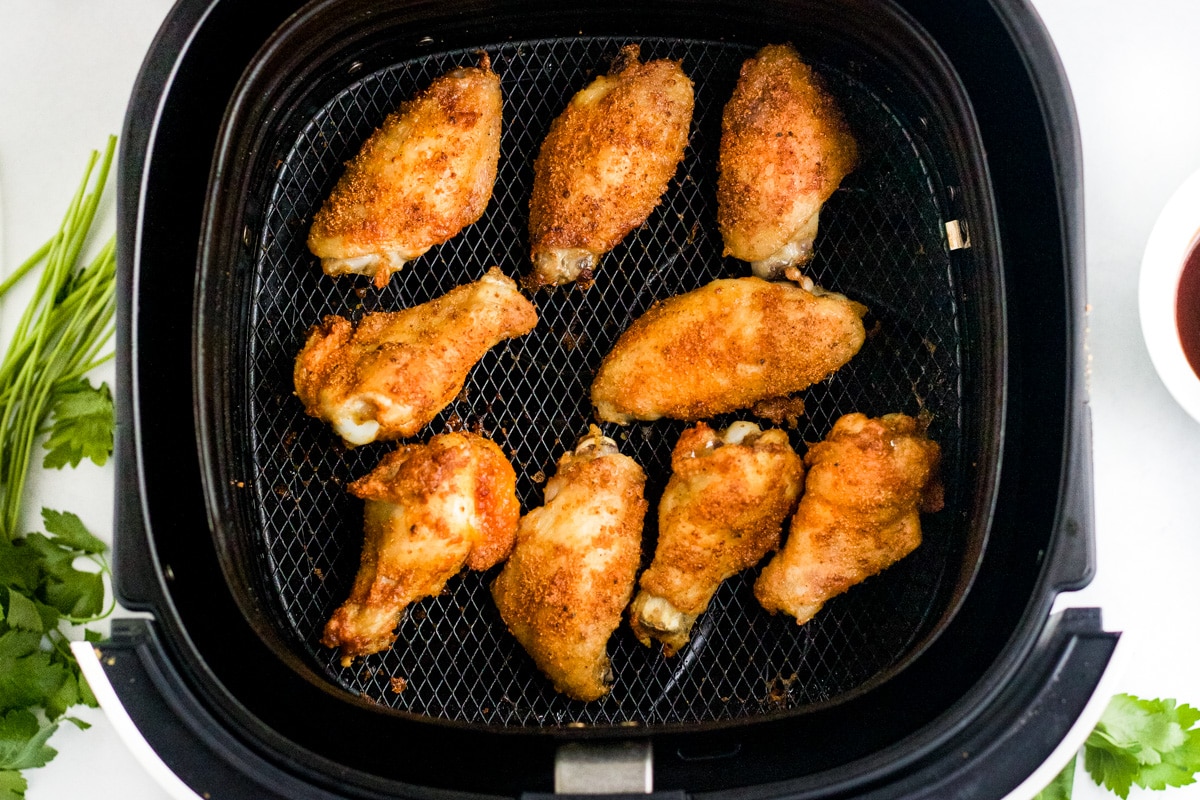 Air Fryer Chicken Wings Variations
While these BBQ chicken wings in the air fryer are quite delicious, it doesn't have to end there! You can try experimenting to come up with different flavors. I've listed out some ideas you can try below.
Hot wings: Swap out the BBQ sauce for your favorite hot sauce such as Frank's Red Hot Buffalo Sauce.
Honey BBQ: Try making some air fryer honey BBQ chicken wings by using a honey BBQ sauce or adding some honey yourself!
Garlic parmesan: Switch out the rub for garlic powder and parmesan cheese! Leave off the BBQ sauce or opt for a more suitable store-bought wing sauce.
Lemon pepper: Use lemon pepper seasoning for the rub and leave off the BBQ sauce.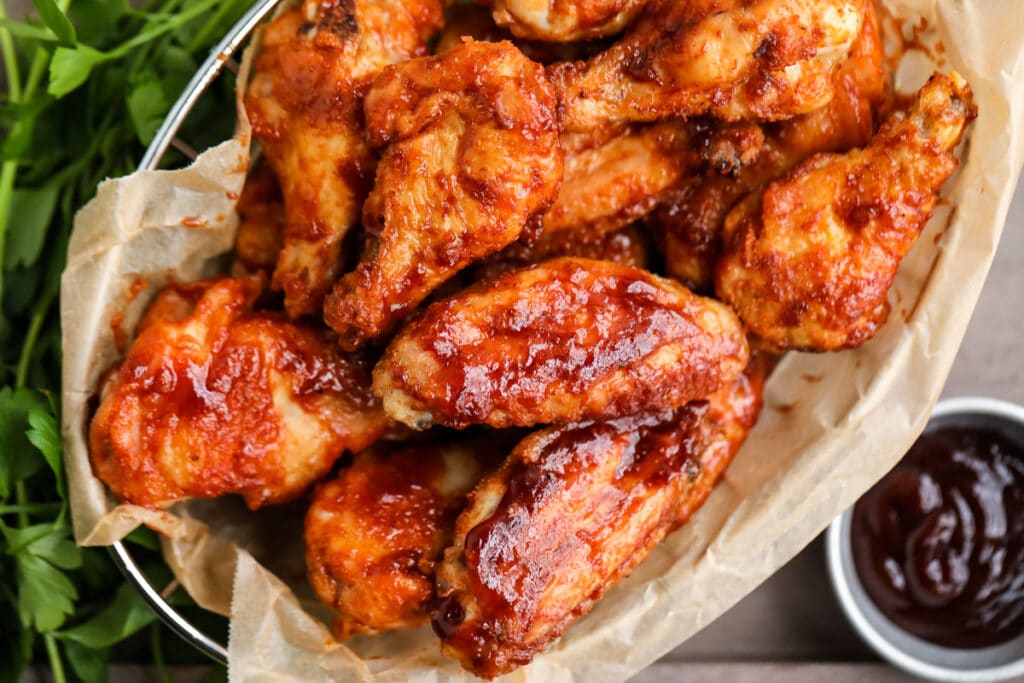 More Chicken Appetizers:
Try These Other Air Fryer Recipes: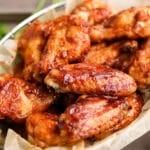 Print Recipe
Air Fryer BBQ Chicken Wings
The best chicken wings you've ever had, made right in the air fryer. Air Fryer BBQ Chicken Wings only take 20 minutes and are mouth-watering delicious!
Ingredients
2

lbs

bone-in

skin on chicken wings

1

teaspoon

paprika

1

teaspoon

garlic powder

¼

teaspoon

salt

⅛

teaspoon

pepper

½

cup

BBQ Sauce
Instructions
Prepare the wings by separating the chicken wing from the drumette. Set aside.

In a small bowl, combine the paprika garlic powder, salt and pepper. Rub into each wing.

Spray the basket of the air fryer and place the chicken wings inside the basket.

Cook at 375 for 12-15 minutes, turning halfway through cooking time.

Remove wings from the air fryer and brush with your favorite BBQ sauce. Serve immediately.
Nutrition
Calories:
1346
kcal
|
Carbohydrates:
61
g
|
Protein:
92
g
|
Fat:
79
g
|
Saturated Fat:
22
g
|
Cholesterol:
377
mg
|
Sodium:
2410
mg
|
Potassium:
1132
mg
|
Fiber:
2
g
|
Sugar:
48
g
|
Vitamin A:
1195
IU
|
Vitamin C:
11
mg
|
Calcium:
106
mg
|
Iron:
6
mg
Don't forget to pin this recipe for later!