Cranberry Sauce: This classic thanksgiving side dish packs a punch of new flavors thanks to the addition of fresh orange juice, orange zest and a touch of cinnamon.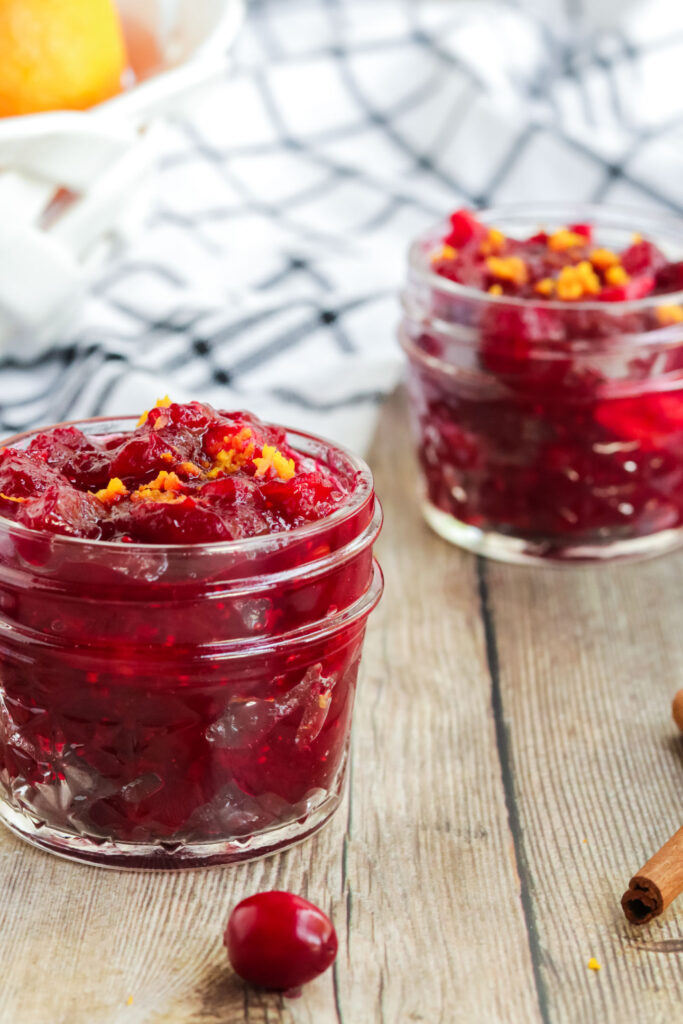 Growing up, my family would take an annual trip to a fun little town called Frankenmuth, Michigan. Nicknamed "Michigan's Little Bavaria" its a cute little German themed tourist town with unique shops and AMAZING food. Most of my memories there revolve around the dinner table at Bavarian Inn Restaurant where the servers wear traditional German attire and serve you a classic German family style meal. They have AMAZING homestyle fried chicken, buttered handmade noodles, every kind of bread you can think of! But, out of the entire meal the thing that I always looked forward to the most was their cranberry orange sauce. I remember putting in my bread, mixing with my potatoes, dipping my chicken in it. It was incredible!
I am so excited to share my take on this nostalgic classic side. This cranberry orange sauce is not only easy to make but its so versatile in its flavor! Don't wait for Thanksgiving to make it! Do yourself a favor and make it tonight.

Cranberry Orange Sauce Recipe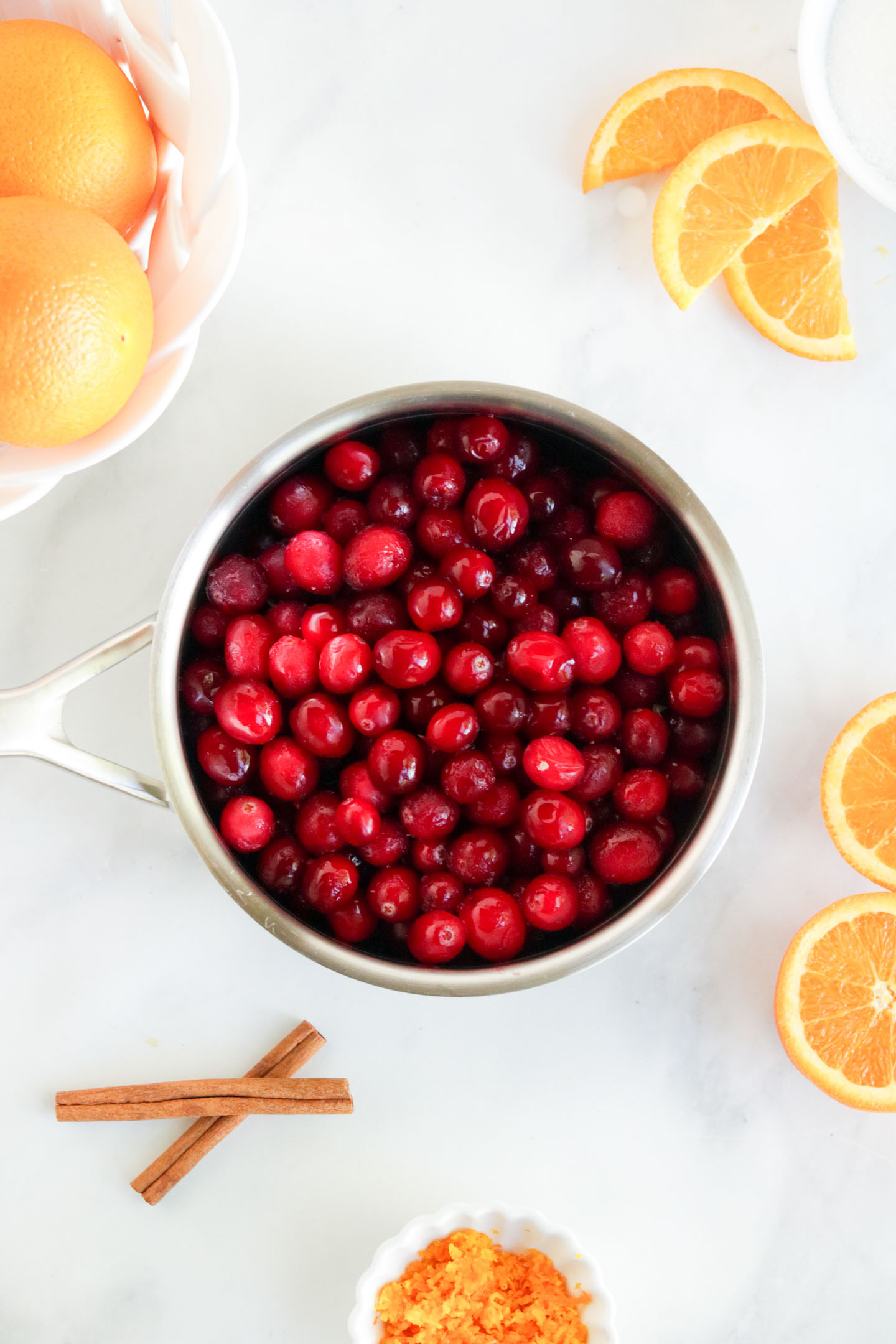 I love this cranberry orange sauce recipe, because uses really simple ingredients. All you need is fresh or frozen cranberries, fresh oranges, granulated sugar and cinnamon.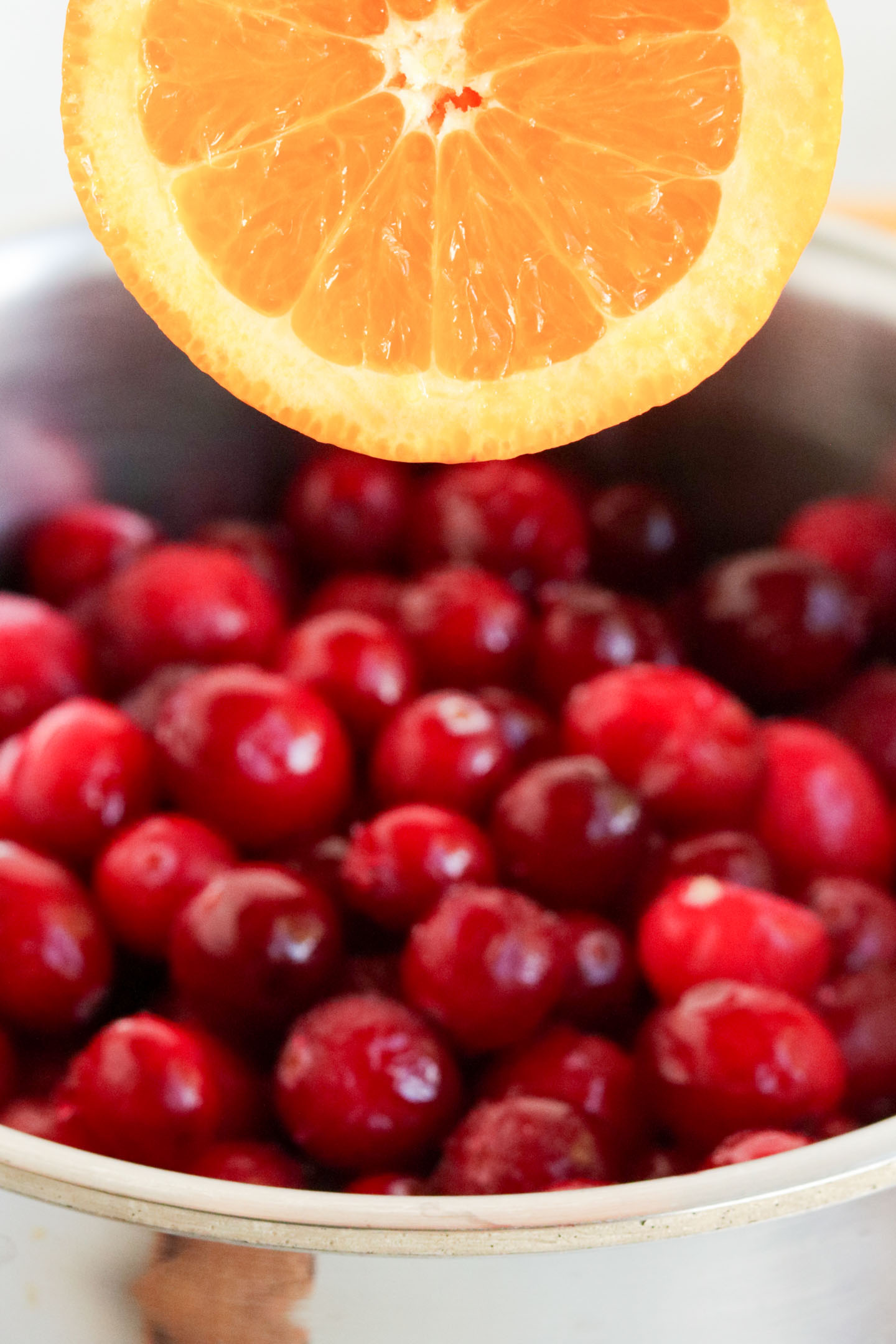 Cranberry Sauce with Orange Juice
This recipe calls for fresh oranges because we are going to use every part of the orange! We are going to use the fruit, the zest and the juice. In a pinch, you can use prepared orange juice and skip the zest and fruit itself. But trust me, it may be worth a trip to the store to get one!
Cranberry Sauce with Orange and Cinnamon
What makes this recipe extra unique is that we are going to add cinnamon! The amount of cinnamon in this dish is very subtle, its kind of just giving the dish a bit of warmth in the background without being overpowering. I love just placing a cinnamon stick on top while I am cooking it, but you can absolutely use a dash of ground cinnamon instead. Either way, don't skip it!
How to make Cranberry Orange Sauce
So once you have your cranberries, oranges, sugar and cinnamon, you are going to place them in a small saucepan with a little bit of water and let it simmer for 15 minutes. If you like your cranberry sauce nice and chunky, you can leave it as it is. If you want it a little bit more saucy, use a potato masher and smash a few more of the cranberries.
What can I use as a sugar substitue?
If you are avoiding granulated sugar, you can still make this recipe! There are several options for you to use in it's place.
If you are using a subsitute, I highly reccomend tasting as you go. Each substitue will be a little different. I would start with about half the amount my recipe calls for, then add more in after it is done cooking. That way, you can adjust the sweetness level according to your taste.
What do you eat cranberry sauce with?
Use it like a relish! It goes excellent with poultry but is great on bread or crackers as well. I love to serve a bit on toast the morning after I have it for dinner!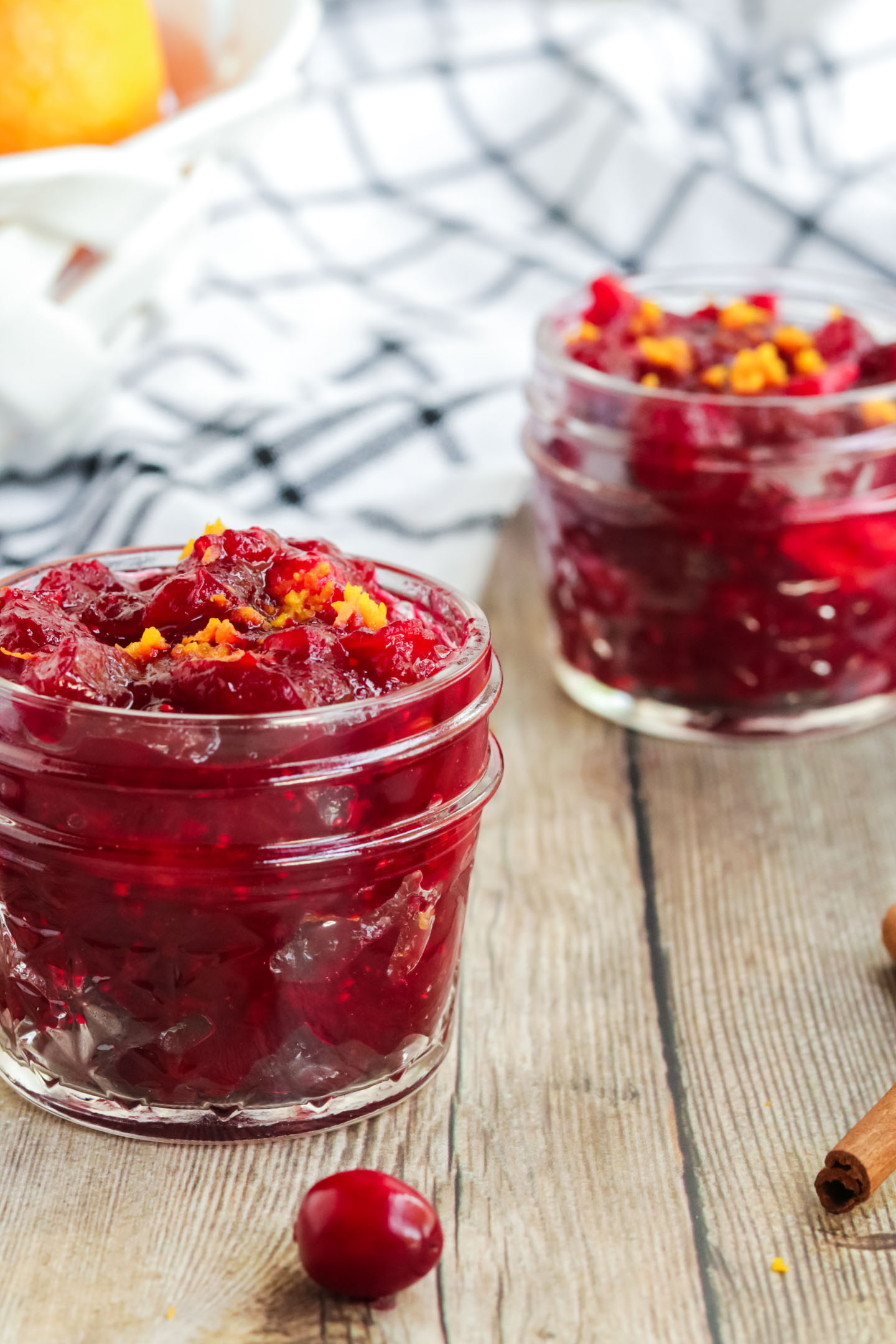 Should Cranberry Sauce Be Chilled?
You can serve your fresh cranberry sauce chilled or at room temperature, or even warm! I love having it warm on toast ... it reminds me of pie. But when I am enjoying it with a meal, I prefer it room temperature.
How long does cranberry sauce last in the refrigerator?
Fresh Cranberry orange sauce will last for about a week in the refrigerator. Be sure to store properly in a air tight container.
How to freeze cranberry sauce
Plan ahead and make a double batch! To freeze cranberry orange sauce, cool the sauce to room temperature then transfer into air tight freezer safe containers or ziplock freezer bags. I love these containers for freezing!
How to make cranberry orange sauce in the instant pot
To make this recipe in the instant pot, you will want to use the manual setting on high pressure for two minutes. Then allow pressure to release naturally for 10 minutes. At this point, you can use the sautee setting for 2-3 minutes if desired. Be sure to stir very frequently.
The sauce is going to thicken as it cools, so be patient!
How to make cranberry orange sauce in the crockpot
If you are going to make this recipe in the crockpot, I suggest making a double batch. Start by placing all the ingredients in the crock pot and stir everything around. Then, cook on high for about 3 hours. You will want to be sure to stir once every hour to prevent the bottom from overcooking.
What can I do with raw cranberries?
If you have leftover raw cranberries from this recipe, you could try making our fresh cranberry bars or our cranberry vanilla smoothie bowl.
Some of my other favorite recipes using raw cranberries are:
Are cranberries good for you?
Fresh cranberries aren't just a good side dish. They are packed with many health benefits, too.
They are loaded with antioxidants
Help with digestion
Boost your immune system
Check out all the amazing ways cranberries are good for our health here.
When are cranberries in season?
In North America, cranberries usually reach peak ripeness anywhere from mid-September to early November. You can usually expect to see them on store produce shelves around that time.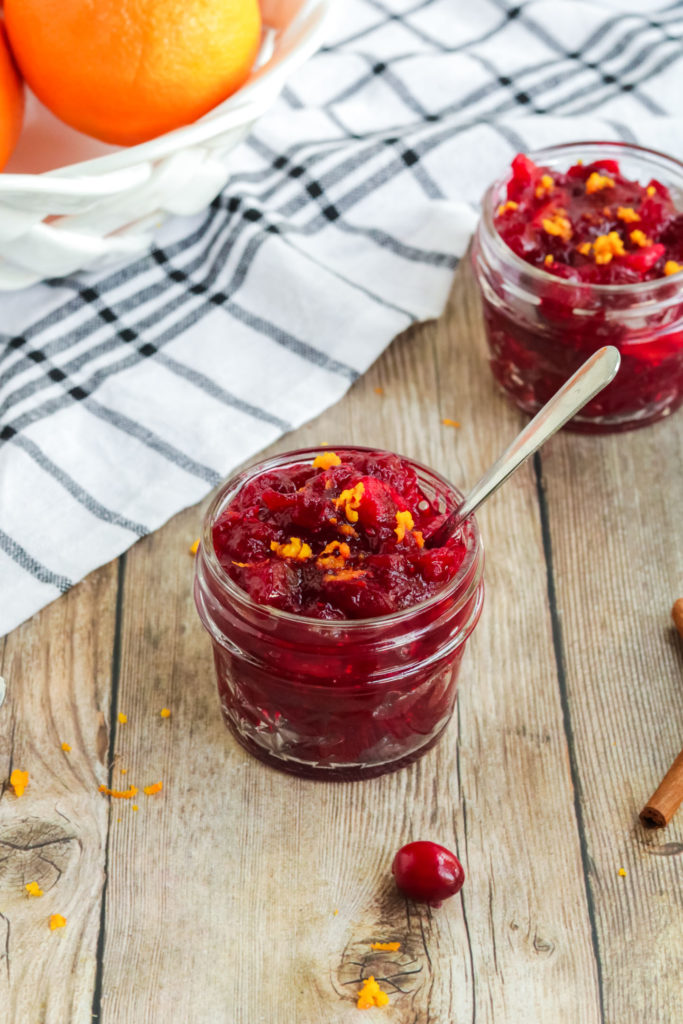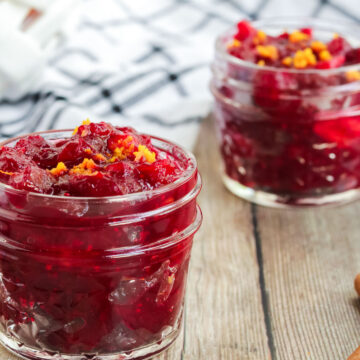 Cranberry Orange Sauce
Fresh or frozen cranberries, fresh oranges, cinnamon and sugar for a unique twist on holiday favorite.
Print
Pin
Rate
Ingredients
16

oz

fresh or frozen cranberries

2

oranges

¾

cup

granulated sugar

1

cinnamon stick
Instructions
Place the cranberries and sugar in a saucepan and stir until combined. Zest and juice one orange, adding to the saucepan mixture.Peel and slice the second orange into bite size pieces and add to the saucepan mixture, stirring to combine. Place a cinnamon stick on top and cook over medium-low heat for 15 minutes or until cranberries start to pop and the sauce begins to thicken. Remove the cinnamon stick before serving. You can serve this side dish at room temperature, or chilled. 
Notes
This side dish is obviously great with turkey, but try it on some bread, yogurt or icecream too!

For a fancy garnish, you can add extra orange zest or orange peels.

¾ cup sugar may seem like alot but the tart cranberries need the sweetness to mellow them out.

You can adjust the texture of this side dish by using the wooden spoon to mash the berries after they are done cooking. 

Careful, this dish will sputter! You can use a lid if desired or lower the heat a bit. Once all the berries have bursted, cooking will be a lot cleaner!
Nutrition
Calories:
712
kcal
|
Carbohydrates:
184
g
|
Protein:
3
g
|
Fat:
1
g
|
Saturated Fat:
1
g
|
Sodium:
2
mg
|
Potassium:
474
mg
|
Fiber:
8
g
|
Sugar:
174
g
|
Vitamin A:
590
IU
|
Vitamin C:
139
mg
|
Calcium:
140
mg
|
Iron:
1
mg
Have you tried this recipe? Let me know in the comments what you thought!
Share this recipe on Pinterest