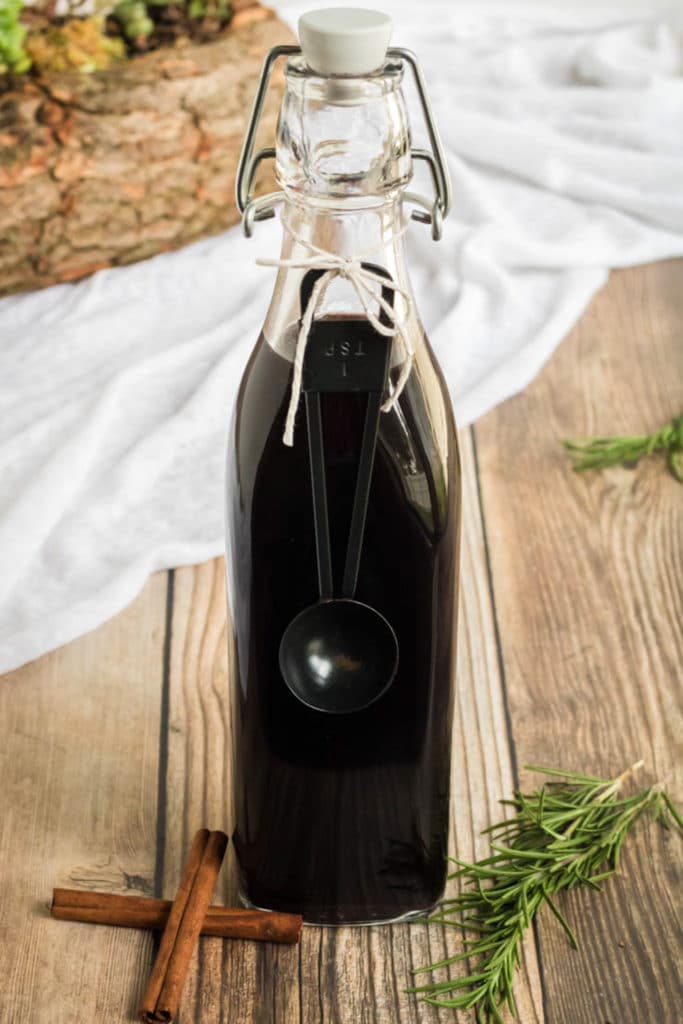 We are a participant in the Amazon Services LLC Associates Program. As an Amazon Associate, I earn from qualifying purchases.
Elderberry Syrup Recipe: This is THE BEST super easy homemade immunity boosting supplement made from dried elderberries, honey, ginger, cinnamon and cloves.
It's the most wonderful time of year! But, with holiday's comes shorter days, less sunlight, decreased exercise, increased sugar intake and major stress .... the perfect recipe for illness. As a mom of four kids, I dread the first sound of sniffles or coughs ... because I know that virus is going to slowly work it's way around all 6 of us, one at a time.
One particularly rough year, my oldest son was sick for months. My sweet neighbor brought us over a huge batch of soup and a jar of her homemade elderberry syrup. I had never had it before that and was so excited when I read about all the benefits of taking it daily!
10 benefits of elderberry syrup
When taken daily, elderberry syrup is said to:
boost your immune system
reduce inflammation
prevent colds and flu
shorten duration of colds and flu
lower cholesterol
tame coughs
improve vision
healthy heart support
relieve constipation
lower stress
If those aren't enough reasons to start making elderberry syrup at home, it also happens to be delicious! I actually get excited when its time to take my Tablespoonful each day and my kids love it too.
Homemade vs. store bought
You can easily buy syrup over the counter, but I prefer to make my own. Its super quick, easy and cheap and allows you to fully control all the ingredients in it. As a family of six, we would go through a tiny store bought bottle way too quickly. By making it at home, we are not only saving money but we also get to support local farmers by buying locally grown berries and honey made by bee-keeping friends. If you don't have access to locally grown berries, don't worry! You can get some super cheap organic dried berries online. Check out this deal on amazon!
Ingredients
You only need a few ingredients to make elderberry syrup at home.
Dried or fresh elderberries
cinnamon
cloves
fresh ginger
honey
The good thing about making it at home is you can add additional spices and adjust the level of honey to control sugar.
How to make it
Making Elderberry Syrup is easier than you think. You simply combine water, elderberries, ginger, cinnamon and cloves in a pot. You simmer them together about 30 minutes then use a potato masher to press all that antioxidant goodness out of the berries.
Once the mixture cools off a bit, strain out the liquid into a large bowl. Add the honey and stir until well incorporated. It is important to wait until the syrup has cooled off a bit, so it doesn't destroy the anti-inflammatory properties in the honey.
How to store homemade elderberry syrup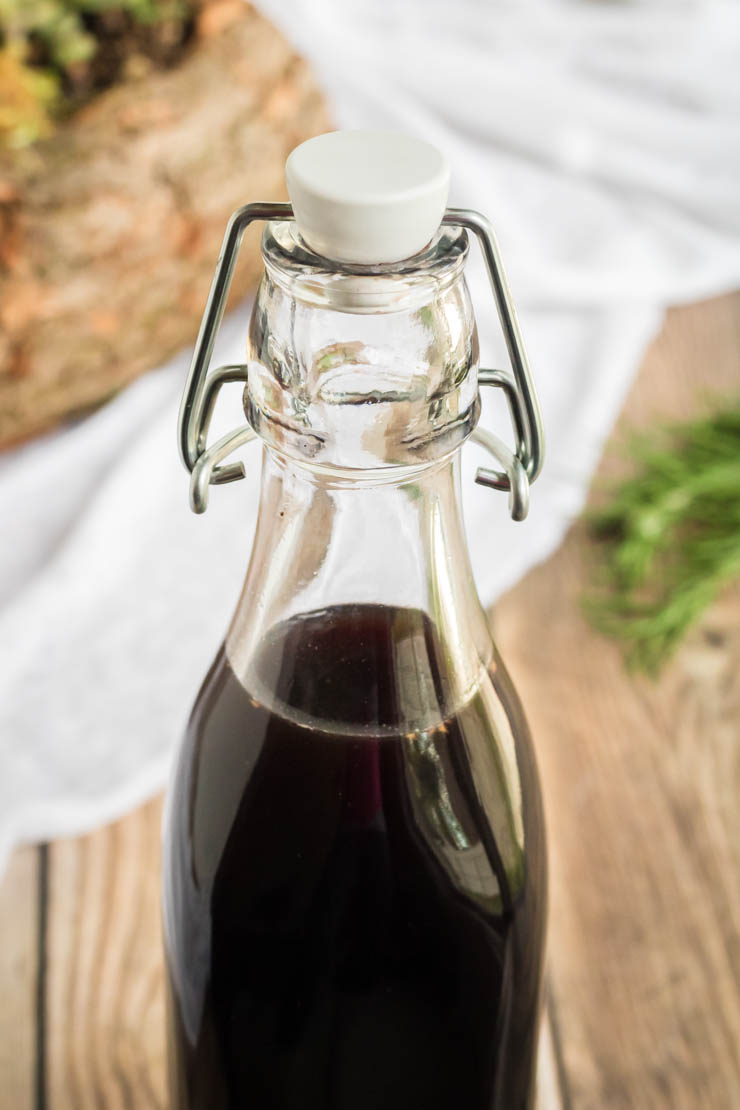 Once you are done making this amazing immunity-boosting syrup, you will need to find a way to properly store it. I personally love storing mine in these swing top glass bottles but you can also store them in standard mason jars.
How long does homemade elderberry syrup last?
When properly stored in an airtight glass container, your elderberry syrup should last for about 3 months! You can even extend the life longer by pouring it in an ice cube tray and freezing it. Then thawing as needed.
Dosage for homemade elderberry syrup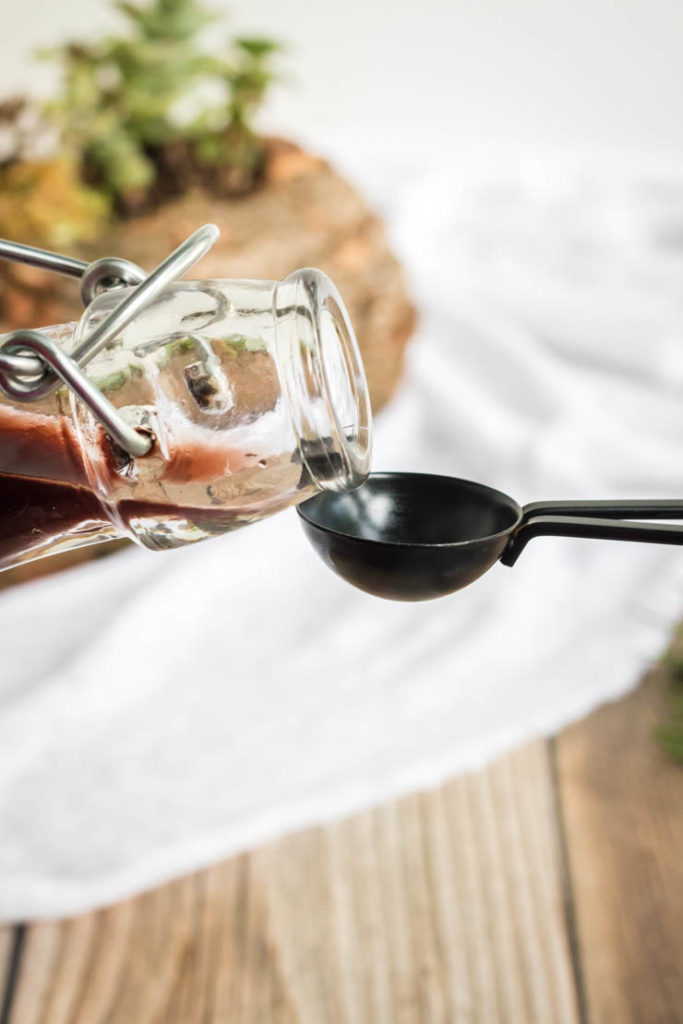 According to some of the elderberry experts, the dosage for Elderberry syrup is 1 Tablespoon daily for adults and 1 teaspoon daily for children over one.
If you are already showing symptoms of a cold or flu, you will want to increase the dosage to 1 Tablespoon every 3-4 hours for adults and 1 teaspoon every 3-4 hours for children over one. Whatever you do, do not exceed 6 doses in a day. Elderberries are a mild diarrhetic, and may give you an upset stomach! Who needs that when you are already feeling unwell?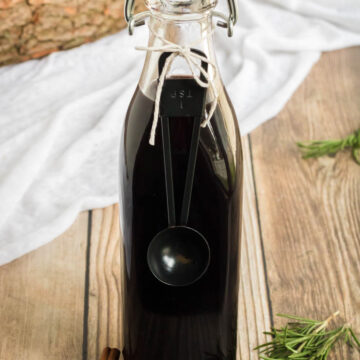 Elderberry Syrup Recipe
A quick and easy homemade Elderberry Syrup recipe that uses dried elderberries, ginger, cinnamon and honey.
Print
Pin
Rate
Ingredients
4

cups

water

1

cup

dried elderberries

3

Tablespoons

grated fresh ginger

½

teaspoon

cinnamon

½

teaspoon

clove

1

cup

raw honey
Instructions
In a large saucepan combine the water, elderberries, fresh ginger, cinnamon and cloves. 

Bring to a boil over medium high heat, then reduce the heat to a slow simmer. 

Simmer for about 30 minutes, or until the liquid has reduced by half. 

Remove from heat and allow to cool until just slightly warm.

Using a potato masher or wooden spoon, mash the berries to the bottom of the pan. 

Use a fine mesh strainer to strain the berries and ginger from the liquid, pouring the syrup into a large bowl.

Stir in honey until fully dissolved then pour into 16 oz. glass jar or mason jar and store in the fridge. 
Notes
If using fresh berries, you will need to use more. 
Stir in the honey when the mixture stops steaming, but is still warm. 
Store sealed in an airtight container in the fridge. 
You can use this recipe to make gummies, too! 
Nutrition
Serving:
1
Tablespoon
|
Calories:
16
kcal
|
Carbohydrates:
4
g
|
Protein:
1
g
|
Fat:
1
g
|
Saturated Fat:
1
g
|
Sodium:
1
mg
|
Potassium:
3
mg
|
Fiber:
1
g
|
Sugar:
4
g
|
Vitamin C:
1
mg
|
Calcium:
1
mg
|
Iron:
1
mg
For more healthy winter recipes check out our Healthy Vegan Cabbage Soup and our Roasted Butternut Squash Soup.
Have you tried Elderberry Syrup for your family this season? Let me know in the comments if it works for you!
Share this Elderberry Syrup Recipe on Pinterest!