If you are looking for the best homemade eggnog without alcohol, look no further. I have tested my way through the most popular tasty eggnog recipes on the internet and developed the PERFECT recipe for you to sip by the fire this holiday season.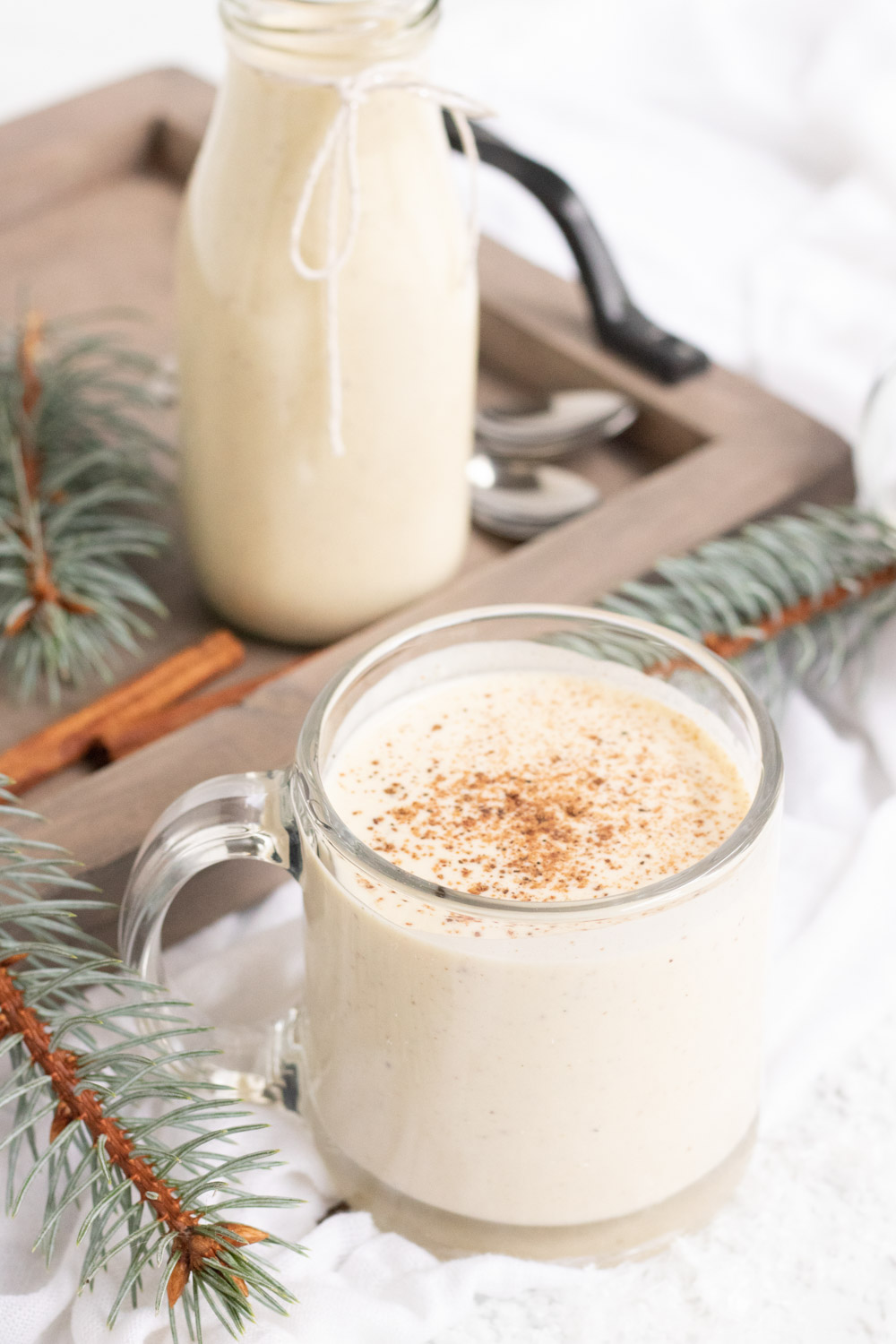 I have a confession. I didn't try eggnog up until a few years ago because let's be honest...a drink made of eggs just didn't sound appetizing to me. But let me tell you, when my best friend (who has my highest foodie respect) told me she thinks about it all year round. I knew it was time to try a sip. The rest is history. I fell in love with the comforting and creamy texture and the sweet rich spices and now it is a seasonal tradition at our house!
After spending the last few years sampling various brands of store-bought egg nog, I decided to start experimenting with making it at home. As with most things, store bought doesn't even compare to the taste of homemade nog. If you give it a try, I KNOW you will agree and you will find it's easier than you think. But first, let's talk about what eggnog actually is.
What is Eggnog made from?
eggs
milk
vanilla
nutmeg
sugar
heavy cream
salt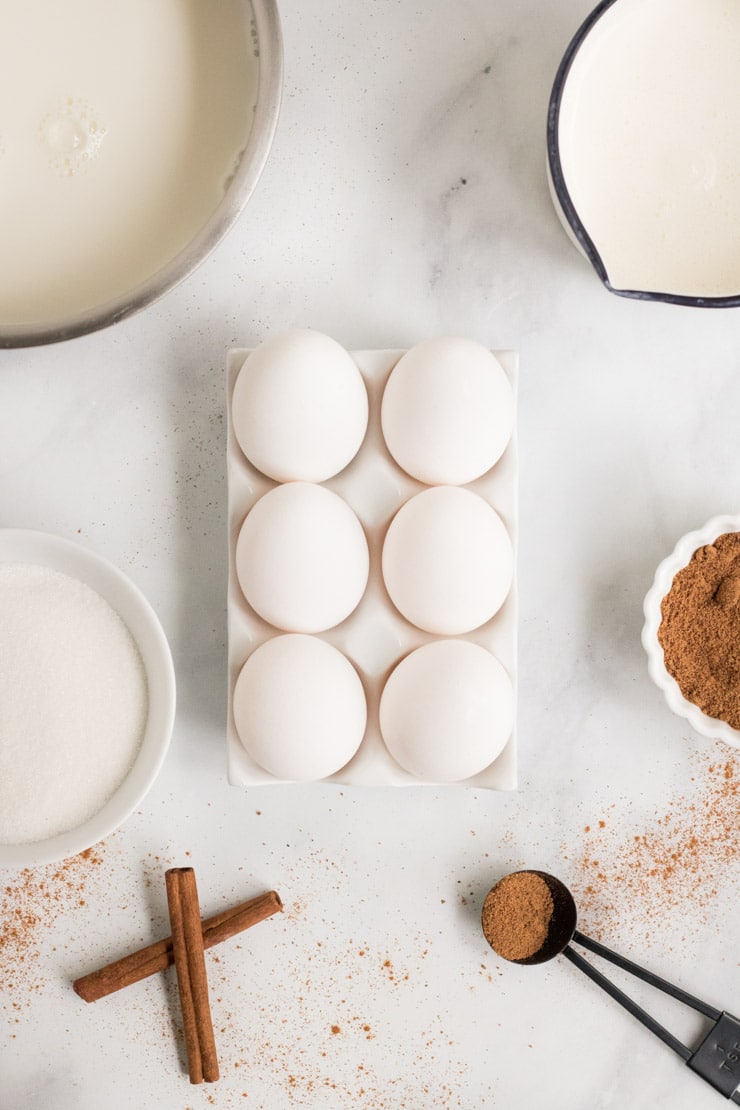 How To Make Eggnog From Scratch
You are going to start by warming some milk and vanilla on the stove in a medium sauce pan. While the vanilla infused milk is warming, you've got some work to do...
The secret to making perfect eggnog from scratch is all in the prepping of the eggs. You are going to beat the eggs and egg whites with the sugar, nutmeg and salt for a good five minutes. So turn on your favorite song, set a timer and be patient because this is a step you can't skip!
Next, you pour the egg mixture into the warm milk and whisk constantly for about 5 minutes or until the mixture reaches 165 degrees. At that point, you add in the heavy cream and strain the eggnog in a fine mesh strainer. Because you were whisking the entire time, you should have prevented any egg clumps, but straining it will help prevent an unseen lumps from making it into your glass.
How do you thicken eggnog?
If you follow directions exactly, you shouldn't have to thicken your nog. However, if for whatever reason you do find your eggnog a bit runny try adding another beaten egg white or two and continue to cook it. Keep in mind, your eggnog will thicken quite a bit as it sits in the fridge.
Homemade Eggnog without Alcohol
This recipe is alcohol free! Which means the entire family can enjoy it. My kids LOVE curling up with a cold glass of it by the fire. Just a small amount goes a long way and it's the perfect treat to end a winter day.
While this is a family friendly recipe, many people like to add alcohol to their nog.
What kind of alcohol goes in eggnog?
Brandy is the traditional choice if you want to turn this recipe into an adult treat. You could also add Rum, Bourbon or Cognac. Check out this classic recipe with the addition of Brandy.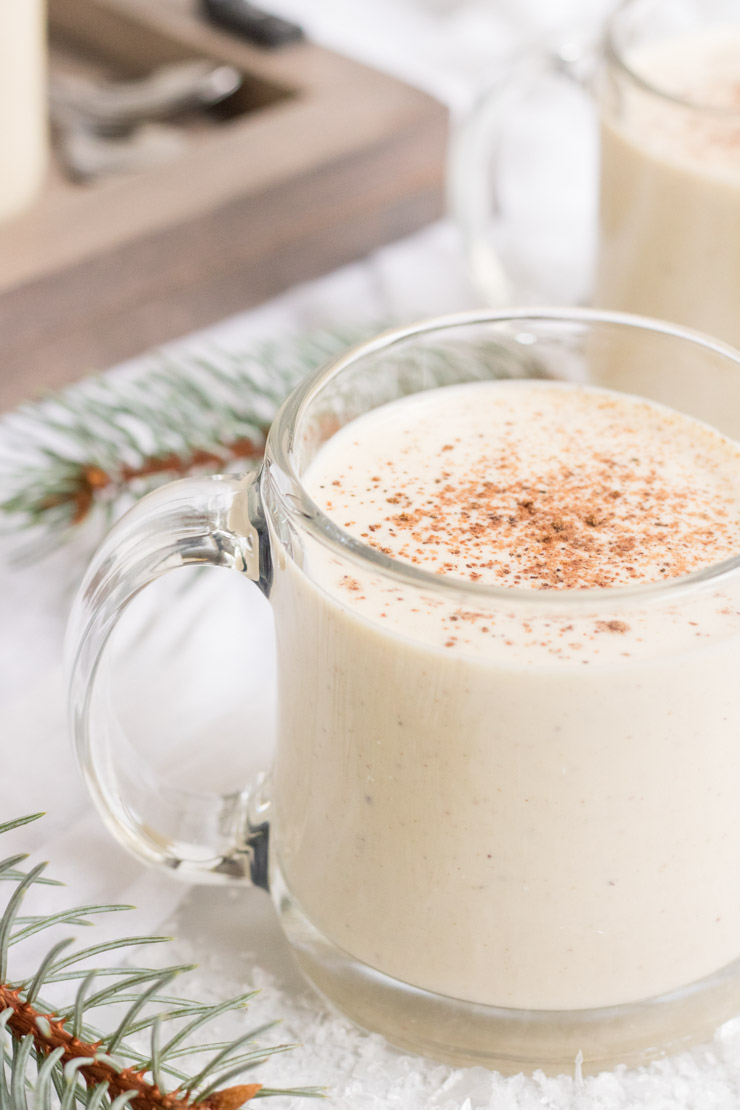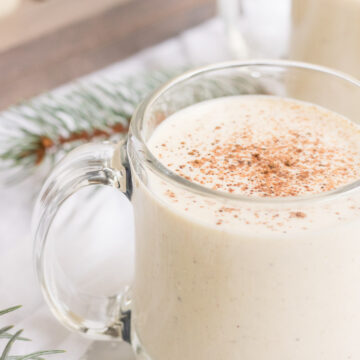 Eggnog Recipe
The best easy homemade egg nog recipe made with eggs, milk, sugar, nutmeg and heavy cream.
Print
Pin
Rate
Ingredients
3

cups

Whole Milk

1

tablespoon

Vanilla Extract

3

Eggs

3

Egg Yolks

½

cup

sugar

1

teaspoon

Nutmeg

¼

teaspoon

salt

1

160z

heavy cream
Instructions
In a small saucepan over medium low heat, whisk together the milk and vanilla until mixture begins to simmer. Remove from heat.

In a separate large bowl, use an electric mixer to beat together the eggs, yolks, sugar, nutmeg and salt for 5 minutes. The mixture will thicken and become slightly frothy.

Slowly pour the egg mixture into the saucepan with the vanilla and milk, whisking constantly to incorporate.

Return pan to medium low heat and whisk constantly for about 5 minutes, or until temperature reaches 165 degrees.

Remove from heat and pour in the heavy cream. Stir until well combined. If desired, you can pour the mixture through a strainer to ensure there are no lumps.

Refrigerate at least 3 hours or overnight before serving.
Is Eggnog a part of your holiday family traditions? Have you ever made your own at home? Let me know in the comments.
Share this recipe on Pinterest!