Did you know you can make your own oat flour at home with rolled oats and a blender? If you are curious and want to learn how to make it yourself, you are in the right place.
In this blog post, I am going to teach you how to make your own flour at home and share some delicious recipes you can make with your new found skill.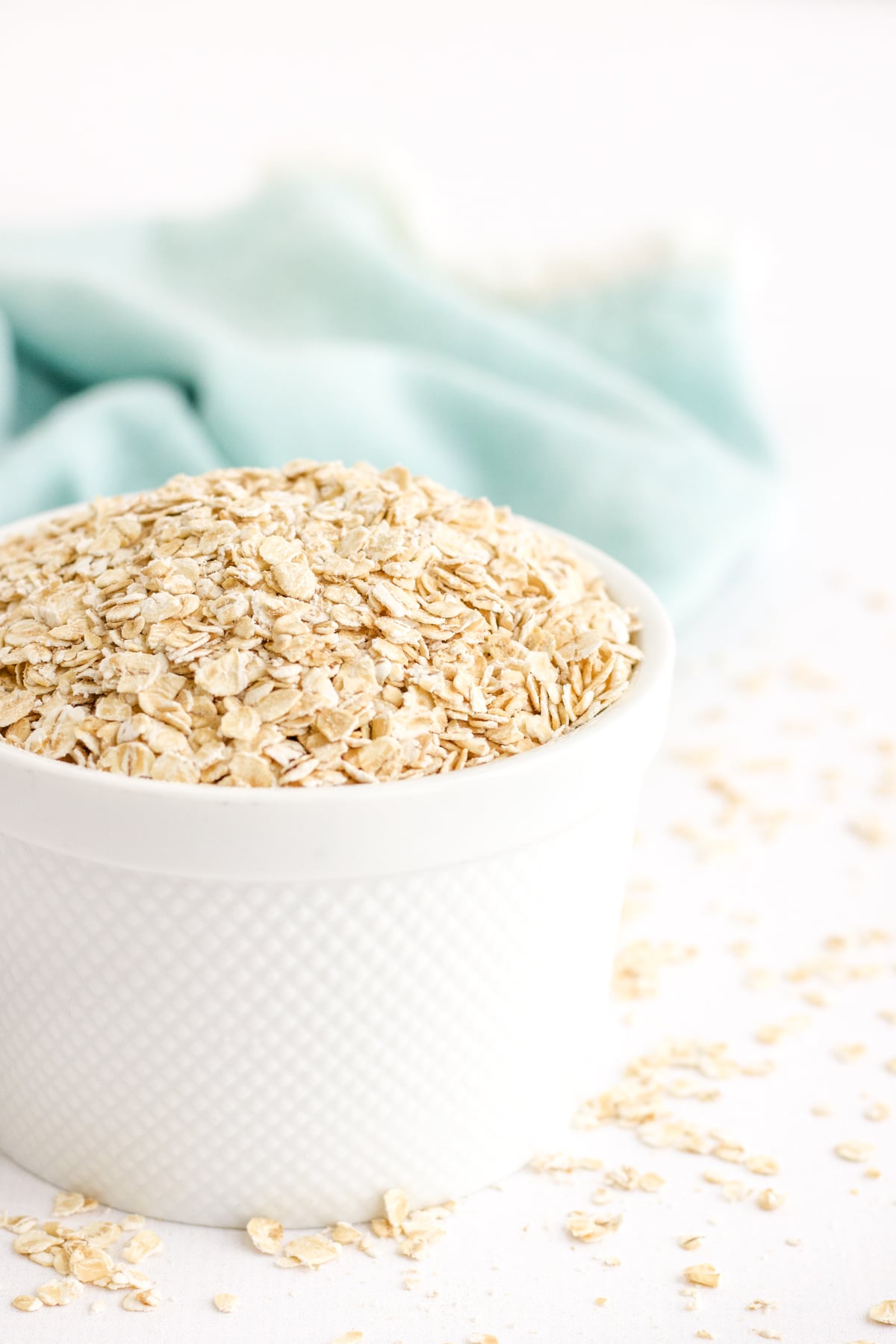 We are a participant in the Amazon Services LLC Associates Program. As an Amazon Associate, I earn from qualifying purchases.
How to make oat flour
Get ready for the easiest recipe you will ever make! To make oat flour at home you need two things:
Simply put your oats into your blender or food processor and pulse until the oats become a fine powder. My personal preference is to leave the oat flour with a little bit of texture - but you can grind down as finely as you would like.
What kind of oats make oat flour?
You can use anything you have on hand! I typically use regular rolled oats but the day I took the pictures you see in this post, I only had quick oats on hand. Those will work just fine!
You can also use steel cut oats but the processing time may take a bit longer.
The main difference between the different types of oats will be processing time and yield.
Types of Oats
Quick Oats: These oats are processed multiple times. They are partially cooked, dried, and then rolled and pressed extremely thin so that they will cook faster. Because of this, one cup yields only about ½ a cup of flour when ground.
Rolled Oats: Traditional rolled oats or old fashioned oats go through a steaming process that gives them a mild flavor and a desirable texture.
Steel Cut Oats: The oats are left whole and cut with a steel mill. They have a coarse texture and need to be processed and prepared differently.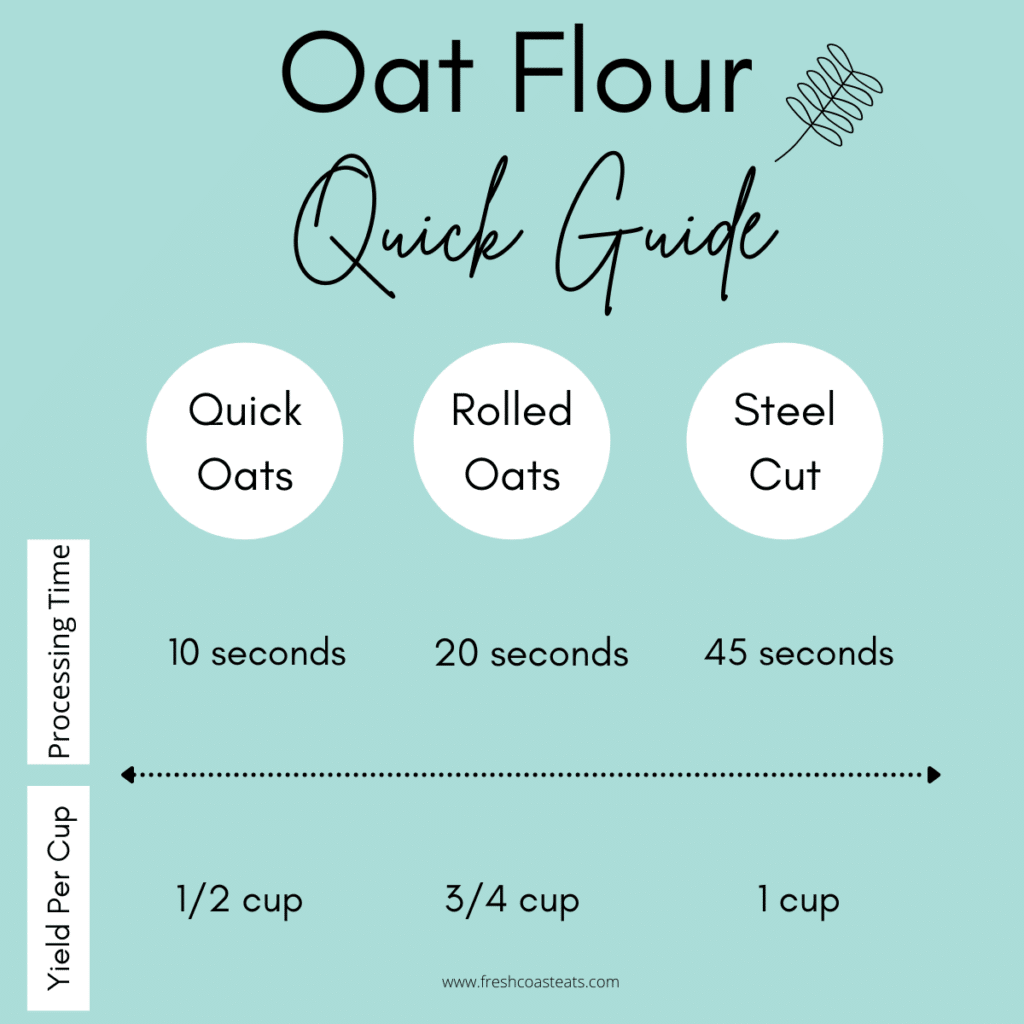 Making oats into oat flour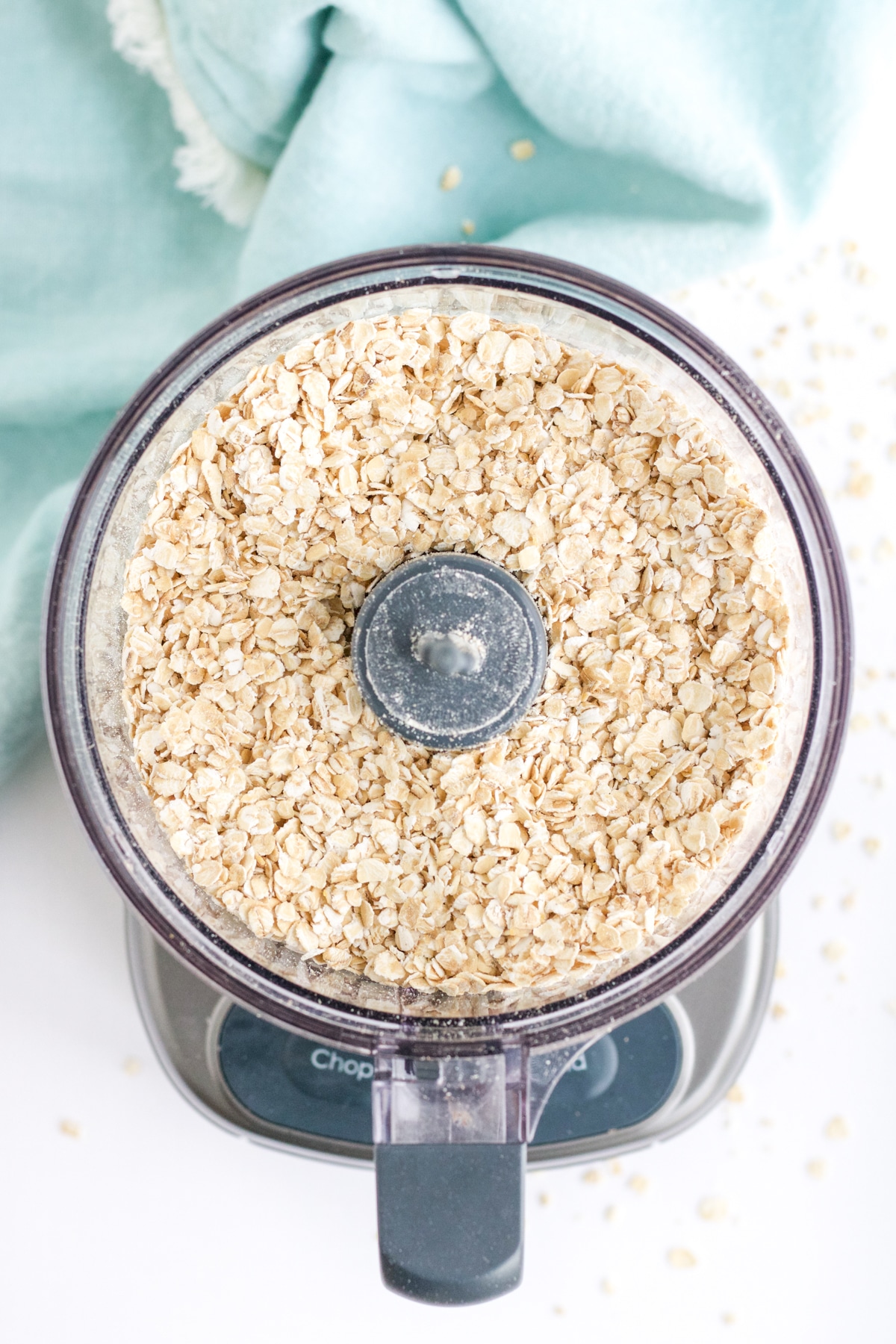 No matter what kind of oats you choose, you will need to use a blender or food processor to grind them.
I find working in 1 cup intervals, using the pulse setting works best.
In the diagram above you will see a guide for the approximate amount of time it takes to grind the grains along with an estimation of yield.
Please note your results may be different as everyone prefers different textures.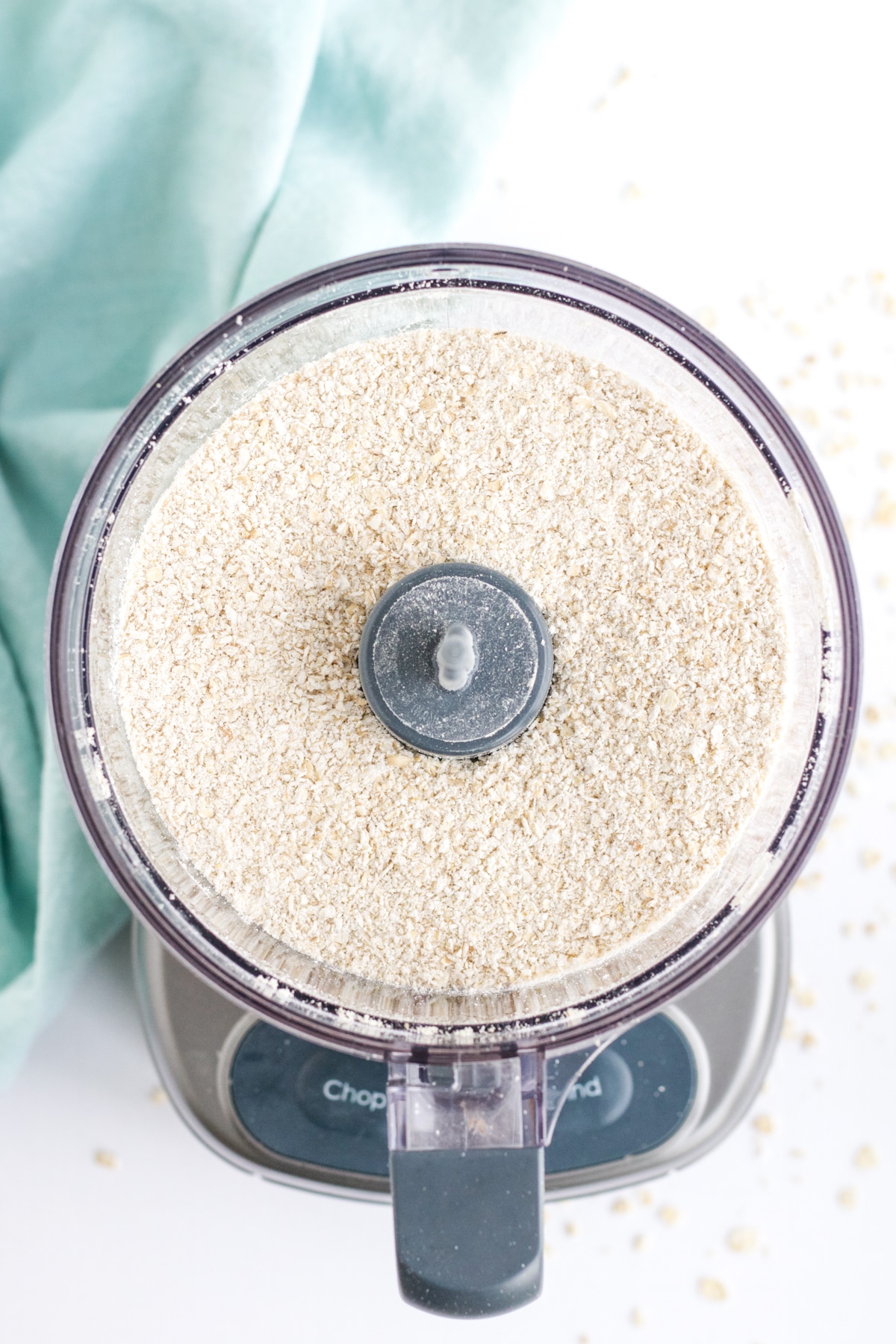 Storage Tips
You can store your homemade flour in and air tight container for up to 3 months. I really like these containers on amazon, but you can also use the original oat container too!
Make sure to choose a dark, cool and dry place to store it.
FAQs
Is oat flour gluten free? Yes, and it is an excellent option for those of you with a gluten allergy. Just make sure that the oats you choose are certified gluten free on the packaging.
Can I substitute oat flour for regular flour? Unfortunately, no. It is highly absorbent so it will quickly and aggressively absorb most of the moisture in a recipe that isn't meant for it. This means, it is not a good 1:1 flour substitute. I find I enjoy recipes that specifically call for it best. I also enjoy it as part of a substitute blend.
Is oat flour healthy? Yes! It a very healthy substitution if you are looking to replace regular flour.
What are the health benefits of oat flour? It is an excellent source of dietary fiber, they also reduce serum cholesterol levels in the body. Oats are higher in protein and healthy fats, and lower in carbohydrates than most other whole grains.
Eating whole grain oats can prevent diabetes and lower cholesterol levels, which could prevent cardiovascular disease. There have also been studies that show oats may have inflammatory properties.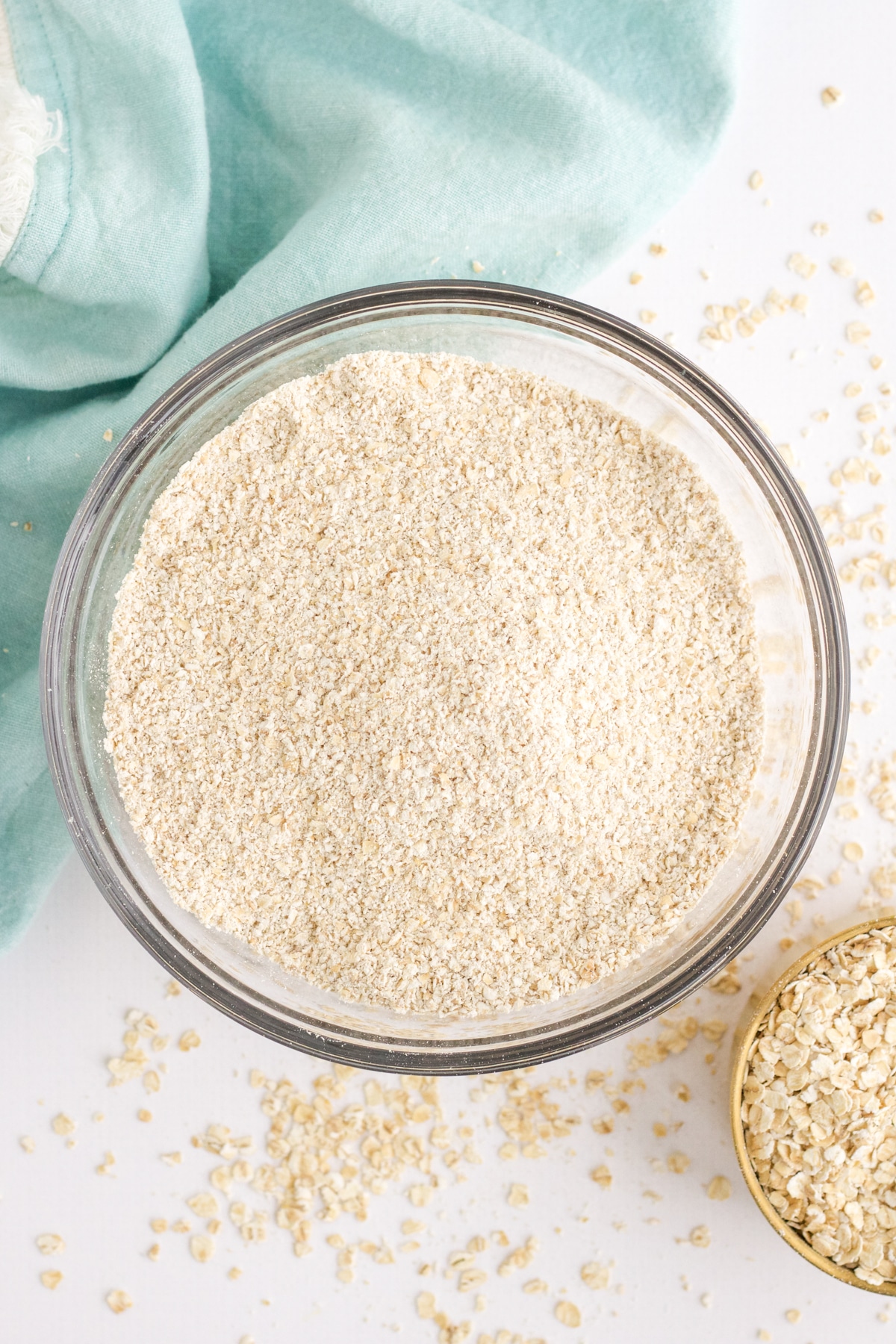 Oat Flour Recipes
Now that you have mastered the art of making oat flour at home, it's time to get experimenting in the kitchen! Here are some of my favorite recipes.
Pancakes: The perfect way to wake up! These pancakes taste just like a bowl of your favorite breakfast staple. Not only are they tasty, but also healthy!
Chocolate Peanut Butter Cookie Dough Balls: These chocolate peanut butter cookie dough balls are vegan, dairy-free, gluten-free, and oil-free! They are a delicious, healthy treat that is super quick and easy to make!
Apple Cinnamon Bread: This cinnamon apple bread is the perfect morning treat to have along with your coffee.
Flourless Zucchini Oatmeal Muffins: Muffins this healthy can be eaten ANY time of the day. Use the guide above to make a batch today.
Gluten Free Monster Cookies: These gluten free monster cookies feature our new favorite flour and are packed with all your favorite traditional monster cookie additions.
Vegan Lemon Loaf: This is the ultimate vegan lemon loaf cake recipe! Super moist and tender and topped with a lemon drizzle, this lemon loaf tastes even better than Starbucks!
Pizza Crust: Oat flour isn't just for breakfast and baking. This incredible pizza crust recipe is a must try for your new found flour making skills.
Coffee Cake: This is truly the best vegan coffee cake ever! With its perfect crumb texture and sweet cinnamon vanilla flavor, it tastes just like the classic and even better than Starbucks, only entirely vegan and gluten free!
Flourless Air Fryer Onion Rings: Guess what the secret ingredient is for these crispy flourless air fryer onion rings? You guessed it!
Swedish Apple Pie: Oat flour is the perfect substitution for making this apple pie gluten free.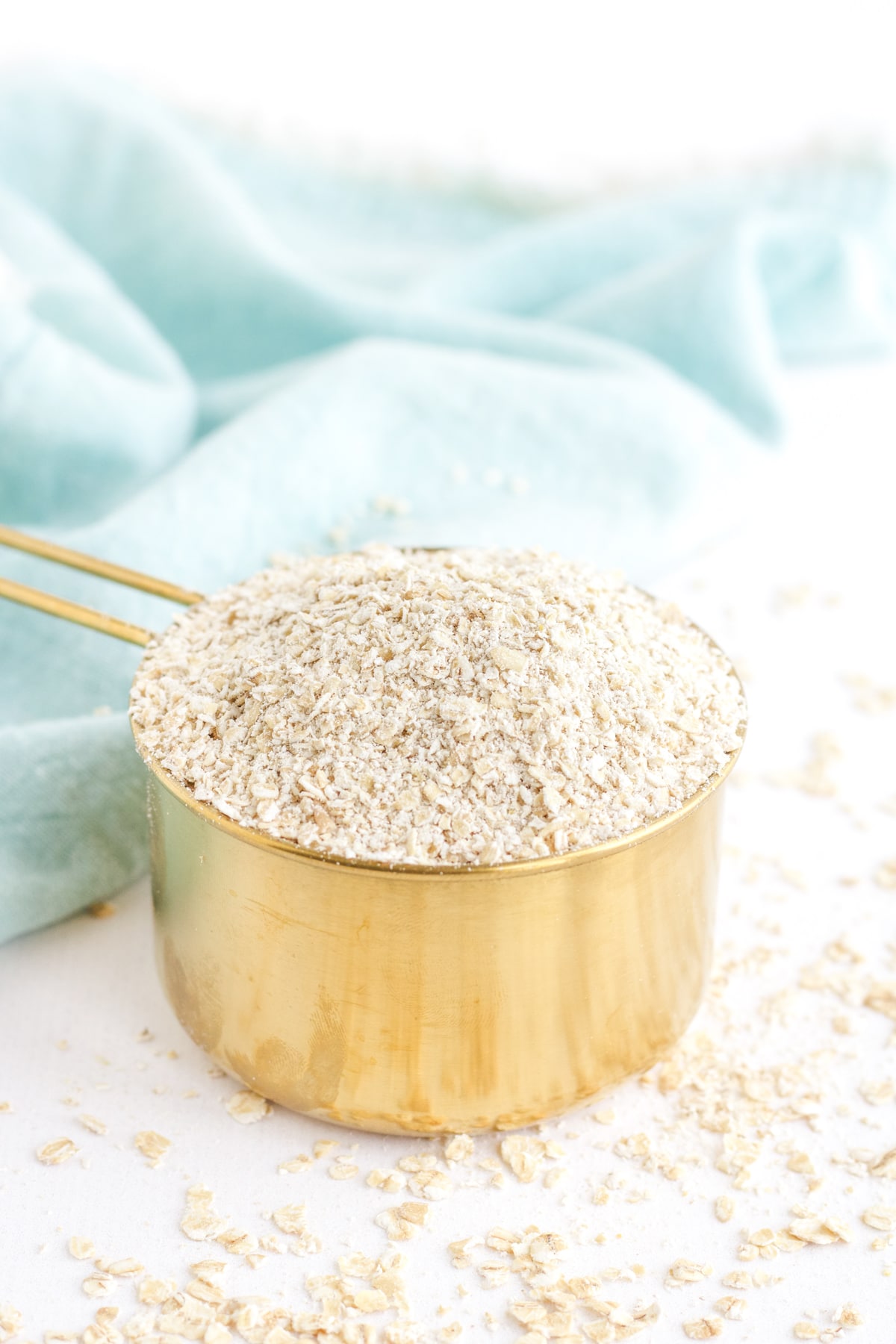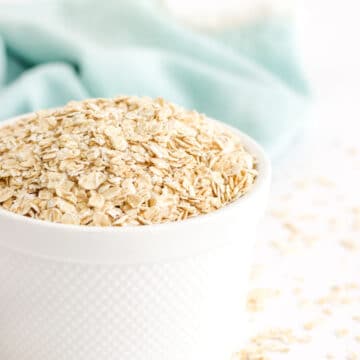 How to Make Oat Flour
Your complete guide on how to make homemade oat flour.
Print
Pin
Rate
Ingredients
1

cup

Rolled, Quick Cook or Steel Cut Oats
Instructions
Place the oats inside of a food processor or blender.

Pulse, or use the grind setting until desired texture is reached.
Nutrition
Calories:
307
kcal
|
Carbohydrates:
55
g
|
Protein:
11
g
|
Fat:
5
g
|
Saturated Fat:
1
g
|
Sodium:
5
mg
|
Potassium:
293
mg
|
Fiber:
8
g
|
Sugar:
1
g
|
Calcium:
42
mg
|
Iron:
3
mg
Have you tried making oat flour at home?
Let me know in the comments and tag us at #freshcoasteats so I can see your new skill in action!