Eggnog Pancakes: A simple from-scratch pancake recipe with the addition of eggnog, nutmeg and cinnamon for a perfect holiday breakfast.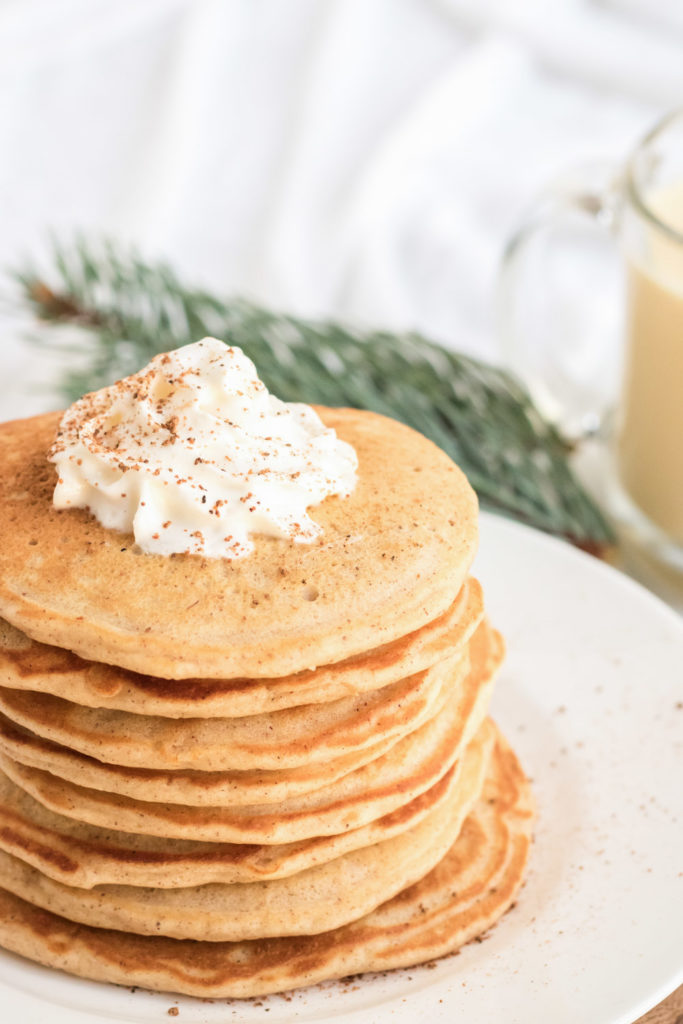 Eggnog Pancakes
I will admit, this year I have been a little obsessed with incorporating eggnog into recipes. My egg nog kitchen experiments started with perfecting homemade eggnog. Next, I worked on eggnog cupcakes, eggnog cookies, eggnog french toast and eggnog waffles. Needless to say, I am pretty familiar with eggnog!
Today, I am so excited to share this super easy homemade eggnog pancake recipe with you. We are going to use my favorite homemade pancake base, then replace the milk with eggnog and add a bit of spice to bring in that extra bit of holiday spirit as well.
Before we get started, let's talk a little bit about what egg nog is and why it should be a kitchen staple in your home in December.
How do you make eggnog?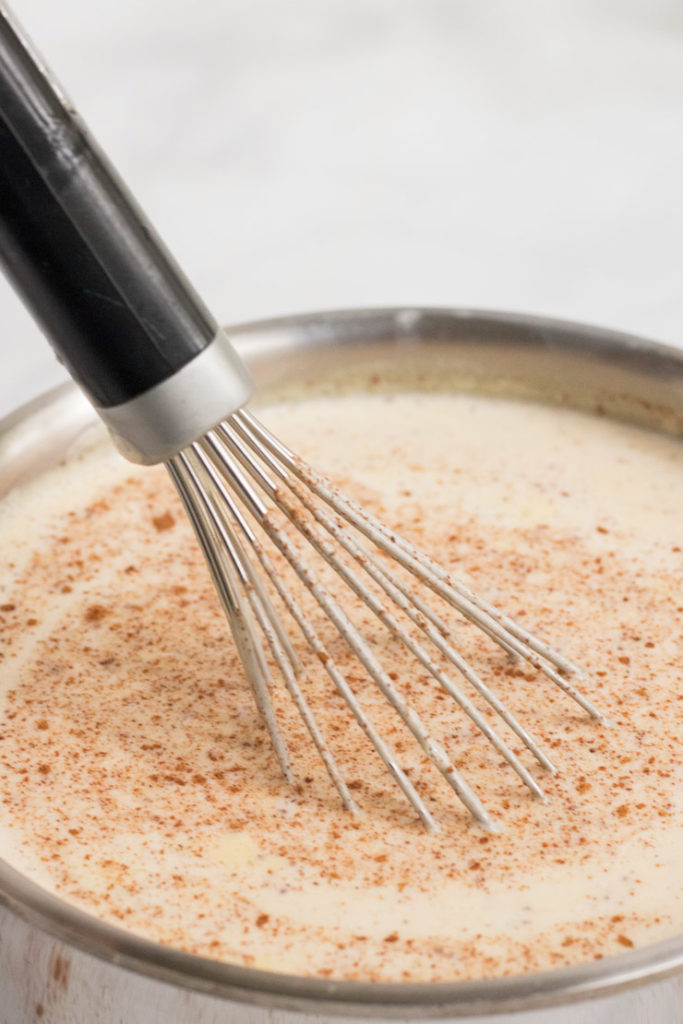 You can make eggnog with just a few simple ingredients:
eggs
milk
sugar
nutmeg
heavy cream
vanilla
To make it, you slow simmer it on the stove until the temperature is 165 degrees. Check out my classic eggnog recipe for full details on how to make it! You can also check out this video to see an example of the process. You do not need homemade eggnog to make this recipe, if you prefer you can buy store-bought eggnog.
What is the best store bought eggnog?
Southern Comfort is my absolute favorite storebought! In November and December, it is pretty easy to find this brand at any major grocery retailer.
Don't worry if you can't get your hands on a carton of Southern Comfort brand. You can use any kind for this recipe. You probably want to stay away from anything that has any addition or odd flavors.
What is eggnog supposed to taste like?
Eggnog tastes like a dream! It is super smooth, thick and creamy and has a bit of nutmeg spice on the finish. It is very filling and extremely sweet, many people sip a small glass of it at the end of the day as dessert. I always compare it to melted ice cream with a bit of holiday spice.
Egg Nog Pancake Recipe
First, we are going to gather our ingredients. For this easy recipe you will need: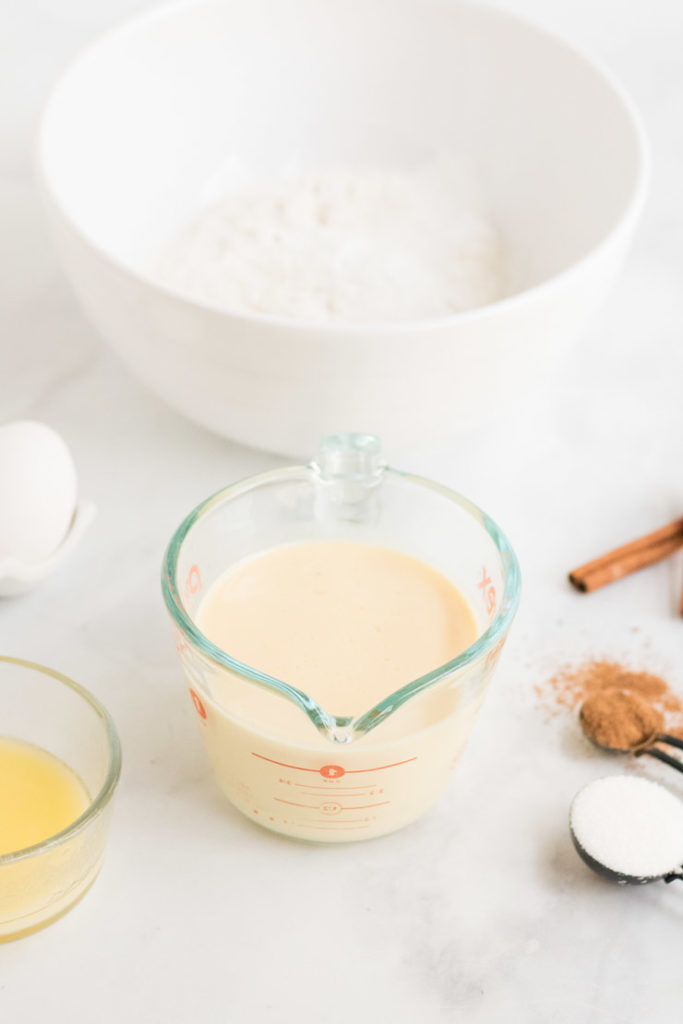 flour
baking powder
salt
nutmeg
cinnamon
sugar
eggnog
egg
melted butter
Start by mixing together the dry ingredients. Get a large bowl and put the flour, baking powder, salt, nutmeg, cinnamon and sugar inside. Mix until well combined.
Next, add the eggnog, egg and melted butter and use an electric mixer on medium low speed to blend everything together. If you feel like the batter is too thick, add a little extra eggnog.
To make a more subtle eggnog flavor, you can use half the required eggnog and half milk.
After getting the batter to the desired consistancy, it is time to prepare the pan or electric griddle. For making pancakes for my large family I highly prefer using an electric griddle.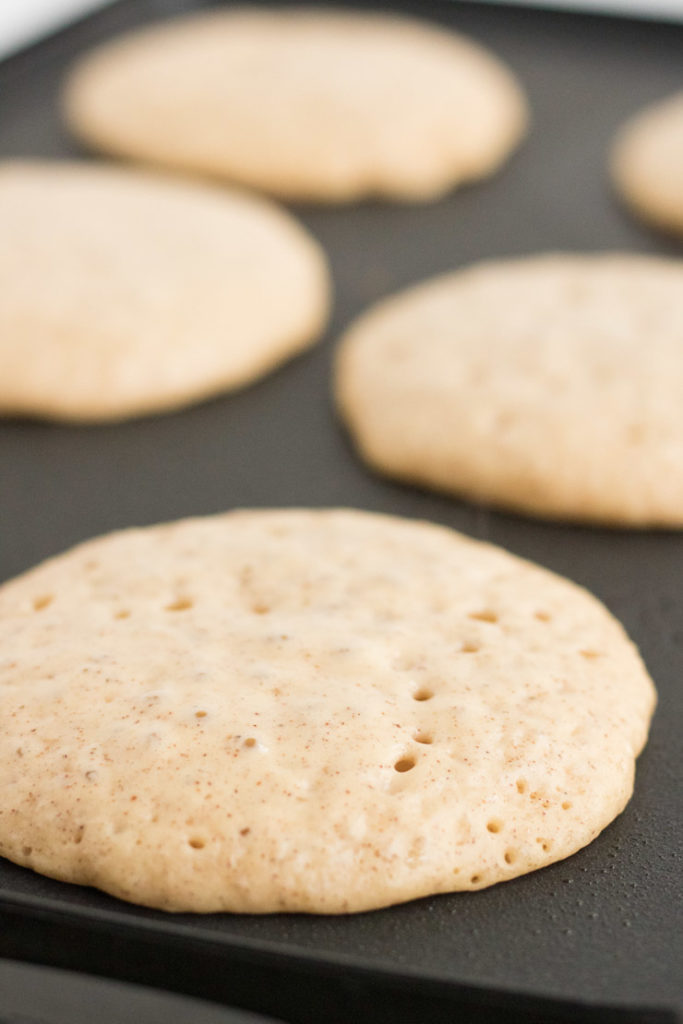 How to make pancakes on an electric griddle
To make these pancakes on an electric griddle, set the temperature control to 350 degrees. When I use a griddle I highly prefer using non-stick cooking spray over butter. The surface is non-stick so it only needs a little bit of extra help.
One you get the surface area prepped, use a ¼ cup measuring scoop to form pancakes. The pancakes are done once bubbles form in the batter, and do not fill back in before you flip them. Once flipped, they will finish cooking quite quickly. You can take a peek to see if they are done every 30 seconds or so.
How to make pancakes in a skillet
To prepare the skillet for cooking, I warm it over medium heat. I usually choose butter in place of cooking spray.
When bubbles pop in the batter and do not fill in, the pancakes are done. Flip the pancake very carefully, and cook about 30 seconds longer or until both sides are slightly golden brown.
What to serve with eggnog pancakes
I love to serve eggnog pancakes with whipped cream and a sprinkle of spice AND a side of syrup. My kids usually prefer them topped with butter and syrup.
I love egg nog flavored breakfast items with blueberries and bananas on the side. I feel like it compliments the creamy vanilla flavor very nicely.
And don't forget your coffee with a splash of eggnog on the side.
How to store pancakes
If properly stored in the refrigerator, pancakes will keep for up to five days. I personally prefer to eat them within 3, or freeze them. To properly store, you can place them in a airtight container or a big ziplock bag.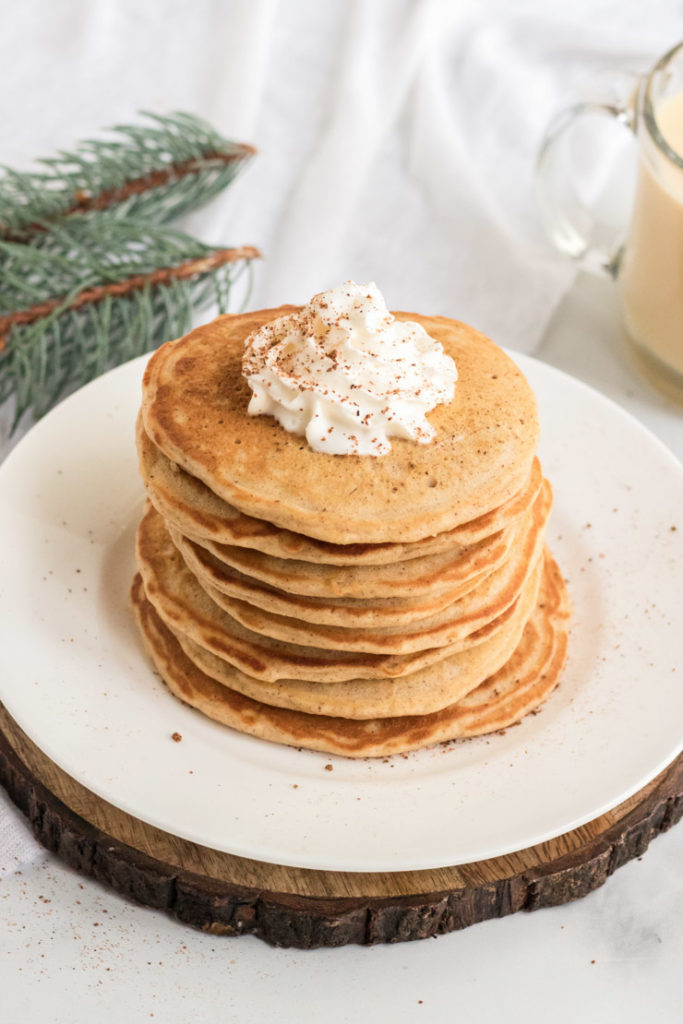 How to freeze pancakes
I prefer to freeze pancakes in a large freezer bag. I usually place a sheet of wax paper between each "serving" for easier seperation.
What can I do with leftover eggnog?
One of the things that inspired me to create this recipe was the fact that I had leftover eggnog! If you are lucky enough to have eggnog in the house, there are many things you can make with it! Try these recipes from my site: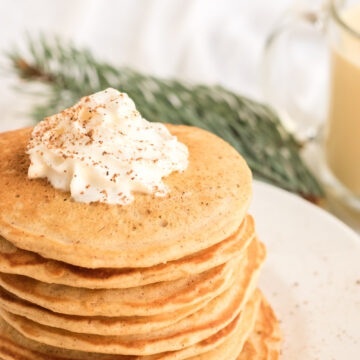 Egg Nog Pancakes
A simple from-scratch pancake recipe with the addition of egg nog, nutmeg and cinnamon for a perfect holiday breakfast.
Print
Pin
Rate
Equipment
Skillet, or an electric griddle
Ingredients
1 ½

cups

flour

3 ½

teaspoons

baking powder

½

teaspoon

salt

½

teaspoon

cinnamon

½

teaspoon

nutmeg

2

Tablespoons

granulated sugar

1 ¼

cup

eggnog

1

egg

3

Tablespoons

melted butter
Instructions
In a large bowl, whisk together flour, baking powder, salt, sugar.Make a well in the center and pour in the eggnog, egg and melted butter. Use an electric mixer, mix until smooth. Heat a griddle or frying pan and add a little butter until melted.  Scoop out about ¼ cup batter onto the griddle for each pancake.  Cook until bubbly and then flip pancake over.  Cook 1 more minute our until you don't see any steam rising from the cake and remove.
Notes
You can save time in the morning by preparing the dry ingredients the day before.

If the mixture is too thick, add more egg nog or plain milk.

Serve this with whipped cream and a sprinkle of nutmeg.

These pancakes still taste great with classic maple syrup!
Nutrition
Calories:
269
kcal
|
Carbohydrates:
50
g
|
Protein:
8
g
|
Fat:
4
g
|
Saturated Fat:
2
g
|
Cholesterol:
47
mg
|
Sodium:
338
mg
|
Potassium:
535
mg
|
Fiber:
1
g
|
Sugar:
13
g
|
Vitamin A:
164
IU
|
Vitamin C:
1
mg
|
Calcium:
262
mg
|
Iron:
3
mg
Have you tried this recipe yet? What is your favorite eggnog breakfast recipe? Share in the comments below!
Pin this recipe on pinterest!