Perfect Pepperoni Pizza: A quick homemade crust topped with flavorful sauce, quality cheese and classic pepperoni.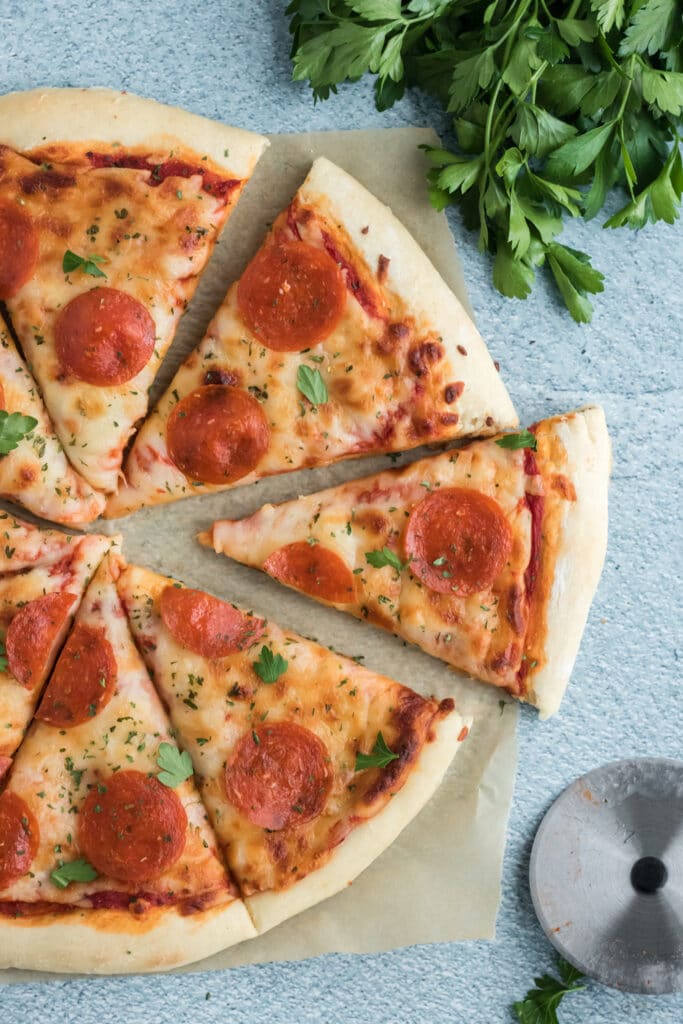 We are a participant in the Amazon Services LLC Associates Program. As an Amazon Associate, I earn from qualifying purchases.
We have four kids, which means we eat pizza... A LOT. I like to consider myself a bit of a pizza expert these days and have become super picky about what I am eating. Pizza is no longer an occasional meal, it is the dinner of choice for every birthday, celebration or nights when I cook multiple cheesecakes for clients and just can't cook anymore. By making pizza from scratch at home, I can feel a little better a little less guilty during tough weeks when I put it on the table for mealtime for the third time in a row. (Don't judge!)
Making homemade pepperoni pizza is a lot easier than you think. Many people think you need to have a big fancy kitchen and pizza dough tossing skills, but the truth is anyone can make pizza from scratch in just about the same time it would take make a call to order one and have it delivered.
In this blog post I am going to teach you how to make an excellent homemade pepperoni pizza and also teach you how I make my famous Valentines Day Pizza with this recipe.
For more easy dinner recipes check out our Cranberry Turkey Sliders or our Champagne Chicken.
Homemade Pepperoni Pizza Recipe
To make this homemade pizza, you will need:
Flour
Rapid Rise Yeast
Salt
Warm Water
Vegetable Oil
Pizza Sauce
Mozzarella Cheese
Pepperoni
Fresh herbs for topping
How To Make Homemade Pizza Dough
To make the dough, start by mixing the flour, yeast and salt in a bowl. Use a whisk so that everything is well distributed.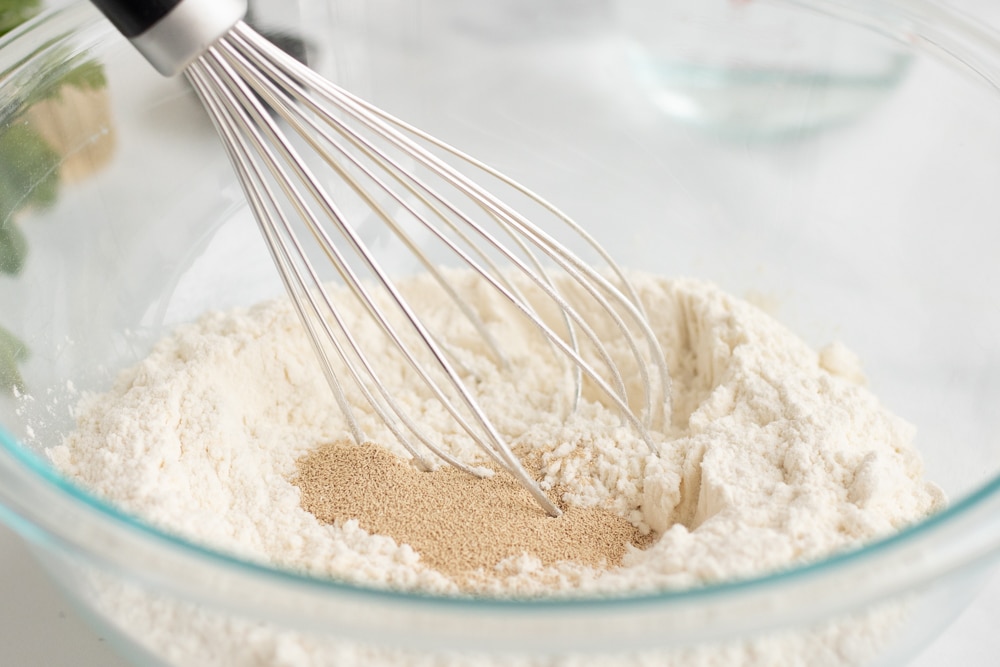 Next, you want to add the water. It is important for the water to be the correct temperature for the yeast to rise. So, take the extra step of testing the temperature of the water with a thermometer. You want it to be 120-130 degrees.
Add the water to the flour mixture and use an electric mixer on medium speed until fully incorporated.
Next, put the dough in a Kitchenaid Stand Mixer and use the hook attachment to knead on low for four minutes. Alternatively, you can knead by hand on a floured surface for four minutes.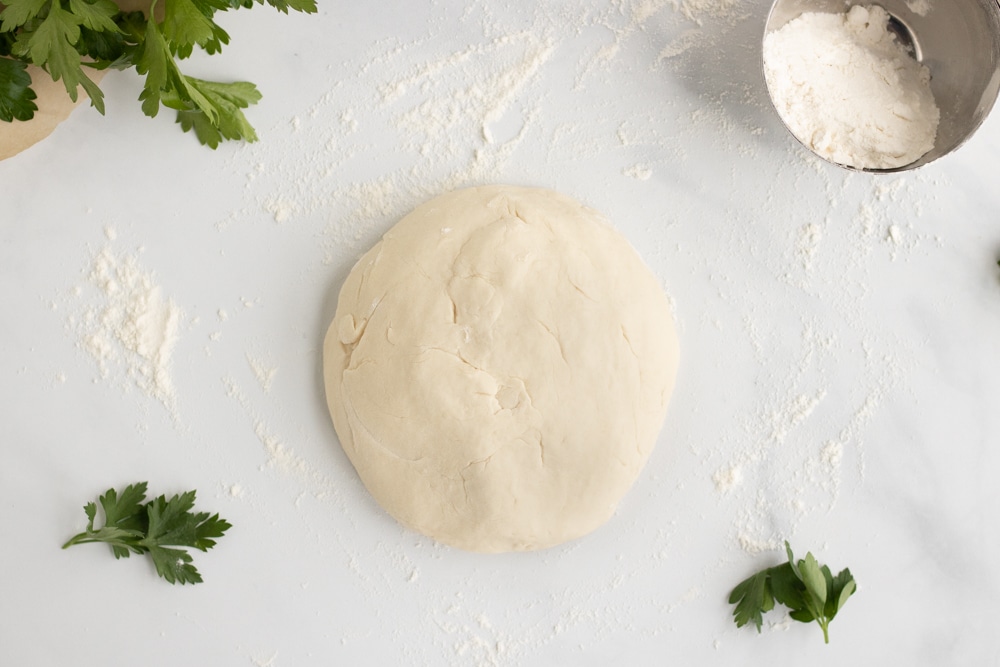 When you are done kneading, the dough should form a ball and be slightly sticky. Press one finger against the dough. If it is way too sticky to touch, you can add a Tablespoon of flour. Be very careful not to add to much flour! Add only enough so you can remove it from the bowl.
Cover the dough with a towel and let it rise for 10 minutes.
Assembling the Pizza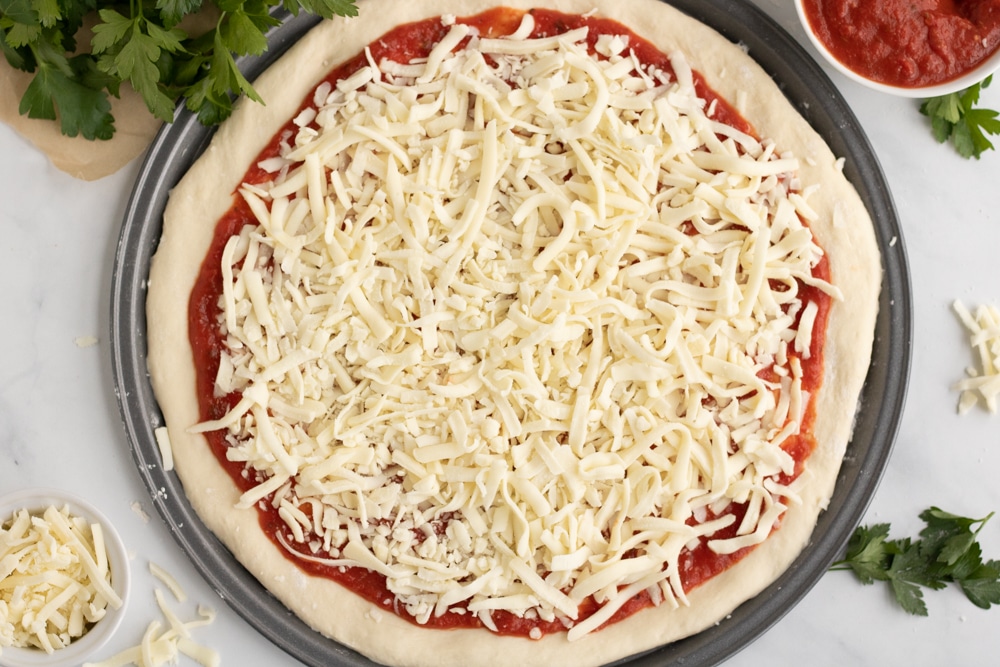 When the dough is done rising, place it in the middle of a well-greased 12 inch pizza pan. Spread the dough evenly to reach the sides of the pan. I like to make the edges a little thicker and kind of pinch them off to form the outline for a crust. This also helps the sauce from spreading out!
Next, spread the desired amount of sauce over the dough and top with cheese and pepperoni.
Baking the Pizza
When you are baking your homemade pepperoni pizza, you want to place it on the lowest rack in the oven. Cook it for about 12-15 minutes or until the outside edges of the crust begin to brown. By that time, the cheese should be nice and hot and bubbly.
After you remove the pizza from the oven, garnish with a fresh herbs and a sprinkle of grated Parmesan.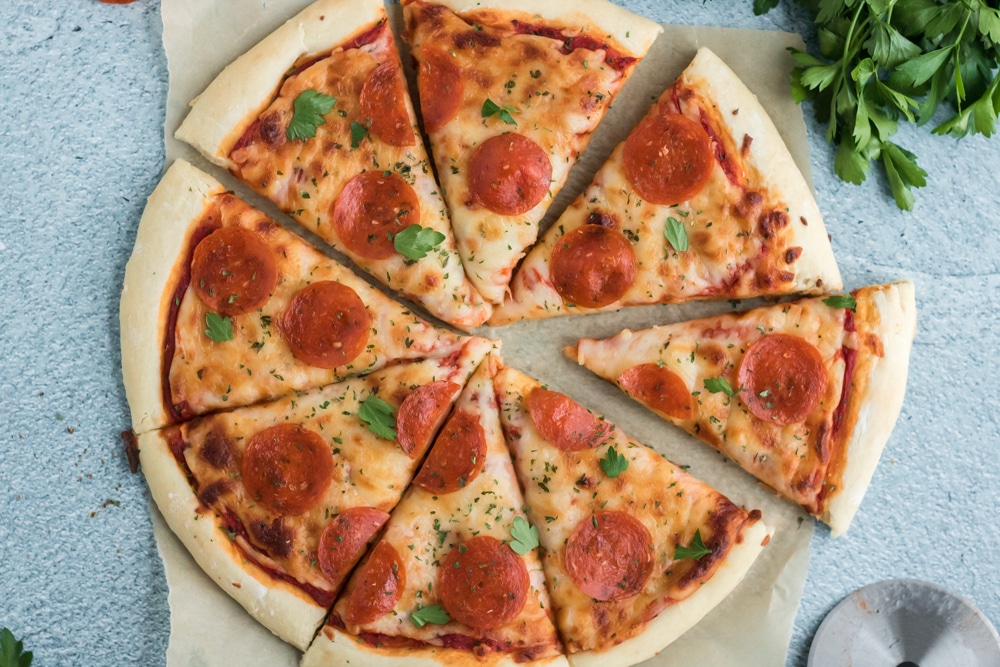 Valentines Day Pizza
On Valentines Day, I like to use this recipe as a base but turn it into a cute little heart pizza for my kids. To make this pepperoni pizza recipe into a Valentines Day pizza, simply fold the pepperoni in half before placing them on the pizza and cut a half heart shape along the fold.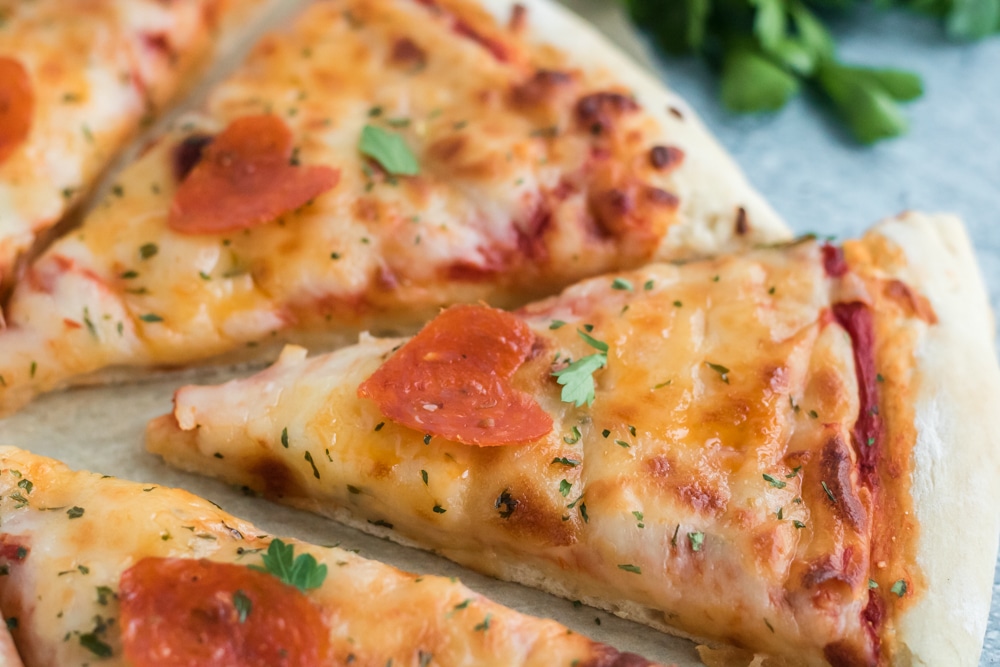 I like to make a plain cheese pizza first, then slice it and place the hearts in a circle so everyone gets one heart on their piece.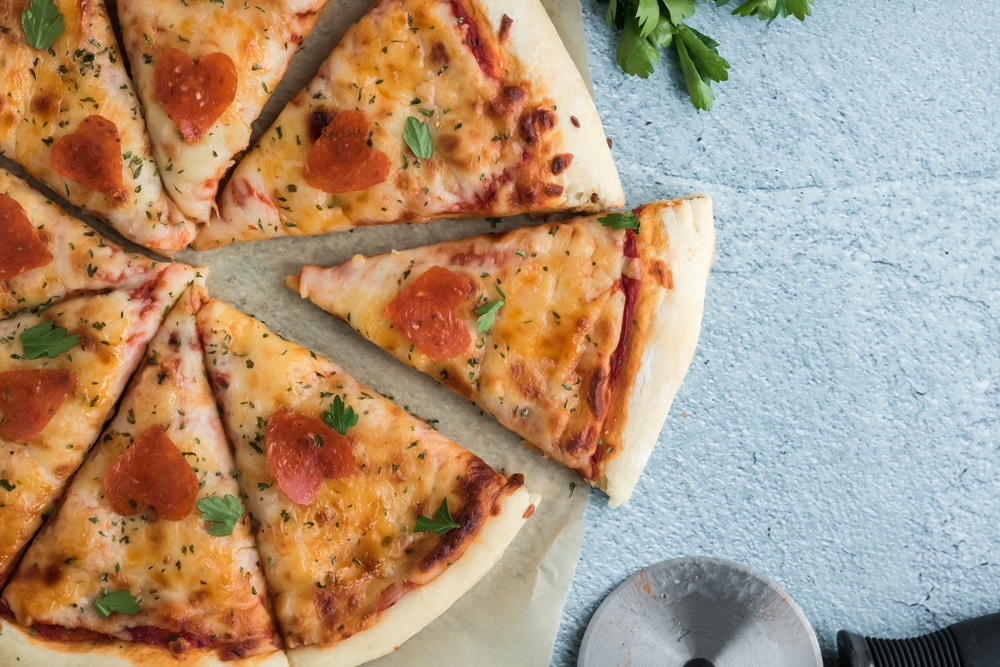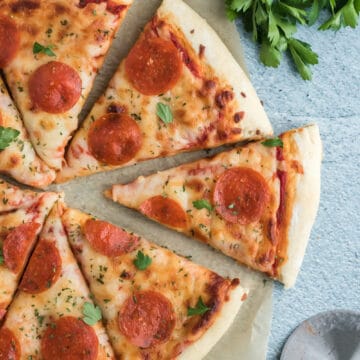 Homemade Pepperoni Pizza
A homemade pepperoni pizza with quick and easy crust topped with flavorful sauce, quality cheese and classic pepperoni.
Print
Pin
Rate
Ingredients
1 ¾

cups

flour

1

envelope

rapid rise yeast

½

teaspoon

salt

⅔

cups

warm water

(120-130 degrees)

3

Tablespoons

vegetable oil

1-2

cups

pizza sauce

1-2

cups

mozzarella cheese

15

pepperoni
Instructions
Preheat oven to 425°F and prepare a pizza pan with cooking spray, set aside.

In a large bowl, mix 1 cup flour, undissolved yeast, sugar and salt. Whisk until fully combined.

 Measure and test the temperature of your water. When the temperature is correct, add it to the dry ingredients along with the oil. Mix for one minute or until fully incorporated. 

Dough should form a ball and will be slightly sticky. If it is too sticky to handle, add flour 1 Tablespoon at a time until you can handle it. Knead the dough on a floured surface for about 4 minutes.

Let the dough rise for 10 minutes.

Spread the dough evenly to fill greased pizza pan or baking sheet.

Top with sauce, cheese and desired toppings.

Bake on lowest oven rack for 12 to 15 minutes, or until the crust starts to brown and the cheese is melted and bubbly.
Notes
Do not add too much flour to this. Only add enough so you can handle it. 

Be sure to spread the crust completely to the edge of the 12inch baking pan. 

If you are using a pizza stone, you do not need to grease the bottom.
Nutrition
Calories:
284
kcal
|
Carbohydrates:
30
g
|
Protein:
10
g
|
Fat:
14
g
|
Saturated Fat:
9
g
|
Cholesterol:
20
mg
|
Sodium:
614
mg
|
Potassium:
202
mg
|
Fiber:
2
g
|
Sugar:
2
g
|
Vitamin A:
303
IU
|
Vitamin C:
3
mg
|
Calcium:
105
mg
|
Iron:
2
mg
What are your favorite homemade pizza toppings? Tell me in the comments!