Instant Pot Asparagus: Make perfect asparagus every time with this quick and easy guide to preparing it in your instant pot!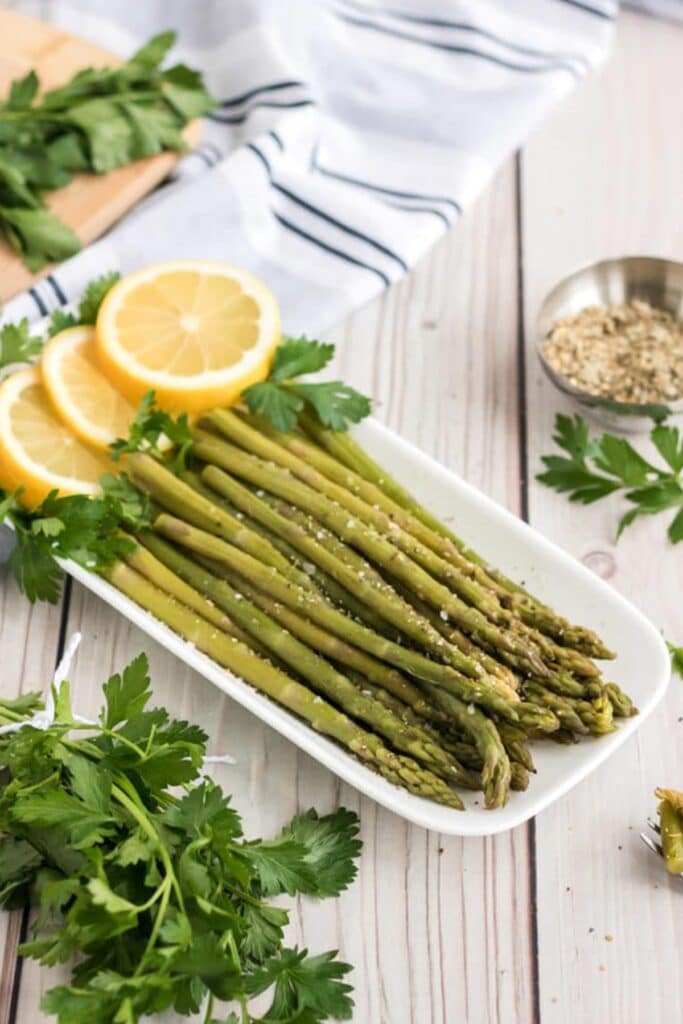 In Southwest Michigan, it feels like spring doesn't truly arrive until you start to see road-side farm stands finally putting up their fresh asparagus signs! I will be honest and tell you it is one of my favorite times of the year. It means our local farmlands are back in action!
We may have a couple more months until we see those signs come up, but I wanted to get you ready by sharing this instant pot asparagus recipe. When I prepare asparagus, I typically steam it on the stovetop or roast it. But, when I heard you could make it in the instant pot in two minutes I just had to try it! I have tried several different methods of cooking asparagus in the instant pot and finally discovered a no-fail solution.
Before we get started with the recipe, let's talk about what kind of asparagus you should choose for making instant pot asparagus.
How to pick good asparagus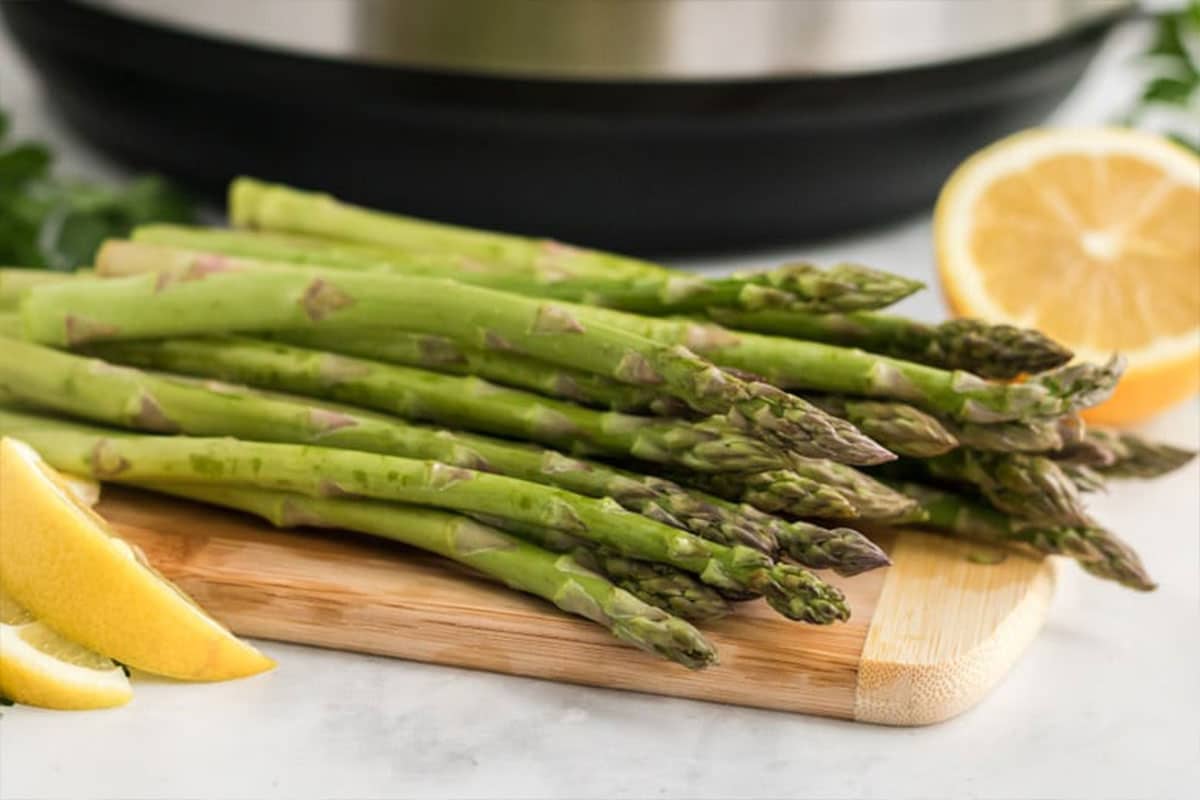 Start by buying local and freshly picked, if possible. When selecting asparagus, you want to take a look at the buds first. They should be firm, tightly closed and not wilted.
There seems to be a lot of conflicting information out there regarding the size of asparagus. I personally find the smaller asparagus easier to cook with and more pleasant to eat. Bigger stalks can be a bit meaty and chewy, which some people love. No matter what size you prefer, choose a bunch that is consistent in size will make it easier to cook.
How to clean fresh asparagus
If you are lucky enough to be buying asparagus from a farm stand, you may be wondering how to clean fresh asparagus so that you don't wind up chewing on sand.
Start by soaking the fresh asparagus in cold water. Place the asparagus in a pan and cover with water. Every once in a while, move the asparagus around changing the water if needed. After about 5 minutes, rinse the asparagus under cold running water concentrating on the buds where sand can easily get trapped.
When is asparagus in season?
Here in Michigan, you can expect to see asparagus around mid-April and usually wraps up around mid-June. Asparagus is ready in other states as early as late February. Regardless of where you live in the US, the season is done around mid-June.
How do you cook asparagus in a pressure cooker?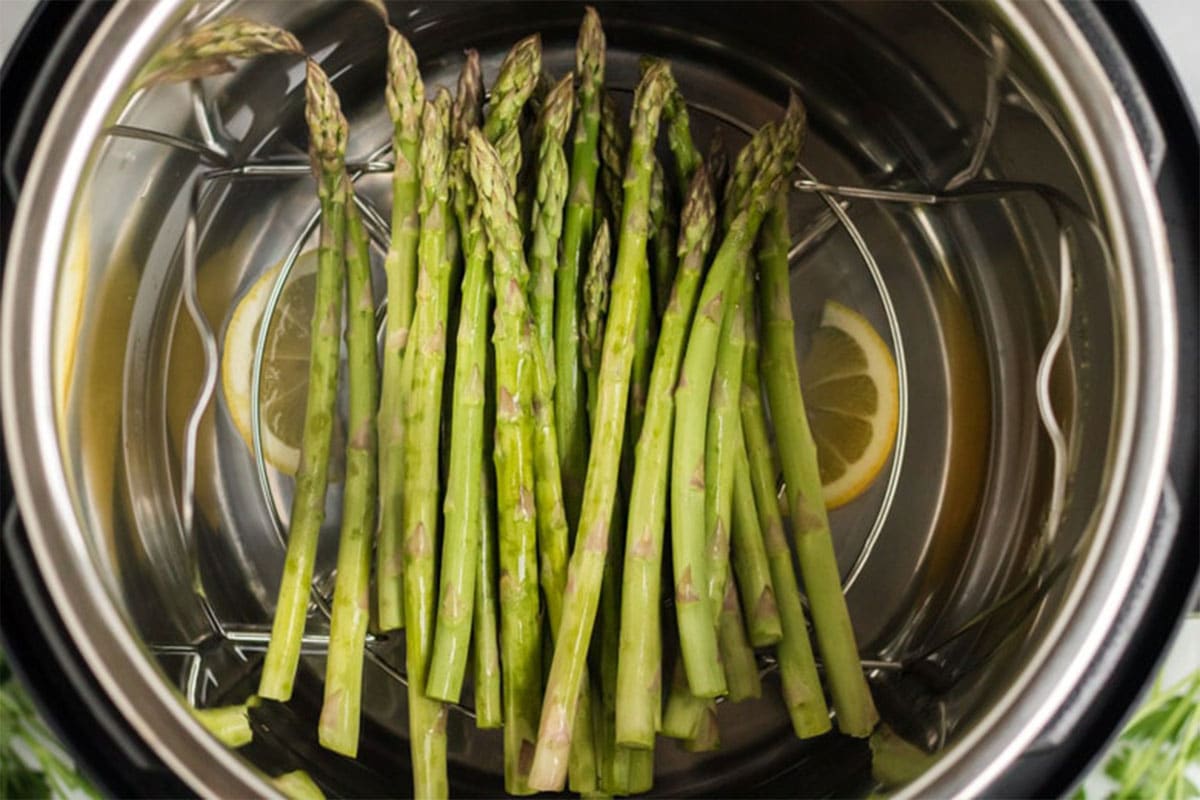 Cooking asparagus in a pressure cooker is so easy! Start by thoroughly washing your asparagus and trimming off the thick stalks. Then, place the asparagus on the rack inside the instant pot.
If you have a 6 quart instant pot, add 1.5 cups water. If you have an 8 quart instant pot, add 2 cups water.
Next, I like to add a few slices of lemon to the water. This is entirely optional but I just find the subtle hint of lemon on asparagus to be the perfect combination!
Finally, lock the lid in place with the valve set to "Seal". Select the "Steam" setting and set for two minutes. Yes, you read that right - two minutes! The instant pot will take some time to build pressure and at that time will begin cooking. So, it doesn't need much time actually steaming.
When the timer goes off, move the valve to quick release and your asparagus will be perfectly cooked every time!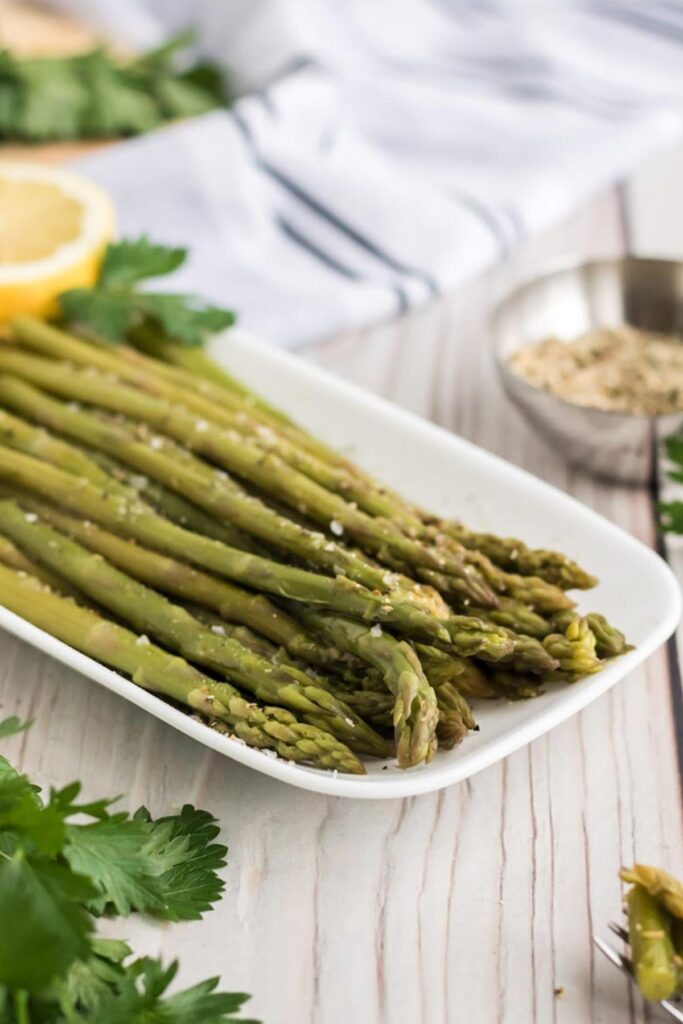 How To Season Asparagus
I like to season my asparagus with a light squeeze of fresh lemon juice, coarse salt and a sprinkle of lemon pepper. I also really love it with a hollandaise sauce but since this recipe is all about quick and easy, we will save that for another time.
How to Store Cooked Asparagus
When properly stored, cooked asparagus will be good in the fridge for about three days. Be sure to keep it in a nice airtight container.
What to serve with Instant Pot Asparagus?
I find that the green, earthy flavor of asparagus goes really nicely with sweet dishes. I love asparagus with ham or pork tenderloin. It is also compliments salmon or flounder very nicely.
Wine Pairing Guide
Asparagus is one of the most difficult vegetables to pair with wine in my opinion. It contains some acids which can easily make the wine taste bitter and metallic.
When it comes to pairing this dish with wine, stay away from oak. Keep it simple with a light-bodied white produced in stainless steel. Try something soft, subtle and slightly floral like a Sancerre or a cooler climate Chardonnay.
Did you know there is a winery in Michigan that makes Asparagus wine?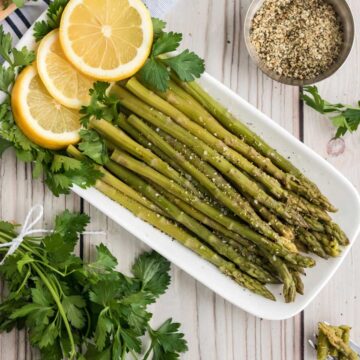 Instant Pot Asparagus
Make perfect asparagus every time with this quick and easy guide to preparing it in your instant pot! It takes less than 10 minutes from start to finish to make instant pot asparagus.
Print
Pin
Rate
Ingredients
1

lb

asparagus

1.5-2

cups

water

Use 1.5 cups for a 6 qt and 2 cups for a 8 qt
Instructions
Prepare your asparagus by thoroughly washing it and removing thick, woody stalk ends.

Place the asparagus on the steaming rack inside the instant pot.

Add the required amount of water and lemon slices, if desired.

Place the cover on the Instant Pot. Lock the lid in place and make sure the pressure valve is in "seal" position.

Select the Steam option and set the timer for 1 minute.

When the timer goes off, quickly release the pressure.

Serve with lemons, a sprinkle of coarse salt and lemon pepper.
Notes
Expert Tips for Instant Pot Asparagus:
When selecting a bunch of asparagus to buy, choose a bunch with asparagus spears that are consistent in size making it easier to cook evenly.
Be sure to trim the tough ends off the stalks of asparagus.
The asparagus cooks quickly, so make sure you stay close and as soon as the instant pot beeps, release the pressure and open the lid to prevent overcooked asparagus.
Nutrition
Calories:
23
kcal
|
Carbohydrates:
4
g
|
Protein:
2
g
|
Fat:
1
g
|
Saturated Fat:
1
g
|
Sodium:
2
mg
|
Potassium:
229
mg
|
Fiber:
2
g
|
Sugar:
2
g
|
Vitamin A:
857
IU
|
Vitamin C:
6
mg
|
Calcium:
27
mg
|
Iron:
2
mg
Have you tried making asparagus in the instant pot? Let me know in the comments!
Pin this recipe to make later