Cook up this champagne chicken recipe for an easy, but elegant one skillet meal. Juicy, tender chicken breasts cook up in a creamy champagne sauce with mushrooms, onion and garlic. This recipe is certain to be one the whole family will love.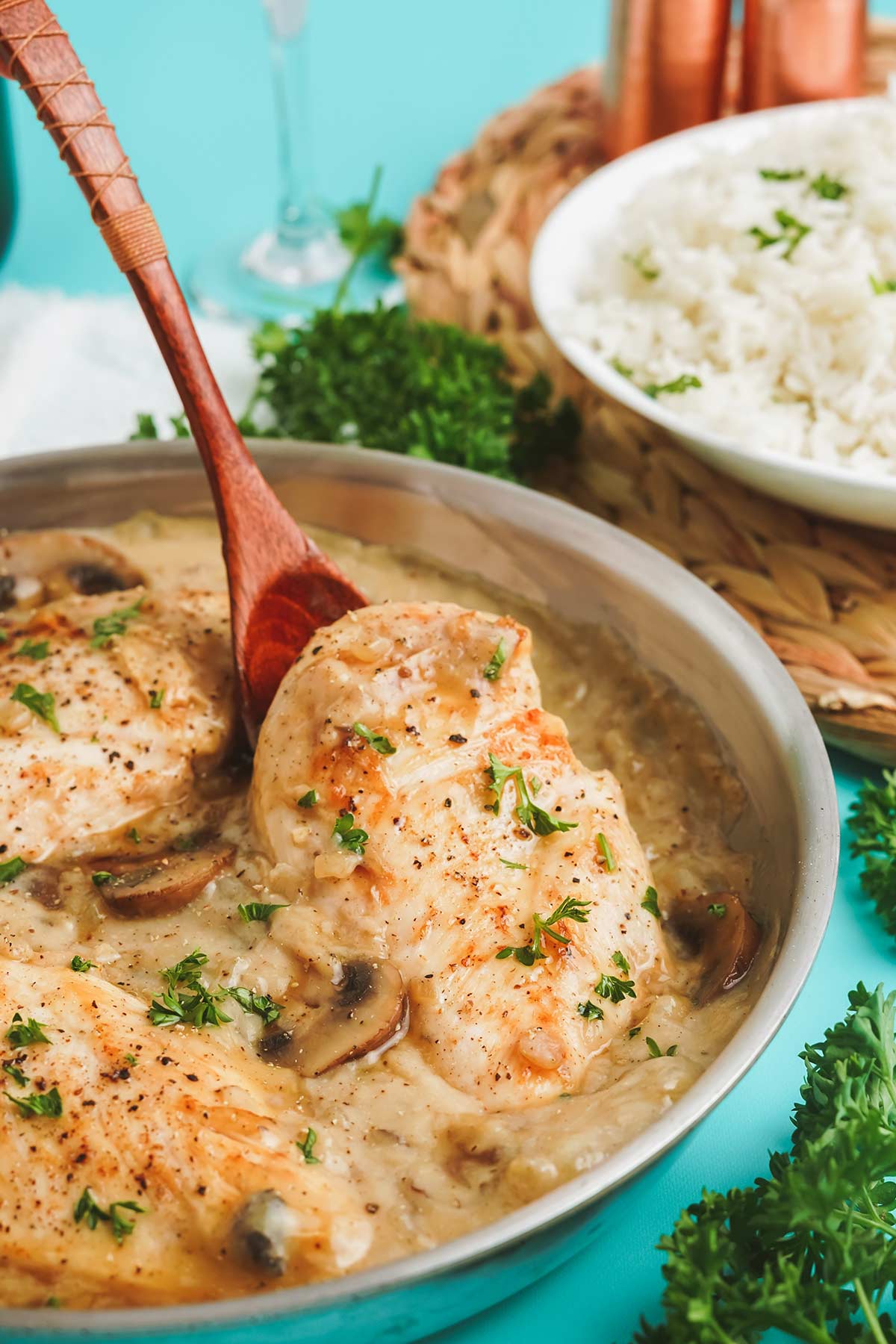 I am so excited to share this chicken and champagne cream sauce recipe with you today because not only is it super easy and absolutely delicious...it is also a recreation of the meal served at my wedding!
I knew I wanted champagne chicken to be one of the first recipes I created for this blog and I can't wait to hear what you think.
If you haven't ever cooked with champagne before, you are in for a real treat! But don't worry, I will help guide you through picking out a bottle, give you some quick tips on cooking with it and teach you how to make this pan-fried chicken cutlet dish that will impress everyone around your dinner table when it's served. Let's get started.
Ingredients You Need to Make This Recipe
To make this creamy champagne chicken recipe, you will need a few basic ingredients that are easily found in most grocery stores.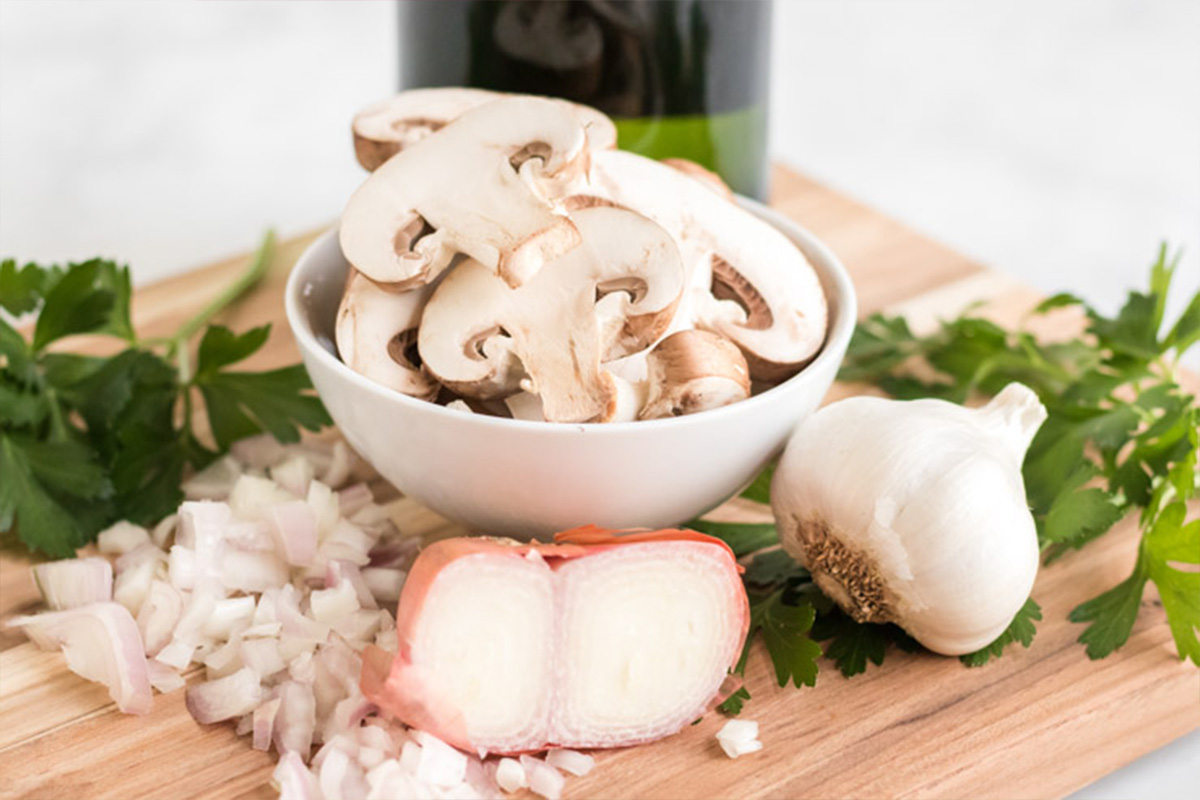 Boneless skinless chicken breasts: The chicken breasts are pounded to make thinner when making champagne chicken so starting with chicken that's ready for that step makes things much easier.
Baby portobello mushrooms: These mushrooms, also called cremini mushrooms, have a more robust mushroom flavor than white button mushrooms which is why I recommend them for making champagne chicken.
Shallot: Shallots are related to the onion that's a bit milder in flavor. If you can't find them you can swap them out with the same amount of chopped white ends of a green onion or even just replace with finely chopped sweet onion as well.
Brut Champagne: A dry champagne is essential to making champagne chicken and I explain a bit more about choosing champagne to make this recipe below.
Whole milk: I know in this day and age everyone is trying to cut down on calories and fat, but whole milk is essential to a perfectly creamy sauce. The lower fat milks have a thinner consistency that will affect the outcome of the sauce if you use them instead.
Cooking with Champagne
In this recipe for chicken with mushroom champagne sauce, you are going to cook with a Brut (dry) champagne in your kitchen and whip up a super fancy meal in 30 minutes flat with only one pan to clean!
But before I get to the recipe, I want to share some basic champagne 101 with you.
Here in the states, people commonly refer to any kind of sparkling wine as Champagne. However, REAL champagne is produced only in the Champagne region of France from a blend of Chardonnay Grapes and Pinot Noir, sometimes Pinot Meunier as well.
Cava (sparkling wine from Spain) and Prosecco (sparkling wine from Italy) are NOT true champagnes. These are simply sparkling wine. They are yummy. I love them. I drink them often...but they are not Champagne.
Champagnes range in sweetness so when you are in the store browsing the Champagne sections, you may see labels such as:
Brut (dry)
Demi-sec (mildly sweet)
Doux (sweet)
How to Pick Champagne for Cooking
For making champagne chicken, I want you to get a budget, but authentic Champagne. Most grocery stores and liquor shops have an area or aisle dedicated strictly to authentic champagne.
You will want to choose something Brut, or "dry" for this recipe. Choose something affordable, because we will be cooking with it! Although, there will be lots leftover for sipping!
I encourage you to spend some time wandering, and reading labels. Pick something that sounds good to you, or if you are in a hurry ask the wine director for some guidance.
Here are some of my personal reccomendations:
How to Make Creamy Champagne Chicken
You want to start by trimming the chicken breasts and slicing them in half to make six pieces.
Next, you're going to tenderize them using a meat mallet. If you don't have a meat mallet you can also use a rolling pin or empty wine bottle. It's important in this to ensure the pieces of chicken are even in thickness.
Then lay them all out and lightly season each chicken breast with salt and pepper.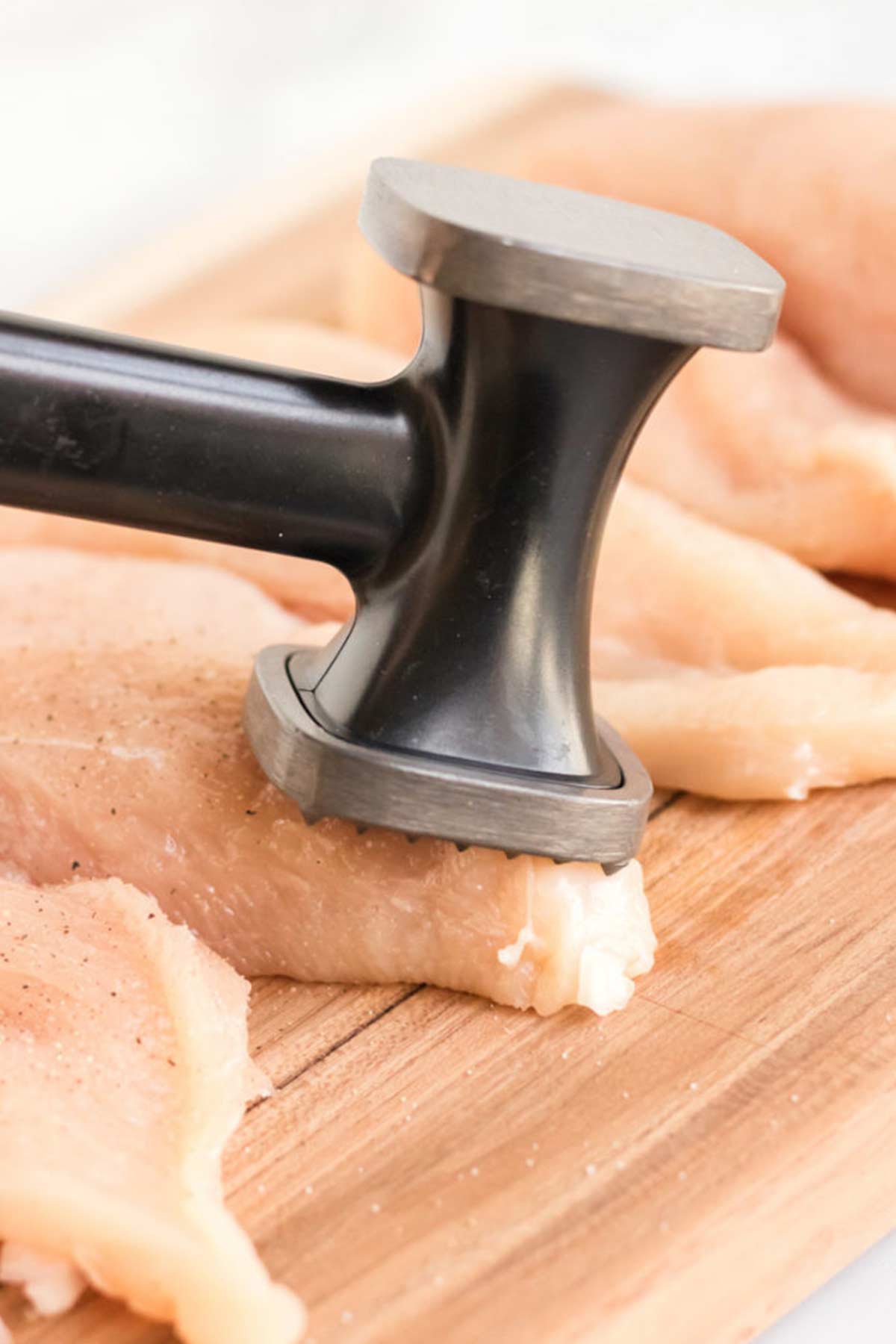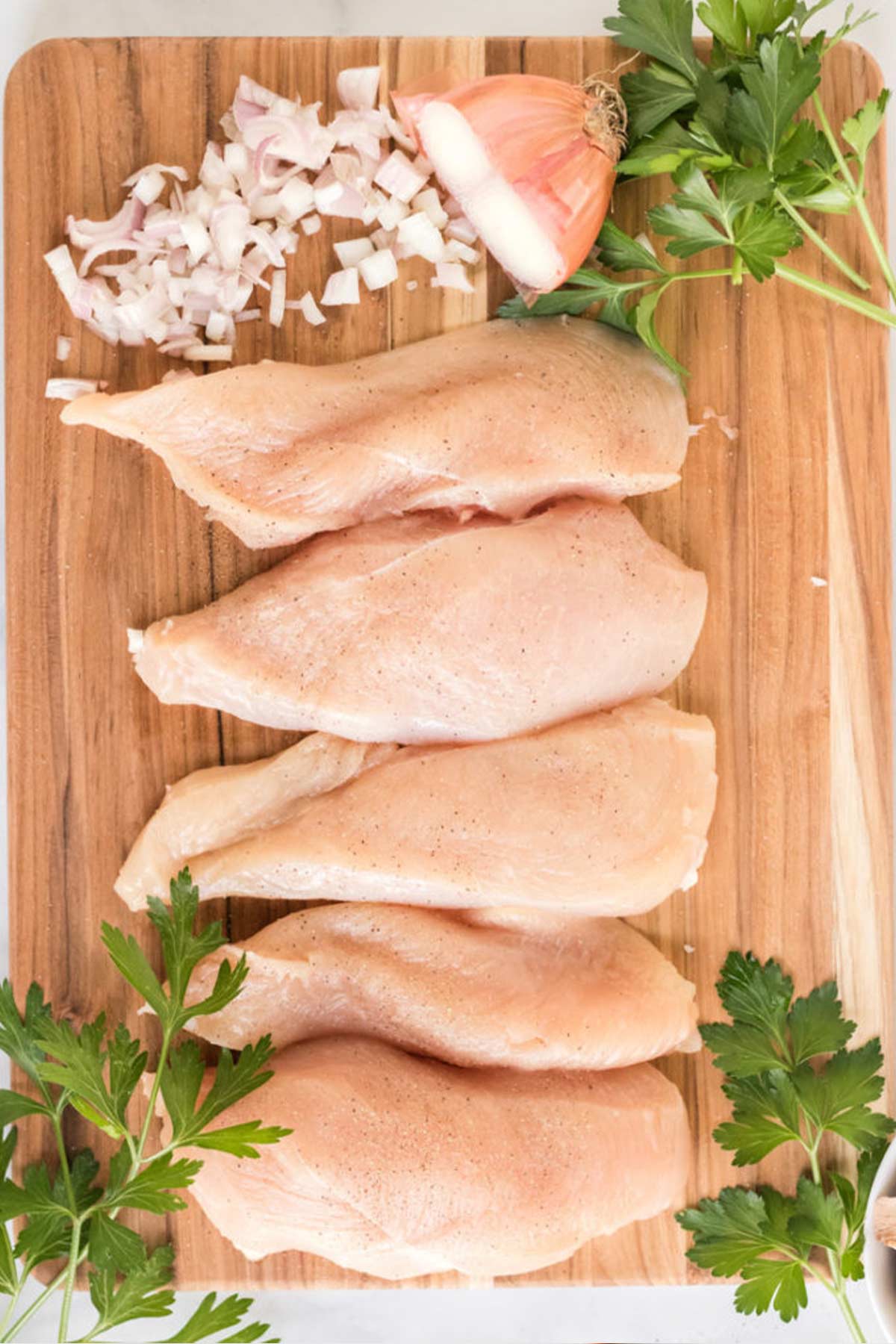 Once the chicken is all ready, you are going to heat some olive oil in a pan over medium heat and cook the chicken for about 5 minutes on each side until they are golden brown on each side. They do not need to be completely cooked...they will finish cooking in the sauce.
Remove the chicken from the pan when it's the correct color. In the same skillet you used for the chicken, add some more oil and cook the mushrooms and onions until tender.
Add the garlic and cook one additional minute. Cooking garlic too long can make it bitter. One minute is just enough to open up the flavor.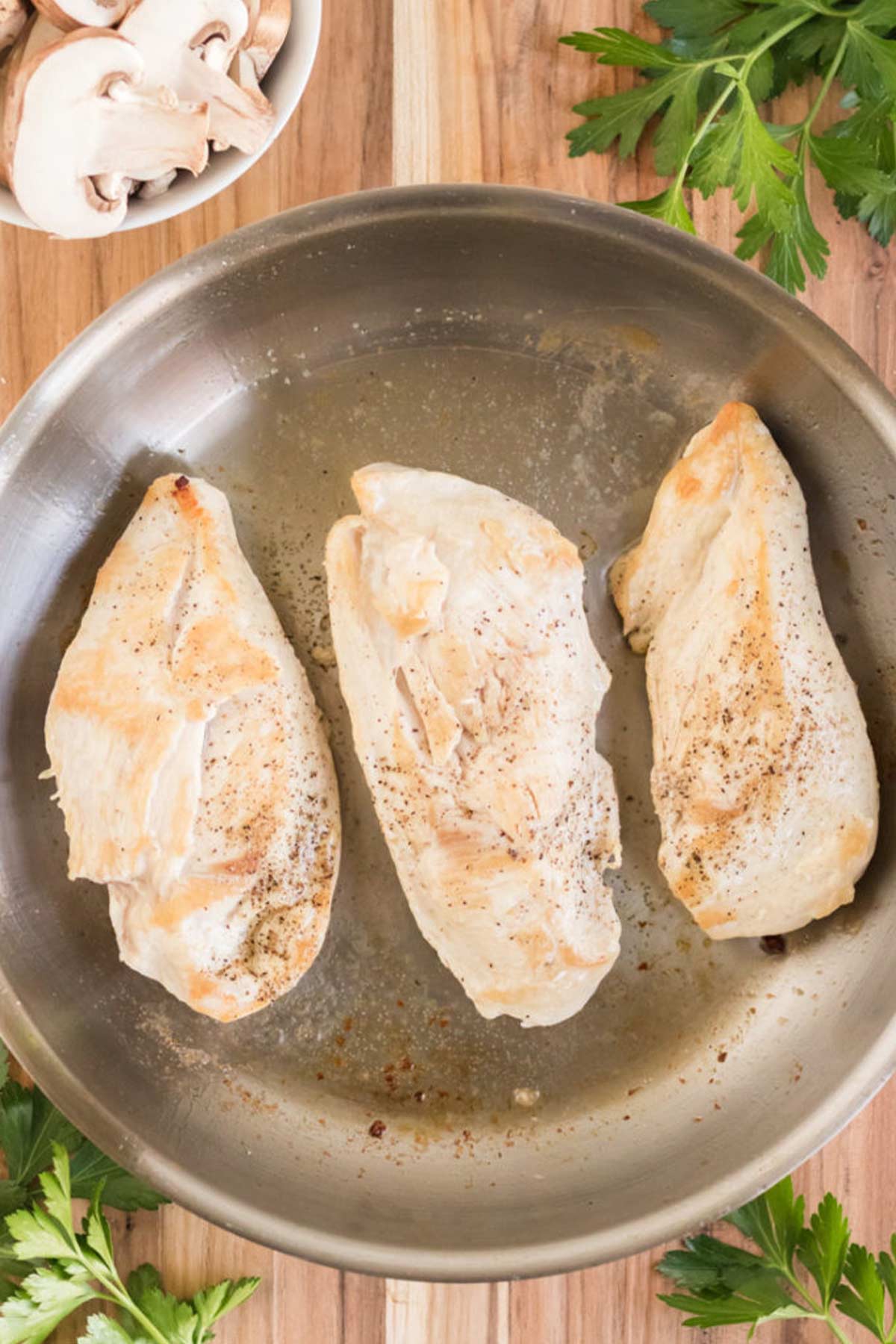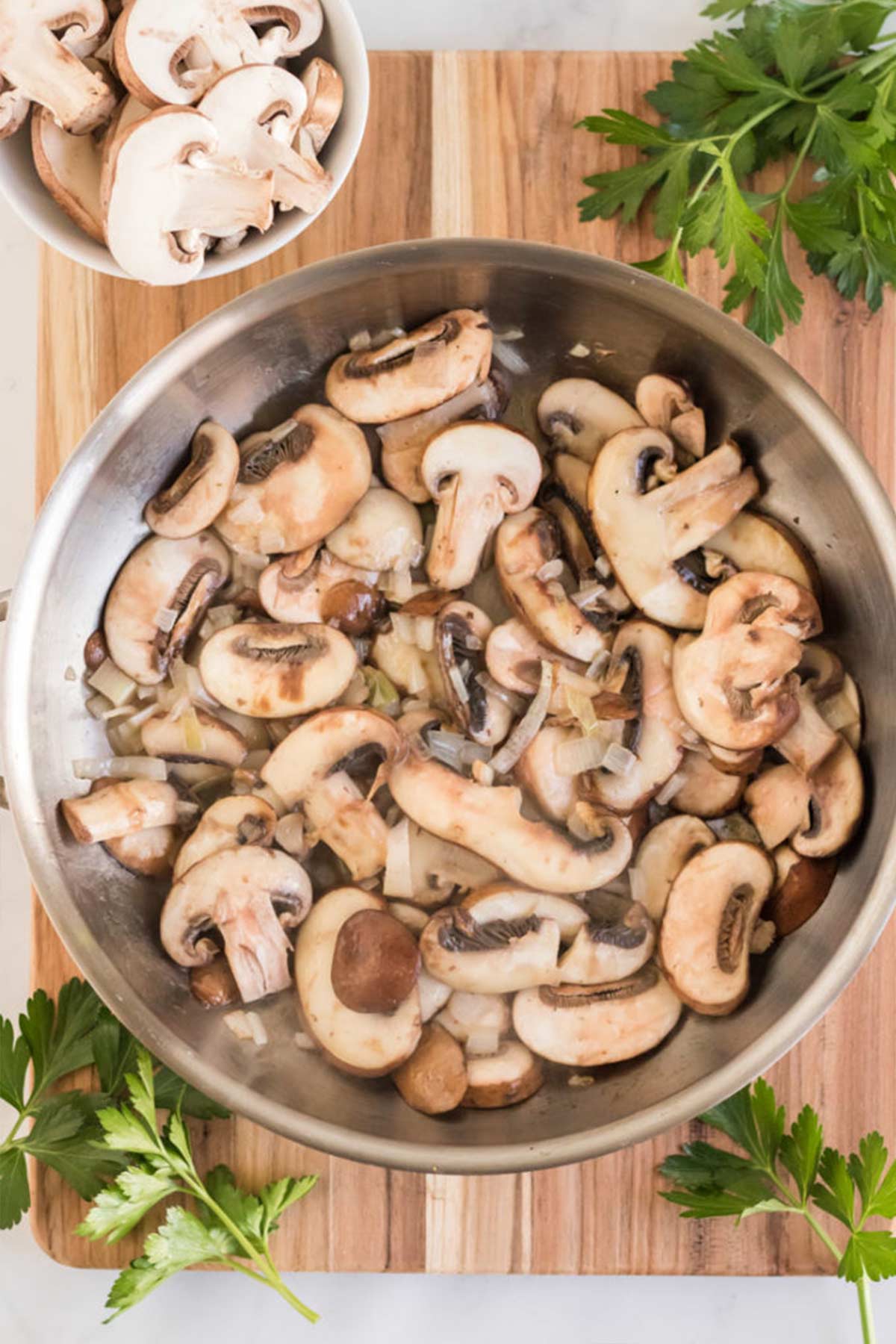 Next, add the champagne to the skillet of mushrooms. You want to bring it to a boil and then reduce the heat, simmering for about 10 minutes. Add the milk and stir until well combined.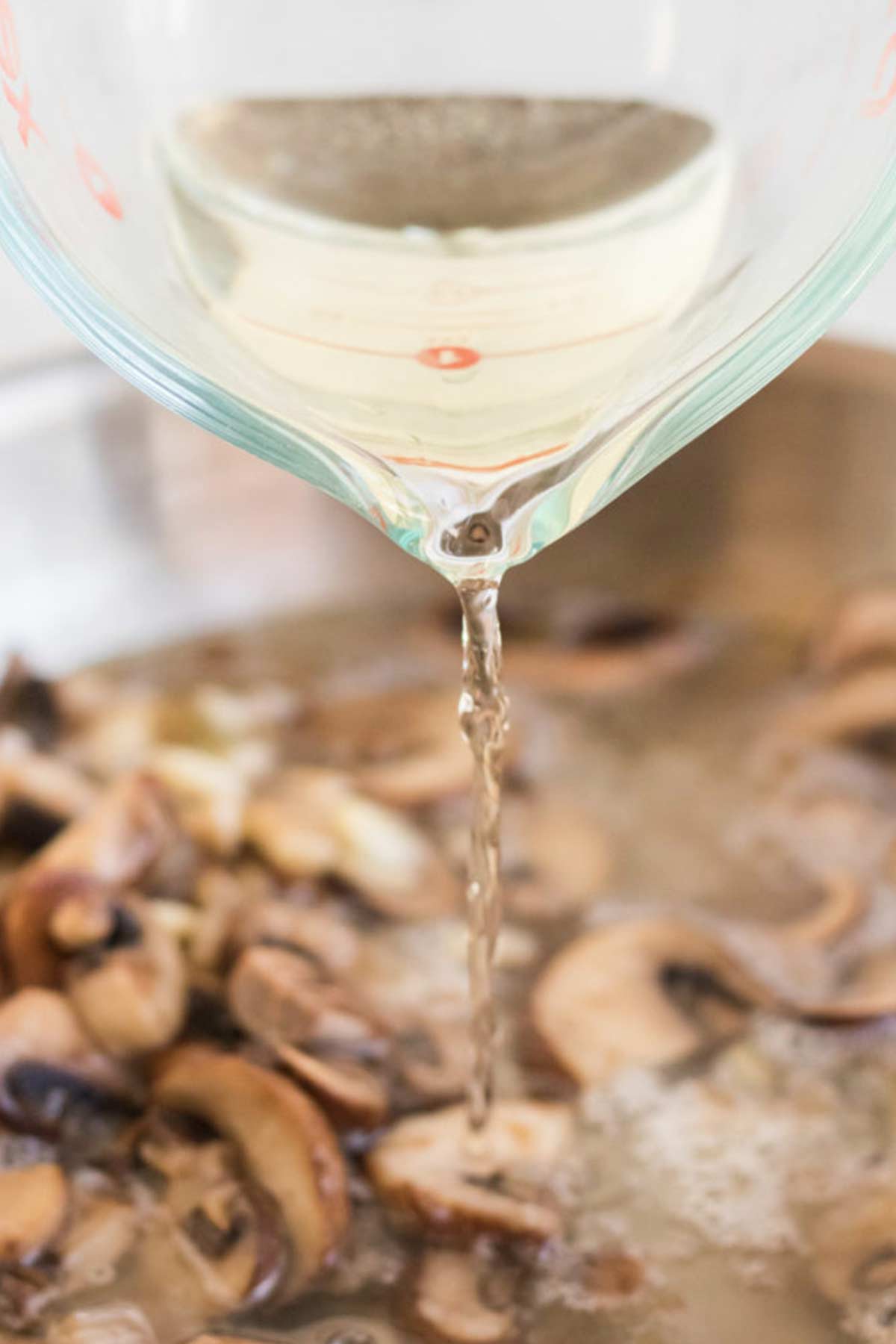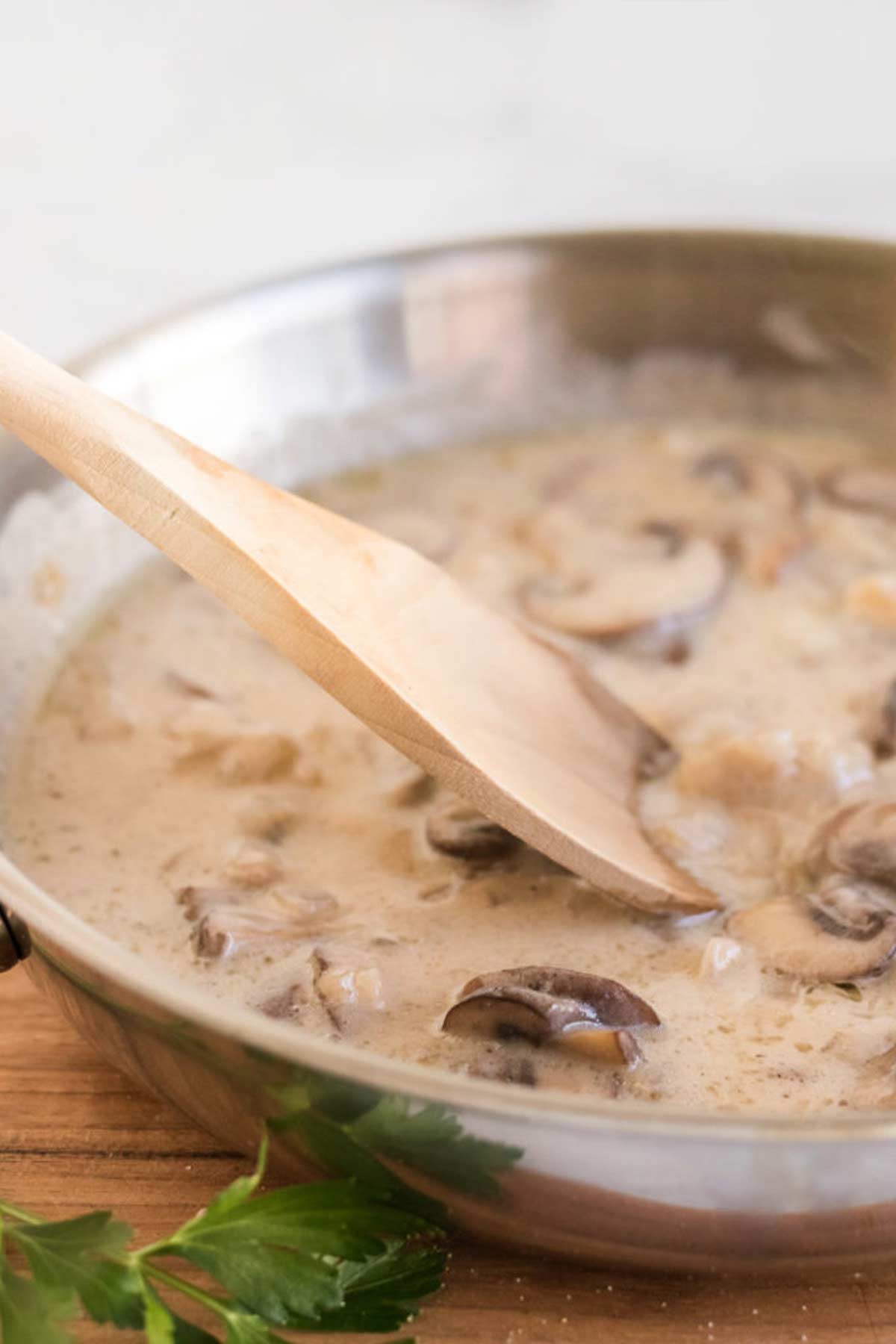 Return the chicken to the skillet with the champagne sauce to finish cooking. The chicken is finished cooking when the juices run clear or the internal temperature reads 165° F. This will take about 10 minutes.
The last step is combining the cornstarch with water and adding to the sauce to thicken it. You do not have to do this step if you feel your sauce is thick enough already, but if you want your creamy champagne chicken sauce extra thick...it's worth adding!
That's all there is to it! 30 minutes. One pan. Fancy Dinner. No problem!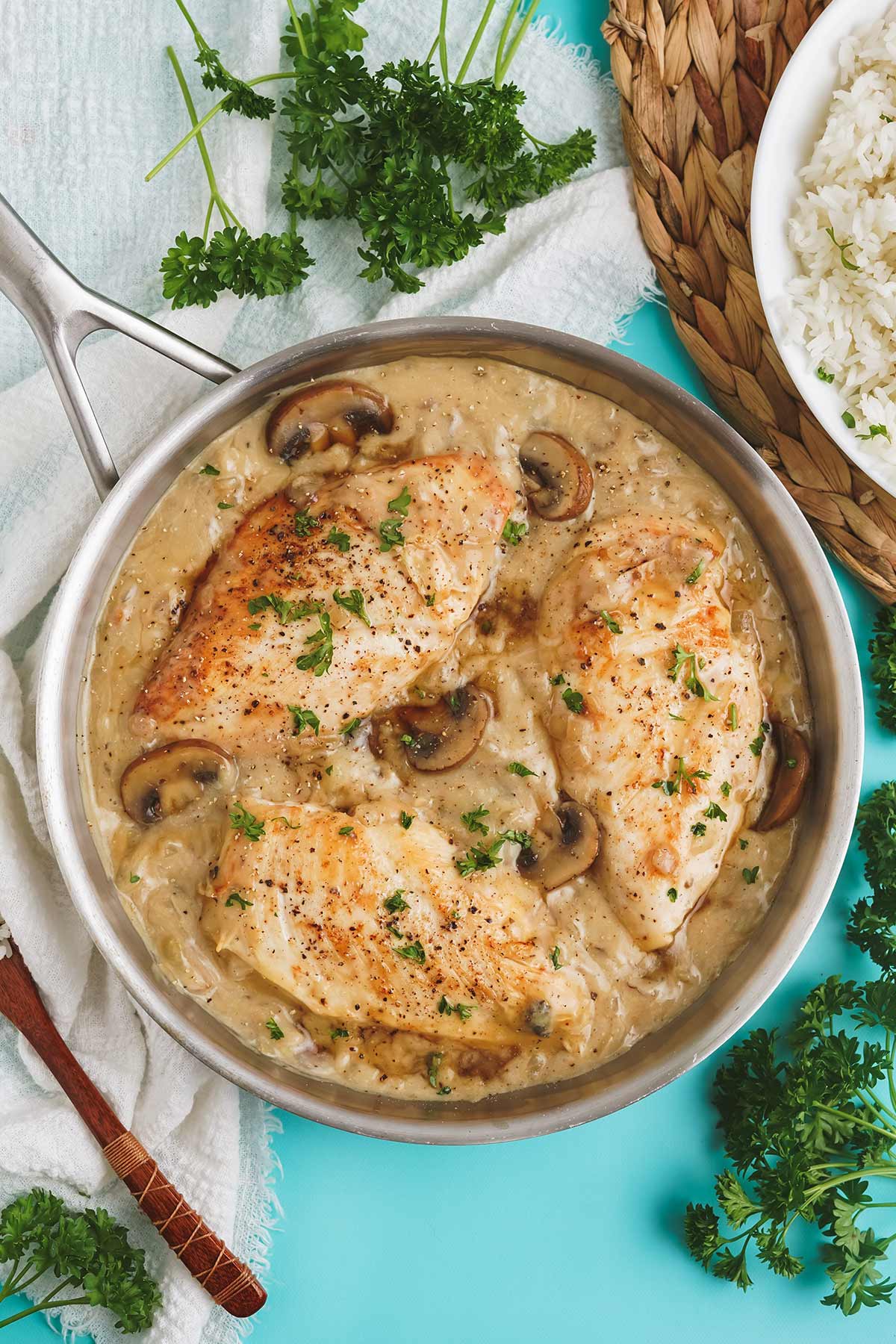 How to Store Leftovers
Storage: This meal warms up very nicely, but the sauce definitely thickens up overnight. So if you are making this meal and planning leftovers, you may consider doubling the sauce. Store in the fridge in an airtight container and eat within 2-3 days.
Reheat: You can reheat this in the microwave. I find it easier to cut up before reheating, and using less time. I feel it helps prevent the chicken from getting too rubbery.
My preferred reheat method is always the stove top though! When I reheat this, I slice the chicken and warm up the sauce first. Then add the chicken slices right at the end.
What to Serve with This Recipe
I love serving champagne chicken over rice with a simply seasoned vegetable. Here are some of my favorites!
This elegant main dish meal is perfect for special occasions such as ringing in the new year, anniversaries, birthdays or anytime you want a simple, yet beautiful main dish for dinner. Make dinner extra special with a tasty holiday pomegranate mimosa to start off!
Expert Tips and FAQS
When choosing champagne for cooking, it's best to choose something brut or dry.
Don't skip on pounding out the chicken, this step is what makes champagne chicken so incredibly tender and succulent.
Be sure not to cook the garlic for too much time, as it may get bitter.
Keep the sauce for champagne chicken at a low simmer so it doesn't over thicken. If by chance it gets TOO thick, you can add more champagne. If you find it needs to be thickened, you can do an additional teaspoon of water and cornstarch.
Can you cook with champagne?
Yes! For some reason, the bubbles throw people off. But you can cook with champagne just like you would any other wine. If you struggle to finish a bottle once you open it, you can use the leftovers in recipes for up to a week when the champagne is properly stored in the refrigerator.
What's the best champagne to buy for cooking?
You don't need to spend a fortune on champagne if you're going to cook with it. Choose something with a flavor profile that compliments the dish you will be making. Usually, when cooking with wine you will want to choose something dry.
Does cooking or heating wine remove the alcohol?
You need to cook a sauce for at least 20 to 30 seconds after adding wine for the alcohol to evaporate. This dish cooks much longer than that, so it is 100% safe to serve your entire family!
What can I substitute for champagne in a recipe?
If you absolutely cannot get your hands on champagne for this recipe, don't panic. You can still make it ... just promise me you won't call it Champagne Chicken. Ha!

If champagne isn't an option for you, go ahead and use a dry white wine. If you want to go 100% alcohol free, you could use chicken broth. My champagne-loving heart will be a bit broken, but we can still be friends.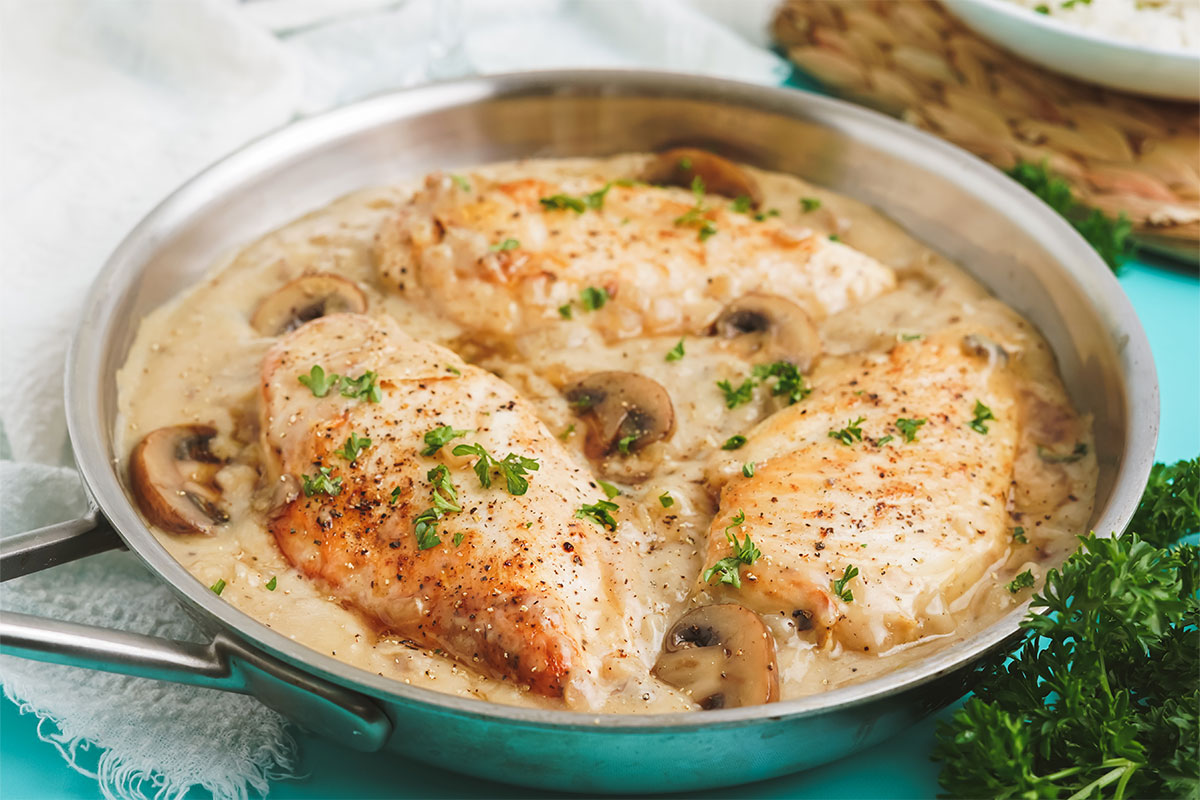 More Easy Main Dishes Recipes
Did you try this recipe? Please leave a star rating in the recipe card right below! You can also write a review in the comment section further down the page I always appreciate your feedback. And don't forget to tag me @freshcoasteats in your photos on social media, I'd love to see your results!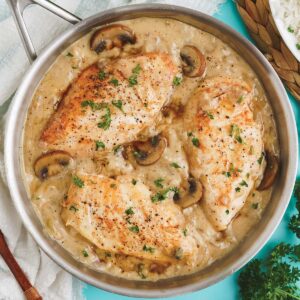 Champagne Chicken
Juicy, succulent chicken breasts cook up in a champagne sauce with creamy mushrooms, onion and garlic. An easy, but elegant one skillet meal that any level cook can make!
Print
Pin
Rate
Ingredients
3

chicken breasts

boneless, skinless

salt and pepper to taste

4

Tablespoons

olive Oil

14

ounces

baby portobello mushrooms

sliced

1

shallot

chopped

3

cloves

garlic

minced

1

cup

brut (dry) champagne

⅔

cup

whole milk

1-2

teaspoons

cornstarch

½

teaspoon

salt

¼

teaspoon

pepper

optional- parsley for garnish
Instructions
Prepare the chicken breasts by pounding with a tenderizer to ensure even in size. Slice each chicken breast in half, to make six servings. Lightly season both sides with desired amount of salt and pepper.

In a large skillet, heat 2 Tablespoons of oil over medium heat. Add chicken to skillet and cook for about 5 minutes on each side or until golden brown on both sides. Remove from skillet and set aside. 

In the same skillet, add the remaining 2 Tablespoons of olive oil. Cook the shallots and mushrooms together until tender. Add garlic and cook for one additional minute. 

Pour in the champagne. Bring to a boil, then reduce heat to a simmer and cook for about 10 minutes. 

Add the milk and stir to combine, then place the chicken back in the skillet and cover with sauce. Continue to simmer 10 minutes or until chicken is cooked through. 

Mix cornstarch with an equal amount of water, and add to skillet. When sauce begins to thicken, remove from heat, top with fresh parsley and serve. 
Notes
Expert Tips for Making Champagne Chicken:
When choosing champagne for cooking, it's best to choose something brut or dry.
Don't skip on pounding out the chicken, this step is what makes champagne chicken so incredibly tender and succulent.
Be sure not to cook the garlic for too much time, as it may get bitter.
Keep the sauce for champagne chicken at a low simmer so it doesn't over thicken. If by chance it gets TOO thick, you can add more champagne. If you find it needs to be thickened, you can do an additional teaspoon of water and cornstarch. 
Nutrition
Calories:
165
kcal
|
Carbohydrates:
2
g
|
Protein:
13
g
|
Fat:
12
g
|
Saturated Fat:
2
g
|
Cholesterol:
39
mg
|
Sodium:
271
mg
|
Potassium:
245
mg
|
Sugar:
1
g
|
Vitamin A:
61
IU
|
Vitamin C:
1
mg
|
Calcium:
33
mg
|
Iron:
1
mg
Have you tried this recipe? Let me know what you think in the comments!
Pin this recipe for later on Pinterest! It would be great for New Years Eve, Valentines or a special date night at home!