This pink grapefruit mimosa recipe is made with sparkling wine and fresh pink grapefruit juice for a quick and easy cocktail that is perfect all year long.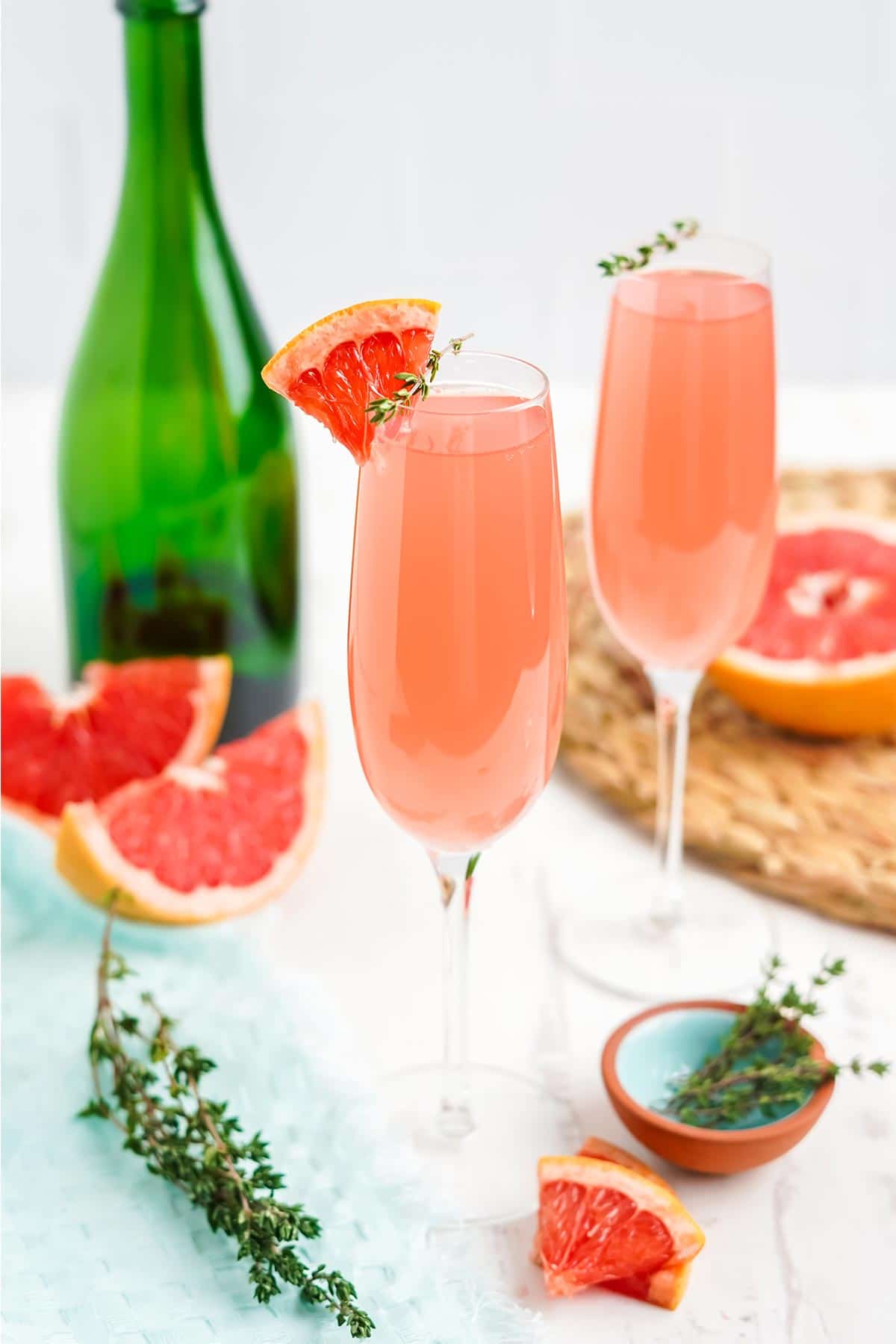 Mimosas are my favorite cocktail to serve when I am looking for simplicity and ease. I love that they require minimal ingredients and no preparation.
My favorite thing about mimosas is changing up the flavor to fit the season. I love enjoying a Lavender Mimosa in the spring and summer and Pomegranate Mimosas around the holidays and of course there is nothing like a Classic Orange Mimosa in the summertime!
This pink mimosa can be enjoyed all year long but will be especially nice in the winter when grapefruits are in season and you can enjoy fresh-pressed juice.
Serve up a pretty pink mimosa for a special brunch celebrating Mother's Day, Valentine's Day or even Easter. They're even fun to use for showers and other themed parties.
Let me show you how you can make a fresh pink grapefruit mimosa at home in under five minutes!
Jump to:
Best Wine for Mimosas
Before we get started it's important to talk about what the best wine is to make mimosas.
There are three sparkling wine types you can use to make bubbly mimosas.
Champagne: Most people automatically think of champagne when it comes to a sparkling cocktail. Champagne is the most expensive option but the flavor profile is wide. A true champagne has a bit of minerality to its flavor and a strong lingering finish.
Prosecco: One of my favorite sparkling wines for mimosas. It is light on the palate with a crisp finish and usually has a very fruity profile.
Cava: This sparkling wine from Spain is earthy like Champagne, but has a little less of an acidic finish.
Ingredients
This super simple cocktail requires just two ingredients and one optional garnish. To make this recipe you will need: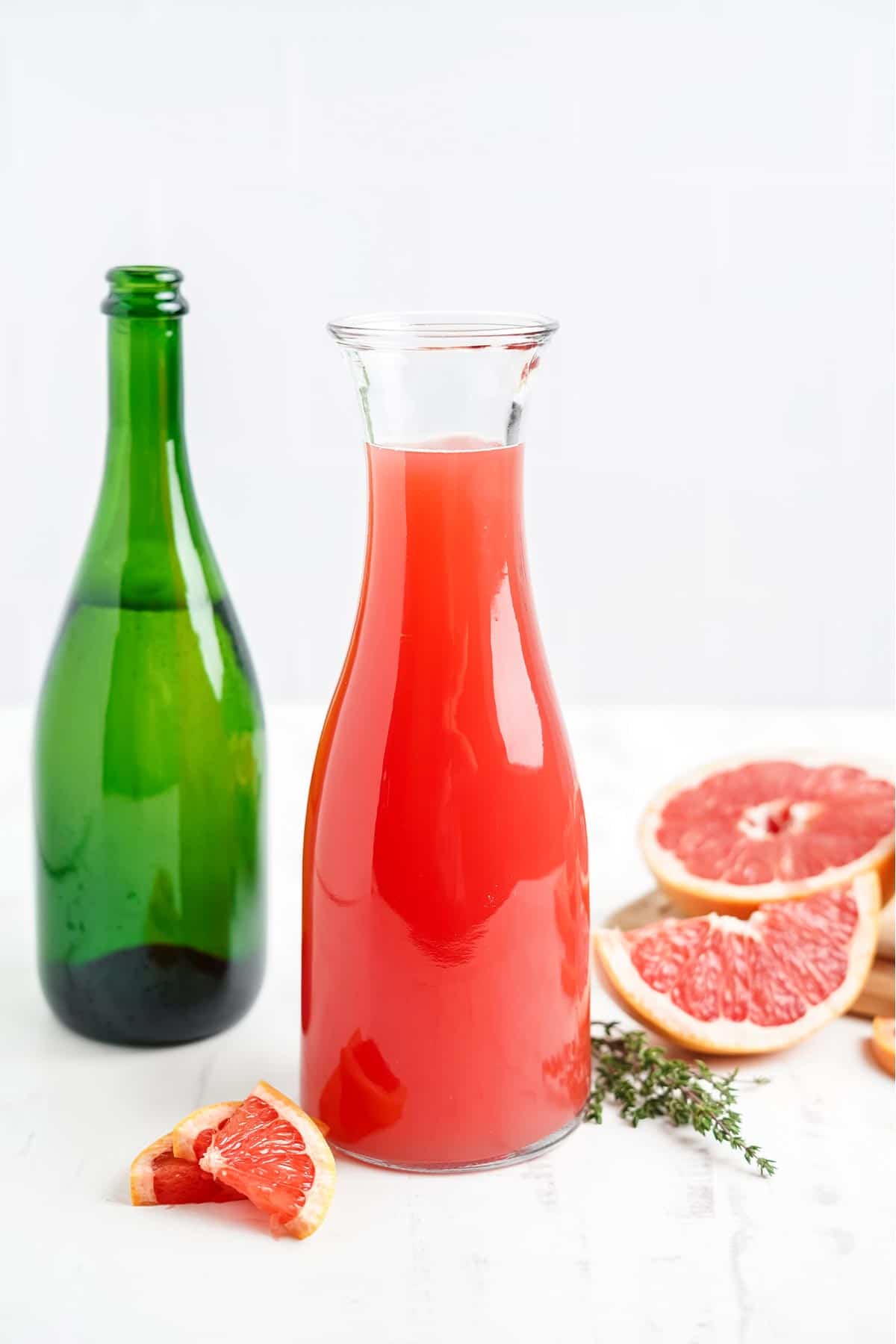 Champagne, Prosecco or Cava: Any of these sparkling wine options will work when it comes to the bubbly you use to make pink mimosas. Be sure to choose Brut or "dry".
Pink Grapefruit Juice: Fresh is best! To make this recipe you will need about 3-4 large grapefruits depending on their size and juiciness.
You can use a handheld juicer to squeeze them or manually squeeze them over a glass. If you are making a big batch for a crowd you can use a juicer. In a pinch, go ahead and use bottled juice.
Thyme: This is an optional garnish that really takes the flavor to the next level. Thyme is a complimentary flavor to grapefruit. There is no need to go out and buy a big batch if you don't have any at home. But if you do happen to have some leftover from a recipe or are making these pink mimosas for a special event and lots of people, definitely add it on!
Substitutions
If you want to enjoy this beverage but have health restrictions, here are some substitutes you can use.
Sparkling Wine - To make a non-alcoholic pink grapefruit mimosa, you can use sparkling water instead of wine.
Pink Grapefruit Juice - I recommend fresh squeezed, but bottled juice is fine if you need a shortcut. You can also use regular grapefruit juice if your not a fan of the fun color.
Thyme: I love garnishing my mimosa recipes with fresh herbs but if you don't like thyme you can use romemary or mint instead.
Equipment
Here are some of my favorite tools for making this pink mimosa at home:
Citrus juicer - I love this little hand juicer. It comes with three sized heads to accomodate grapefruits, oranges, lemons and limes of all sizes.
Champagne Flutes- I own a set of these Amazon flutes and love them. You could also go for a stemless option as well.
Wine chiller or Ice bucket - I think these pink mimosas would be so cute at a baby shower brunch or wedding shower. When I serve these at a party, I love placing the bottle in an ice bucket to keep things cold for my guests.
How to Make a Pink Grapefruit Mimosa
Making this simple drink is so easy! Anyone can master making the perfect mimosa cocktail!
Start by filling half of your champagne flute with pink grapefruit juice.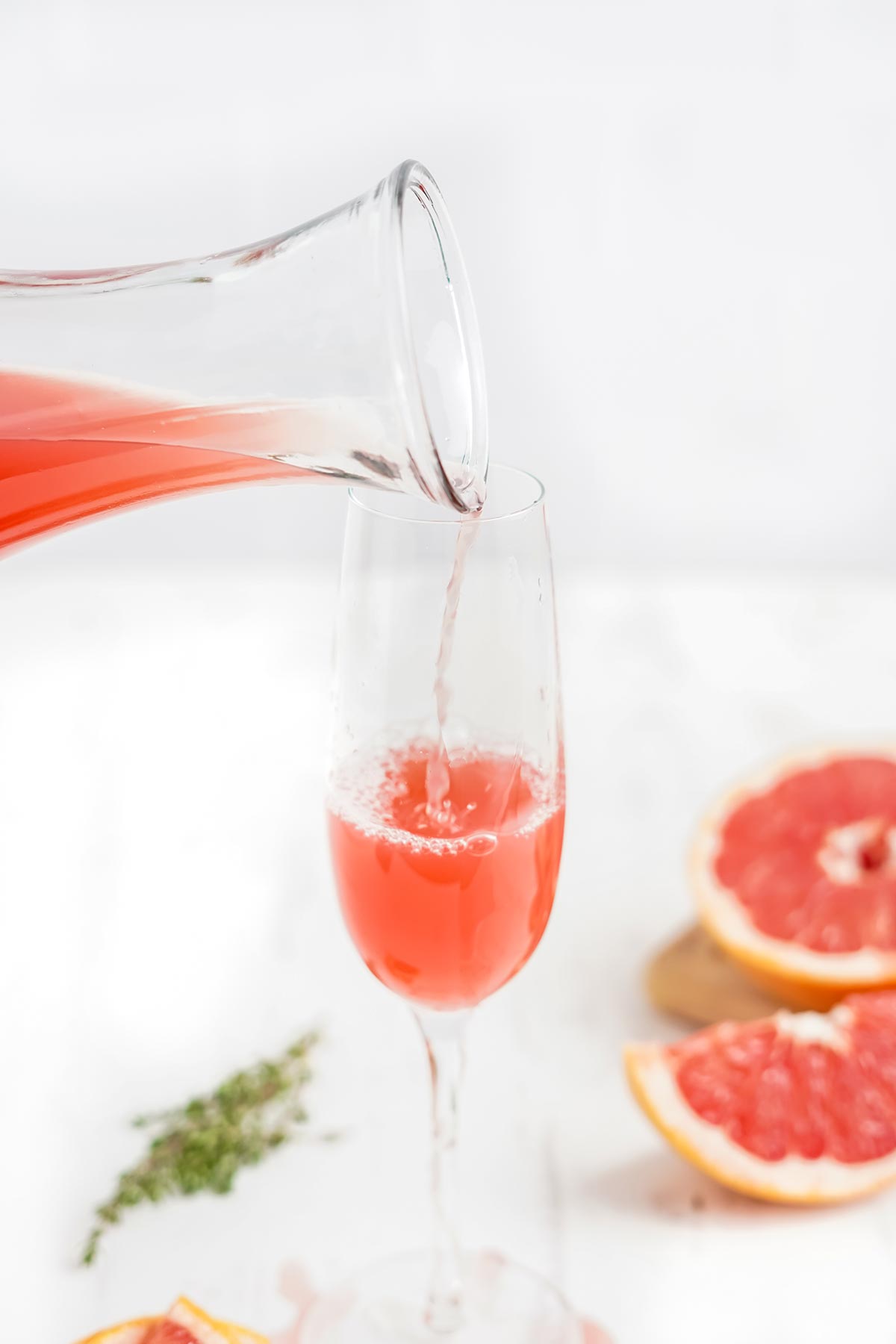 Next, fill the rest of the glass with the sparkling wine of your choice.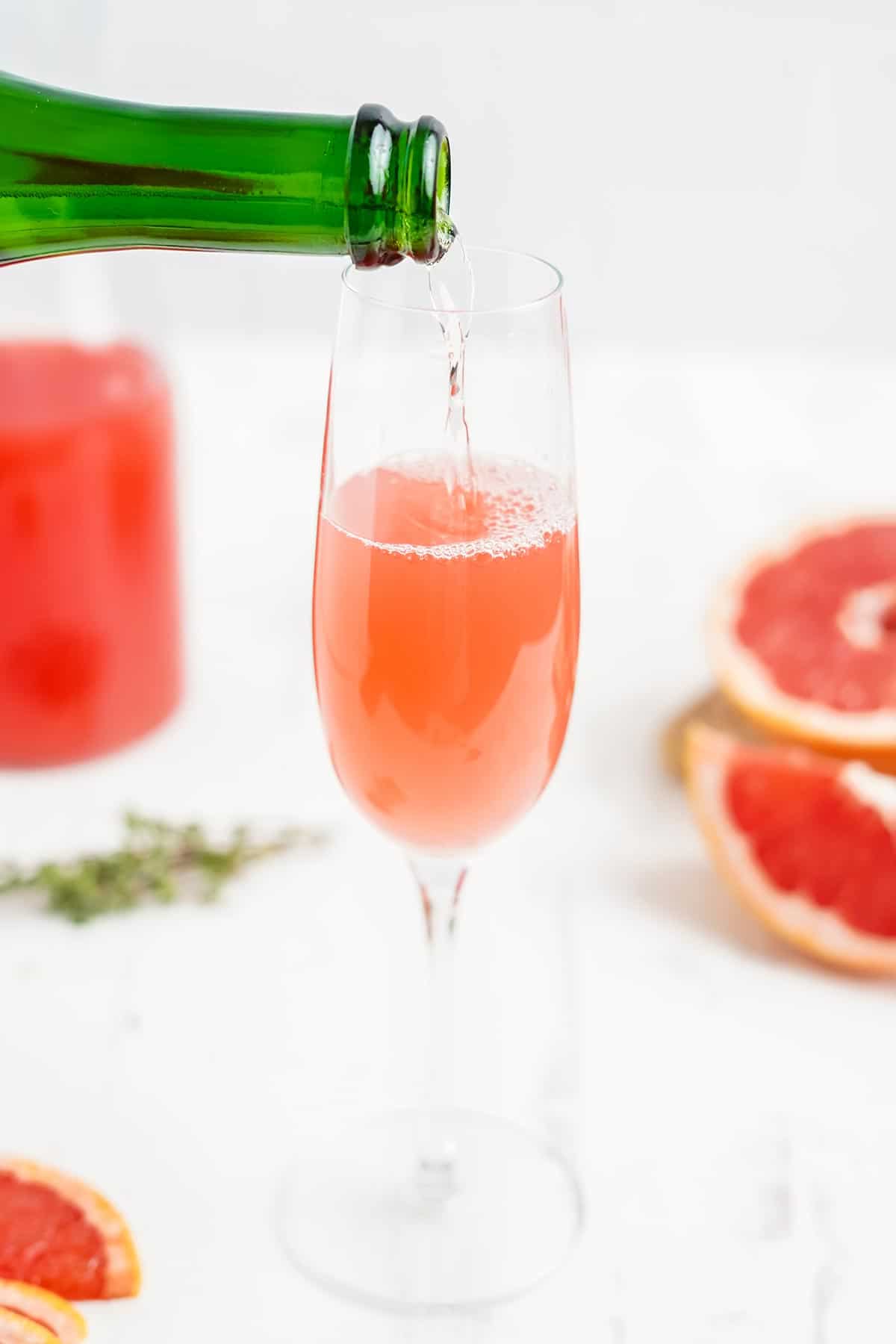 Finish by using the garnish of your choice to make the drink extra special.
Serving Pink Mimosas for a Crowd
As mentioned above, this is one of my favorite cocktails to serve at parties because you can just set it out and allow guests to make their own. I like to set out the bottles in a Wine chiller or Ice bucket and place glasses out with a small bowl of garnishes on the side.
Alternatively, you can make them in a pitcher using the 50/50 ratio of sparkling wine to juice. Just make sure you have a large stirring utensil available because the juice will settle to the bottom of the pitcher.
Storage
If you are lucky to have any leftover mimosa ingredients, it is best to store them separated. When sparkling wine is properly sealed, it will keep its bubbles for up to 48 hours. If pre-mixed with the orange juice, it won't last that long.
Expert Tips and FAQS
Use fresh squeezed grapefruit juice for best flavor.
Chill the sparkling wine and juice before mixing and serving up grapefruit mimosas.
Make pink mimosas with a "brut" or dry sparkling wine.
Should a mimosa be served with ice?
No. It is important to properly chill both the sparkling wine and juice before serving. Ice will water down the drink.
How can I make a mimosa without alcohol?
Yes, use sparkling water in place of the sparkling wine for alcohol-free mimosa.
What kind of glass do I serve a mimosa in?
A classic champagne flute or stemless champagne glass is the traditional glassware for mimosas.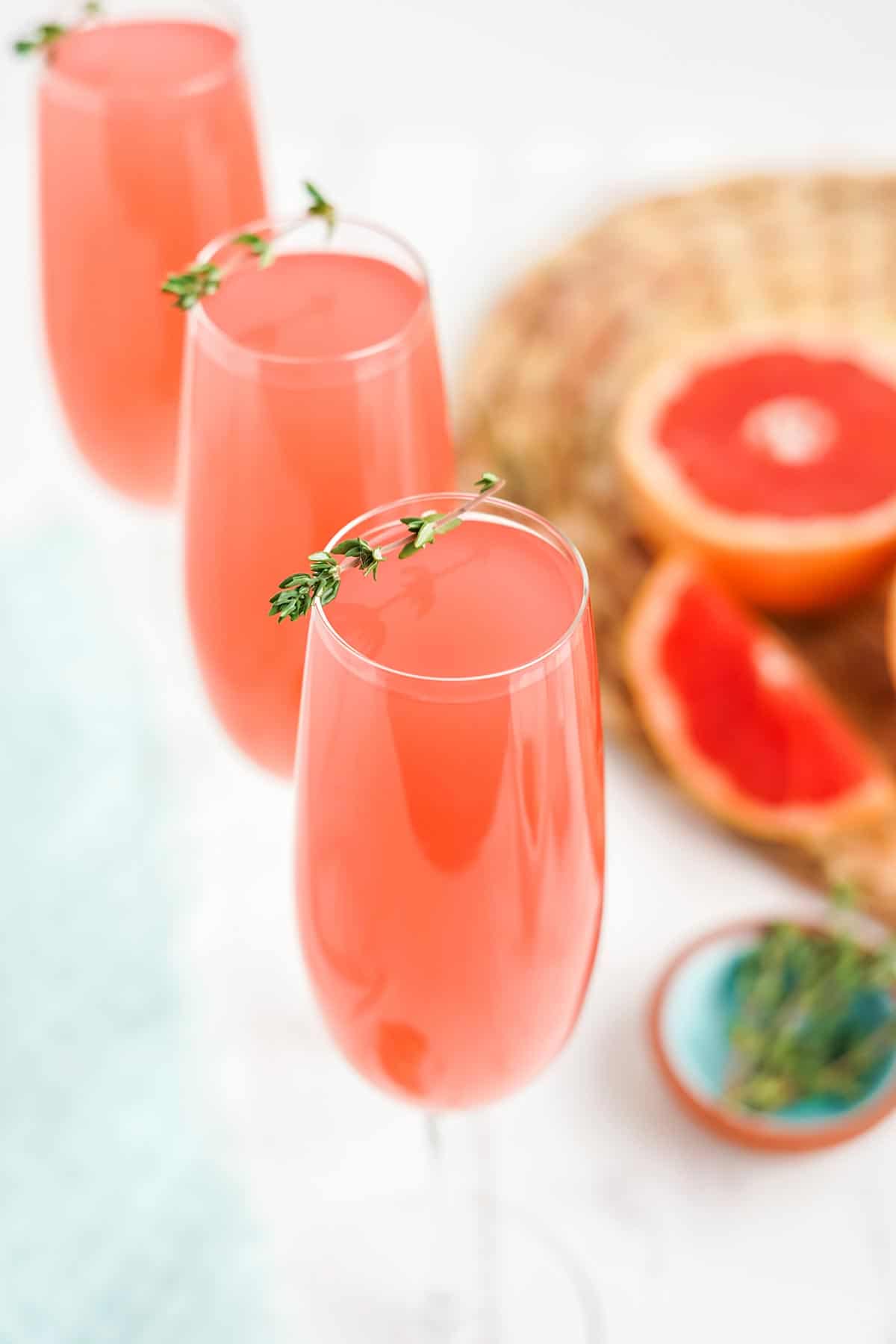 More Delicious Drink Recipes
Did you try this recipe? Please leave a star rating in the recipe card right below! You can also write a review in the comment section further down the page I always appreciate your feedback. And don't forget to tag me @freshcoasteats in your photos on social media, I'd love to see your results!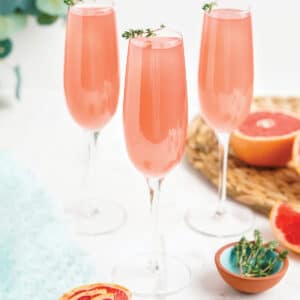 Pink Grapefruit Mimosa
This easy-to-make pink mimosa is perfect for winter brunch or events when grapefruit is in season and at its peak. Pink grapefruit mimosas are perfect for large gatherings and grops too.
Print
Pin
Rate
Ingredients
1

750 ml

bottle sparkling wine

dry and chilled

3

cups

grapefruit juice

freshly squeezed and chilled
Instructions
Fill 8 champagne flutes halfway full of grapefruit juice.

Fill the rest of the glasses with sparkling wine, adding more or less if desired.
Notes
Expert Tips for Making Pink Grapefruit Mimosas:
Use fresh squeezed grapefruit juice for best flavor.
Chill the sparkling wine and juice before mixing and serving up grapefruit mimosas.
Make pink mimosas with a "brut" or dry sparkling wine.
Nutrition
Calories:
41
kcal
|
Carbohydrates:
10
g
|
Protein:
1
g
|
Fat:
1
g
|
Sodium:
2
mg
|
Potassium:
143
mg
|
Fiber:
1
g
|
Sugar:
10
g
|
Vitamin A:
6
IU
|
Vitamin C:
24
mg
|
Calcium:
7
mg
|
Iron:
1
mg