I tested 3 different cooking temperatures for making the best air fryer turkey bacon and discovered the perfect way to cook turkey bacon in the air fryer so it turns out perfectly every single time!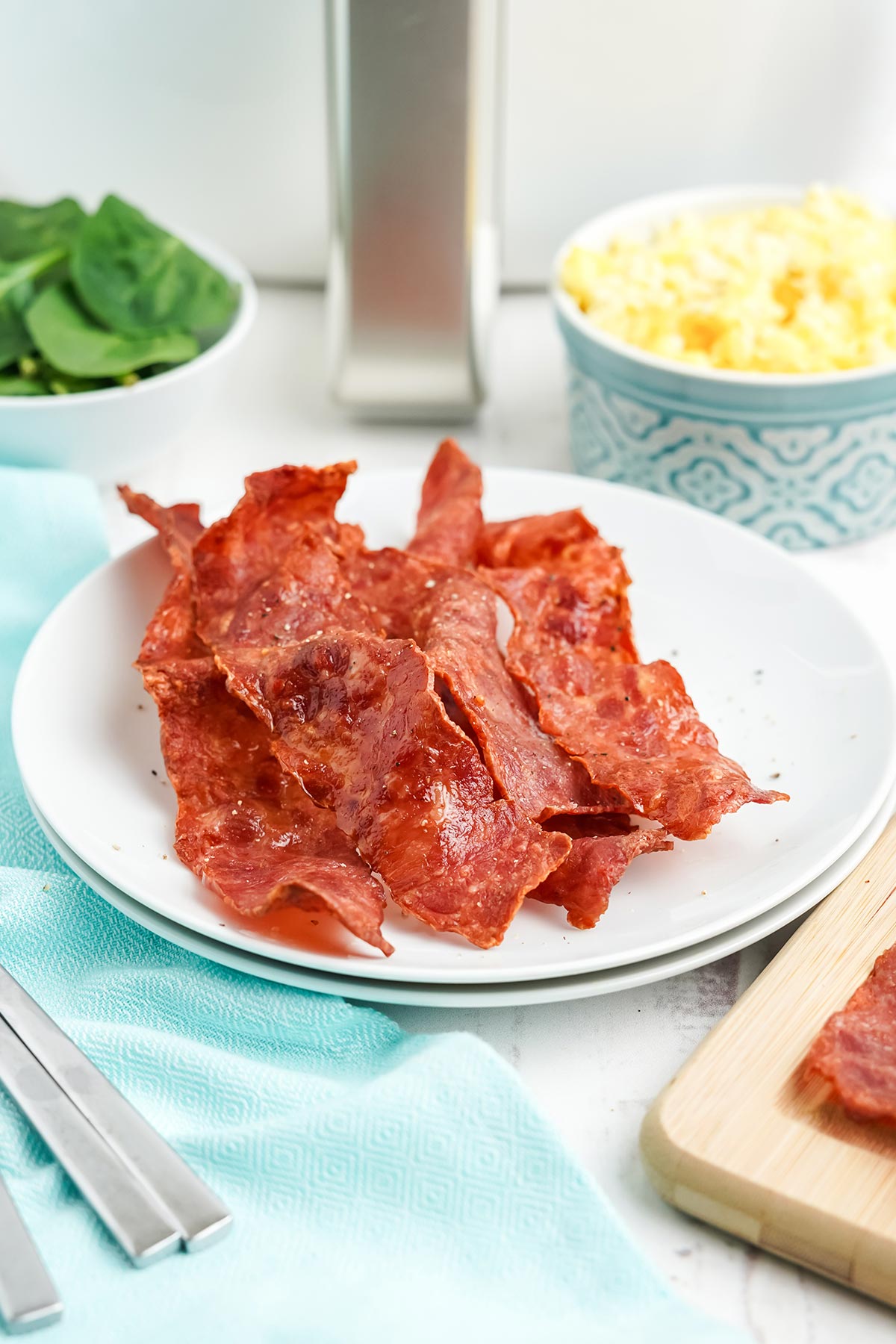 If you haven't cooked turkey bacon in the air fryer before, you are missing out! Air fryers cook food by circulating hot air around it. The result is extremely crispy bacon that is perfectly and evenly cooked in a fraction of the time it would take to bake or fry it.
I've tested my way through three different cooking temperatures and this simple method never fails!
Preparing this breakfast side dish has never been easier, I can't wait to share what I've learned with you!
Crispy turkey bacon slices are perfect to serve up with Oat Flour Pancakes for a delicious, home-cooked healthy breakfast. It's also an amazing side for crispy and fluffy Belgian Waffles or to replace the regular bacon in a lunchtime Cobb Salad or Turkey Bacon Wrap.
Jump to:
What is Turkey Bacon?
Before we talk about how to make it, it's important to know what turkey bacon actually is.
Regular pork bacon comes from the fatty belly portion of a pig. While it is unarguably delicious, it is also loaded with fat and sodium leading many people to seek a healthier alternative. That is where turkey bacon comes in!
Turkey bacon is a mixture of light and dark meat from a turkey that is smoked, cured, and pressed into bacon-like slices. While it is processed, it is a much leaner option and can be used all the same ways as regular bacon.
The key to tricking your palate into thinking it's the real deal is cooking it properly so the texture is light and crispy. Let me show you how!
Ingredients
To make this easy turkey bacon recipe, all you need is turkey bacon.
Applegate, Oscar Meyer, Wellshire, Butterball, and Jimmy Dean are all popular brands rated very highly by America's Test Kitchen.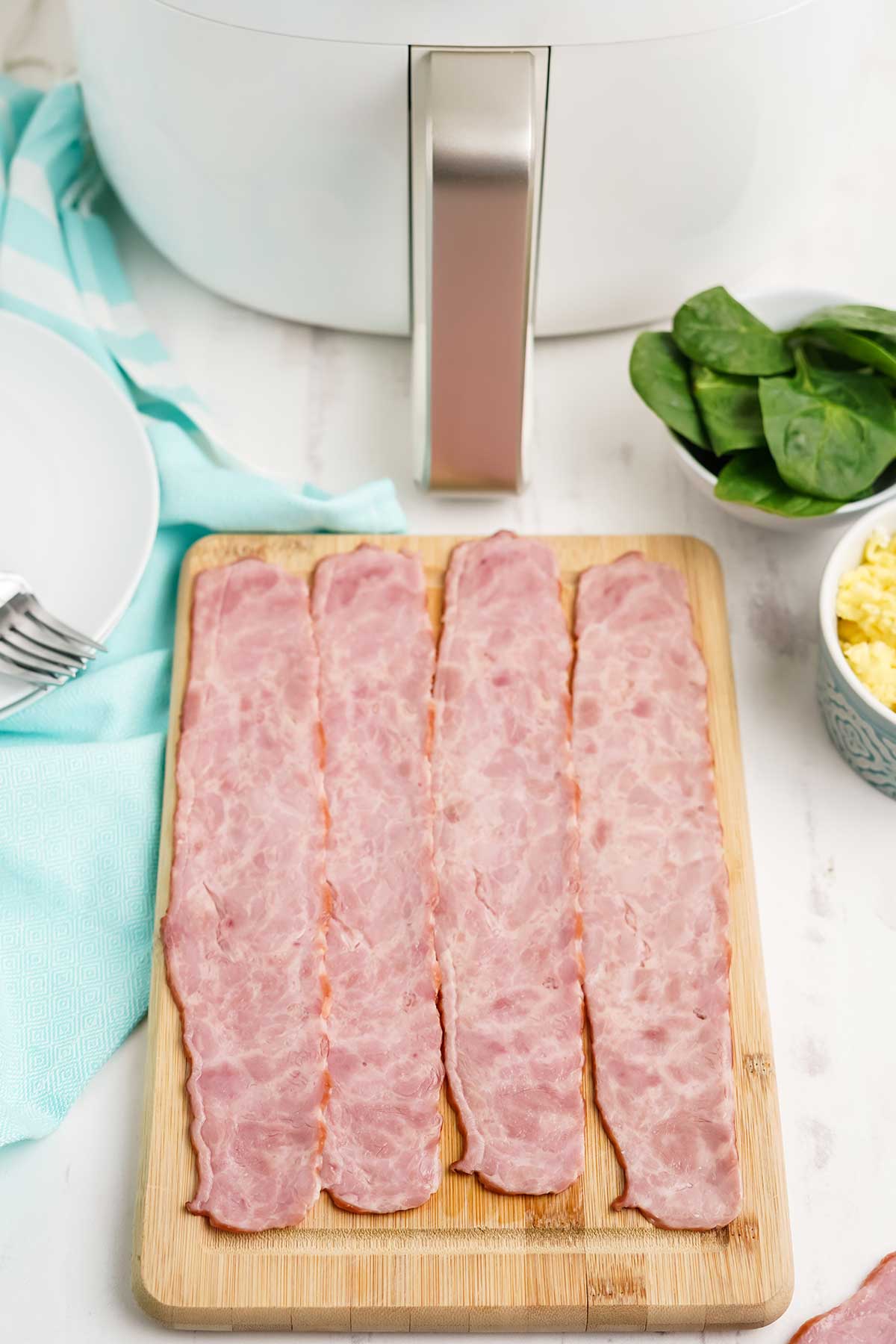 Equipment
The only equipment you need to make air fryer bacon is an air fryer.
I love the Phillips XL air fryer. It is great for big families and as a family of six, I appreciate the size!
Testing for Perfect Results
Step 1: Determining the perfect cooking time.
For this experiment, I wanted to aim for a 5 minute cooking time. From making turkey bacon in the past, I knew that getting it perfectly crispy at 5 minutes wasn't ideal and you really do need to flip it at some point.
I think the perfect cooking time is 5 minutes on one side, flipping and then cooking for 2 more minutes.
So for this experiment, that is how long each batch will be cooked.
Step 2: Finding the perfect cooking temperature.
Next, you will want to preheat the air fryer. But what is the perfect cooking temperature for air fryer bacon?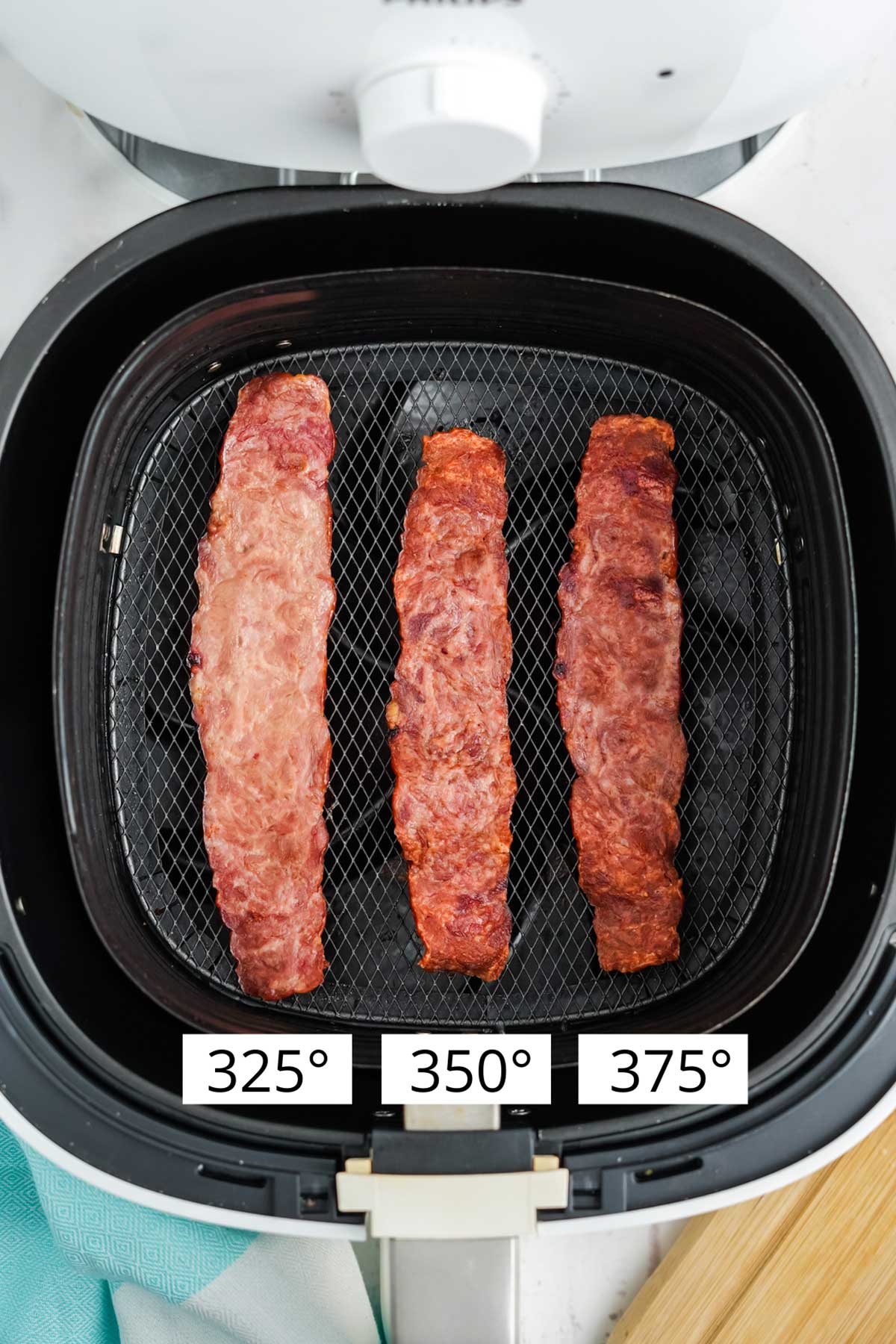 These are the results of my experiment.
At 325 degrees for 7 minutes, the bacon was technically done. However you can see the edges crisped up nicely but the center was still a little soft. While ideal poultry temperature was reached, the bacon was flimsy.
At 350 degrees, the bacon was perfect! It held its shape very well and was perfectly golden brown and crisp.
At 375 degrees, the bacon started to overcook quickly. It was pretty close to being done at 5 minutes however it was somewhat uneven and when place back in for the final 2 minutes it started to overcook very quickly.
As you can see from above, 350 degrees F is the ideal cooking temperature for cooking turkey bacon into crispy, browned pieces of bacon on most air fryer units. However, it is always best to follow your manufacturer's recommendations for bacon.
How to Cook Turkey Bacon in the Air Fryer
Now that we have determined the perfect cooking temperature for using the air fryer to cook turkey bacon, it's time to make a batch.
Start by opening up your packaged bacon.
Most packaged turkey bacon comes sliced. But, if it is not sliced, you will want to slice it with a mandolin first.
Spread the slices out evenly because you will be cooking them in a single layer.
Start by preheating your air fryer to 350 degrees F.
Place the turkey bacon slices in an even, single layer in the basket of your air fryer unit. Depending on the size of your unit, you may need to make more than one batch.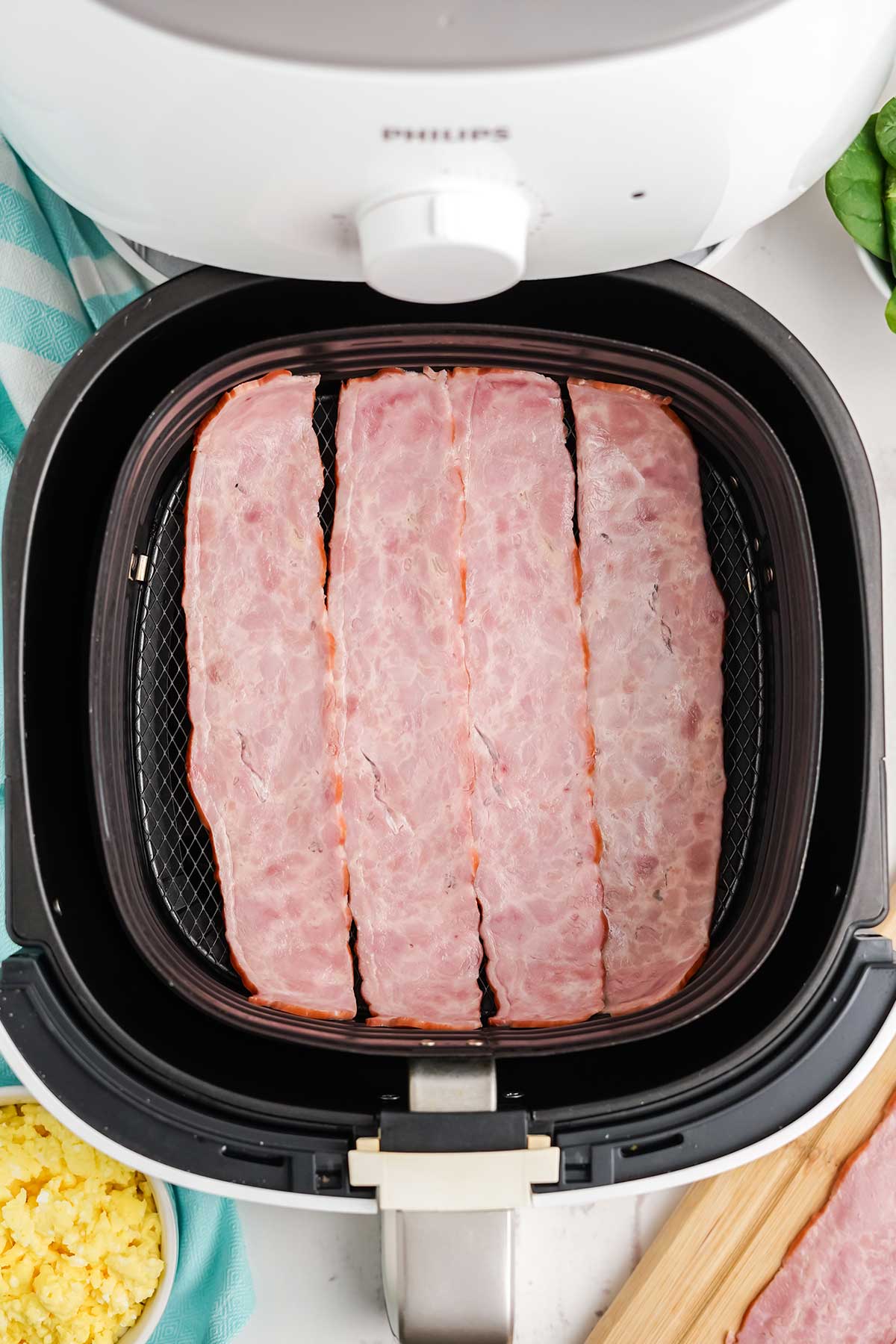 Cook the turkey bacon for five minutes, then flip and continue cooking for an additional 2 minutes or until the desired level of doneness is achieved.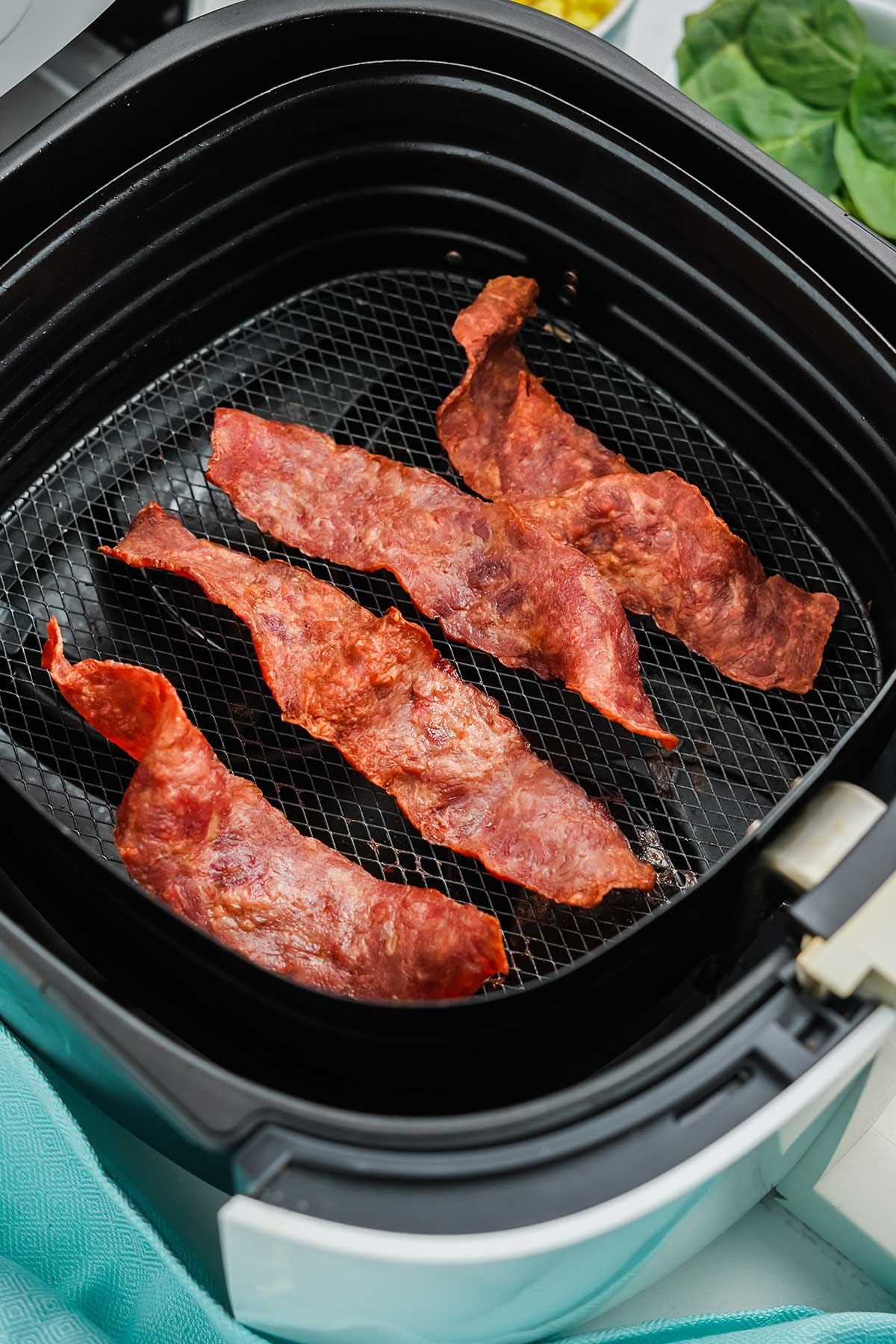 Storage
One of my favorite things about cooking turkey bacon in the air fryer is that it crisps up so nicely that it even keeps its texture when microwaved! This makes it a great option for meal prepping, as you and make a big batch and warm up as needed.
Cooked turkey bacon will stay fresh in the fridge for up to 5 days. I recommend storing it in an airtight container to ensure freshness.
Expert Tips and FAQS
Once you get the hang of cooking turkey bacon using this method, you can whip it up without looking at a recipe!
Remember:
Preheat your air fryer to 350 degrees F first.
Cook turkey bacon in a single layer.
Flip after 5 minutes.
How do I know when turkey bacon is done?
Technically speaking, turkey is done cooking at 165 degrees F. But, rather than using a meat thermometer the best way to tell if turkey bacon is done is to wait until it is nicely golden brown and crispy. When it reaches that state, it is safe to eat!
Is turkey bacon healthy?
Turkey bacon does have fewer fat and calories than regular bacon, however, it is still considered a processed food so you should enjoy it in moderation.
How do I stop my turkey bacon from flying around in the air fryer?
Check on it often, or you can place a weighted air fryer cooking accessory on top. I personally don't have trouble with the turkey bacon moving, but my friend's unit does and she keeps it in place with a trivet accessory.
Can I use frozen turkey bacon?
Yes, but make sure you thaw in the fridge before cooking.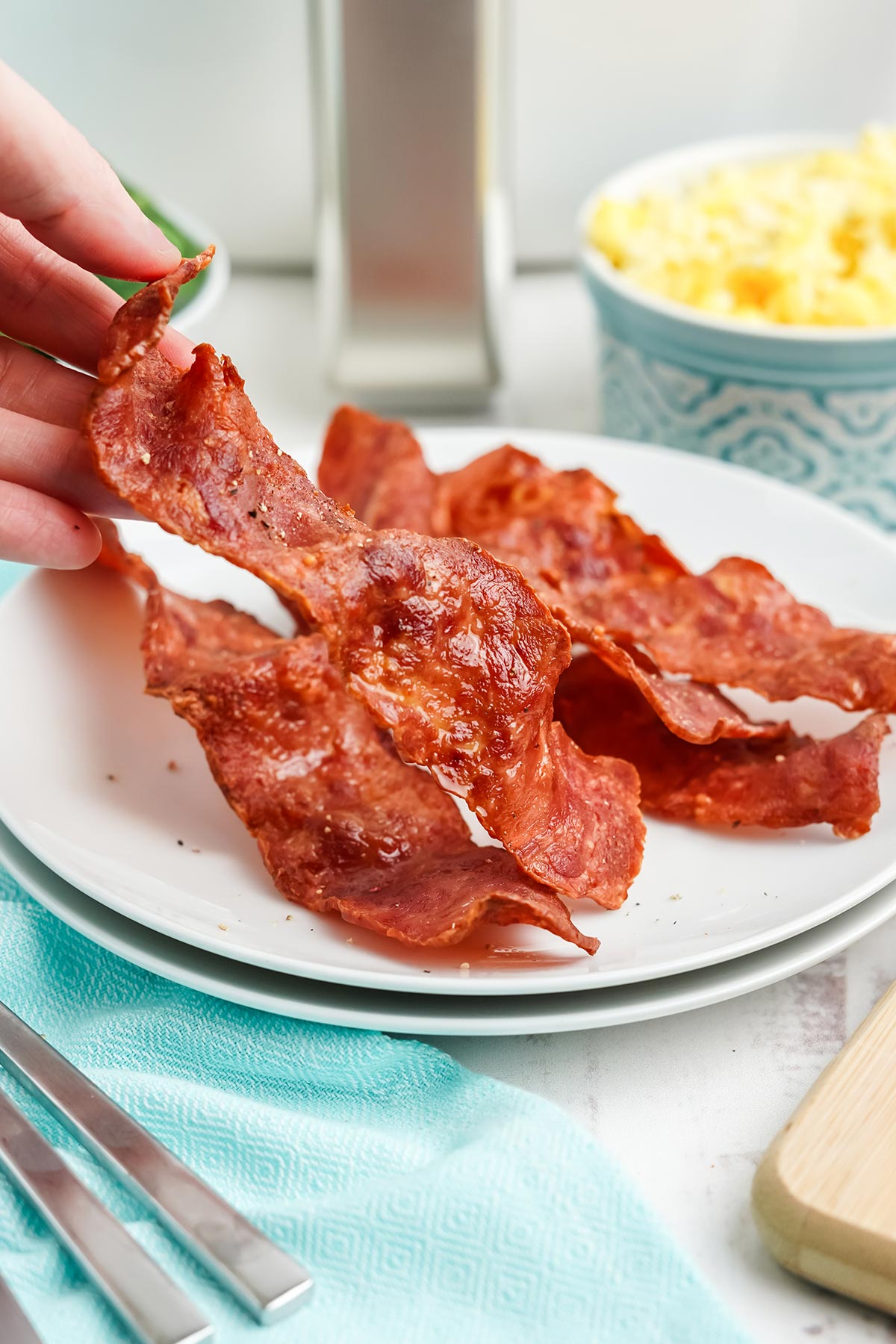 More Easy Breakfast Recipes
Did you try this recipe? Please leave a star rating in the recipe card right below! You can also write a review in the comment section further down the page I always appreciate your feedback. And don't forget to tag me @freshcoasteats in your photos on social media, I'd love to see your results!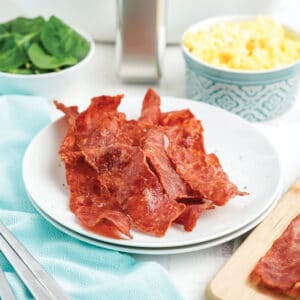 Air Fryer Turkey Bacon
Crispy air fryer turkey bacon comes out perfectly cooked each and every time when cooked at the right temperature and for the correct amount of time. It cooks up in less than 10 minutes and it works great for meal prep.
Print
Pin
Rate
Ingredients
1

package

turkey bacon

about 6 ounces
Instructions
Preheat the air fryer to 350 degrees F.

Place turkey bacon in a single layer inside the air fryer basket.

Cook for 5 minutes, flip over and continue cooking for 2 more minutes or until the desired level of doneness is achieved.
Notes
Expert Tips for Best Results:
Preheat your air fryer to 350 degrees first.
Cook turkey bacon in a single layer.
Flip after 5 minutes.
Nutrition
Calories:
108
kcal
|
Carbohydrates:
1
g
|
Protein:
8
g
|
Fat:
8
g
|
Saturated Fat:
2
g
|
Polyunsaturated Fat:
2
g
|
Monounsaturated Fat:
3
g
|
Cholesterol:
28
mg
|
Sodium:
648
mg
|
Potassium:
112
mg
|
Calcium:
3
mg
|
Iron:
1
mg