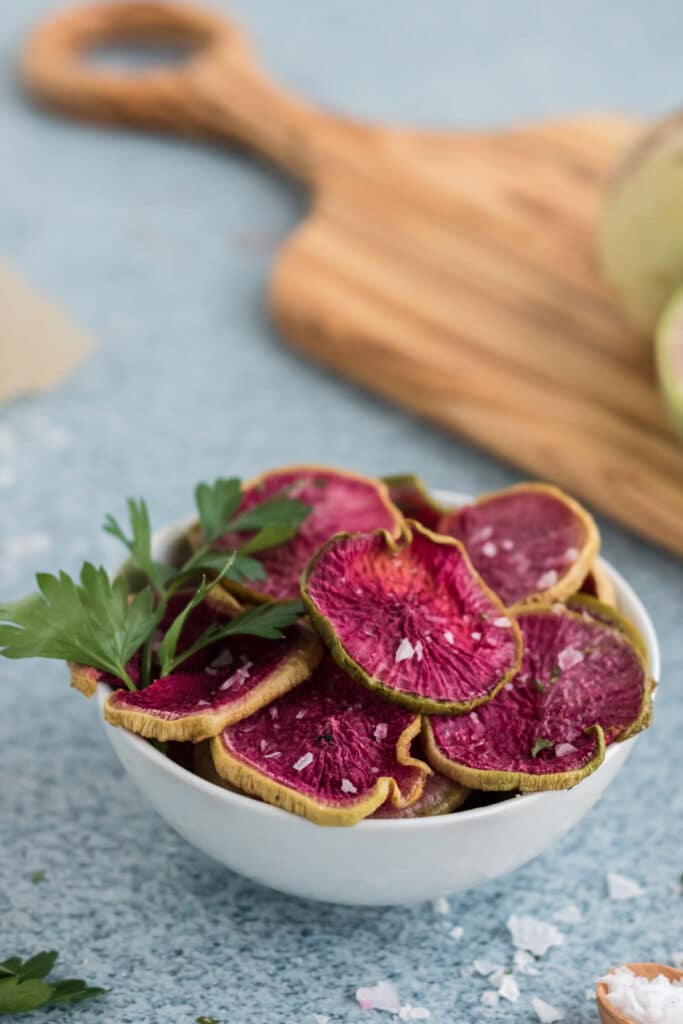 Beautiful Watermelon Radish brushed with coconut oil, sprinkled with course salt and slowly roasted to crispy perfection.
Watermelon Radish Chips
Watermelon Radish is arguably one of the most beautiful vegetables ever! I love picking up fresh watermelon radish from the store and making that first slice to see what the inside will look like! Sometimes, it's a light delicate pink and other times it is vibrant magenta. Every radish is slightly different, but equally as beautiful.
I love having watermelon radish salads and watermelon radish pickles but was determined to find another way to enjoy this gorgeous veggie. I love sprinkling salt on fresh radishes, so I decided to try them as a roasted radish chip for a healthy and gorgeous snacking option.
After trying several recipes, I am so excited to share my favorite no-fail simple recipe with you.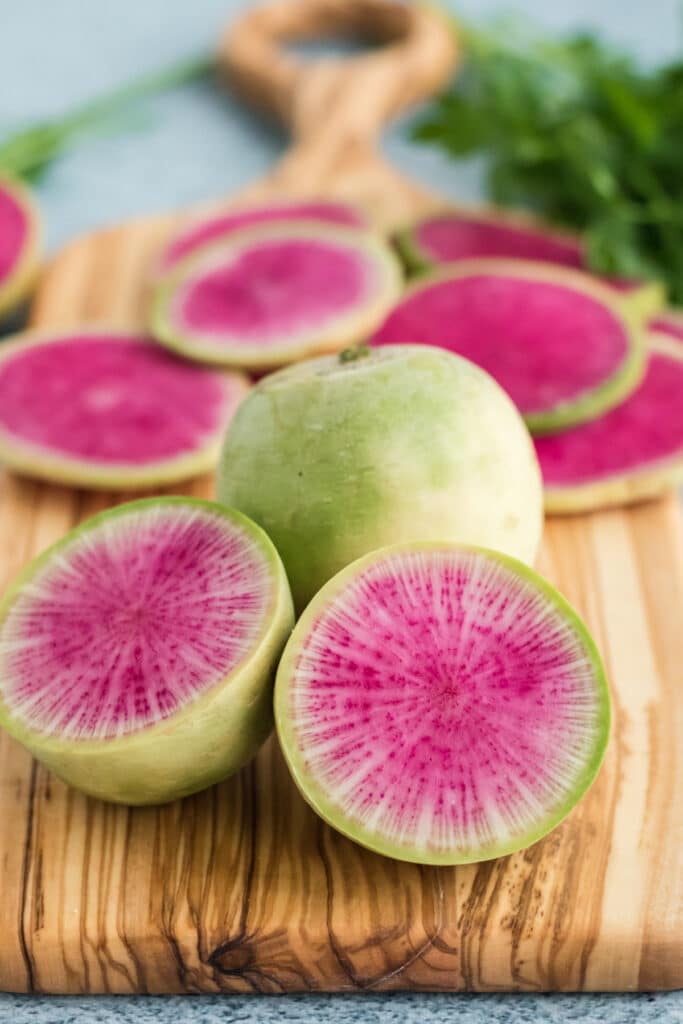 What do roasted radish chips taste like?
When raw, radishes have a light, crisp and slightly peppery finish. When roasted, their earthy sweet flavor is highlighted and is perfect when accented with salt.
They are crunchy and addictive! A perfect healthy replacement of crackers or chips.
For more simply roasted vegetable recipes, check out our Roasted Rosemary Potatoes and Roasted Rainbow Carrots.
Ingredients
All you need to make this delicious snack is:
watermelon radish
coconut oil (or whatever oil you prefer)
salt
Where to buy watermelon radishes
Chances are, you've passed by them in the produce aisle at some point. On the outside, they are nothing special to look at.
Watermelon radishes are most commonly available during spring and late fall, but available year round. You can find them at produce-centered grocery stores and can also buy them online.
As usual, if your able to grow them and buy them locally I always recommend that!
Here are a few online produce retailers that carry them:
How to pick a watermelon radish
Start by checking the top of the radish. The tops should be bright green and not wilted. The root coloring will vary, but it should be free from cracks and nicks. Watermelon radishes range in color from beige to green and sometimes have a bit of blush on the outside.
Give the radish a slight squeeze. It should be firm with no soft spots. It should also feel heavy for it's size.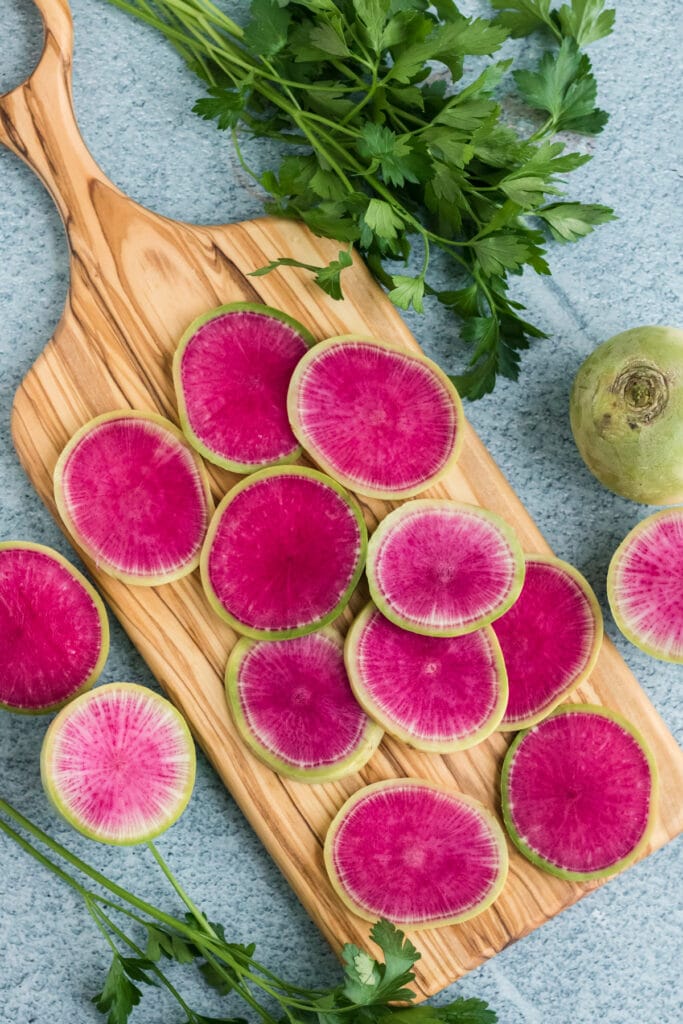 Preparing the radish for roasting
Wash the radish and dry it thoroughly. Using a knife or mandolin cut the radish into extremely thin slices, trying to make them as even as possible. If you accidentally cut them uneven, try to trim off thicker areas. Leaving thicker edges can lead to "soggy" area's that won't crisp up. But slicing too think can lead to burned radish chips.
Roasting the watermelon radish
Preheat your oven to 400 degrees. Lightly spray a baking sheet with coconut oil then spread the radishes out evenly on the baking sheet in one layer. Spray with another very light layer of coconut oil and sprinkle with salt and pepper.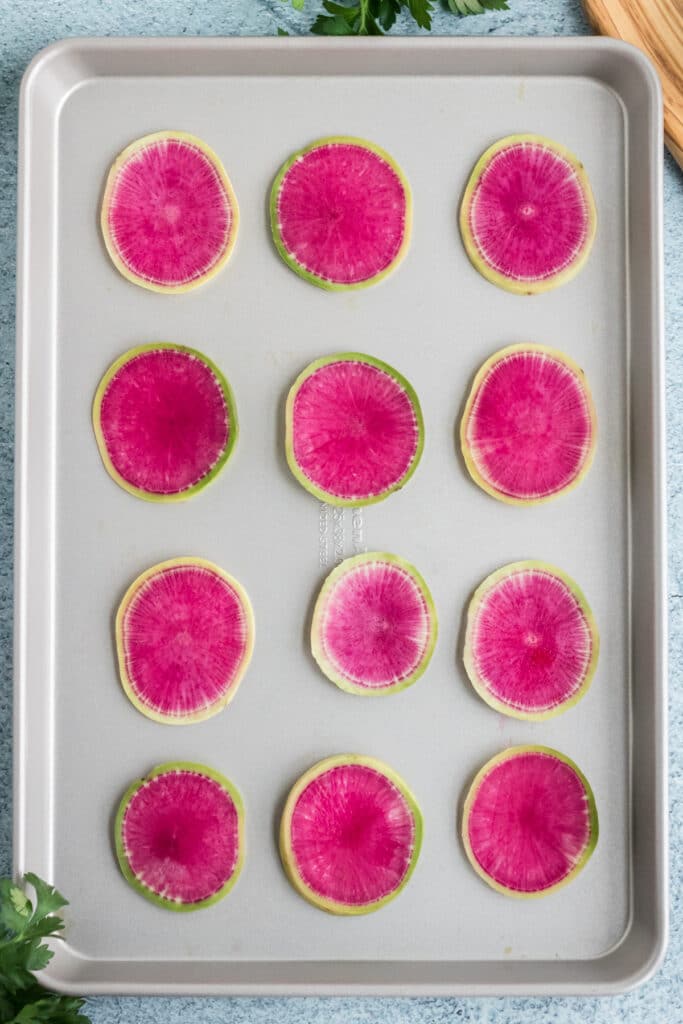 Roast the radishes for 15 minutes, then check on them. As they are cutting, the edges will behind to curl up and they will become darker in color.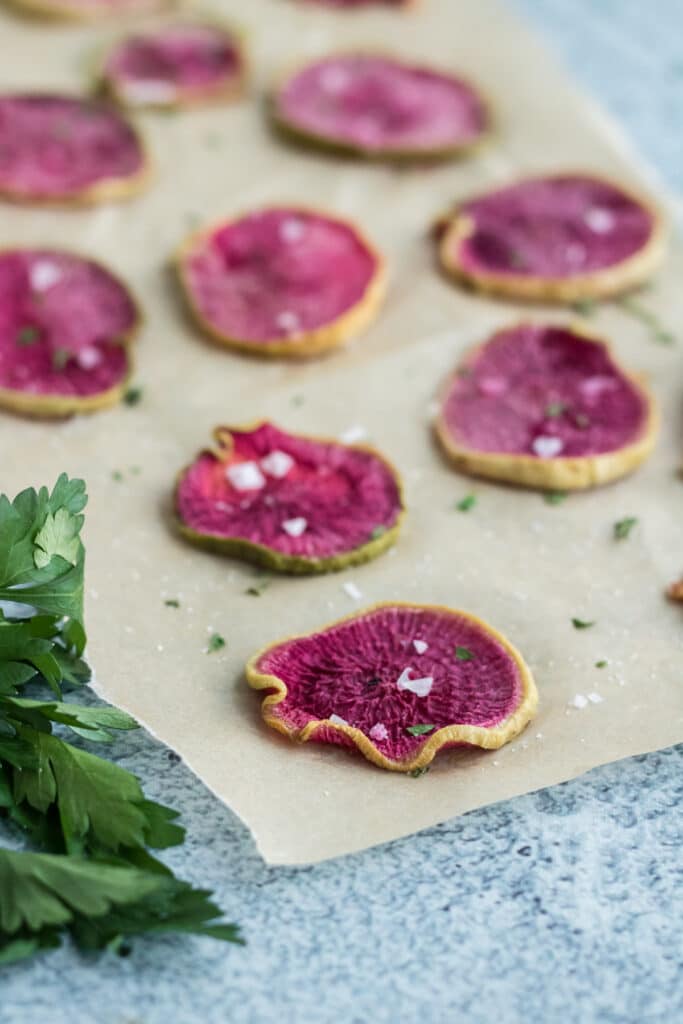 I like to eat them right away, but if you are planning on storing them for later I would wait until they are completely cooled off and then store them in an airtight container.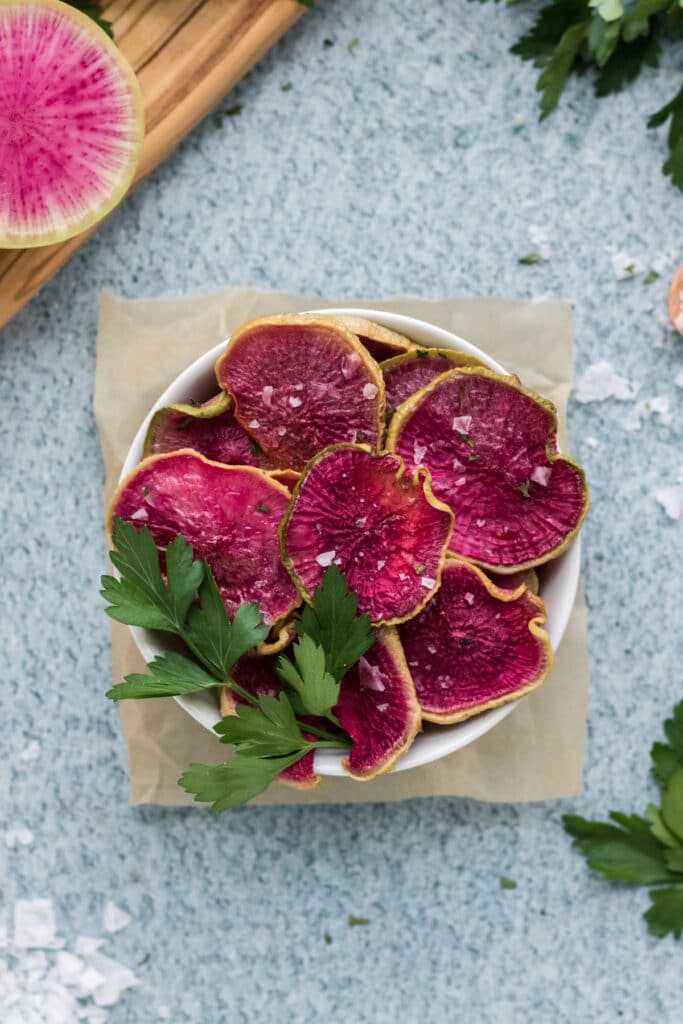 Watermelon Radish Chips
Beautiful Watermelon Radish brushed with coconut oil, sprinkled with course salt and slowly roasted to crispy perfection.
Print
Pin
Rate
Ingredients
1

watermelon radish

¼

teaspoon

salt
Instructions
Preheat the oven to 400 degrees. Prepare a baking sheet by spraying with a light layer of coconut oil. Set aside.

Slice the watermelon radish into thin, even slices and place evenly on the baking sheet in a single layer.

Lightly spray another layer of coconut oil and sprinkle the salt over the radish.

Roast in the oven for 15 minutes. The chips are done when the edges begin to curl and the radishes turn lightly brown and crispy.

Remove from oven and cool completely before serving.
Nutrition
Serving:
1
g
|
Calories:
27
kcal
|
Carbohydrates:
6
g
|
Protein:
1
g
|
Fat:
1
g
|
Saturated Fat:
1
g
|
Sodium:
648
mg
|
Potassium:
396
mg
|
Fiber:
3
g
|
Sugar:
3
g
|
Vitamin C:
25
mg
|
Calcium:
43
mg
|
Iron:
1
mg
Have you tried our roasted watermelon chips yet? Let me know what you think in the comments!
Pin this recipe on Pinterest!