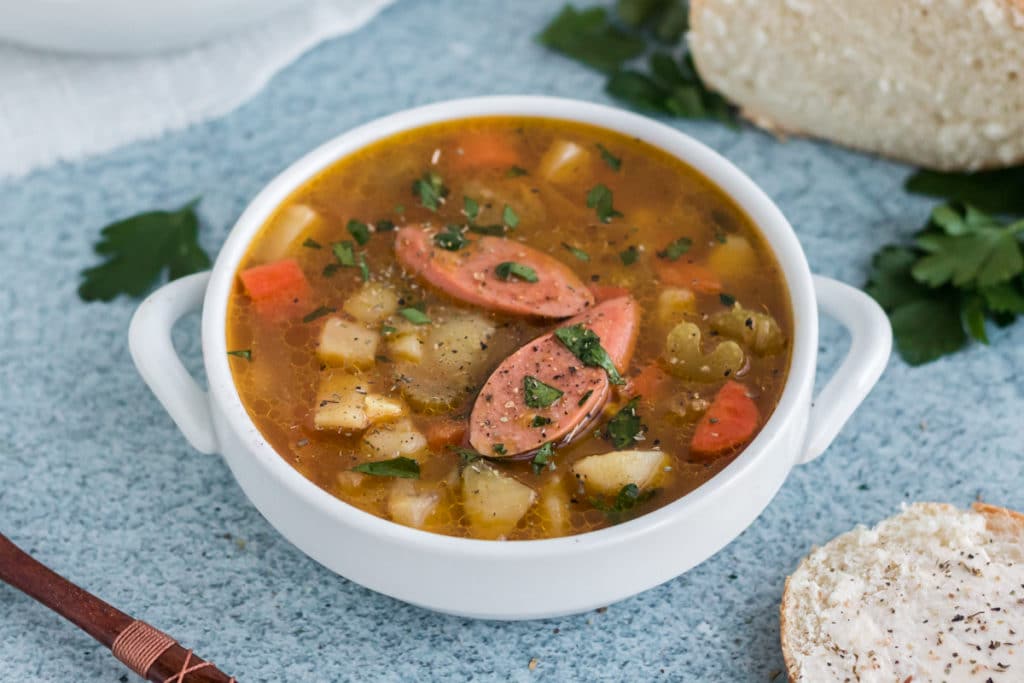 Kartoffelsuppe (German Potato Soup): A traditional and authentic version of one of Germany's most popular weeknight meals. It's healthy, easy, delicious and ready in 30 minutes.
In the culinary world, Germany is known for their unique sausages, incomparable potato dishes and savory well-seasoned stews. Combine these three German staples and you have one of the best tasting soups ever. I can't wait to introduce you to Kartoffelsuppe, or German Potato Soup!
What is Kartoffelsuppe?
Kartoffelsuppe is the German version of potato soup! It's loaded with healthy veggies and packed with flavor. Traditional Kartoffelsuppe contains:
Potatoes
Veggies (onion, carrots, celery, leeks)
Broth base
Spices - caraway, nutmeg and mustard
Meat- Vienna Sausages for garnish
Is it healthy?
One of my favorite things about cooking at home is that you are in complete control of what goes into the food you are making. It has many nutrient dense veggies and can be very nourishing for your body, it is also clean eating approved. To make this soup a little more healthy, you could omit the oil, salt and even skip the sausage if you need to.
What kind of Sausages should I use?
I prefer Vienna Sausages without the casing. But you can choose Vienna Sausages with the casing or even your favorite Bratwurst will be great. The sausages are used for garnish. I have experiment with adding them to the soup towards the end of cooking and found it to be a little overpowering. A few slices on the top as a garnish really allowed the vegetables and spices to shine and added a welcomed variety of texture and flavor, rather than an overwhelming sausage flavor.
Whatever type of sausage you choose, be sure to slice them on a diagonal for an elegant presentation.
For more soup recipes, check out our Vegan Cabbage Soup and Vegan Butternut Squash Soup.
German vs. Hungarian
While doing my research for creating this recipe, I saw many versions floating around that contain bacon, or "speck" (a thicker cut of bacon). I reached out to a friend who relocated to Germany and she confirmed that authentic German style does not contain bacon - just the thin, pretty slices of sausage on top.
The versions that contain speck, or bacon, are Hungarian style. They are equally delicious but definitely have more a strong, meat flavor.
If you want to make this recipe Hungarian style, simply add in about a cup of cooked speck before you simmer the soup.
How to Make German Potato Soup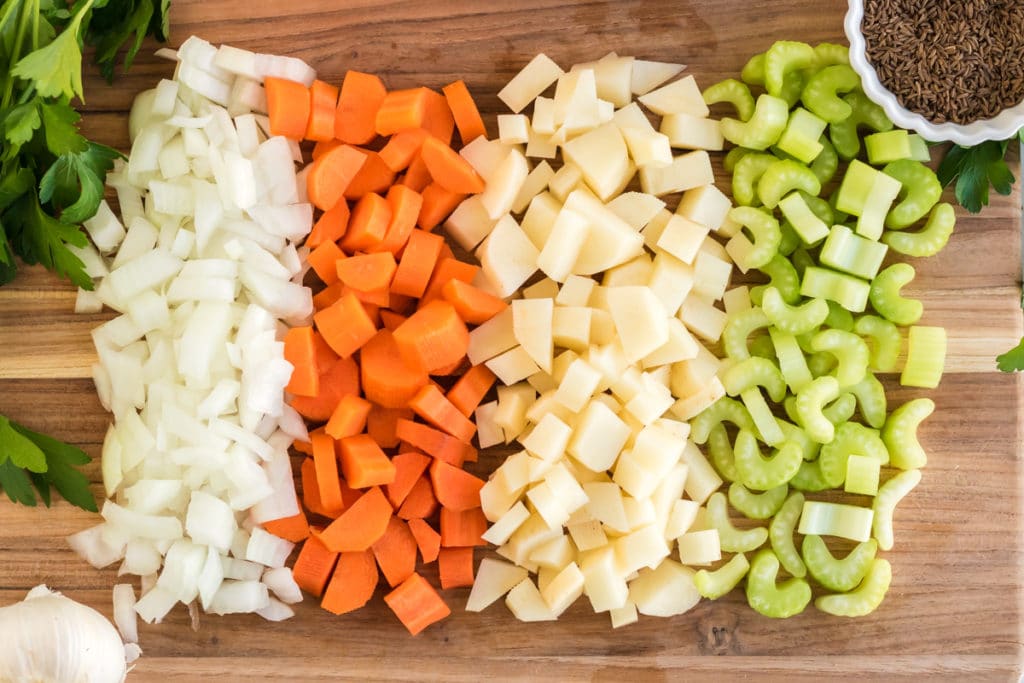 Start by gathering your ingredients. For this recipe we are going to use:
Potatoes
Onion
Carrots
Celery
Leeks
Vegetable Broth
Fresh Parsley
Salt and Pepper
Mustard
Caraway Seeds
Start by heating oil in a large dutch oven. Next, you are going to sautee the potatoes, onion, carrots, celery and leeks. Cook them over medium heat for about five minutes, stirring often. Add the garlic and cook one additional minute.
During this phase, we are just wanting to kind of get the veggies going. They will finish cooking in the dutch oven. So don't worry about cooking the potatoes all the way through.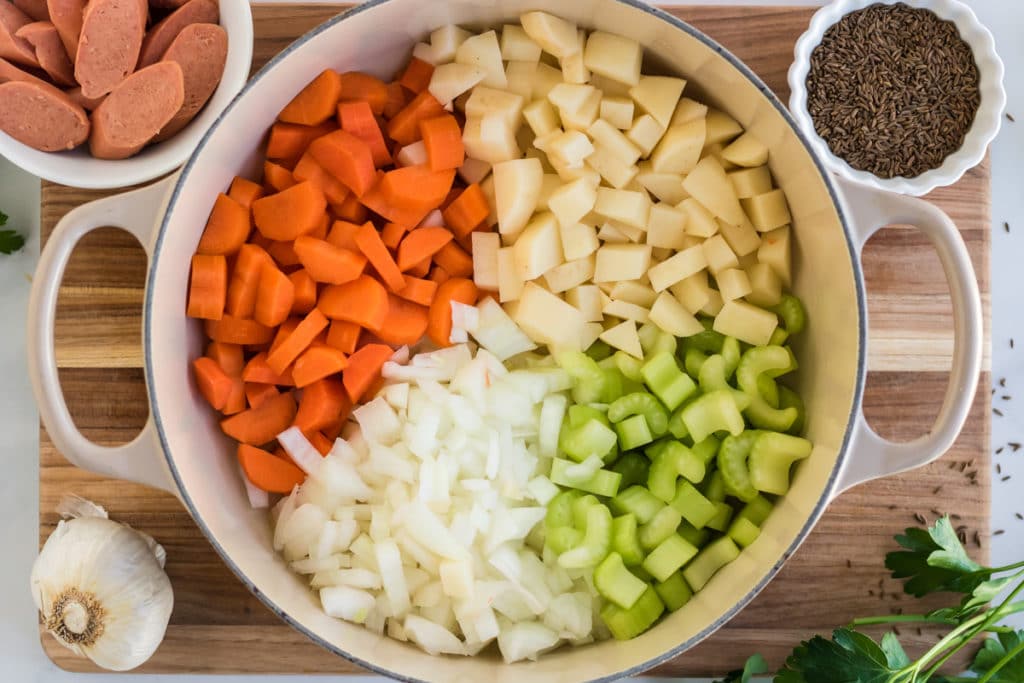 Pour in the vegetable broth. Cover and simmer the soup on low for 30 minutes. The next thing I like to do is sautee the sausages and get them a nice golden brown color.
Stir in the salt, pepper, mustard and caraway when the soup is done. Finally, stir in the parsley and distribute evenly into bowls. The finishing touch is garnishing each bowl with the sausages.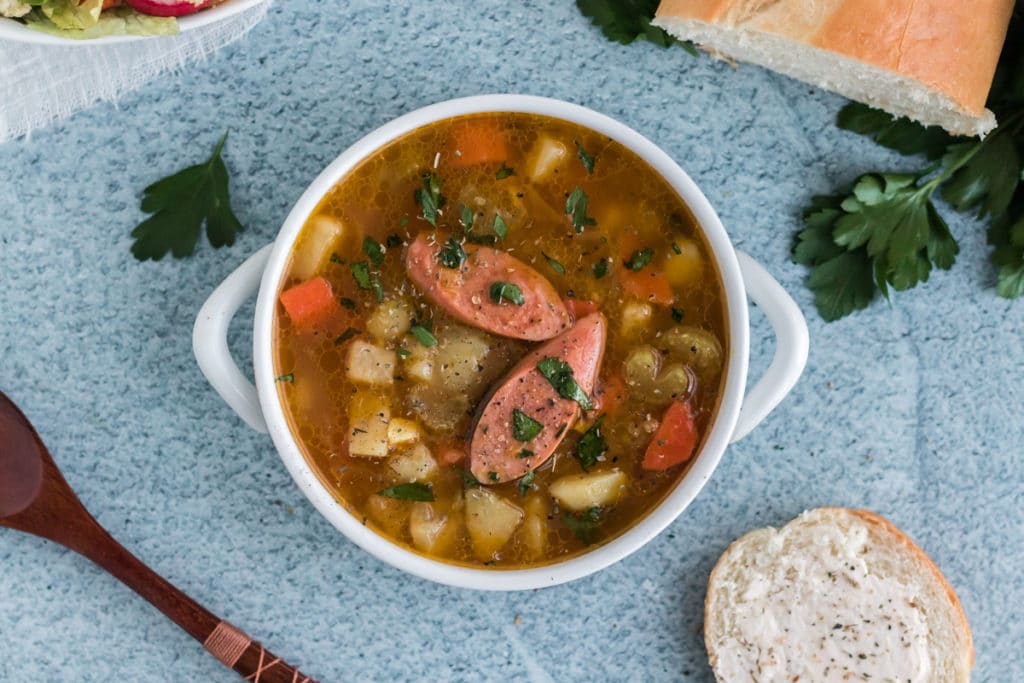 Instant Pot instructions
Using the same ingredient quantities on the recipe card, saute the veggies in your instant pot for about 5 minutes. Add the broth and lock the lid into place. Turn the valve to the sealing position and manual cook on high pressure for 8 minutes. Quick release the steam when done.
Crockpot instructions
You can make German Potato Soup in the crock pot by cooking on low for 6 to 8 hours. I personally prefer to saute the veggies on the stove ahead of time, I feel like bringing the onions to a sweat before putting them in a crock pot really helps deepen the flavor.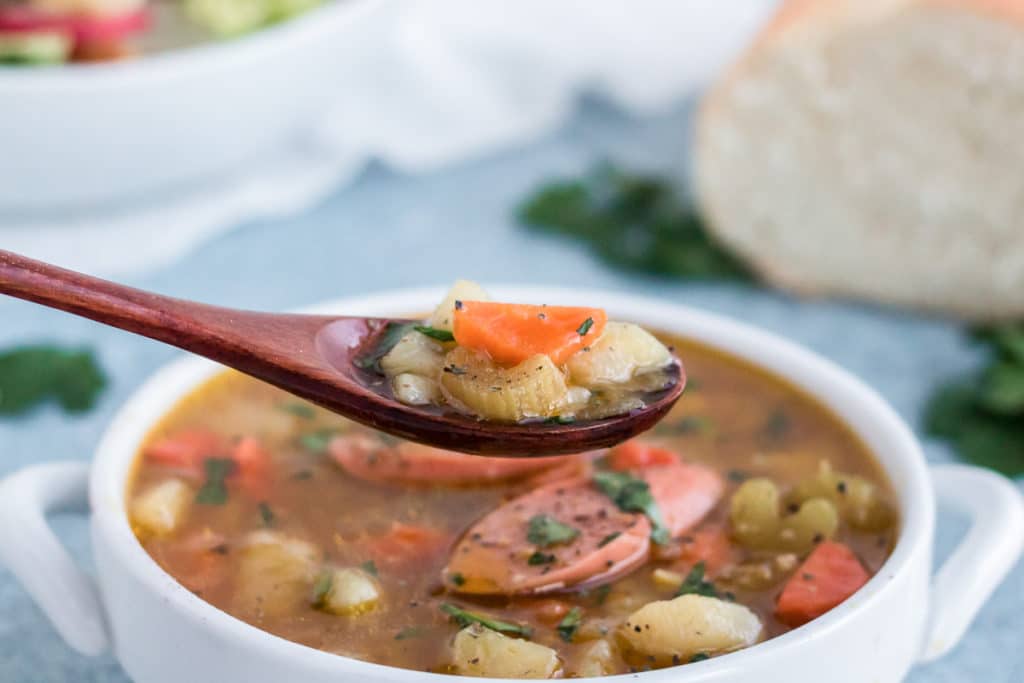 Serving Suggestions
I love serving this soup with a salad and some fresh bakery bread and a nice fresh garden salad. This soup is hearty enough to just serve with a light salad, but light enough where I am always craving bread with it!
If you want to stick with an authentic German meal, you could serve this soup with some German Bauernbrot. Bauernbrot is a perfect paring for this soup because its made with rye flour.
You could also try this with Zwetschgenkuchen (German plum cake) or Dampfnudela (steamed dumplings).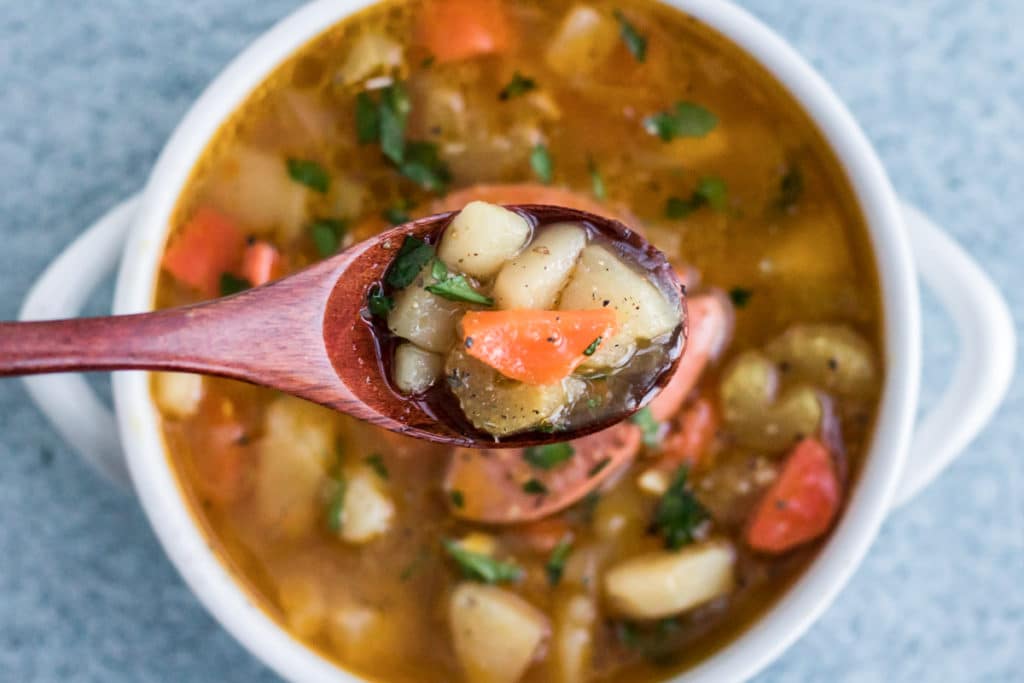 Storage
Don't be afraid to make a big batch of this soup because it keeps very well in the fridge. To store this soup, put leftovers in airtight containers and store for up to five days. This is one of those soups that is excellent straight off the stove, but it seems to get even better as it sits!
Technically, yes, you can freeze this soup. I have done it. But, potatoes tend to have an odd texture when defrosted and I really prefer this soup fresh or reheated from the fridge. I am a huge fan of freezing soups, but this one is better fresh.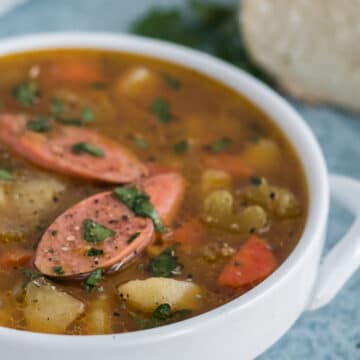 Kartoffelsuppe
A traditional and authentic version of one of Germany's most popular weeknight meals. It's healthy, easy, delicious and ready in 30 minutes.
Print
Pin
Rate
Ingredients
2

Tablespoons

olive oil

5

small potatoes, chopped

3

small carrots, chopped

2

celery stalks, chopped

1

cup

onion

diced

3

garlic cloves, minced

4

cups

vegetable broth

½

teaspoon

salt

¼

teaspoon

pepper

1

Tablespoon

yellow mustard

¼

cup

chopped parsley

2

Vienna sausages

sliced diagonally

optional: ¼ teaspoon caraway seeds
Instructions
In a large dutch oven, heat the olive oil over medium heat. When the oil is heated, add the potatoes onions, carrots and celery stalks. Cook for about 5 minutes or until onions are transparent. Add the garlic and cook for one additional minute. If you are using caraway, add it at this time.

Add the vegetable broth and deglaze the pan. Cover and simmer on low for 30 minutes.

While the soup is simmering, sear the sausaged in a small skillet over medium heat until golden brown. Set aside.

When the soup is finished, turn off the heat and stir in the salt, pepper and yellow mustard and parsley.

Serve with sausages on top.
Notes
Traditional German potato soup is not pureed. Instead the veggies are diced. Be sure to dice your vegetables in similar sizes. 

Hungarian versions often include "speck" which is a thicker cut of bacon but its not common in Germany.

You can use chicken broth if desired.
Nutrition
Calories:
78
kcal
|
Carbohydrates:
3
g
|
Protein:
1
g
|
Fat:
7
g
|
Saturated Fat:
1
g
|
Cholesterol:
1
mg
|
Sodium:
1278
mg
|
Fiber:
1
g
|
Sugar:
2
g
|
Vitamin A:
501
IU
|
Iron:
1
mg
Please let me know what you think of this recipe! Share your creation on instagram with #freshcoasteats so I can see how yours turned out!