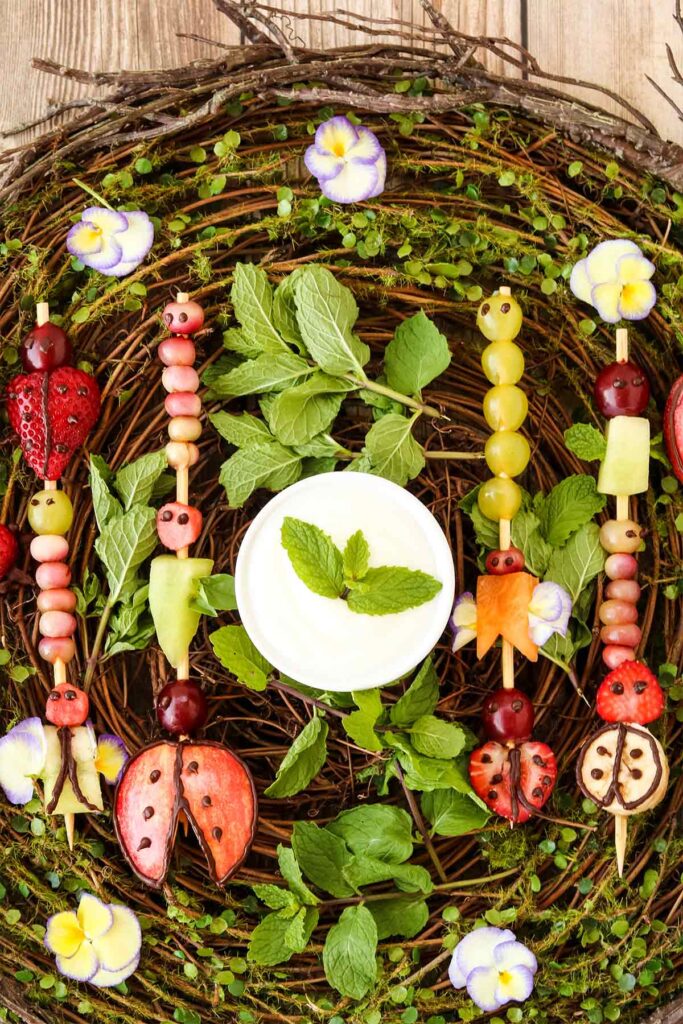 As the weather is getting warmer, we are spending much more time outside and I am always trying to think of healthy snacks that we can prepare together ahead of time, that can easily be served outside.

These buggy fruit kabobs for kids are the perfect solution! Preparing them is a fun activity by itself! My kids get so excited about making them. They will often try new fruits while preparing them and are much more willing to try things when it is in fun shapes or creative presentations like this.

So head to your farmers market or grocery store, pick up some seasonal fruit, and let's get started.
Ingredients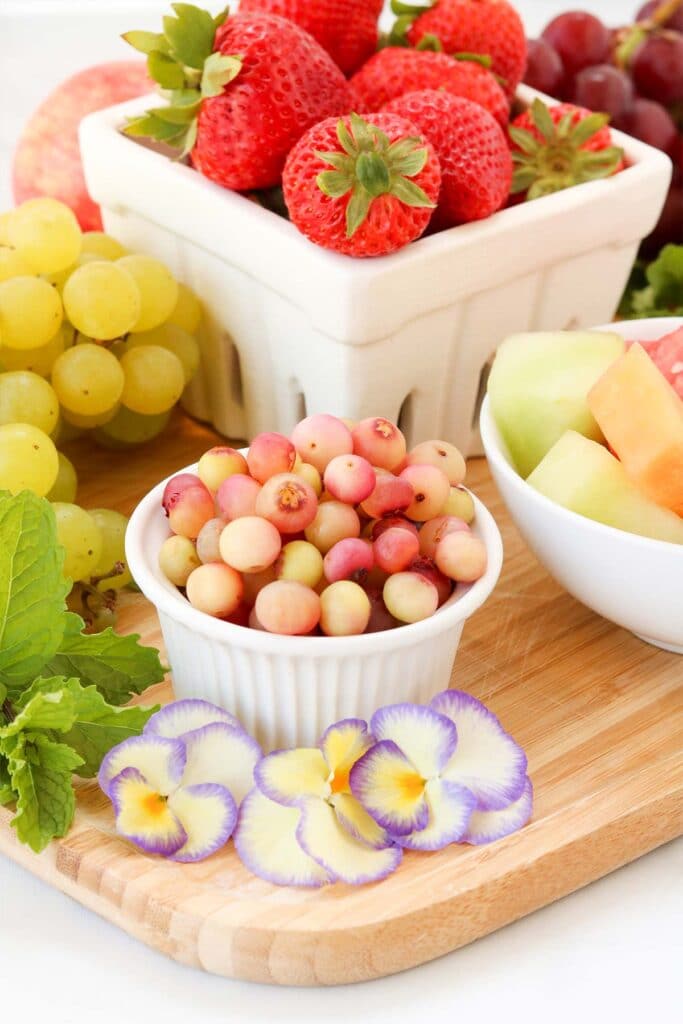 Recommended Fruit
Grapes
Blueberries (I used Pink Lemonade blueberries for these photos)
Strawberries
Honeydew melon
Cantaloupe
Apple
Watermelon
Banana
Supplies
Wooden skewers
Chocolate Chips
Edible Flowers (I use Viola's)
Mint
Preparation Instructions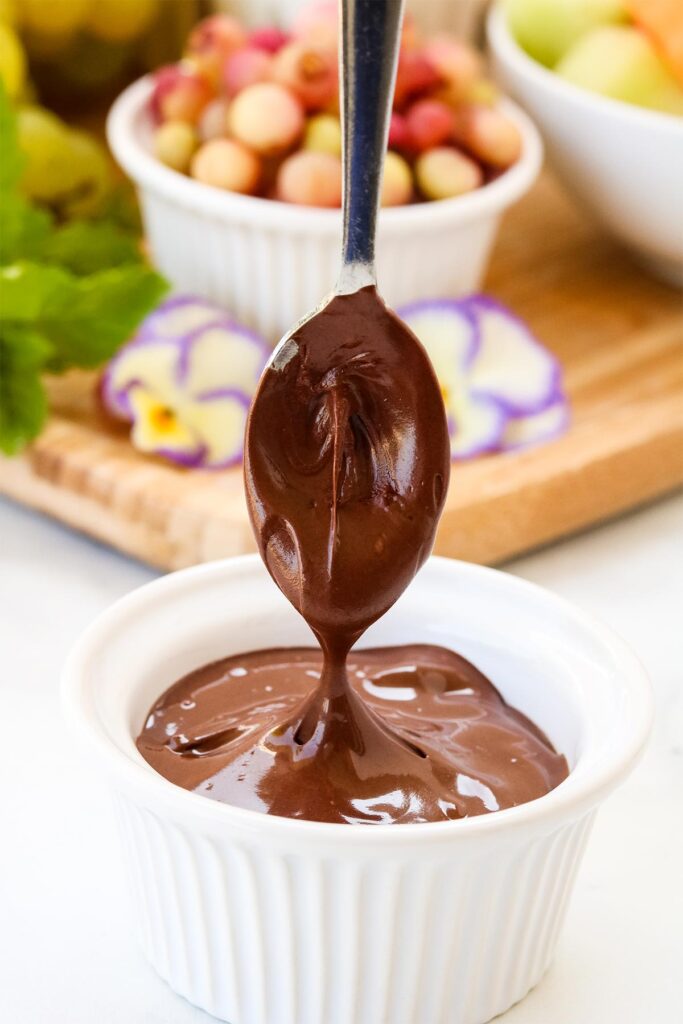 Melt the chocolate in the microwave on medium power in 15-second intervals until melted. Stir between each interval to prevent the chocolate from getting too hot.
Place the melted chocolate in a ziplock bag and cut a tiny piece off the corner. You will be using this to make the eyes, spots, wings, and insect legs, so make sure you only snip off a tiny corner.
Cut the fruit and create desired bugs, using the instructions below.
Caterpillars
Place grapes or blueberries on the skewers in groups of five. Use the chocolate to make eyes.
Beetles
Cut a strawberry in half for the body and use a grape as the head. Use the chocolate to place eyes on the head and spots on the body. To place the legs, place wax paper on a small plate and squeeze some chocolate onto the strawberry, continuing off the berry and slightly onto the wax paper. Be sure to make a nice, thick layer and don't make them too long. Short is easier to manage!
Flying Insects
Use melons cut in a rectangular shape for the body. For the head, use a grape, blueberry, or melon cut in a small circle. To insert the flower/mint wings, use the blunt end of the skewer to pierce a hole in the side of the melon. Place the flower or mint in the hole, and use the sharp side to secure it into place.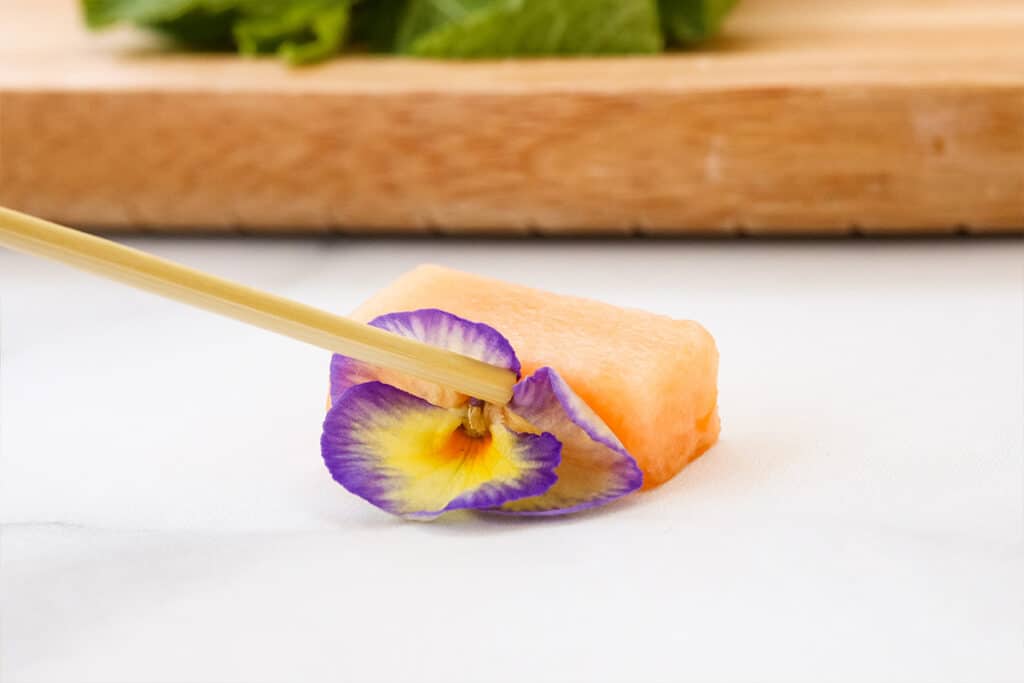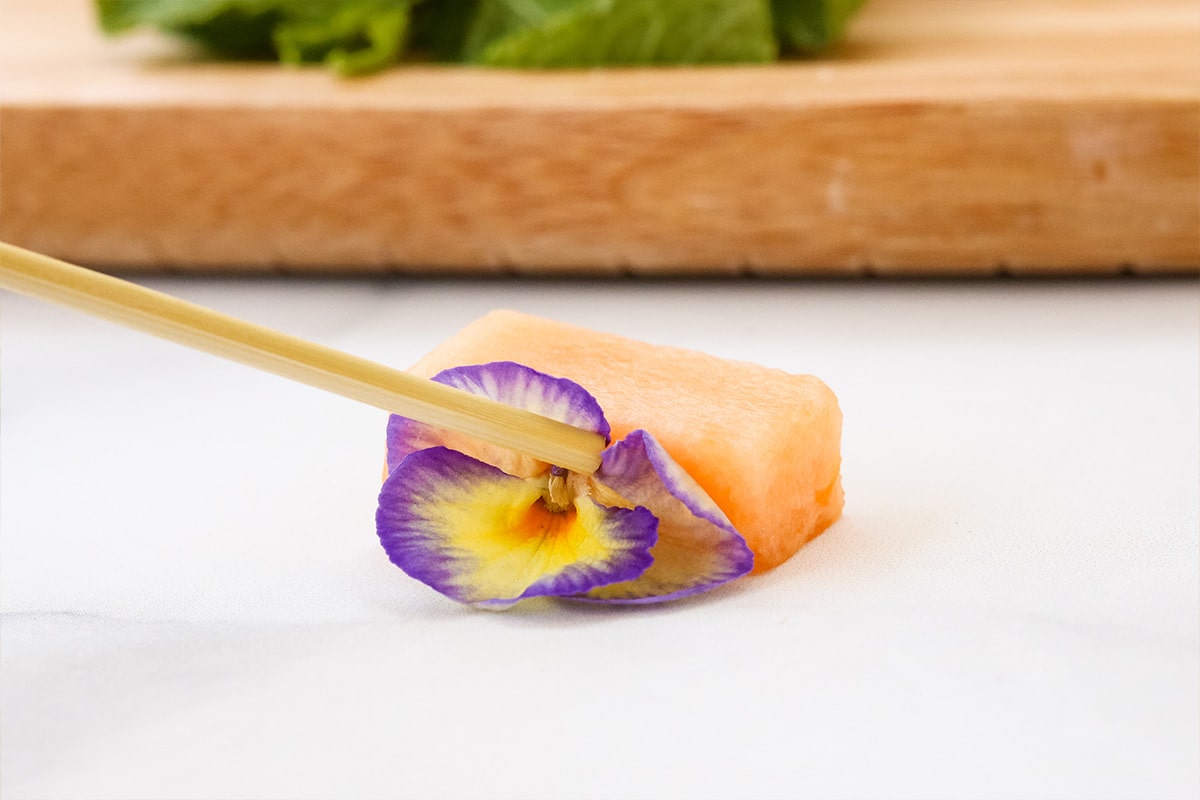 Apple Crawlers
Slice an apple and cut a small v shape out of the bottom center of the fruit. Use grape or blueberry for a head, and accent the body with chocolate.
Serving
To serve my fruit kabobs for kids, I put them on a beautiful branch charger for an outdoor, buggy vibe. Try serving yours on a cheese platter, and place branches and leaves underneath.
You can also serve these with a small cup of fruit dip or yogurt for dunking. I love these fruit skewers with the sprinkles over the yogurt!
Storing
You can store these, covered in the refrigerator for a couple of days. They are best the day you make them. If you are planning on making these ahead of time, I wouldn't add the flowers or mint until right before you serve them. The flowers will wilt, and the mint easily browns with temperature change.
Tips
Use ripe fruit that is in season for optimal nutrition and flavor
If you want your chocolate to set quickly, use chocolate melting wafers, or stick the bugs in the fridge for a few minutes.
Note that the fruit will "sweat" a bit when removed from the fridge, so the chocolate may slip off. Because of this, I prefer to add the chocolate just before serving.
Add the edible flowers and mint just before serving.
Have you tried our buggy fruit kabobs for kids? Take a picture and share it with us on Facebook or Instagram! I would LOVE to see your creations!
For more fun fruit recipes, try our cranberry orange sauce, fresh mango salsa or persimmon butter.
Pin this idea on Pinterest to share with friends!