Eggnog French Toast: Texas toast, eggs, eggnog, vanilla, cinnamon and nutmeg give a classic breakfast a seasonal twist.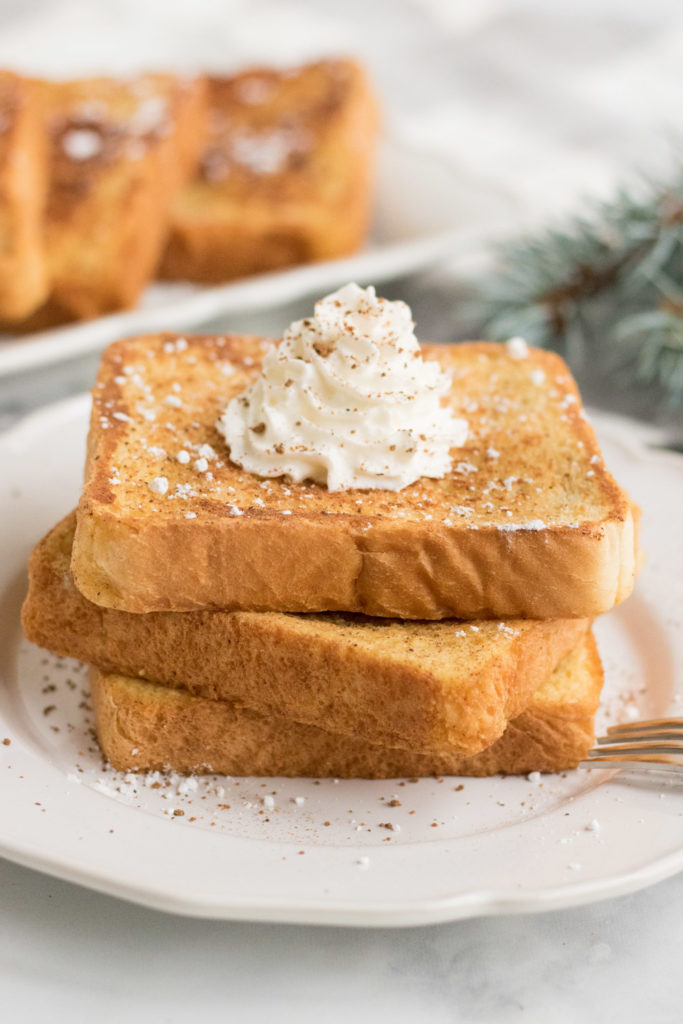 Eggnog French Toast
This time of year, it seems that all the meal preparations revolve around dinners. Christmas hams, roasted turkeys, endless platters of side dishes, cookies and pies! It's alot!
Who has time to worry about breakfast and brunch after all that cooking? Not me!
Thats why I absolutely love this Eggnog French Toast recipe. It is super quick and easy, but feels and looks kind of fancy. It has that special holiday breakfast touch, without all the extra work!
What is French Toast?
French toast is a breakfast or brunch meal made from bread that is dipped in milk and eggs and then fried. If you have never made french toast before, you are missing out! Check out this classic version of the recipe here.
Usually, plain milk or cream is used to make french toast. But in our version, we are going to replace it with eggnog!
Is French Toast Healthy?
Because of the eggnog, texas toast and sugar, this version is...shall we say.... decadent. French toast can be healthy depending on what specific ingredients you use.
Gluten Free Eggnog French Toast
You can easily make this recipe gluten free by swapping out the texas toast with your favorite gluten free bread. If you can't find gluten free texas toast, you can just use plain white gluten free bread.
What is eggnog?
Eggnog is a drink made from eggs, milk, vanilla and sugar. It's super popular around the holiday's because it has a creamy luxurious texture and a bit of spice which is perfect for the holiday season!
People usually sip this around the fire in the evening as a special treat at the end of the day, but with this recipe you won't have to wait all day. You can have your eggnog first thing in the morning!
How do you make eggnog?
Eggnog is actually surprisingly easy to make! You can check out our very popular Classic Eggnog recipe here. It's a classic version and does not contain alcohol so it's perfect to use in this recipe. Just be sure to make it the day before so it has time to cool and thicken.
Simply put, egg nog is made by slow simmering milk, eggs and sugar until it reaches 165 degrees. Many people wonder how you can cook eggs and get a smooth texture. If you want to see the process in action, you can check out this video here.
What is the best store bought eggnog?
To save time, you can buy store bought eggnog to make this recipe. My favorite store bought brand is Southern Comfort. It is pretty easy to find and is located at most popular grocery stores during the holiday season. It has the ultimate extra creamy texture and has much more prominent vanilla flavor than most.
I aslo really like Trader Joes, Organic Valley and C.F. Burger Creamery Deluxe Old Fashion Eggnog
Check out this complete list of the best (and worst) store bought brands!
Ingredients for Eggnog French Toast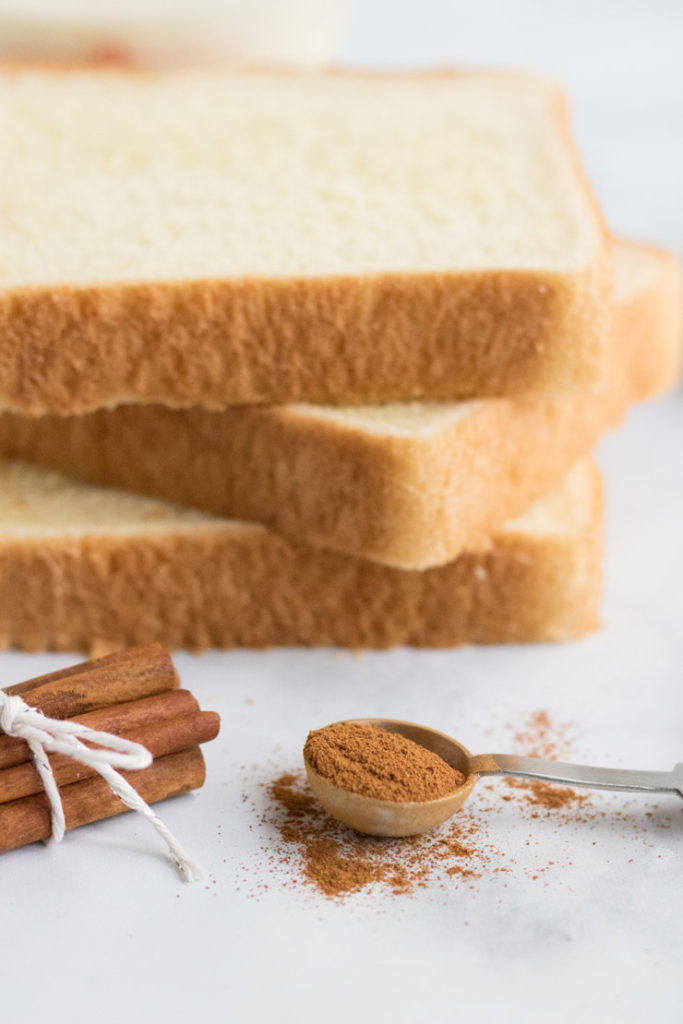 To make this easy egg nog french toast recipe, you will need:
Texas Toast
Eggs
Eggnog
Cinnamon
Nutmeg
Vanilla
Butter
How to make french toast
To make this recipe, you want to start by whisking together the eggnog, eggs and spices. You will want to be precise with the ratio of eggnog but you can be flexible with the amount of spices and adjust them to your personal preference.
Then you are going to heat the butter in a pan or an electric griddle. I highly prefer an electric skillet for precise and even temperature control and also because I can fit six slices at a time on there!
How to make french toast on an electric griddle
To make this eggnog french toast recipe on an electric griddle, simply plug it in and set the temperature to 350 degrees. Wait until the griddle is preheated to the desired temperature and then spray with non-stick cooking spray. This is the electric griddle I use at home. LOVE IT! I love the cool touch handles so my boys can be a little more safe when they are helping me cook.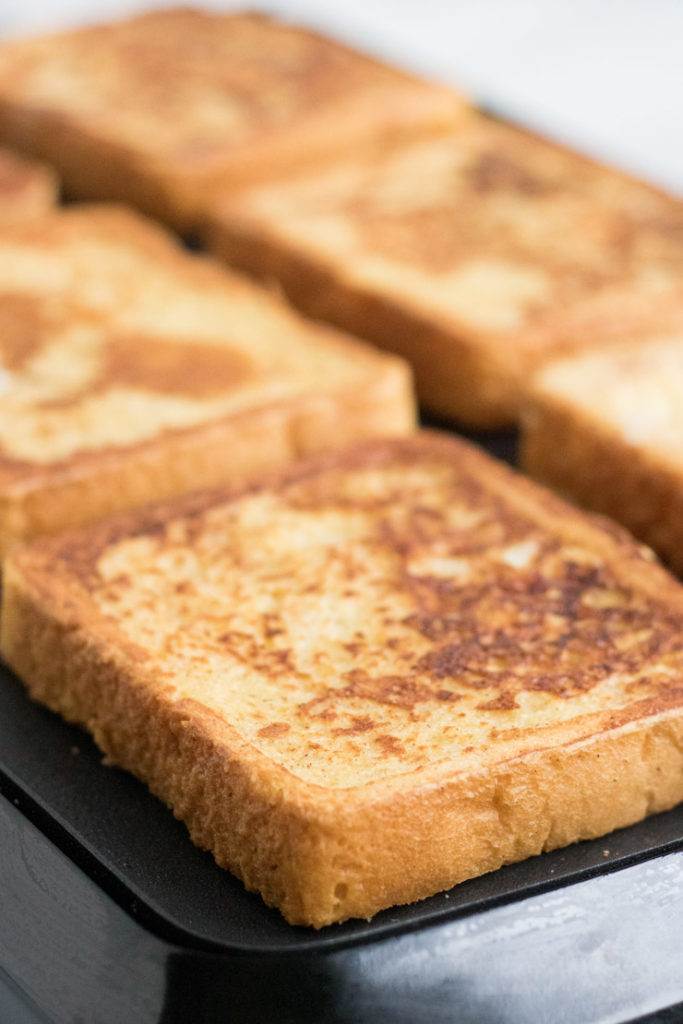 How do make french toast in a frying pan
If you don't have a griddle, you can make this in any skillet you have! When cooking this recipe in a skillet, I prefer to use butter in place of cooking spray. You will want to get the pan warmed up over medium heat before adding the butter and french toast.
Dipping the bread
Next, you are going to take the bread and dip them in the eggnog mixture for about 10 seconds or so. Then lift it up, and let the access drip off the bread, back into the bowl. Don't skip this part, it will help keep the egg coating evenly distributed.
Cooking the Eggnog French Toast
Cook the eggnog french toast on one side for about 2-5 minutes. You want the side on the skillet to be nice and golden brown. The soaked in egg should be slowly cooking about halfway up the toast. Then flip with a spatula and cook an additional 2-5 minutes on the other side.
Why is my french toast soggy?
If you follow the exact quantities of this recipe, it shouldn't get soggy. Usually soggy french toast happens when there is too much diary in the egg mixture. Eggnog is nice and thick, so we use less and these exact quantities should not cause soggy french toast.
What to serve with Eggnog French Toast
I love these with a big old mound of whipped cream and extra sprinkle of cinnamon and nutmeg on top! They also taste great with high quality maple syrup.
As far as side items to serve with this, I think blueberries and bananas would compliment this dish nicely. I also love having this with a cup of coffee using eggnog as the creamer!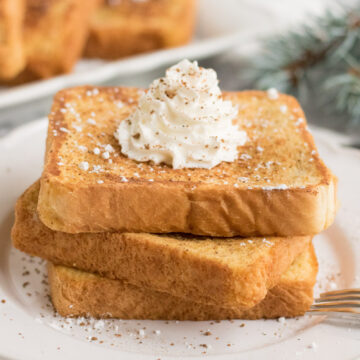 Equipment
Skillet, Electric Griddle
Ingredients
1 ½

cup

eggnog

4

eggs

½

teaspoon

cinnamon

¼

teaspoon

nutmeg

1

teaspoon

vanilla extract

2-4

Tablespoons

butter

12

peices

Texas Toast
Instructions
In a mixing bowl whisk together eggnog, eggs, cinnamon, nutmeg and vanilla. Whisk until well blended. Heat 1-2 tablespoons butter in a large skillet or griddle on medium heat until melted. Dip each slice of bread in egg mixture, turning to cover both sides.  Let bread soak in egg mixture for 15 seconds to absorb extra moisture. Carefully lift bread up and tilt, letting any excess egg mixture to drip off the bread and place on hot griddle.  Dip and cook one to six slices of bread at a time or as many as you can fit on your skillet at once.Fry the toast for 2 to 3 minutes, or until bread is golden brown.  Flip the toast with a spatula and continue to cook for an additional 2 to 3 minutes until both sides are golden brown.   Serve with a pat of butter and warm syrup or with whipped cream and an extra sprinkle of cinnamon
Notes
To keep the toast warm while you work; Before you start dipping the bread, place a metal wire rack on a rimmed baking sheet.  Place it in the oven and turn the oven to 250 degrees. Move the finished toast to the wire rack until ready to serve.
Nutrition
Calories:
71
kcal
|
Carbohydrates:
3
g
|
Protein:
3
g
|
Fat:
5
g
|
Saturated Fat:
3
g
|
Cholesterol:
78
mg
|
Sodium:
60
mg
|
Potassium:
73
mg
|
Fiber:
1
g
|
Sugar:
3
g
|
Vitamin A:
203
IU
|
Vitamin C:
1
mg
|
Calcium:
49
mg
|
Iron:
1
mg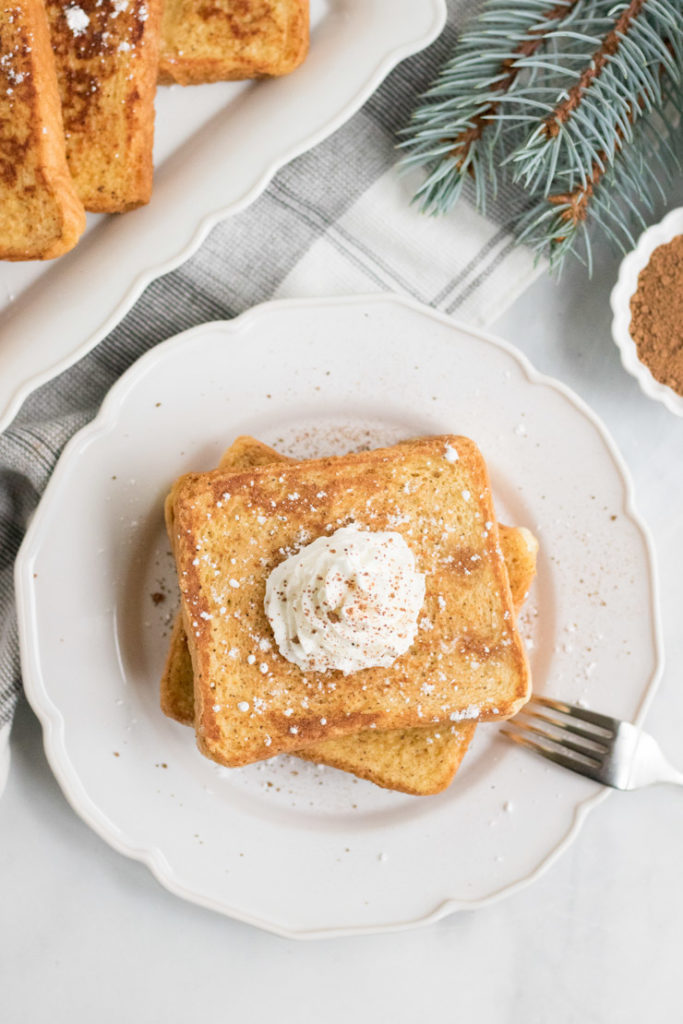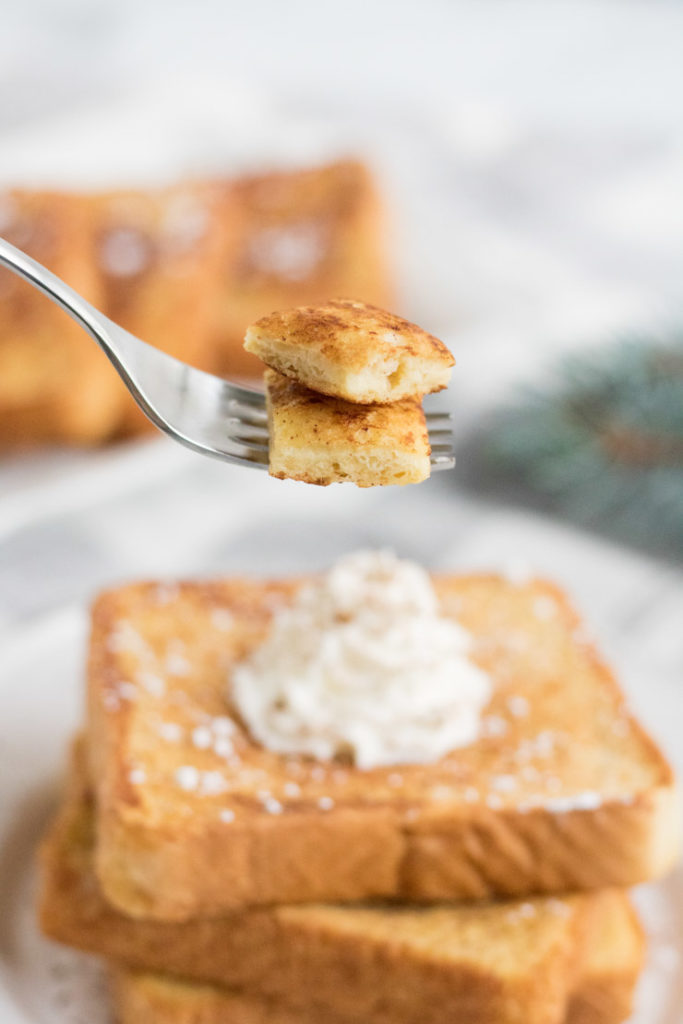 Will you be trying these this holiday season? Let me know in the comments!
Pin this recipe on Pinterest for later!