Egg Nog Cookies: A egg nog snickerdoodle cookie with a creamy nutmeg eggnog glaze. These cookies are beautiful on a holiday cookie tray and absolutely delicious!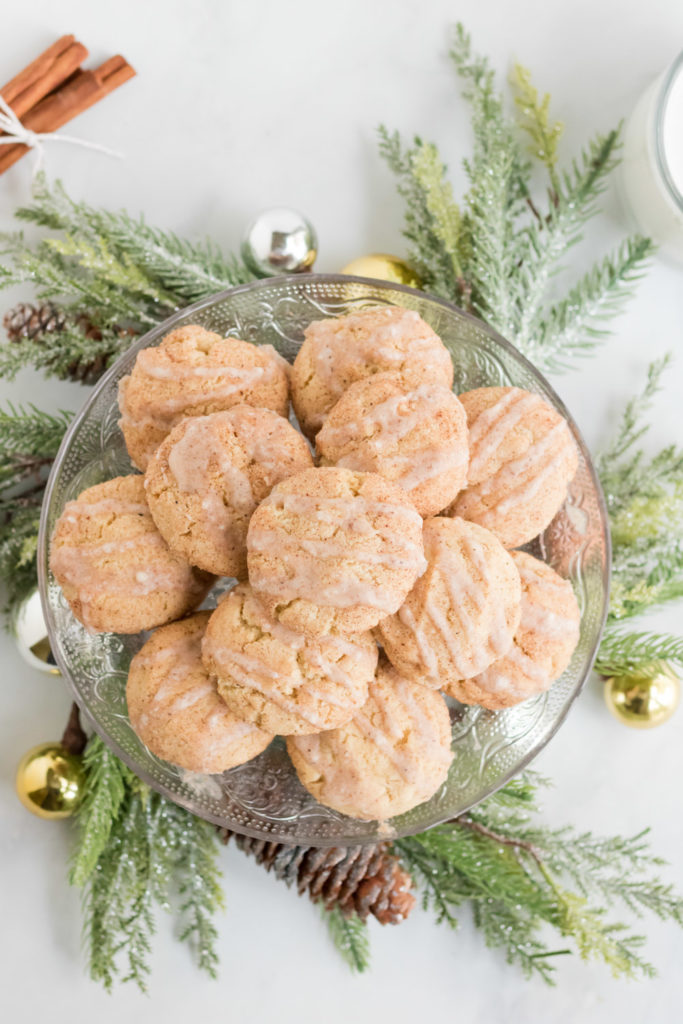 When creating my holiday cookie trays to share with family and friends, I always like to mix up the classics with some unique new recipes. These egg nog cookies are the perfect finishing touch to add to your holiday dessert table or Christmas cookie tray. They are truly one of the best egg nog desserts around!
This egg nog cookie recipe has a classic snickerdoodle base, but we add just a touch of creamy egg nog for a luxurious texture and extra punch of holiday nutmeg spice. The glaze is super simple adding a perfect touch of sweetness against the nutmeg and really takes these cookies to the next level!
Before we talk about how to make these cookies, let's cover some basic Egg Nog 101.
What is eggnog made of?
Egg nog is made from raw eggs, milk, sugar and vanilla. It may sound weird, but it's absolutely delicious! It reminds me of melted ice cream with a bit of spice. Its creamy, dreamy and delicious! For this recipe, you can buy store bought or easily make your own following my recipe here!
How to make eggnog
If you have a little extra time, you should give making your own a try! My homemade egg nog recipe is super easy and requires minimal ingredients and time. To make your own you basically slowly start by warming some milk and vanilla on the stove in a medium sauce pan.
Next, you prep the eggs by beating them with the sugar for a good five minutes then you pour the egg mixture into the warm milk and whisk constantly for about 5 minutes or until the mixture reaches 165 degrees. You finish by adding in the heavy cream and straining the egg nog in a fine mesh strainer. It's super easy! Be sure to get all the details here.
If you want to see egg nog making in action, please check out this video! I highly prefer my recipe...but this will just give you an idea of what the process is like.
What is the best storebought eggnog?
Southern Comfort Egg Nog is hands down my favorite store brand.
After doing a bit of research for you guys, I found that these are also very well-liked and popular brands:
What can I do with egg nog?
My favorite way to enjoy egg nog is by the fire on a cold winter day! I look forward to that first class all year long! But, egg nog can be used for MUCH more than simply sipping.
You can subsitutue egg nog for milk in practically any recipe! I especially love egg nog desserts and also love egg nog breakfast recipes! Check out some of our favorites:
Some of my favorite egg nog dessert recipes from other bloggers include:
You don't have to make anything fancy with it. I also love using it as creamer in my coffee during the month of December! Yum!
How to make eggnog cookies
Making this recipe is super simple! You are going to start by gathering all your ingredients. Don't preheat your oven just yet, because these cookies are going to need a bit of chill time.
Ingredients for eggnog cookies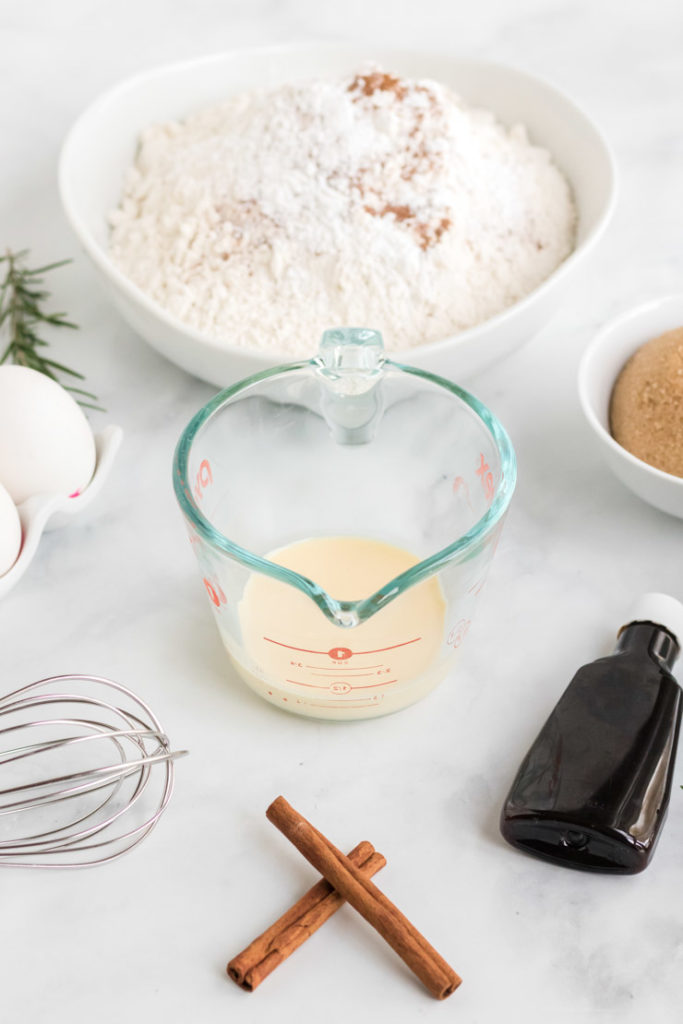 flour
baking soda
baking powder
cream of tartar
nutmeg
cinnamon
room temperature butter
vanilla
brown sugar
granular sugar
eggs
eggnog
Ingredients for topping:
Ingredients for glaze:
powdered sugar
eggnog
nutmeg
cinnamon
Once you have all your ingredients gathered, you are going to start by making the topping by combining the nutmeg, cinnamon and sugar. Set it aside for later.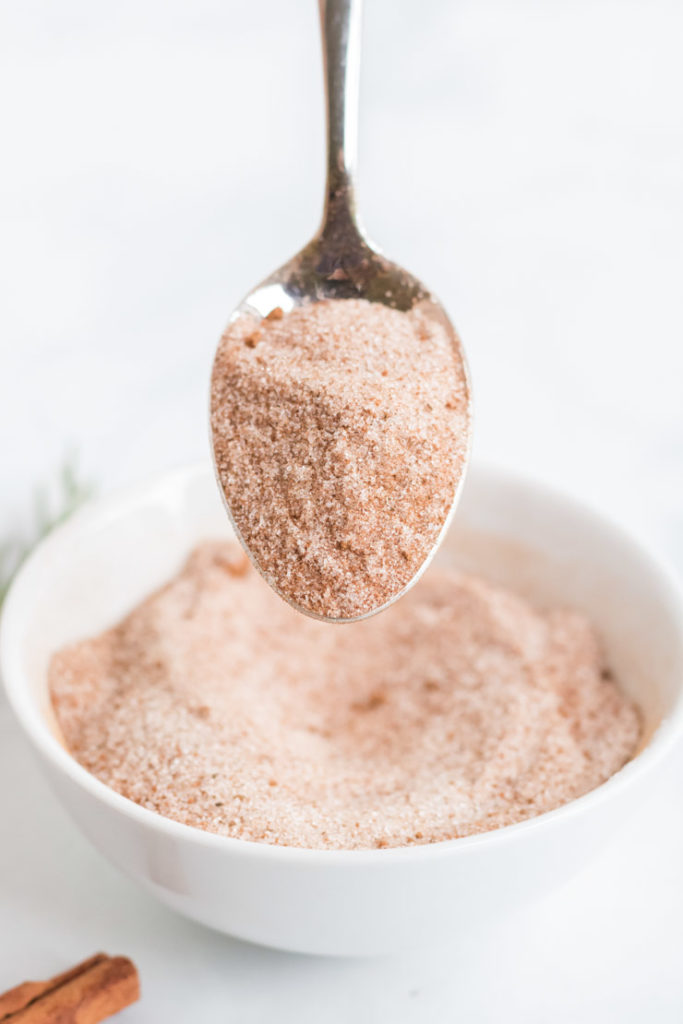 You are also going to prepare the dry ingredients for the cookie base by mixing together the flour, baking soda, baking powder, cream of tartar, nutmeg and cinnamon. Set this aside as well.
Next, you are going to work on the base of the cookies. Get a large bowl and combine the room temperature butter with the sugar and vanilla. Use an electric mixer on low until everything is nice and fluffy. Then you are going to add the eggs and egg nog and continue mixing until everything is well combined.
When everything is nice and smooth, you are going to slowly add the flour mixture. For this part, you want to use a wooden spoon rather than the electric mixer. Stir just until everything is well incorporated.
Now for the fun part! Using a one inch cookie scoop, roll one inch cookie dough balls and dip them in the cinnamon, sugar, nutmeg topping mix. Place the cookie dough balls on a plate or a cookie sheet lined with parchment paper. You will want to chill them for about an hour before baking.
How to bake egg nog cookies
When you are ready to bake, preheat the oven to 350 degrees. If chilled on a plate, transfer the cookies to a baking sheet lined with parchment paper.
Bake the cookies for about 8 minutes or until the edges start to turn slightly brown. Do not overcook . Cool completely before applying the glaze.
Glazing the cookies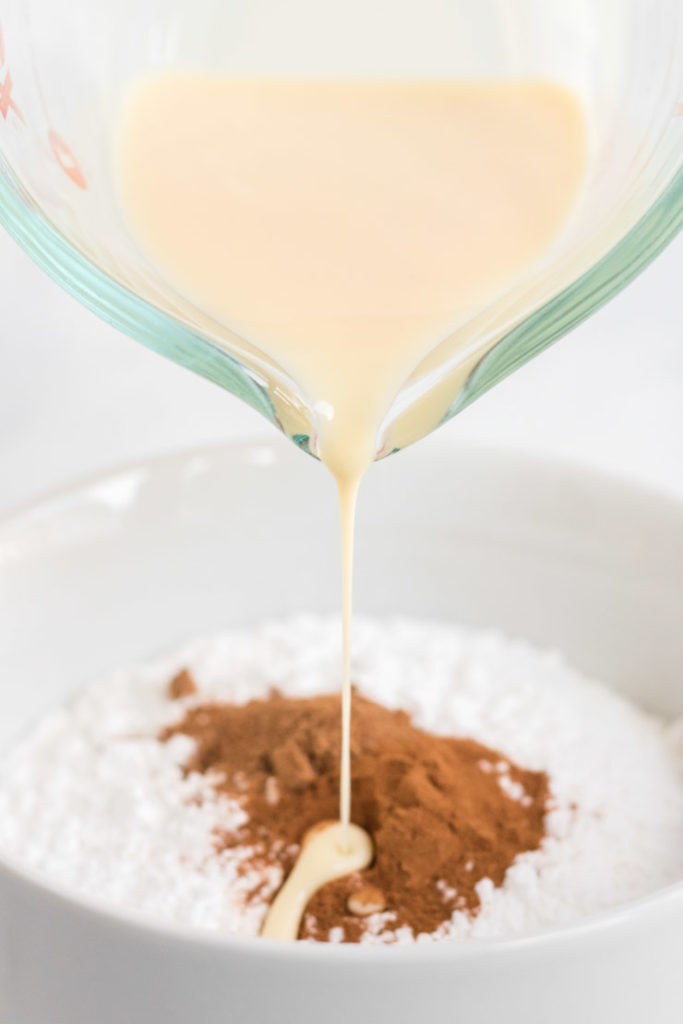 To glaze the cookies, combine the powdered sugar, nutmeg and cinnamon. Add the eggnog, adjusting the amount until you reach your desired consistancy. Using a spoon or a piping bag, lightly drizzle the glaze over the cookies and allow to set completely before serving.
What to serve with egg nog cookies
This cookie tastes great with a glass of cold eggnog or milk!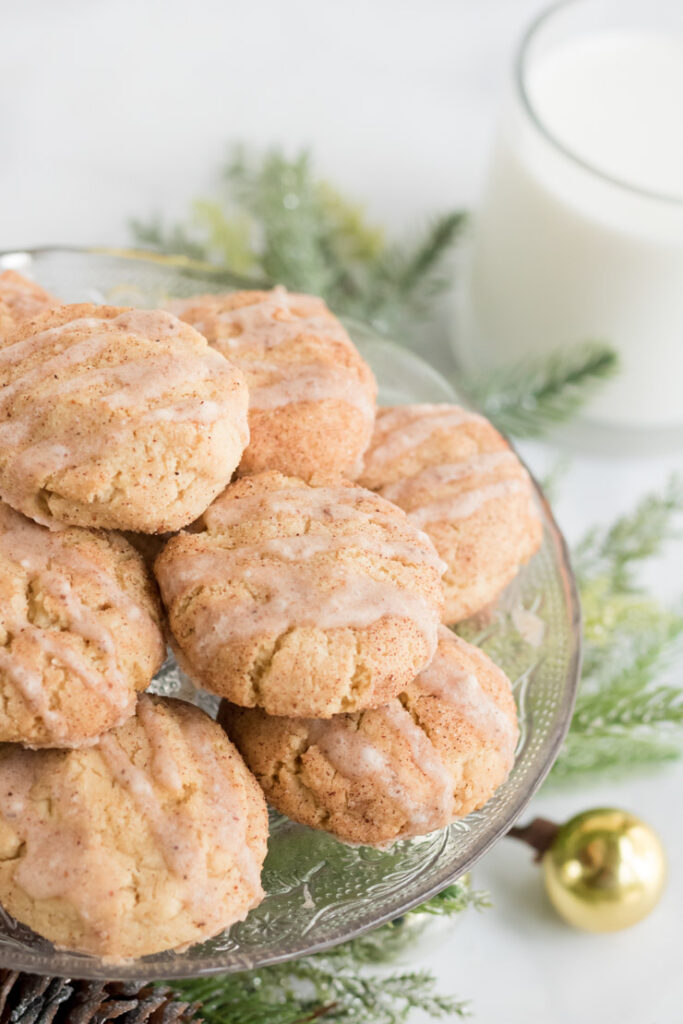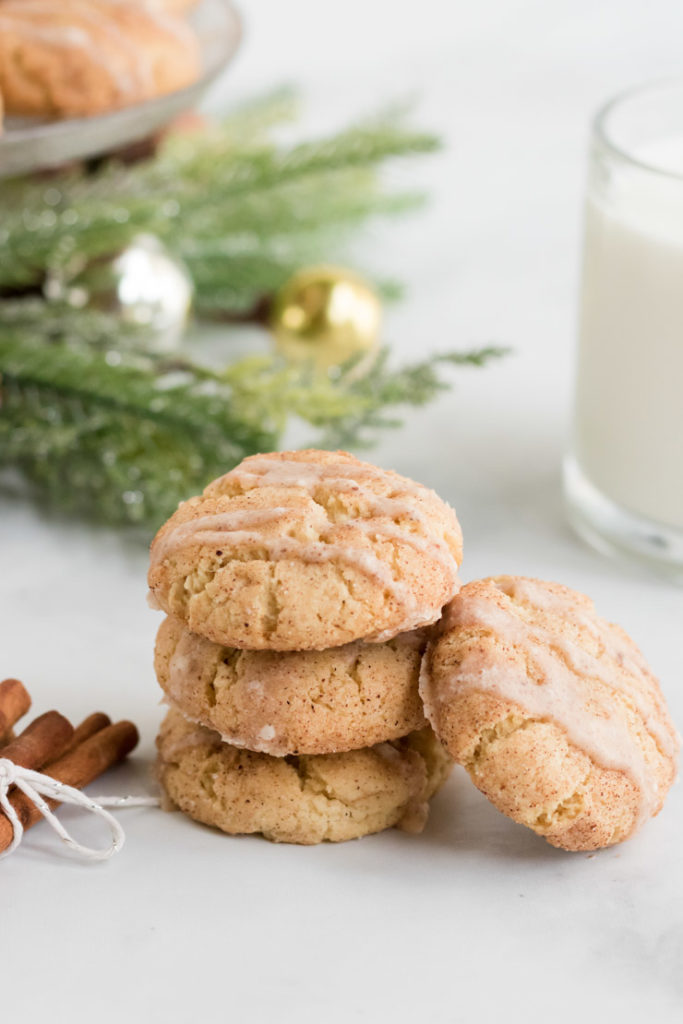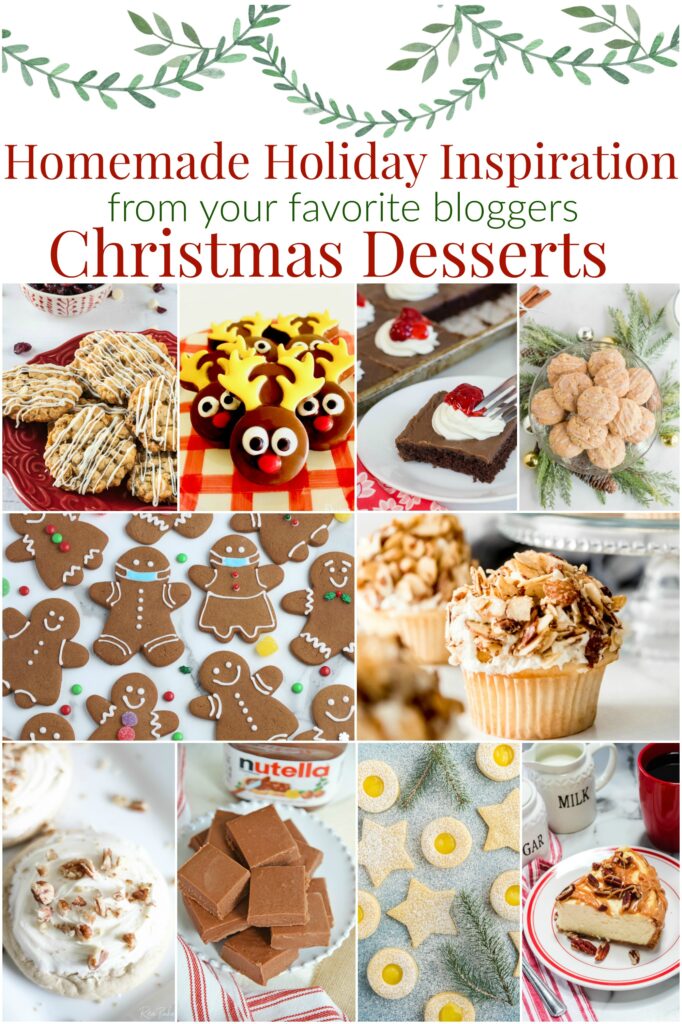 Check out these amazing Christmas desserts from fellow bloggers -
Orange White Chocolate Oatmeal Cookies from Chipa by the Dozen
Chocolate Covered Oreo Reindeer from Design Dazzle
Black Forest Brownies from Devour Dinner
Eggnog Cookies from Fresh Coast Eats
Gingerbread Cookies from Hoosier Homemade
Burnt Almond Cupcakes from House of Nash Eats
Butter Pecan Cookies from Rose Bakes
Nutella Fudge from Savory Experiments
Lemon Shortbread from Taste of Homemade
Instant Pot Salted Caramel Pecan Cheesecake from What's Cookin Chicago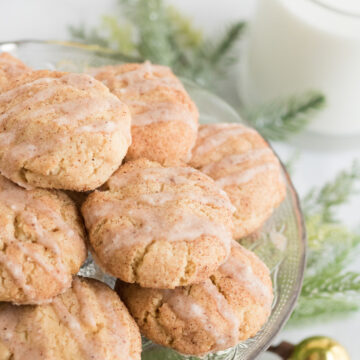 Eggnog Cookies
Eggnog Cookies are similar to a snickerdoodle cookie with a creamy nutmeg eggnog glaze. These eggnog snickerdoodle cookies are beautiful on a holiday cookie tray and absolutely delicious!
Print
Pin
Rate
Ingredients
Cooking Coating
¾

cup

sugar

1 ½

teaspoon

cinnamon

1 ½

teaspoon

nutmeg
Glaze
1

cup

powdered sugar

¼

cup

eggnog

⅛

teaspoon

cinnamon

⅛

teaspoon

nutmeg
Instructions
Make Cookies
Make the cookie coating first, set aside.

Mix together flour, baking soda, baking powder, nutmeg, salt, and cream of tartar.  Set aside.

In a separate bowl, cream room temperature butter and vanilla extract together. Add sugar and mix until fluffy.  Add eggs and eggnog and mix well.

Stir in dry ingredients.  Stir until just combined. Do not overmix.

Scoop out 1-inch balls and shape into balls using your hands.

Roll each cookie dough ball through the sugar coating mixture and place on a plate or cookie sheet.

Place cooking sheet into the refrigerator for at least 1 hour.

When ready to bake, preheat oven to 350 degrees. Cover cookie sheet with parchment paper and place 6-8 cookies on a cookie sheet at a time bake 8-10 minutes.  Allow 5-10 minutes to cool before removing them from the baking sheet.  

Drizzle with glaze when cookies are completely cool. 
Glaze
Mix powdered sugar, nutmeg, and cinnamon together. Add eggnog and stir together until smooth. Drizzle over cooled cookies and let set up until dry.
Notes
Chill time: These cookies cook up better after chilling in the refrigerator for at least an hour. This allows time for the flavors to develop and prevents them from spreading out too much on the tray.
Add icing to cooled cookies: The cookies must be fully cooled before icing.
Use a cookie scoop: This makes for even-sized cookies which look better but also cook more evenly. If you don't have one, a tablespoon measure works well too!
Make ahead: Yes, simply roll out the cookie dough balls ahead of time and store in the freezer. Make sure you thaw slightly in the fridge before baking. 
Best shape: Lightly push down on each ball before baking. 
Less eggnog flavor: Omit the eggnog in the glaze and use regular milk for a more subtle eggnog flavor, coming just from the cookie.
Nutrition
Calories:
121
kcal
|
Carbohydrates:
20
g
|
Protein:
1
g
|
Fat:
4
g
|
Saturated Fat:
3
g
|
Cholesterol:
15
mg
|
Sodium:
61
mg
|
Potassium:
41
mg
|
Fiber:
1
g
|
Sugar:
12
g
|
Vitamin A:
129
IU
|
Vitamin C:
1
mg
|
Calcium:
14
mg
|
Iron:
1
mg
Will you be making these cookies this holiday season? Let me know what your loved ones thought about them in the comments below!
Pin this recipe on Pinterest!