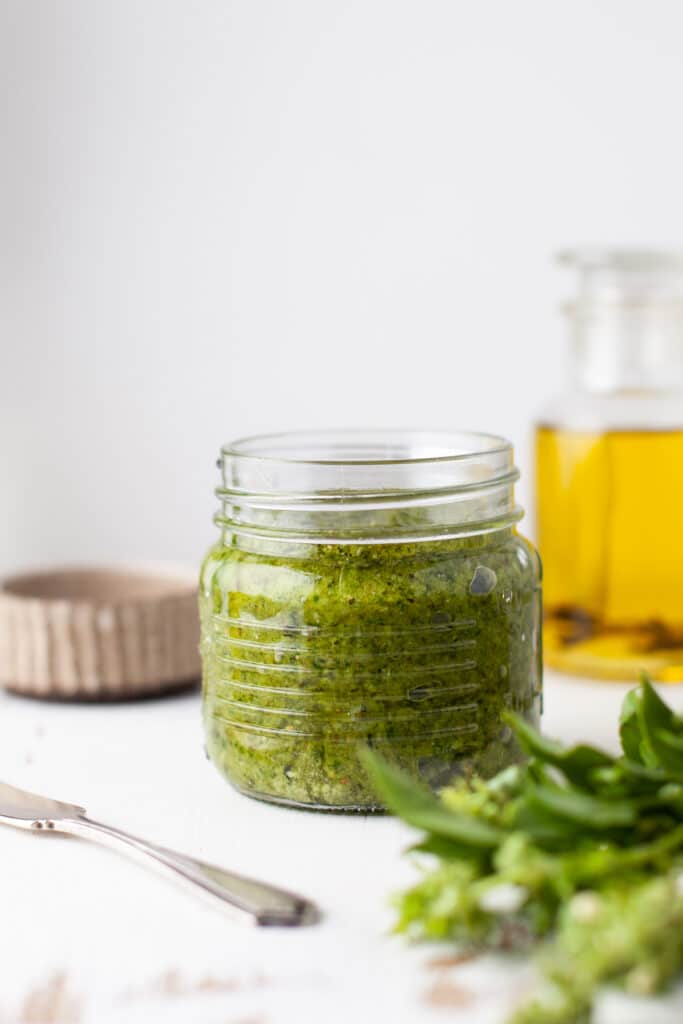 We are a participant in the Amazon Services LLC Associates Program. As an Amazon Associate, I earn from qualifying purchases.
Jump to:
This quick and easy black truffle cashew pesto sauce is packed full of flavor and excellent solution for taking snacks, appetizers, salads, chicken, fish or pasta to the next level.
I have been a huge fan of Trader Joe's Black Truffle Cashew Pesto Sauce since the moment I tried it. You could even say it was love at first ... taste.
However, the nearest Trader Joe's is about an hour away, and I knew I needed to figure out how to make a homemade version so I didn't have to wait for a trip to the store to enjoy it.
I tested my way through several recipes to find the perfect balance of flavor that, I think, tastes even better than Trader Joe's!
With just a few ingredients, you can make your own at home for a fraction of the cost!
Impress your dinner guests with this Copycat Trader Joe's Black Truffle Cashew Pesto Recipe
This pesto sauce is a game changer to have on hand. I love to make a big batch and use it all throughout the week. I literally put it on everything and dip everything in it!
It would also be a wonderful hostess gift if you served it up in a little jar. You could even can it if traditional mason jars. Or, bring it over fresh in one of these adorable little yogurt jars. I also love these air tight options with a clasp.
What are black truffles? What food group do they belong to?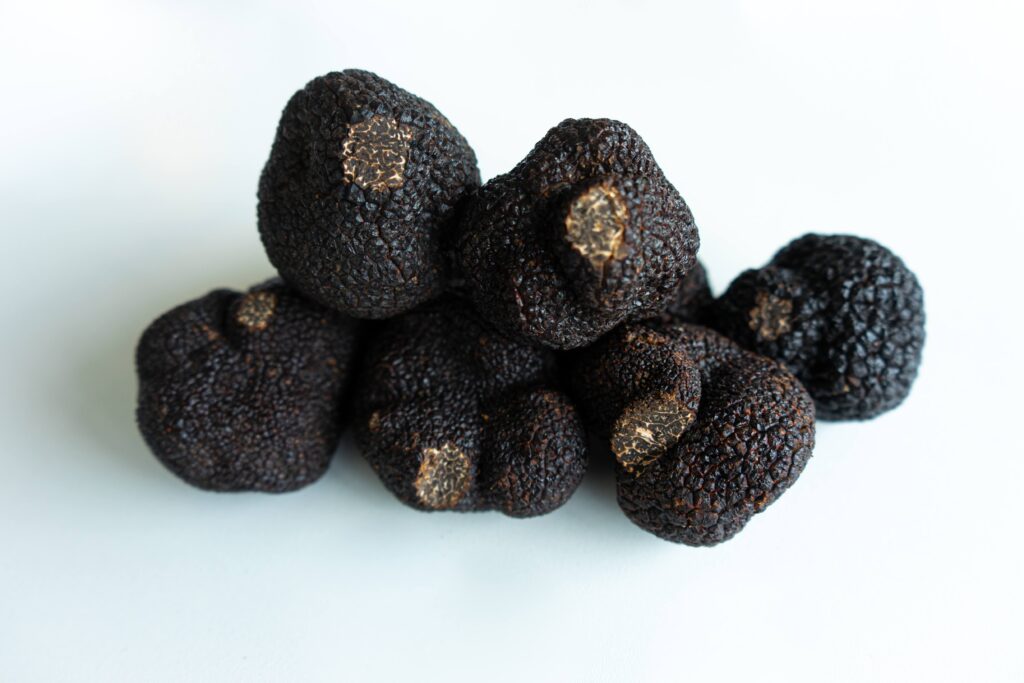 Truffles are an edible fungi, like mushrooms. They are found buried under ground, around tree roots.
Most truffles grow near the roots of beech, oak, birch, hornbeam, hazel, and pine trees. Black truffles are found in Périgord region in France.
What do truffles taste like?
Truffles, being in the mushroom family, have a rich umami flavor with a rich, earthy flavor and a finish that some would compare to garlic.
Why are truffles so expensive?
Truffles are expensive quite simply because they are hard to find.
If you love the earthy flavor of truffles, then truffle oil is a cost-friendly way to effectively get that luscious black truffle flavor.
Does Black Truffle oil taste like the real thing?
Truffle oil has a bad reputation. Often times, it is cheaply and synthetically made.
When properly and carefully produced, truffle oil is an excellent way to impart that deep umami flavor.
When it comes to black truffle oil's success in bringing those earthy flavors forward, quality is key!
I love this article breaking down the best truffle oils on the market right now. When working with truffle oil, quality is key!
What can I use this Black Truffle Cashew Pesto Sauce recipe for?
Here's the ingredients you'll need to make your own Black Truffle Cashew Pesto at home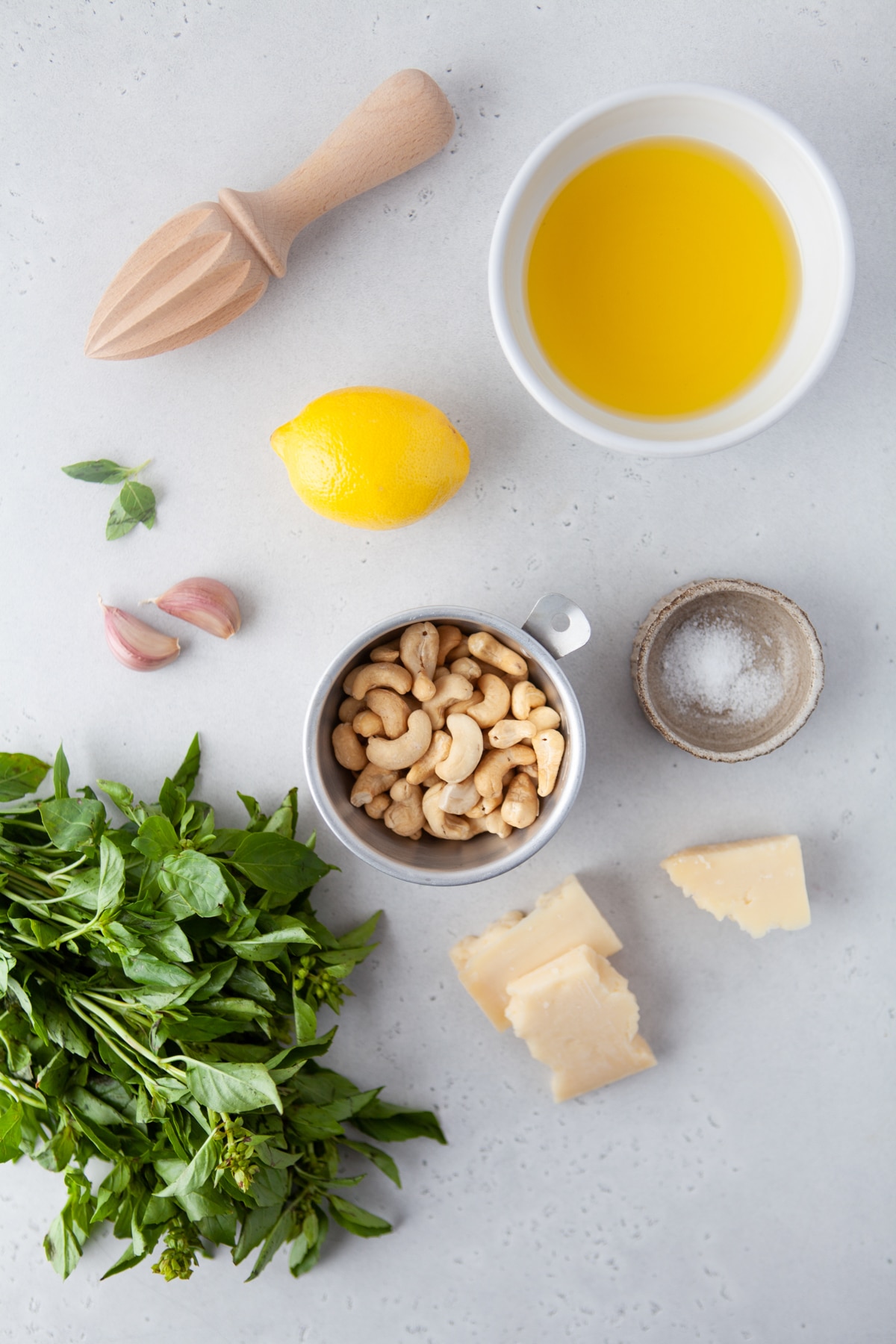 Raw Cashews: I like to start with raw ones and toast them myself.
Parmesan Cheese: Adds a deep, rich and salty flavor to the pesto.
Fresh Basil: Fresh is best for this recipe!
Garlic Cloves: Adds a deep, rich savory finish
Lemon Juice: Cuts through the salty parmesan cheese for a fresh zip of flavor
Truffle Oil: The star! Make sure to purchase quality truffle oil
How to Make Black Truffle Cashew Pesto
Gather your ingredients. For this recipe, fresh is best!
Toast the cashews. You can buy pre-toasted cashews, but believe me buying raw and toasting the nuts at home gives the best flavor.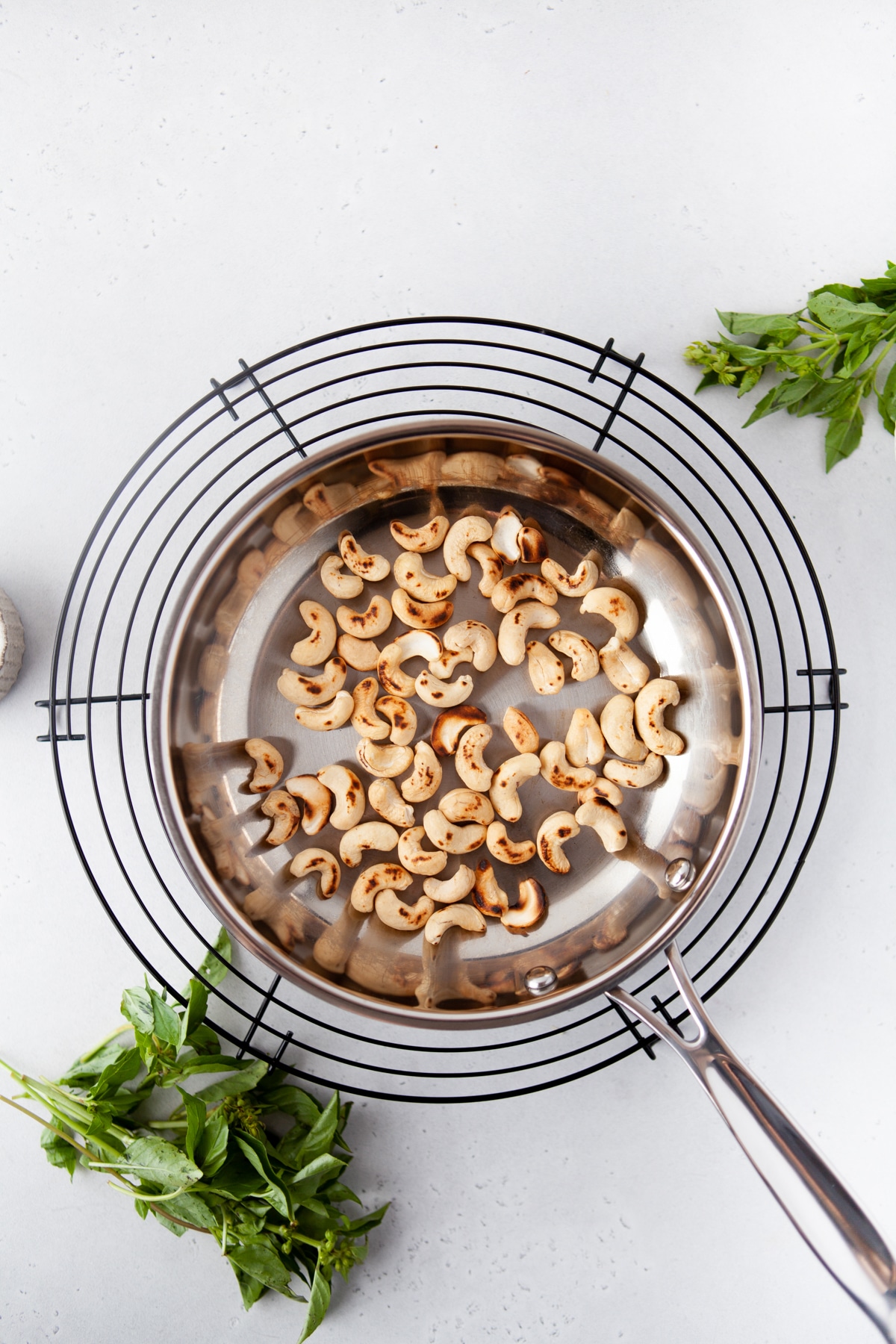 Add everything to the food processor and lightly pulse until desired consistency is reached.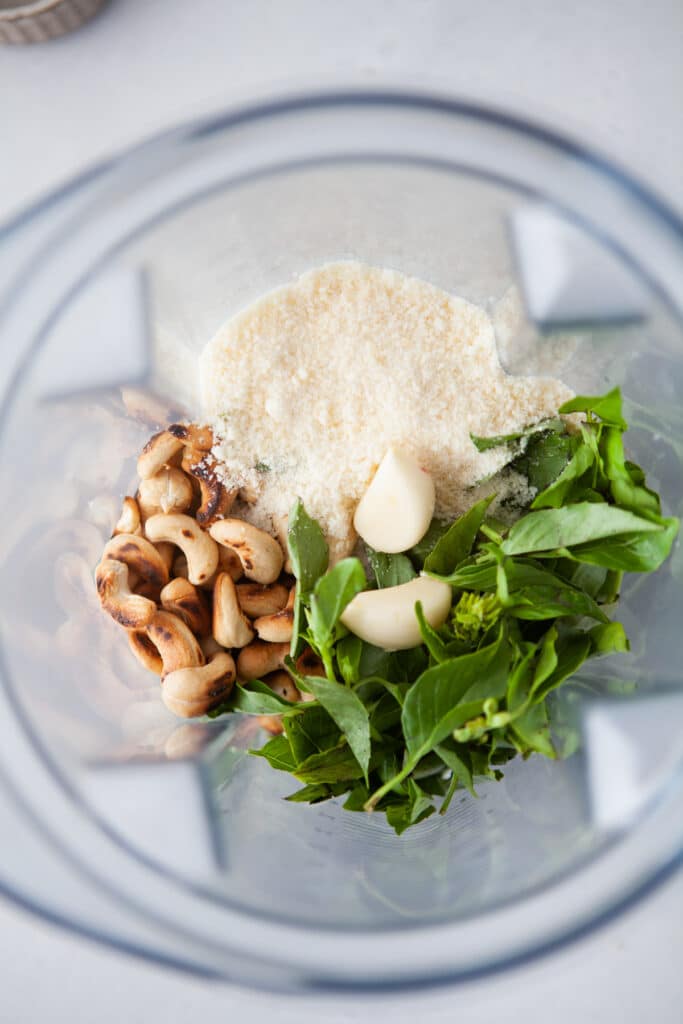 Adjust the amount of oil. You may need to add more or less oil depending on what you are making. If you want your pesto sauce to sit on top of chicken or fish you may want it thicker. If you are planning to toss with noodles, a little extra oil may be helpful.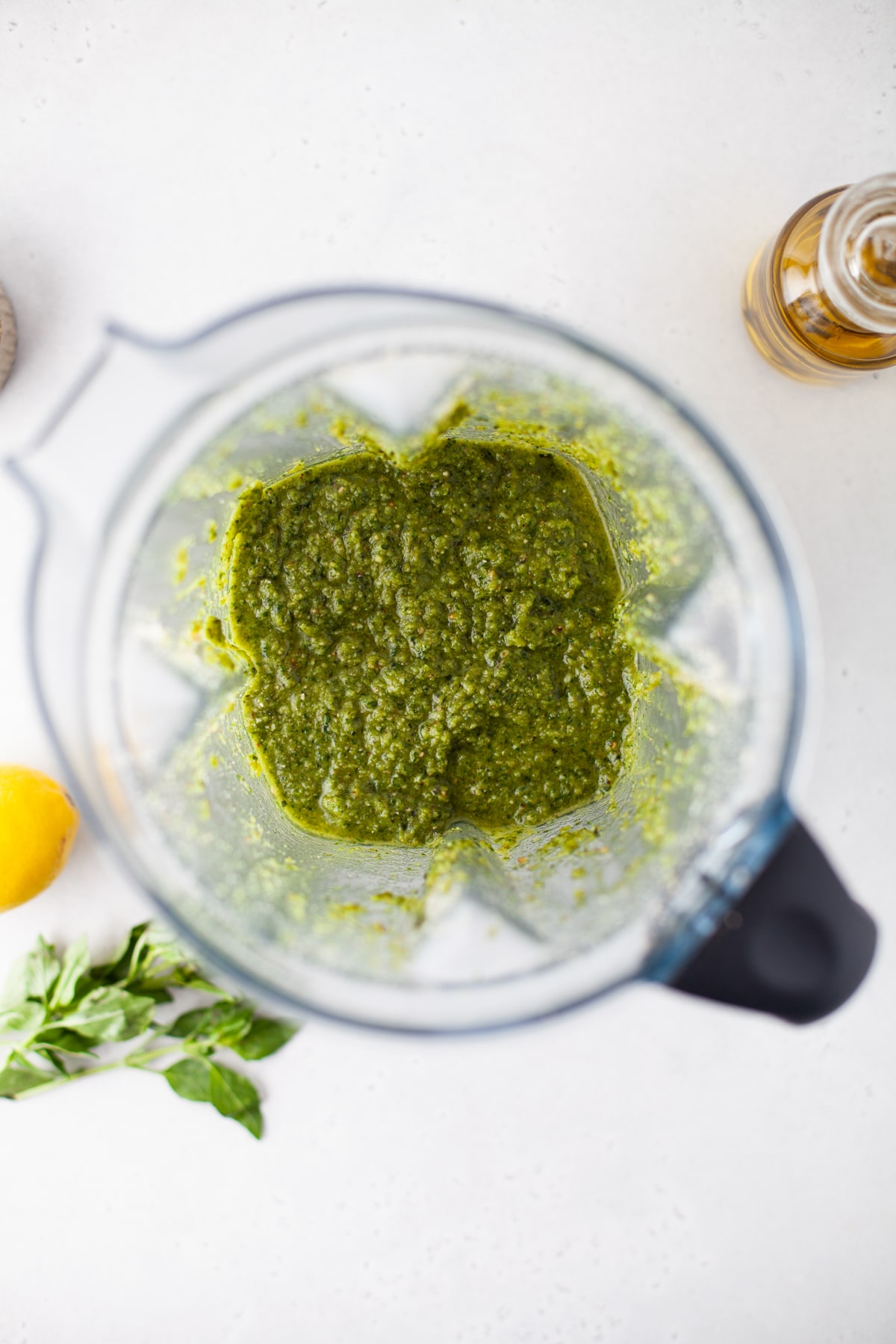 Copycat Trader Joe's Black Truffle Pesto Sauce FAQ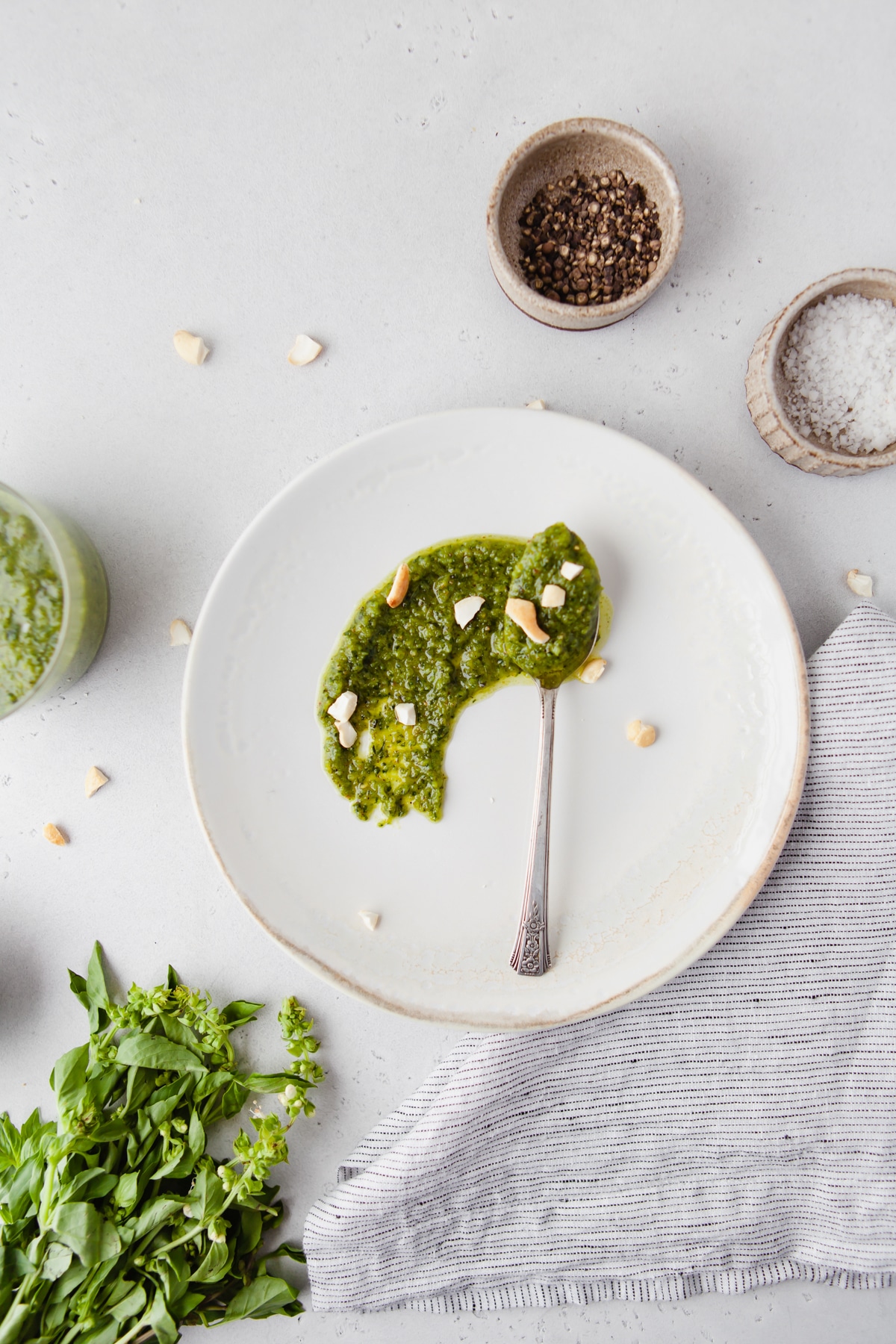 What kind of nuts can you use for pesto? Do I have to use cashews?
You can use any kind of nuts if you don't care for cashews! You can use classic pine nuts, nutritious almonds or even skip nuts all together and make an easy nut-free pesto recipe.
Can I use nutritional yeast if I want to make this cashew pesto recipe vegan?
Yes! Let's face it, there is nothing like a quality parmesan cheese when you are making pesto. But, if you are living a vegan lifestyle you can replace the parmesan with a vegan option or nutritional yeast, if desired.
Pesto is so forgiving, you could even skip the cheese altogether!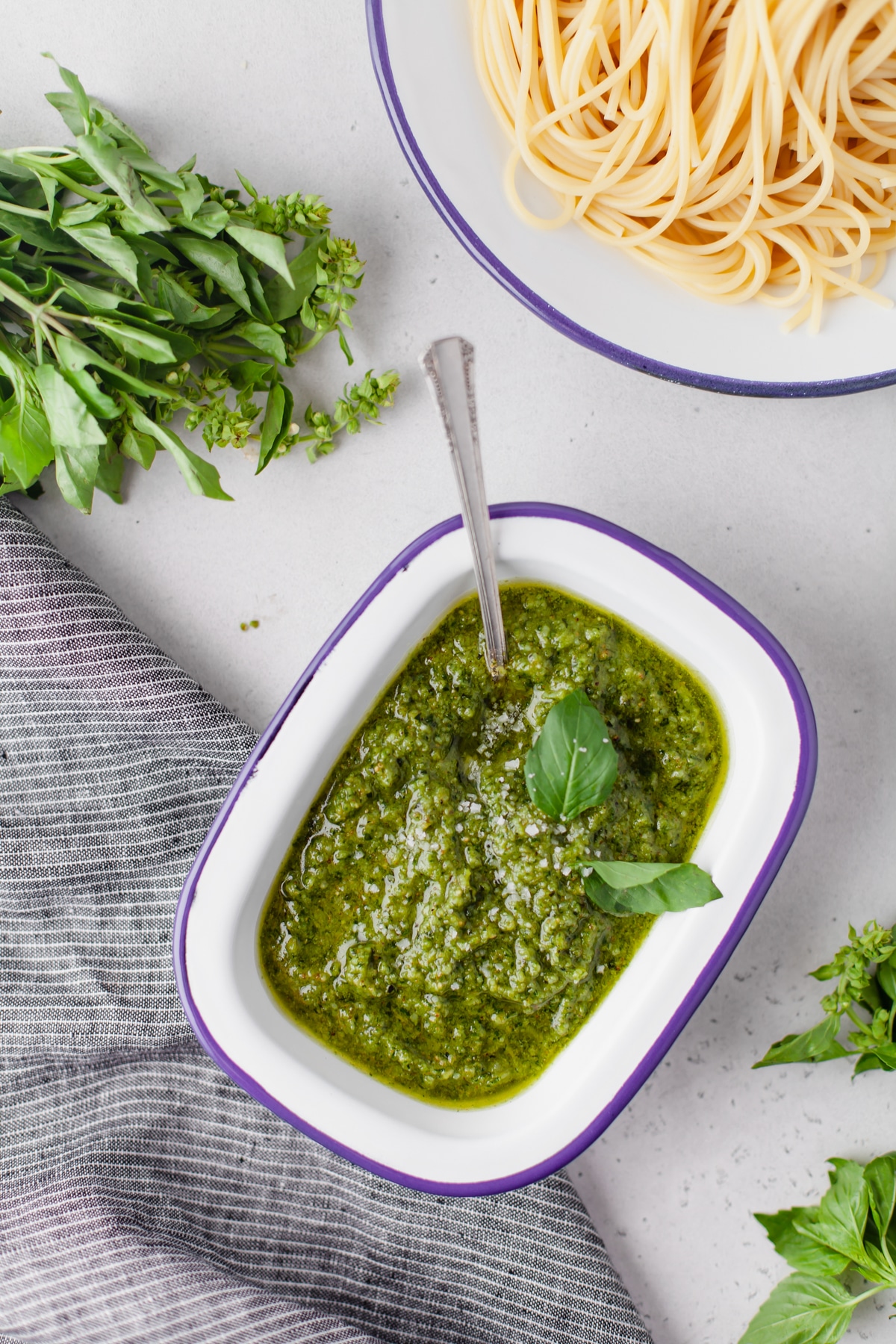 How long does homemade black truffle pesto last?
When properly stored in the refrigerator , this recipe will last a week. It will last a few months when properly stored in the freezer.
How to store leftover any leftover homemade pesto sauce
When storing in the refrigerator, make sure you store in air tight glass containers for optimal freshness.
Can you freeze cashew pesto?
Yes! One of my favorite things about this recipe is that it freezes well.
I like to use an ice cube tray and fill it with the pesto, then pop the frozen pesto cubes out and store in a freezer-safe ziplock bag. I love these reusable ones on Amazon!
This way, I can thaw a small amount at a time.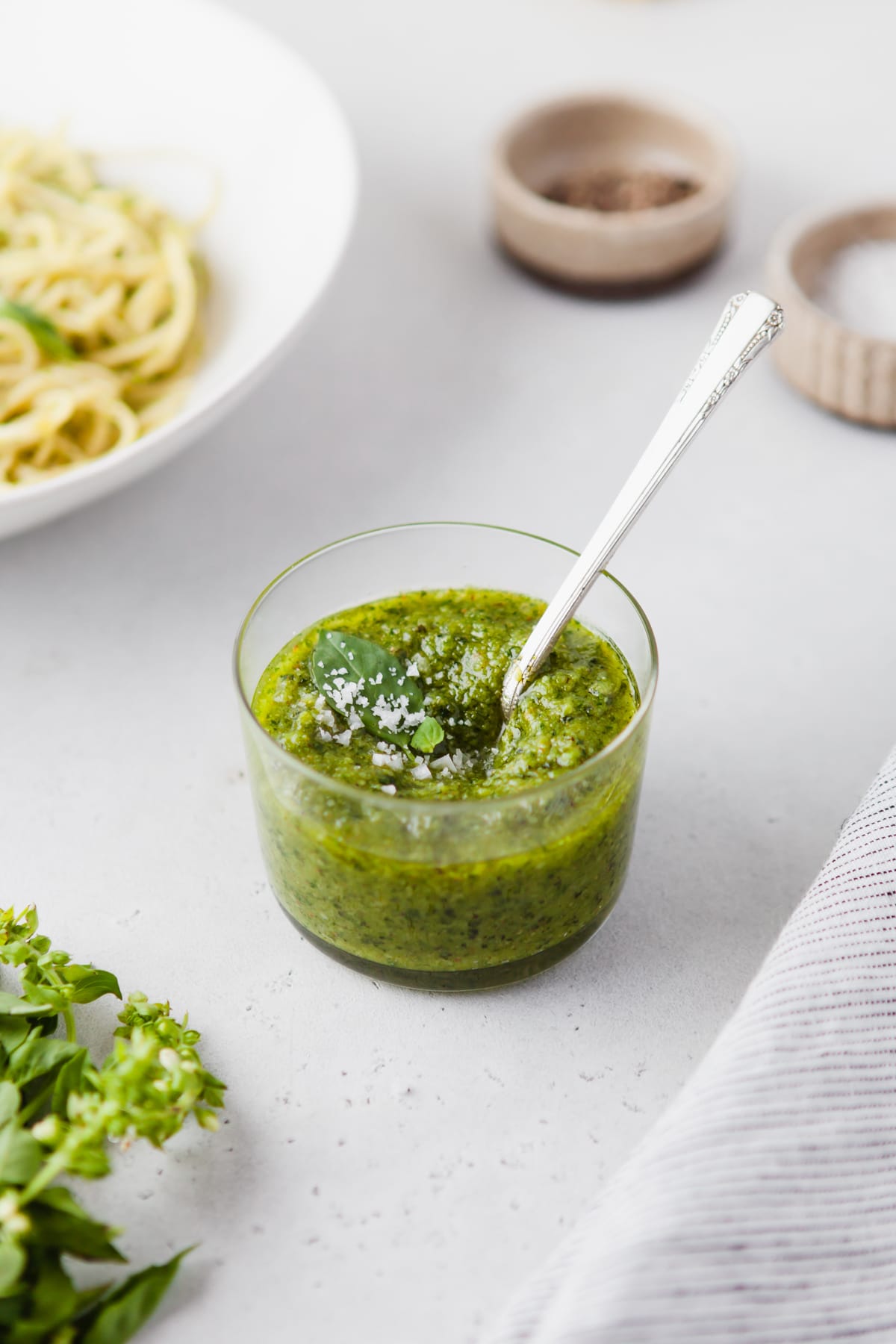 Should Basil be washed before making pesto?
Yes. You should always thoroughly wash and dry your herbs before you use them, especially if you have purchased them from the store.
Why is my cashew pesto so thick?
There are many things that would lead to an overly thick pesto. The size of the cashews can have a big impact on consistency and texture of the sauce.
The type of parmesan cheese can really have an impact as well. Synthetic parmesan tends to thicken sauces quite a bit and can even cause large lumps, so a fresh block of parmesan is best for this recipe as it won't continually absorb the oil and will blend seamlessly with the other ingredients when blended.
You can also help control the consistency by adjusting the amount of oil.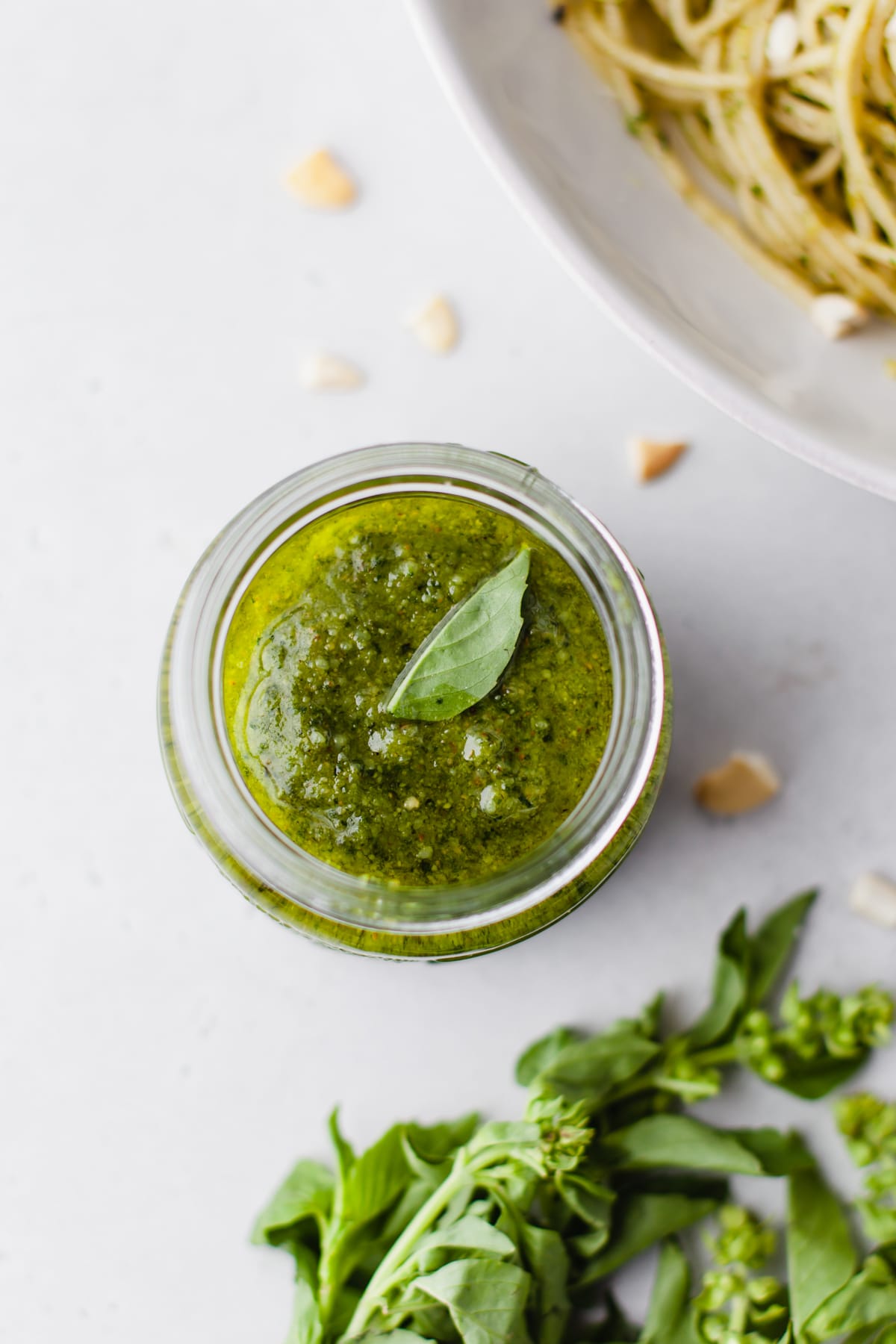 Why is my copycat trader joe's black truffle pesto so thin?
If you find your black truffle pesto is too thin, you can add a few extra cashews or a little extra basil and parmesan cheese.
This recipe is very easy to adjust to your liking and making a few adjustments by adding dry ingredients will solve your problem.
When you don't have a Trader Joe's nearby and are craving black truffle cashew pesto this copycat recipe is sure to hit the spot!
I take all of the photography for Fresh Coast Eats unless noted otherwise. These images were taken by my talented friend, Galia exclusively for Fresh Coast Eats. The image of the truffles was a stock image. Thank you, Galia!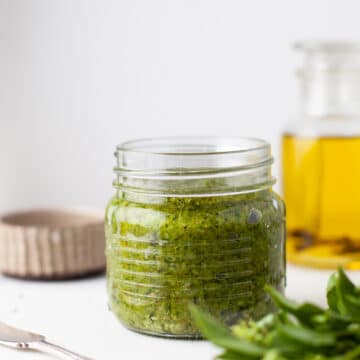 Copycat Trader Joe's Black Truffle Cashew Pesto Sauce
This quick and easy black truffle cashew pesto sauce is packed full of flavor and excellent solution for taking snacks, appetizers, salads, chicken, fish or pasta to the next level.
Print
Pin
Rate
Equipment
Food Processor or Blender
Ingredients
½

cup

raw cashews

2

cups

basil

fresh

½

cup

parmesan cheese

fresh, grated

½

cup

black truffle oil

2

garlic cloves

1

Tablespoon

lemon juice

fresh

¼

teaspoon

salt
Instructions
In a small dry skillet, toast the cashews over medium high heat, for 3 minutes or until toasted and golden brown.

Use a food processor or blender to pulse the toasted cashews, basil, parmesan cheese, black truffle oil, garlic cloves, lemon juice and salt until well combined and smooth.

Add more oil, pulsing in 2 second intervals until desired consistency is reached.
Notes
You can add more or less oil to reach the desired consistency. 
This recipe stores well in the fridge for up to a week, or in the freezer for a few months. 
Try freezing this pesto sauce in an ice cube tray, defrosting small quantities as needed. 
You can make this recipe with almonds or pine nuts as well. 
Be sure to use a high quality black truffle oil for optimal flavor. 
Nutrition
Calories:
576
kcal
|
Carbohydrates:
25
g
|
Protein:
32
g
|
Fat:
42
g
|
Saturated Fat:
13
g
|
Cholesterol:
34
mg
|
Sodium:
1393
mg
|
Potassium:
653
mg
|
Fiber:
3
g
|
Sugar:
5
g
|
Vitamin A:
2924
IU
|
Vitamin C:
17
mg
|
Calcium:
713
mg
|
Iron:
6
mg