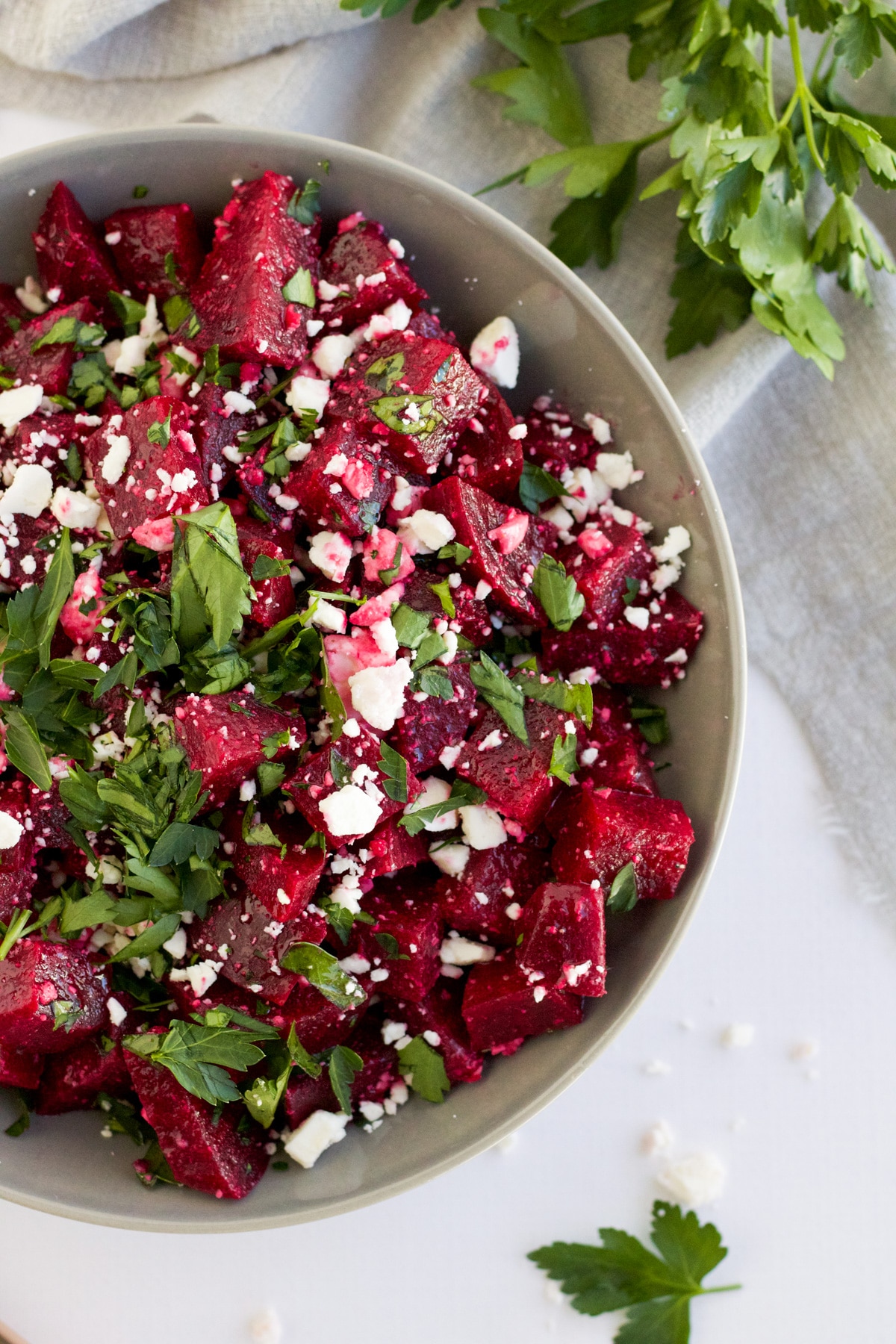 We are a participant in the Amazon Services LLC Associates Program. As an Amazon Associate, I earn from qualifying purchases.
Jump to:
Looking for a new salad recipe that is quick, easy, packed with health benefits and perfect for every salad?
This beetroot salad is simple perfection that brings bright color to summer BBQ spread but is also perfect to round out holiday meals.
The main part of this salad uses just three ingredients, so it's one of those recipes that is easy to remember. Whenever you are wondering the grocery store aisles without a plan you can easily grab what you need to make this.
What are the benefits of eating beetroot?
Beetroots are so good for you and have many health benefits. In addition to being delicious, beets:
are packed with vitamin C
can lower blood pressure
are high in fiber
increase athletic performance
contain folate and iron
How To Make This Easy Beetroot & Feta Salad Recipe 
You are going to be so surprised at how easy this salad is to make! Let's get started.
The 3 Simple Ingredients you'll need For Beet & Feta Salad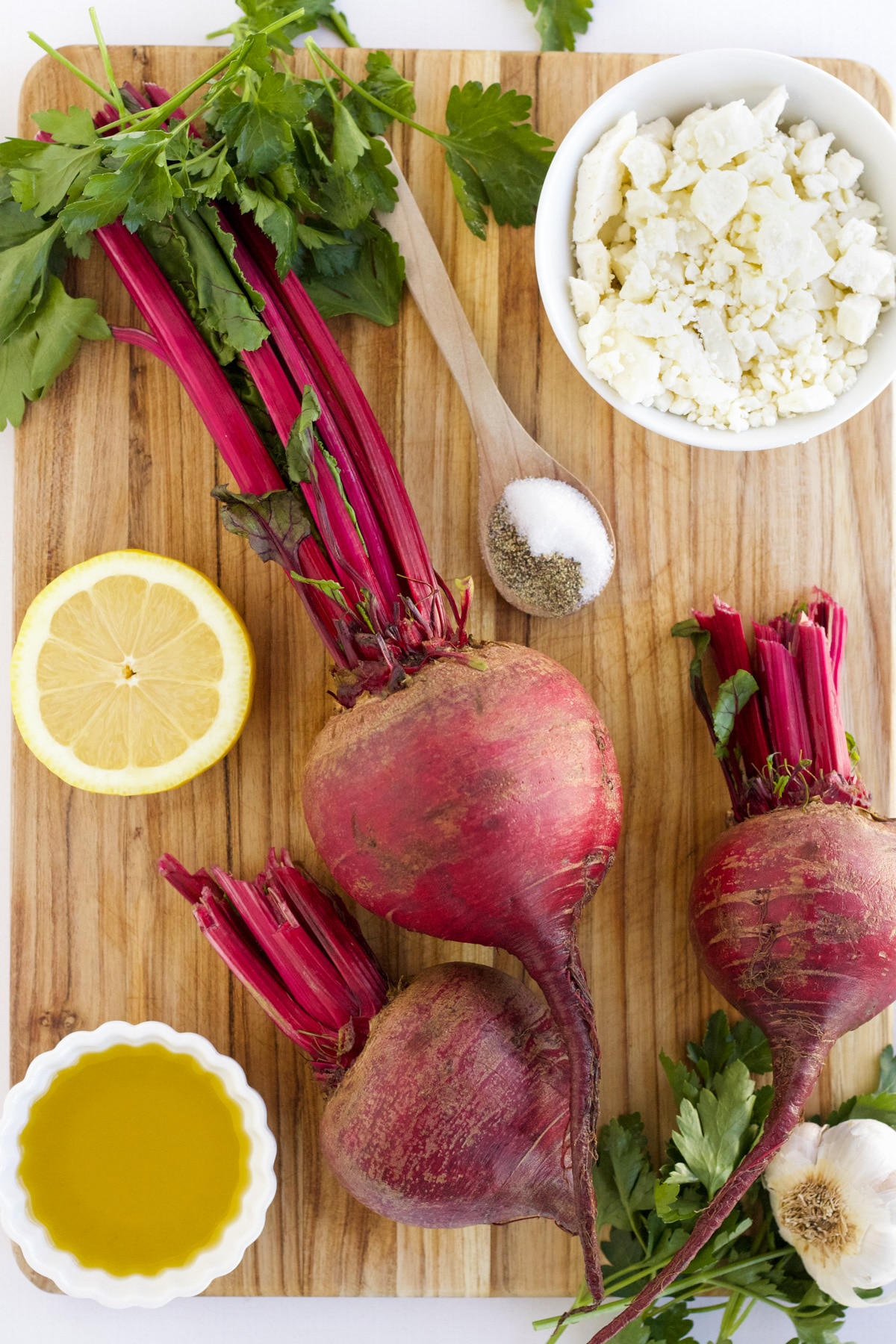 Beetroot- You will want to use fresh beets from this recipe. If you can get them from your local farm stand in the summer, or grow them in your own garden then you are in for a treat! Off-season, beets are easy to find at any grocery store so you can make this recipe in the spring, summer, fall or winter!
Feta Cheese- Few things go better with beets than feta! Feta adds a salty depth that really compliments the earthy flavor of the beets.
Fresh Parsley- Parsley adds a peppery freshness to this salad and a beautiful pop of green to the dish.
The ingredients you'll need For the Lemon Vinaigrette
Lemon Juice - Lemon juice has a sweet and sour tang that is perfect against the earthy robust flavors of the beet. Fresh is best!
Olive Oil- Make sure you choose a quality oil for best results.
Garlic Clove- Everything is better with garlic! Including this salad. Garlic will create a lingering finish that will keep you going back for another bite.
Salt and Pepper- For rounding out and balancing the flavors.
Making your Beetroot Salad Recipe
Making this beetroot salad recipe is so easy! Start by gathering your ingredients and preparing your beets.
For this recipe, you can either roast the beets or boil them. I prefer to boil them as it's a little less messy and super easy!
Pro Tip: Beets can be messy! Make clean up a breeze by boiling beets with the skin on! After cooking, the skin will slip right off the beet and your cutting board will thank you!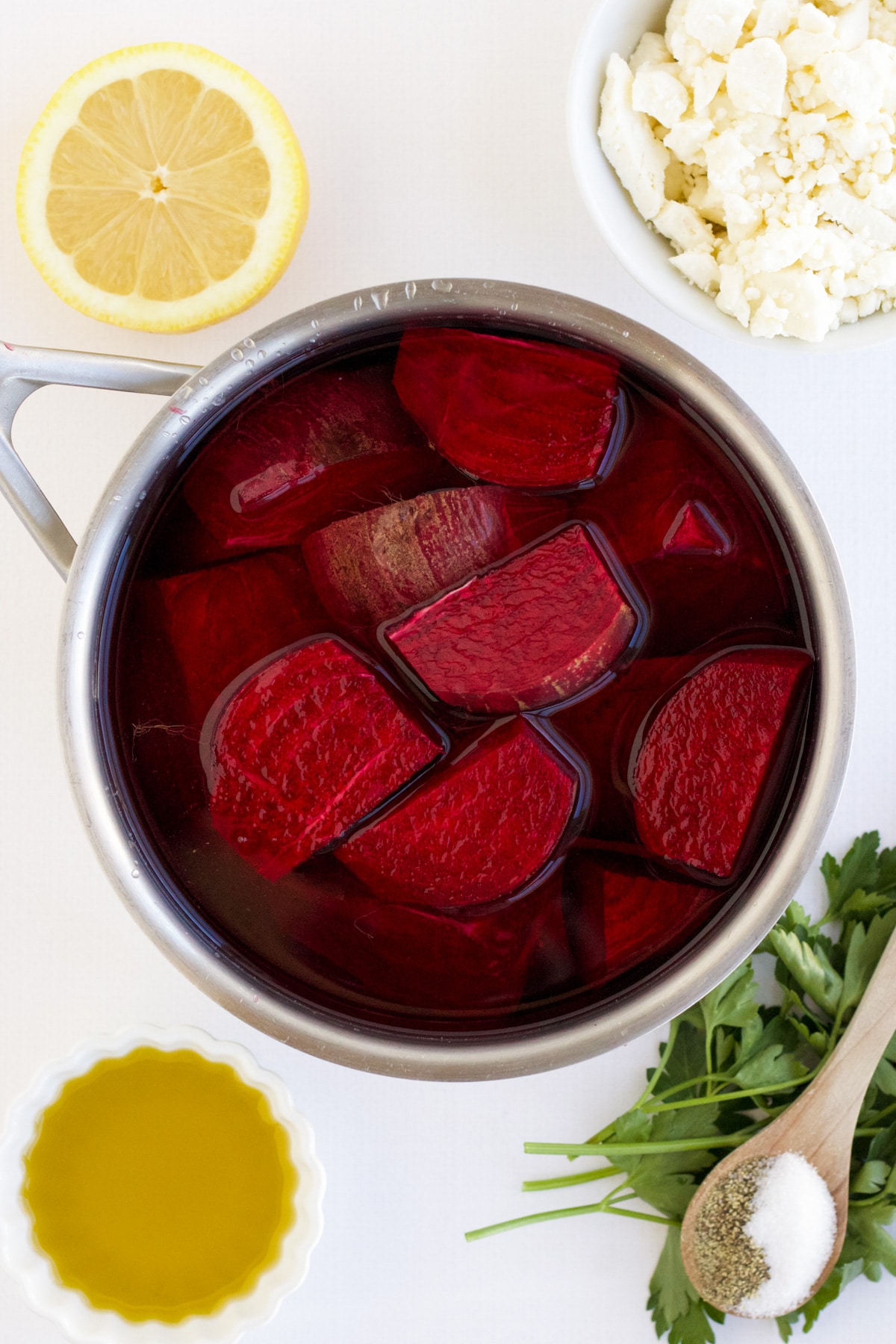 To cook the beets, boil them in a saucepan until tender. I like to leave the skin on while boiling, then it just slips right off after cooking!
Once the beets are doing cooking, give them a chop and combine them with the feta and parsley and set aside.
Prepare your dressing by whisking together the ingredients for the lemon vinaigrette, then lighting drizzle it over the beets, feta and parsley and give a quick toss to combine.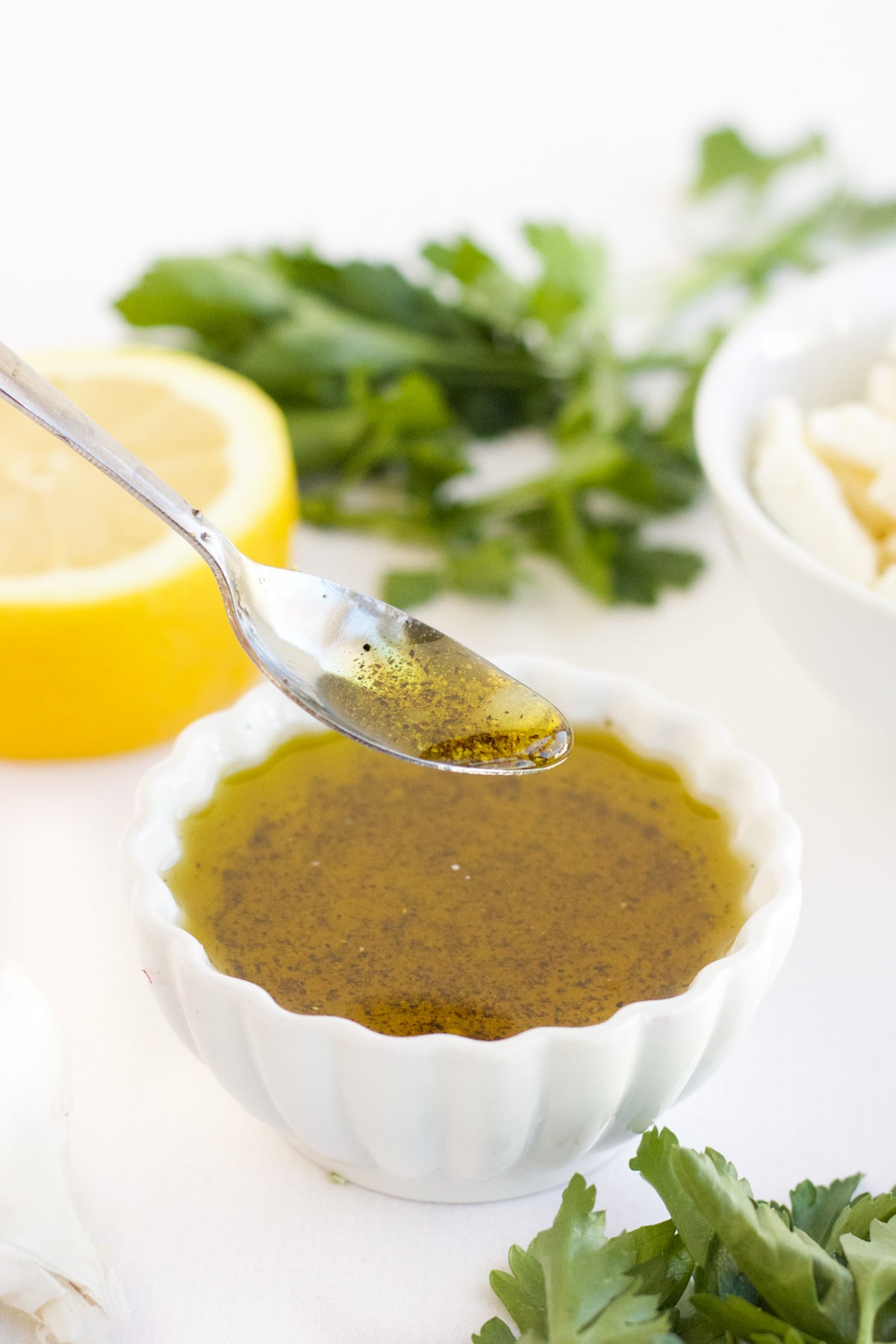 Homemade Beet & Feta Salad FAQ

What to serve with along with Beetroot & Feta Salad with a lemon vinaigrette
One of my favorite things about this recipe is that it is filling enough to be a meal on it's own but is equally delicious as a side.
I love serving this salad as a side for lunch. Give it a try with turkey bacon wraps or pretzel dogs.
It is also a really great way to round out a soup-centered meal. Try serving it alongside Chicken Pastina Soup or Butternut Squash Soup.
During this holidays, this salad is beautiful on a Thanksgiving or Christmas spread. Imagine how pretty it would look on a holiday spread with pork wellington or Beef Wellington.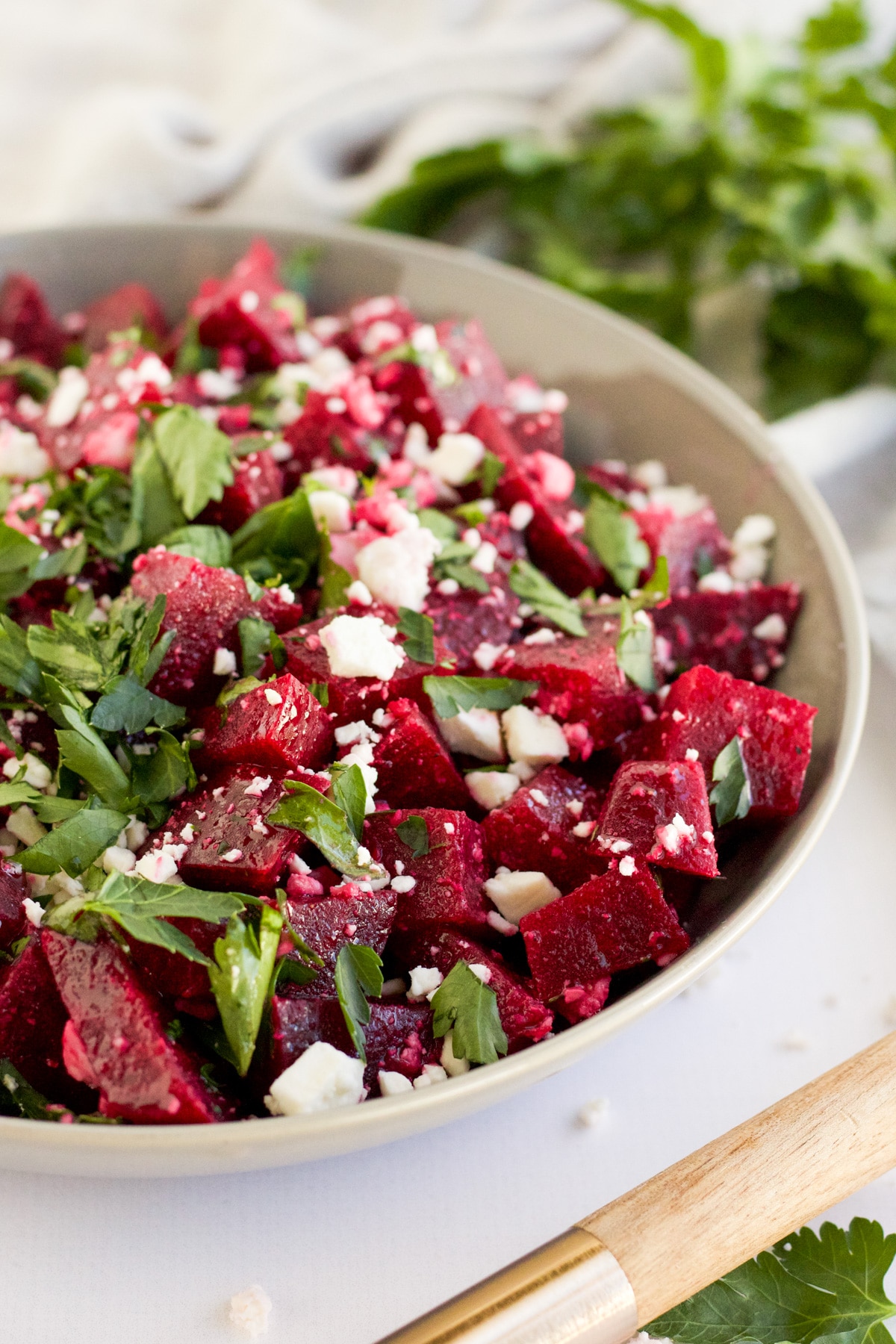 Can I make this beetroot salad ahead of time?
Yes! One of my favorite things about this recipe is that is stores well and is easy to make ahead.
When making this salad ahead of time, I like to store everything separate and mix right before it hits the table.
If you want to make this in advance, prepare the beets as directed and store them separately. Prepare the dressing and store in a small bowl. When it is time to serve, toss everything together and it will taste like it was made fresh!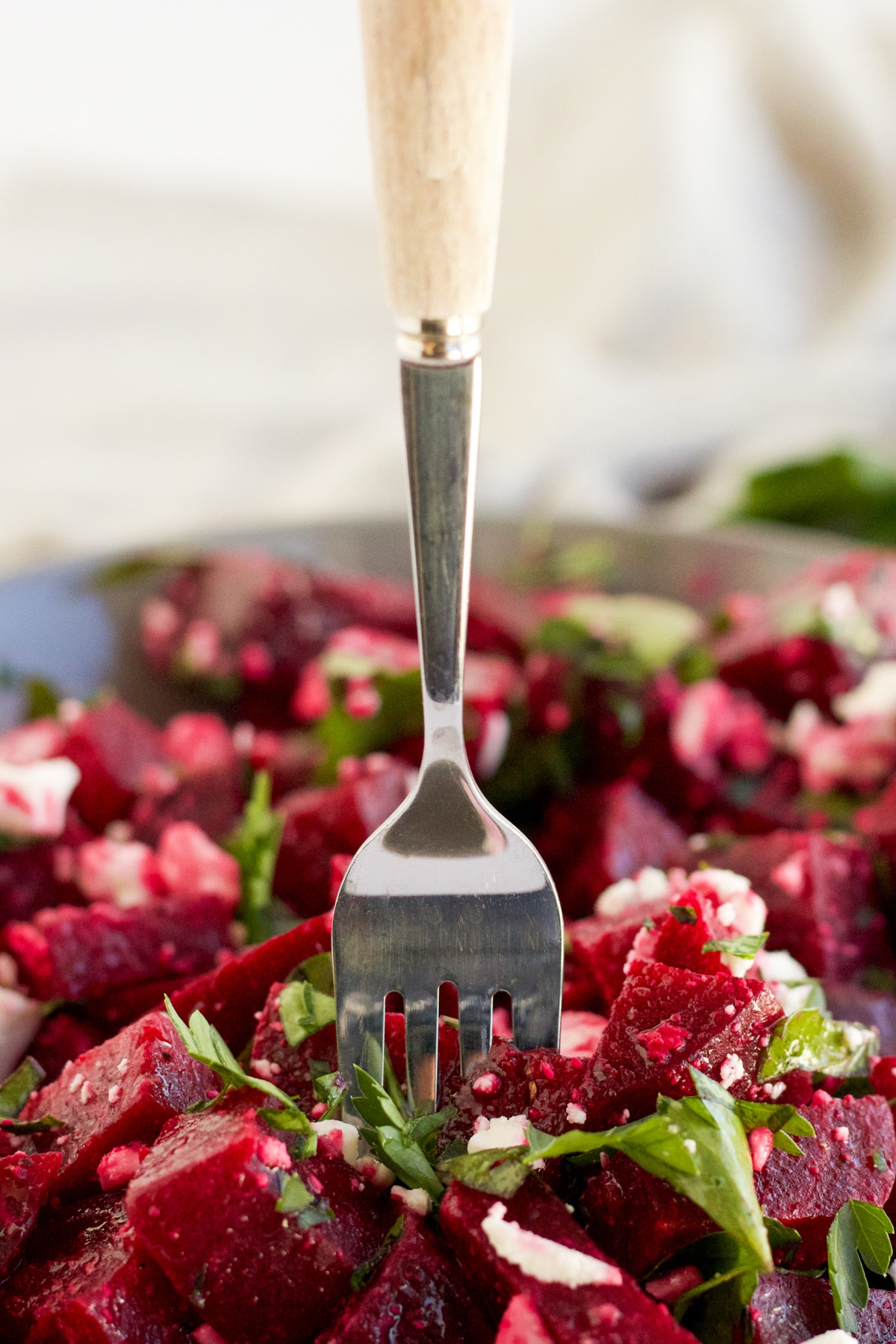 How should I store beetroot salad
This salad should be stored in the refrigerator in an airtight container and will keep well for up to 5 days.
Be aware that if the salad is already mixed, the feta may absorb the color of the beets and the parsley may fall a little flat.
For best results, store the ingredients separately and toss right before serving.
What cheese can I put with beetroot if I don't have feta on hand?
If feta isn't your favorite, you can skip it completely or replace with a cheese you like better. Try goat cheese if you want to change it up or mozzarella if you are looking for a more mild replacement.
What herbs go with beets? What Can I use if I don't like fresh parsley?
If you don't care for parsley, you can leave it out or swap it out for cilantro. You can even skip herbs completely and slice some beet greens, spinach or spring greens for freshness.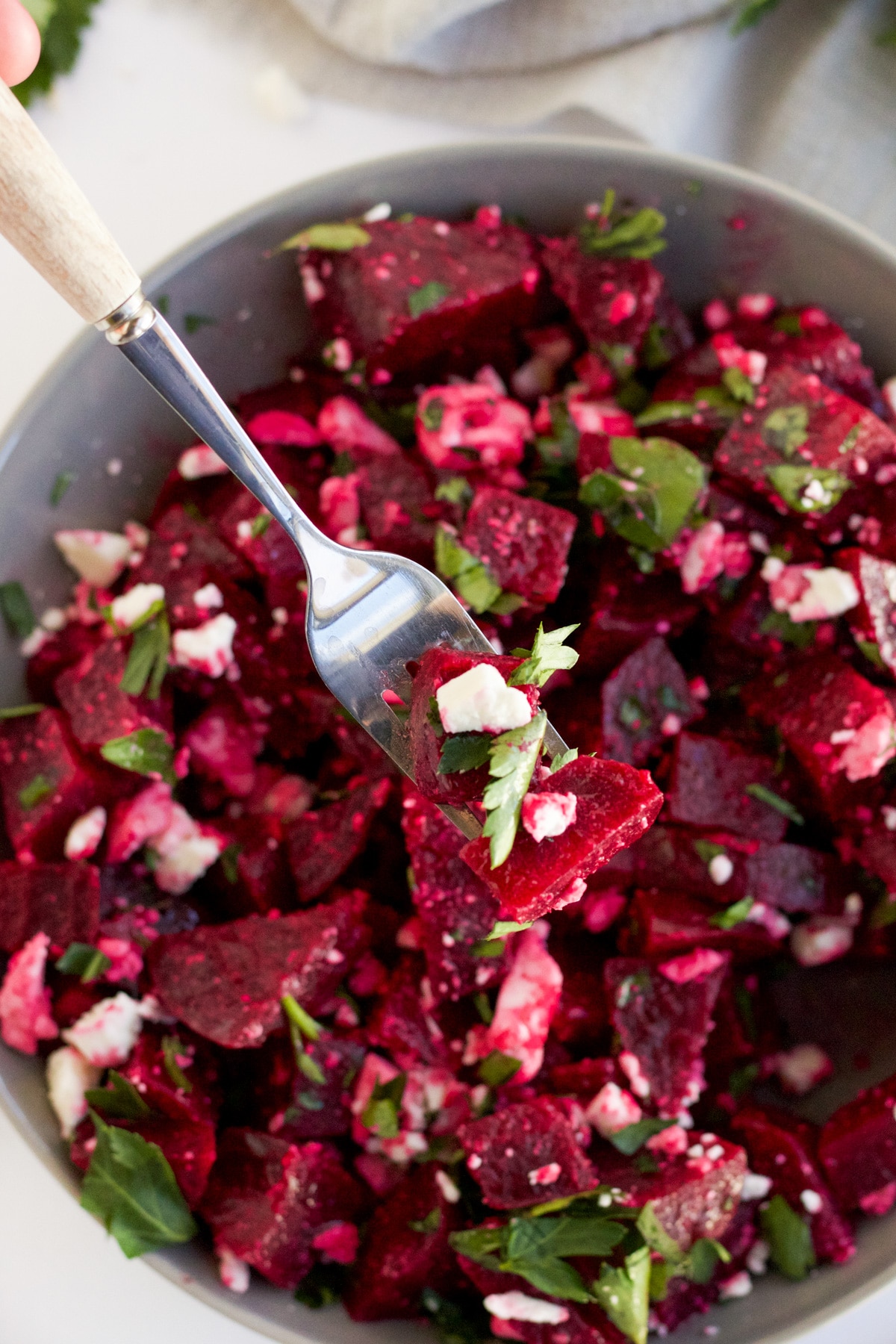 Is It Better To Eat Beets Raw Or Cooked?
You can eat beets raw. In fact, many people enjoy the flavor of raw beets and even raw beet juice.
For this recipe, I recommend boiling. It mellows out the flavor and texture and isn't as overpowering.
Can I roast my beets instead of boiling them for this salad?
Yes! I love roasted beets and have made this salad before after roasting up a big batch.
But, when I developed this recipe for you I wanted to keep things super simple. Boiling with the skin on not only saves time, but it makes for an easier clean up!
This easy Beetroot & Feta Salad makes the perfect side dish and brings a lot of flavor to any meal!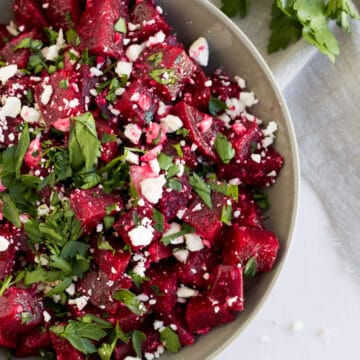 Beetroot Feta Salad
This 3 ingredient salad is a perfect appetizer, side dish, lunch or dinner. Made with boiled beets, feta cheese and fresh parsley it is packed with flavor and super healthy! Serve it up with an easy lemon vinaigrette or your favorite dressing.
Print
Pin
Rate
Ingredients
Salad
4

beetroots

medium size, washed and tops removed

¼

cup

feta cheese

crumbled

¼

cup

parsley

fresh, chopped
Dressing
2

Tablespoons

lemon juice

fresh

2

Tablespoons

olive oil

extra virgin, high quality

1

clove

garlic

minced

½

teaspoon

salt

¼

teaspoon

pepper
Instructions
Quarter the prepared beetroot and place in a medium saucepan covered with water.

Bring water to a boil and cook them for five minutes or until fork tender.

Prepare the dressing by mixing the lemon juice, olive oil, garlic, salt, and pepper in a small bowl. Set aside.

Remove beets and drain and allow to cool. When they are cooled, carefully remove outer peels. If the beets are properly cooked, the skin will remove easily.

Chop the beets into one-inch cubes and place in a large bowl with feta cheese and parsley. Set aside.

Drizzle the dressing over the ingredients and toss to combine.
Notes
Expert Tips:
Fresh ingredients give this easy beetroot feta salad the best flavor. Use fresh beets, garlic, lemon juice, and parsley whenever possible.
Beets work great raw, roasted, or boiled to make beetroot salad. I find boiling them to be the simplest way to prepare them when using cooked beets.
Serve immediately after mixing all the ingredients and the dressing together.
Cook beets with the skin on to maintain maximum nutrition and for less mess. It easily peels off after cooking.
Nutrition
Calories:
126
kcal
|
Carbohydrates:
9
g
|
Protein:
3
g
|
Fat:
9
g
|
Saturated Fat:
2
g
|
Cholesterol:
8
mg
|
Sodium:
462
mg
|
Potassium:
306
mg
|
Fiber:
2
g
|
Sugar:
6
g
|
Vitamin A:
384
IU
|
Vitamin C:
12
mg
|
Calcium:
67
mg
|
Iron:
1
mg