This quick and easy homemade cornbread recipe with honey is about to become one of your favorite side dish staples. Made with cornmeal, buttermilk, and honey this sweet and moist honey cornbread recipe goes with everything!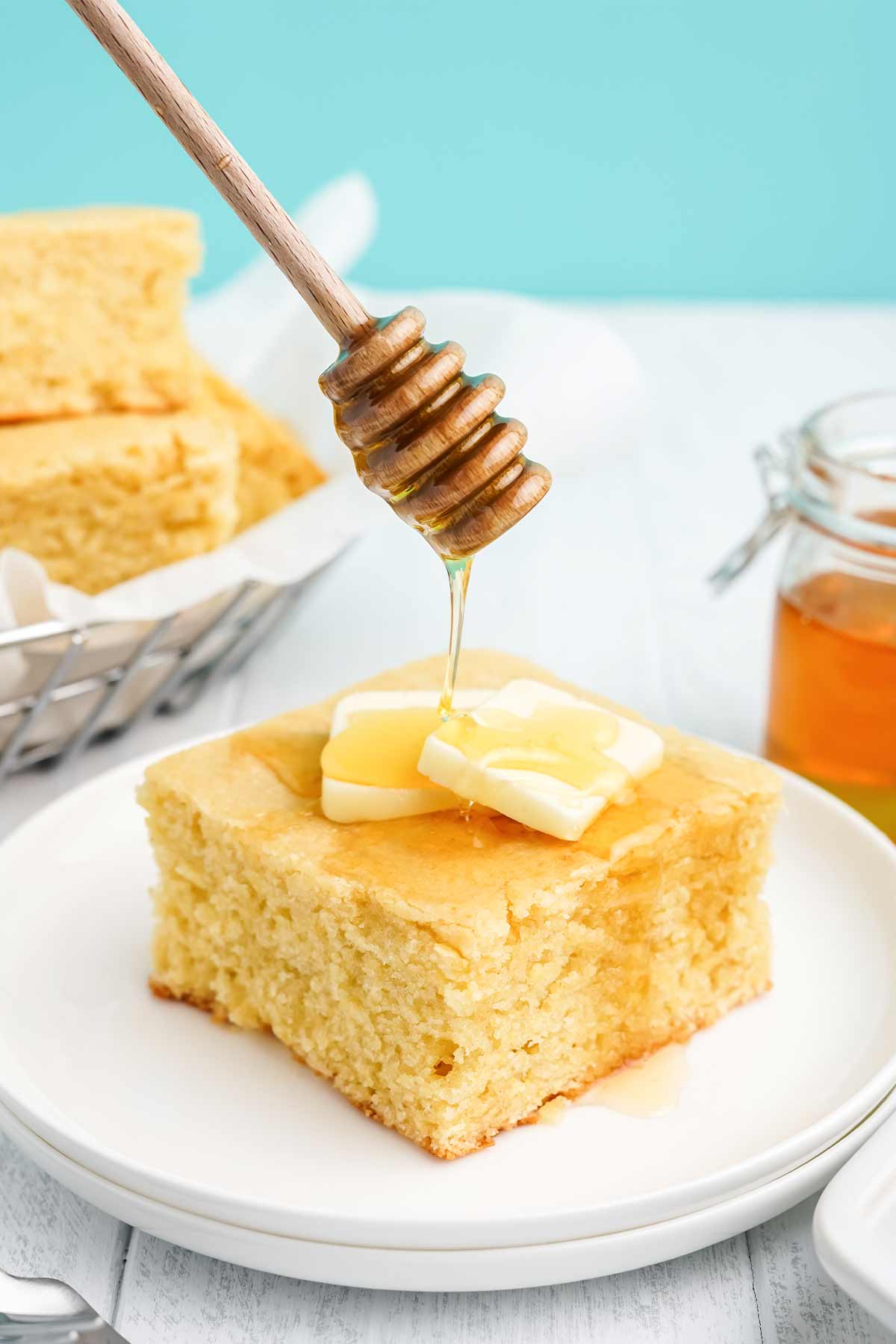 Note: that links to products you find in this post are Amazon affiliate links which means I do make a small amount of money when you click and make purchases.
Freshly made cornbread is easily one of our favorite go-to side dishes.
It's a perfect solution to rounding out meals for a summer BBQ with bbq chicken wings, brunch, and even Thanksgiving. It makes a great side dish when serving Summer Chil and this hearty Cabbage Roll Soup.
It's quite tasty on its own or paired with a spread of homemade persimmon butter or even a simple honey butter. So yum!
Thankfully, sweet homemade cornbread is easier to make than you think! Let me show you how to make it.
Jump to:
Ingredients
This honey cornbread recipe uses mostly kitchen staples. The only thing you likely need to pick up is cornmeal. Once you have that in your pantry stock, you will be able to make this recipe over and over!
This southern cornbread recipe also calls for buttermilk. If you don't have any on hand, keep reading and I will give you some substitutions.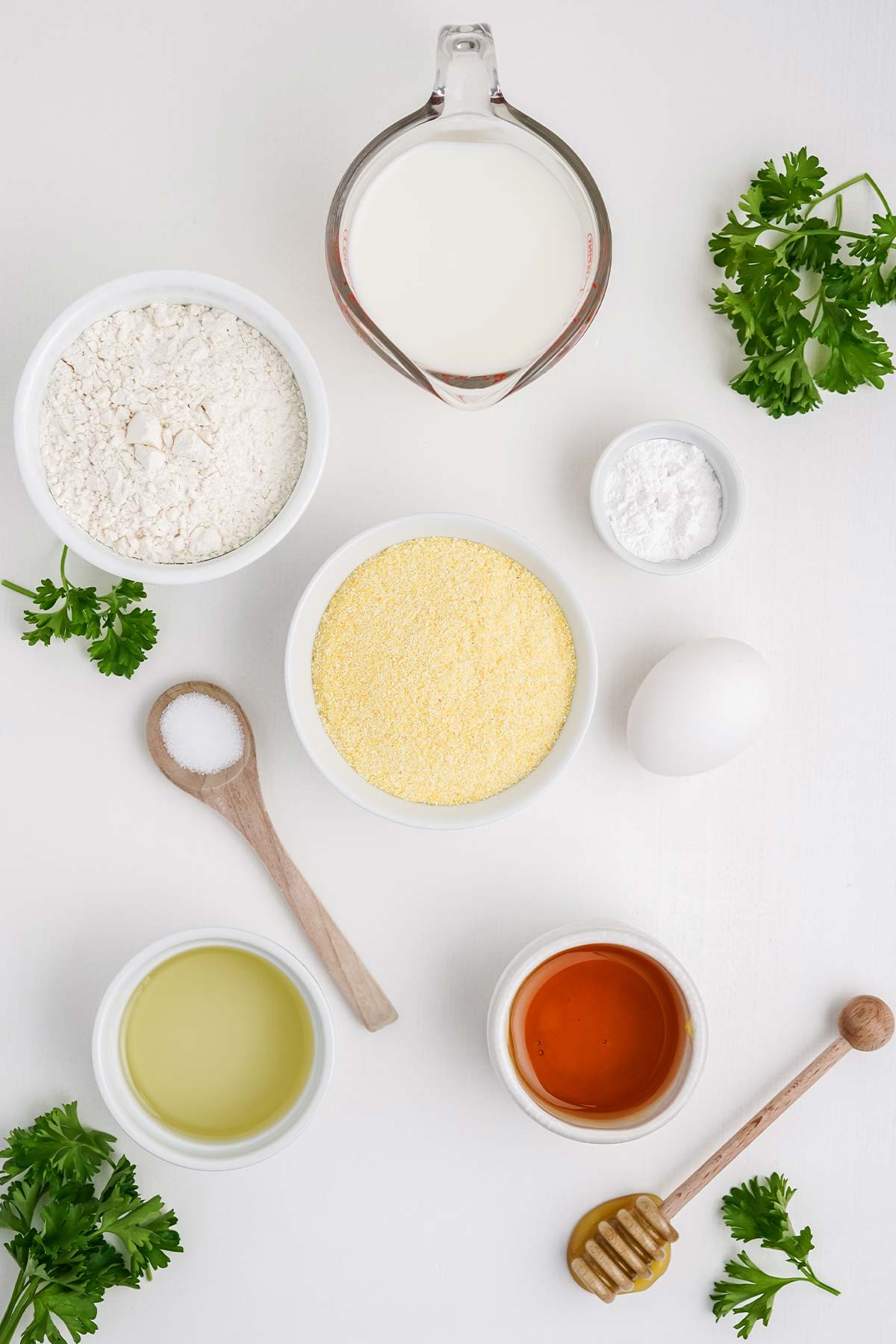 All purpose flour - This is going to give the cornmeal a bit of lift during baking and make the cornbread have a lighter finish.
Cornmeal -Cornmeal gives the bread it's classic flavor and texture.
Baking powder - To give the bread some volume and rise.
Salt - Just a pinch will do, helps balance out the sweetness.
Buttermilk - Gives a subtle tang in the background that you don't get from regular milk.
Vegetable oil - Combined with the honey, this will keep the bread nice and moist.
Egg- Gives the bread a nice dense texture.
Honey - A healthier and delicious way to enjoy sweet cornbread without sugar.
See the recipe card for the exact quantities of each ingredient.
Substitutions
Flour: Swap out the all-purpose flour with a 1-to-1 gluten free flour. I tested this recipe with a 1-to-1 gluten-free flour replacement and it turned out great!
Cornmeal: If you don't want to use store-bought cornmeal, you can try making your own at home. However, it is a lot of work and I have not personally tried it!
Buttermilk: If you don't have buttermilk on hand, you can use regular milk. I found that whole milk worked best but it won't have the same tangy flavor.
Vegetable Oil: You can use whatever oil you prefer to use when baking for this recipe.
Egg: Use your favorite egg replacer as a binder for the batter.
Honey: If you don't care for honey, you can use the same quantity of white granulated sugar, monkfruit sweetener or Swerve. Please note this may change the taste and texture slightly.
Equipment
One of my favorite things about this homemade cornbread with honey recipe is the minimal clean-up! All you need to make this recipe is:
How to Make Cornbread with Honey
Start by preparing your oven for baking. 400-degrees F is the perfect temperature for this recipe. I think it's low enough to allow the bread to cook through without over-browning the top but hot enough to keep the bread from drying out in the middle from a long and low baking temperature.
You will also want to prepare a baking dish with a light coating of butter or cooking spray.
At this time, you can also line the dish with a bit of parchment paper or foil if you want. When you are done preparing your dish, set it aside.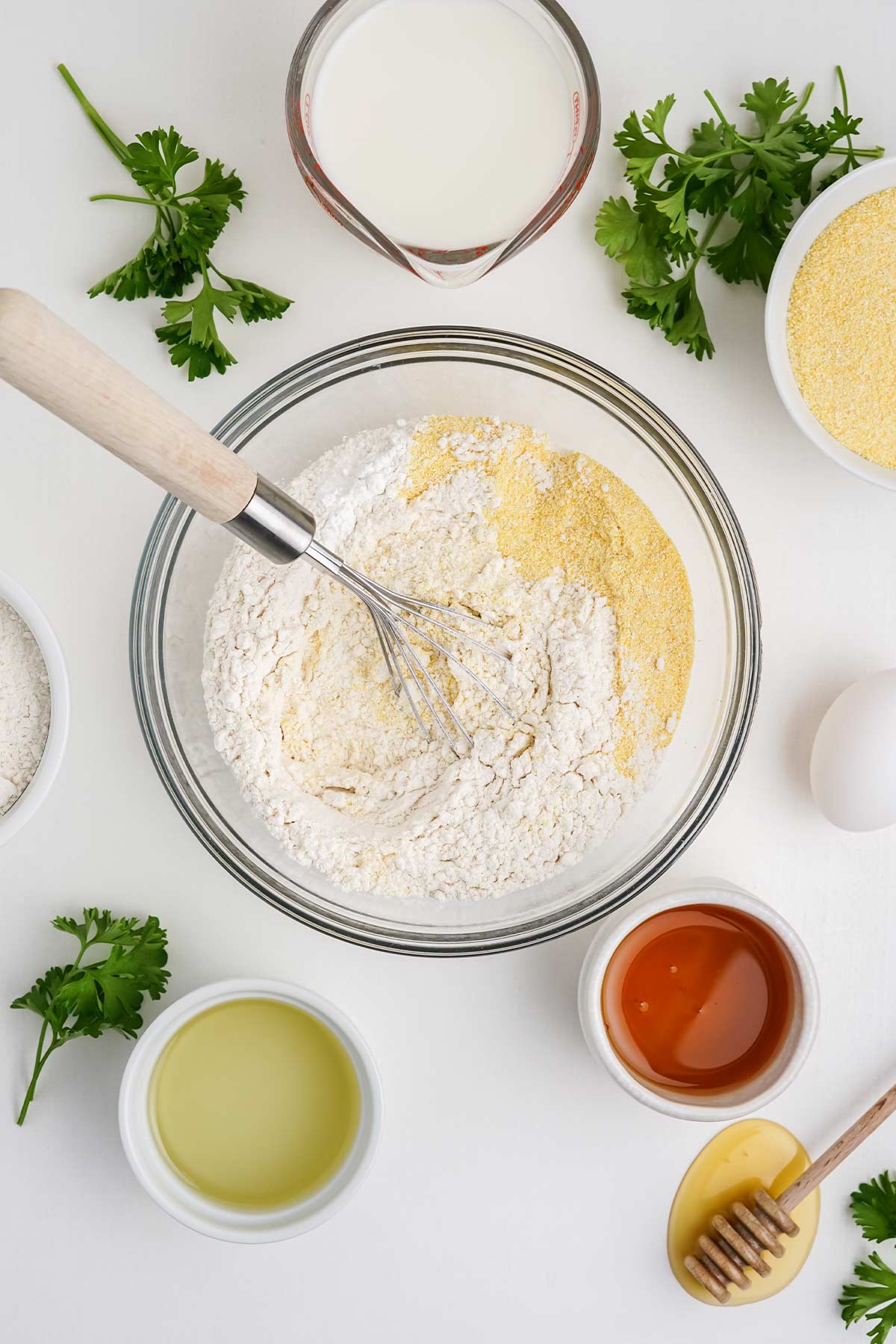 In a large bowl, start by mixing the dry ingredients together. This includes the flour, cornmeal, baking powder, and salt.
I like to use a whisk to get everything well combined but you can just use a regular spoon or even the electric mixer.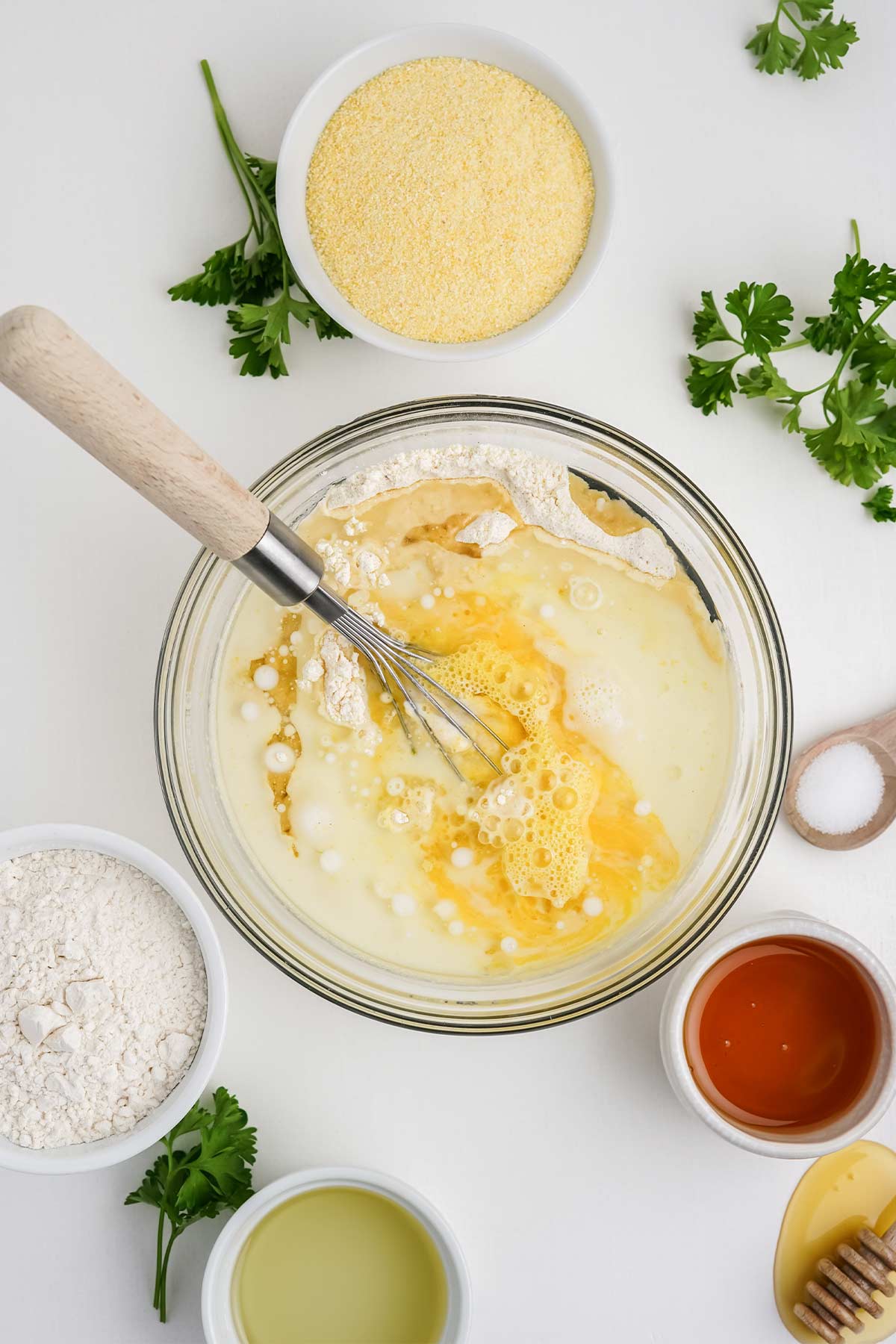 Next, it's time to add the wet ingredients, except for the honey. Make sure your egg is slightly beaten before you add it.
Add the buttermilk, oil, and egg.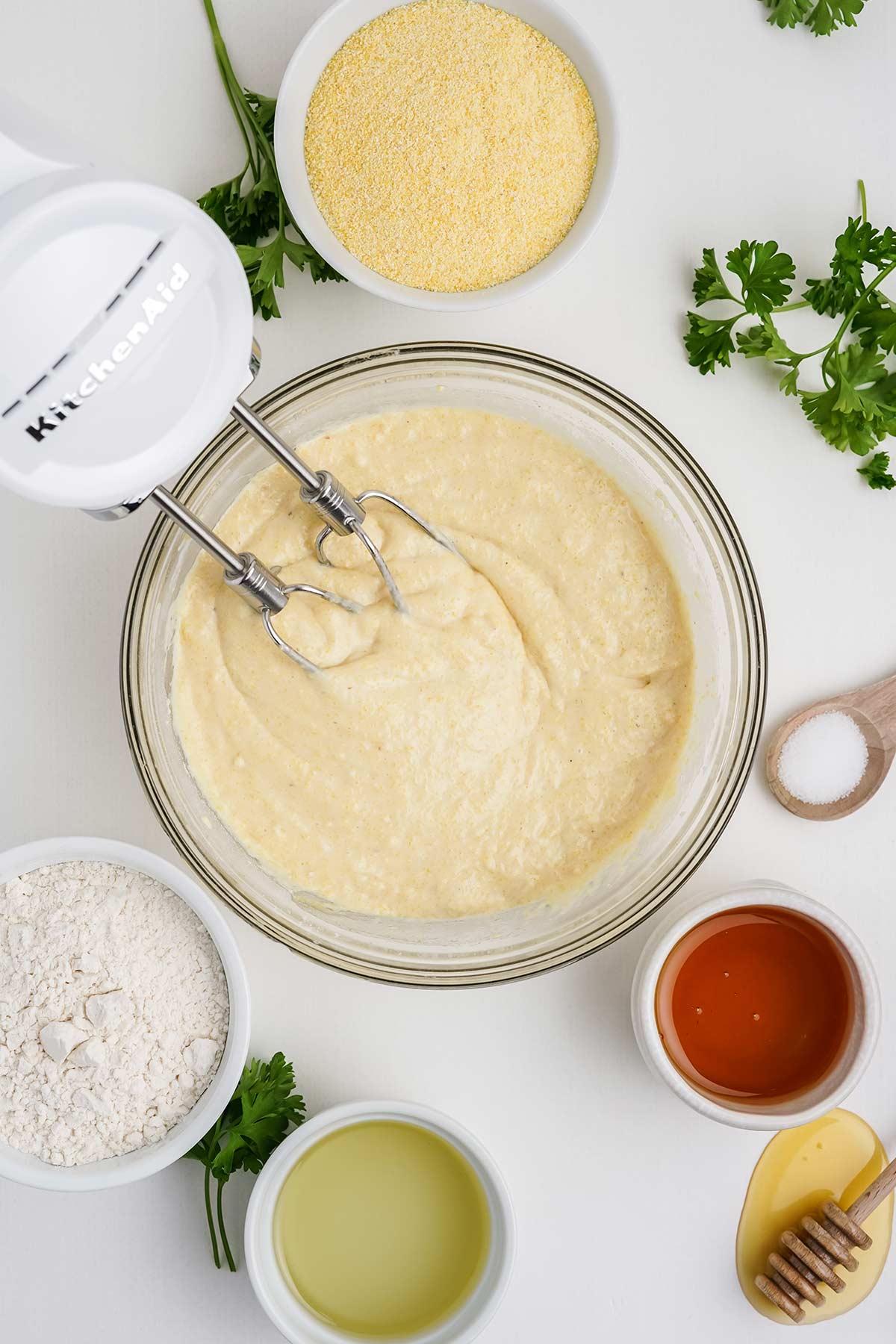 Use an electric mixer at medium-low speed until everything is well incorporated.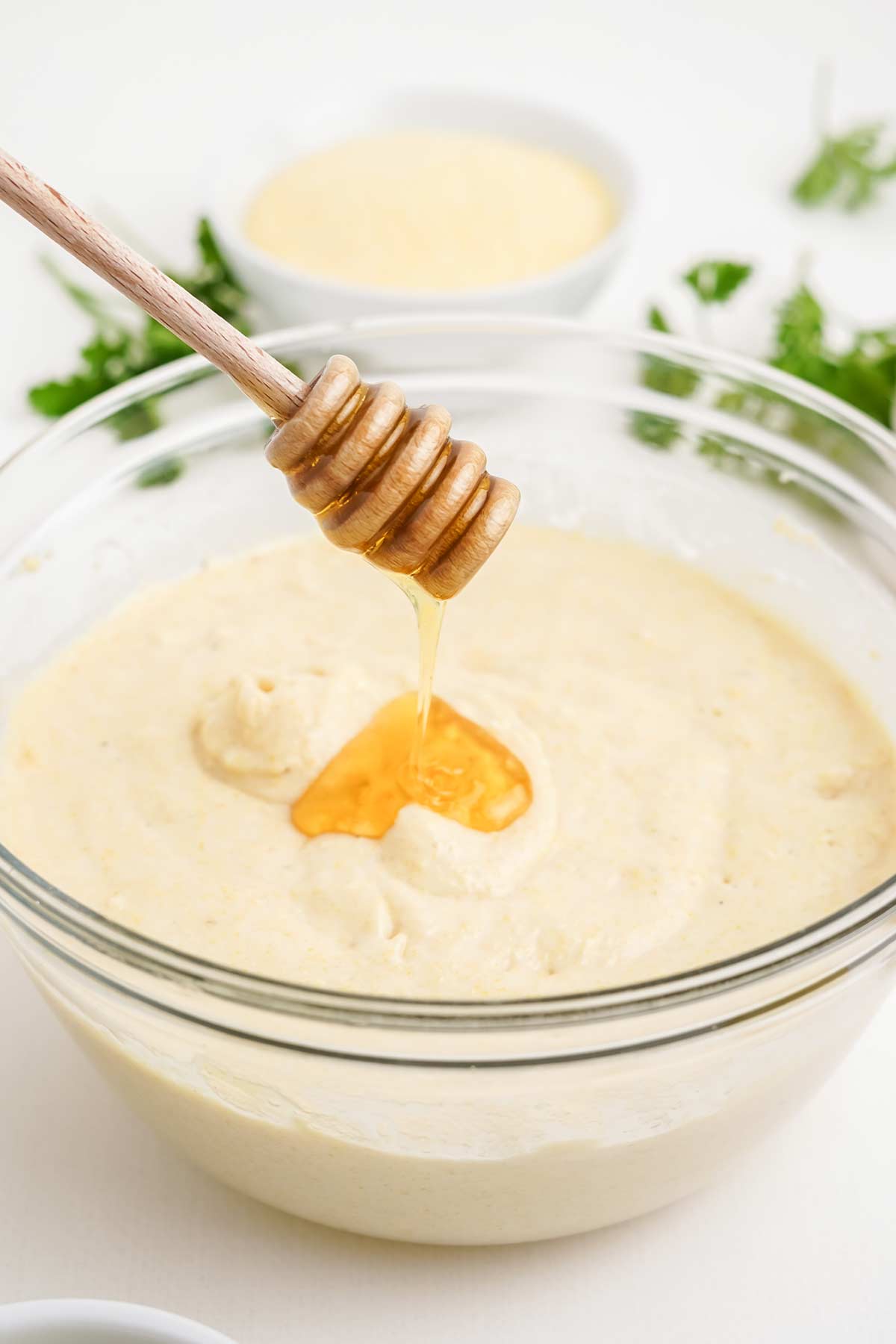 Finally, you are going to gently fold in the honey with a spatula or lower the speed of the electric mixer to low.
Carefully pour the batter into the prepared baking dish. It should spread to each corner on its own but if it needs a little help, use a spoon or spatula to guide it to fill the bottom of the dish.
Bake in the preheated oven for 20-25 minutes.
You can check the cornbread for doneness by inserting a toothpick or knife in the middle. When the cornbread is done, it will come out clean.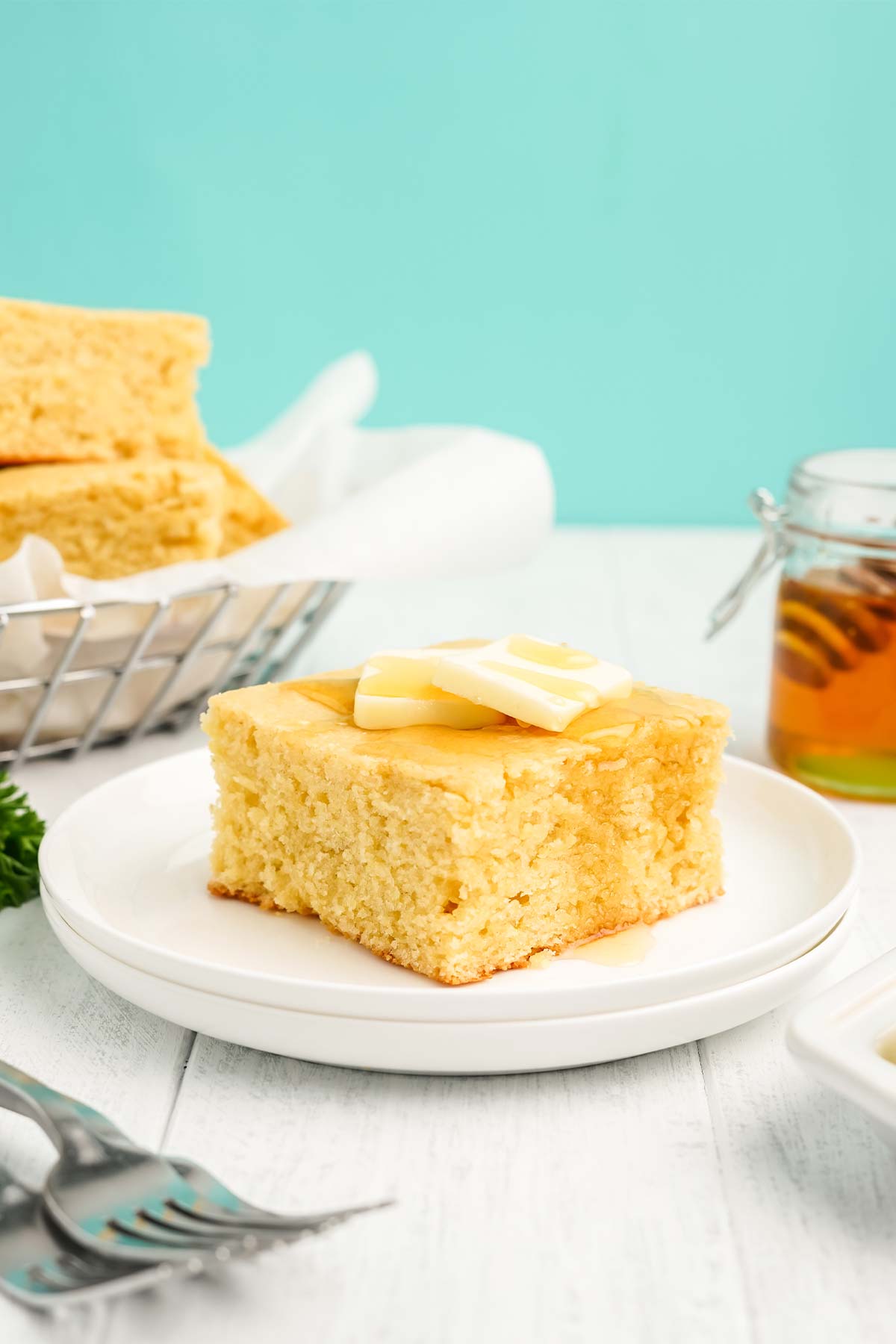 Choosing the Right Baking Dish
You can make this recipe for honey cornbread with any baking dish. The cooking temperature will still be 400 degrees but the cooking temperature may need to be adjusted depending on what you choose.
8x8 square baking pan - This size pan will yield nice, thick slices of cornbread. When making this recipe with this dish, I tend to cut and serve smaller peices.
9x9 square baking dish - This size pan will cook the same temp and time as the 9x9 but the results are slightly thinner pieces.
Muffin tin - To make regular-sized muffins cook at 350-degrees F for about 20-25 minutes
Mini muffin tin- To make mini muffins, the cooking time will be about 12-15 minutes at 400-degrees F
Making Your Own Buttermilk
I love using buttermilk when making homemade honey cornbread, especially this sweet version. It really takes it to the next level and is worth making if you don't have any on hand.
A quick, easy way to make buttermilk at home is to add 1 tablespoon of lemon juice or white vinegar to 1 cup of milk.
Gently stir and let the mixture sit for about 5 minutes. This will allow the milk to slightly curdle, giving it a buttermilk-like texture and taste.
Variations
I love this classic sweet homemade cornbread recipe with honey and buttermilk, but if you are looking to change things up here are some suggestions!
Sweet and Spicy - Add a pinch of cayenne pepper to the batter to take things up a notch.
Make Sweet Cornbread Muffins - Prepare the recipe as instructed and bake in a muffin pan at 350-degrees F for 20-25 minutes.
Jalapeno and Honey - one of my favorite local restaurants has a honey jalapeno cornbread that is amazing! You can make this recipe similar by adding a small can of drained, chopped jalapenos to the batter.
Storage
Fresh homemade cornbread with honey will last about 3 days when stored in an airtight container at room temperature.
Alternatively, you can store it in the fridge for up to 5 days or in the freezer for up to one month.
No matter which way you store it, I like to cut it into individual pieces and wrap them in saran wrap. I find it keeps them fresher, longer.
Expert Tips and FAQS
I can't wait for you to try this recipe, when you do be sure to tag me in the finished project. Remember these expert tips when making your homemade sweet cornbread:
Opt for an 8x8 pan for extra thick pieces, or 9x9 for standard size.
Use parchment or aluminum foil if you want to remove the entire batch from the pan before cutting.
Fold the honey in rather than mixing it in at high speed.
Can I make cornbread with honey gluten-free?
Yes, I have tried this recipe with a 1-to-1 gluten-free flour replacement and it turned out great. I did find myself adding a little extra honey when serving it to get rid of the more intense grain flavor.
Can I use regular milk instead of buttermilk?
Yes! This recipe was tested with regular milk and with quick homemade buttermilk. Each version came out perfectly but the buttermilk does add a nice extra flavor to the cornbread.
Do I have to use buttermilk?
No, you can use regular milk in place of the buttermilk, but I love the subtle tang the buttermilk adds to the background. Make your own by adding 1 tablespoon of lemon juice or white vinegar to 1 cup of milk.
How do I serve this bread?
I love to serve it warm with butter and honey on the table as a condiment. The taste is so versatile and truly goes well with anything from BBQ to Thanksgiving Dinner.
How can I prevent my bread from over-browning?
This recipe has been tested multiple times with no issues coming out too brown on top, but if for some reason your batch is browning too quickly, you can cover it with foil until the baking is finished.
How do I know when my homemade cornbread recipe is done?
Use a knife or a toothpick inserted in the center of the loaf. When the knife comes out clean, it's done!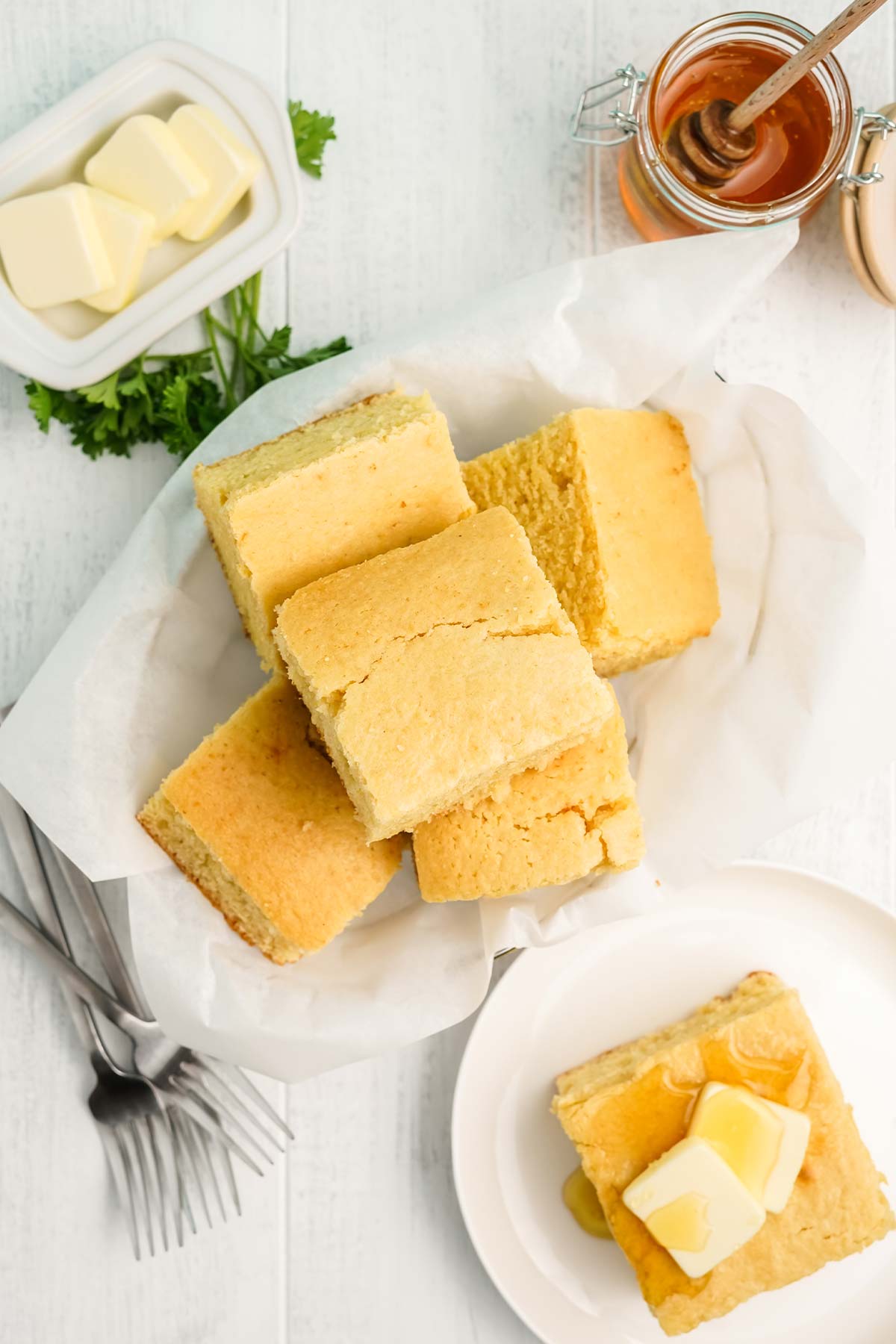 More Easy Side Dish Recipes
Did you try this recipe? Please leave a star rating in the recipe card right below! You can also write a review in the comment section further down the page I always appreciate your feedback. And don't forget to tag me @freshcoasteats in your photos on social media, I'd love to see your results!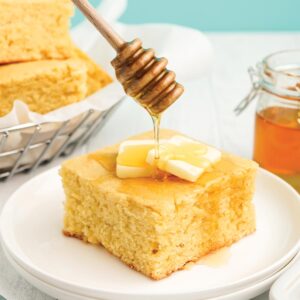 Cornbread with Honey
This moist and delicious cornbread recipe is lightly sweetened with honey. A tasty and easy-to-make side dish for all types of meals such as BBQs, soups, and stews.
Print
Pin
Instructions
Preheat the oven to 400 degrees and prepare a 9x9 baking dish with cooking spray and/or line with parchment paper.

In a large bowl, whisk together the flour, cornmeal, baking powder and salt until well mixed.

Add the buttermilk, oil, and egg. Use an electric mixer on low speed until fully incorporated.

Gently fold in the honey and mix just until combined.

Pour the batter into the prepared baking dish and bake for 20-25 minutes or until the top begins to turn golden brown. A toothpick inserted in the center should come out clean.

Remove from the oven and serve warm.
Nutrition
Calories:
183
kcal
|
Carbohydrates:
25
g
|
Protein:
4
g
|
Fat:
8
g
|
Saturated Fat:
2
g
|
Polyunsaturated Fat:
4
g
|
Monounsaturated Fat:
2
g
|
Trans Fat:
1
g
|
Cholesterol:
21
mg
|
Sodium:
166
mg
|
Potassium:
160
mg
|
Fiber:
1
g
|
Sugar:
9
g
|
Vitamin A:
70
IU
|
Vitamin C:
1
mg
|
Calcium:
76
mg
|
Iron:
1
mg