Candy Apples– A classic fall treat made from tart Granny Smith Apples with a sweet crunchy candy shell.
Nothing screams fall like a candy apple! I have been on a search for the perfect candy apple recipe for a while now. I wanted to find a coating recipe that was easy to bite through, but still had that gorgeous bright red shiny finish. After trying several recipes, I finally landed on this one and I think you are going to love it!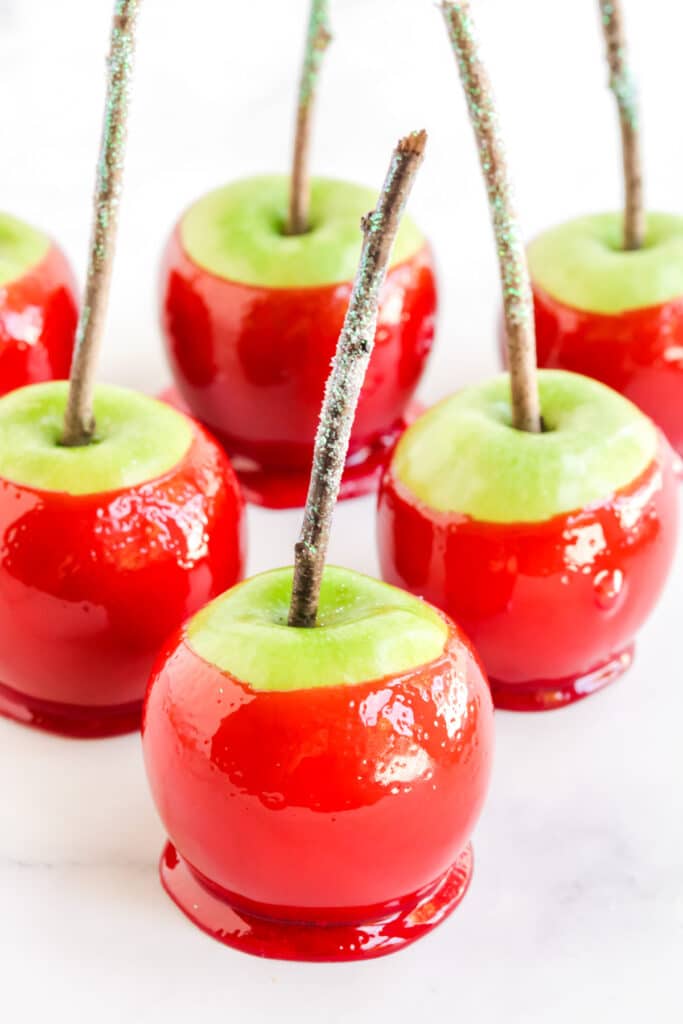 It's a tradition in our family to make candy apples and caramel apples at home once every fall. Even though our local cider mill has candy and caramel apples for sale at their barn, my kids love the experience of dipping their own at home.
Most people get scared about making candy at home, but it is surprisingly really easy!
For other great apple recipes, check out my apple crumble pie and my gourmet caramel apples.
Ingredients
To make this simple candy apple recipe at home you will need:
6 Granny Smith Apples
2 cups sugar
½ cup corn syrup
¼ cup water
Red Food Coloring
You will also need a candy thermometer and sticks. If you don't have a candy thermomether, you can make a pretty close guess as to when the candy mixture is done cooking when a spoon forms a thin thread when being lifted from the mixture. If it pours off easily, it's not done.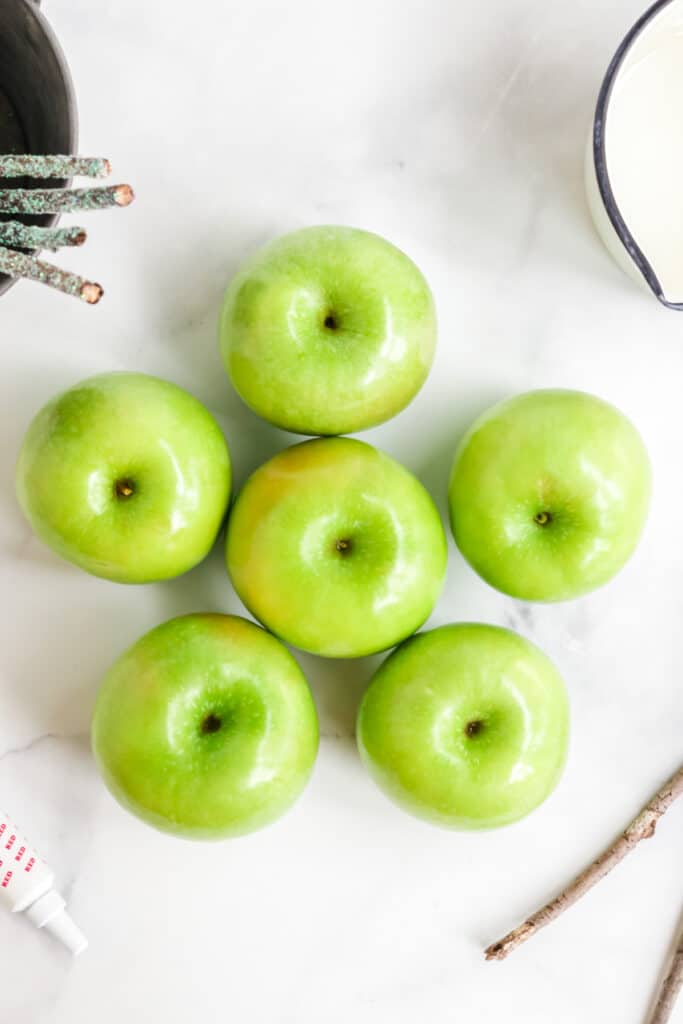 Preparing the sticks
You can use regular candy sticks like these ones by Wilton, or use real sticks for a more rustic look like I did. To prepare these sticks, I started by washing and drying them throughly. Next, I applied some clear glue on the top half and sealed with modpodge. Allow them to dry overnight.
Preparing the apples
Preparing the apples is arguably the most important part of the recipe. The apples must be throughly washed and COMPLETELY dry before dipping them or the candy coating will slip off.
To prepare the apples, try washing them with produce wash or vinegar. This will help remove any wax that was applied at the grocery store. Dry them off with a clean, dry cloth and allow to air dry for a few hours. I prefer to allow mine to dry over night so they are perfectly prepped and will be set for success.
Choosing the Right Apple
A common question many people ask is what kind of apples do I use for candy apples?
I personally love to use Granny Smith, but really you can use any variety of apple that you like. The one thing you will want to look for is a firm apple that has a crunch to it.
Some good choices are Granny Smith, Fuji, Gala and Jazz.
Dipping the Apple
You will need to dip the apple about 2-3 times to get a nice shell. If your candy is setting too quickly, you can warm it back up to bring it back to liquid state.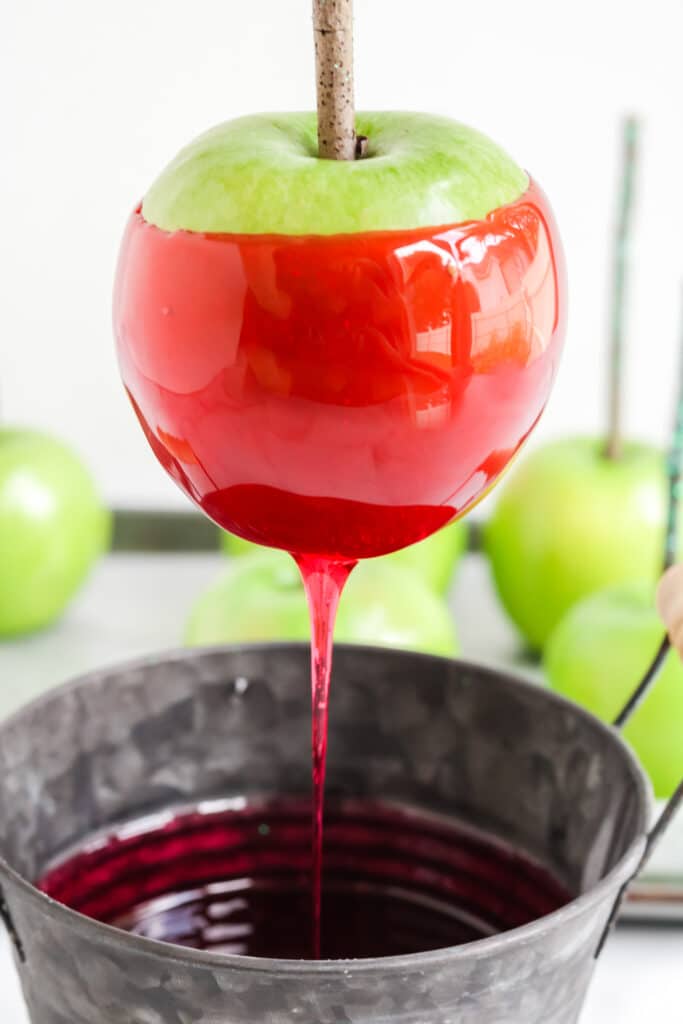 How to I prevent bubbles on my candy apples?
Nothing ruins a gorgeous candy apple like bubbles. Once the candy is set, there is no way to remove them so its better to focus on preventing them instead! Bubbles are usually caused from residual moisture on the apple, so be sure to prep your apples very carefully and make sure they are thoroughly dry.
How much food coloring do i use?
Everyone likes a different amount of food coloring. To get the shade of red that are in these candy apples I used ½ teaspoon of red gel food coloring. Add it little by little until you get the desired shade.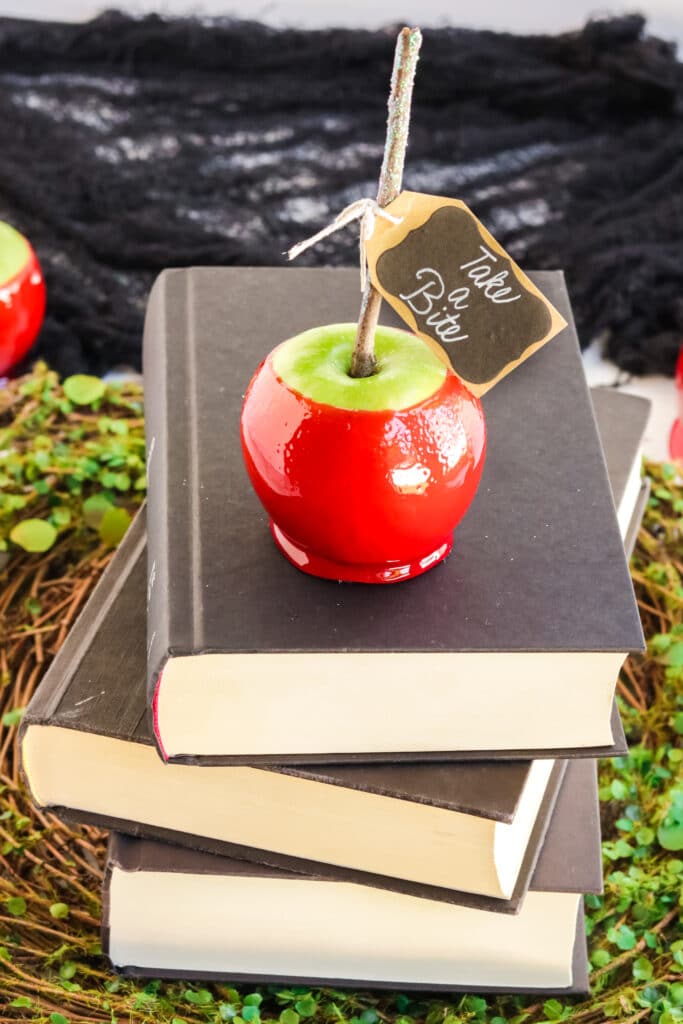 Storing your candy apples
You will want to store your candy apples in the fridge once they set. Your candy apple will last up to one week in the fridge.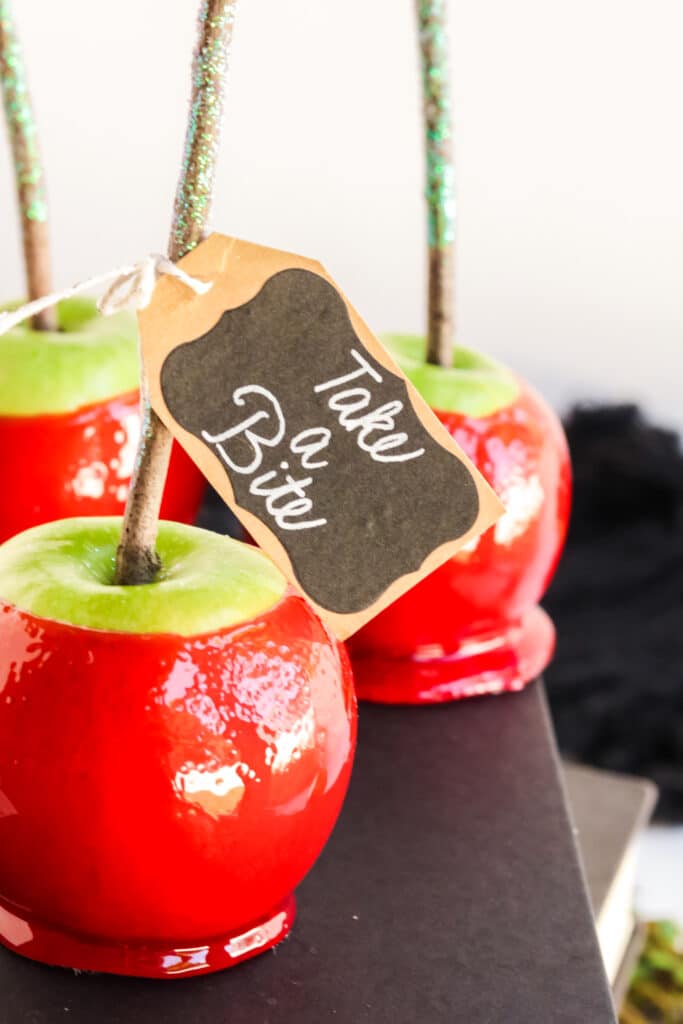 Tell me how your candy apples turned out in the comments!
Share these Candy Apples on Pinterest!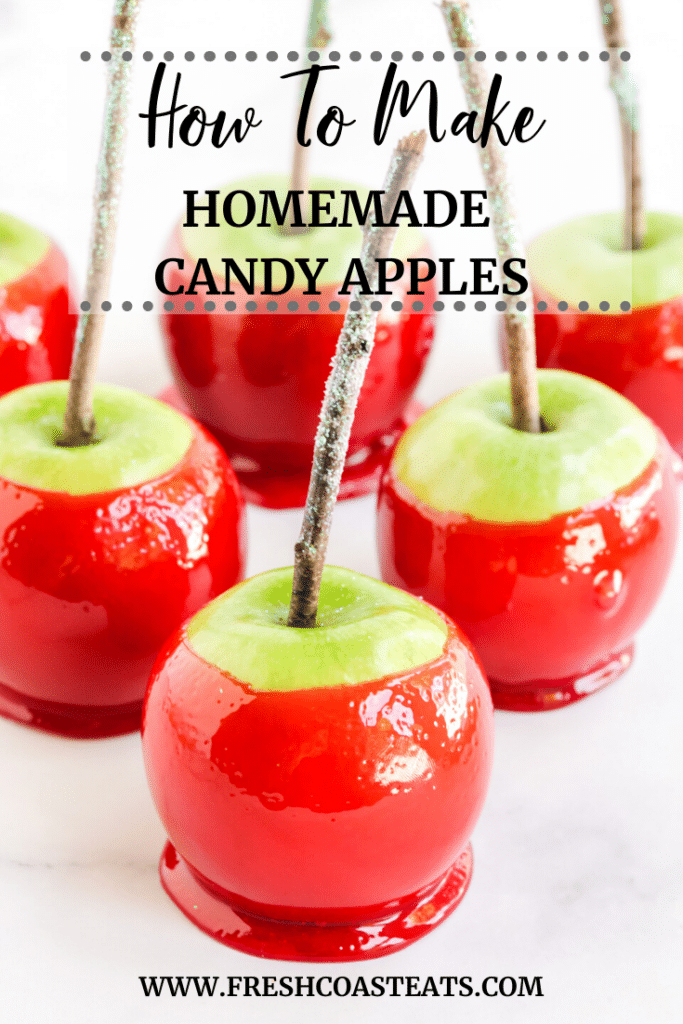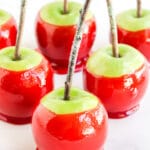 Print Recipe
Candy Apples
A perfect fall treat made from Granny Smith Apples with a sweet, thin bright red candy coating.
Ingredients
6

apples

granny smith

2

cups

sugar

1/2

cup

corn syrup

1/4

cup

water

1/2

teaspoon

red food coloring
Instructions
Wash and thoroughly dry the apples. Insert a stick into the top of the apples and set aside.

Prepare a baking sheet with wax paper, sprayed with cooking spray. Set aside.

In a small saucepan, mix the sugar, corn syrup and water and attach the candy thermometer to the side of the pan, ensuring that the bottom reaches the mixture.

Cook the mixture over medium heat, until the candy thermometer reaches 300 degrees.

Remove the pan from heat and stir in red food coloring until desired color is reached.

Dip each apple into the melted sugars, allowing access to drip off. Dip each apple 2-3 times before setting them on the sprayed wax paper to set.
Notes
It is important the apples are 100% dry before coating them.

Making the candy coating is a slow process, be patient and stay nearby! Things move VERY quickly towards the end. 

If you don't have a candy thermometer, you can make a pretty close guess to when the candy is done cooking when a spoon forms a thin thread when being lifted from the mixture. If it pours off easily, it's not done. 

I used about ½ tsp of red gel coloring to get this shade.

If the candy mixture sets too quick while dipping, place the mixture back onto heat to re-melt.

I used sticks from outside for these! To make them yourself, gather 6 sticks about twice the height of the apples you are using. Wash them and allow to dry overnight. Using modge podge, coat the top half of each stick and apply glitter. Seal in place with a second coat. 

To easily clean your pans after this recipe, add water to the empty pan and bring to a boil. This will make it easier to clean the candy off!
Nutrition
Calories:
393
kcal
|
Carbohydrates:
102
g
|
Protein:
1
g
|
Fat:
1
g
|
Saturated Fat:
1
g
|
Sodium:
4
mg
|
Potassium:
195
mg
|
Fiber:
4
g
|
Sugar:
85
g
|
Vitamin A:
98
IU
|
Vitamin C:
8
mg
|
Calcium:
11
mg
|
Iron:
1
mg