These chocolate covered pineapple rings are the perfect quick and easy sweet summer treat! Juicy pineapple is dipped in smooth dark chocolate for a 2-ingredient dessert fix that is perfect for a side dish, snack or dessert.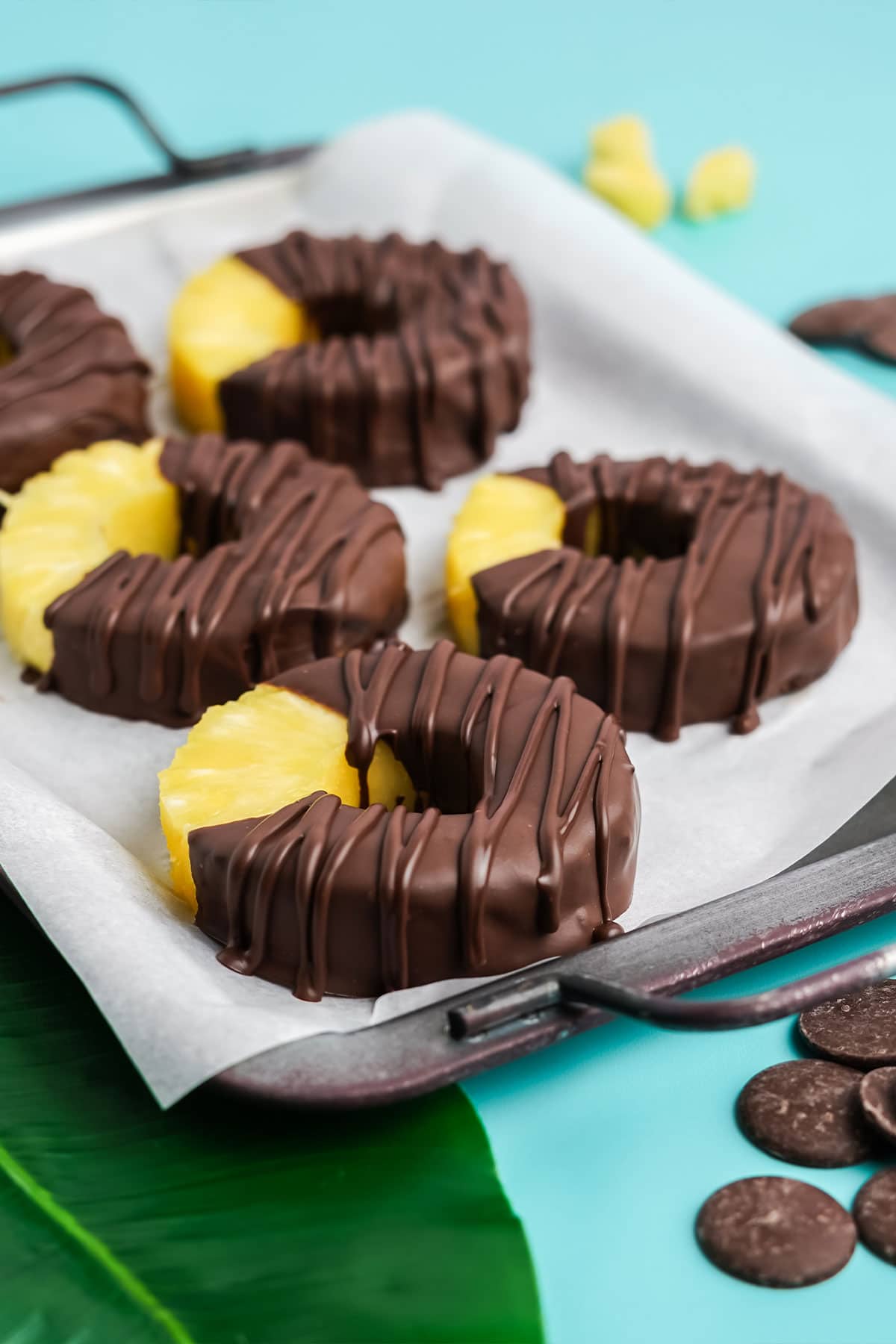 Note: that links to products you find in this post are Amazon affiliate links which means I do make a small amount of money when you click and make purchases.
If you have been around Fresh Coast Eats for a while, you know I love to share simple recipes that allow natural produce flavors to really shine!
These chocolate covered pineapple rings are a perfect example. Rich dark chocolate is the perfect complement to sweet and tangy tropical pineapple.
This dark chocolate covered pineapple recipe makes a treat you can enjoy all throughout the year for special occasions or even just an everyday tasty snack.
Serve it up for brunch or a kids' party with these fruit kabobs for kids, air fryer apple hand pies, and pretzel dogs. If you love pineapple then you have to try this easy air fryer pineapple recipe!
Jump to:
Ingredients
This chocolate pineapple recipe couldn't be easier to make! All you need are two ingredients to make pineapple with chocolate.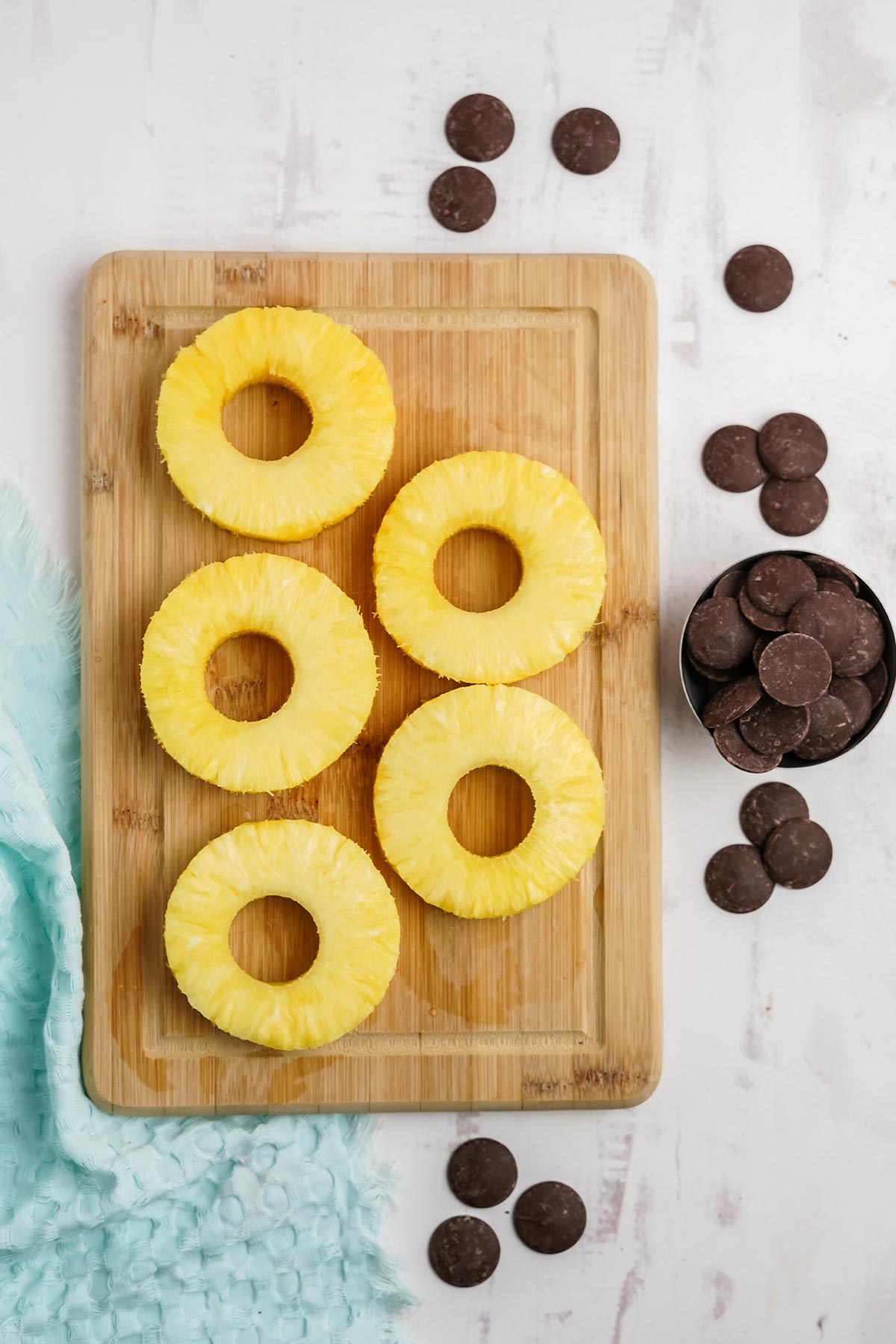 Fresh Pineapple Slices: I like to buy mine peeled and cored for extra easy preparation.
Dark Melting Chocolate: These Ghirardelli melting chocolates are my favorite to work with when making desserts.
See the recipe card for the exact quantities of each ingredient.
Substitutions
There are only two ingredients in this simple recipe for pineapple chocolate but there are a few ways you can change it up.
Pineapple - Fresh is best! But, in a pinch, you can use canned or frozen pineapple rings as well. If you do it is important to remove all access moisture before dipping so the chocolate will stick.
Chocolate - I love using dark chocolate, but you can also use milk or white chocolate for variation.
Equipment
You don't need much to make this chocolate pineapple. These simple tools are all you need:
Small bowl: For melting the chocolate
Spoon: To stir the chocolate
Parchment paper: For setting chocolate
Baking Sheet: So you can move the chocolate pineapple easily
Piping bag: If you want flawless chocolate drizzles on that second layer
How to Make Chocolate Covered Pineapple
This easy pineapple chocolate recipe takes just a few minutes of prep time so let's get started.
The most important part of this chocolate dipped pineapple recipe is preparing your work area and pineapple.
To prepare the working area, line a baking sheet with parchment paper. You can also use wax paper if desired.
Tip: Using a baking sheet or a tray will allow you to move the chocolate covered fruit around easier. You can also use a counter, but be advised that once the chocolate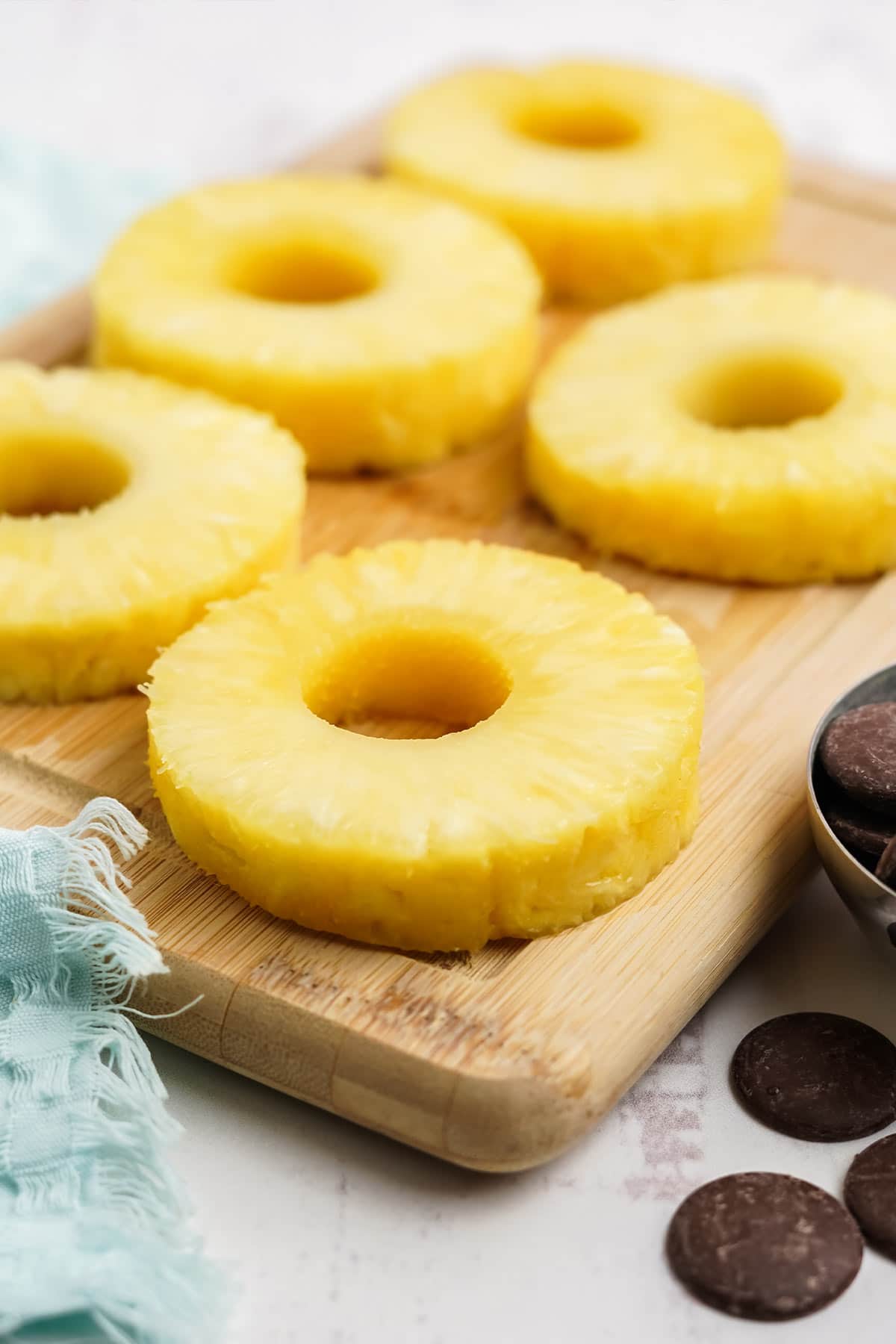 Blot off excess juice prior to dipping the fruit. Pineapple is a super juicy fruit, that is what makes it so delicious! However, it is important to blot off excess juice prior to dipping the fruit so the chocolate sticks.
You can use a paper towel or cloth to do this. Do not squeeze the fruit, just dab it a few times until the excess liquid is no longer apparent.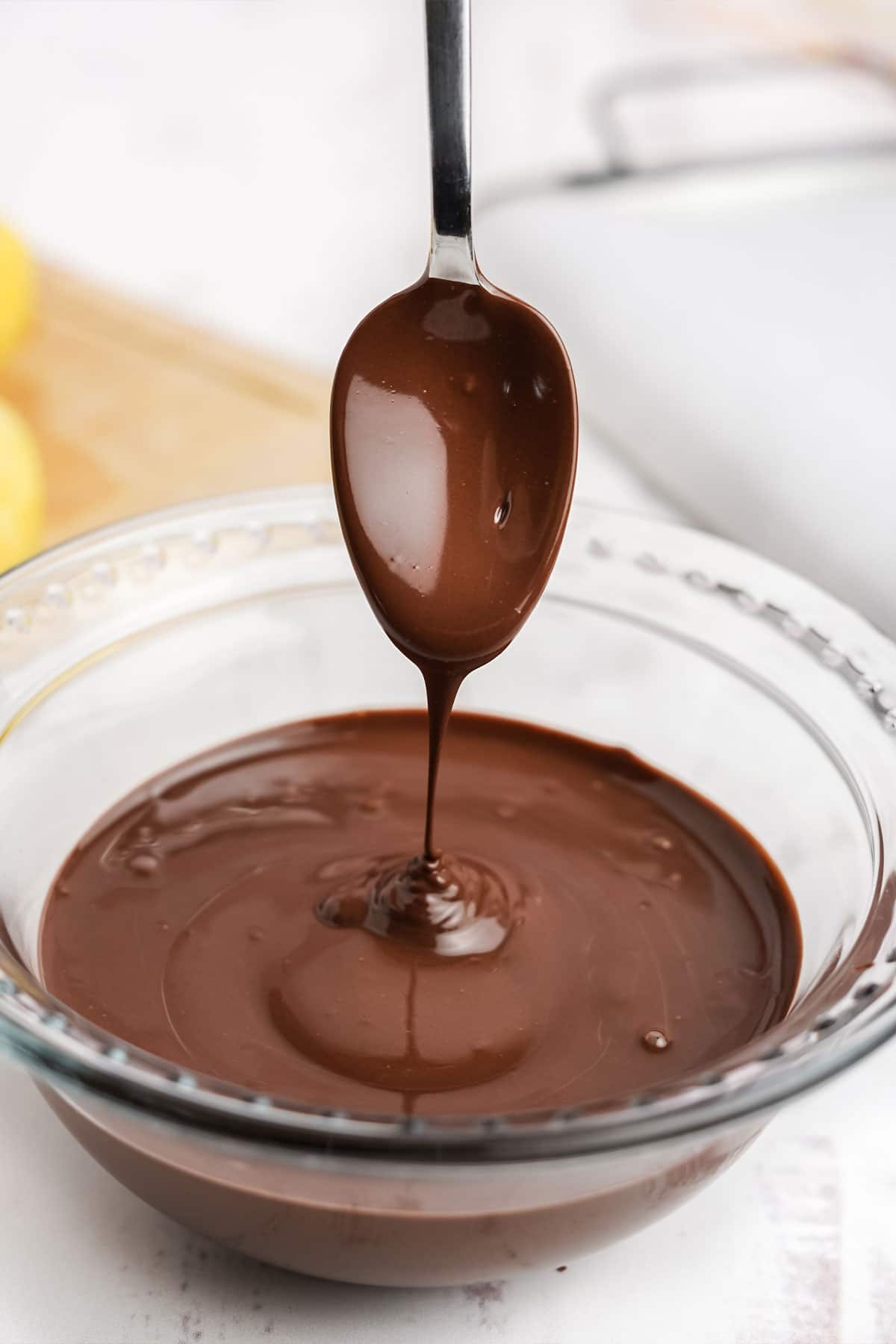 Set the fruit aside and prepare the chocolate according to the package directions.
I love these Ghirardelli melting chocolates! To melt them, you simply microwave in 15-second intervals until the chocolate is smooth. It's important to stir between each round in the microwave so the chocolate doesn't overheat and burn.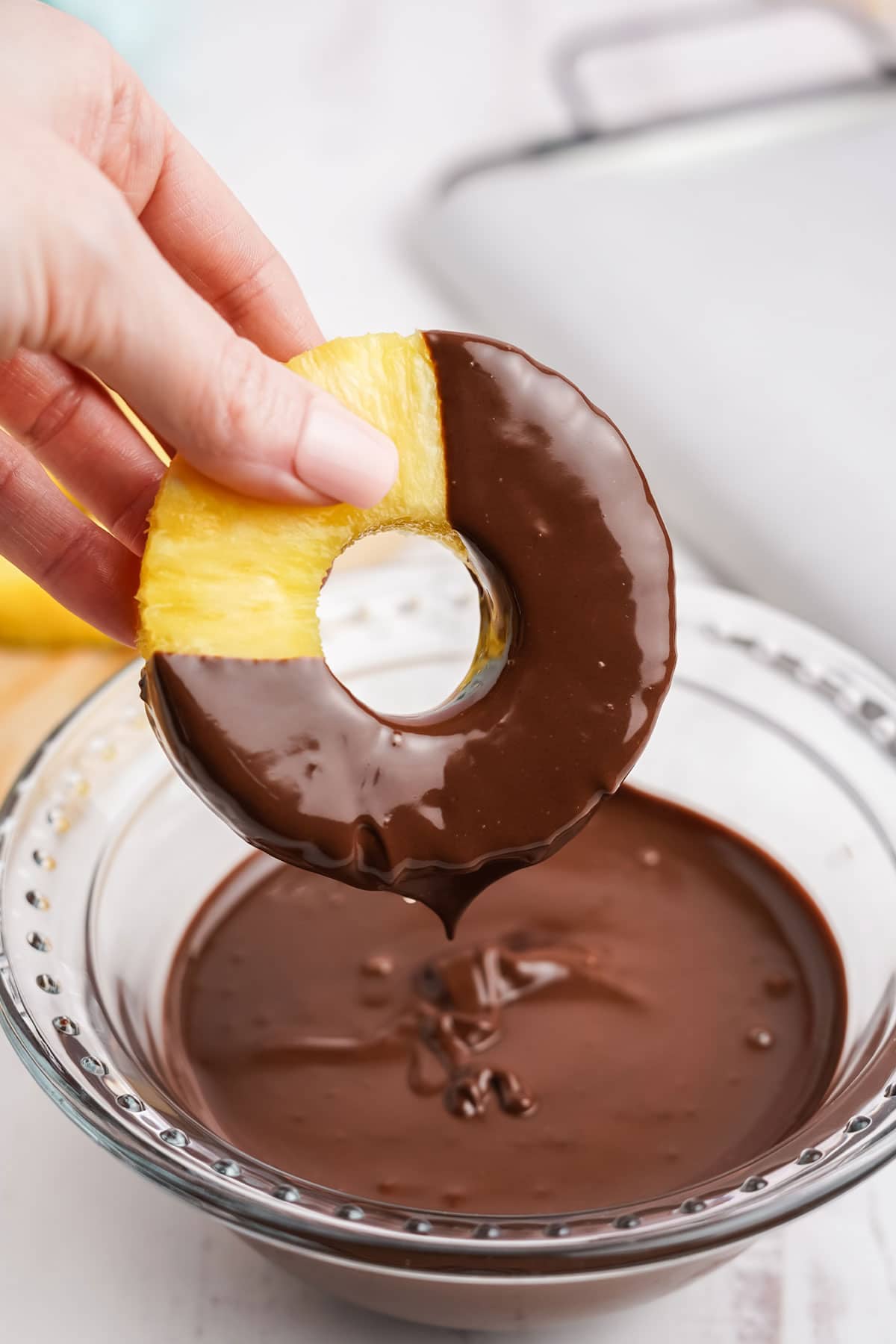 Once the chocolate is melted it's time to dip the fruit!
Working one slice at a time, dip the pineapple rings into the melted chocolate until the desired amount of fruit is covered.
I personally like to leave a little bit of the pineapple peeking out so people know what is underneath and what to expect, but you can cover the entire ring if you want!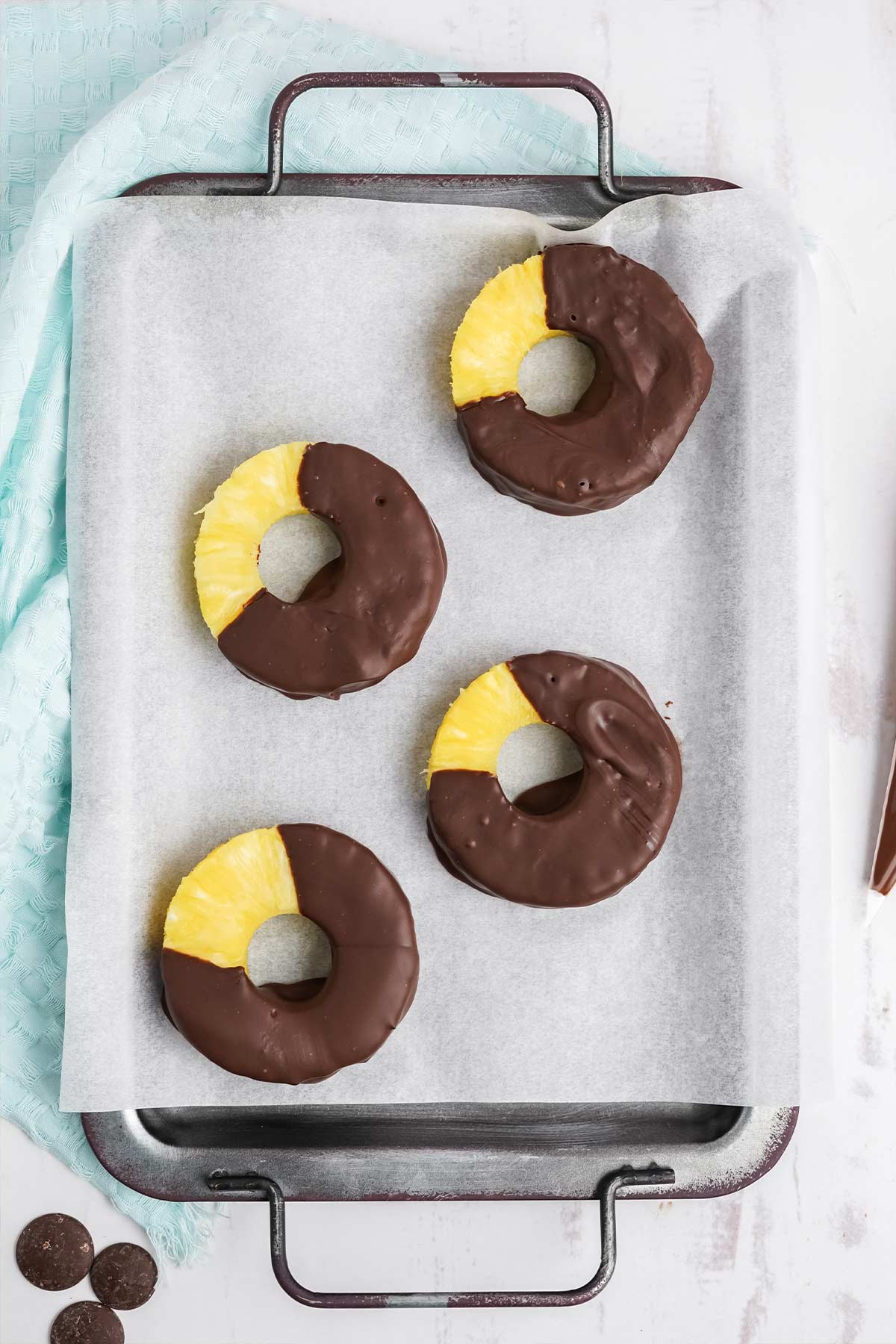 After dipping, lay them out on the parchment-lined tray to harden up.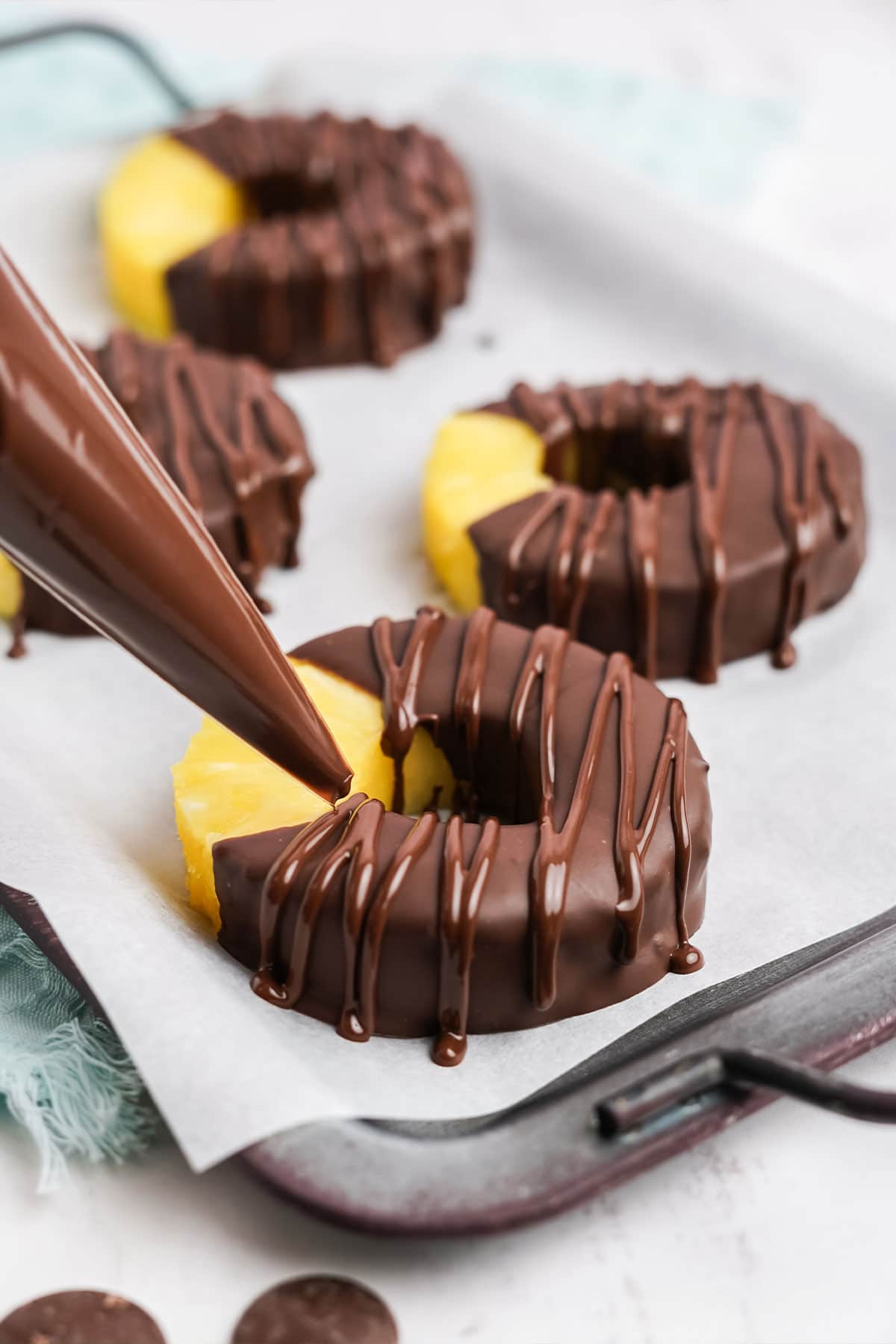 Once the first layer is set, I like to go back with a piping bag or a spoon and drizzle a second layer of the top. This step is entirely optional but I think it gives it such a pretty and elegant look and it doesn't take much extra time.
If you are using melting chocolate, it will begin to set in a few minutes.
Once the chocolate is completely set, you can move it to your serving tray or just eat it right off the parchment.
Variations
Pineapple with chocolate is simplicity at its finest, but if you want to take things up a notch...try these variations for a unique treat.
Change up the chocolate: Mix it up and make milk chocolate or white chocolate dipped pineapple. Even better you can make a variety platter with all three.
Swap up the shape: Instead of rings, try dipping wedges or chunks.
Chocolate dipped pineapple on a stick: Everyone loves a dessert you can eat on the go. Stick the pineapple on skewers for a to-go treat that's easy to eat.
Try some toppings: Add toasted coconut, almonds or mini chocolate chips for an ultra decadent touch.
Storage
You can store this recipe in the refrigerator for up to 2 days.
If you enjoy frozen fruit, you can also freeze this recipe for a few months. It won't thaw out well, but you can eat it frozen like you would a popsicle.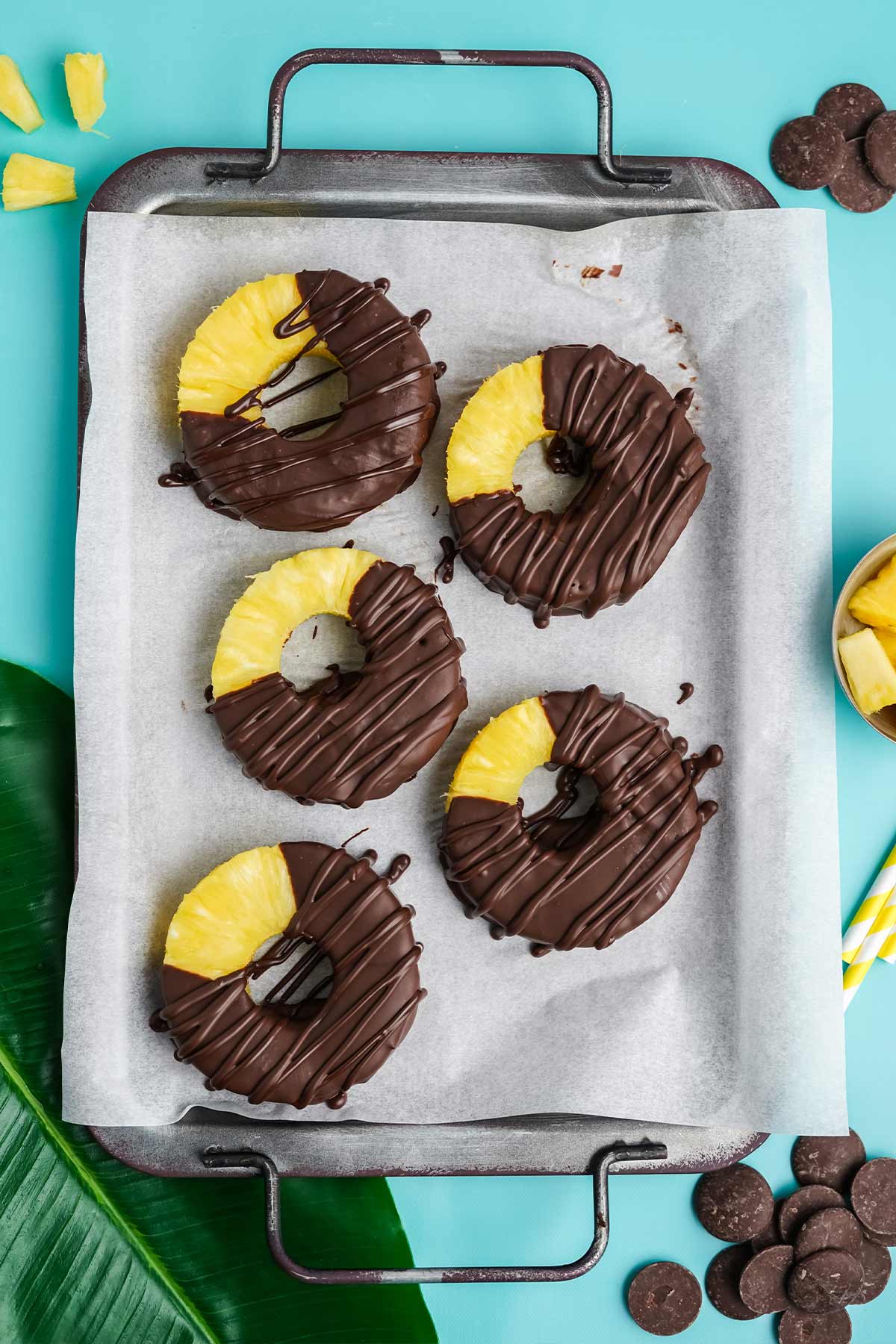 Expert Tips and FAQS
I can't wait for you to try this simple summer treat. Remember these tricks when you give them a try!
Dab the fruit before dipping to remove excess juices.
Melt the chocolate slowly to prevent seizing.
Add a second layer of drizzle for an elegant touch.
How long does pineappled dipped in chocolate last?
2 days in the fridge and a few months in the freezer.
How do you store chocolate dipped pineapple?
Since fresh fruit is being used, it is necessary to store this recipe in the fridge.
Do pineapple and chocolate go good together?
Yes! Sweet and tangy pineapple is perfect when combined with rich, dark chocolate and is one of my favorite fruits to cover in chocolate!
Can I use canned pineapple?
Yes, make sure to remove excess moisture before dipping into the chocolate.
Can I use frozen pineapple?
Yes, but you will either need to dip the frozen pineapple and then immediately re-freeze or you can thaw the frozen pineapple completely before dipping. This second option requires extra care to remove excess moisture before dipping.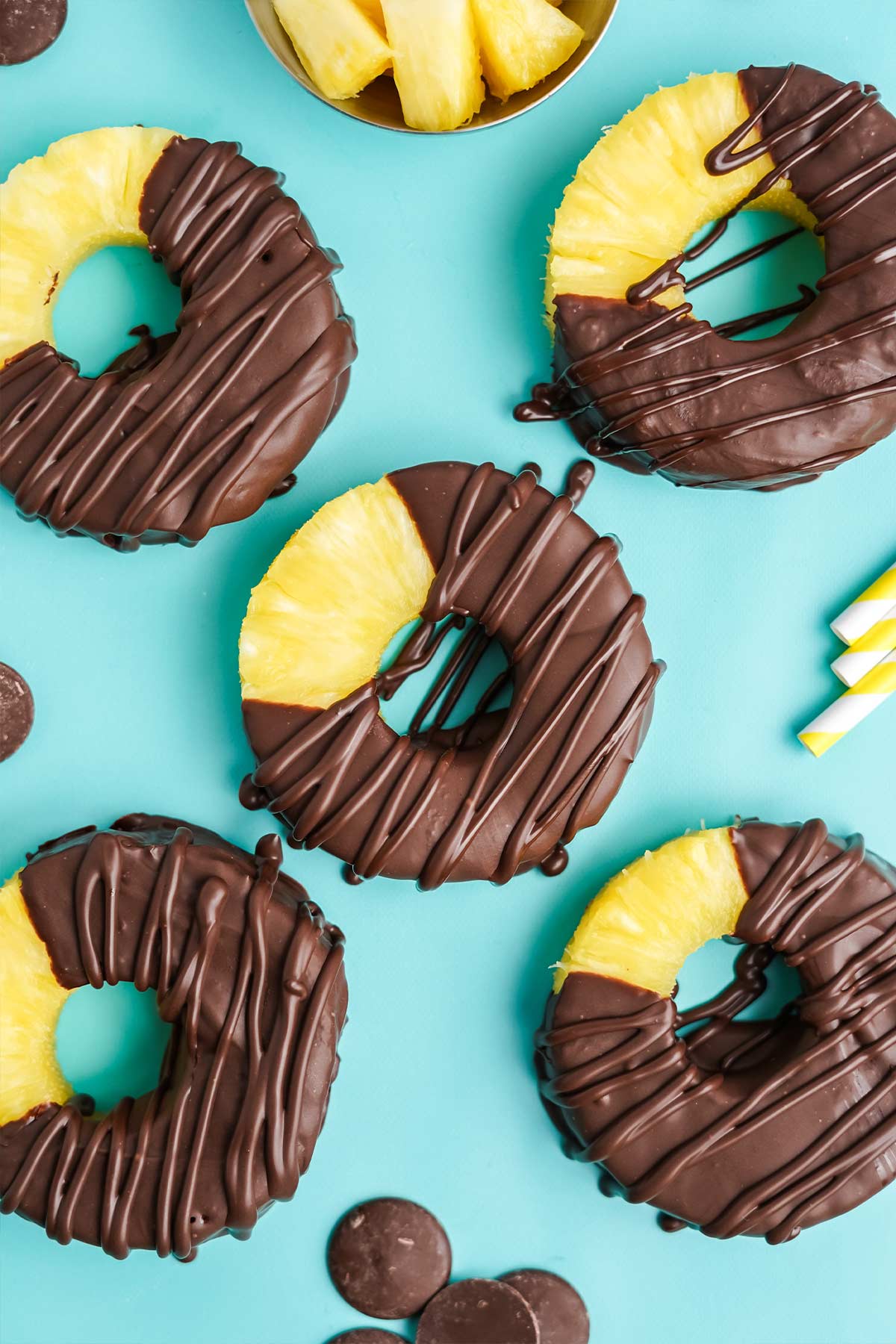 More Easy Dessert Recipes
Did you try this recipe? Please leave a star rating in the recipe card right below! You can also write a review in the comment section further down the page I always appreciate your feedback. And don't forget to tag me @freshcoasteats in your photos on social media, I'd love to see your results!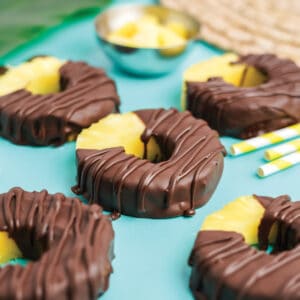 Chocolate Covered Pineapple
Chocolate dipped pineapple rings are the perfect quick and easy sweet summer treat! Juicy pineapple is dipped in smooth dark chocolate for a 2-ingredient dessert that's perfect for a side dish, snack, or dessert.
Print
Pin
Rate
Instructions
Prepare your work surface by lining a baking tray with parchment or wax paper. Set aside.

Use a paper towel or cloth to blot the excess moisture from the pineapple rings on both sides. Set aside.

Melt chocolate according to package directions until completely smooth.

Working one slice at a time, dip the prepared pineapple into the chocolate until the desired amount of the fruit is covered. Drizzle extra chocolate on the top for a special presentation.

Place each chocolate dipped pineapple onto the prepared work space until completely set.
Nutrition
Calories:
366
kcal
|
Carbohydrates:
45
g
|
Protein:
5
g
|
Fat:
19
g
|
Saturated Fat:
17
g
|
Polyunsaturated Fat:
1
g
|
Monounsaturated Fat:
1
g
|
Cholesterol:
1
mg
|
Sodium:
65
mg
|
Potassium:
471
mg
|
Fiber:
3
g
|
Sugar:
29
g
|
Vitamin A:
55
IU
|
Vitamin C:
40
mg
|
Calcium:
193
mg
|
Iron:
1
mg