This quick and easy 3-ingredient mango shake is made with fresh or frozen mango, ice cream, and milk. Its creamy, smooth, tropical flavor is perfect for a sweet snack or simple dessert that is ready in 5 minutes.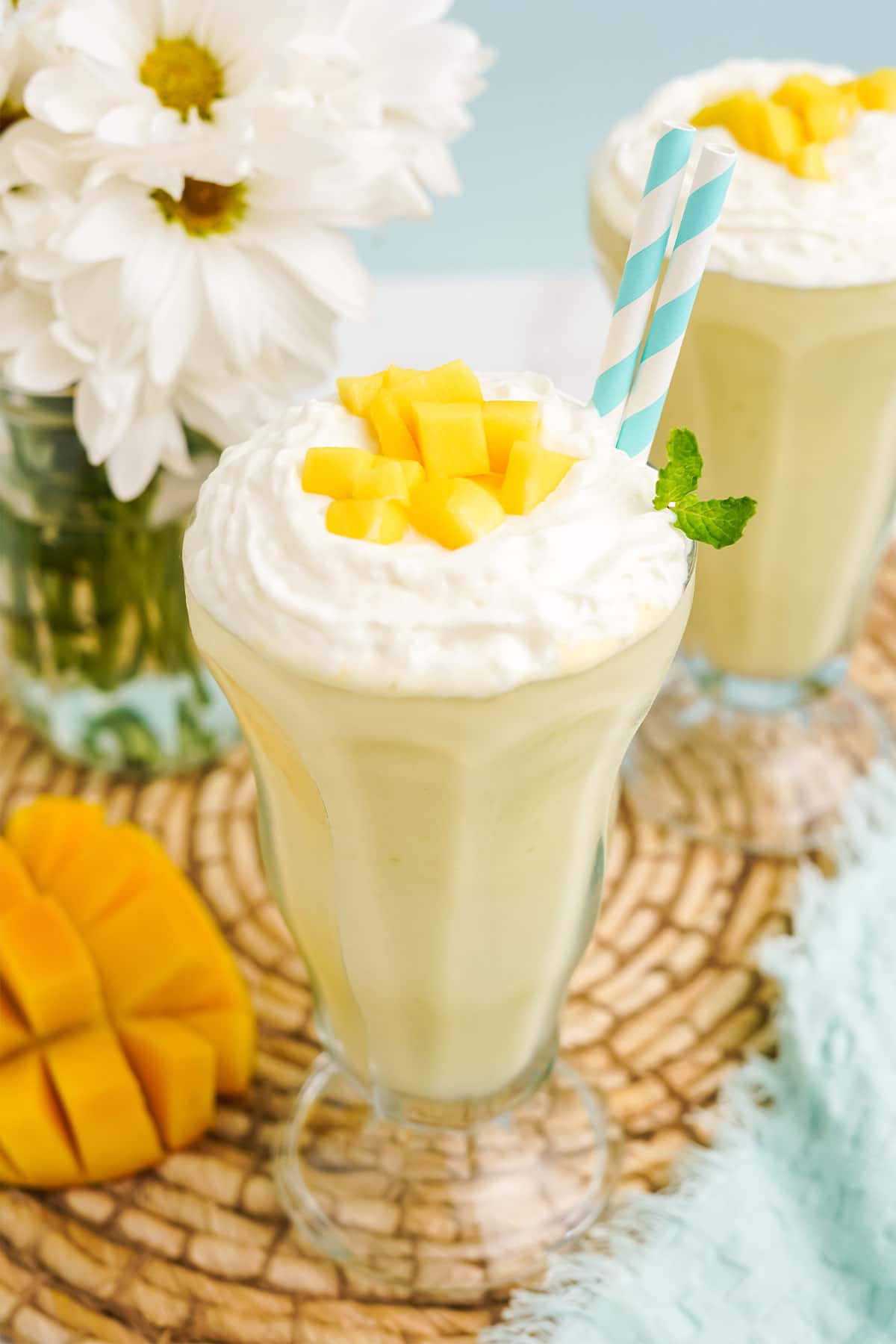 Note: that links to products you find in this post are Amazon affiliate links which means I do make a small amount of money when you click and make purchases.
Everyone loves a good milkshake!
Milkshakes make a super quick and easy snack or dessert and usually require minimal time and ingredients.
This mango shake recipe is a delicious way to enjoy a refreshing, cooling treat. Vanilla ice cream makes a thick, creamy base and the addition of fresh mango gives an unexpected tropical twist.
If you love this frozen drink recipe, then I know you will enjoy a biscoff milkshake, cherry smoothie, or a creamy peach smoothie as well.
Jump to:
Ingredients
Believe it or not, this mango milkshake recipe requires just 3 ingredients!!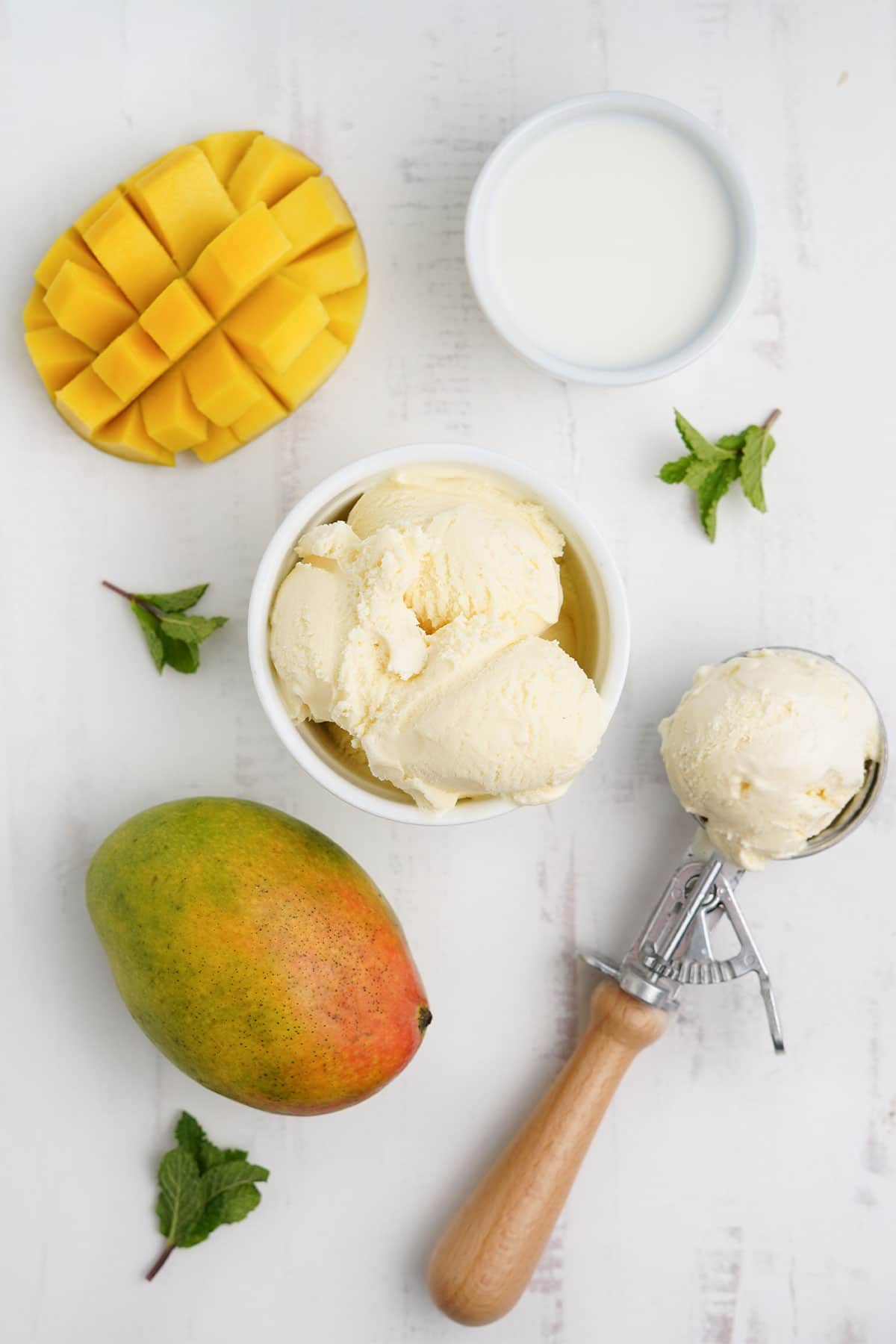 Mango: You can use fresh or frozen mango pulp. I prefer frozen as I have more control over choosing extra sweet fruit.
Ice Cream: This recipe calls for vanilla. You can use basic vanilla, french, or even vanilla bean if you prefer. Using ice cream means you can skip the ice cubes making it ultra-creamy and delicious.
Milk: I like to use whole milk but you can use whatever milk you have on hand.
See the recipe card for the exact quantities for mango shake ingredients.
Substitutions
There is nothing more indulgent and satisfying than a classic mango shake with ice cream, but if you have dietary restrictions, you can make these changes.
Make it dairy-free: Use your favorite dairy-free ice cream and milk alternative to make this milkshake without dairy.
Make it sugar-free: Use a sugar-free ice cream and appropriate milk replacement to make this recipe processed sugar-free.
Equipment
To make this recipe for mango shakes you only need a few tools you likely have in your kitchen already.
Knives and cutting board if using fresh mango
How to Make a Mango Milkshake
The hardest part of this recipe is preparing the mango.
For the best mango milkshake, choose a fresh mango that is really ripe and sweet. The mango should have smooth, blemish-free skin and give easily when touched.
You don't want to use an un-ripe mango as it could make the milkshake a bit tart. Using mango that is too acidic can also curdle the milk.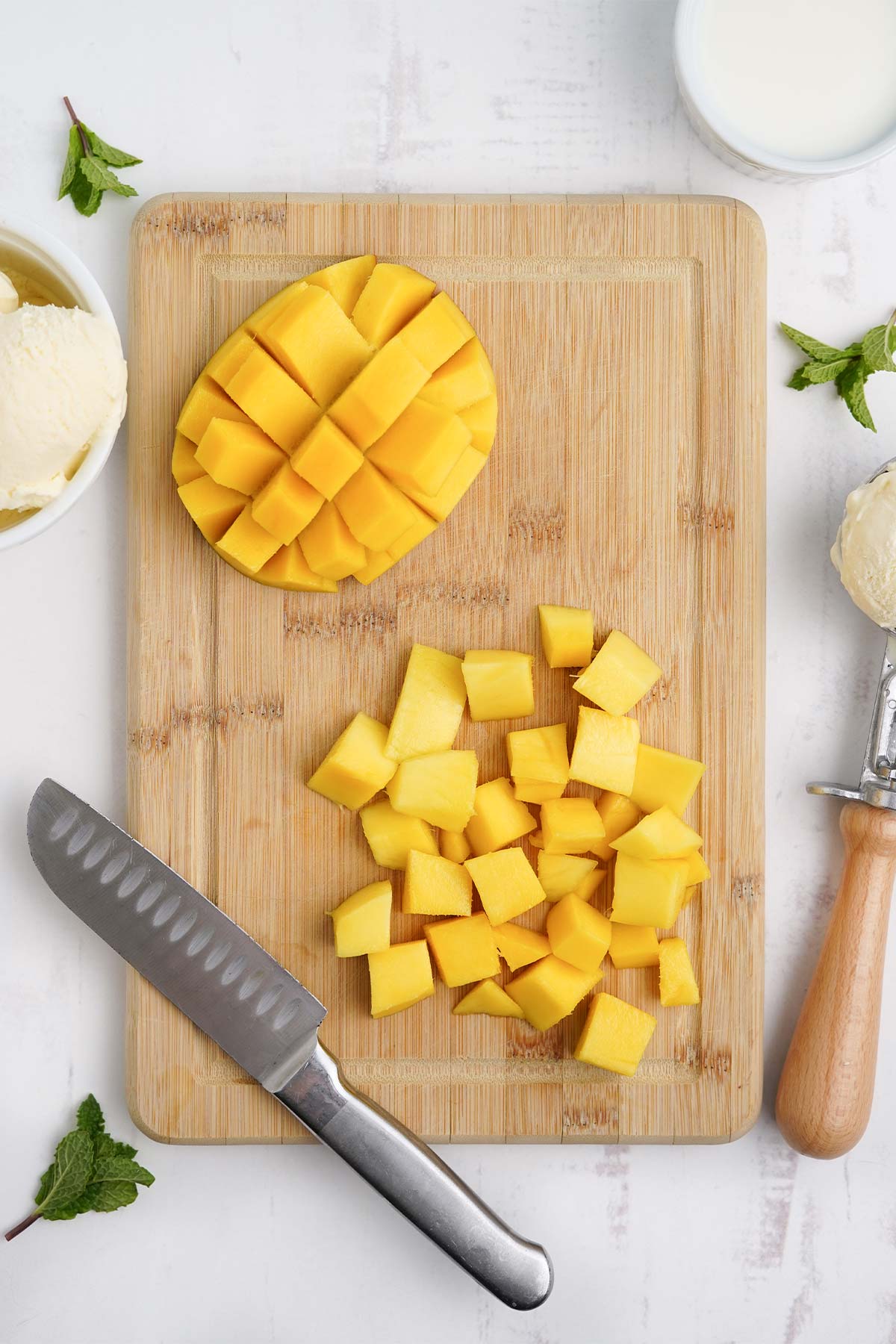 Prep the Mango: Using a knife and cutting board, cut the mango into small pieces cutting around the core, and peel. Once you have diced the mango, the hard part is over!
I love this tutorial on how to cut a mango - it has made my life so much easier when working with mango!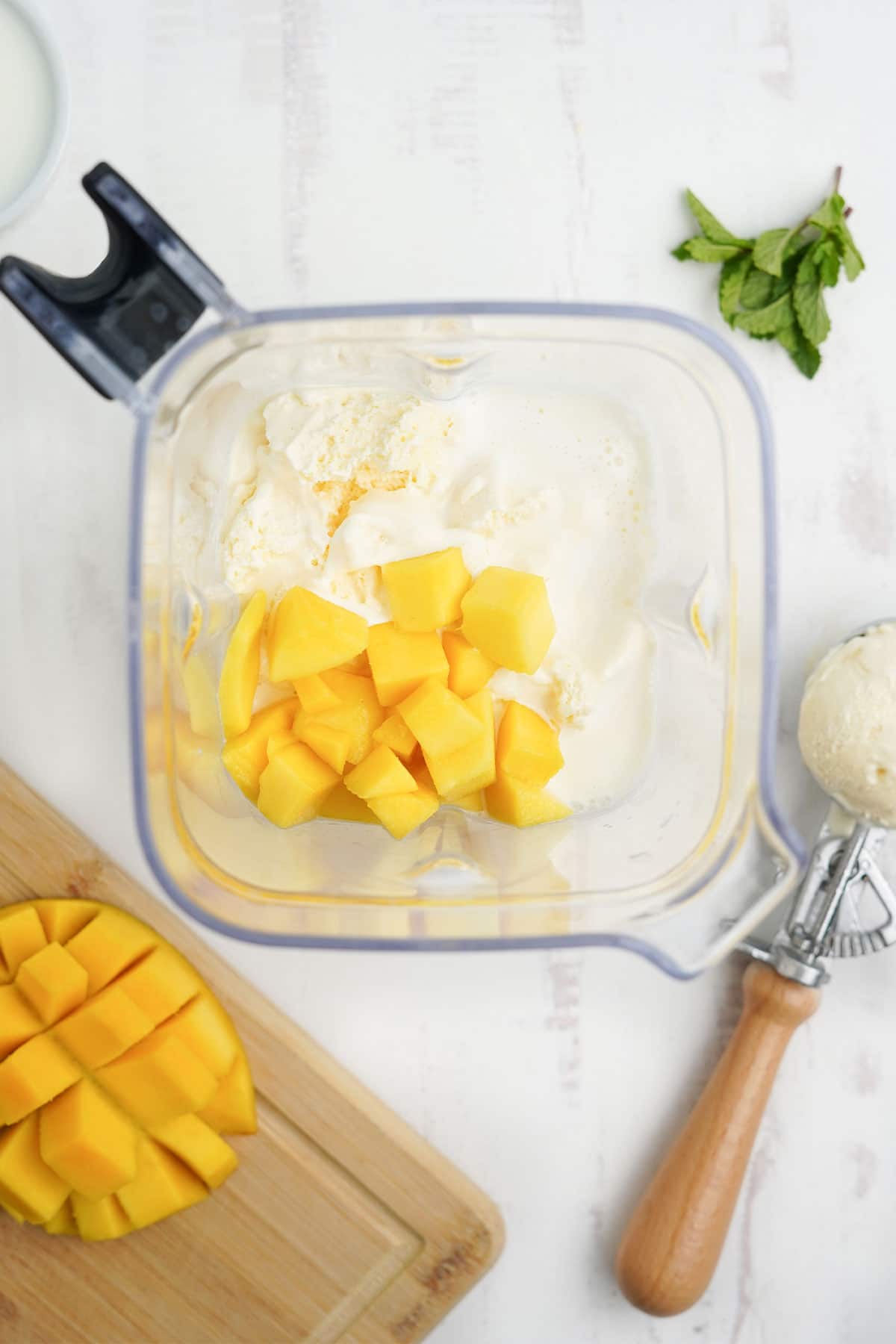 Add to Blender: In a blender, combine the diced mango, ice cream, and milk. I like to place the milk under the ice cream. I find it helped the blender get started a little easier.
Blend: Once everything is in the blender, place the cover on the unit and pulse and blend until everything is smooth.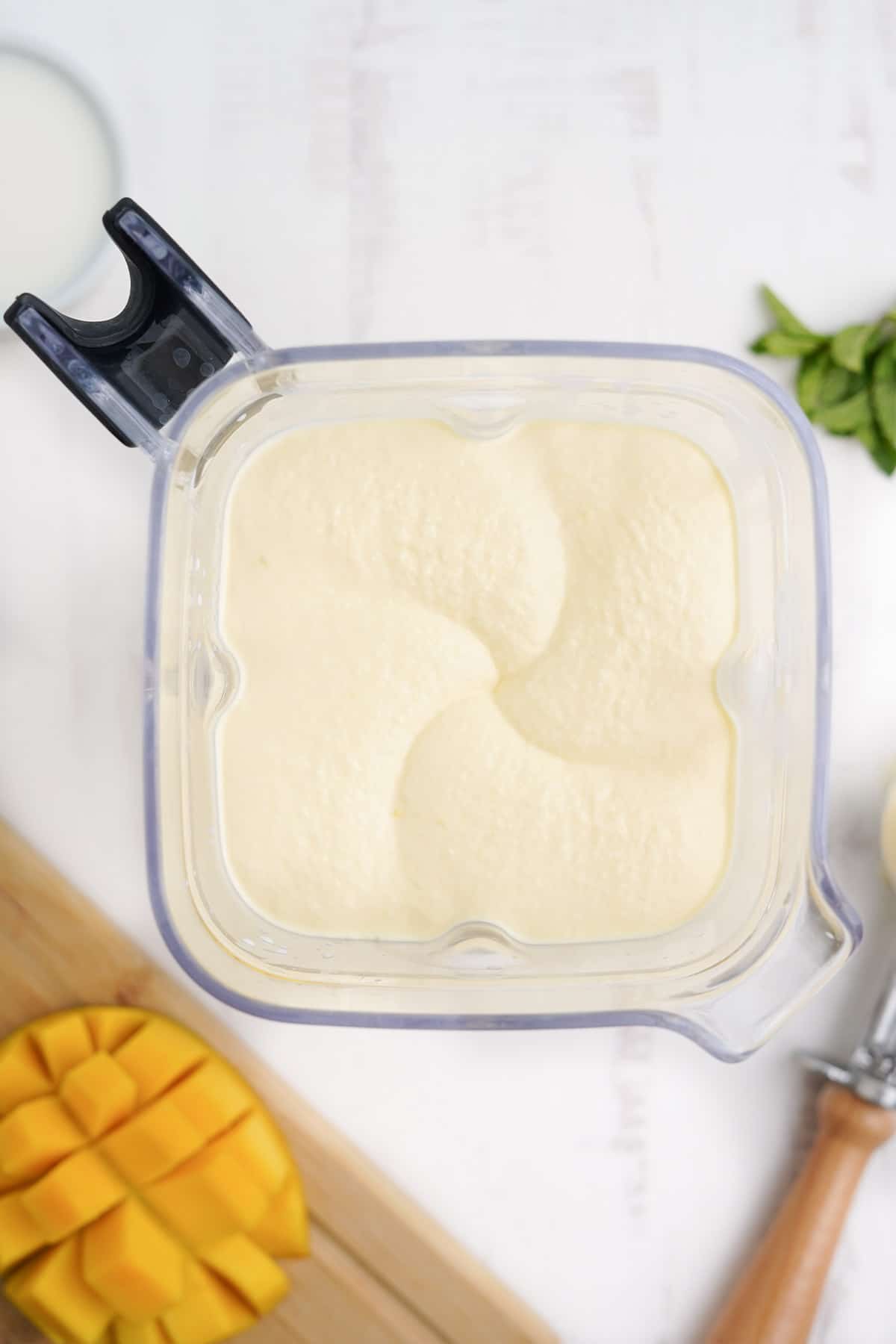 Adjust consistency: During this time you can add more milk and adjust to reach your preferred consistency. If you are using frozen mango, you may need to use a little more milk.
Serve it up: Once the milkshake is blended up smoothly, pour it into your favorite milkshake glasses. I like to top my mango milkshake with extra fresh diced mango, whipped cream, and a sprig of mint. Slip in a nice big milkshake straw and you are ready to enjoy!
Variations
Looking to change things up a bit? Try one of these amazing flavor combinations!!
Mango Milkshake with Tajin: While doing research for this recipe, I saw many versions containing a pinch of spice. The addition of Tajin was especially popular.
Mango Milkshake with Cardamom: Another common spice addition was cardamom. Add in a pinch for a surprising and unique flavor.
Try it with coconut milk: Mango and coconut milk go really well together. So if you want to make this drink even more tropical, try it with coconut milk in place of regular milk.
Make it healthy: Replace the ice cream with frozen banana and the milk with coconut milk.
Storage
Milkshakes are best enjoyed immediately. If you made too much or have extra, you can freeze it but you will need to give it another round in the blender with extra milk to get it to sippable texture again.
Expert Tips and FAQS
I look forward to you trying my favorite mango milkshake recipe! Remember these tips when you make it:
Fresh Mango Shake: Fresh mangoes are best and gives you control of the sweetness.
Unripe Mango: Using unripe mango can curdle the milk so make sure you choose ripe, sweet mangoes.
Adjust the Liquid: Use more or less milk to reach your desired consistency.
Vegan Mango Shake or Dairy-Free: Use dairy-free milk such as coconut or almond milk and an ice cream without dairy to make a dairy-free mango milkshake.
Extra Special Touch: Garnish with whipped cream, fresh chopped mango, and a sprig of mint!
How do I make my milkshake thinner?
Add a little more milk to thin out the milkshake.
How do I thicken my milkshake?
You can add more mango or ice cream if you need to thicken the milkshake.
How do I make my milkshake sweeter?
If you use frozen mango, you may need to add a touch of sweetness to your milkshake. You can add just a touch of sugar or mapel syrup if needed.
How do I store my mango shake?
This mango shake recipe is best enjoyed fresh. If you have leftovers you can store them in the freezer but they will need to go through the blender with more milk to get to a drinkable consistency again.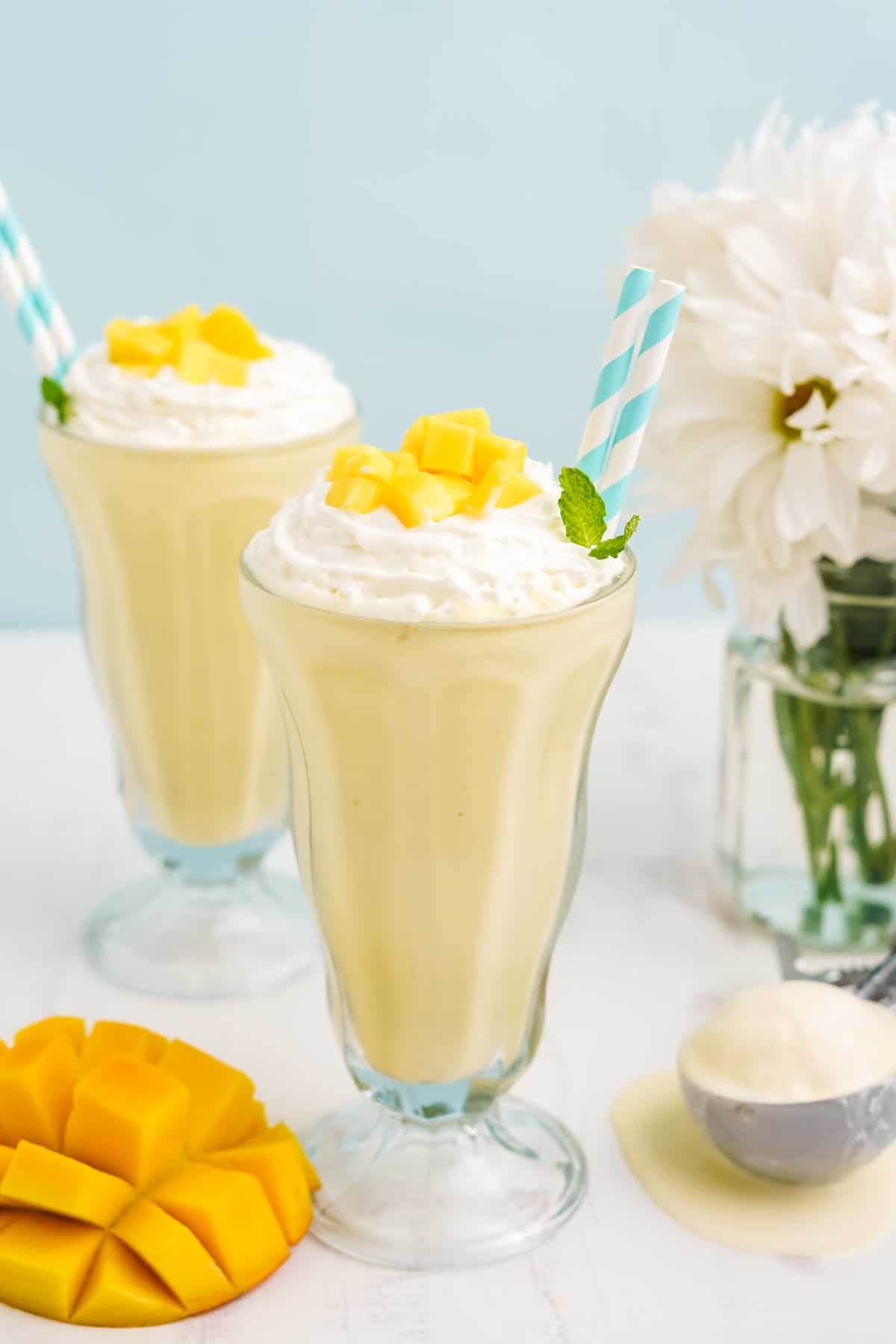 More Popular Fruit Recipes
Did you try this recipe? Please leave a star rating in the recipe card right below! You can also write a review in the comment section further down the page I always appreciate your feedback. And don't forget to tag me @freshcoasteats in your photos on social media, I'd love to see your results!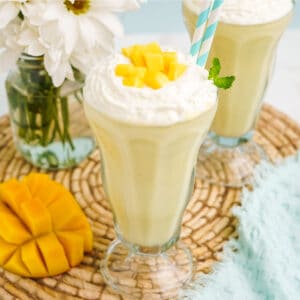 Mango Shake
This quick and easy 3-ingredient mango shake is made with fresh or frozen mango, ice cream, and milk. Its creamy, smooth, tropical flavor is perfect for a sweet snack or simple dessert that is ready in 5 minutes.
Print
Pin
Rate
Ingredients
2

cups

diced fresh or frozen mango

1

cup

whole milk

3

cups

vanilla ice cream

whipped cream

extra diced mango, mint sprig, optional for serving
Instructions
Combine all ingredients in a blender and blend until smooth and creamy.
Nutrition
Calories:
582
kcal
|
Carbohydrates:
77
g
|
Protein:
12
g
|
Fat:
26
g
|
Saturated Fat:
16
g
|
Polyunsaturated Fat:
1
g
|
Monounsaturated Fat:
7
g
|
Cholesterol:
102
mg
|
Sodium:
206
mg
|
Potassium:
854
mg
|
Fiber:
4
g
|
Sugar:
70
g
|
Vitamin A:
2817
IU
|
Vitamin C:
61
mg
|
Calcium:
422
mg
|
Iron:
1
mg