This creamy red skin potato salad with bacon and sour cream is the ultimate summer side dish!
Boiled red skin potatoes are tossed with mayonnaise, sour cream, and white wine vinegar then combined with crunchy celery and green onion, fresh herbs, and topped off with crispy bacon.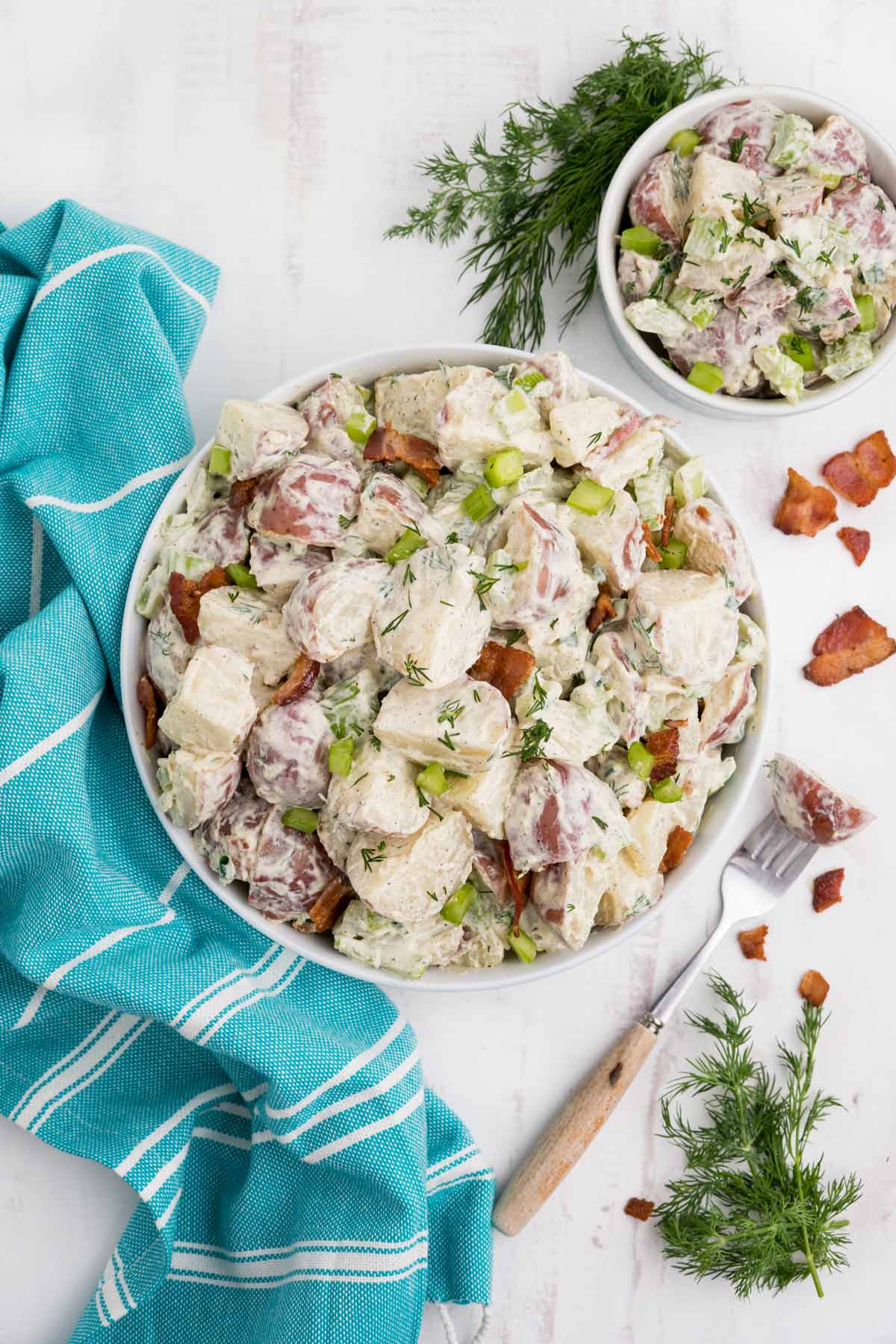 Note: that links to products you find in this post are Amazon affiliate links which means I do make a small amount of money when you click and make purchases.
It's no secret, everyone loves a great potato salad!
I especially enjoy more unique variations and when I discovered this red potato salad in an old family cookbook, I knew I had to update it and share it on the blog!
This recipe is a great make-ahead side dish solution perfect for potlucks, BBQs, and family gatherings. Serve it up with grilled salmon, slow cooker chicken legs, and so much more!
It's quick, easy, and unbelievably tasty.
In this blog post, I am going to teach you how quick and easy it is to make this delicious recipe and tell you why it is THE BEST red skinned potato salad recipe you will ever have!
Jump to:
Ingredients
To get started, we are going to gather the ingredients. For this recipe, fresh is best! You will need: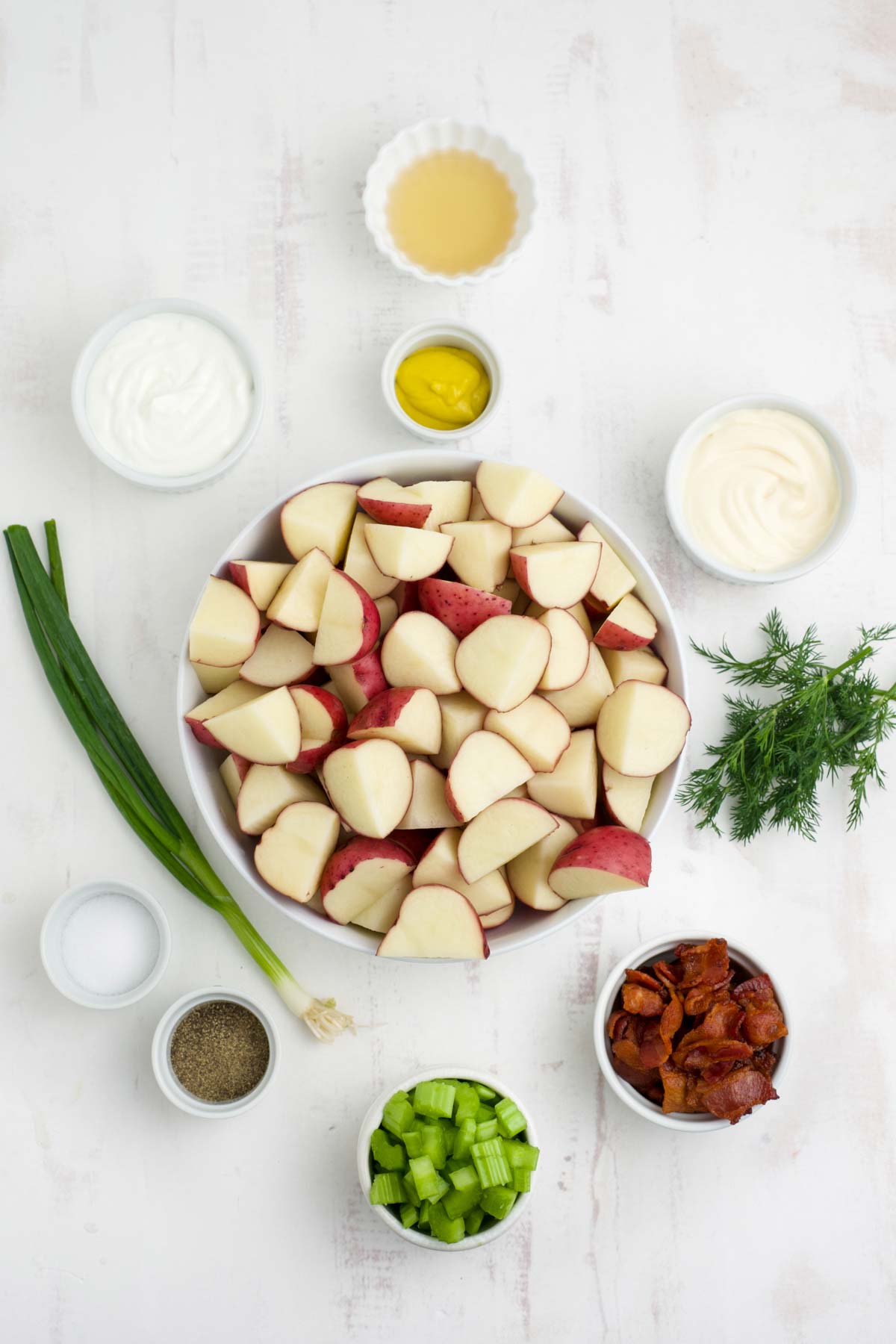 Red Skinned Potatoes: Make sure they are fresh and thoroughly cleaned. You will want to chop them into bite-sized pieces. Depending on the size of your potatoes, this could mean in quarters or even smaller.
Mayonnaise: I like to use real mayo for this recipe. This helps give it the ultimate creamy touch.
Sour Cream: Adds a little bit of tang to the recipe and lightens up the volume of the sauce.
White Wine Vinegar: This adds some acidity to the dressing and leaves a lingering finish.
Mustard: I like to use yellow mustard when making potato salad. The mustard adds an extra layer of flavor leaving your tasters saying "Yum, what is that!?"
Celery: Fresh celery adds a clean and crunchy texture that is lovely when paired with creamy potatoes.
Green Onion: Fresh green onion adds an extra zip of sweet but peppery flavor, and an extra splash of green color to the potato salad.
Dill: Dill adds that fresh and zesty herbaceous flavor which is so good against the other flavors in this recipe.
Bacon: Bacon makes everything better, including this potato salad!
Salt and Pepper: You can adjust these to suit your taste. They help round out the recipe for the perfect finish.
See the recipe card for the exact quantities of each one.
PRO TIP: Keep your red-skinned potatoes covered with water while chopping to prevent discoloration.
Substitutions
I have tested my way through many recipes to come up with this one. Along the way, I have discovered a few substitutions you can make:
Red Skinned Potatoes: You can also make this with other potato varieties.
Mayonnaise: Nothing is quite as indulgent as a good, real mayonnaise but in a pinch you could use greek yogurt (but omit the sour cream) or a vegan mayonnaise alternative.
Sour Cream: Plain greek yogurt will work in place of sour cream if needed.
White Wine Vinegar: This ingredient can be replaced with red wine vinegar or apple cider vinegar. I have also made it with fancy boutique vinegar and it turned out delicious!
Mustard: Yellow mustard can be swapped for dijon if needed.
Don't care for celery? Use chopped cucumbers or green peppers instead.
Green Onion: Swap with sweet or white onion if you prefer. I have also made this with chives and it was delicious!
Dill: I love adding fresh dill to this potato salad but you could also use fresh parsley, chives, or cilantro.
Bacon: If you don't have home-fried bacon use packaged bacon bits.
Equipment
This red skin potato salad with sour cream recipe doesn't require much equipment at all! You will need:
Cutting board and knife: To prepare the potatoes and vegetables.
Large pot: To simmer the potatoes.
Strainer: For draining the potatoes after cooking.
Measuring cups and spoons: This will help to ensure proper amounts of the ingredients.
Large mixing bowl: Perfect for mixing everything together.
Whisk: The best utensil to thoroughly combine the wet ingredients.
Large Spoon: For stirring everything together.
How to Prep Ingredients for Potato Salad
Before we get started making the salad, I want to talk a little bit about preparing the ingredients.
Make sure your potatoes are super fresh and very clean.
You do not need to peel the potatoes before boiling them, but you will want to cut them. I like them in bite-sized pieces which usually means quarters but depending on the potato size may mean smaller.
Chop the veggies for the potato salad super small.
PRO TIP: Cutting the potatoes before boiling them not only cuts down on cooking time but also saves time waiting for them to cool so you can handle them for cutting.
How to Make Red Skin Potato Salad
Now that you have your ingredients prepped and equipment gathered, it's time to learn how to make your new favorite potato salad!
Start by placing your potatoes in a pot of water and bringing them to a gentle simmer. Starting with the potatoes in cool water helps manage the starches and gives the potatoes optimal texture.
Simmer them until they are fork tender. It will take about 15-20 minutes depending on the size. Be careful not to overboil or they will make the salad mushy. Once they are done cooking, drain them thoroughly.
PRO TIP: Drain them well. It is important you remove all the water because any residual water could make the creamy dressing too thin.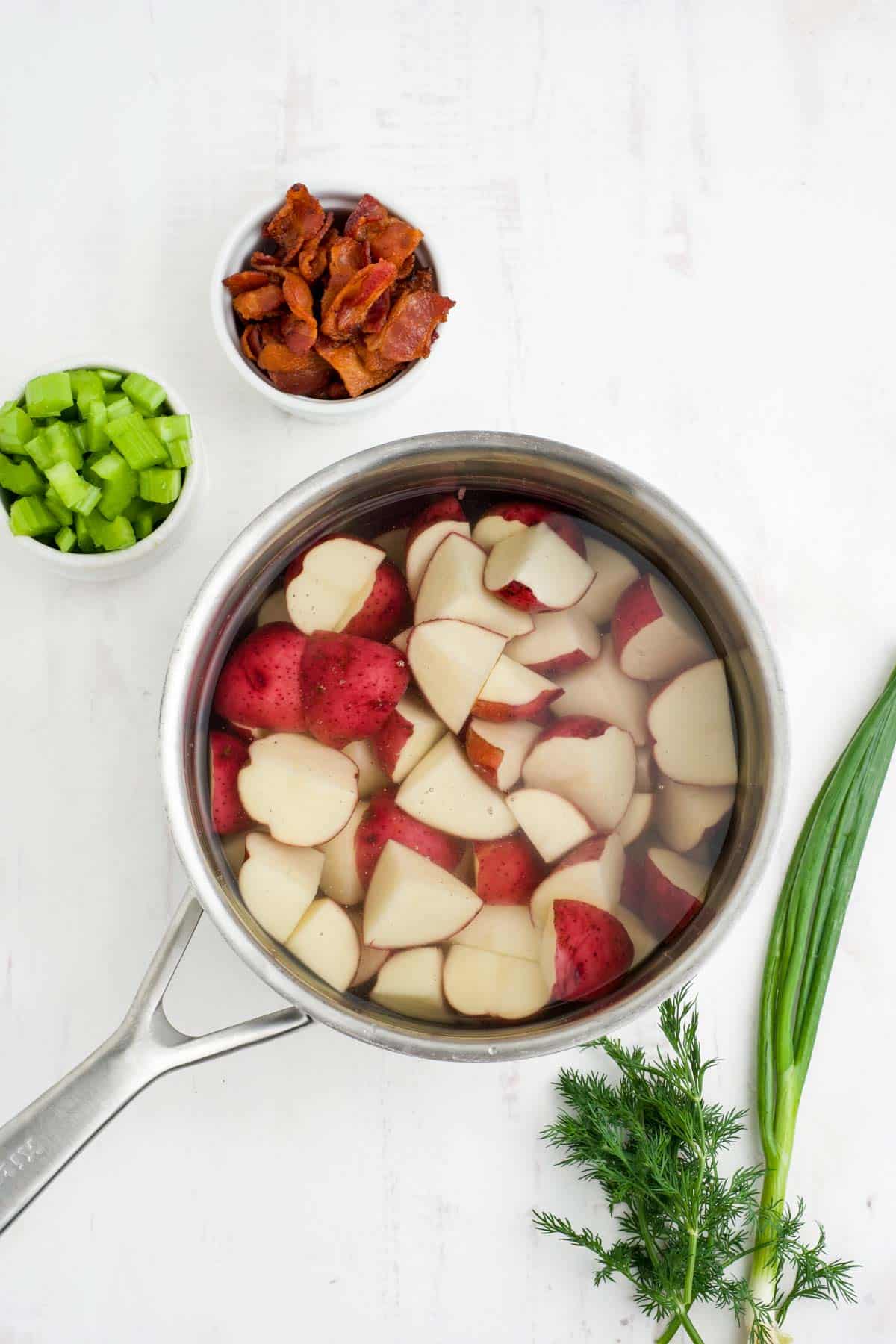 Next, whisk together the mayonnaise, sour cream, yellow mustard, white vinegar, salt, and pepper until thoroughly combined.
Give it a taste at this time and make sure it is to your liking, then adjust if necessary.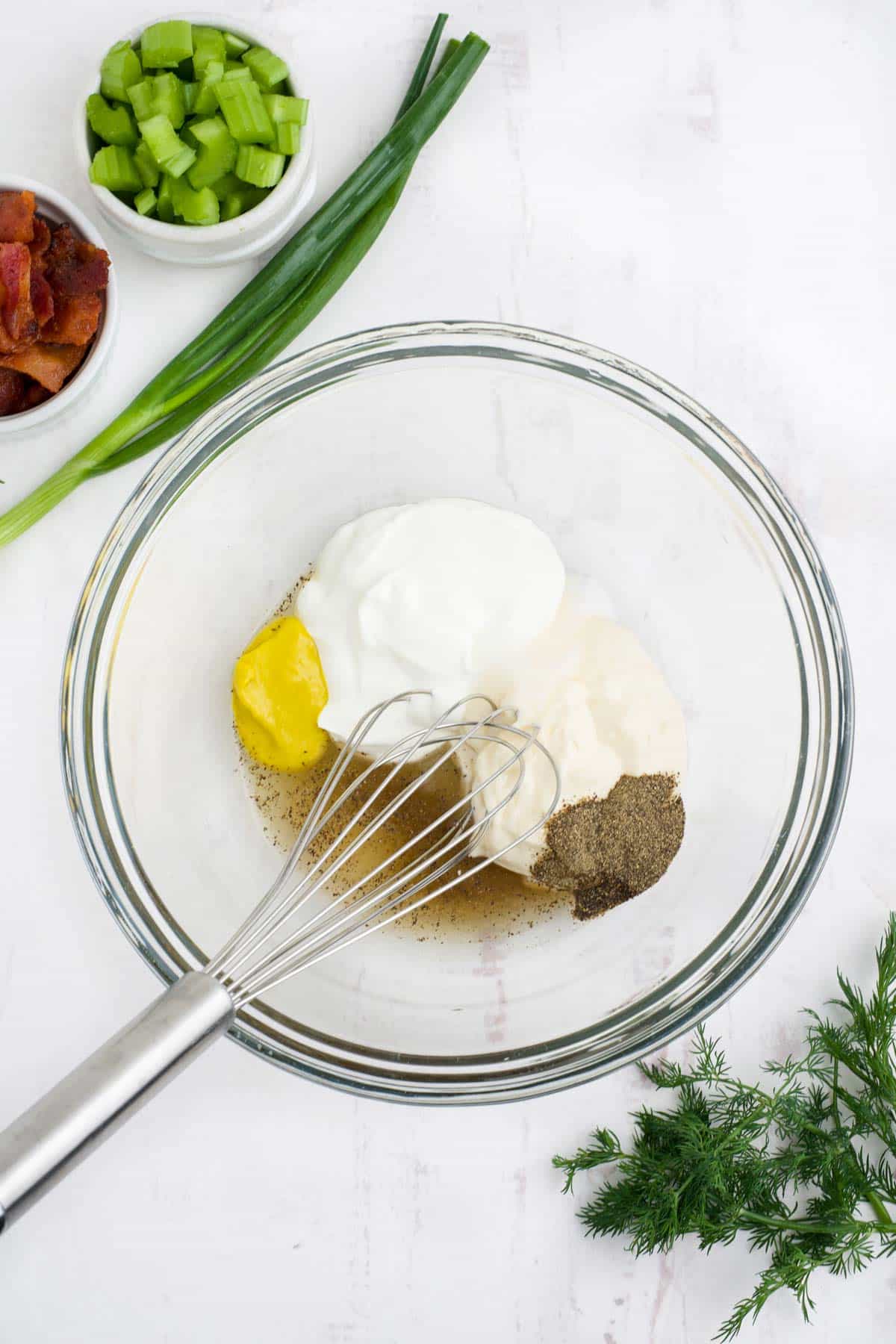 Add the potatoes to a bowl and use a large spoon to stir. You want the dressing to completely coat the potatoes.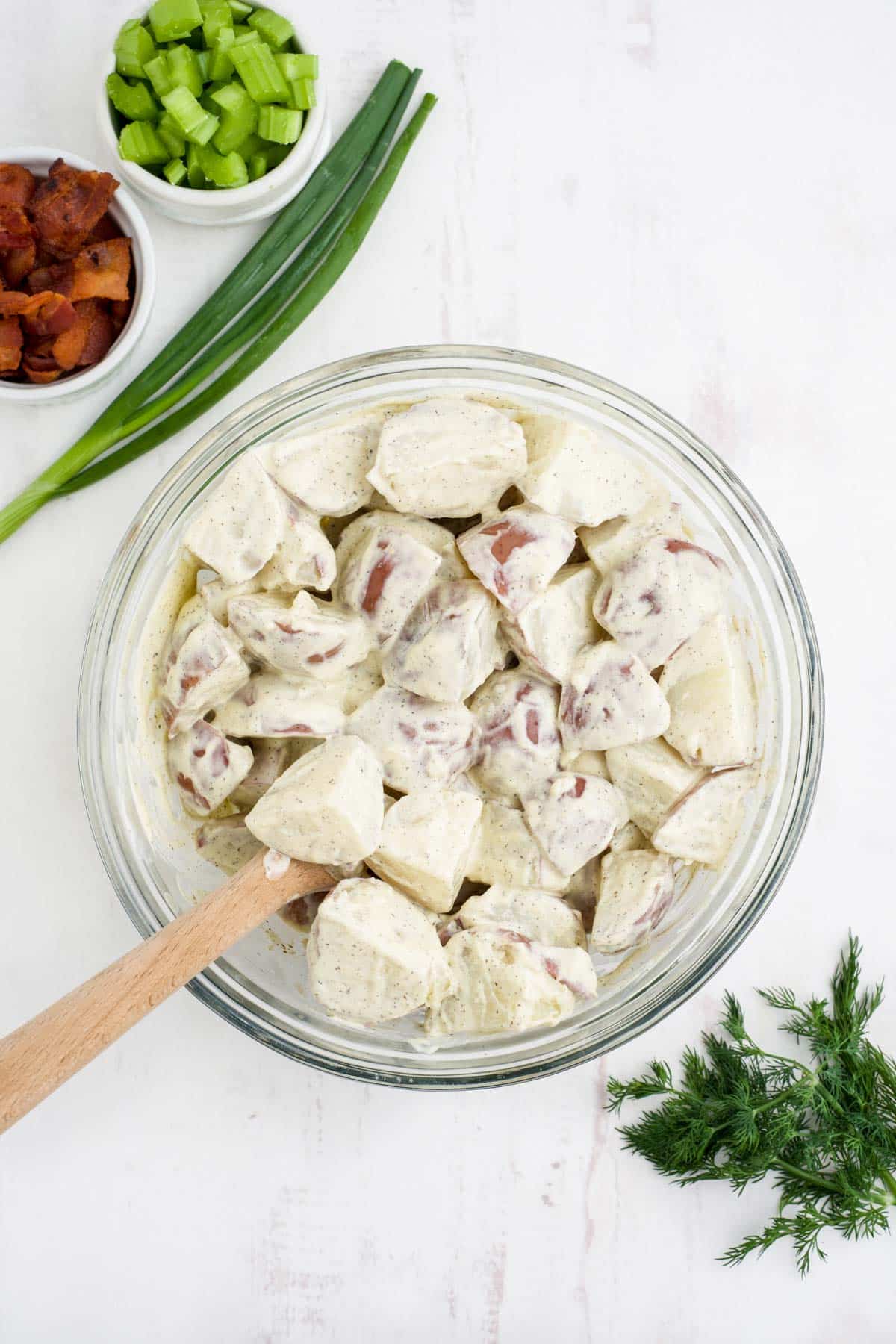 Finally add the vegetables, dill, and bacon.
Give the potato salad a couple of final stirs until fully combined.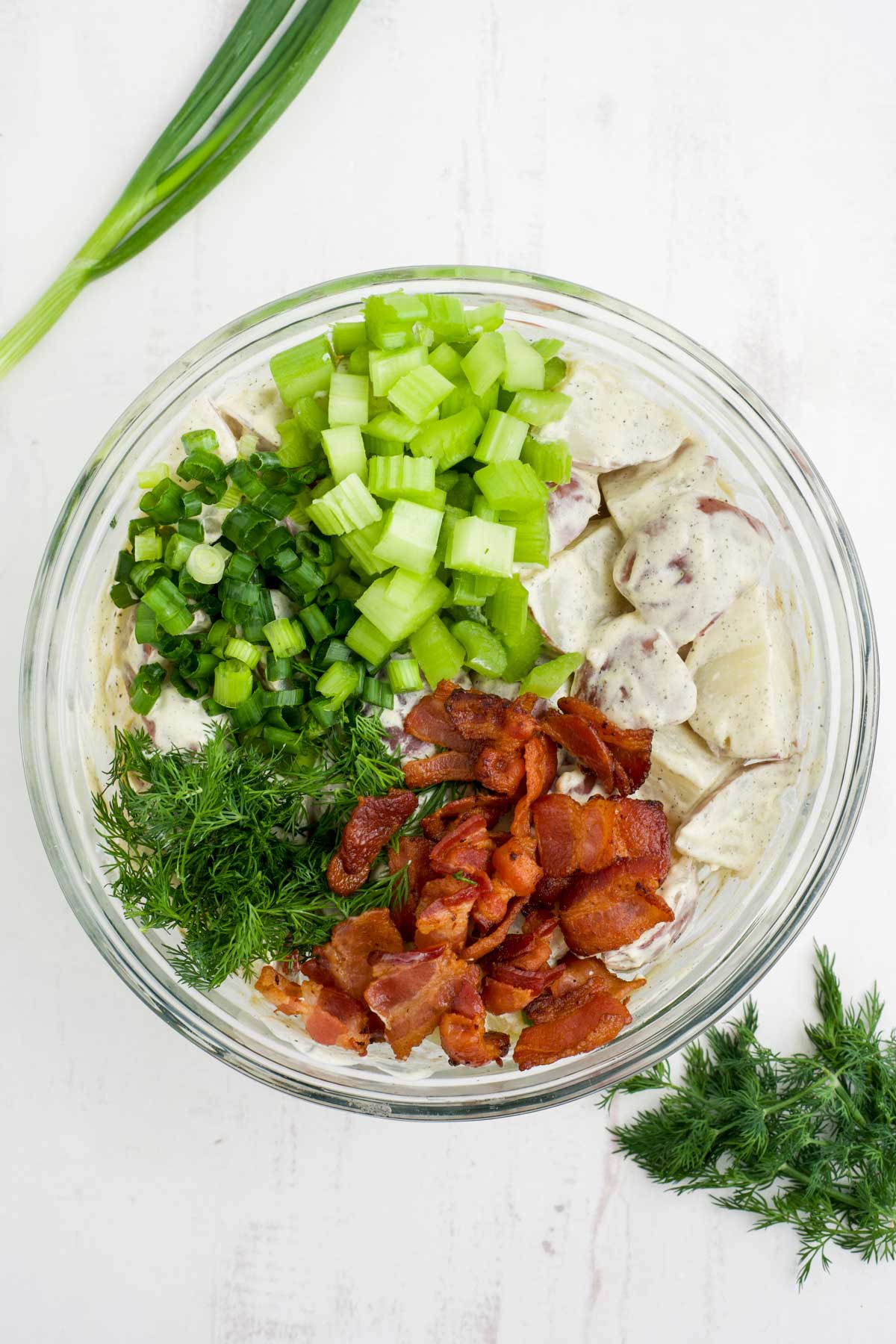 PRO TIP: Sometimes, I like to keep some extra veggies, dill, and bacon to the side and finish the dish off by sprinkling them over the top.
The dish is finished at this point and you could serve it warm if you like, however, I recommend covering it and placing it in the refrigerator for a few hours before serving.
I think serving the salad cold really highlights the flavors and you will find that taste improves as it sits.
Variations
Once this easy potato salad becomes your new favorite, you may find yourself looking for ways to change it up. Here are some variation ideas for you to truly make it yours!
Make it spicy: Add a pinch of red pepper flakes, cayenne pepper, pickled jalapeno, or a splash of hot sauce to add some heat.
Add some pickles: Pickles are a common add-in for potato salad and taste great in this homemade potato salad with dill.
Load on the veggies: Add in cucumber, bell pepper, carrots, or radish for the ultimate veggie-filled potato salad.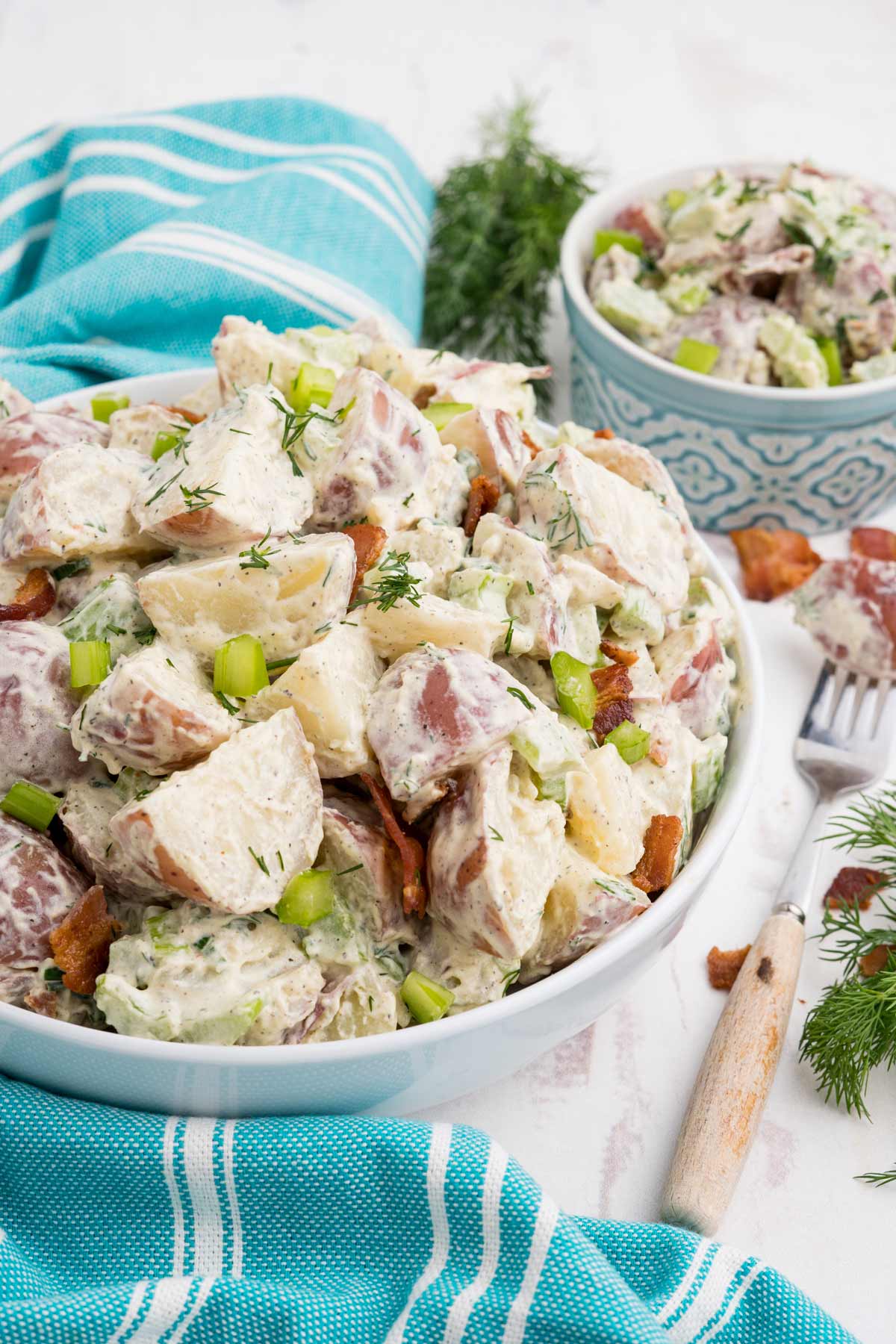 Storage
If you are lucky enough to have leftovers, you will want to store them in an air-tight container in the fridge for up to 4 days.
I would not recommend freezing this recipe.
What to Serve with Potato Salad
This recipe is my favorite versatile side dish!
Expert Tips and FAQS
I am so excited for you to try my family's favorite potato salad with dill. Remember these tips before you give it a try:
Start with cold water.
Keep the potatoes at a simmer, not a boil.
Drain the potatoes thoroughly to keep the dressing nice and creamy.
Whisk the dressing ingredients before adding them to the potatoes.
Do I need to peel red skinned potatoes?
No. Red skinned potato skins are mild and very thin. For this recipe, we are keeping the peels on!
Should I boil the water before adding the potatoes?
No, start with cold water to help manage the starches.
How do I know when the potatoes are done?
Simmer them until you can easily pierce the skin and potato with a fork.
What is red skin potato salad?
Quite simply it's potato salad with dill made with red skinned potatoes. This recipes combines simmered red skinned potatoes with a creamy sour cream dressing, fresh veggies, dill, and bacon for the ultimate summer side dish.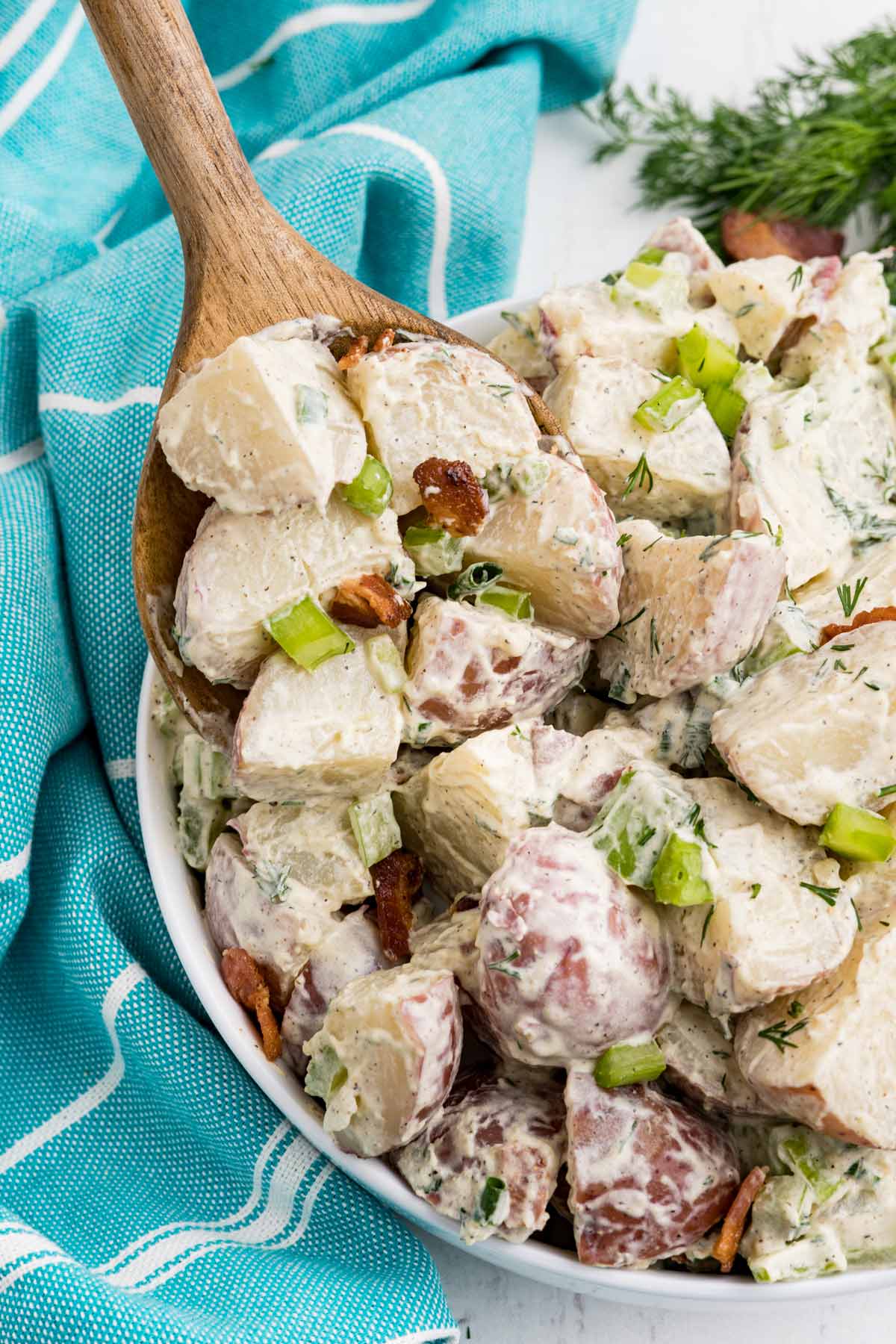 More Easy Salad Recipes
Did you try this recipe? Please leave a star rating in the recipe card right below! You can also write a review in the comment section further down the page I always appreciate your feedback. And don't forget to tag me @freshcoasteats in your photos on social media, I'd love to see your results!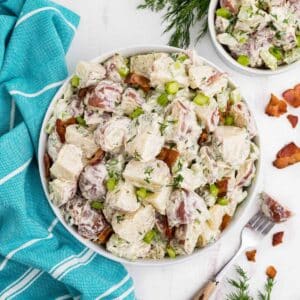 Red Skin Potato Salad
This creamy red skin potato salad with bacon and sour cream is the ultimate summer side dish!
Print
Pin
Rate
Ingredients
3

lbs

red skinned potatoes

washed and cut into small bite sized pieces

½

cup

mayonnaise

½

cup

sour cream

2

tablespoons

white wine vinegar

1

tablespoon

yellow mustard

½

teaspoon

kosher salt

½

teaspoon

ground black pepper

½

cup

celery

chopped

1

green onion

finely sliced

¼

cup

chopped dill

6

slices

cooked bacon

chopped
Instructions
Place the prepared potatoes in a large pot covered with cool water and bring to a simmer.

Simmer for 15-20 minutes or until fork tender. Drain thoroughly and set aside.

In a large mixing bowl, whisk together the mayonnaise, sour cream, white wine vinegar, mustard, salad and pepper until completely combined.

Add the potatoes and stir until fully coated.

Add the celery, green onion, chopped dill and chopped bacon and stir until fully incorporated.

Cover and allow to chill in the fridge for at least two hours or overnight.

Serve chilled.
Notes
Start with cold water.
Keep the potatoes at a simmer, not a boil.
Drain the potatoes thoroughly to keep the dressing nice and creamy.
Whisk the dressing ingredients before adding them to the potatoes.
Nutrition
Calories:
367
kcal
|
Carbohydrates:
38
g
|
Protein:
8
g
|
Fat:
21
g
|
Saturated Fat:
5
g
|
Polyunsaturated Fat:
9
g
|
Monounsaturated Fat:
5
g
|
Trans Fat:
0.05
g
|
Cholesterol:
27
mg
|
Sodium:
530
mg
|
Potassium:
1149
mg
|
Fiber:
4
g
|
Sugar:
4
g
|
Vitamin A:
362
IU
|
Vitamin C:
22
mg
|
Calcium:
56
mg
|
Iron:
2
mg