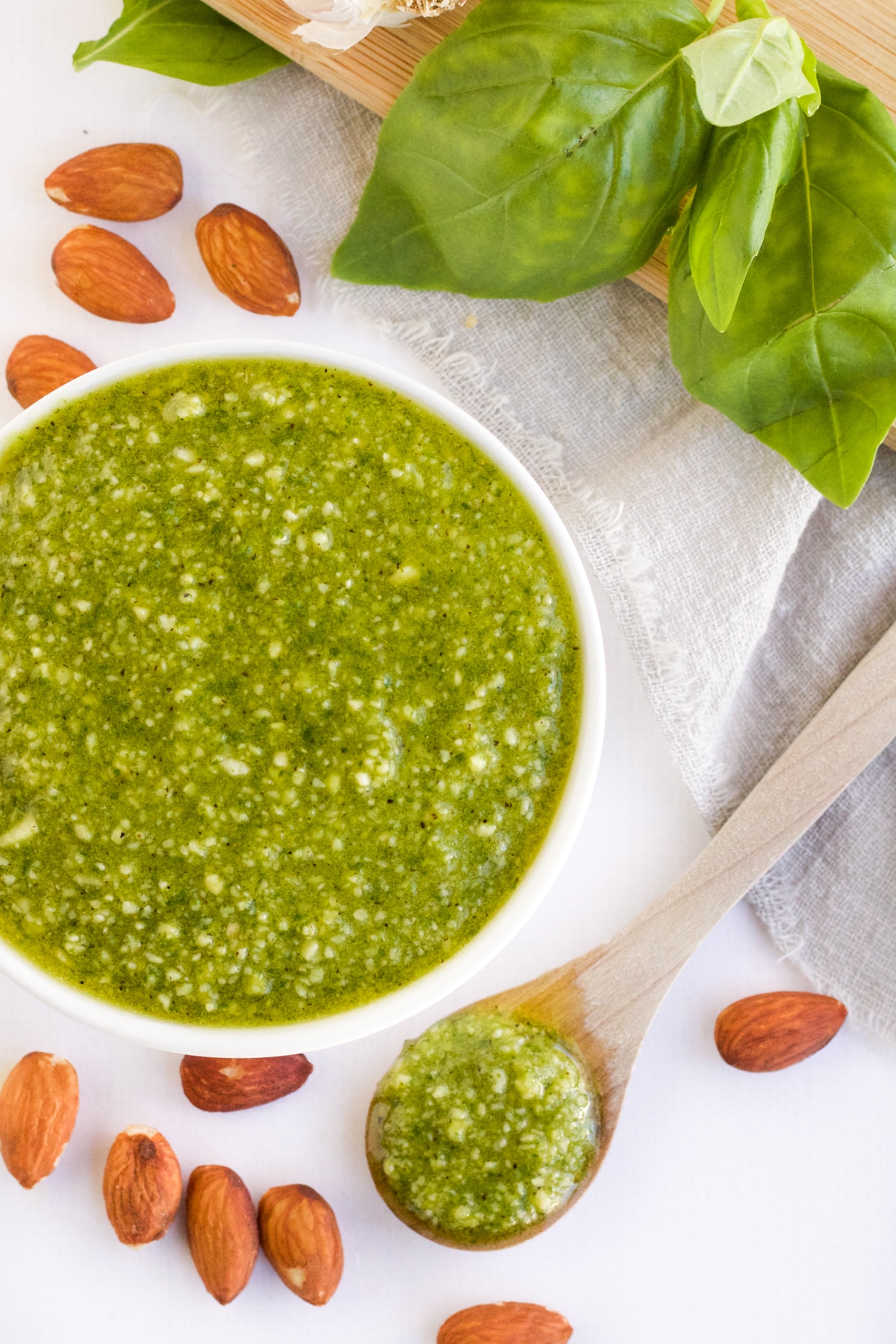 Jump to:
We are a participant in the Amazon Services LLC Associates Program. As an Amazon Associate, I earn from qualifying purchases.
When it comes to versatile sauces, pesto reigns supreme! I always keep a stash of fresh or frozen pesto sauce on hand as it goes so nicely on eggs, pasta, vegetables and even chicken and fish!
This almond basil pesto recipe is one of my absolute favorites. Not only is it easy to make, but it is super healthy and packed with protein, thanks to the almonds.
I make this sauce in bulk at the end of the summer, when my basil plants are bursting. It makes a wonderful hostess gift when packaged in these cute traditional mason jars. Or, bring it over fresh in one of these adorable little yogurt jars. I also love these air tight options with a clasp.
What can I use this almond basil pesto recipe for?
Isn't pesto sauce supposed to include cheese or nutritional yeast?
Don't get me wrong, I love traditional pesto sauce made with parmesan cheese. But you may be surprised to find you can make pesto without cheese and still get that fresh burst of basil flavor you love!
Does making homemade pesto without nutritional yeast take away from the flavor?
When making pesto without cheese, it is important not to skip the salt. If you pass up the parmesan, it is the salty flavor you will miss the most!
Even without cheese, homemade pesto is packed with fresh garden flavor and a lingering finish of savory garlic.
Here's the ingredients you'll need to make your own Vegan Almond Basil Pesto at home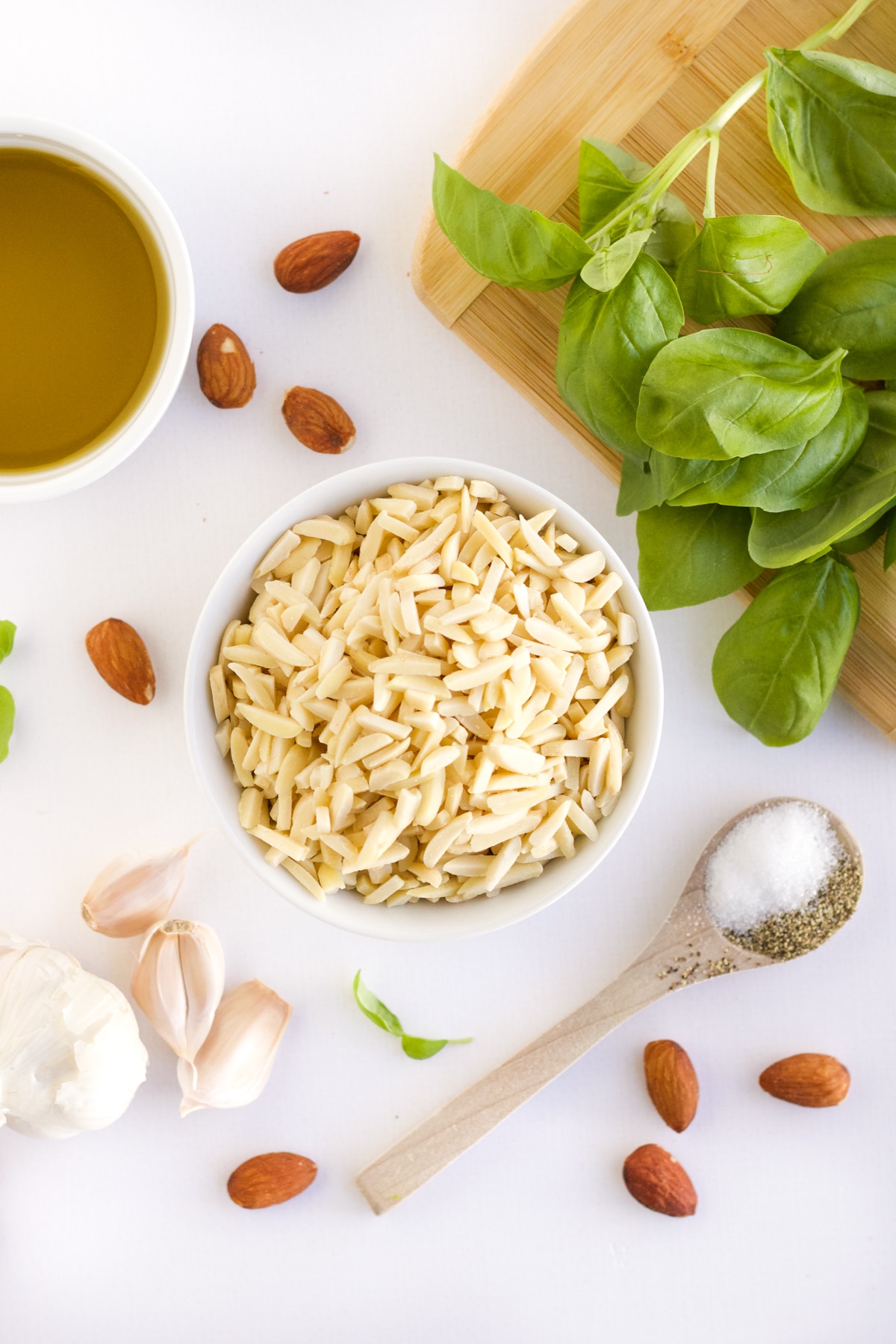 Fresh Basil Leaves – Use fresh leaves for the best result. Homegrown or locally grown is always best. You can also buy fresh basil at the supermarket.
Almonds – I like to use slivered for making pesto. If you use whole, be sure to pulse the almonds on their own before adding the remaining ingredients.
Garlic Cloves – Use whole, fresh garlic cloves for this recipe. Skip the paste or refrigerated pre-minced.
Salt – Don't skip on the salt for this recipe, since we aren't using cheese…it's important!
Ground Black Pepper- Rounds out the flavor and adds a kick to the finish.
Extra Virgin Olive Oil – Quality is key! I love this brand!
How to Make Vegan Almond Basil Pesto without nutritional yeast
Making homemade pesto is so easy! Once you try our simple fresh, homemade version you will never buy the bottled stuff again!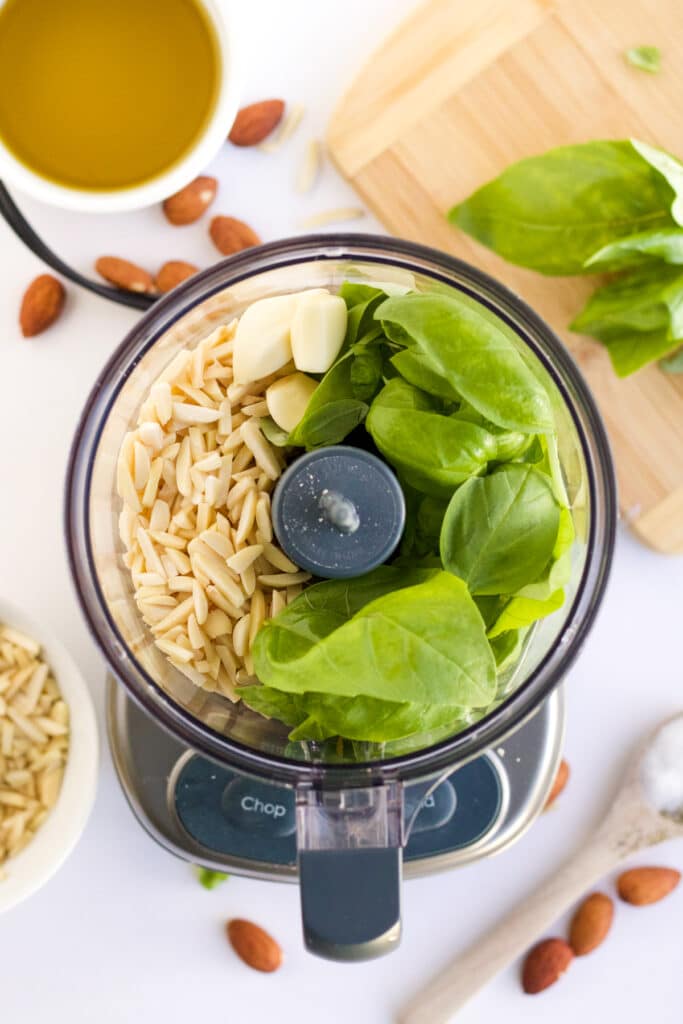 Start by combining all the ingredients in a food processor or blender. Some people like to pulse dry ingredients on their own first. When using whole almonds, I do prefer to pre-pulse but if you are using slivered almonds as suggested you can combine everything at once.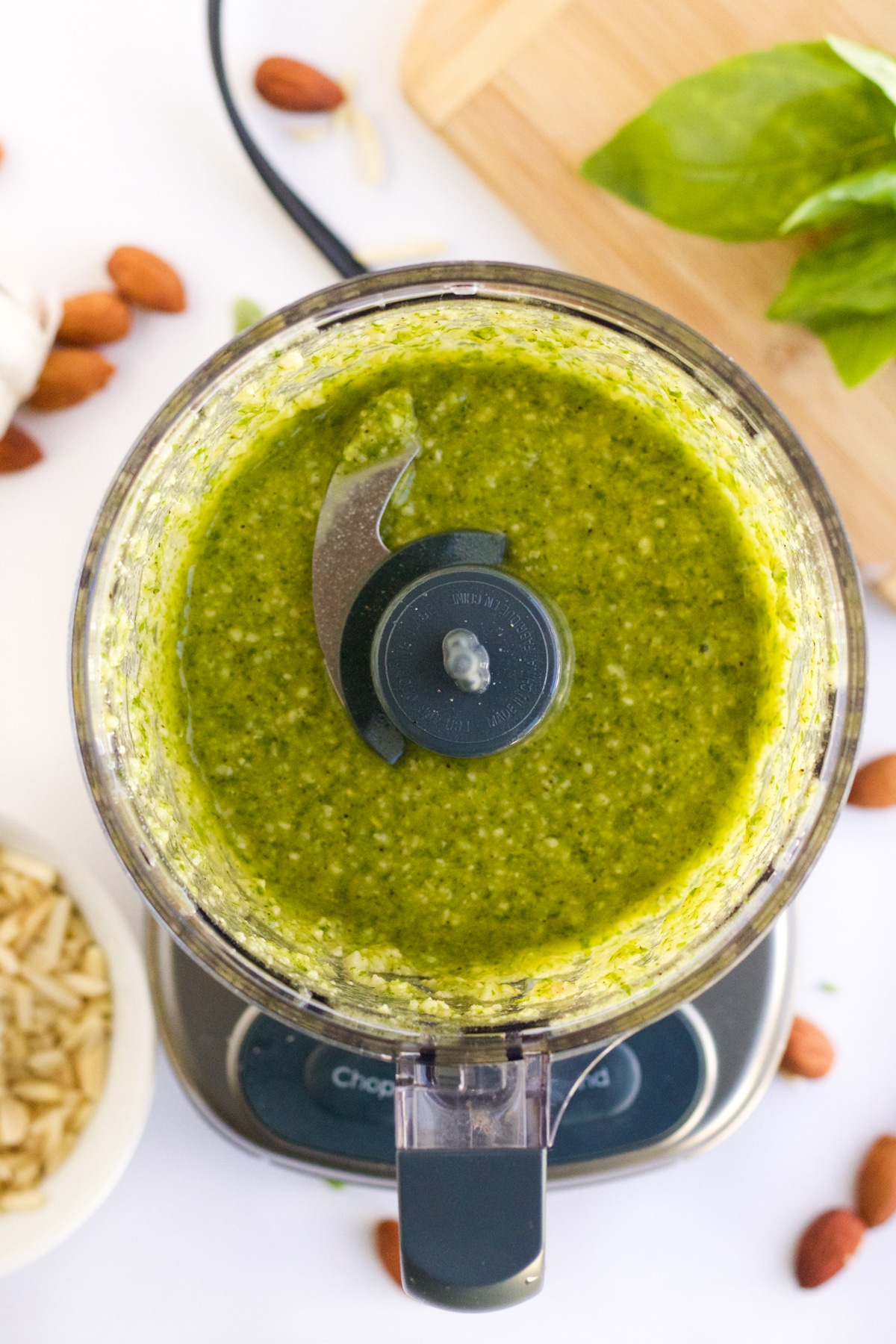 FAQ about making homemade vegan pesto
What kind of nuts can you use for pesto? Do I have to use almonds?
There are all different kinds of wonderful pesto recipes. One of my favorite recipes actually doesn't use nuts at all! Check out our most popular post for my favorite nut free pesto recipe or our cashew pesto recipe for more ideas.
You can also use cashews or pine nuts to make this recipe.
Can I use nutritional yeast if I want to in this pesto recipe?
Yes, if you want to add a bit of nutritional yeast to this recipe you can. You may need to increase the amount of olive oil used to get the desired consistency.
How long does almond pesto last?
Store this sauce in an airtight container and keep covered for up to a week. Don't be alarmed if your pesto turns a bit brown. That is part of oxidation. It may not be as fresh and vibrant looking as it was when you first made it, but it will still be good to eat and will still taste great!
Some people say that blanching the leaves before you start the recipe helps with it turning brown, but I think you can leave that step out as it didn't make much of a difference when I tried it.
How to store leftover homemade pesto sauce
When properly stored in air tight containers, your homemade almond pesto recipe will keep for about a week.
I love these containers for keeping things fresh.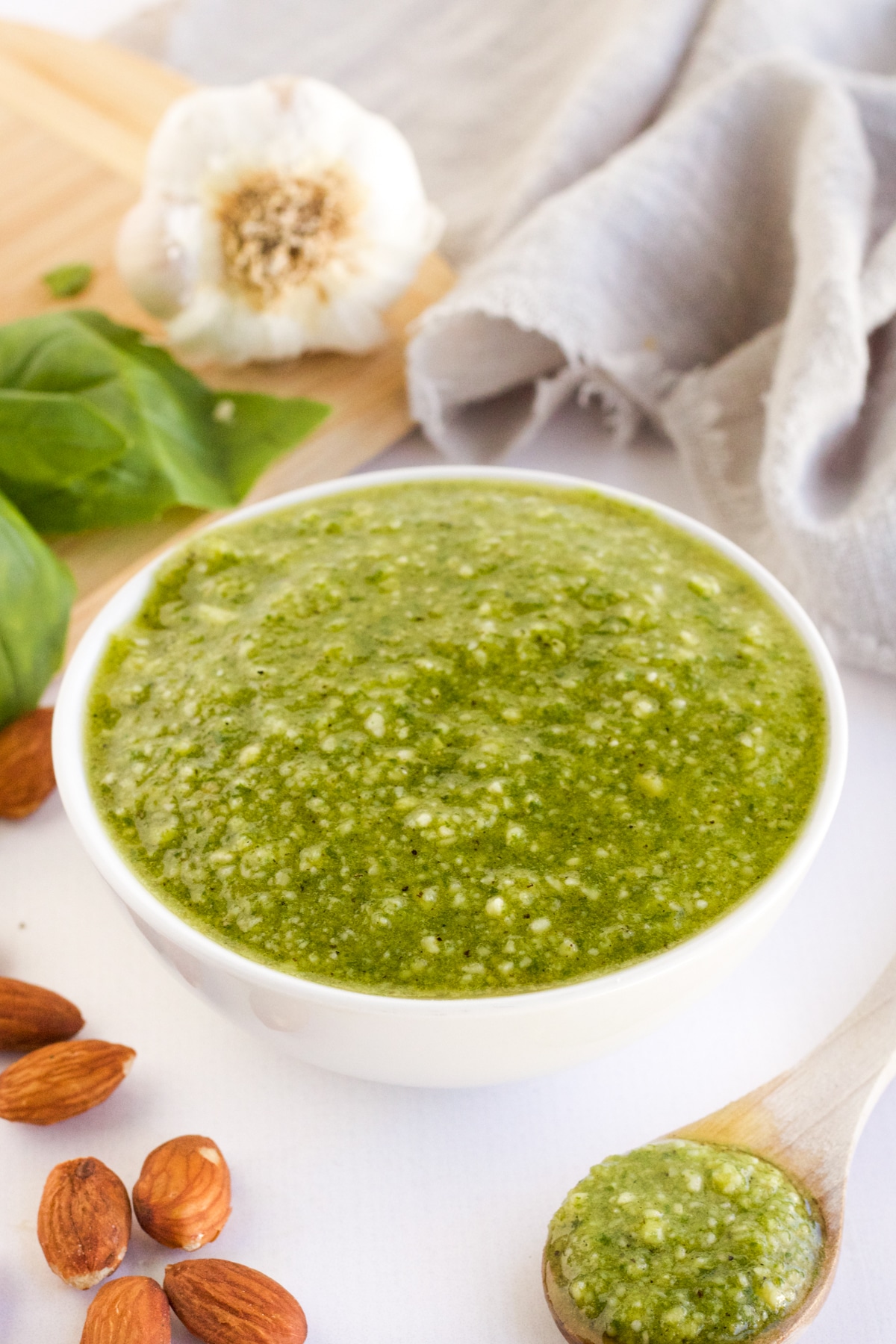 Can you freeze leftover almond pesto?
Yes! One of my favorite things about this recipe is that it freezes well.
I like to use an ice cube tray and fill it with the pesto, then pop the frozen pesto cubes out and store in a freezer-safe ziplock bag. I love these reusable ones on Amazon!
This way, I can thaw a small amount at a time.
Should Basil be washed before making pesto?
Yes. You should always thoroughly wash and dry your herbs before you use them, especially if you have purchased them from the store.
Why is my basil pesto bitter?
I just learned that extra-virgin olive oil contains bitter tasting polyphenols coated by fatty acids, which prevent them from dispersing. If the oil is emulsified in a food processor for a long period of time, these polyphenols get squeezed out and the liquid mix turns bitter.
This means, you should be extra careful not to overly puree your pesto once the olive oil gets added.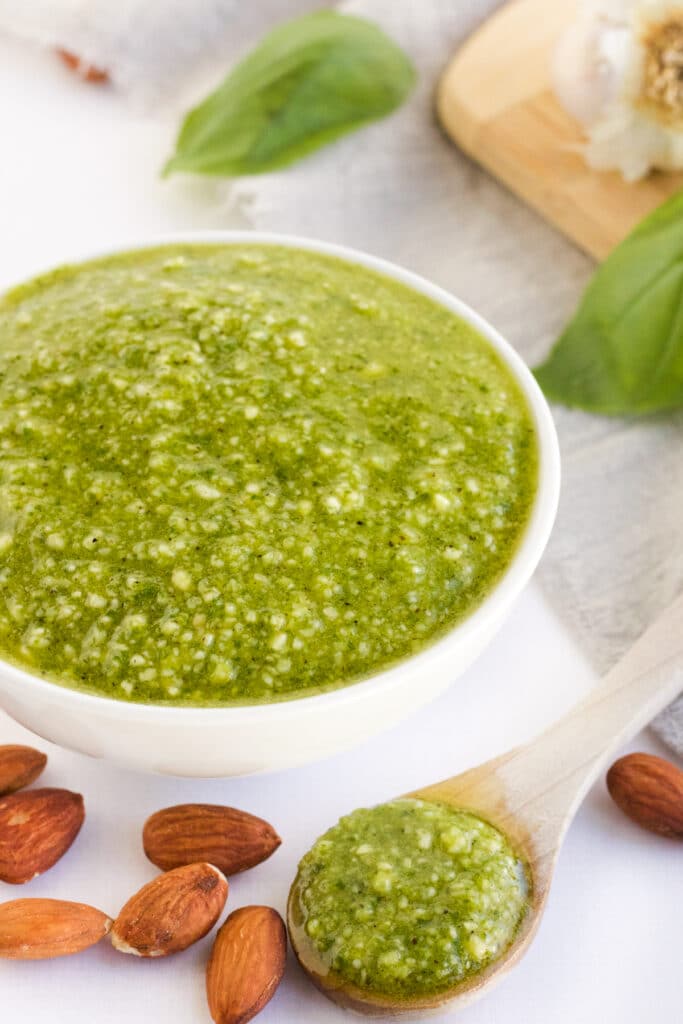 Why is my basil pesto so thick?
If your basil pesto is too thick for your liking, stir in a little extra oil.
Why is my almond pesto so thin?
If you find your almond pesto is too thin for your preference you can add more almonds or basil until desired thickness is achieved.
When it comes to making homemade pesto this vegan almond basil pesto sauce is at the top of my list!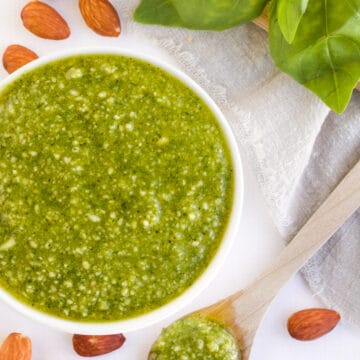 Homemade Vegan Almond Basil Pesto (Without Nutritional Yeast!)
This quick and easy homemade vegan almond basil pesto is made with almonds, basil, garlic, olive oil and salt and pepper. Perfect on chicken, fish, vegetables or over pasta.
Print
Pin
Rate
Ingredients
3

cups

basil

fresh, packed

1/2

cup

almonds

slivered

3

garlic cloves

1/2

cup

extra virgin olive oil

1/2

teaspoon

salt

1/4

teaspoon

pepper
Instructions
In a food processor or blender, add the fresh basil, almonds, garlic, salt, and pepper. Pulse or grind for 20 seconds.

Scrape down the sides of the food processor and add in the olive oil until well combined. Continue pulsing until desired texture is reached.
Notes
When making homemade pesto, it is important to add the oil at the very end to prevent over mixing leading to bitterness. 
Leftover sauce will store for one week in an airtight container in the fridge. 
You can freeze this sauce and it will keep for a few months when properly stored in an airtight container in the freezer. 
Nutrition
Calories:
349
kcal
|
Carbohydrates:
5
g
|
Protein:
5
g
|
Fat:
36
g
|
Saturated Fat:
4
g
|
Trans Fat:
1
g
|
Sodium:
293
mg
|
Potassium:
190
mg
|
Fiber:
3
g
|
Sugar:
1
g
|
Vitamin A:
951
IU
|
Vitamin C:
4
mg
|
Calcium:
84
mg
|
Iron:
1
mg