This Banana Peach Smoothie recipe is so perfect for a healthy snack, easy meal on the go, or a simple sweet treat. Frozen peaches, bananas, greek yogurt, milk, and honey are blended together for a creamy, dreamy hunger fix that is not only healthy but delicious and easy too!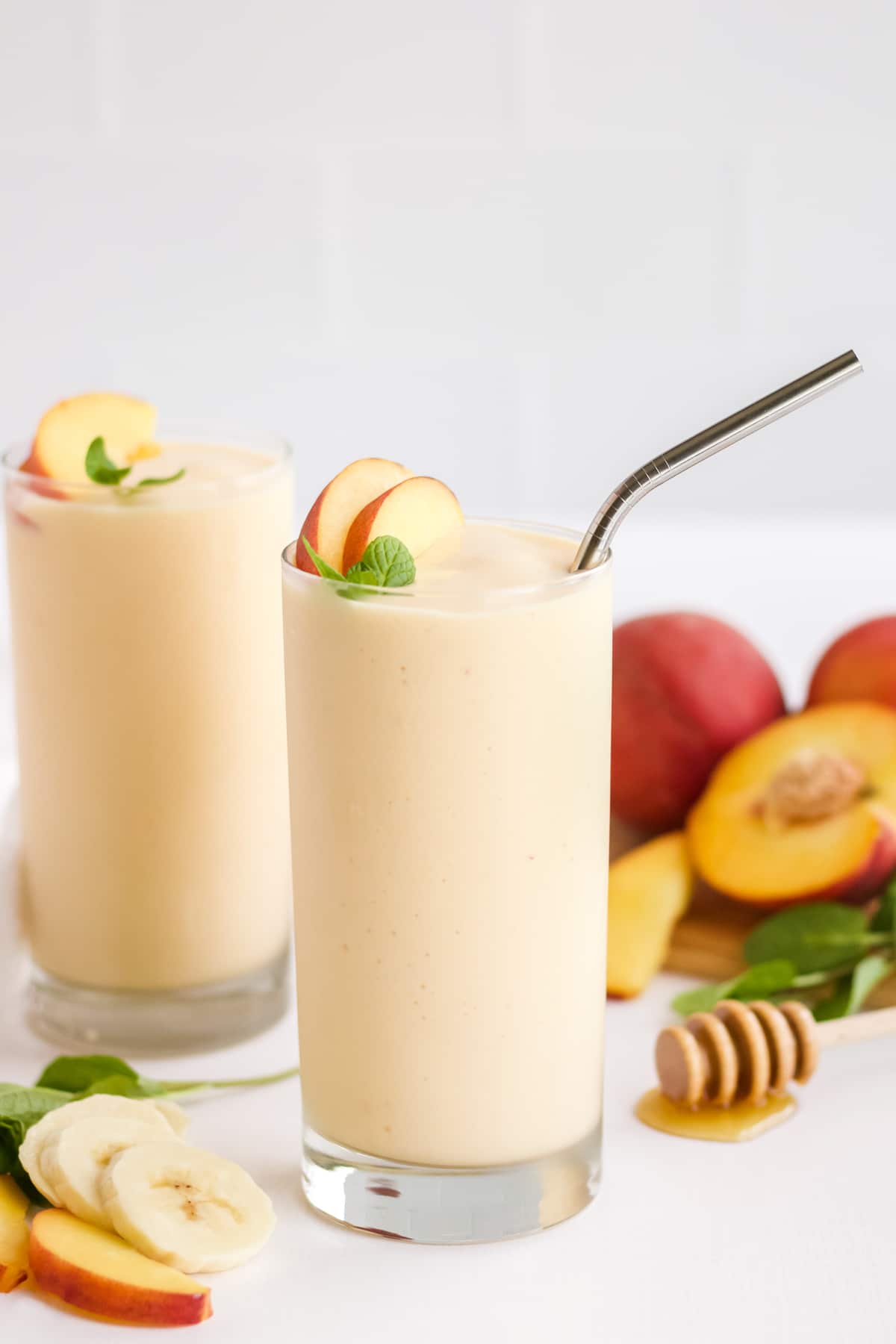 Smoothies are always a family favorite in our house! They are great for a quick breakfast, easy snack or even as dessert! I love making them because they are always full of healthy ingredients and clean up is a breeze. Our go-to smoothie recipes are cherry or strawberry banana. But since it is peach season here on the fresh coast, I knew we had to come up with a new favorite flavor to celebrate!
What's in a Banana Peach Smoothie?
Making smoothies is so easy! I often have my kids help and my older children love to make them on their own. For this smoothie, you will need:
Frozen peaches – you can use fresh if you have them, but you may need to add ice.
Banana – for added health benefits and flavor.
Greek yogurt – You can use plain or flavored, or regular yogurt if that's what you have on hand. Greek yogurt is thicker and healthier, so it's preferred.
Honey – for sweetness. You are welcome to use any sweetener you like.
About 1/2 cup of liquid – water or milk. Juice is also an option but adds a lot of sugar to your smoothie.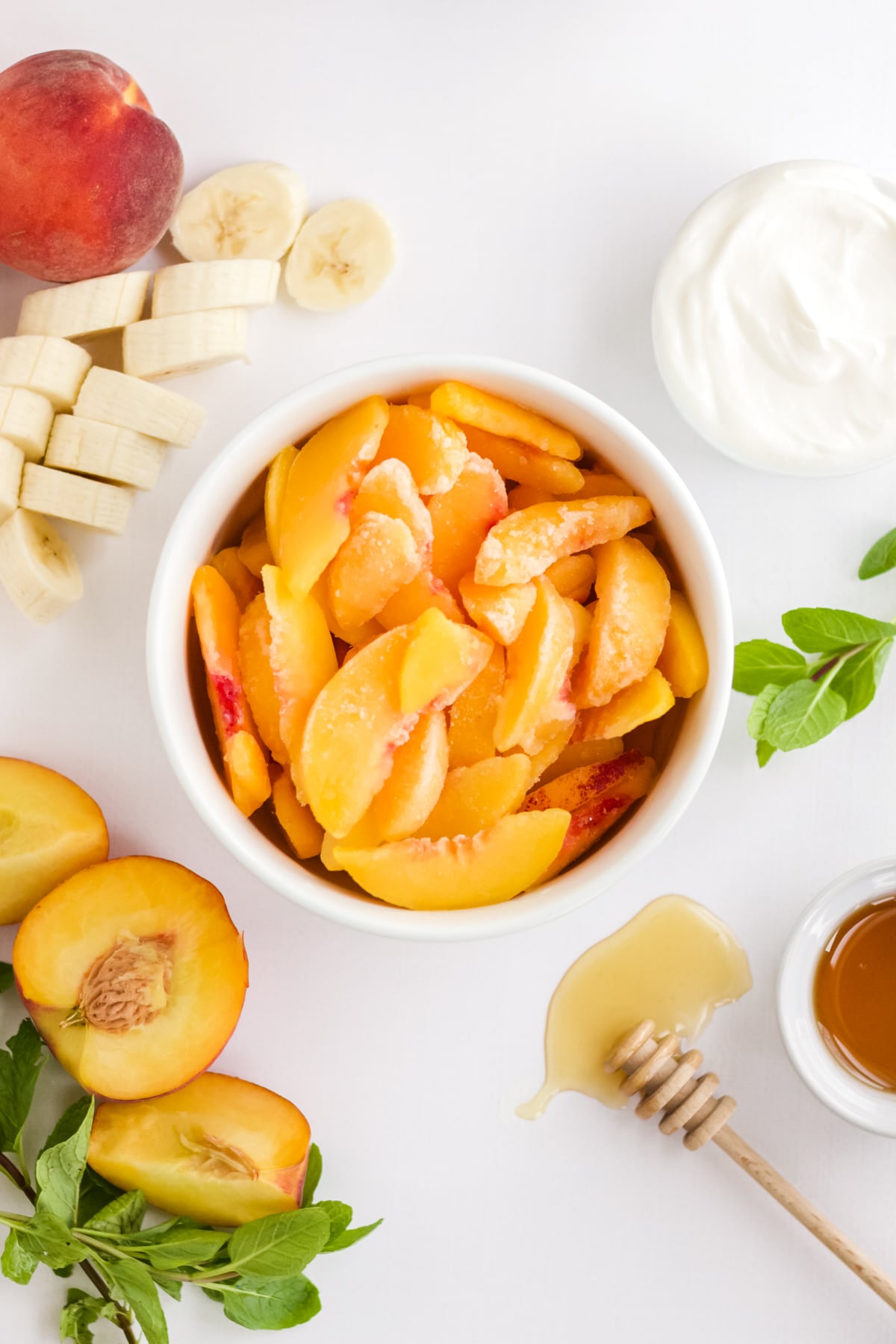 Do I put ice in a smoothie?
I prefer to use frozen fruit instead of ice to thicken my smoothies; ice tends to water them down. The recipe below is my ideal consistency but everyone likes their smoothies a little different.
To thicken this smoothie, you can use less milk or water. Using frozen fruit will also help keep your smoothie nice and thick and if that doesn't work, you can always add some ice to the blender to really thicken things up!
If you prefer your smoothie to be a bit thinner, add additional milk or water and adjust the amount of frozen fruit.
How to make a Banana Peach Smoothie
Place everything in the blender and pulse, scraping the sides often until everything is blended. Once everything gets going, blend on medium speed until it's completely smooth.
Are peach smoothies healthy?
Yes! The ingredients in this smoothie are very nourishing to your body and add many nutritional benefits.
Peaches are anti-inflammatory, reduce allergy symptoms, help support heart health and are loaded with vitamins A, C, K and E.
Bananas are great for digestion, are extremely high in Vitamin C and are great for your skin, among many other things!
Greek Yogurt is packed with protein and probiotics. It will help help you full, longer and is great for your bones!
Honey is a rich source of phenols and other antioxidant compounds and also supports heart health.
Can I use Fresh Peaches?
Yes! If you are using fresh peaches, you may find you need less liquid than the recipe calls for. Just prepare the smoothie as directed and slowly add the liquid at the end. Note above that you may need to add ice for a thicker consistency.
Banana Peach Smoothie without Yogurt
If you don't care for greek yogurt, or just don't have any in the house you can still make this recipe! Greek yogurt can be replaced with regular yogurt. If you have a dairy sensitivity you can use your favorite dairy alternative.
If you truly want to make this recipe 100% yogurt free, just omit the yogurt completely and the smoothie will turn out just fine. I do recommend using your favorite milk of choice as the liquid if you are omitting the yogurt completely. It helps keep things creamy.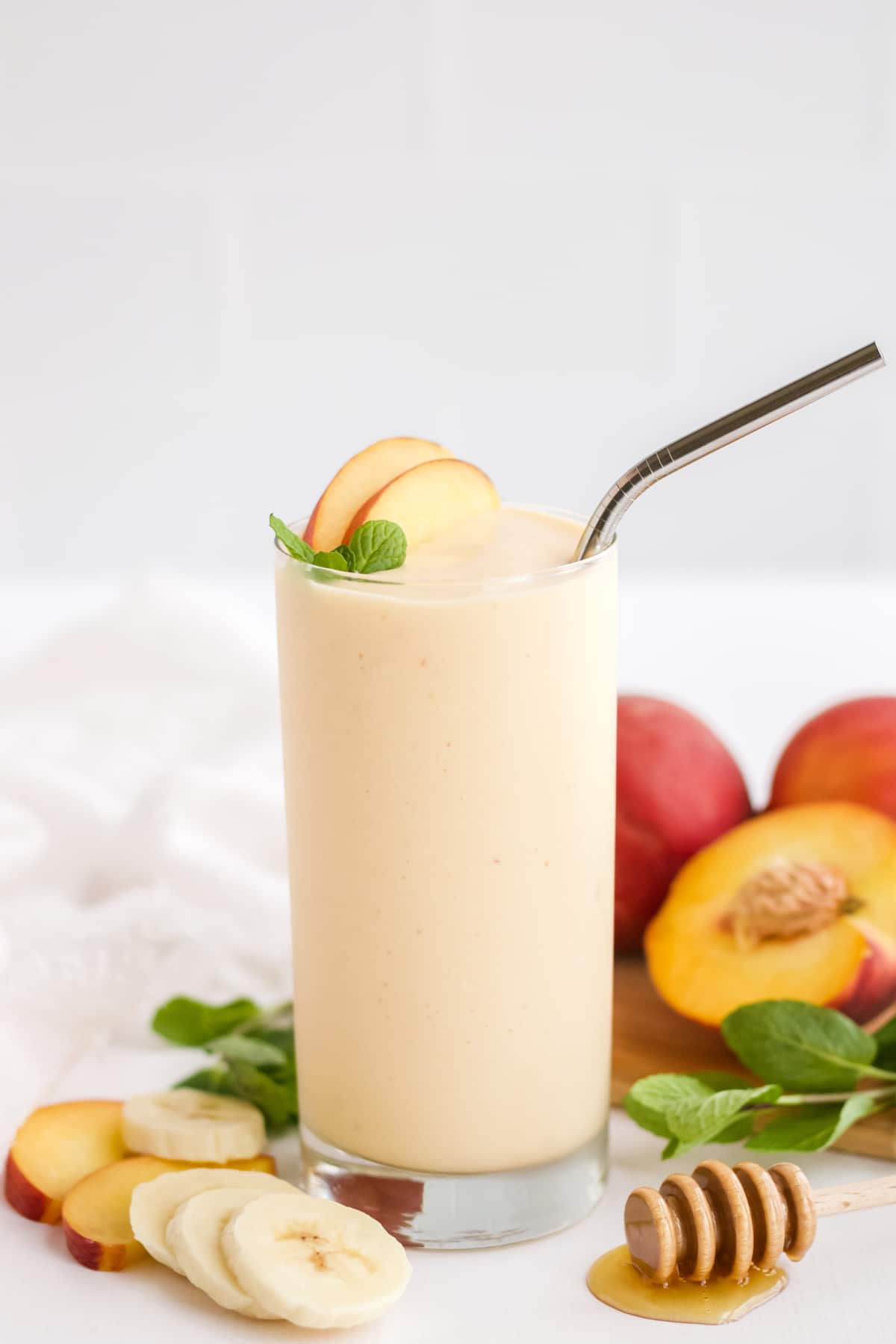 Storage Tips
This recipe makes two smoothies. But if you are looking to make them in advance or just want to enjoy one right away, they are extremely easy to store!
Refrigerator storage: If you want to enjoy it within 24 hours, you can keep it in the fridge and give it a quick stir before serving. Please note, the frozen ingredients will melt and the consistency may change but it will still be delicious!
Freezer: To freeze, place in an airtight freezer safe container. About an hour before serving, remove to thaw and add to the blender with about 1/2 cup of water or milk of choice.
Serving Suggestions
This Banana Peach Smoothie is loaded with all the protein and nutrients you need for it to be a meal on its own, but its also great to serve with appetizers or enjoy with a dessert.
Enjoy it for breakfast and serve it with this adorable Pancake Cereal recipe or some easy breakfast muffins.
As a snack, it would taste wonderful with these healthy and crispy Watermelon Radish Chips. Or, if you want to indulge, try them with our fried pickles.
For a dessert, it would pair very well with strawberry cheesecake cookies.
For an extra special touch, I like to serve them with a slice of fresh peach and a sprig of mint.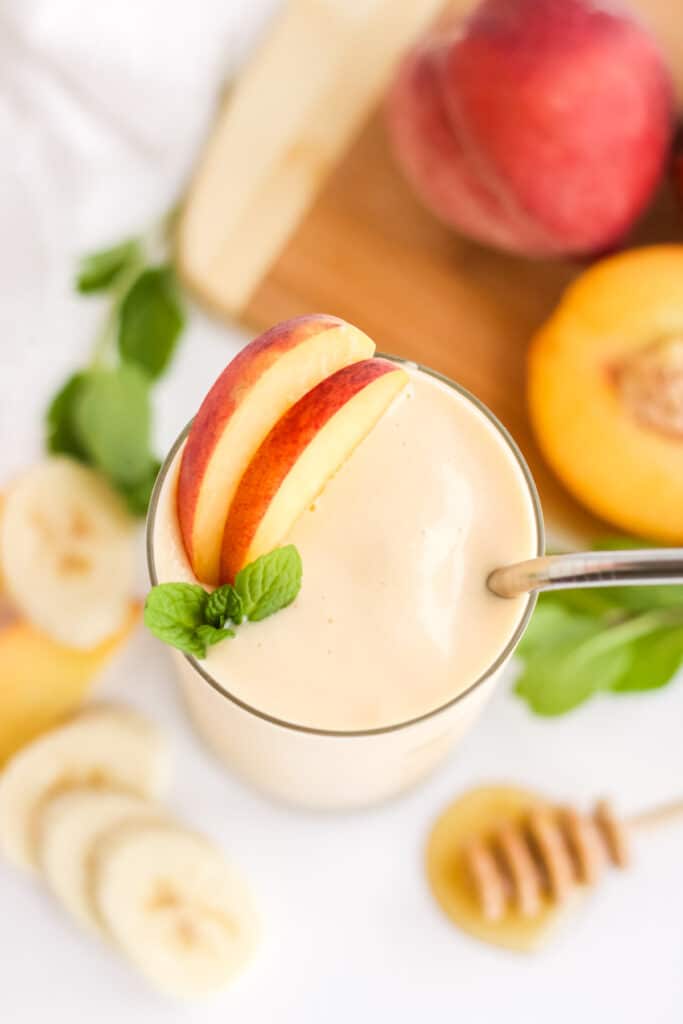 More Smoothie Recipes to try: