Craving something tropical? This sweet and tangy 4-ingredient pineapple margarita recipe makes a quick and easy treat from the tropics you can enjoy in the comfort of your own home.
Tequila blanco, triple sec, pineapple juice, and lime juice come together for a tasty spin on everyone's favorite cocktail.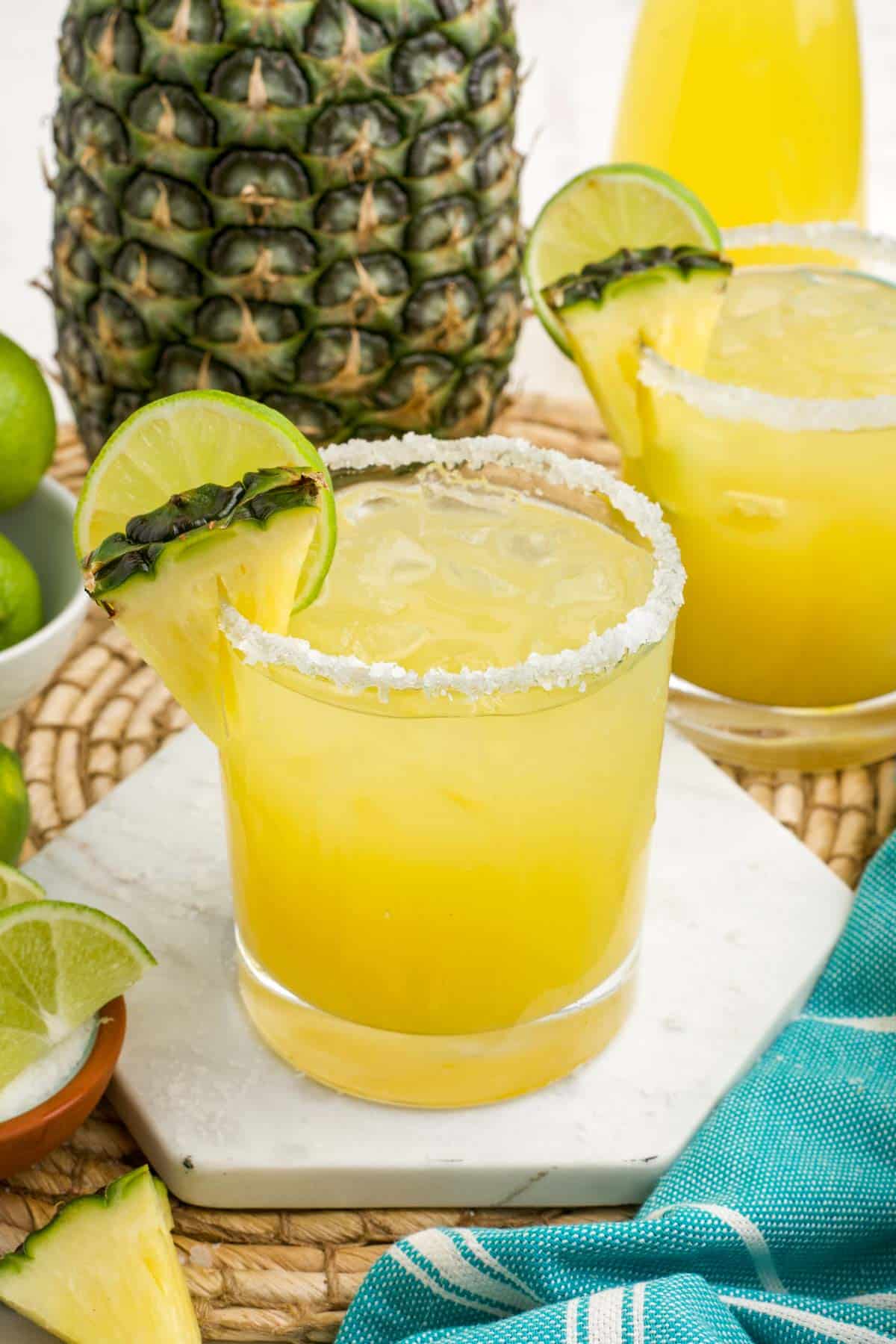 Note: that links to products you find in this post are Amazon affiliate links which means I do make a small amount of money when you click and make purchases.
Here at Fresh Coast Eats, we LOVE all things pineapple! From our viral air fryer pineapple, chocolate dipped pineapple, and pineapple dump cake we have so many favorites!
We also love cocktails, so testing and creating a pineapple version of a classic margarita was a MUST!
In this blog post, I'll teach you everything you need to know about how to make a pineapple margarita. I will break down their origin, teach you how to pick the perfect ingredients, suggest some fun variations, and how to garnish it like the pros.
What is a Pineapple Margarita?
Margaritas have been a favorite cocktail for decades, but it wasn't until the 1980s that pineapple margaritas became super popular.
Many people credit the creation of this tropical-flavored margarita to the Garibaldi restaurant in Tijuana, Mexico.
It contains the same ingredients as a classic margarita, but with a tropical addition of pineapple juice.
Love margaritas? Try our pomegranate margarita and cranberry margarita.
Jump to:
Ingredients
When it comes to cocktail recipes with very few ingredients, quality is always key! For this simple pineapple margarita recipe, you will need: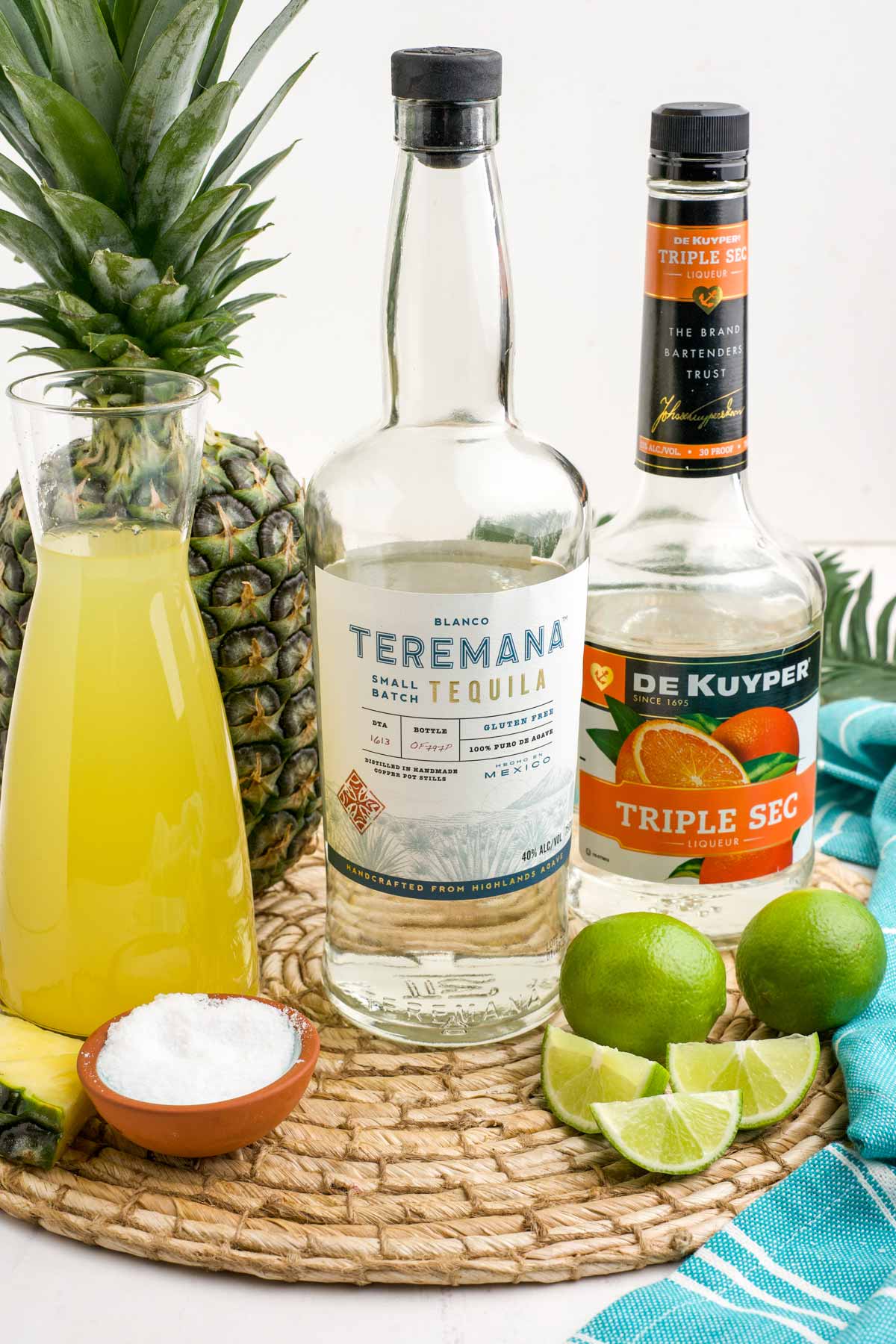 Blanco Tequila: The best tequila for margaritas is 100% agave blanco tequila. It is completely clear with a clean, predictable flavor that's perfect for any margarita.
Triple Sec: The vibrant, fresh orange flavor pairs excellent with the pineapple.
Pineapple Juice: 100% juice is best. Stay away from anything with "cocktail" on the label which may result in an overly sweet margarita or some background flavors that interfere with the simple ingredients in this pineapple margarita on the rocks.
Fresh Lime Juice: Whenever possible use fresh squeezed for the best flavor.
Optional Garnishes: Extra fresh limes, margarita salt, and fresh pineapple will take your presentation over the edge.
Ice: Use clear, purified ice if possible. Cubes are best as they won't water down the cocktail from melting too fast.
See the recipe card further down the page for the exact quantities of each ingredient.
Substitutions
This tropical margarita is so delicious as written but in a pinch, you can make the following substitutions.
Triple Sec: When it comes to adding orange flavor to margaritas Triple Sec is an affordable mixer option and its vibrant flavor goes great with the pineapple. Other options include Cointreau, which has a softer, deeper flavor, or even Grand Marnier or Orange Curaçao. Just keep in mind that the alcohol content will vary with these substitutions.
Blanco Tequila: I prefer to make my margaritas with blanco tequila which is sourced from 100% agave. However, if you are a fan of dark, more complex tequila you can replace it with your preferred type or brand. I love this article breaking down some of the best tequila for margaritas.
Lime Juice: if you don't have fresh lime juice on hand, you can use prepared lime juice instead. You can also use orange juice in place of lime juice, but that is one step further away from a classic margarita! (Still delicious, though!)
Variations
While the traditional pineapple margarita is delicious, there are many variations that you can try. Here are a few of our favorites:
Spicy Pineapple Margarita: Add a kick of heat to your tropical margarita by adding a sliced jalapeño to the shaker. Let it sit for a few minutes before shaking it to infuse the spice.
Pineapple Coconut Margarita: Swap out the triple sec for coconut rum and add a splash of coconut cream for a creamy, tropical twist.
Pineapple Cilantro Margarita: Muddle a few fresh cilantro leaves in the shaker before adding the other ingredients. This will give your margarita a fresh, herbaceous flavor.
Grilled Pineapple Margarita: Instead of pineapple juice, grill some pineapple and puree it for a super tasty grilled pineapple taste. You can try this with my air fryer pineapple recipe too!
Frozen Pineapple Margarita: If you are craving something frosty, you can make this recipe frozen by using frozen fruit and blending it with ice.
Equipment
Getting the ingredients together is the hardest part of the recipe! Now that you have everything you need, you will want to gather your equipment.
To make the perfect tropical margarita, you will need:
Cocktail Glasses: Short glasses are perfect for margaritas.
Cocktail Shaker: A handy bar tool to have for shaking and pouring cocktails.
Jigger: The traditional way to measure out liquor for cocktails.
Some optional items to consider include margarita salt and cocktail picks for garnishes.
How to Make Pineapple Margaritas
Gathering the ingredients is the hardest part, now you are just a few pours and shakes away from the best homemade pineapple margarita recipe ever!
Start by filling your shaker with ice.
TOP TIP: The best ice for cocktails is cubed, clear, purified ice. It's available at pretty much any grocery store and even gas stations. Avoid nuggets and crushed ice which can melt quickly in cocktails. So stick to cubed for the BEST margarita!
Use a jigger or shot glass to measure out the tequila, triple sec, lime juice, and pineapple juice. Pour each one over the ice-filled cocktail shaker. The order you add the ingredients doesn't matter, it is going to be shaken anyway!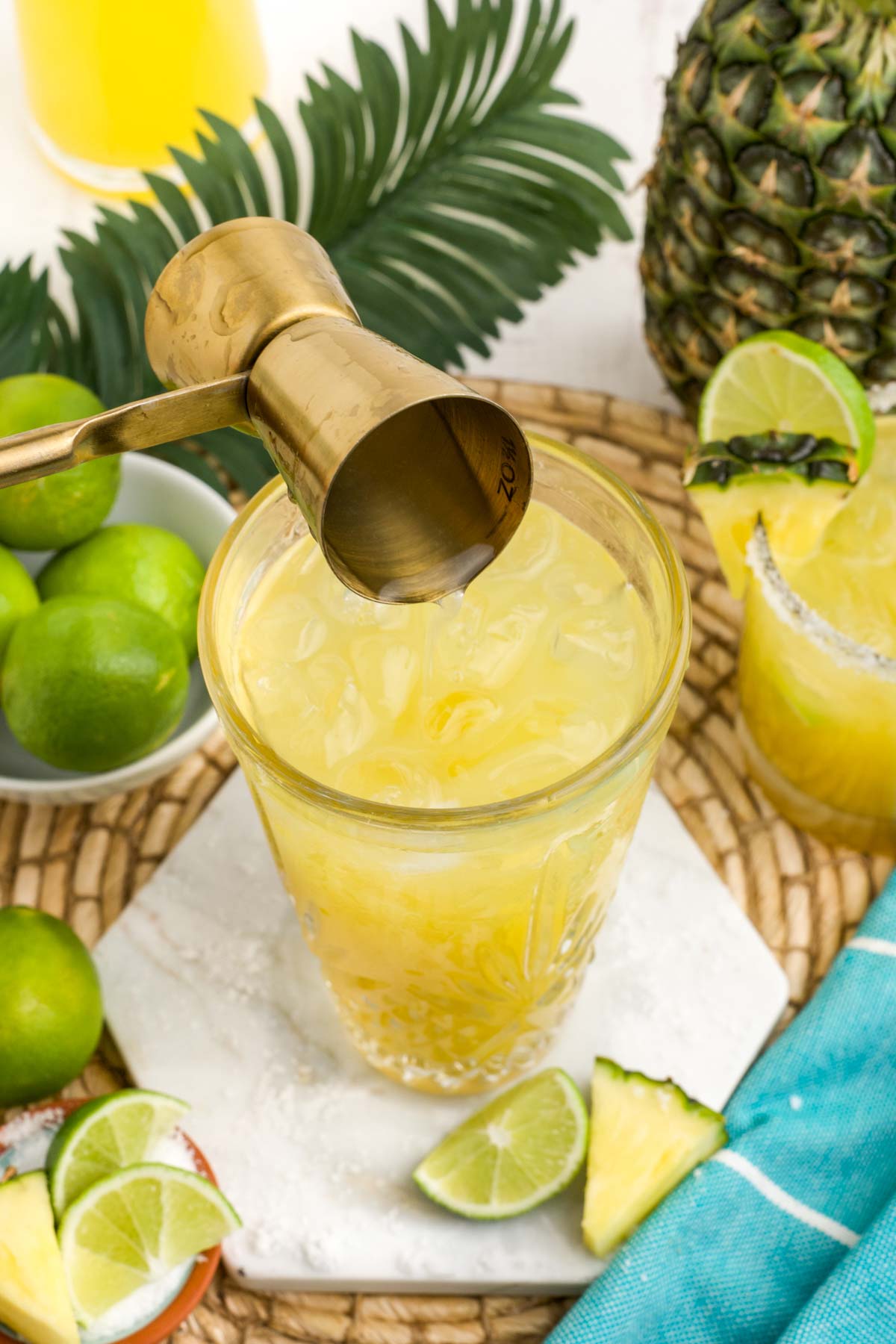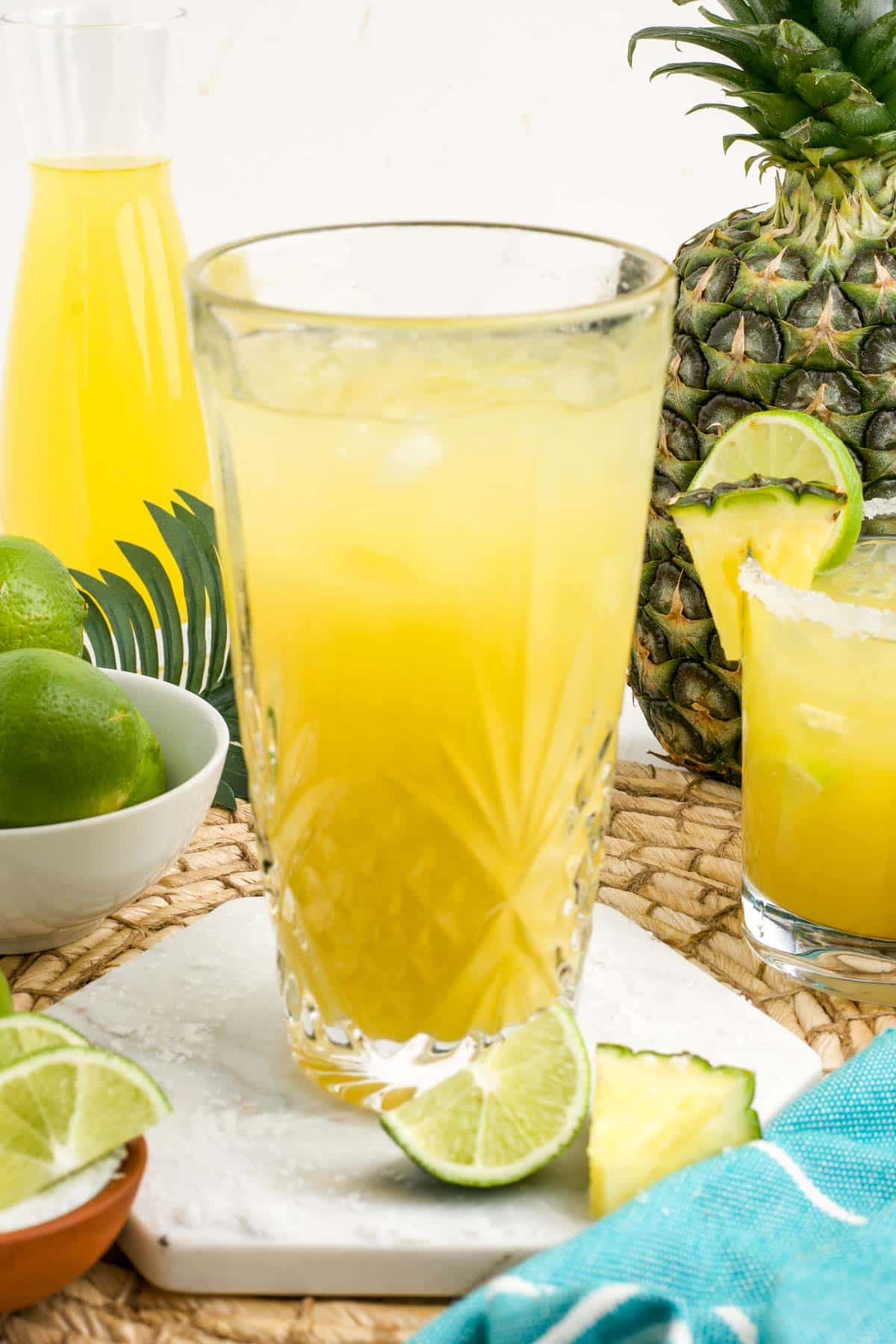 Place the lid on the shaker glass and give it a few quick shakes. Then pour it up over ice!
TOP TIP: Classic margaritas are shaken, not stirred! But if you don't have a cocktail shaker then a quick stir will be just fine.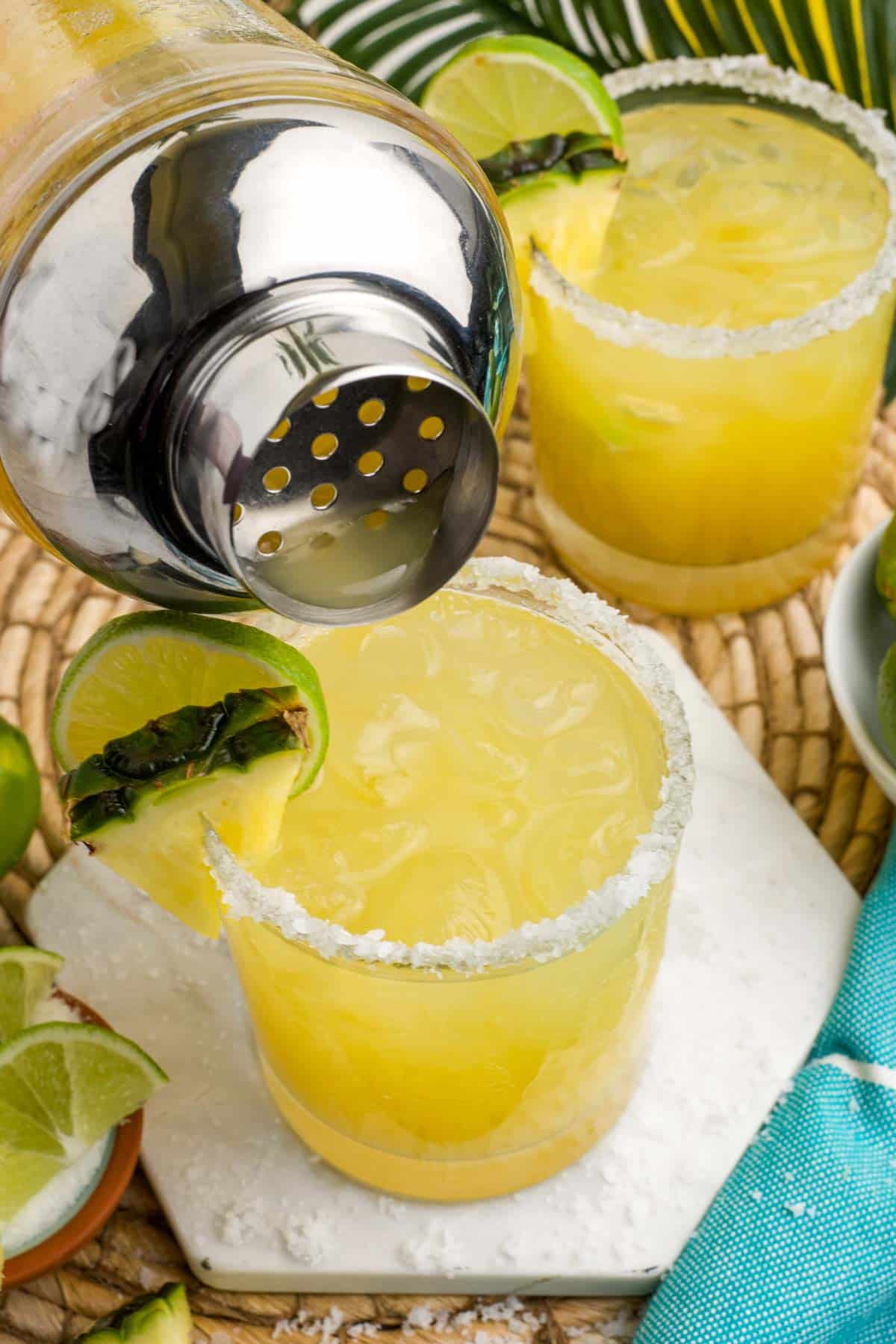 How to Serve
Now that your pineapple cocktail is prepared and ready, it's time to prep your glass!
You can serve this pineapple margarita with lime over ice in a plain cocktail glass or salt the rim for a classic margarita feeling.
To salt the rim, simply use a wedge of lime to add juice around the rim of the glass and dip in margarita salt.
Fill the glass with ice and pour the prepared cocktail into the glass.
Garnish with fresh limes, pineapple slices, or anything else you can think of to make it fancy.
TOP TIP: It's a great idea to leave the strainer on the lid for margaritas so it captures some of the pulp from the lime juice.
Making Margaritas Ahead of Time
When properly stored, homemade margaritas with pineapple can last up to 3 days.
When mixing them ahead of time, prepare them without ice. Once mixed place the mixture in an airtight container in the fridge.
When it's time to serve, prepare a cocktail glass, fill it with ice, and pour the pineapple cocktail into the glass.
Margarita Pitchers for a Crowd
You can make a pitcher of margaritas by multiplying the original recipe by the preferred amount of servings and serving it in a pitcher without ice.
To chill the pitcher, place it in the refrigerator and serve in the pitcher with ice surrounding the outside.
By keeping ice outside of the pitcher, you prevent the cocktail from getting watered down.
Expert Tips and FAQS
This quick and easy pineapple cocktail recipe is about to be your new favorite! When you make it for the first time remember:
Use cubed purified ice.
Shake the cocktail ingredients before pouring the drink over ice.
Salt the rim of your glass prior to adding ice.
Use high-quality blanco tequila made from 100% agave.
What is a pineapple margarita made of?
This tropical cocktail is made from blanco tequila, triple sec, pineapple, and lime juice.
Can I make this in advance?
Yes, to make in advance prepare the cocktail without ice and store it in the fridge in an airtight container.
Can I make this recipe for a crowd?
Yes! Multiply the recipe to reach the desired amount of servings and serve it up in a pitcher without ice. To ensure the beverage is chilled, serve the pitcher in a bowl of ice and refrigerate prior to serving.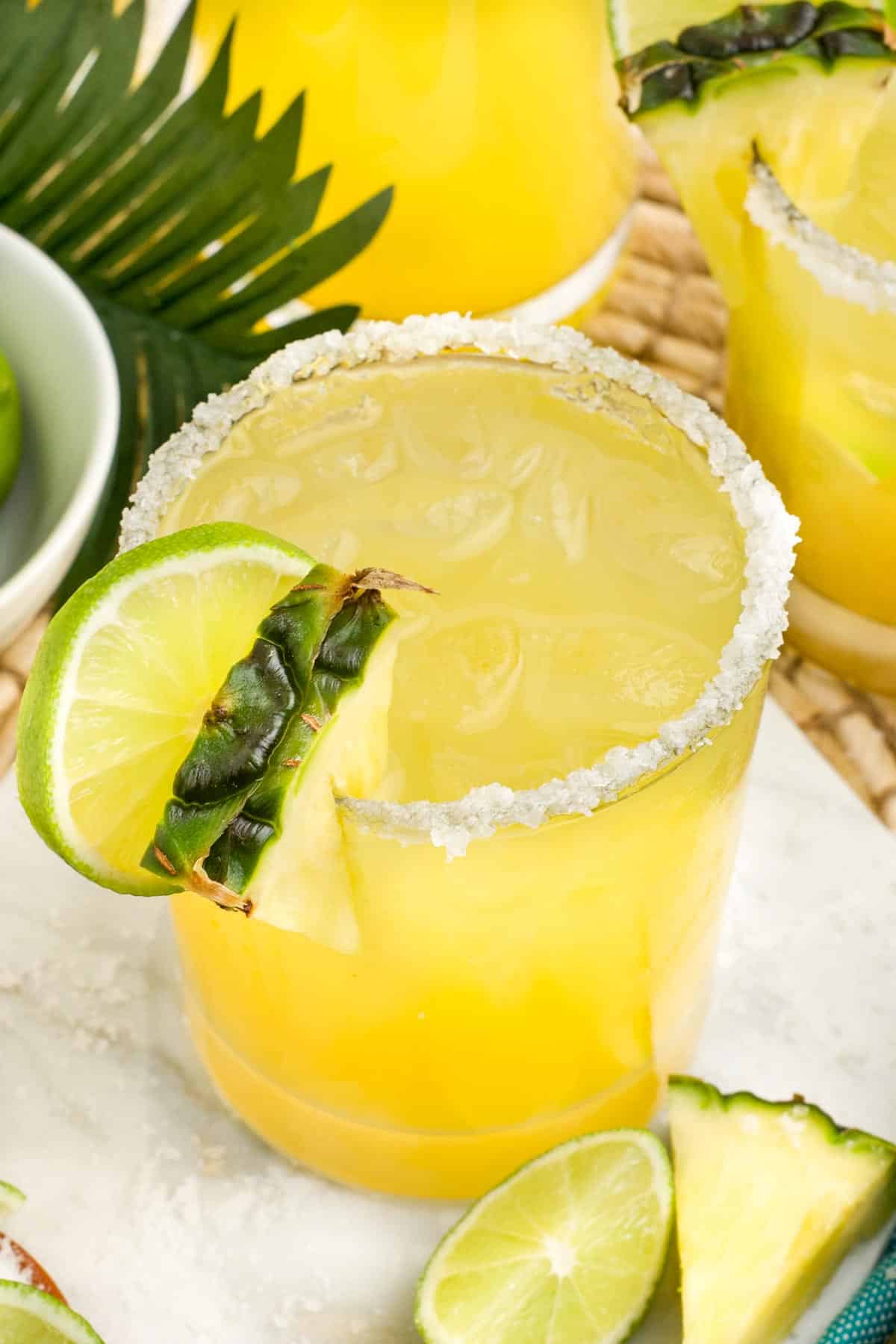 More Easy Drink Recipes
Did you try this recipe? Please leave a star rating in the recipe card right below! You can also write a review in the comment section further down the page I always appreciate your feedback. And don't forget to tag me @freshcoasteats in your photos on social media, I'd love to see your results!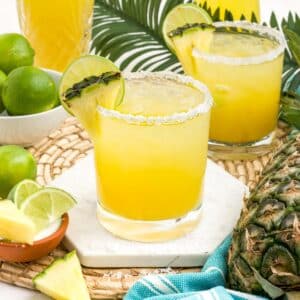 Easy Tropical Pineapple Margaritas
Craving something tropical? This sweet and tangy 4-ingredient pineapple margarita recipe makes a quick and easy treat from the tropics you can enjoy in the comfort of your own home.
Print
Pin
Rate
Ingredients
1 ½

ounces

tequila blanco

1

ounce

triple sec or Cointreau

1

ounce

pineapple juice

½

ounce

fresh squeezed lime juice

Ice
Instructions
Fill a cocktail shaker with ice.

Measure out each ingredient and add to the cocktail shaker.

Shake for 20 seconds.

Pour into a cocktail glass filled with ice and serve.
Notes
Use cubed purified ice.
Shake the cocktail ingredients before pouring the drink over ice.
Salt the rim of your glass prior to adding ice.
Use high-quality blanco tequila made from 100% agave.
Nutrition
Calories:
204
kcal
|
Carbohydrates:
14
g
|
Protein:
0.2
g
|
Fat:
0.1
g
|
Saturated Fat:
0.03
g
|
Polyunsaturated Fat:
0.04
g
|
Monounsaturated Fat:
0.01
g
|
Sodium:
4
mg
|
Potassium:
63
mg
|
Fiber:
0.1
g
|
Sugar:
12
g
|
Vitamin A:
9
IU
|
Vitamin C:
7
mg
|
Calcium:
6
mg
|
Iron:
0.1
mg